Canon EOS 5D Mark III
When Nikon recently announced its D800 multimedia-machine DSLR, the internet was already abuzz with folks wondering how Canon would fire … Continued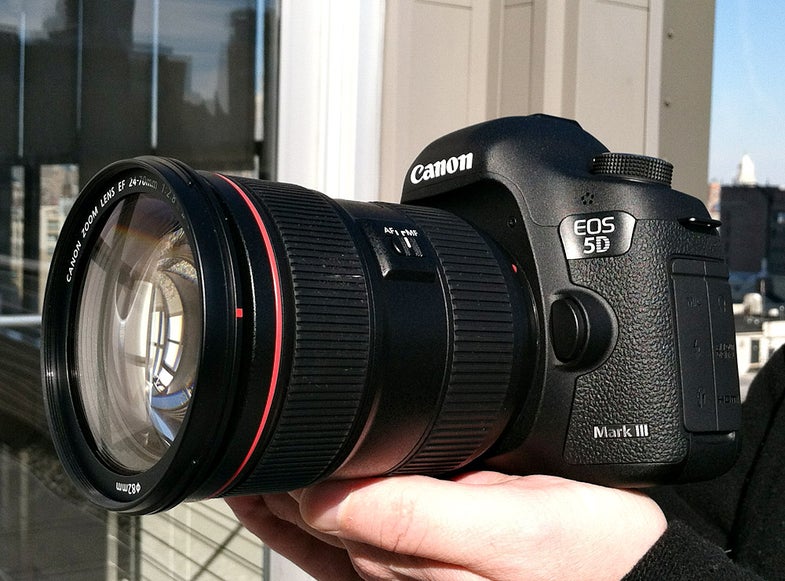 When Nikon recently announced its D800 multimedia-machine DSLR, the internet was already abuzz with folks wondering how Canon would fire back. That follow up comes today in the form of the full-frame Canon 5D Mark III.
On the photography front, the most notable improvement is the completely redesigned autofocus system. The Mark III offers 61 AF points, 41 of which are crosstype. That's a huge upgrade from the nine total points offered by the 5D Mark II for which AF performance may have been its biggest detractor. That also bests Nikon's D800, which has 51 total AF points, 15 of which are crosstype, and five which are double crosstype. The final number of points you have access to with either of those cameras when shooting ultimately depends on the maximum aperture of the lens attached. It also offers six different autofocusing modes, compared to 2 on the Mark II and the AF modes have been made much more prominent in the menus to make navigating them much faster.
The Mark III checks in at 22.3-megapixels which is only a modest hop from the Mark II's 21.1, but the sensor has received a complete overhaul. Gapless micro lenses, similar to those found on the sensor of the Canon 1D X, channel light into the photo diodes much more efficiently. As a result, the new sensor, according to Canon, offers nearly two additional stops of noise reduction in JPEG shooting at higher ISO's compared to the Mark II. To compound the effect, Canon also incorporated "on chip noise reduction," into its sensors, killing off potential noise before information even hits the Digic 5+ processor.
Standout Spec: A 22.3MP full-frame CMOS sensor and a 61-Point High Density AF system
Product Specifications
| | |
| --- | --- |
| Camera Category: | Pro DSLR |
| Sensor Size: | Full Frame |
| Sensor Type: | CMOS |
| Megapixels: | 22.3 |
| Fastest Shutter Speed: | 1/8000 second |
| Slowest Shutter Speed: | 30 seconds |
| Bulb Mode: | Yes |
| Live View: | Yes |
| Image Processor: | DIGIC 5+ |
| Viewfinder Coverage: | 100% |
| AF Points: | 61 |
| Display Type: | LCD |
| Display Size: | 3.2 inches |
| Display Resolution: | 1040000 pixels |
| Articulating Display: | No |
| Minimum ISO: | 100 ISO |
| Maximum ISO: | 102400 ISO |
| Burst Rate: | 6.00 fps |
| Self-Cleaning Sensor: | Yes |
| In-Body Image Stabilization: | No |
| Pop-Up Flash: | No |
| Media Type: | Compact Flash, Secure Digital (SD), Secure Digital High Capacity (SDHC), Secure Digital Expanded Capacity (SDXC) |
| Video Capture: | Yes |
| Maximum Video Resolution: | 1080p |
| AF in Video Mode: | Yes |
| HDMI Port: | Yes |
| Wireless Flash Trigger: | No |
| Remote Capture: | Yes |
| Height: | 4.6 inches |
| Depth: | 3.0 inches |
| Width: | 6.0 inches |
| Weight: | 30 ounces |
| Price: | $3399.00 |
| Touch Screen: | No |
| Model Number: | 5D Mark III |
| SKU: | 5260B002 |
Related Galleries
New Gear: Canon EOS 5D Mark III DSLR
Sample Image Gallery: Canon EOS 5D Mark III
Related Content
Elsewhere on PopPhoto.com
New Gear: Canon EOS 5D Mark III DSLR
New Gear: Canon EOS 5D Mark III
More Cameras
Canon EOS-1D X
Nikon D800
Canon EOS 5D Mark III
More Lenses
Canon EF 8–15MM F/4L Fisheye USM
Canon EF 24-70 F/2.8L II USM
Canon EF 70-200mm f/2.8L IS USM