We may earn revenue from the products available on this page and participate in affiliate programs. Learn more ›
Updated Jun 21, 2023 1:48 PM
Photography subjects don't get much more fascinating—or challenging—than wildlife. Wildlife photography can take you to some truly special places to document incredible animals in their natural habitats. It doesn't always have to involve a full-on safari, though. There's likely wildlife in your area right now that could make for incredible photos. Even if you're not traveling far, however, wildlife photography can be a very challenging process. You have to put yourself in the right place and the right time, ready to capture the action at a moment's notice. Conditions may not be the most comfortable either. But, when you get that shot at just the right time, there aren't many things that beat it. The best cameras for wildlife photography will be ready when you and your wild subject are.
In previous camera generations, only high-end options had the features and operating speed needed to capture wildlife. These days, there are an overwhelming number of options out there, depending on your skill level, budget, and goals. And while having the most high-tech camera can be fun, the best cameras for wildlife photography for you, in particular, may be something different altogether. 
How we chose the best cameras for wildlife photography
The editors and writers at Pop Photo have decades of photography experience in just about every genre and have reviewed just about every major camera on the market. When selecting the best cameras for wildlife photography, we looked at a handful of key features necessary to document animals successfully. Burst rate, buffer capacity, and autofocus abilities sat at the top of our list as these are crucial for wildlife photography. We also looked at build quality, as wildlife cameras should be able to hold up to the elements. Lastly, we tried to choose options with different sensor sizes suitable for different types of photographers and budgets.
The best cameras for wildlife photography: Reviews & Recommendations
Why it made the cut: With 30fps, an industry-leading autofocus system, and an impressive 50MP sensor, Sony's A1 is a powerful camera for anything, but especially wildlife photography.
Key features
Megapixels: 50 megapixels
Frames per second: Mechanical shutter: 10 fps, Electronic shutter: 30 fps up to 155 frames (Raw)
Autofocus points: 759 phase-detection, 425 contrast-detection
Weight: 1.6 pounds (body only)
Pros
Exceptional autofocus
8K and 4K video
Fast burst mode
Cons
Expensive
Rear display could be better
As the best camera for wildlife photography, the Sony A1 is packed full of advanced technology, making it a great all-around powerhouse, but one especially suited for sports and wildlife photography. Sony built this camera around an incredibly fast 50MP stacked CMOS sensor. If you like to use flash, this sensor will be an asset, as it is fast enough to sync with flashes up to 1/400 sec. The autofocus system is also quick and precise and has autofocus points covering 92% of the image area. It can lock onto animals eyes and track them, just like it would a person.
The electronic shutter of the A1 is capable of up to 30fps for up to 155 Raw images. This high buffer capacity means you can fire off loads of shots without your camera getting bogged down. In addition, it has excellent low-light performance with an ISO range of 100 to 32,000 or extended up to 102,400, and autofocus sensitivity down to -6 EV. Finally, the weather-sealing on this camera means it can stand up to some adverse weather, so you don't have to be as nervous about taking this expensive piece of equipment out and about. This is truly a professional piece of gear. 
Why it made the cut: Sony's RX10 IV is an impressive bridge camera. It is capable of 4K video, 24 fps, and has an equivalent focal length of 24 to 600mm, making it ideal for capturing wildlife.
Key features
Megapixels: 20.1 megapixels
Frames per second: 24 fps up to 249 frames (JPG)
Autofocus points: 315 phase-detection points
Weight: 2.41 pounds (body with battery and memory)
Pros
Dust and splash resistant
Fast autofocus
Good zoom range
4K video
Cons
A bit pricey
Zoom speed could be faster
If you don't have big bucks to spend on a telephoto lens that costs more than your car, a bridge camera can provide a much more accessible solution. The Sony Cyber-Shot RX10 IV is an excellent bridge camera built around a large, 1-inch sensor, which is larger than some of its cheaper competition. The attached lens is 8.8 to 220mm, which offers the equivalent angle of view to a 24-600mm lens on a full-frame camera. That gives you 25x zoom, which will help capture animals in the distance. And it offers 4.5 stops of stabilization, so even when at the longer focal lengths, you can get sharp images. You should still plan to use a tripod or a monopod when possible, though. 
The RX10 IV is capable of 24 fps with autofocus tracking, and the phase-detect autofocus of this camera is fast and accurate, helping ensure you get the shot right. In addition, the built-in lens has a max aperture of f/2.4-f/4, giving you the ability to blur backgrounds and work in low-light situations. And, if capturing tiny wildlife like bugs is your thing, it can focus as close as 1.2 inches when zoomed out and 2.4 feet when zoomed in.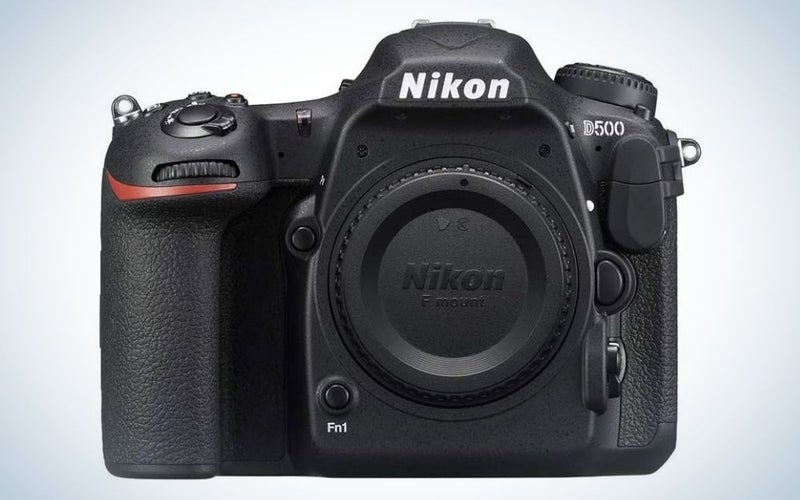 Why it made the cut: Despite its age, the D500 is still one of the best DSLRs for wildlife due to its 200 Raw file buffer capacity and fast autofocus. 
Key features
Megapixels: 20.9 megapixels
Frames per second: 10 fps for up to 200 frames (Raw)
Autofocus points: 153 phase-detection points
Weight: 1.89 pounds (body with battery and memory)
Pros
Fast and accurate autofocus
High buffer capacity
Rugged build quality
Cons
Live view autofocus could be improved
Video tools are a bit limited
Nikon released the D500 in 2016, but it remains an excellent DSLR choice if you're looking for the best cameras for wildlife photography. The APS-C sensor has 20.9 megapixels for quality images. The camera has an expanded ISO range of up to 1,640,000, making it very capable in low-light situations. 
The D500 can shoot 10 fps for an impressive 200 Raw frames, meaning you can fire away when your subject is in motion. The autofocus system on this camera is fast and accurate, at least when looking through the viewfinder. Unfortunately, when in Live View, the autofocus switches to contrast-detection, which is not as fast as the phase-detection system. Lastly, your telephoto lenses will have even more reach with the 1.5x crop factor, meaning you can save some money and space in your camera bag.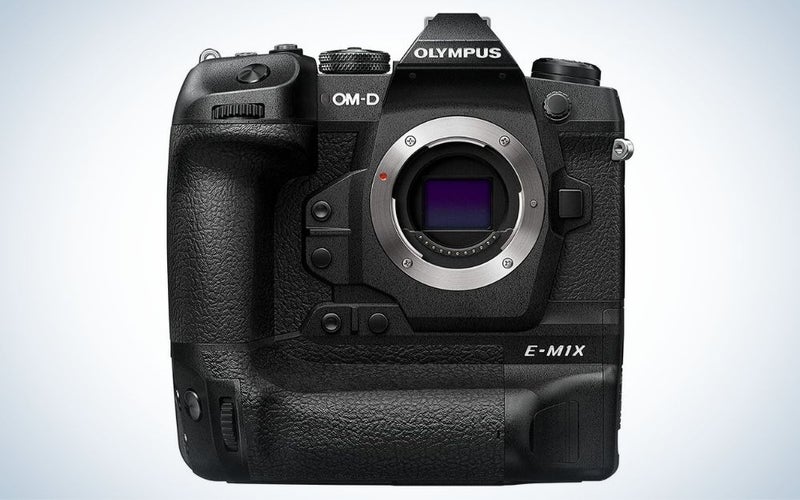 Why it made the cut: Olympus designed the OM-D E-M1X to thrive outdoors and in the elements. The rugged body can shoot up to 60 fps, making it a great choice for those off-the-beaten-path wildlife adventures.
Key features
Megapixels: 20.4 megapixels
Frames per second: 60 fps for up to 49 frames (Raw)
Autofocus points: 121 cross-type points
Weight: 2.19 pounds (body with battery and memory)
Pros
Advanced weather-sealing
Integrated vertical grip
In-body image stabilization
4K video
Cons
Noise level at higher ISOs could be better
No tracking at highest burst rate
OM Digital Solutions corp., formerly Olympus, has long focused on outdoor enthusiasts and adventurers. The OM-D E-M1X fits the bill, as it exceeds the IPX1 weatherproofing standard and can function in harsh conditions. These cameras also offer an excellent Dust Reduction System to keep your sensor clear of debris, a plus when changing lenses in less-than-perfect situations. 
The OM-D E-M1X is capable of up to 60 fps for 49 Raw frames or a lower 10 fps for up to 287 Raw frames and unlimited JPGs. Unfortunately, there is no AF tracking when shooting at 60 fps, so one of the lower options may be better if that is important to you. The autofocus system is speedy and responsive, helpful for reacting quickly to moving wildlife. And the five-axis sensor stabilization means that you can get sharp shots with even your largest telephoto lens.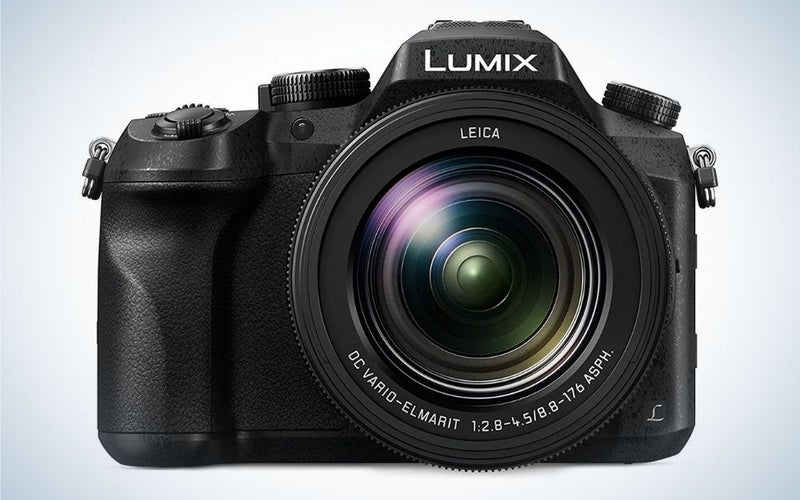 Why it made the cut: For those on a budget, the LUMIX FZ2500 is a bridge camera that packs in features like a 20.1MP sensor, 4K 30p video, and impressive autofocus, all at a reasonable price.
Key features
Megapixels: 20.1 megapixels
Frames per second: 12 fps 
Autofocus points: 49 contrast-detection points
Weight: 2.13 pounds (body with battery and memory)
Pros
Built-in neutral density filter
4K video
Fast autofocus
Versatile 20x zoom
Cons
Lens quality could be better
Panasonic designed the LUMIX FZ2500 for video enthusiasts, so those wanting to make videos of their wildlife adventures are in luck. It is capable of 4K video at up to 30fps and uncompressed 10-bit 4:2:2 HDMI output, so you are sure to get quality footage. Featuring a 1-inch sensor, the FZ2500 has a native ISO range of up to 12,800 and an expanded range of 25,600, making it good in low-light situations. The built-in lens is a 24-480mm equivalent, useful for both landscape photos and tight wildlife shots.
Though it doesn't have as many autofocus points as others on this list, it is a fast, accurate autofocus system for its class. It is almost instant when locking on to a subject in bright conditions. The burst rate is also strong, with 12 fps and a buffer of 35 Raw or 100 JPGs. You can lower the resolution to 8MP to take advantage of a fast 30 fps if that is your focus.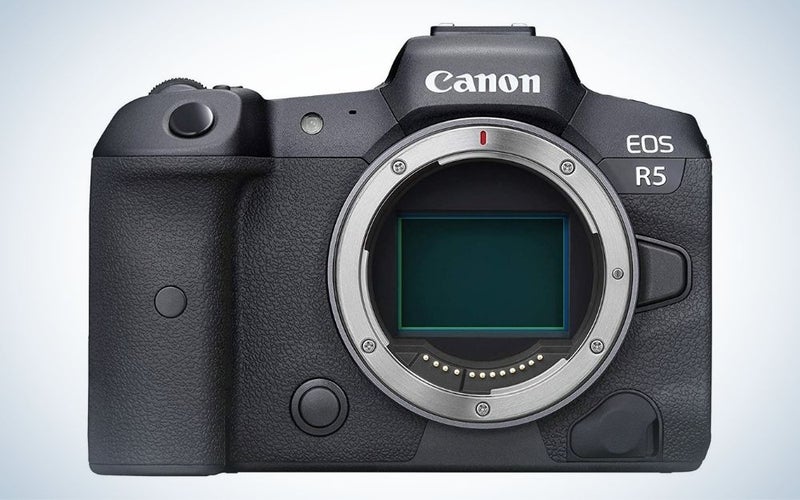 Why it made the cut: This list wouldn't be complete without mentioning the impressive Canon EOS R5. With exceptional 8K video, a 45MP sensor, and an innovative autofocus system with 1053 autofocus points, this camera is built for performance.
Key features
Megapixels: 45 megapixels
Frames per second: Mechanical shutter: 12 fps for up to 180 frames (Raw) Electronic shutter: 20 fps for up to 83 frames (Raw)
Autofocus points: 1053 phase-detection points
Weight: 1.62 pounds (body with battery and memory)
Pros
Excellent image quality
Innovative autofocus
Weather-sealed
Quality 8K video
Cons
Overheating issues when shooting more than 4K 30p video
Canon's EOS R5 is an impressive camera all-around, and those talents translate to wildlife photography. It has a newly developed 45-megapixel CMOS sensor for exceptional image quality and is capable of up to 8K 30p video or 4K 120 fps in 4:2:2 10-bit with Canon Log. However, it is known to have limitations due to overheating at higher-quality video specs, maxing out at about 20 minutes when shooting 8K. If you're planning to shoot a ton of 8K footage, you should really buy a cinema camera anyway.
The autofocus is what really makes the R5 exciting. Autofocus points cover nearly 100% of the frame, and it is said to be the best autofocus system available. For wildlife photographers, the quality of the Animal AF cannot be overstated. Canon has introduced a Deep Learning algorithm, which enables you to point the camera at an animal, and it will recognize the animal and lock on to the eyes. It is reliable across many species, even though Canon only specifies dogs, cats, and birds, and tracks even with lots of movement.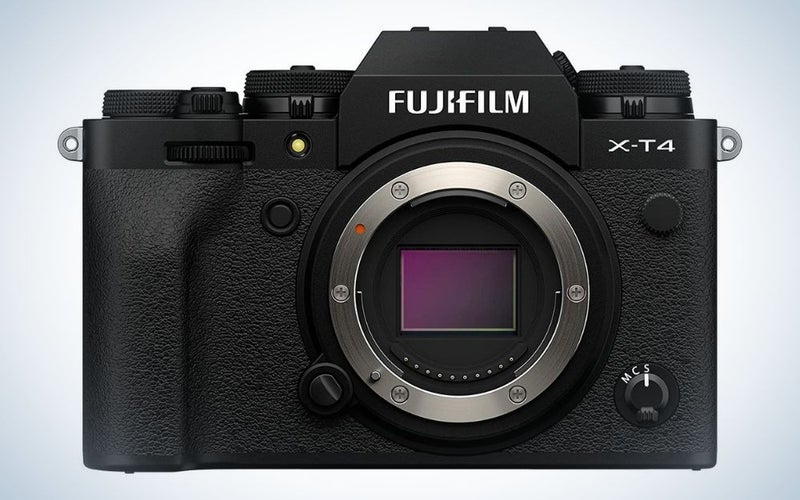 Why it made the cut: With a burst mode of up to 20 fps with the electronic shutter, in-body stabilization, and excellent weatherproofing, the X-T4 is certainly one of the best cameras for wildlife photography.
Key features
Megapixels: 26.1 megapixels
Frames per second: Mechanical shutter: 15 fps for up to 38 frames (Raw) Electronic shutter: 20 fps for up to 36 frames (Raw)
Autofocus points: 425 phase-detection points
Weight: 1.16 pounds (body only)
Pros
Compact
Excellent weather-proofing
Good in-body stabilization
Autofocus system works well even in low-light
Cons
Face/eye detection not as strong as competitors
Fujifilm's X-T4 is the lightest option on this list–just 1.16 pounds for the camera body– making it an excellent choice for those who travel a lot for their wildlife photography. It features a back-illuminated, 26.1MP X-Trans CMOS 4 sensor that allows excellent low-light performance with a native ISO range of 160-12800. In addition, the autofocus system is quick and can provide accurate focus in low-light conditions down to  -6 EV, ideal for shooting at dusk or dawn or even in thick jungles.
One of the more exciting features of this camera is the in-body stabilization. It has 5-axis sensor-shift image stabilization that can reduce camera shake by up to 6.5 stops. This stabilization will be significantly helpful when using the long telephoto lenses necessary for wildlife photography. The APS-C format also means that the telephoto lenses will get you even closer to the action than on a full-frame. 
Things to consider before buying the best cameras for wildlife photography
Wildlife photography can look vastly different depending on the photographer and the subject involved. That variance can make choosing the best cameras for wildlife photography tricky. But, by understanding some of these critical features, you can decide which are essential and worth paying for and which you can skip out on.
Sensor size
There are three main choices for sensor size: Full-frame, APS-C (crop sensor), and Micro Four Thirds. Each of these formats will have different advantages, so it's a matter of deciding what makes the most sense for you. 
Full-frame sensors are the size of a picture taken on 35mm film and usually offer superior noise handling and high dynamic range. Wildlife photographers often shoot in bright situations, but they also regularly require fast shutter speeds in shaded areas, which means bumping up ISO. The downside to full-frame cameras is that they are usually bigger and heavier than their smaller-sensor counterparts. Wildlife photography frequently involves travel or hiking, and you may not want to lug around a heavy camera if you are going on long expeditions for your wildlife photos.
APS-C sensors, or crop sensor cameras, often offer a similar feature set to their full-frame competition, but do so in smaller bodies. The other benefit to crop sensor cameras is that they have between 1.5-1.6x focal length magnification, meaning your telephoto lens will have even more reach. For example, on a Nikon APS-C camera like the D500, a 100mm lens will give you the angle of view equivalent to what you'd expect out of a 150mm lens. 
Like APS-C cameras, Micro Four Thirds offers a smaller size and weight. They also have even more focal length magnification, coming in at 2x. So that 100mm lens will be 200mm. That crop factor can be a big space–and money–saving benefit.
It's also worth noting that crop-sensor camera lenses can be smaller than their full-frame alternatives. Compare the Olympus super-telephoto lenses to full-frame models from Canon or Nikon and they're often less than half the size and weight. 
Autofocus
Autofocus is extremely important in wildlife photography. You may only have a split second to react when an animal makes an appearance, and if your autofocus isn't fast or accurate enough to respond in that time, chances are you won't get many usable images. 
You'll want an autofocus system that is fast and responsive, accurate, and capable of achieving focus in low-light conditions. Good subject tracking is also a plus, as then you can follow an animal across a scene and keep focus locked on it. You want AF points across as much of the sensor as possible, which gives mirrorless cameras an edge over DSLRs. 
Most of the major manufacturers have autofocus modes specifically to track animals. Canon, Nikon, and Sony all have specific animal tracking AF modes that lock onto your wildlife subject and stick with them as they move. Olympus has a bird-specific AF tracking system that achieves a similar effect.
Frames per second and buffer capacity
Besides fast autofocus, fast continuous shooting is crucial for wildlife photos. For example, if you are photographing a bird flying, being able to fire off many frames very quickly will help make sure that you get a shot with the wings in the exact right position. While you still need to know when to start taking photos, it takes some guesswork out of the equation. So look for a camera with high frames per second, something with 8 FPS or higher, to capture those fast-action moments. Many high-end mirrorless models can go to 20 or even 30 fps without issue.
To truly take advantage of your camera's FPS, you'll also want to look for something with a good buffer capacity. Buffer capacity refers to how many images your camera can take continuously without stopping. If your camera locks up after taking a few shots, you'll get stuck watching the moment pass by. Keep in mind that the buffer capacity will differ when shooting RAW versus JPG, and your memory card's write speed will also play a role. 
Build quality
As mentioned, wildlife photography typically requires travel of some sort. It also means that you are likely to be out photographing in less than ideal conditions. Lying in wet grass, getting caught in rainstorms, or standing on windy beaches, are all common occurrences with wildlife photography. Therefore, having a camera that can stand up to whatever your travels may throw at you is important. Look for a camera that has weatherproofing and a durable build.
Lens options
The last thing to consider isn't exactly a camera specification, but it is vital to wildlife photography. Telephoto lenses are a necessity when photographing wildlife, as you typically need to remain at a distance. Thus, choosing a camera system with a good selection of compatible telephoto lenses is a must. If you opt for a point-and-shoot or bridge camera, go with something with a large zoom range since you won't have the option of changing out your lens. 
An additional feature to look for is telephoto lenses with weather-sealing so that they can stand up to the elements just like your camera body can.
FAQs
Q: How many megapixels do I need for wildlife photography?
How many megapixels you need for wildlife photography in part depends on what you intend to do with the images. For most, 12-18MP will produce images that are plenty high-quality. However, if you want to make large, detailed prints of your photos, something between 20-30MP will be better. That gives you more room to crop since your framing will be limited by the terrain.
Q: How much zoom do you need for wildlife photography?
Because you need to be able to photograph subjects from a distance, you will need quite a bit of zoom for wildlife photography. At the very least, 200mm is necessary, though 400mm is even better. That will allow you to stay plenty far away from that bear while still getting shots with the animal filling the frame. 
Q: Is a DSLR or mirrorless better for wildlife photography?
Deciding between DSLR or mirrorless in terms of being a better camera wildlife photography can be challenging. The performance differences between the two types have narrowed over the years, with advantages and disadvantages to both. 

Generally speaking, mirrorless cameras will offer faster continuous shooting. They also offer silent shooting due to the electronic shutter, which can be a significant advantage when capturing wildlife. Camera makers have been focusing on lenses for mirrorless cameras lately, meaning there are more options for those. However, DSLRs still offer better battery life, which may be more important for some. 
Final thoughts on the best cameras for wildlife photography
While there is no shortage of exceptional cameras available for wildlife photography, Sony's A1 checks all the boxes and is extremely well-rounded. The massive–and fast– 50MP sensor allows for excellent low-light performance and speed, two things essential to wildlife photographers. The burst rate and buffer capacity help ensure you won't miss the moment, and the quality of both stills and video is excellent. 
Why trust us
PopPhoto has a long history of delivering the opinions of some of the sharpest and most prolific camera dorks the world has to offer. Since 1937, we've been reviewing cameras, providing wisdom from well-known photographers, and generally just nerding out about all that goes into making great pictures. Our current crop of writers and editors have decades of professional photography and camera writing experience among them. Collectively, we've probably shot with just about every camera and lens combo you can imagine—as well as some obscure stuff you may not even know about. Remember the Casio Tryx folding camera? PopPhoto does.
We also get that buying a camera is a big decision, which is why we're dedicated to helping folks choose the right one (or, in our case "ones") for their needs. Case in point: Handing over top dollar for an expensive rig may leave you unsatisfied if it doesn't fit your preferred shooting style. Sure, a $6,000 sports-oriented DSLR can capture landscapes, but do you really need to do it at 30 frames-per-second? No, you don't.