Best full frame camera: For improved depth of field and quality, even in low light
In 2021, there are more full frame cameras on the market than ever before. Here's some advice on how to shop for the best full frame camera, and a few of our top picks.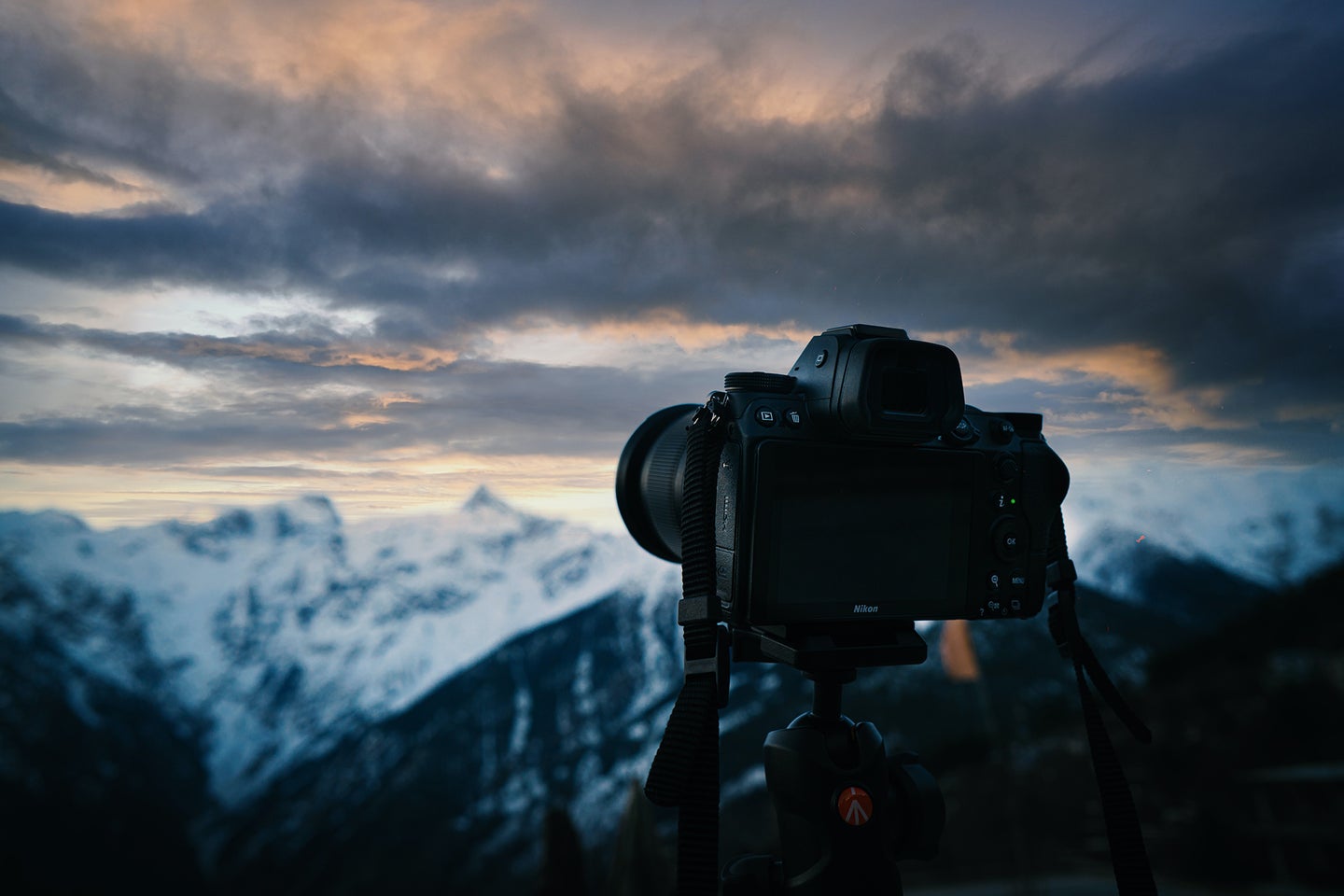 In years past, upgrading from smaller Micro Four Thirds or APS-C sensors to a full frame camera came at a steep price. If you wanted to take advantage of the uncropped field of view, lower noise, better low-light performance, and uncropped lens performance that full frame cameras enjoy, you could expect to spend upwards of $2,000.
Fortunately, this is no longer the case. With the rapid development of full-frame mirrorless cameras (thanks, Sony) and the competition that this sparked, the market has exploded. Now, even beginners can find a full-frame mirrorless camera or full frame DSLR that suits their skill level and falls into their price range. Canon, Nikon, Sony, and Panasonic all boast a wide range of full frame options so that you can find the ideal combination of features for you.
The one downfall of this explosion (if you could call it a downfall) is that finding the best full frame camera has become a far more nuanced and difficult task. With prices ranging from under $1,000 to well over $6,000, it's important that you educate yourself on the most important features so that you can separate marketing from reality and choose the best camera for you. That's where we come into play.
What to look for when shopping for the best full frame camera
There are a few key specs and features that you should watch out for when shopping for the best full frame camera. Resolution, autofocus performance, continuous shooting speed, optical image stabilization, size, build quality, video capabilities—these features make up the price difference between the most affordable and most expensive full frame models on the market.
On the lower end of the spectrum you have easy-to-use cameras that use 20 or 24MP image sensors, with relatively slow continuous shooting speeds, less robust video features, and entry-level build quality that usually leaves out nice-to-have features like weather sealing or multiple card slots. At the more expensive end, you have impossibly fast cameras with exceptional build quality, 50MP sensors, in-body image stabilization, lightning-quick autofocus, and the ability to shoot video at 4K, 6K, or even 8K. Every full frame camera falls somewhere between these two extremes, choosing a range of features that target specific users.
Most photographers would do well to stick to the lower end of this spectrum, but the ultimate goal is to find the right balance of features that you'll actually use.
Find the right balance of features for most uses
When they're being honest, most photographers will admit that they don't need 8K video, an ultra-high-resolution image sensor, or the ability to take photos at 20 frames per second. These are nice features to be sure, but they drive the price—and often the size—of a camera way up without offering enough value to the majority of users.
If you're looking to upgrade your camera gear or maybe even purchase your first full-frame camera, there's definitely a sweet spot of price-to-performance that you should try and hit.
For most people, this usually means a 24-megapixel full-frame sensor, snappy autofocus, 5 to 10 fps continuous shooting, some sort of optical image stabilization, a manageable size, and the ability to shoot 4K video. Nice-to-have extras include dual card slots, seamless wireless connectivity with a dedicated app, a flip-out screen for selfies and vlogging and, if you're looking at a mirrorless camera, a high-quality electronic viewfinder.
Best full-frame camera for most people: Sony a7C
Searching for the best full frame camera for your average person? The Sony a7C is essentially a more compact version of the ultra popular Sony a7 Mark III. It boasts a 24MP image sensor, 10fps continuous shooting, Sony's hybrid autofocus system with eye-detection, 5-axis in-body image stabilization, 4K video, and a good-quality 2.36m-dot OLED electronic viewfinder. The one annoyance is the single SD card slot, but setting this fact aside, the Sony a7C checks all the right boxes for most people.
How to Choose Between Mirrorless and DSLR
The vast majority of full frame cameras available fall into one of two categories: DSLR or mirrorless cameras.
The defining feature of a Digital Single Lens Reflex (DSLR) camera is the mirror box that sits between the lens mount and sensor, reflecting light up into the optical viewfinder. This mirror moves out of the way only in the instant when you're actually taking a picture, allowing light to reach the image sensor. Mirrorless cameras do away with this mirror box and trade the optical viewfinder for a high-resolution electronic viewfinder that pulls a live digital feed straight from the sensor itself.
There are pros and cons to both options, and they're mostly to do with size and the kind of viewfinder they use. Because of the mirror box, even small DSLRs are bulkier than most mirrorless cameras, trading compactness for better autofocus performance (in some cases), much better battery life, and an optical viewfinder that shows you a direct view of the scene in front of you. Mirrorless cameras, on the other hand, are smaller and easier to carry around, often include better video autofocus than DSLRs, and use an electronic viewfinder that lets you preview your exposure before you press the shutter.
As mirrorless camera technology has improved, these cameras have chipped away at some of the main advantages of DSLRs, leading many of us to believe that the DSLR form factor will eventually be replaced entirely by mirrorless.
Best full frame mirrorless camera: Canon EOS R6
Want the best full frame mirrorless camera? The Canon EOS R6 is a fantastic all-around mirrorless camera with a 20MP full frame sensor, Canon's Dual Pixel CMOS AF II autofocus, up to 20fps continuous shooting, an ultra-high resolution electronic viewfinder, 5-axis in-body image stabilization, and the ability to shoot 4K video at up to 60fps. It's a little more expensive than our best overall pick, but packs some compelling features that make it a better fit for high-end video or high-speed sports shooting.
Best full frame DSLR camera: Nikon D850
Since its release in 2017, the Nikon D850 has pretty much owned the full frame DSLR camera crown. This 45MP camera combines high resolution with lighting fast autofocus, up to 9fps continuous shooting, 4K video recording, an 8K time-lapse mode, and one of the most popular lens mounts in existence. It's telling that our pick for best full frame DSLR is now four years old—the Nikon D850 remains incredibly hard to beat.
Pick the best camera to match your skill level
Finding the best full frame camera for you isn't just about a preset list of features, it's about ease of use as well. If you're purchasing your first full frame camera, it's important that you evaluate your skill level and choose a camera to match. If you're an advanced user or professional photographer, you probably already know what you're looking for, but for the beginners in the audience, there are entry-level full-frame cameras on the market that are designed just for you.
Beginner-friendly full frame cameras are usually more compact, with fewer dials and buttons to deal with, a kinder price tag, and handy features like seamless wireless connectivity and image transfer. Most beginners aren't out there shooting professional sports games, so features like fast continuous shooting speeds aren't usually included, but eye-detection autofocus, decent build quality, and optical image stabilization are worth their weight in gold.
Best full frame camera for beginners: Nikon Z5
Searching for the best camera for beginners? Nikon's entry-level Z5 is part of the company's full frame mirrorless Z-series, and it's aimed directly at beginners. It uses a 24MP image sensor, with 4.5fps continuous shooting, 5-axis in-body image stabilization, 4K video recording, built-in WiFi and Bluetooth, a high-resolution electronic viewfinder, and even features dual SD card slots for instant backup or extra storage. It's a great full frame mirrorless camera to start out on, and still gives you plenty of room to grow.
How important is video?
Another important feature to consider when shopping for the best full frame camera is video specs. Not every photographer cares about video, but if you plan to use your full frame camera to launch a YouTube career, get into vlogging, or capture both photos and video at a wedding, it's important that you find a great hybrid full frame camera that can switch seamlessly between the two modes.
Most full-frame cameras that are also great at video will be of the mirrorless variety, and the latest full frame mirrorless cameras from Canon, Sony, Nikon, and Panasonic all place a premium on high-quality video capture and video autofocus.
Features to watch out for are the maximum video resolution and frame-rate, the bit rate of the video you'll be shooting, and whether or not you need an external recorder to take full advantage of your camera. The ultimate full frame mirrorless camera for video should be able to shoot at least 4K/60p video, including 10-bit internal recording. RAW video is a plus, and it absolutely must feature high-quality video autofocus to match.
Best full frame camera for photos and video: Sony a7S III
Sony's a7S III was a long time coming, but when it arrived it became an instant favorite of videographers everywhere. Despite using only a 12MP image sensor, it can shoot 4K video at up to 120fps, with 10-bit internal 4:2:2 recording, 16-bit RAW output to an external recorder, and Sony's top-of-the-line autofocus system. Essentially, you're trading resolution for phenomenal video performance, without springing for a camera that can shoot 8K.
Best full frame camera on a budget: What you get for under $1,000
Over the past few years, full frame cameras have been steadily dropping in price without dropping some of their most important features. In 2021, you don't have to spend 2 grand to make the leap to full frame; in fact, you can get away with spending less than half that much. Here's what made the cut as the best full frame camera for less.
Cheapest full frame camera: Canon EOS RP
The Canon EOS RP is the most affordable full frame camera on the market. And yet it still delivers the goods, including: a 26MP image sensor, 5fps continuous shooting, Dual Pixel CMOS AF autofocus, 4K video, WiFi and Bluetooth connectivity, and a 2.36m-dot electronic viewfinder. Conspicuously absent at this price point is in-body image stabilization and dual card slots, but with a price tag of just $999, there are some tradeoffs with resolution and slowed-down autofocus.
FAQ: people also ask
What should I look for in a full frame camera?
When shopping for the best full frame mirrorless camera, think carefully about all the ways that you plan to use it. Is this camera for travel? Weddings? Sports? Will you be shooting both photos and video, or only photography? Is it going to form the backbone of your business, or are you a weekend warrior?
Once you've answered these questions, you'll know what to prioritize. For travel, think size and portability. For weddings, you'll want higher resolution and great low-light performance. For sports, you need speed, and lots of it. And if you're going to be shooting video, you'll probably want a mirrorless full frame camera that can shift seamlessly between the two modes.
Do full frame cameras take better pictures?
Yes and no. All else being equal, the larger sensor inside a full frame camera can gather more light than a smaller sensor, which makes it easier to take great pictures in low-light situations. Full frame cameras also tend to benefit from a wider selection of high-quality lenses, which has a huge impact on the quality of your photos. And, of course, the wider, uncropped view makes it much easier to capture ultra-wide angle imagery without resorting to extreme lenses.
All of this can technically produce "better pictures" than a camera with a smaller sensor, but a camera doesn't automatically produce better photos just because it uses a full frame sensor. That's still up to the photographer.
How can you tell if a camera is full frame?
The term "full frame" means that the image sensor inside the camera is the same size as a piece of 35mm film, or approximately 36mm by 24mm. When you're shopping for a full frame mirrorless camera or DSLR, look for the term "full frame" on the spec sheet under "Camera Format" or "Image Sensor Type." If instead you see the term "APS-C" or "Micro Four Thirds," you're not looking at a full frame camera.
A final word on shopping for the best full frame camera
The world of photography equipment can be tricky to navigate alone. With so many options to choose from, finding the best full frame camera for you can be a challenge—gone are the days when there were only a few choices, all of them prohibitively expensive, and all of them aimed at professionals. But if you take the time to evaluate your needs as a photographer, educate yourself on the core features that tend to drive up the price of a camera, and explore some of the top picks above, you can confidently make the leap to full frame and take your photography to the next level.