We may earn revenue from the products available on this page and participate in affiliate programs. Learn more ›
Updated Apr 27, 2023 9:42 AM
Sensor size isn't everything, but a little extra silicon real estate certainly doesn't hurt when it comes to image quality and depth of field. That's what makes full-frame cameras so popular with photographers and video shooters. The phrase "full-frame" means that the sensor inside the camera is the same size as a singe photo taken on 35mm film. It's roughly 36mm wide and 24mm tall. This familiar size means that standard lenses will produce the angle of view you'd expect if you were shooting with an older film camera. A 50mm lens feels like a 50mm lens on a full-frame camera. Smaller sensor cameras, like those that use APS-C sensors, only capture part of the image circle, which makes the images appear more zoomed-in. You don't get the full width out of your lenses. Because there's less room on the sensor, APS-C cameras typically can't quite match the image quality found in the best full-frame cameras.
But, just because a camera has a big chip inside doesn't make it a winner. We curated this list of the best full-frame cameras by selecting models best-suited for different kinds of photographers and content creators. And while upgrading to full-frame is certainly no replacement for hard work and talent, it also doesn't hurt.
How we picked the best full-frame cameras
The writers and editors at Popular Photography have been testing and reviewing cameras for decades and have had hands-on time with almost every camera on this list. This group was compiled through a mix of first-hand testing, spec comparisons, editorial reviews, and user feedback. We started with a roster in the dozens and whittled it down to these selections. This list is evolving and will likely pick up some new additions like the excellent Sony A7 IV as soon as we've had more extensive hands-on time with it.
The best full-frame cameras: Reviews and Recommendations
Why it made the cut: It's the right balance of size, price, and resolution for the majority of advanced shooters.
Specs:  
Sensor size: Full-frame
Resolution: 20 megapixels
Weight: 1.5 pounds
Pros 
Excellent balance of features
Advanced video features
Fantastic image quality
Tough build
Cons
Not as many tactile controls as some would like
Want the best full-frame mirrorless camera? The Canon EOS R6 is a fantastic all-around mirrorless camera with a 20MP full-frame sensor, Canon's Dual Pixel CMOS AF II autofocus, up to 20fps continuous shooting, an ultra-high resolution electronic viewfinder, 5-axis in-body image stabilization, and the ability to shoot 4K video at up to 60fps. It's a little more expensive than our best beginner pick, but packs some compelling features that make it a better fit for high-end video or high-speed sports shooting. If you're looking for more resolution, you can step up to the Canon EOS R5, which has 45 megapixels of resolution and more tactile controls, but it also costs considerably more.
Best upgrade from a smartphone: Sony a7C
Why it made the cut: The simplified layout and lack of viewfinder make it an easy jump from a smartphone, but a huge leap in image quality.
Specs:  
Sensor size: Full-frame
Resolution: 24-megapixels
Weight: 0.93 pounds
Pros 
Simple controls
Compact body
Excellent image quality
Cons
More advanced shooters may miss the built-in viewfinder
Searching for the best full-frame cameras for your average person? The Sony a7C is essentially a more compact version of the ultra popular Sony a7 Mark III. It boasts a 24MP image sensor, 10fps continuous shooting, Sony's hybrid autofocus system with eye-detection, 5-axis in-body image stabilization, 4K video, and a good-quality 2.36m-dot OLED electronic viewfinder. The one annoyance is the single SD card slot, but setting this fact aside, the Sony a7C checks all the right boxes for most people.
Best full-frame DSLR camera: Nikon D850
Why it made the cut: Nikon's high-res DSLR can still compete with the best of them.
Specs:  
Sensor size: Full-frame
Resolution: 45.7-megapixels
Weight: 2.02 pounds
Pros 
High-end sensor with lots of resolution
Tried-and-true Nikon layout and menu system
Excellent dynamic range
Lag-free optical viewfinder
Cons
Faces fierce competition from Nikon's high-res mirrorless cameras
Since its release in 2017, the Nikon D850 has pretty much owned the full-frame DSLR camera crown. This 45MP camera combines high resolution with lighting fast autofocus, up to 9fps continuous shooting, 4K video recording, an 8K time-lapse mode, and one of the most popular lens mounts in existence. It's telling that our pick for best full-frame DSLR is now four years old—the Nikon D850 remains incredibly hard to beat.
Best for beginners: Nikon Z5
Why it made the cut: It's a very affordable way to get into full-frame mirrorless.
Specs:  
Sensor size: Full-frame
Resolution: 24-megapixels
Weight: 1.30 lbs
Pros 
Affordable
Compact
Uses Nikon's full-frame Z mount, which has lots of new lenses coming
Two card slots
Cons
Limited physical controls
Searching for the best camera for beginners? Nikon's entry-level Z5 is part of the company's full-frame mirrorless Z-series, and it's aimed directly at beginners. It uses a 24MP image sensor, with 4.5fps continuous shooting, 5-axis in-body image stabilization, 4K video recording, built-in WiFi and Bluetooth, a high-resolution electronic viewfinder, and even features dual SD card slots for instant backup or extra storage. It's a great full-frame mirrorless camera to start out on, and still gives you plenty of room to grow.
Best for photos and video: Sony a7S III
Why it made the cut: The low-resolution sensor works in the A7S III's favor when it comes to shooting uncropped video and low-light perfomance.
Specs:  
Sensor size: Full-frame
Resolution: 12.1 megapixels
Weight: 1.35 pounds
Pros 
Large pixels spread across a full-frame sensor
Un-cropped video at high-resolutions
Fantastic low-light performance
Cons
12.1-megapixel sensor may underwhelm photographers
Sony's a7S III was a long time coming, but when it arrived it became an instant favorite of videographers everywhere. Despite using only a 12MP image sensor, it can shoot 4K video at up to 120fps, with 10-bit internal 4:2:2 recording, 16-bit RAW output to an external recorder, and Sony's top-of-the-line autofocus system. Essentially, you're trading resolution for phenomenal video performance, without springing for a camera that can shoot 8K.
Why it made the cut: It's hard to find a current-gen full-frame camera for less.
Specs:  
Sensor size: Full-frame
Resolution: 26.2-megapixels
Weight: 1.2 pounds
Pros 
Very affordable
Impressive resolution at this price
Excellent image quality
Uses Canon's RF mount
Cons
One memory card slot
Awkward rocker controls
The Canon EOS RP is the most affordable full-frame camera on the market. And yet it still delivers the goods, including: a 26MP image sensor, 5fps continuous shooting, Dual Pixel CMOS AF autofocus, 4K video, WiFi and Bluetooth connectivity, and a 2.36m-dot electronic viewfinder. Conspicuously absent at this price point is in-body image stabilization and dual card slots, but with a price tag of just $999, there are some tradeoffs with resolution and slowed-down autofocus.
Best full-sized fro pros: Nikon Z9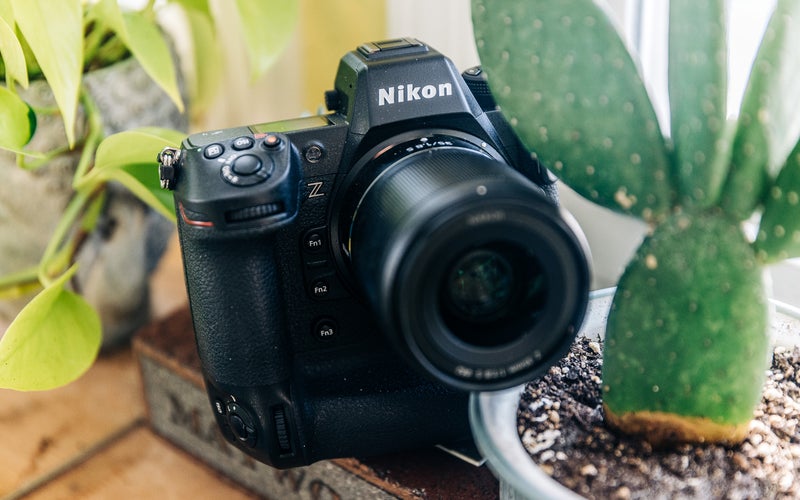 Why it made the cut: Nikon's flagship mirrorless camera captures high-resolution photos at super-high-speeds.
Specs:  
Sensor size: Full-frame
Resolution: 45.7-megapixels
Weight: 2.95 pounds
Pros 
Super-fast captures
High-resolution sensor
Tons of tactile controls
Silent operation
Advanced metering and AF tracking
Tons of customizability
Cons
Nikon decided it wasn't interested in moderation when it designed the relatively absurd Z9. It's a mirrorless camera without any kind of mechanical shutter. It's sensor reads out super fast so it can capture huge bursts at 20 fps with full AF tracking and AE metering going the whole time. It's built like a tank with lots of weather sealing, so it's meant to last for years, even under harsh punishment. If you can find one in stock and afford it, there's literally no situation in which this camera body would be out-classed.
Best regular-sized for pros: Sony A1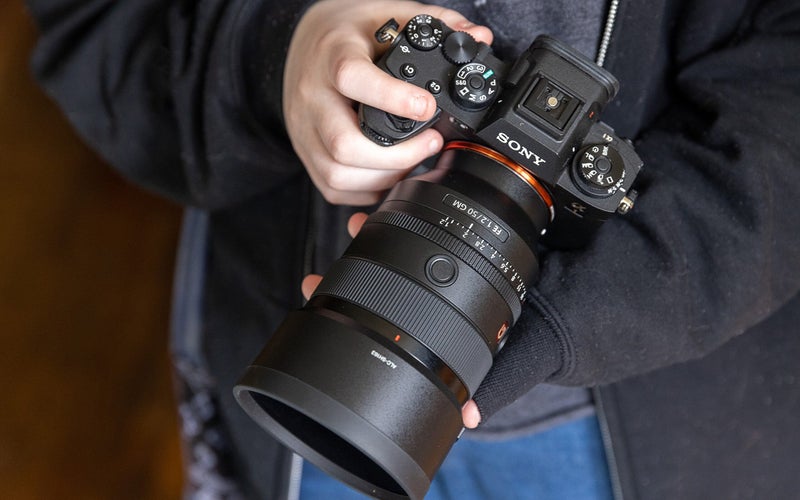 Why it made the cut: It looks like a regular A7 camera, but Sony stuffed this pro camera to the gills with features.
Specs:  
Sensor size: Full-frame
Resolution: 50-megapixels
Weight: 1.62 pounds
Pros 
Packs pro features into a normal-sized mirrorless body
Super-fast capture
High-resolution sensor
Advanced AF settings
Cons
Clunky menu system
Expensive
Sony's flagship mirrorless camera takes a similar approach to Nikon's Z9 in that it can do pretty much anything you'd ever want it to do. Its 50-megapixel sensor reads out super fast, which allows it to produce long bursts of 30 fps captures at full resolution. Despite its decidedly professional stats, it packs into the shape of a typical A7-series mirrorless camera rather than adding a heavy vertical grip. It's one of the best full-frame cameras we've ever used.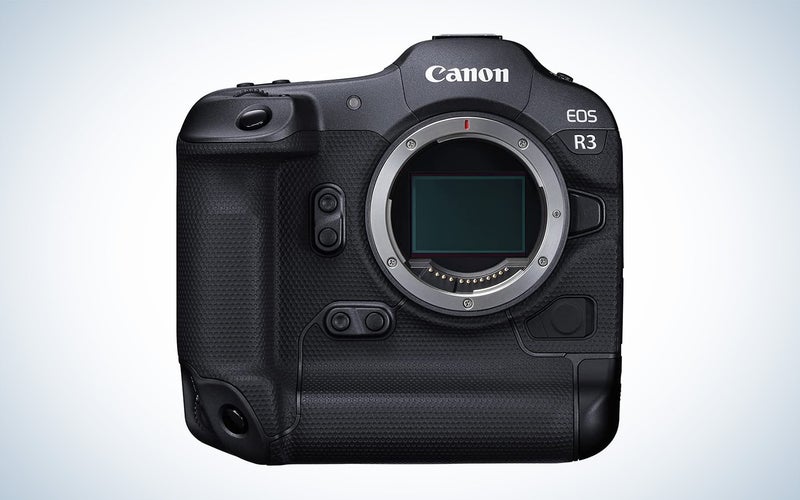 Why it made the cut: This perfectly balanced body puts the emphasis on speed at every step of the process.
Specs:  
Sensor size: Full-frame
Resolution: 24.1 megapixels
Weight: 3.4 pounds
Pros 
Unmatched AF tracking
Fantastic build quality
Perfect resolution for its purpose
Cons
Eye AF feature doesn't feel super useful in some instances
Rather than trying to ratchet up the speed on its high-resolution cameras, Canon purpose-built a camera for sports photographers. It has a super-rugged coating on the outside and a deep grip that makes it very easy to hold, even when there's a huge lens attached to the front. The autofocus menus have pages and pages of customizability, but the people and object tracking works fantastically right out of the box. The viewfinder is big and bright, thanks in part to the Eye AF system, which tracks your eye to determine where to focus. If you're a sports shooter, I think this is the best camera you can buy at the moment.
What to look for when shopping for the best full-frame cameras
Even though all these cameras share the same-sized sensor, they differ in a wide variety of ways. Here are some things to consider when shopping for the best full-frame cameras.
Resolution
Just because these cameras come toting large sensors doesn't necessarily mean they're going to be packed with pixels. Some cameras like the Sony A7S III opt for a lower, 12-megapixel resolution to employ bigger pixels that can pull in more light. The sweet spot for most people likely falls somewhere in the 20-30-megapixel range. That's plenty of resolution for most things (even large prints), but won't require an army of memory cards or a super powerful computer at home when it's time to edit your shots.
Camera design and layout
You're going to become very familiar with your camera over time, but a solid layout with intuitive controls can really speed up that learning process. If you're already using a company's cameras, you'll likely have an easier time to moving to one of their new models than you would if you switch manufacturers. Some photographers—typically those on the more advanced side of things—prefer more tactile controls like buttons and dials. They speed up the process of navigating the camera because they allow for setting changes without the need to dig into an on-screen menu. Beginners or those moving from smartphone photography may prefer the on-screen menus because they're more familiar. There's no right or wrong answer in this case. It all comes down to preference.
Rotating screen
Most full-frame cameras come toting advanced screens that measure three inches or more on the diagonal. Some, however, offer displays that flip around in various directions. While you may not think you need this feature, it can be extremely handy for shooting video or even taking the occasional selfie. Even if those situations won't come up very often for you, a rotating screen can provide opportunities to shoot carefully framed shots at very odd and unique angles. It's a tool that you'll likely use more than you think you will.
ISO range
Camera companies sometimes boast of maximum sensitivity settings that climb up over 100,000. Those are impressive on paper, but real-world offers a much different view. Even high-end digital cameras typically top out around ISO 6,400 when it comes to getting usable photos. Sometimes you can go up to 10,000 and beyond, but expect a ton of grain and less-than-accurate colors. When I go that high, I usually assume I'm going to convert to black-and-white because monochrome images deal with noise much better.
Memory card slots
If you're moving up to a full-frame body because you want to start doing professional work, consider a body with two memory card slots. That way you can shoot two copies of every photo in real time in case one of the cards gets damaged or corrupted. Charging people for photos and then losing them because you didn't have a real-time backup is a total amateur move and can seriously damage your reputation. You will hear people tell you that they shoot with a single card "all the time" and it's always "fine," but it only takes one catastrophe to cause havoc.
FAQs
Q: What should I look for in a full-frame camera?
When shopping for the best full-frame mirrorless camera, think carefully about all the ways that you plan to use it. Is this camera for travel? Weddings? Sports? Will you be shooting both photos and video, or only photography? Is it going to form the backbone of your business, or are you a weekend warrior?

Once you've answered these questions, you'll know what to prioritize. For travel, think size and portability. For weddings, you'll want higher resolution and great low-light performance. For sports, you need speed, and lots of it. And if you're going to be shooting video, you'll probably want a mirrorless full-frame camera that can shift seamlessly between the two modes.
Q: Do full-frame cameras take better pictures?
Yes and no. All else being equal, the larger sensor inside a full-frame camera can gather more light than a smaller sensor, which makes it easier to take great pictures in low-light situations. Full-frame cameras also tend to benefit from a wider selection of high-quality lenses, which has a huge impact on the quality of your photos. And, of course, the wider, uncropped view makes it much easier to capture ultra-wide angle imagery without resorting to extreme lenses.

All of this can technically produce "better pictures" than a camera with a smaller sensor, but a camera doesn't automatically produce better photos just because it uses a full-frame sensor. That's still up to the photographer.
Q: How can you tell if a camera is full-frame?
The term "full-frame" means that the image sensor inside the camera is the same size as a piece of 35mm film, or approximately 36mm by 24mm. When you're shopping for a full-frame mirrorless camera or DSLR, look for the term "full-frame" on the spec sheet under "Camera Format" or "Image Sensor Type." If instead, you see the term "APS-C" or "Micro Four Thirds," you're not looking at a full-frame camera.
A final word on shopping for the best full-frame cameras
The world of photography equipment can be tricky to navigate alone. With so many options to choose from, finding the best full-frame cameras for you can be a challenge—gone are the days when there were only a few choices, all of them prohibitively expensive, and all of them aimed at professionals. But if you take the time to evaluate your needs as a photographer, educate yourself on the core features that tend to drive up the price of a camera, and explore some of the top picks above, you can confidently make the leap to full-frame and take your photography to the next level.
Why trust us
PopPhoto has a long history of delivering the opinions of some of the sharpest and most prolific camera dorks the world has to offer. Since 1937, we've been reviewing cameras, providing wisdom from well-known photographers, and generally just nerding out about all that goes into making great pictures. Our current crop of writers and editors have decades of professional photography and camera writing experience among them. Collectively, we've probably shot with just about every camera and lens combo you can imagine—as well as some obscure stuff you may not even know about. Remember the Casio Tryx folding camera? PopPhoto does.
We also get that buying a camera is a big decision, which is why we're dedicated to helping folks choose the right one (or, in our case "ones") for their needs. Case in point: Handing over top dollar for an expensive rig may leave you unsatisfied if it doesn't fit your preferred shooting style. Sure, a $6,000 sports-oriented DSLR can capture landscapes, but do you really need to do it at 30 frames-per-second? No, you don't.