We may earn revenue from the products available on this page and participate in affiliate programs. Learn more ›
Updated Apr 27, 2023 4:22 PM
While smartphone cameras are getting more impressive, a dedicated camera for beginners is still the best option for improving photography skills and learning more about the medium. Thanks to their large image sensors, high-quality lenses, fast autofocus, and dedicated photo and video features, even an entry-level camera can outstrip what's possible with a smartphone. Unfortunately, it can be daunting to pick a camera with all the options available and jargon thrown around. But the best cameras for beginners—every beginner—is out there; let's find yours.
How we picked the best cameras for beginners
The writers and editors at PopPhoto have decades of photography experience. During that time, we have used or tested just about every major camera, including many options for beginners. I also was a photography instructor for three years at a university, where I recommended and taught with beginner cameras on a near-daily basis. 
When selecting the cameras above, we aimed to choose a range of options suitable for different needs and budgets. User-friendliness was one of our top considerations. We also looked at image and video quality, autofocus abilities, stabilization, and any unique features. Lastly, we picked cameras that are compatible with a good lens selection to provide more options down the road.
The best cameras for beginners: Reviews & recommendations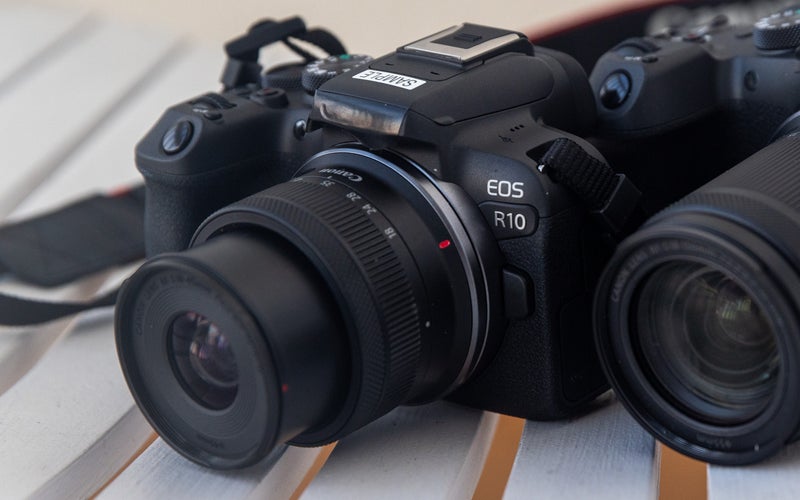 Why it made the cut: The R10 is a small package with impressive features for the price, including excellent autofocus and dynamic range.
Specs
Sensor: 24.2MP APS-C CMOS sensor
Max burst rate: 23 fps electronic shutter, 15 fps mechanical shutter
Max video resolution: 4K30p
Weight: 15.1 ounces
Pros
Tiny size for easy carrying
Wide dynamic range
Excellent autofocus system
Cons
No in-body image stabilization
The Canon EOS R10 packs a lot of features and quality into a small body, making it one of the best cameras for beginners. Canon built the 24.2-megapixel APS-C sensor specifically for this camera. Sure, it doesn't have as high a megapixel count as other options. But it is a nice balance between resolution, file size, and low-light performance. And 24.2 megapixels is plenty for most people, especially beginners.
The camera is capable of 4K30p video, which is oversampled from 6K, resulting in sharper, clearer video. That's impressive in an APS-C camera, especially at this price. You'll also get 4K60p with a crop or 120p at full HD resolution.
In terms of stills, the R10 is capable of excellent image quality. It handles noise well, making it a useful camera in low-light situations. In addition, the JPEG files provide a surprising amount of dynamic range. So you'll still have plenty of room to edit, even if you don't want to start shooting raw files yet. The camera is also capable of some fast burst shooting–23 fps with the electronic shutter–making it possible to document fast action.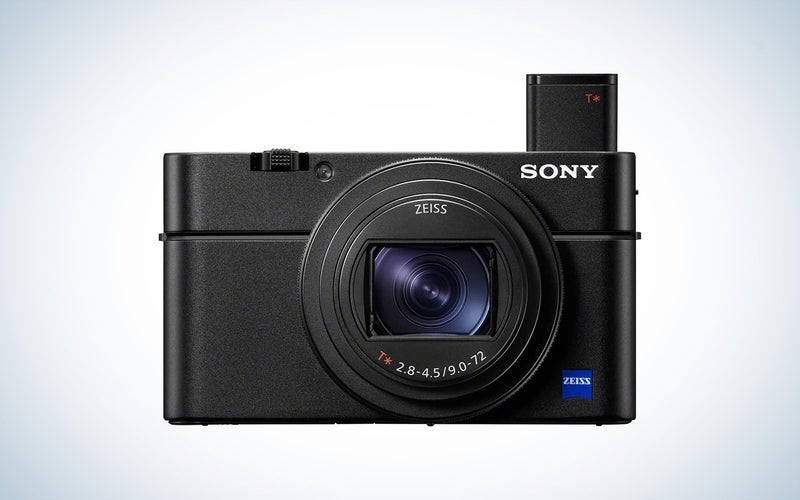 Why it made the cut: It's a tiny camera perfect for keeping on hand, but offers fast burst shooting, class-leading autofocus for video and stills, and a vlogging-friendly rear screen.
Specs
Sensor: 20.1MP 1-inch Exmor RS BSI CMOS sensor
Max burst rate: 90 fps for up to 7 frames
Max video resolution: 4K30p
Weight: 10.65 ounces
Pros
Fast burst shooting
Sharp and versatile 8x zoom lens
Excellent autofocus
4K video
Cons
It's pricey for a point-and-shoot, but the Sony RX100 VII isn't just the best digital camera for beginners—it's arguably the best compact camera. The 20.1MP 1-inch format sensor captures way more light than any smartphone camera. And it measures just 4 x 2.29 x 1.69 inches, which is smaller than most smartphones.
Despite being so small, it's capable of oversampled 4K30p video with HLG & S-Log3 gammas. You can also grab 8.29MP stills from videos right in the camera. It's no slouch with action, either, offering 20 fps or a whopping 90 fps for up to seven frames. The viewfinder may take some getting used to–it pops up and is on the side of the camera–but it provides a resolution of 2.36m dots for a clear view.
The 24-200mm-equivalent lens provides 8x zoom and gets you closer to the action. And Sony's autofocus is legendary and class-leading. So more of your images will be in focus with less work. Plus, you get a pop-up viewfinder, a 180° flipping screen for selfies, and much more.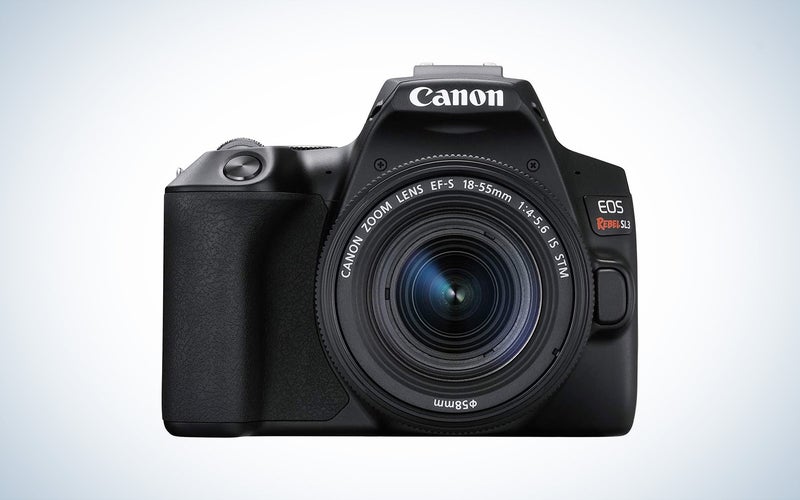 Why it made the cut: It's the smallest DSLR ever made, yet it still maintains nice ergonomics and good image quality. Plus, it features a helpful guide mode for beginners.
Specs
Sensor: 24.1MP APS-C CMOS sensor
Max burst rate: 5 fps
Max video resolution: 4K24p
Weight: 15.84 ounces
Pros
Very compact and lightweight
Affordable
Wi-Fi and Bluetooth connectivity
Features a guide mode for beginners
Cons
Autofocus isn't very responsive
Although mirrorless cameras are the direction the industry is heading, some may want to stick with DSLR cameras. Whether it be for better battery life or the feel of the classic DSLR grip, a DSLR still has a lot to offer. Canon released the Rebel SL3 in 2019, but it remains the best DSLR camera for beginners. It is tiny for a DSLR but still has a nice grip, making it easy to hold.
This camera is ideal for beginners for a few reasons, but we particularly like the guide mode. If you want to switch away from Auto mode but aren't sure where to start, the guide mode is advantageous. It shows what the different exposure settings actually do, so you can make more educated decisions about what you change.
Beyond that, the camera features a 24.1-megapixel APS-C sensor and is capable of 4K24p video. It provides good image quality, including JPEG files, with nice colors right out of the camera. The autofocus isn't as responsive as new mirrorless cameras, so it won't be a great camera for sports or fast wildlife, but it is still a fantastic camera for those new to the medium.
Best full-frame mirrorless: Nikon Z5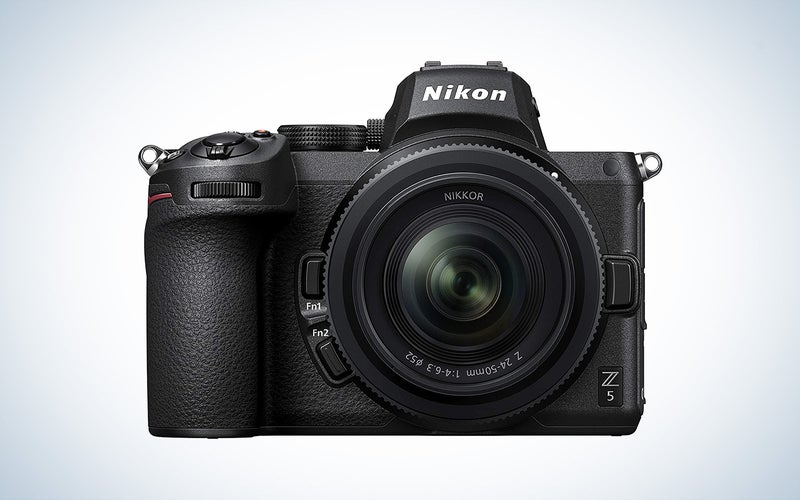 Why it made the cut: This budget full-frame camera offers 4K video, an intuitive autofocus system, excellent image quality, and a weather-sealed body.
Specs
Sensor: 24.3MP FX-Format CMOS sensor
Max burst rate: 4.5 fps
Max video resolution: 4K30p
Weight: 1.3 pounds
Pros
Rugged build quality
Dual UHS-II card slots
5-axis in-body image stabilization
Intuitive autofocus
Cons
4K video uses a 1.7x crop
Whether you want to dive right into a full-frame camera or you are looking for a beginner-friendly upgrade from an APS-C camera, the Z5 is a great choice. Nikon built the camera around a 24.3-megapixel full-frame sensor and the powerful EXPEED 6 image processor. It also has the best electronic viewfinder (EVF) for this price point. The 3.6m-dot OLED EVF will help you easily compose and expose your images.
The Z5 is capable of 4K video, though with a 1.7x crop. You can also shoot Full HD at 60 fps with no crop. The camera supports timelapses and is able to produce a finished UHD 4K video file straight from the camera. Its autofocus system is fast and responsive, but most importantly, it's easy to use. And it includes Face and Eye AF for both people and animals.
Image quality is overall really strong, though the slightly more expensive Nikon Z6 does offer better low-light performance. However, it features 5-axis in-body image stabilization (IBIS), which provides five stops of stabilization so that you can shoot at slower shutter speeds more confidently. The body is fully weather-sealed as well, so it will stand up to being out in the elements.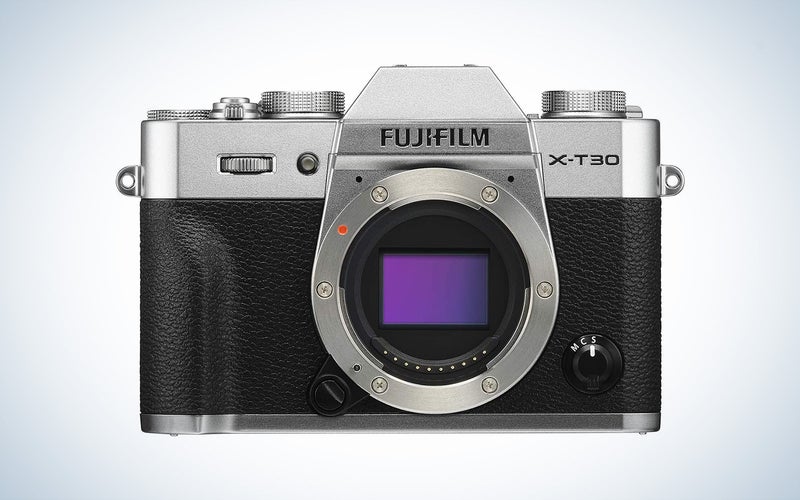 Why it made the cut: With attractive retro looks, a compact design, fast burst shooting, and built-in film presets, this camera is excellent for travel lovers.
Specs
Resolution: 26.1 megapixels
Sensor size: APS-C
Lens mount: Fujifilm X
Image stabilization: None
Memory card slots: Single slot: SD/SDHC/SDXC (UHS-I)
Weight: 12.8 ounces
Dimensions: 4.7 x 3.3 x 1.8 inches
Pros
Sleek, retro styling
Compact design
Attractive in-camera film presets
Responsive autofocus
Cons
No weather sealing
No in-body stabilization
The Fujifilm X-T30 II may look like a retro film camera. But that stylish exterior encloses all the latest digital camera features. It uses an advanced 26.1-megapixel X-Trans back-side illuminated CMOS sensor with plenty of high-end photo and video features. And yet it packs it all into a tiny camera body that weighs less than a pound (without a lens) with the benefits of a tilting touchscreen. In so many ways, this camera is the ideal travel companion.
As is true of other Fujifilm cameras, it comes loaded with attractive film simulation presets. This is a helpful feature on a camera for photography beginners as you can get more polished-looking images straight out of the camera. There's no need to know the ins and outs of editing software. It's also a nice tool when traveling, saving you from sending time on the computer instead of exploring.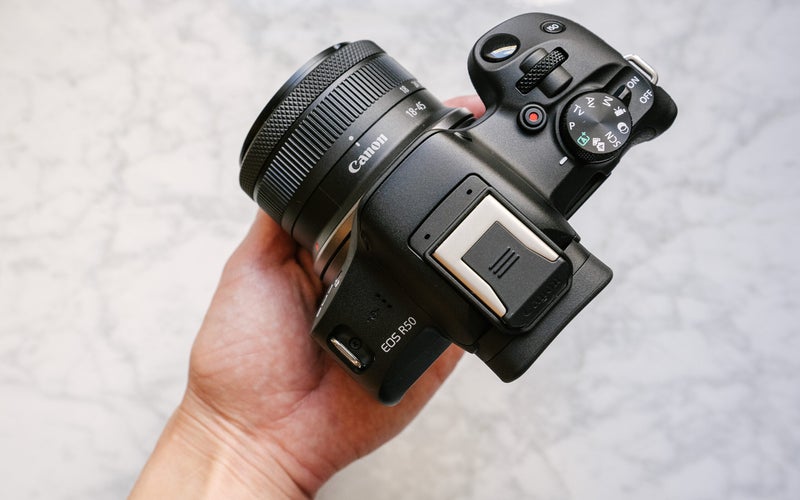 Why it made the cut: It comes at a very affordable price, even with a kit lens, but still produces quality images with an easy-to-use interface.
Specs
Sensor: 24.2MP APS-C CMOS sensor
Max burst rate: 15 fps
Max video resolution: 4k24p
Weight: 13.2 ounces
Pros
Advanced autofocus
Uncropped, oversampled 4K video
Very compact and lightweight
Attractive JPEG colors
Cons
No in-body image stabilization
No self-cleaning sensor
Canon's EOS R50 is another tiny yet highly capable camera perfect for beginners. It features a fully articulating LCD touchscreen and easy-to-navigate, simplified menus. The screen is helpful for selfies and vlogging since it flips all the way around. And, despite being so small, the grip makes it nice to hold.
The R50 is the first entry-level camera to offer uncropped 4K video. It's oversampled from 6K, so the footage is sharp and clear. Unfortunately, there is no in-body image stabilization (IBIS) beyond digital IBIS, so you may want a gimbal if you plan on moving around much while you film. The camera is capable of taking raw files, but its jpegs have excellent colors and good dynamic range as well.
Despite the budget price, it is an interchangeable-lens camera. This particular kit comes with the RF-S 18-45mm f/4.5-6.3 IS STM, but keep in mind that if you want something different, you will need to budget for that as well.
You can also learn more in our review of the EOS R50.
Things to consider before buying the best cameras for beginners
Camera type
Outside of smartphones, there are three main categories of digital cameras: DSLR, mirrorless, and fixed lens (also known as compact or point-and-shoot). Each style has its strengths and weaknesses, and each is best suited for a different kind of photography and a different kind of photographer. So the first step when shopping for the best cameras for beginners in photography is to decide between these options.
DSLRs are bulky and becoming a bit outdated. But they're also more affordable than most mirrorless cameras. And they offer many more lens options going back decades and have a deeper selection of used models since they've been around for so long. They're light on your budget and great to learn on.
Mirrorless cameras are smaller and lighter, which makes them better for travel and easier to carry around. They're also better video cameras, making them the ideal choice for someone who wants to learn both photo and video. Many companies are no longer producing DSLR cameras or DSLR lenses, so if you want something with the latest tech that you can grow into, mirrorless is likely the better choice.
Finally, point-and-shoot cameras have mostly been replaced by smartphones, but a few models still offer better image quality in a tiny package. That's perfect if you don't want to lug around extra lenses but still want a dedicated camera that can take fantastic pictures. They are generally simple to use and great for travel.
In this roundup, we tried to include at least one of the best cameras for beginners from each class, with a couple of additional choices thrown in for special uses like travel photography and video shooting. 
Sensor size
When shopping for cameras, you'll find three options for sensor size: APS-C (also called crop sensor), Micro Four Thirds, and full-frame. APS-C and full-frame each have pros and cons, so it largely comes down to personal preference and what you will use the camera for.
Full-frame sensors are called such because they are the same size as 35mm film (36x24mm). A lens's focal length refers to the focal length on a full-frame camera because you get the full view from that lens. These cameras will provide better low-light performance with less noise because, typically speaking, the sensor's light receptors are larger and can soak up more information. Full-frame cameras are also able to provide a narrower depth of field, which is ideal for subjects such as portraits. 
APS-C is typically the recommended camera format for beginners. This is because they allow for smaller, more compact cameras that are more affordable than full-frame cameras. But, these smaller sensors result in a cropped view compared to full-frame. The most significant impact of this is in focal length. Most cameras have a 1.5x or 1.6x crop factor, meaning a 50mm lens on an APS-C camera will have an equivalent focal length of 75mm or 80mm. That's an asset when you want a long telephoto without the price and size of a long telephoto, but it makes wide-angle work more challenging.
Full-frame cameras typically get billed as the choice of professionals, and while this is generally true, APS-C cameras have something to offer experienced professionals as well as novices. If you want a small, travel-friendly camera at a lower price, APS-C is likely the best choice. But, if you are looking for something that will handle shooting in low light, offers more megapixels, and supports a wider lens selection, you may want to spend the money on a full-frame camera.
Camera size
No matter what type of camera you get, it won't be any good if you don't actually take it out and use it. Camera size can be a common reason for leaving a camera behind. If you know you want to travel a lot or don't want to deal with a bulky camera ever, make sure you prioritize camera size. Plenty of small options are available, especially in the mirrorless world, that offer lots of quality and features.
It's also worth looking into lens options if you are considering an interchangeable lens camera. While the camera itself may be tiny, you may find that there aren't many compact lens options compatible with the camera. It's worth spending extra time looking at potential lenses to ensure you'll be able to get a setup you're going to enjoy.
Additional features
Beyond the camera basics, there are some things to look out for that you may find useful. For starters, the articulation of the rear display may be important for how you shoot. Some tilt up and down, while others can flip around to be used for selfies or vlogging. Touchscreen capability is another consideration, as some do not have this functionality.
Another thing that could be key for some is video capabilities. If you'd like to use the camera for both photos and videos, be sure to get an option with 4K video. Other video-friendly features like stabilization and a headphone jack may also be valuable.
FAQs
Q: How much does a camera for beginners cost?
The cost of the best cameras for beginners can vary quite a bit, but depending on features and specs, you can find options anywhere from $600 to $2,000. It all depends on what you are looking for in a camera, how much you want to grow into it, and what your budget is.
Q: Is Canon or Nikon better for beginners?
Both Canon and Nikon do a great job with their entry-level cameras, making them as beginner-friendly as possible. For many years, Nikon did a little more by including a helpful Guide Mode in all of their entry-level DSLRs, but Canon recently caught up by adding a Guided mode to the latest Rebel cameras that explains what each setting does as you change it.

There really isn't a best brand for beginners these days. Whichever brand you choose, it's more important that you pick a camera with the right combination of features to suit your photographic style and goals. Certain cameras will also just feel right in your hands, so whenever possible, we recommend trying them out before purchasing.
Q: What should I look for when buying a camera?
is no good if you never actually take it with you. Ease of use is especially important for beginners, so you don't get discouraged along the way.

Most cameras on the market focus on one or two of the features above, but the best cameras for beginners strikes the right balance between all three.
Final thoughts on the best cameras for beginners
Don't let smartphone marketing fool you. If you want to take great pictures and learn the art of photography, a dedicated camera is much more powerful than the little computer in your pocket. Fortunately, there are a ton of great entry-level cameras on the market that match every style, every goal, and every budget. Whether you're just starting out on this journey yourself or you're shopping for a friend or family member, finding the best cameras for beginners is just the first step. A world of creativity and captured memories awaits.
Why trust us
PopPhoto has a long history of delivering the opinions of some of the sharpest and most prolific camera dorks the world has to offer. Since 1937, we've been reviewing cameras, providing wisdom from well-known photographers, and generally just nerding out about all that goes into making great pictures. Our current crop of writers and editors have decades of professional photography and camera writing experience among them. Collectively, we've probably shot with just about every camera and lens combo you can imagine—as well as some obscure stuff you may not even know about. Remember the Casio Tryx folding camera? PopPhoto does.
We also get that buying a camera is a big decision, which is why we're dedicated to helping folks choose the right one (or, in our case "ones") for their needs. Case in point: Handing over top dollar for an expensive rig may leave you unsatisfied if it doesn't fit your preferred shooting style. Sure, a $6,000 sports-oriented DSLR can capture landscapes, but do you really need to do it at 30 frames-per-second? No, you don't.