Early review of the Canon EOS R50: Compact and approachable
The R50 is a true beginner camera with smartphone-features and paired down controls.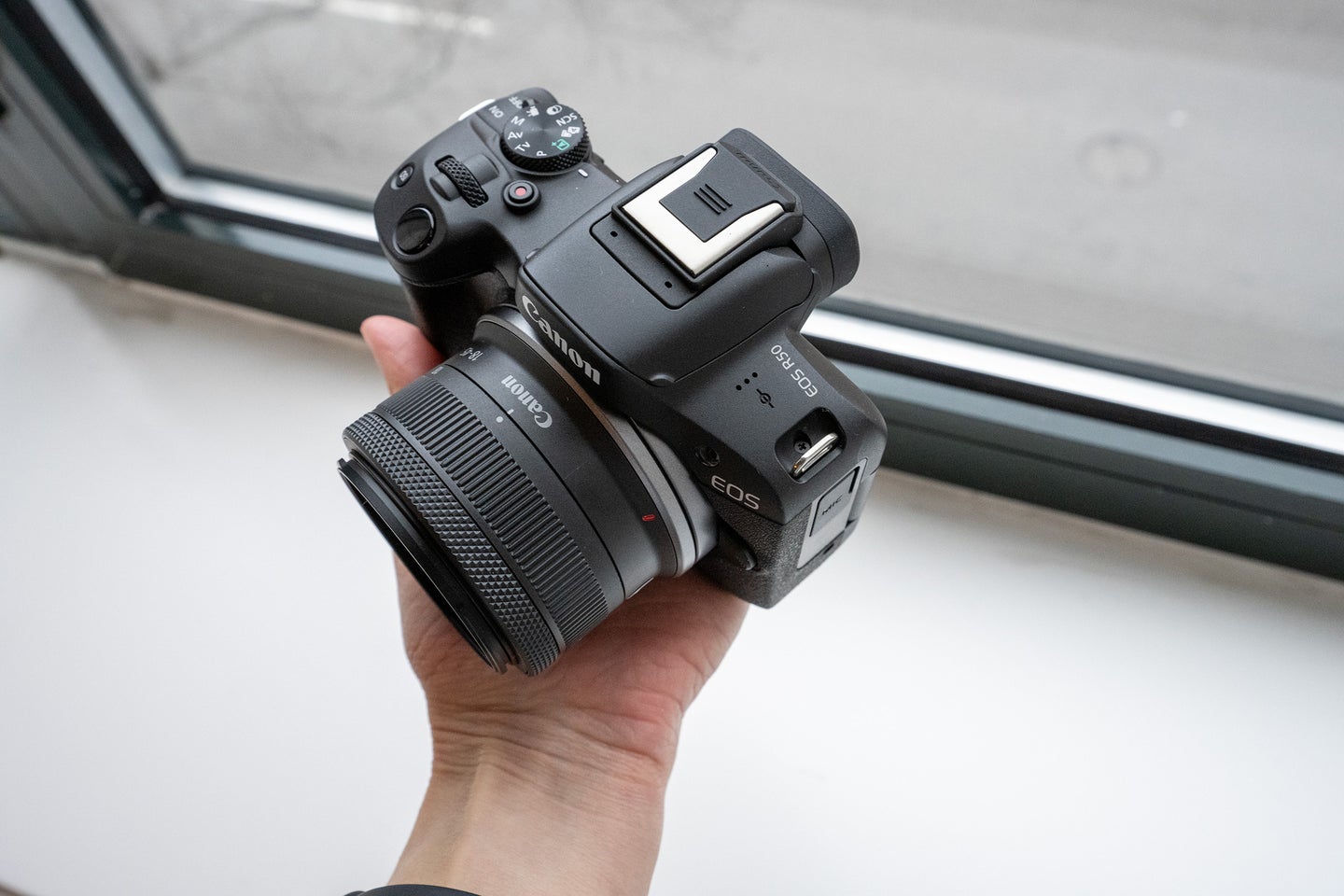 We may earn revenue from the products available on this page and participate in affiliate programs. Learn more ›
Canon recently released a slew of gear ideal for beginners and casual photographers, including the new EOS R50. This camera sits at the entry of the R line and just above the enthusiast-oriented M series. It is currently one of the most entry-level cameras available from the company. It's shockingly lightweight, almost feeling like a toy camera. And yet, it's packed full of advanced features like uncropped 4K video and subject detection autofocus, making it more than capable for various situations.
Canon recently brought PopPhoto out to South Carolina for an opportunity to use the R50 and other new gear. We'll be working on a longer review down the line when we have more time to spend with the camera. But here are our thoughts after two days of shooting around Charleston, South Carolina.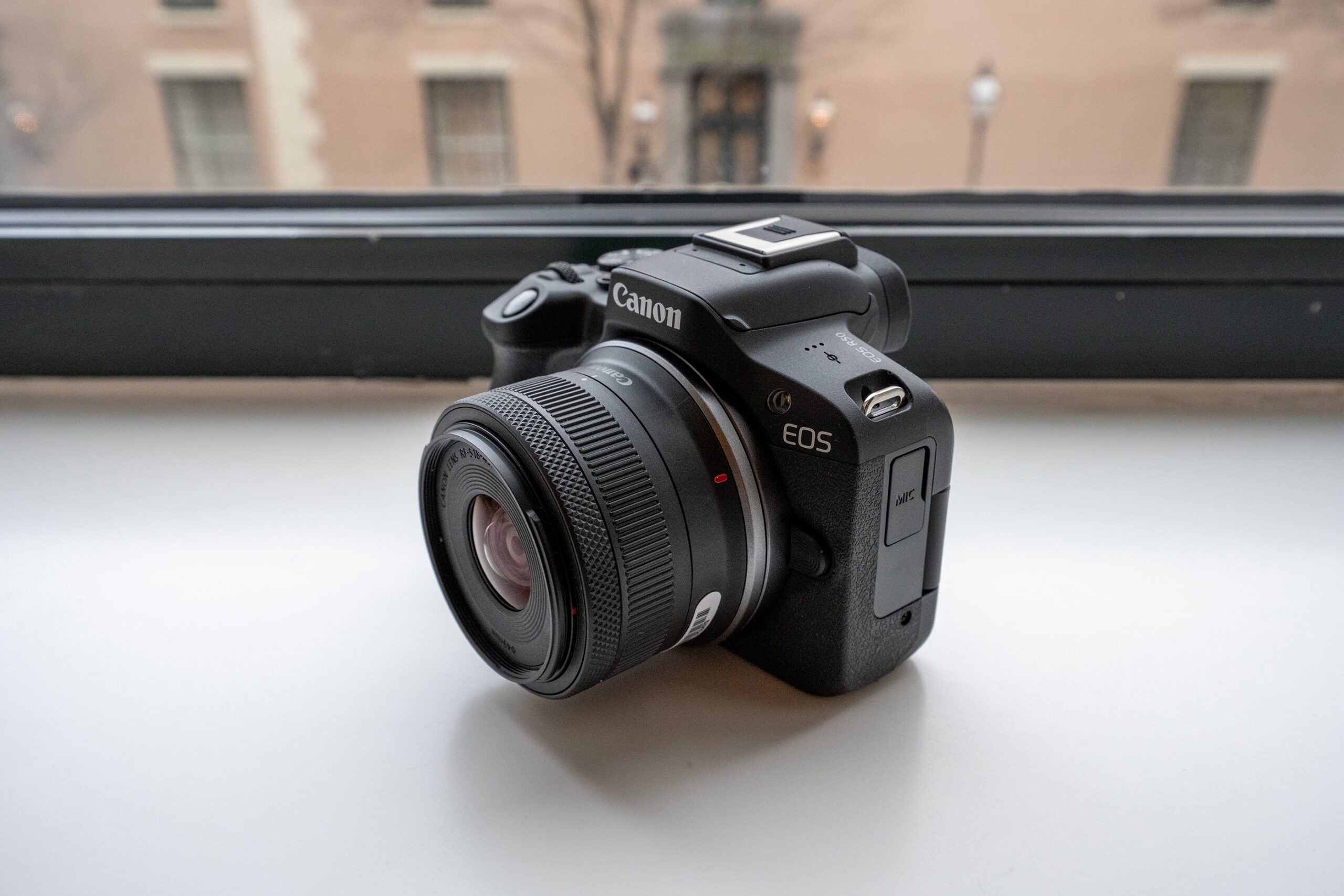 What is the Canon EOS R50?
Priced at $679.99 for the body only, the R50 sits just above the hugely popular entry-level M50 Mark II. Both cameras feature an APS-C sensor, with the R50 getting a smidge more megapixels at 24.2. As expected for a camera of this price point, the sensor does not utilize the latest stacked or backside illuminated (BSI) technology. 
It's worth pointing out that this camera falls in Canon's R line and thus uses the RF mount, as opposed to the EF-M mount of the M line of cameras. Canon established the EF-M mount for its first APS-C mirrorless cameras. The RF mount was initially only for full-frame mirrorless cameras. The company is now moving towards a one-mount system, though, with both full-frame and APS-C mirrorless cameras utilizing the RF mount. That makes it much easier to swap lenses between Canon's mirrorless bodies should someone decide to upgrade or have multiple cameras. 
Despite the low price and entry-level status, Canon fitted the R50 with some surprisingly advanced autofocus features. It is capable of whole-area tracking and subject detection, including people, animals, and vehicles. It can also automatically detect eyes for sharp portraits. We've traditionally only seen these features in more advanced models, so getting them in a camera of this level is exciting. 
Canon specifically said that it optimized the R50 for fully automatic shooting. As part of that, it included new automatic modes to make results even better when leaving controls up to the camera. These include Creative Assist, Creative Bracketing, and Advanced A+, which provide different levels of assistance and file processing. All three are meant to make the shooting experience more like using your smartphone.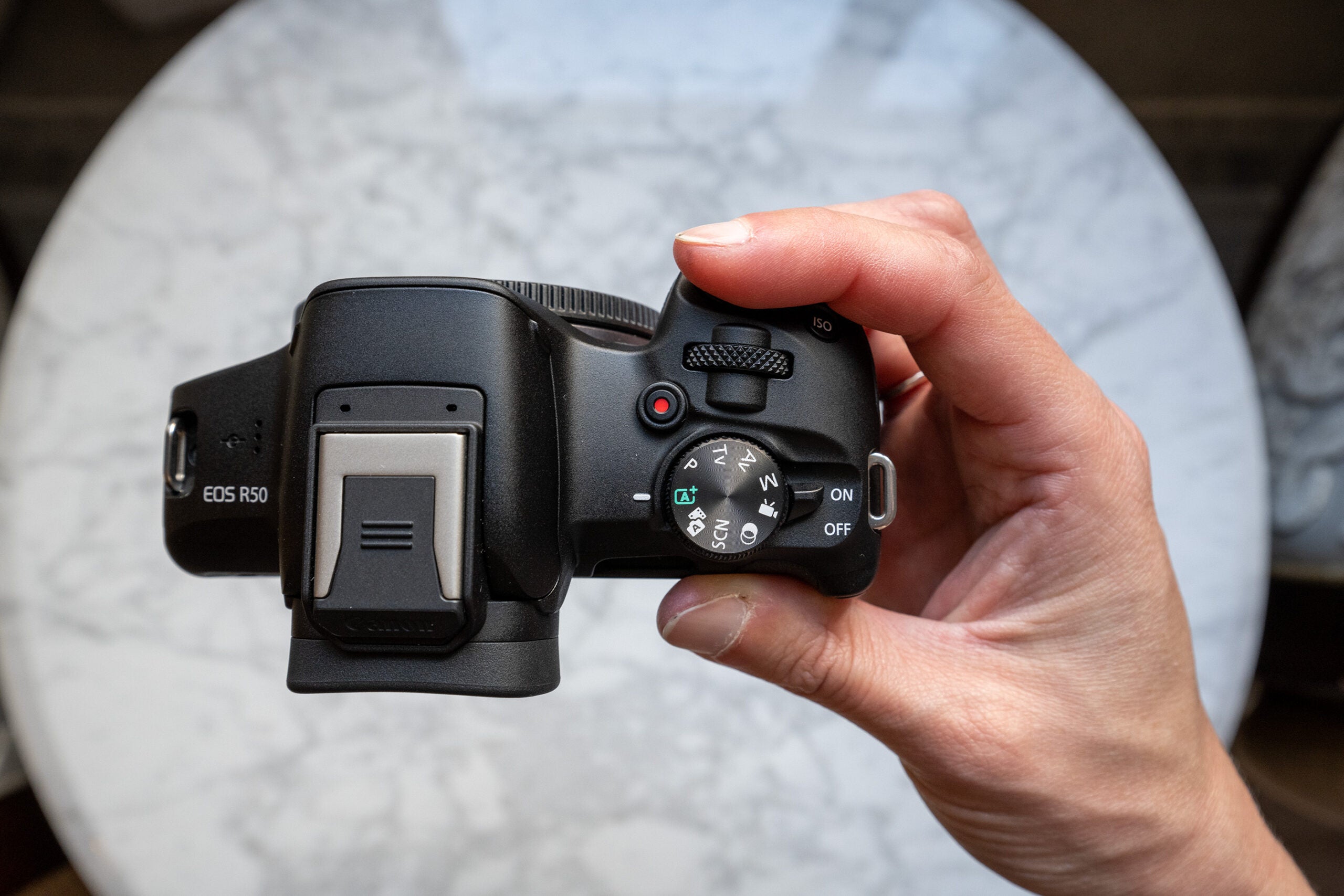 Canon EOS R50 design & handling
The first thing I noticed with the R50 is how tiny and lightweight it is. Without a lens, the camera feels almost comically light. It weighs just 13.2 ounces and measures only 4.58 x 3.37 x 2.71 inches. That's roughly the same dimensions, though slightly lighter than the M50 Mark II. It also weighs two ounces less than the R10. Despite the small size, it still has a decent handgrip. It is a bit shallow, which is to be expected, so people with bigger hands may want a wrist strap or something else to help carry it when walking about. 
One tiny feature that bugged me is that the door to the battery and memory card slot doesn't click shut on its own; you have to slide over the lock. The R8 that I was testing at the same time would lock shut when pressed in all the way. It's interesting to me that Canon went with two different designs.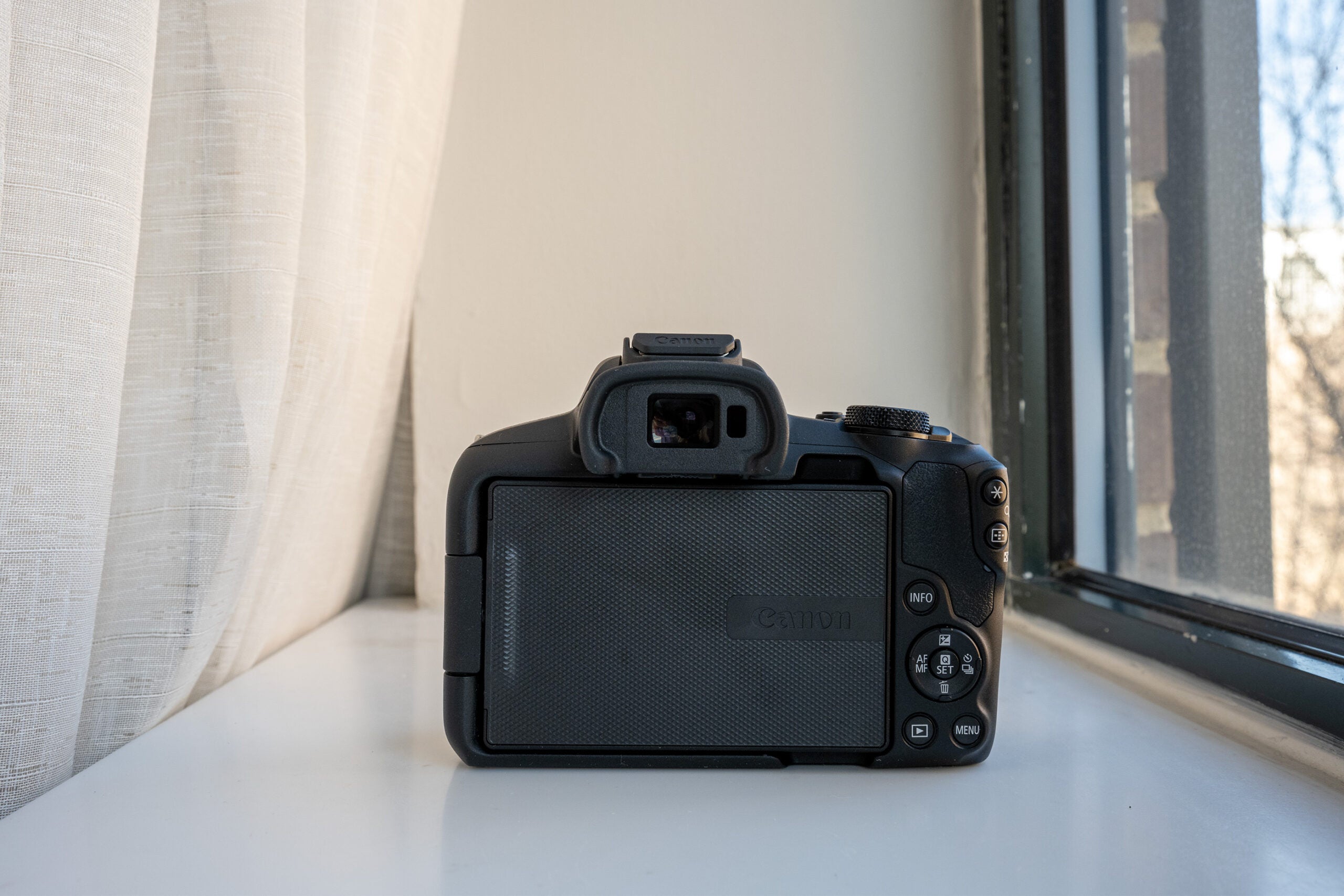 The design of the R50 is a somewhat simplified version of even slightly more advanced cameras from Canon. The mode dial is on the right side in the same place as the aperture dial of most cameras. Though I mostly shot in automatic with this camera, when I was shooting manually, I frequently rotated the mode dial when trying to adjust the aperture. If you aren't used to anything else, it probably wouldn't be an issue, but having a way to lock that dial into place would be nice. 
Like the R8, there is no joystick on the R50, meaning you'll need to rely on the touchscreen for everything. There is a dedicated record button for video, but no video switch like the one found on the R8.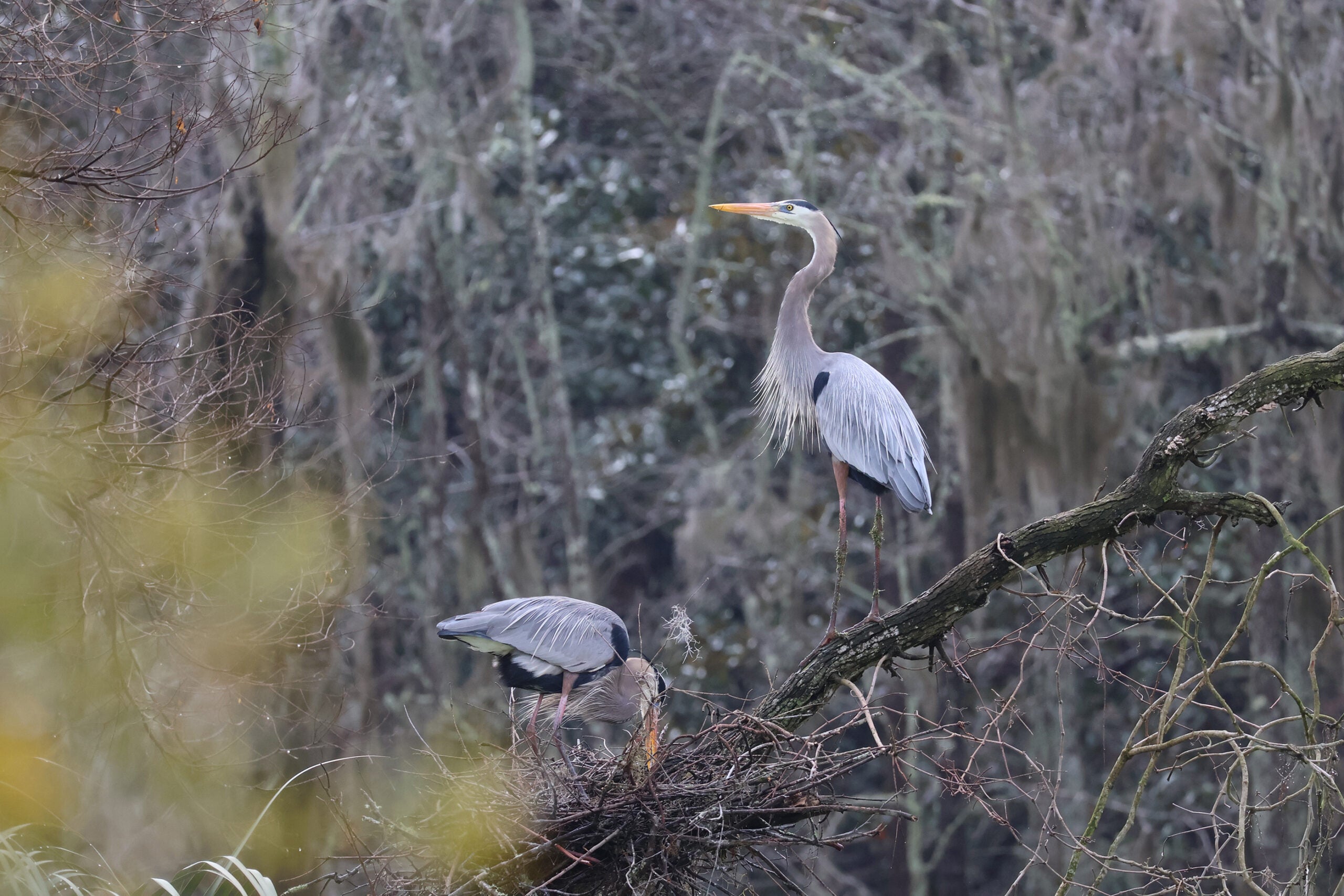 Canon EOS R50 image quality
The camera is capable of shooting raw files, but since none of our typical raw processing programs can handle the files yet, I've just evaluated the jpeg files thus far. We'll take a closer look at raw files down the line, but most people using this camera will likely be shooting jpeg files anyway. And for the most part, I was pretty impressed with the image quality from the R50's jpegs. 
For the entry-level status and low price, it produces nicely detailed and sharp images. It's not a high-resolution show-stopper, but that's not what it's supposed to be. There's some slight softness when you zoom in, but you could get away with printing these files somewhat large without any significant issues. It definitely shows more noise than a full-frame camera, but I wouldn't shy away from shooting as high as ISO 5000 with the R50 in most situations. 
Canon EOS R50 shooting experience
The R50 is an easy camera to use. Canon intends this camera to be a step up from smartphone use, and the reliance on the touchscreen along with some of the shooting modes makes it feel remarkably similar to that experience. 
Canon significantly simplified the menus of the R50 with much fewer settings and options than most of its cameras. As a result, it's not an overwhelming experience to get started with it, which is a big selling point. It's easy to simply turn the camera on and start shooting and still get good results.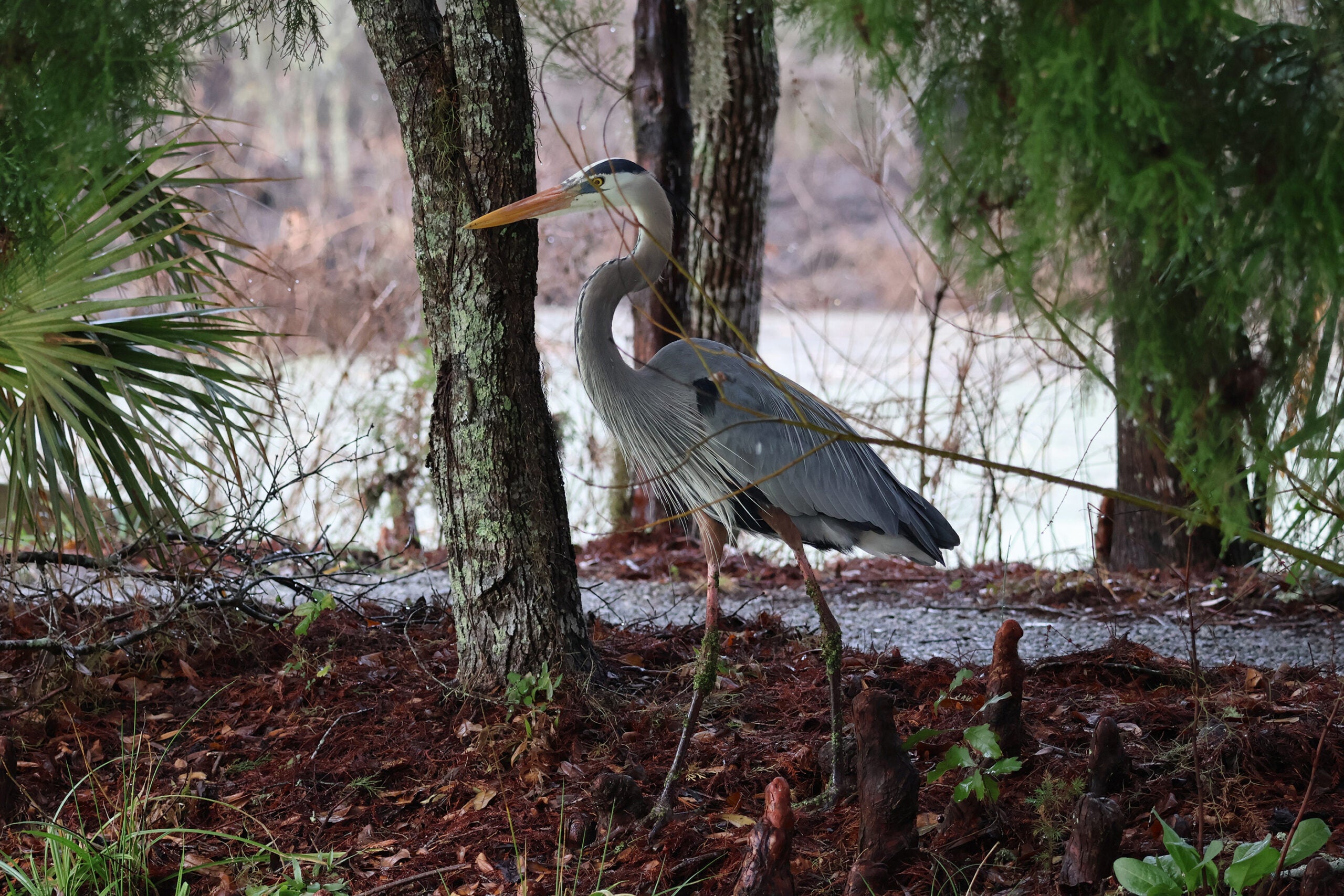 The autofocus isn't quite as responsive as Canon's more expensive models. But for what this camera is, it was quite excellent. In almost every situation, it found my subject and tracked them even as I moved the camera for different compositions. There were a few times it struggled to find the faces of animals, especially those that were further away or not looking right at the camera. It still did surprisingly well at getting subjects in focus in most situations.
Canon EOS R50 automatic modes
As mentioned, I primarily used the automatic modes while using the R50. The default automatic mode is like you'd expect from any camera. However, where things get interesting is the Creative Bracketing and Advanced A+ modes. 
Creative Bracketing takes three shots with every shutter press, resulting in images with different exposure levels and white balance. I was not overly thrilled with the results from this, as the color temperatures were significantly off from what I would ever want in my photos, personally. I can't quite see when this setting would be useful. This is a software feature, however. Canon can tweak it with firmware updates down the road, so it could improve in real-time.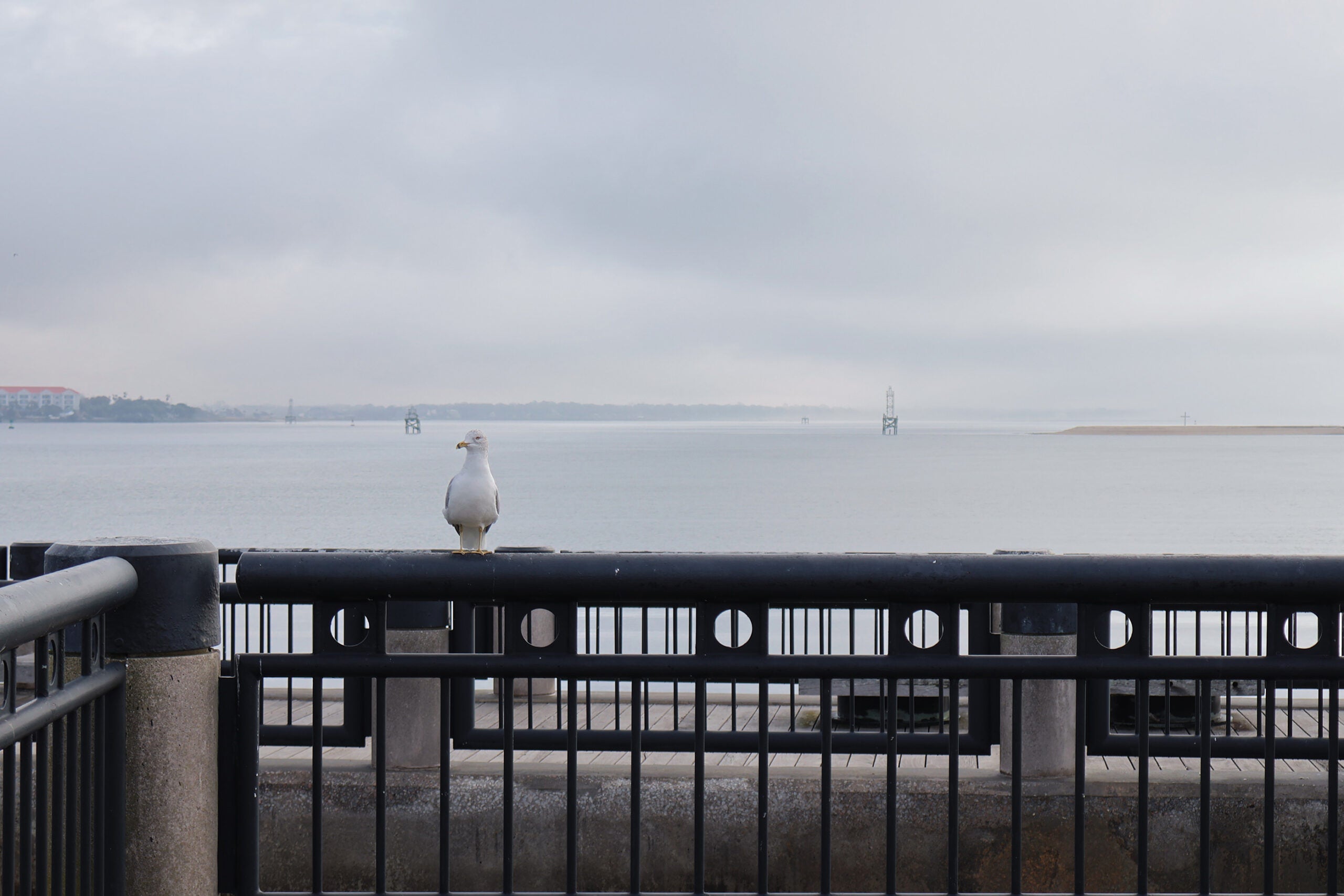 The Advanced A+ mode is the setting that most acts like your smartphone. If the camera detects a problematic scene, such as backlighting or a high-contrast scene, it takes many pictures at once and merges them together to create one evenly exposed and already processed file. Canon didn't specify exactly what the camera is doing during all this, but the images that I tested look like the camera is even applying some perspective correction and straightening, which is interesting to see.
The downside to Advanced A+ is the busy message that pops up after you take a shot. It can linger for a handful of seconds, which doesn't sound like much. But if you want to snap away while documenting something on your vacation, it could cause issues. You've probably experienced something similar if you've used in-camera HDR or multiple exposure mode in other Canon cameras. It also doesn't give any hint as to what the camera is doing. Smartphones don't give a busy message after taking a photo, so to someone transitioning from that, it could feel like the camera is really slow. I also noticed some ghosting issues in images that had items moved by the wind, so this mode really should just be used with still subjects. That's true of most modes that require merging multiple shots.
The photos from Advanced A+ weren't groundbreakingly different from the normal automatic mode. The automatic straightening is nice, especially for those who don't plan to do any sort of editing, but otherwise, they aren't orders of magnitude better than standard automatic. I didn't encounter too many challenging lighting situations, such as dramatic backlighting, but those may be the only real time Advanced A+ makes sense.
Video features
I only had two days to test two cameras, so I focused on still shooting for the duration of the press trip. We'll be testing video features down the line, but for now, it's worth pointing out what the camera is capable of. 
The R50 can shoot uncropped 4K, a first for an entry-level camera. 4K30p footage is oversampled from 6K, so it should result in really clear footage. It also provides 60p at full HD. There is also a new movie mode for closeup detection, which is ideal for showcasing products, and there is direct USB live streaming. 
The video autofocus features have trickled down from the R6 Mark II. It utilizes Dual Pixel CMOS AF and can track faces, animals, and vehicles. And it provides access to the Subject Only detection so that the focus doesn't shift dramatically if your subject leaves the frame or walks behind something. 
The R50 versus the R10
The closest comparison in Canon's lineup for the new R50 is the R10. They do reflect different price points ($679.99 versus $979, respectively). And Canon also intended them for somewhat different audiences. But they have very similar video features, so content creators or anyone wanting to record video may have a difficult time deciding between the two.
Put simply, the R50 is for those who want to use a camera like a smartphone but would like the added benefits that come with interchangeable lenses. The R10, on the other hand, is ideal for those who want to use a camera like a dedicated camera. The R10 is a camera for the growing amateur, while the R50 is more so for a true casual amateur. It's not necessarily meant to be a camera for aspiring photographers. 
The R10 provides faster burst rates (up to 23 fps) and shooting speeds. It also features a self-cleaning sensor, which implies that users will frequently swap out lenses, exposing the sensor to debris. The R50 is only capable of up to 15 fps and does not have a self-cleaning sensor.
Who should buy the Canon EOS R50?
As already mentioned, the R50 is a true entry-level option. It is essentially a replacement for a smartphone, offering some functionality that will feel familiar if that's what you are used to using. While it does allow for fully manual shooting and can take raw photos, it isn't necessarily for someone who wants to grow into the camera and focus on developing their skills.  
The compact size and easy-to-use controls make this an ideal camera for young families or casual photographers. It's perfect for getting those family snapshots or documenting a vacation. As an interchangeable lens system, the R50 provides a bit more flexibility than a phone but without the need to go all in on learning photography.
The R50 is available for $679.00 for the body only, or as a kit with Canon's RF-S 18-45mm f/4.5-6.3 IS STM lens for $799.00. It's also available in white.