Best DSLR camera for beginners
Wonder what's the best DSLR for beginners? We have the answers!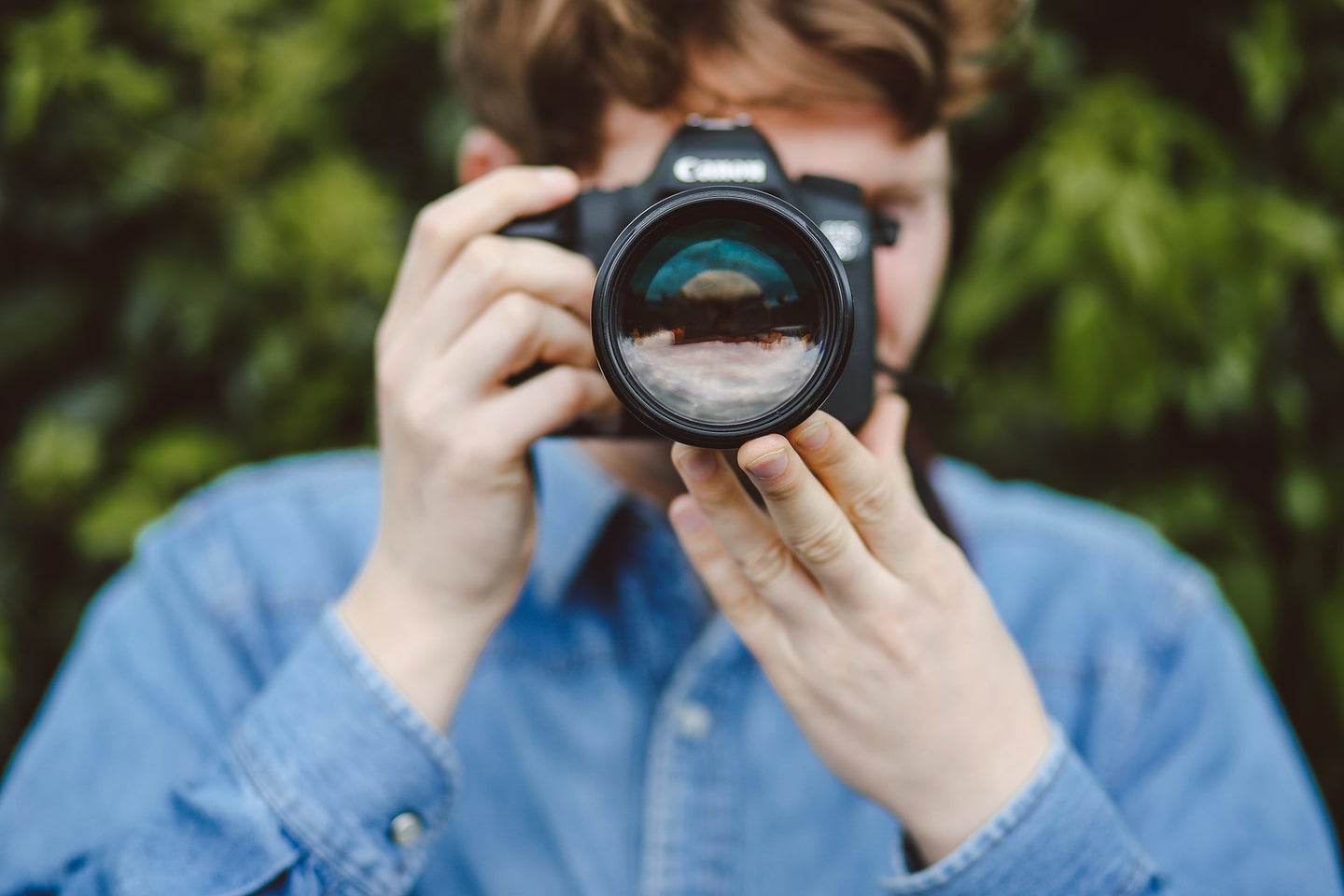 Are you a beginner ready to step up from a smartphone or compact camera? Even DSLR cameras for beginners offer decidedly more flexibility and room to grow your photographic skill. They offer a much more robust selection of manual modes, as well as compatibility with a wide range of interchangeable lenses that achieve shots a smartphone never could.
The best DSLR cameras for beginners offer both automatic and manual features so you can let the camera do all the work or—if and when you're ready—take control over your picture taking. The latter is a great way to learn photography while elevating the quality of your images. At the entry-level, you'll find more than enough easy-to-use features for almost point-and-shoot picture taking by choosing the auto mode or one of the handful of "scene" modes. Choose a simple setting like "sports," or "landscape" and the camera uses predetermined settings to get the best results for that specific type of picture. Of course, when you eventually feel comfortable, you can manually choose the settings.
The basics, as outlined above, are essentially the same on most of the best DSLR cameras for beginners. But if you have a special interest or need, look for specifications that address those features whether it's video and vlogging, built-in help guides, or in-camera processing. And, if you already have compatible lenses for one brand or another, you may want to take that into consideration when making your choice.
How to find the best DSLR camera for beginners
Given the consistent basic features across beginner DSLRs, here are a few things to keep in mind when selecting an entry-level camera. Remember, you don't need the best DSLR camera on the market to take great pictures or learn photography.
How many features do you want—or need—for a well-rounded entry-level DSLR?
If you plan to go beyond point-and-shoot snapshots, it's important to have the tools you need to really learn about photography. You want access to advanced features down the road, but don't want them to get in the way and confuse you during the learning process. While you may have the patience to read a camera manual and retain the information, clear menus and built-in guides offer an on-the-go helping hand.
Convenience is also key. Whether it's in-camera processing or a familiar-to-use touchscreen monitor, an entry-level digital SLR that offers some of the same features as higher-end models are, of course, a better value for the dollar.
Best DSLR camera for beginners overall: Nikon D5600
Solid Features
You won't find a better feature set for the money. Amazon
Check Price
From its fully rotating touchscreen LCD to its built-in help guide, retouch menu, and in-camera timelapse mode, the Nikon D5600 offers ample features for the beginner DSLR user. Both the help guide and in-camera retouching are great learning tools for growing skills beyond the basics. While you won't find 4K, its full HD video takes up less space and is easier to edit without an expensive computer. Bluetooth and WiFi are also available for seamlessly transferring images to smart devices.
Size matters—compact or full size DSLR?
While entry-level DSLRs tend to be smaller and lighter than higher-end models, it's important to take size and weight into consideration—especially if you're used to traveling light with a smartphone or point-and-shoot camera. Are you willing to tote around a larger, heavier camera or will you tend to leave it at home because it's a hassle to carry—especially when using a telephoto lens?
More compact models don't scrimp on features because of their size but are more manageable whether you hang it from your shoulder with a camera strap or toss it in a small camera bag. If you're hiking or traveling, a smaller model is more convenient to bring along. And if a camera doesn't weigh you down, you're more likely to grab it and go. What's the point of having a camera that sits at home when you're out in the world?
The one thing to consider, though: is the camera comfortable to hold and use? If you have larger hands, it's best to try a DSLR on for size before you buy it. Holding onto a small grip can be uncomfortable for some.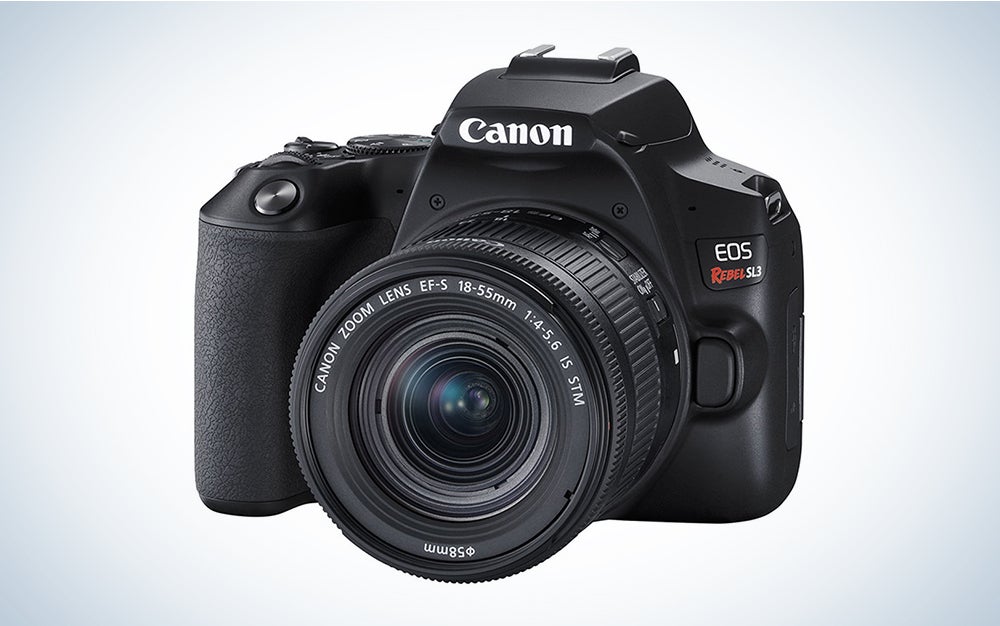 A Mini-Me DSLR
This little camera offers a host of features, despite its compact size. Walmart
Check Price
With its fully articulated touchscreen LCD, 4K video, a microphone jack, and solid still image quality, the tiny Canon EOS Rebel SL3 packs a lot of punch for such a diminutive camera. You'll also find fast, reliable autofocus with eye-detection, visual guides for beginners to help decide on the best settings, and some creative options. One little caveat that may or may not apply: the hot shoe is designed to accommodate only Canon accessory flashes, so it's unlikely you can use less expensive third-party models with this camera. But there's a small built-in flash when you need an extra pop of light.
What about battery life?
As digital cameras become more sophisticated, power consumption increases and there are few things more frustrating when taking pictures to have the camera shut down just when the perfect photo opportunity presents itself because the battery died. Extra batteries add to the cost of your investment and recharging batteries can take hours (and the need for an electrical outlet).
The length of time a battery keeps powering a camera not only depends on the individual camera but, in large part, on what features are used. Shooting indoors using the pop-up flash? Spending a lot of time reviewing images and videos on the camera's LCD? Using Live View instead of the optical viewfinder to compose and shoot? If so, expect battery power to drain faster.
If you only shoot a few images at a time, battery life may not be an issue. But if you're off to a full day (and evening) of sightseeing or attending a wedding where you spend more time clicking the shutter than kickin' in on the dance floor, battery life may come into play. Check the specs of the camera to see the estimated number of pictures that can be captured on a single charge, but keep in mind that those are only guidelines. The actual number of shots you'll get will vary depending on your usage.
Best DSLR camera for beginners with long battery life: Nikon D3500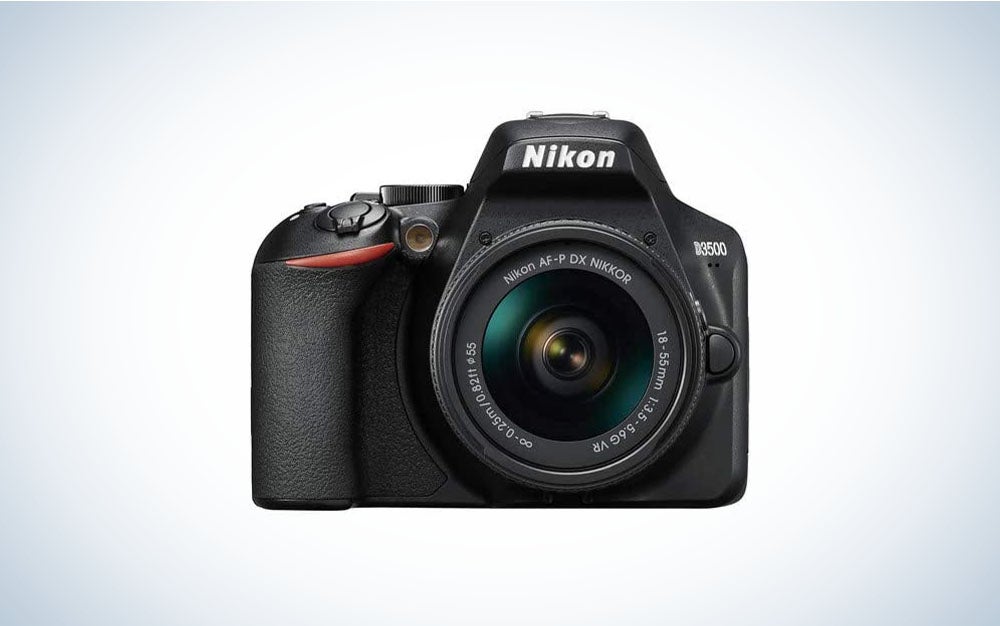 It Keeps On Shooting
If you're a prolific shooter, this camera may be the perfect match for you. Amazon
Check Price
The Nikon D3500 may lack some of the familiar bells and whistles like a touchscreen LCD but with the ability to capture more than 1550 images on a single charge, it's the superhero of battery life in an entry-level DSLR. Like the Nikon D5600, there's an in-camera guide that's helpful for those new to DSLRs and a retouch menu for quick image adjustments in-camera—a cool feature to avoid the hassle of editing photos on your computer. The Nikon D3500′s LCD is fixed but still offers good resolution for this class of camera.
Need an easy-to-use vlogging camera?
Vlogging is growing in popularity and while you can vlog with pretty much any camera, there are certain key features that make the difference between a just-okay vlog and one that will grab the attention of your intended audience.
But it's not just one feature that can make or break a vlogging camera. Here are a few of the bare necessities: a fully-articulated LCD you can swing around to the front of the camera so you can see yourself without an accessory microphone blocking your view. That goes along with the need for a microphone jack so you can record better-sounding audio. While we all like 4K video, HD video's smaller file sizes may be preferable to save space on hard drives and decrease online loading time. Good autofocus to keep the footage sharp without having to manually focus the lens is key as well. And image stabilization—whether in-camera or via an IS lens is very helpful.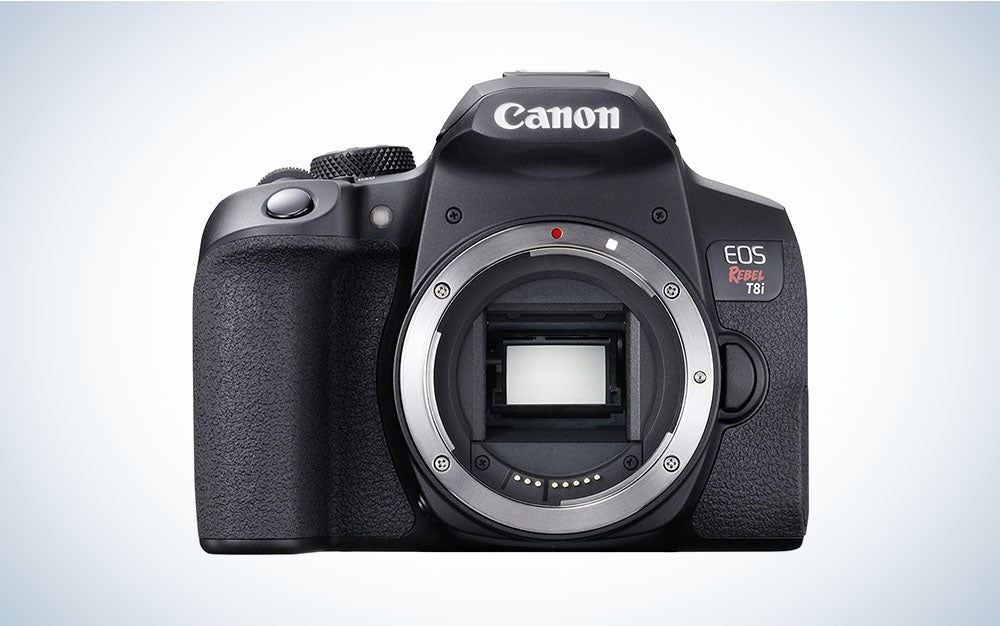 Get Ready To Vlog!
This camera has pretty much everything you need to create top-notch vlogs. Amazon
Check Price
Although a little pricier than other entry-level DSLRs, the Canon EOS Rebel T8i is the newest model with better performance than the competition. At the same time, the Canon EOS Rebel T8i offers all the components needed for vlogging—an articulated touchscreen monitor, microphone jack, and more. Although 4K video is cropped, 4K and HD video will look good online. And it offers a vertical video option for posting on Instagram.
Best entry-level DSLR for budget-minded photographers: What you get for under $500.
There's no need to break the bank when shopping for an entry-level DSLR. But the most affordable cameras tend to be a little older, with last generation's technology and features. Even so, these cameras are quite capable, particularly for beginners who are just starting to explore photography. Affordable entry-level models are equipped with the basics needed to develop picture-taking skills. Look for built-in help guides to make the transition to DSLRs easier. Grab a good deal that includes one or two kit lenses.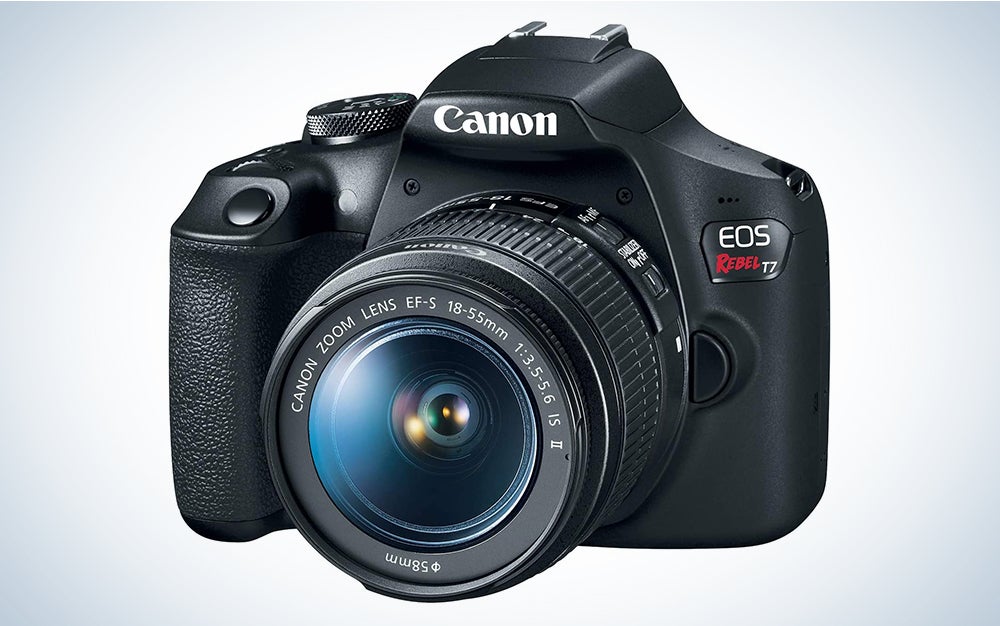 Basic but Capable
Learn on the fly with the camera's built-in help feature. Amazon
Check Price
The Canon EOS Rebel T7 may not be the fastest camera on the market but it has all the features needed to shoot stills, full HD video and transfer images to your smartphone via WiFi. Creative filters are available for fun, too. Its built-in feature guide provides on-the-go help and makes it easy to use the camera regardless of your experience level. What makes the Canon EOS Rebel T7 a real bargain is its inclusion of an image-stabilized lens—all for under $500!
FAQs
Q: What should I look for when buying a DSLR?
When buying a DSLR think about whether the camera's features and performance will meet your needs now and in the near future. While you can always step up to a slightly higher-end model, start with the basics to make sure that photography is a hobby (or potential profession) you want to pursue in the long term.
Q: What's the best way to learn photography?
Like the saying goes, "How do you get to Carnegie Hall? Practice, practice, practice." The best way to learn about photography is to bring the camera with you wherever you go and take pictures—of anything and everything. Remember, it's not the camera that makes a great picture; it's the photographer and the only way to improve your skills is to practice, practice, practice.
Q: How much should I spend on a camera?
Staying within a budget is important to all of us. Again, this is an investment that should serve you well for at least your initial forays into photography. If you want to start building an entire system, think about spending part of your budget on a better lens than the kit lens that comes with the camera. Some manufacturers offer cheap, starter prime lenses that offer a unique depth of field effect for not very much money.
A final word on shopping for the best DSLR camera for beginners
Before you lay down your hard-earned cash for a DSLR, be sure to read reviews of each model you're considering. While specifications can reveal a lot, there's nothing like reading about hands-on experience to get a sense of a camera's performance. And, with the reviews, you get to see the picture quality, which will also help you make your final decision on what is the best DSLR camera for beginners.