We may earn revenue from the products available on this page and participate in affiliate programs. Learn more ›
Updated Feb 7, 2023 9:44 AM
For the better part of two decades, DSLRs have been one of the best ways for new photographers to get into learning manual and creative photography. While mirrorless cameras have eaten a lot of their market share, DSLRs still provide excellent performance for outstanding value. They also have access to huge backlogs of lenses both new and on the used market. We curated this list of the best DSLR cameras for beginners by identifying models with helpful features for those just starting out as well as room to grow into more manual settings down the road. Features like automatic shooting modes and built-in editing effects may not be necessary for veteran shooters, but they can go a long way in encouraging creativity in those new to photography.
The best DSLR cameras for beginners: Reviews & Recommendations
Why it made the cut: A very solid mix of beginner-friendly features and advanced shooting modes for more experienced photographers.
Specs:
Resolution: 24 megapixels
Lens mount: Nikon F
Sensor size: APS-C
Video resolution: 1080p at 60 fps
ISO range: 100-25,600
Screen size: 3 inches
Pros:
Compact
Full creative modes
24-megapixel resolution
Articulated touchscreen
Cons:
From its fully rotating touchscreen LCD to its built-in help guide, retouch menu, and in-camera timelapse mode, the Nikon D5600 offers ample features for the beginner DSLR user. Both the help guide and in-camera retouching are great learning tools for growing skills beyond the basics. While you won't find 4K, its full HD video takes up less space and is easier to edit without an expensive computer. Bluetooth and WiFi are also available for seamlessly transferring images to smart devices. Because it offers both full-manual and creative assist modes, it's a great option for beginners to grow into.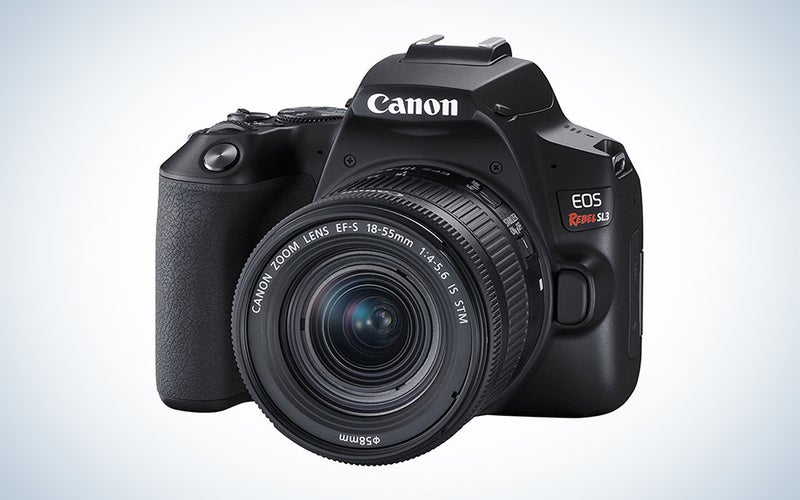 Why it made the cut: It's the smallest DSLR on the market, but it still offers everything most photographers need.
Specs:
Resolution: 24.1 megapixels
Lens mount: Canon EF
Sensor size: APS-C
Video resolution: 4K at 24 fps
ISO range: 100-25,600
Screen size: 3 inches
Pros:
Excellent image quality
Tons of affordable lens options
Extremely compact
Cons:
Lacking tactile controls due to space
With its fully articulated touchscreen LCD, 4K video, a microphone jack, and solid still image quality, the tiny Canon EOS Rebel SL3 packs a lot of punch for such a diminutive camera. You'll also find fast, reliable autofocus with eye-detection, visual guides for beginners to help decide on the best settings, and some creative options. One little caveat that may or may not apply: the hot shoe is designed to accommodate only Canon accessory flashes, so it's unlikely you can use less expensive third-party models with this camera. But there's a small built-in flash when you need an extra pop of light.
Why it made the cut: Lots of beginner-friendly features make this a great way to get shooting without experience.
Specs:
Resolution: 24.2 megapixels
Lens mount: Nikon F
Sensor size: APS-C
Video resolution: 1080p at 24 fps
ISO range: 100-25,600
Screen size: 3 inches
Pros:
Cons:
The Nikon D3500 may lack some of the familiar bells and whistles like a touchscreen LCD but with the ability to capture more than 1550 images on a single charge, it's the superhero of battery life in an entry-level DSLR. Like the Nikon D5600, there's an in-camera guide that's helpful for those new to DSLRs and a retouch menu for quick image adjustments in-camera—a cool feature to avoid the hassle of editing photos on your computer. The Nikon D3500′s LCD is fixed but still offers good resolution for this class of camera.
Why it made the cut: 4K video and solid autofocus during motion capture make this a great option for aspiring YouTubers.
Specs:
Resolution: 24.1 megapixels
Lens mount: Canon EF
Sensor size: APS-C
Video resolution: 4K at 24 fps
ISO range: 100-25,600
Screen size: 3 inches
Pros:
Solid video chops for the category
Ample lens options from first and third parties
Compact
Cons:
Slightly pricier than competition
Although a little pricier than other entry-level DSLRs, the Canon EOS Rebel T8i is the newest model with better performance than the competition. At the same time, the Canon EOS Rebel T8i offers all the components needed for vlogging—an articulated touchscreen monitor, microphone jack, and more. Although 4K video is cropped, 4K and HD video will look good online. And it offers a vertical video option for posting on Instagram.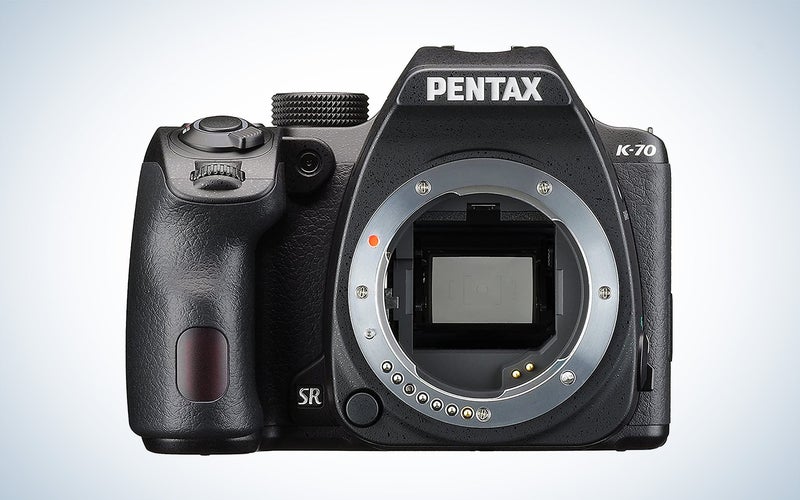 Why it made the cut: Tons of features and burly weatherproofing make this a camera that will last for quite some time.
Specs:
Resolution: 24.2 megapixels
Lens mount: Pentax K
Sensor size: APS-C
Video resolution: 1080p at 60 fps
ISO range: 100-204,800
Screen size: 3 inches
Pros:
Excellent weather protection
Super-wide ISO range
Great design
Cons:
Not as many models to move up to down the road
Pentax has a reputation for making some of the most rugged and well-designed DSLRs around. The K-70 represents the entry-level K-mount DSLR, but it has some advanced features other models lack. The primary benefit comes from its construction. Pentax has added surprisingly robust sealing to keep out moisture and dust, which can wreak havoc on a camera after a day in the woods or at the beach. Pentax is still fully committed to its DSLR offerings, so you won't have to worry about the company discontinuing lenses to make mirrorless versions that won't work with your camera. This is one of the best entry-level DSLRs around, full-stop.
Things to consider when choosing the best DSLR cameras for beginners
Given the consistent basic features across beginner DSLRs, here are a few things to keep in mind when selecting an entry-level camera. Remember, you don't need the best DSLR camera on the market to take great pictures or learn photography. Here are some essential features to consider before making your purchase.
Resolution
By now, you almost certainly know that megapixels don't mean everything when it comes to image quality. You do want to make sure you have enough resolution for your intended purposes, though. You'll often find that a DSLR camera for beginners will hang around the 18-24-megapixel range because most of them use fairly similar sensors. That's plenty of resolution for just about anything you could want to do, including large prints. Moving up to higher megapixels right away can be tempting, but those files tax your computer more during editing (since you'll almost certainly be shooting in raw) and they'll take up more room on your memory cards and hard drives.
Lens mount
When you buy your first DSLR, you're buying into a whole camera system. If you buy a Nikon DSLR, for instance, it will only accept lenses available with a Nikon F mount. The same goes for Canon and its EF and EF-S mounts. Both Canon and Nikon have discontinued a lot of their SLR-specific lenses in favor of their newer mirrorless models, but that doesn't mean they aren't still excellent. In fact, that means you might be able to get a deal on DSLR lenses that people are replacing on the secondary market.
Sensor size
All the cameras on this list utilize APS-C-sized sensors, which are roughly 75 percent as big as a full-frame sensor or a single frame shot on 35mm film. While the smaller sensor can be a drawback in some way—they make your lenses appear more "zoomed in" because they only capture a portion of the lens's image circle—but they also have some advantages. APS-C-specific lenses are often smaller and cheaper than their full-frame counterparts, which is great for beginners who don't want to spend a ton of cash.
Creative shooting modes
Beginner DSLRs typically offer a selection of manual and automatic modes to help photographers learn their way around their new rig. You want a mixture of fully manual modes to grow into, as well as some helpful creative shooting modes that do some of the work for you. You'll eventually grow out of "sports" mode and into full manual or shutter priority, but a little automatic help can't hurt in the early stages of the learning process.
Video
Video comes as an afterthought for most entry-level DSLRs, so if you're looking to shoot a lot of motion, you're almost certainly better going with a mirrorless camera to start. While the cameras on this list are great for photography, they're mostly middling or worse when it comes to video specs.
Layout
FAQs
Q: What should I look for when buying a DSLR?
When buying a DSLR think about whether the camera's features and performance will meet your needs now and in the near future. While you can always step up to a slightly higher-end model, start with the basics to make sure that photography is a hobby (or potential profession) you want to pursue in the long term.
Q: What's the best way to learn photography?
Like the saying goes, "How do you get to Carnegie Hall? Practice, practice, practice." The best way to learn about photography is to bring the camera with you wherever you go and take pictures—of anything and everything. Remember, it's not the camera that makes a great picture; it's the photographer and the only way to improve your skills is to practice, practice, practice.
Q: How much should I spend on a camera?
Staying within a budget is important to all of us. Again, this is an investment that should serve you well for at least your initial forays into photography. If you want to start building an entire system, think about spending part of your budget on a better lens than the kit lens that comes with the camera. Some manufacturers offer cheap, starter prime lenses that offer a unique depth of field effect for not very much money.
A final word on shopping for the best DSLR cameras for beginners
Before you lay down your hard-earned cash for a DSLR, be sure to read reviews of each model you're considering. While specifications can reveal a lot, there's nothing like reading about hands-on experience to get a sense of a camera's performance. And, with the reviews, you get to see the picture quality, which will also help you make your final decision on what is the best DSLR camera for beginners.