| | | | | | |
| --- | --- | --- | --- | --- | --- |
| Best for street photography | | Fujifilm X100V | | SEE IT | This range-finder style camera with its fixed 23mm lens has analog design accents that make it an absolute joy to shoot with.  |
| Best for beginners | | Canon EOS M200 | | SEE IT | The Canon EOS M200 is an inexpensive option that's extremely easy to use, making it a great tool for beginners. |
| Best budget | | Panasonic LUMIX ZS100 | | SEE IT | The Panasonic LUMIX ZS100 has an impressive zoom range at a budget price. |
We may earn revenue from the products available on this page and participate in affiliate programs. Learn more ›
Updated Jul 17, 2023 12:44 PM
Compact cameras aren't just for beginners anymore. In recent years camera manufacturers have really stepped up the quality and build of the pocket-sized cameras that they are selling. A compact camera is a great tool for capturing travel, street photography or candid family moments. 
These days the best compact cameras feature large sensors, fast lenses, and excellent autofocus that will help you capture the world in a way that your smartphone can't. Interested in video? Many of the compact cameras in this guide have stellar video chops as well, pulling down high-res footage with impressive bit rates. Whether you are just getting started with photography or have a massive collection of glass at home, a compact camera has a way of bringing joy to picture-making. 
How we chose the best compact cameras
When selecting cameras for this guide, we considered sensor size, autofocus capabilities, and a variety of use cases for each camera. When making our selections, we also considered prices, while it's not unusual for high-end compact cameras to cost over a thousand dollars, it was important to include a few lower-priced items that would appeal to beginning photographers. 
Our final consideration when making our selections for this guide was that we were picking cameras that we have actually shot with or reviewed before.
The best compact cameras: Reviews & recommendations
Why it made the cut: The RX100 VII has a massive one-inch sensor for its extremely compact size, which means it can produce images that your smartphone won't be able to compete with. 
Key features
Sensor: 20.1 MP 1.0 stacked CMOS sensor 
Lens: f/2.8-4.5 9-72mm (35mm equivalent: 24-200mm)
Viewfinder: Pop-up OLED viewfinder
Pros 
Large 1-inch CMOS sensor
Solid zoom capabilities
Excellent autofocus and subject tracking
Shoots 4K video and has a built-in mic input
Cons
The RX100 VII is one of the best compact cameras on the market. It has a versatile zoom range and a fairly fast lens, but the stacked 1-inch CMOS sensor elevates this compact camera to the next level. 
Sony's excellent autofocus system, the flip-up touchscreen LCD, and the clever pop-up OLED viewfinder are also big selling points. You can shoot up to 20fps without blackouts in burst mode. It can shoot oversampled 4K video and includes a built-in mic input so whatever you are shooting will look and sound great. 
Sure it's pricey, but ultimately a lot of these features used to only be found in expensive, top-of-the-line cameras aimed at sports photographers—having the ability to shoot so fast with AF tracking is pretty remarkable.
Best for street photography: Fujifilm X100V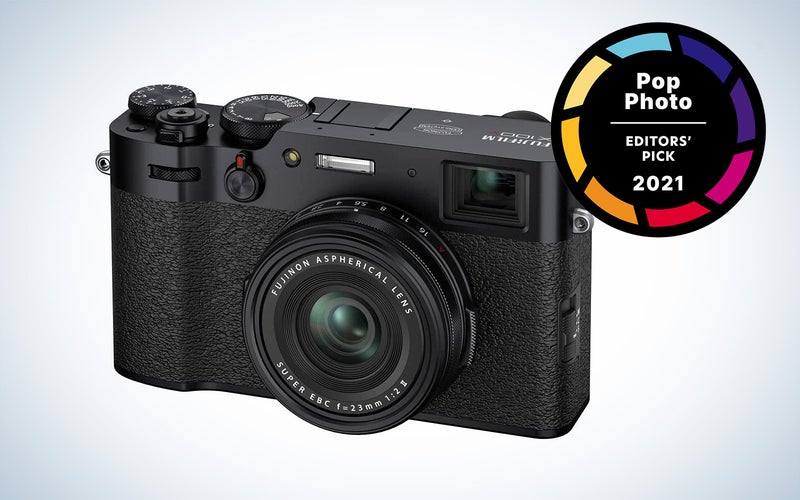 Why it made the cut: This range-finder style camera with its fixed 23mm lens has analog design accents that make it an absolute joy to shoot with making it our choice for the best street photography camera.
Key features
Sensor: 26 MP BSI-CMOS sensor 
Lens: Fixed 23mm f/2 lens (35mm equivalent: 36mm)
Viewfinder: Unique optical/electronic viewfinder
Pros 
Extremely fun to shoot with
Hybrid viewfinder lets you swap between optical or electronic viewfinder
Lightweight
Face and eye detection capabilities
Cons
No zoom
10-minute time limit on 4K video recording
The lightweight Fujifilm X100V has a fixed 23mm F/2 lens and is built around a 26.1 megapixel CMOS APS-C sensor with a quad-core CPU—the same processor that is found inside cameras like the XPro3 and X-T3. It has excellent autofocus, with face and eye detection capabilities that work down to lighting conditions of -5EV. 
A control ring on the front of the fixed lens allows shooters to change settings–such as film simulation–without removing the camera from their eye. The intuitive touchscreen can also be used to change settings. The hybrid viewfinder allows shooters to easily swap between a 0.52x magnification optical viewfinder or a 3.69M-dot OLED electronic viewfinder. 
The camera isn't much bigger than a smartphone and only weighs 1.05 pounds with a memory card and battery, making it easy to take with you wherever you are headed and is a discrete tool for street photography. An optional lens adapter adds weather-sealing protection to the camera too.
Why it made the cut: The Canon EOS M200 is an inexpensive option that's extremely easy to use, making it the best camera for beginners.
Key features
Sensor: 24 MP APS-C sensor 
Lens: Interchangeable Canon EF-M
Viewfinder: None
Pros 
Responsive flip-up touchscreen
Creative Assist mode for beginners
Vertical video capability
Interchangeable lens
Cons
Slow burst speeds
Limited manual control
The EOS M200 is one of the best options for photographers who are upgrading from shooting with their smartphone. It has a 24.1 megapixel APS-C CMOS sensor with a DIGIC 8 image processor and dual pixel AF. 
The responsive 3-inch flip-up touch screen is where almost all of the camera's settings can be adjusted. A feature called Creative Assist will help newer shooters nail their shots.
The camera can shoot 4K at 30p, 4K timelapse and includes an option of shooting vertical video—a worthwhile feature for Tik Tok or IG stories. Plus, the EOS M200 has built-in Wi-Fi for easy sharing.
Best for vloggers: Sony ZV-1
Why it made the cut: This is the best compact camera for vloggers because it was designed with vloggers in mind—if video content is your thing, you can't go wrong with the ZV-1.
Key features
Sensor: 20 MP 1-inch sensor 
Lens: f/1.8-2.8 9.4-25.7mm (35mm equivalent: 24-70mm)
Viewfinder: None
Pros 
Directional 3 capsule microphone for easy audio capture
Supports HLG and S-Log2/3 for color grading
Real-time Eye AF
Cons
No viewfinder
No pop-up flash
The ZV-1 was specifically designed for vlogging, but it's a great tool for shooting stills as well. It uses the same stacked 1-inch sensor found inside the RX100 but ditches the viewfinder for a directional three-capsule mic for capturing quality audio. 
The camera has a vari-angle LCD screen and can shoot 4K video and Full HD up to 120fps. A giant record button can be found on the top of the camera for extremely easy operation. 
Autofocus is fast, real-time Eye AF is supported, and a background de-focus function that lets you blur out backgrounds in a shot by simply pressing one button. Additionally, it has a product showcase mode, which is handy for bloggers that want to keep the focus on the products they're displaying, even if their face comes into the frame.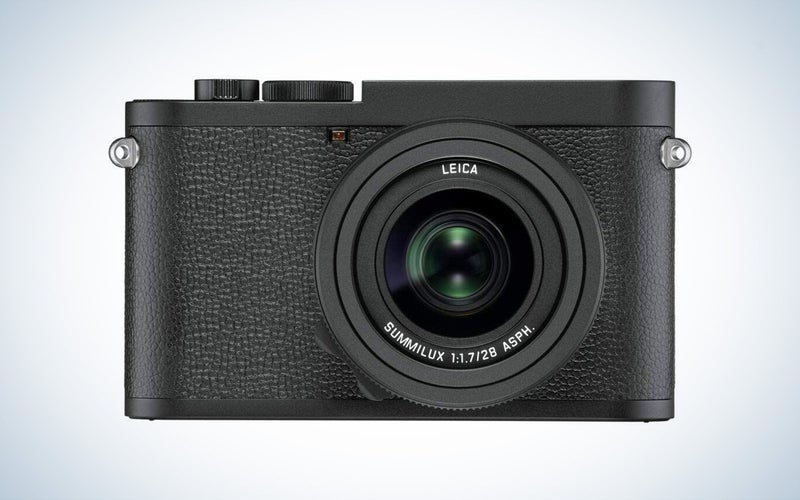 Why it made the cut: It's a unique but beautiful camera that takes stunning black-and-white images.
Key features
Sensor: 47.3 MP full-frame CMOS sensor
Lens: Summilux 28mm f/1.7 ASPH.
Viewfinder: OLED electronic viewfinder
Pros
Excellent low-light performance
Attractive body design
Excellent viewfinder
Cons
Expensive
Only takes black-and-white images
The Leica Q2 Monochrom isn't for everyone, that's for sure. After all, it's a compact digital camera that only takes black-and-white images. And it has a Leica price tag. But it's a stunning body that creates stunning images. The full-frame 47.3 MP sensor produces truly beautiful image quality. It also has excellent low-light performance with limited noise, even at higher ISOs.
The camera is fitted with a 28mm lens and is nice and compact, making it very travel-friendly. It can shoot 4K video and has reliable and accurate autofocus. It may look like an old-school film camera, and it acts like it in that it only shoots monochrome, but inside is some impressive tech.
If you like the Q2 in every way other than the black-and-white aspect, Leica also makes a Q2 that shoots color.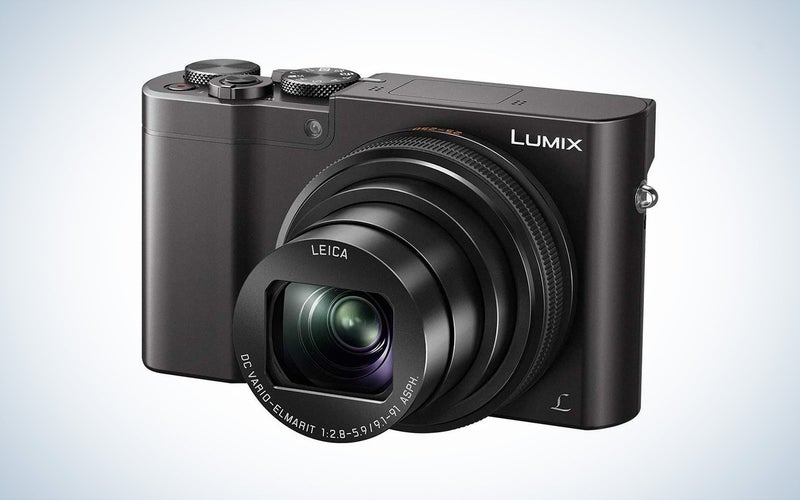 Why it made the cut: The Panasonic Lumix DMC-ZS100 is the best budget compact camera because it's a camera with an impressive zoom capability at a bargain price.
Key features
Sensor: 20 MP 1-inch CMOS sensor 
Lens: f/2.8-5.9 9.1-91mm (35mm equivalent: 25-250mm) 
Viewfinder: None
Pros 
Extensive zoom capabilities
4K photo mode lets you create stills for 4K videos
F/2.8-5.9 Leica DC lens
Cons
No articulating touchscreen
Though there is a newer version of this camera–the Panasonic Lumix ZS200–this older model still is very capable and will save you a bit of money. This compact zoom camera is built around a 20mp 1-inch sensor and has an f/2.8-5.9 25-250mm equivalent lens. 
It can shoot 4K/UHD video at 30p and 24p, has a mode called 4K photos that lets you create jpegs from 4K videos, and Depth from Defocus autofocus tech. It shoots 10fps continuously or 5pf with autofocus. 
There is a 3-inch fixed touchscreen, a 1.04m-dot EVF, and built-in WiFi for easy sharing. Although it lacks some of the more advanced features found in other cameras in this guide, you simply can't beat the price.
Things to consider when buying the best compact cameras
A high-quality compact camera is something that professional shooters enjoy just as much as beginners. But before you buy the most expensive, highest megapixel camera on the market, it's important to do some research. 
The most important thing to consider when selecting the best compact camera is how you will be using it, where you will be taking it and what you intend to shoot with it.
Zoom range
If you are planning to take it on vacation with you or use it to capture fun, candid moments of your family, something with a decent zoom range will probably fit the bill. If you are more interested in street photography and lifestyle photography, a camera with a fast fixed lens might be more your speed. 
Some compact cameras offer lots of zoom, up to 20x or more. That extra reach comes at a cost, though. More glass typically translates into a bigger camera. And shooting at max zoom can be tricky since the lens aperture typically slows down on the long end. Even if the aperture isn't a problem, holding it steady enough can be tricky. 
Fixed lenses typically offer faster apertures and enable larger sensors inside the camera. Of course, that means you lose any zoom capabilities.
Manual controls
Professionals and advanced amateurs will appreciate cameras that give them manual control, while a newer shooter might enjoy something with more full-auto settings and innovative touchscreen control. If you are planning to shoot mostly video with your compact camera, look for something that has the ability to plug in a microphone and doesn't limit recording capabilities. 
While some compact cameras offer manual controls, they may require you to access those settings through menus because they don't have the physical dials or buttons required to enable quick manual control.
Price
Ultimately price is a big thing to consider as well. A compact camera with a large sensor, fast shooting capabilities, and a nice lens will cost a lot more than something with a more simplified build.
FAQs
Q: Are compact cameras as good as a DSLR?
Compact cameras and DSLRs are very different styles of cameras, but a high-end compact camera can produce quality images just like a DSLR can. We wouldn't recommend bringing a compact camera to cover a news assignment or a wedding, but if you are looking to capture candid's of friends and family or travel photos, a high-end compact with a large sensor, speedy AF, and a nice lens should be plenty.
Q: Do more megapixels mean a better camera?
Higher megapixels aren't necessarily the measure of a better camera or picture. A camera with higher megapixels just means that the camera's sensor can collect more details. If you are trying to print your photos at huge sizes, you will want more megapixels, but in most cases, a 20MP camera will be plenty big.
Q: What is the best compact camera with a viewfinder?
Not all compact cameras come with viewfinders. It's not unusual for camera companies to eliminate them on certain compacts to cut down on the overall size of the camera. If a viewfinder is important to you, we recommend the Sony RX100 VII, which has a clever pop-up viewfinder, or the Fujifilm X100V, which has a unique hybrid electronic/optical viewfinder.
Q: How much does a compact camera cost?
The price of compact cameras varies significantly depending on things like features and sensor size. You can find a compact camera anywhere from $400 to $6,000, depending on what you are looking for.
Final thoughts on the best compact cameras
Ultimately finding the best compact camera for you has a lot to do with what and where you plan to be shooting. A fixed lens compact might be best for street photography or candid portraits, while something with a long zoom might work better for travel and adventure photography. If video is important consider a camera with excellent 4K capabilities and no recording limits.
Why trust us
PopPhoto has a long history of delivering the opinions of some of the sharpest and most prolific camera dorks the world has to offer. Since 1937, we've been reviewing cameras, providing wisdom from well-known photographers, and generally just nerding out about all that goes into making great pictures. Our current crop of writers and editors have decades of professional photography and camera writing experience among them. Collectively, we've probably shot with just about every camera and lens combo you can imagine—as well as some obscure stuff you may not even know about. Remember the Casio Tryx folding camera? PopPhoto does.
We also get that buying a camera is a big decision, which is why we're dedicated to helping folks choose the right one (or, in our case "ones") for their needs. Case in point: Handing over top dollar for an expensive rig may leave you unsatisfied if it doesn't fit your preferred shooting style. Sure, a $6,000 sports-oriented DSLR can capture landscapes, but do you really need to do it at 30 frames-per-second? No, you don't.