| | | | | | |
| --- | --- | --- | --- | --- | --- |
| Best overall | | Sony ZV-1 Digital Camera for Content Creators | | Check Price | Developed specifically for vlog content makers, this camera prioritizes face-focusing and quality audio. |
| Best vlogging camera with flip screen | | Fujifilm X-S10 Mirrorless Digital Camera | | Check Price | Tiny but powerful, this body is also great for mobile video. |
| Best cheap vlogging camera kit | | Movo SmartCine Smartphone Video Kit Tripod Bundle | | Check Price | This smartphone video rig improves lighting, audio, and stability to your phone's video for higher quality vlog content. |
Choosing the best vlogging camera requires a very specific set of considerations, different from choosing a camera for still photography or event videography, given that the shooter is also typically the star.
So, what should you look for when buying a vlogging camera? For starters, options for high-quality audio, like an external mic input, as well as accurate and reliable autofocus (AF) as well as WiFi and Bluetooth connectivity. These are non-negotiables in a good vlogging camera.
If you'll be out-and-about rather than vlogging from a fixed location, you'll likely want a small kit that's easy to carry and quick to set up. If you're looking for the best vlogging camera for beginners, you'll want to prioritize ease of use (or look at a cheap vlogging camera option, if you're really just testing the waters).
The good news for vloggers of all stripes, though, is that the market is growing and camera makers are responding, with several vlogging-specific camera models released in the past year, and more on the way.
Here, we'll tell you what you need to know to choose the best vlogging camera for you.
Features to consider when shopping for the best vlogging camera
The best vlogging camera has a rotating screen, is able to use an external mic—and suits your particular budget, lifestyle, and vlog goals. We dug through what's out there to find you the six best cameras for vlogging, based on your specific needs.
Do you want an easy-to-use vlogging camera with all-around great features?
No matter your experience level, you want a camera with intuitive controls. Your technology should help, not unnecessarily complicate, the vlogging process. This means the all-around best vlogging camera is comfortable to hold and easily sets up on a tripod, has great automatic features (particularly autofocus and automatic metering), and takes high-quality video footage with great audio, too.
As opposed to DSLRs or mirrorless cameras, many vlogging cameras don't support interchangeable lenses, so when you're looking for a vlog camera, you want to be sure the lens you have is the lens you want. In particular, check the f-stop (the lower the number, such as f/1.8, the more light it will let in and the blurrier your background will be) and the focal length (the lower the number, such as 24mm, the less zoom or the wider the angle).
Best vlogging camera overall: Sony ZV-1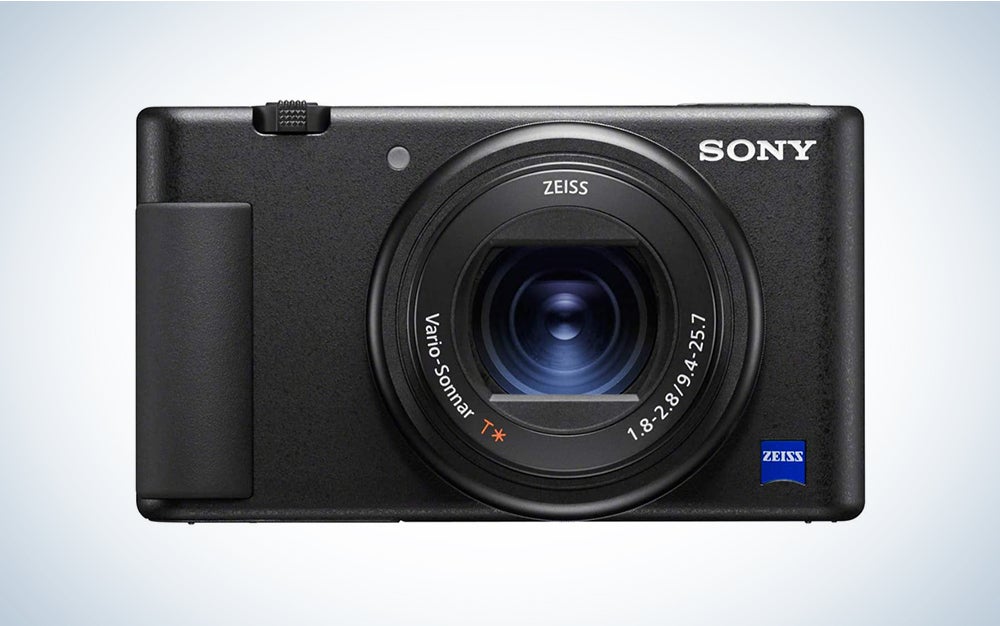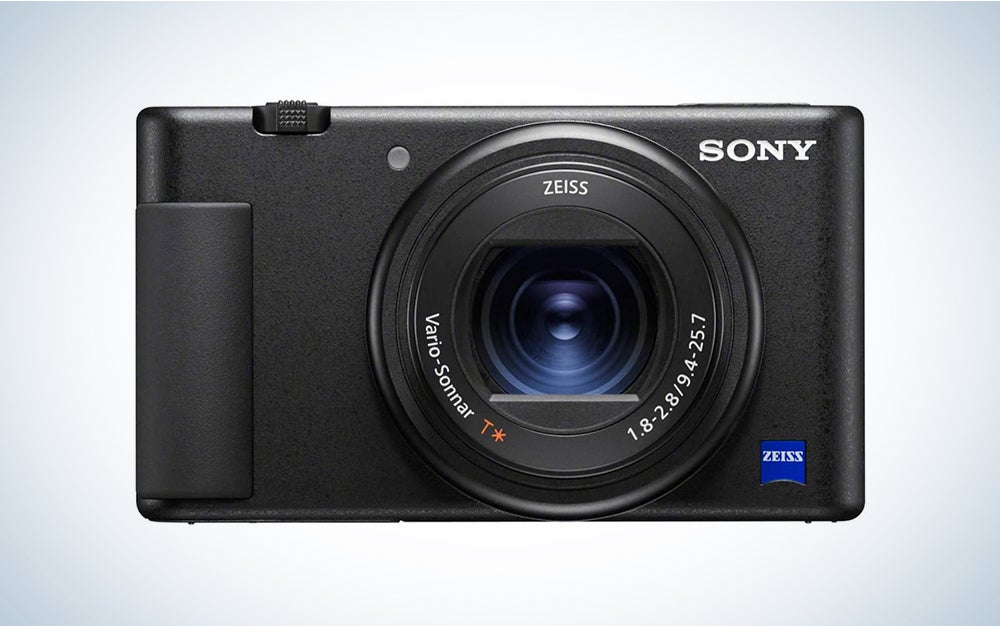 Vlog Star
Developed specifically for vlog content makers, this camera prioritizes face-focusing and quality audio. Amazon
Check Price
Searching for the best vlogging camera? The Sony ZV-1 camera comes ready with a large built-in mic and a windscreen for good on-camera audio, already making it a great combo of essential blogging equipment. But the real appeal is the face-first AE metering: the camera sets the exposure according to your face, regardless of background conditions. That means your face won't go dark if you're suddenly backlit. Likewise, three types of fast, tracking autofocus—including one that locks to your eye on screen, or specifically for showcasing products—will keep you looking crystal clear. The lens's f1/8–f2.8 aperture range means nice bokeh/blurring in the background, and the 24-70mm-equivalent focal length works for having the camera at a range of distances, and a range of environment included in the frame.
Do you need a vlogging camera to record yourself?
Unless you have a YouTube entourage to help make your videos, you'll likely be filming yourself. That requires a high-quality screen that flips around to face the front of the camera so you can see what your shot looks like.
Most vlog cameras have flip screens now, but there are still considerations within the screens: Whether the screen flips open to the side or above the camera, if the screen can rotate on additional angles, the size of the screen, the durability of that screen connection, etc.
The camera grip is also an important factor here if you ever plan on manually holding the camera (for a walk-and-talk or whatever it may be) and not exclusively using a tripod. Not only will it prevent you from dropping the camera, but it'll ensure that your footage isn't wobbly.
Best vlogging camera with flip screen: Fujifilm X-S10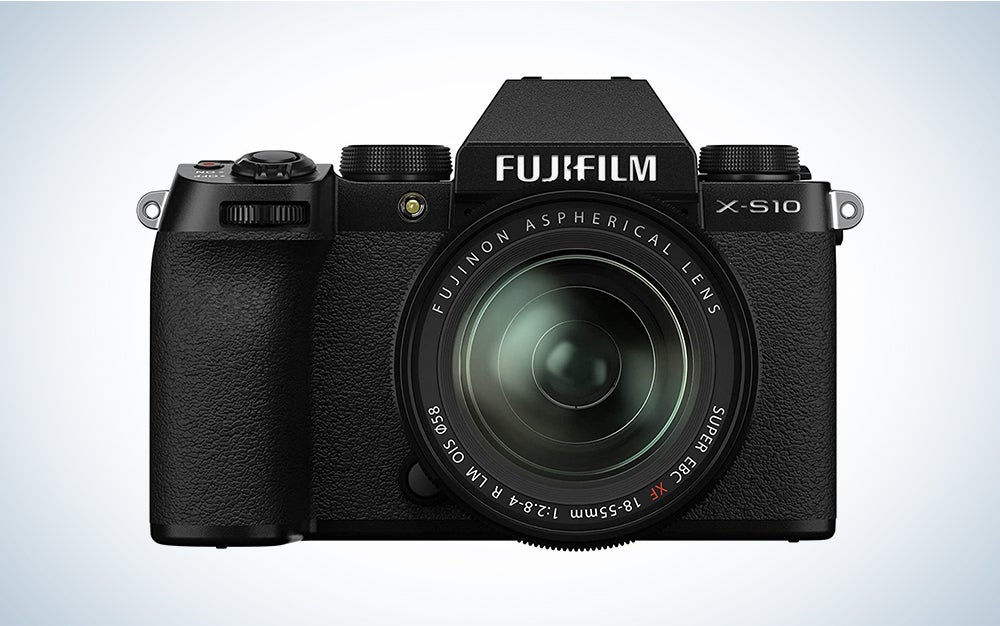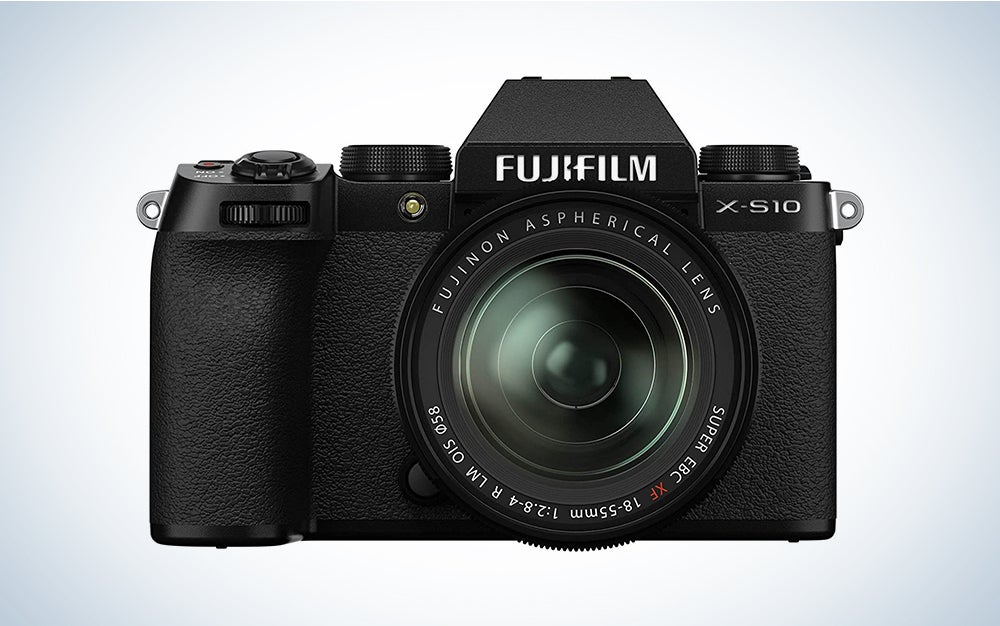 Turn It Around
10-bit color, exceptional image stabilization, interchangeable lenses, and a screen that moves to many angles make this Fujifilm an excellent camera for vlogging. Amazon
Check Price
Fujifilm's X-series of mirrorless cameras draw acclaim for a reason, and the X-S10 makes a top-notch vlogging camera with flip screen. In addition to having perhaps the best hand-grip of any, we researched, without any of the bulk of a DSLR, the flip screen on the Fujifilm X-S10 rotates not only 180-degrees but also up and down for a whole range of views, meaning you don't have to crane your neck or mess up your angles to see what's happening. Likewise, its five-stop image stabilization system makes it one of the best off-tripod options you'll find. Not to mention the 4K video in 10-bit color.
Are you looking for the best camera for YouTube?
A YouTube camera is a beast of its own. You want a camera that doesn't crop too tight to your face even if recording at a close range (that is, a wider-than-normal focal length, as well as a face-friendly depth of field. You need a flip screen and an input for an external mic. Image stabilization is still important but less essential as the video camera will almost always be on a tripod or other mount, but focus and color quality are essential.
And even if you normally pre-record, the best camera for YouTube includes an easy interface for live-streaming, as well as strong Bluetooth and WiFi connectivity.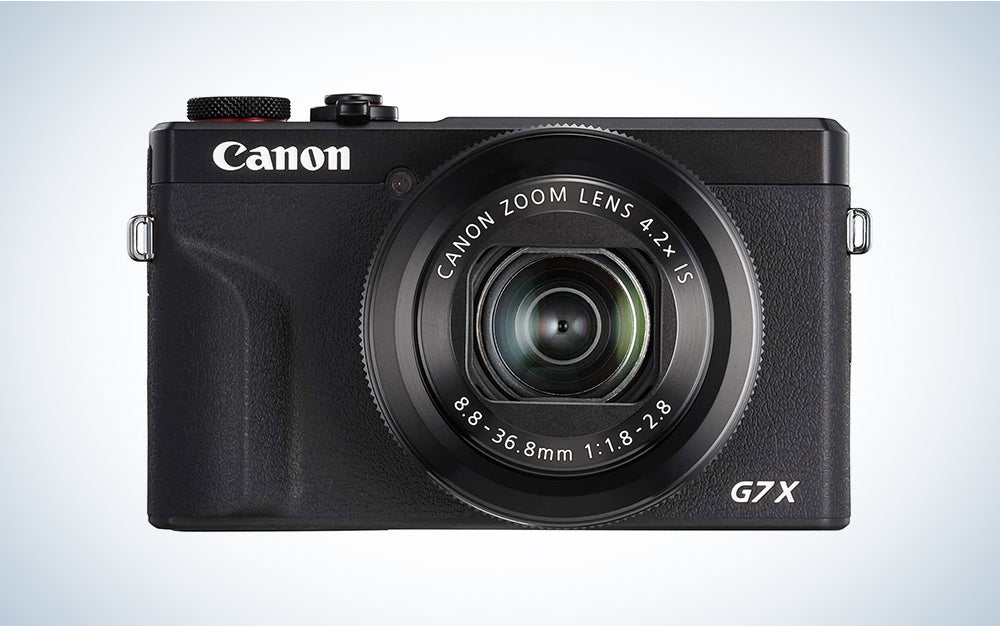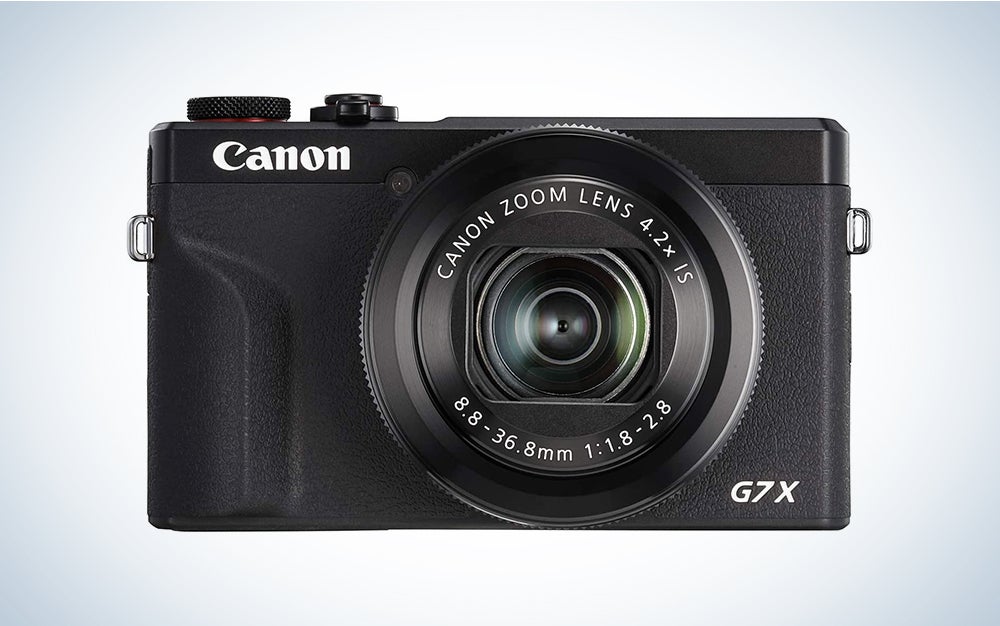 Live One
A portrait-friendly aperture, 4K video, external mic input, image stabilization, and livestream-ready capabilities make this the best vlogging camera for YouTube. Amazon
Check Price
The ultra-wide focal length of 8.8-36.8mm means on the Canon PowerShot G7X Mark III means you won't be cramped even if shooting from a desk, and the screen flipping open on top is great for this scenario, as you'll be looking right at the camera from a close range. You get Canon's Mark-quality light work in a small camera body, too, with an aperture range of f/1.8–f/2.8 that's perfect for face-on-camera framing. What makes this camera stand out as a YouTube vlogging camera is its integrated, user-friendly set-up for livestreaming, so if you choose to host live events or webinars, you can do so at the same high quality.
Are you a travel vlogger looking for a portable, small vlogging camera?
The best vlogging camera for travel vlogging must, in addition to having great audio and video quality, be small, portable, and efficient to set up. A travel vlog camera also needs more range in aperture and in focal length than the average vlog camera, as you're more likely to want a landscape of street scene to be fully in focus at times and to focus in on a plate of food as easily as a whole restaurant interior.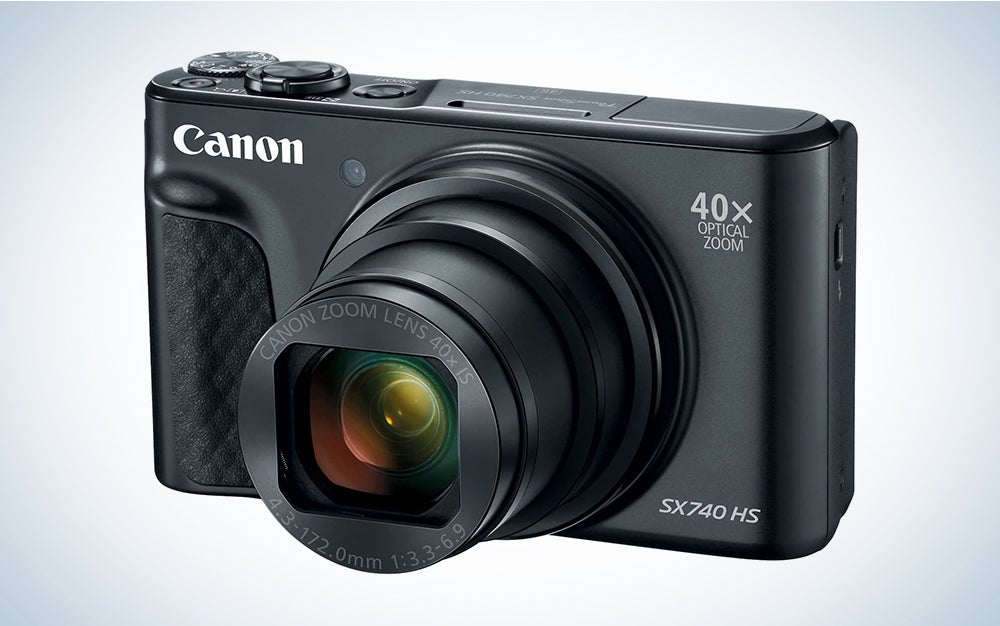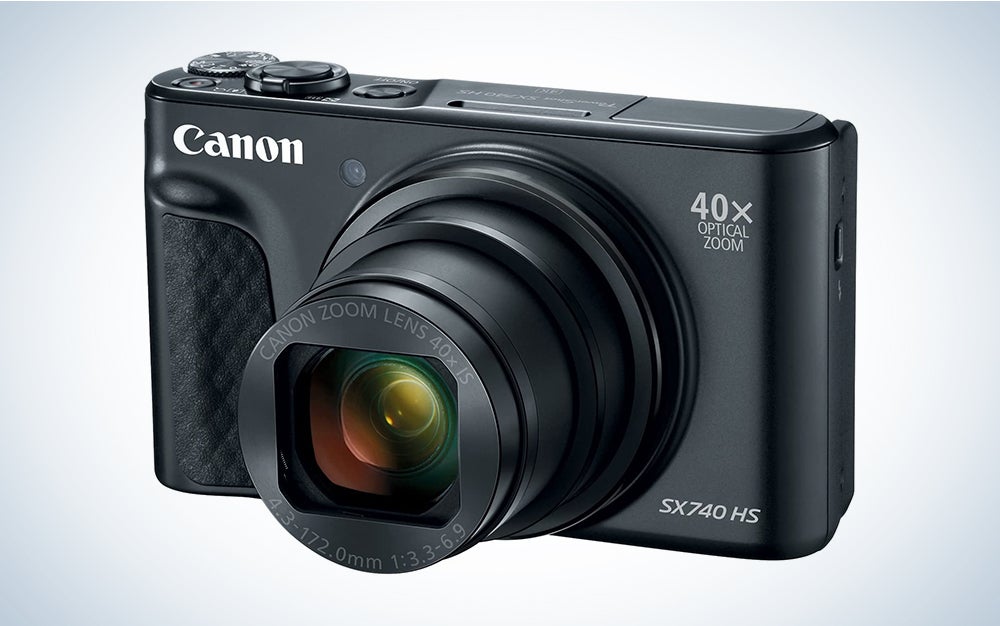 Small Frame, Big Power
4K video, a flip screen, and solid connectivity in a supremely affordable, portable camera body. Amazon
Check Price
Besides a price-point that makes it a little less painful if some of the beach gets inside the camera, the Canon PowerShot SX740 offers exceptional features for a small vlogging camera, including auto-transfer of images via Bluetooth, NFC, or WiFi. An aperture range of f/3.3-6.9 allows for more to be in focus, and a lens focal length of 4.3–172.0mm moves from nearly fish-eye-level wide to super-zoom, making it fit the gamut of environments and setups. In addition, it shoots 4K video and has image stabilization technology, a flip screen, an external mic input, and good continuous shooting, altogether making it the best travel vlog camera.
Do you need a vlogging camera that performs well in all lights?
Most vlog (and mirrorless) cameras use a small sensor, which limits the amount of light and information that can be recorded. This is why professional DSLR cameras move to a full-frame sensor. While in many scenarios the cropped sensor will prove no problem at all for vlogging, if you know you'll be working in dim lighting situations and still want bokeh and some brilliance to the video, it's worth investing in a full-frame camera.
Likewise, if you plan on doing a good amount of still photography, a full-frame sensor will only boost what you're able to accomplish, especially if the camera body allows for interchangeable lenses.
Best full-frame camera for vloggers: Canon EOS R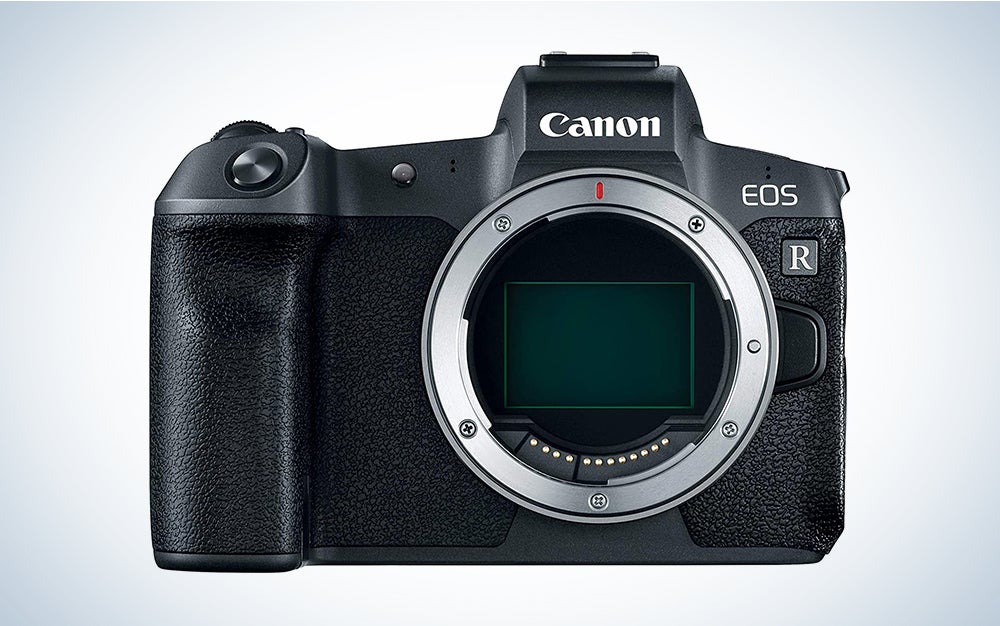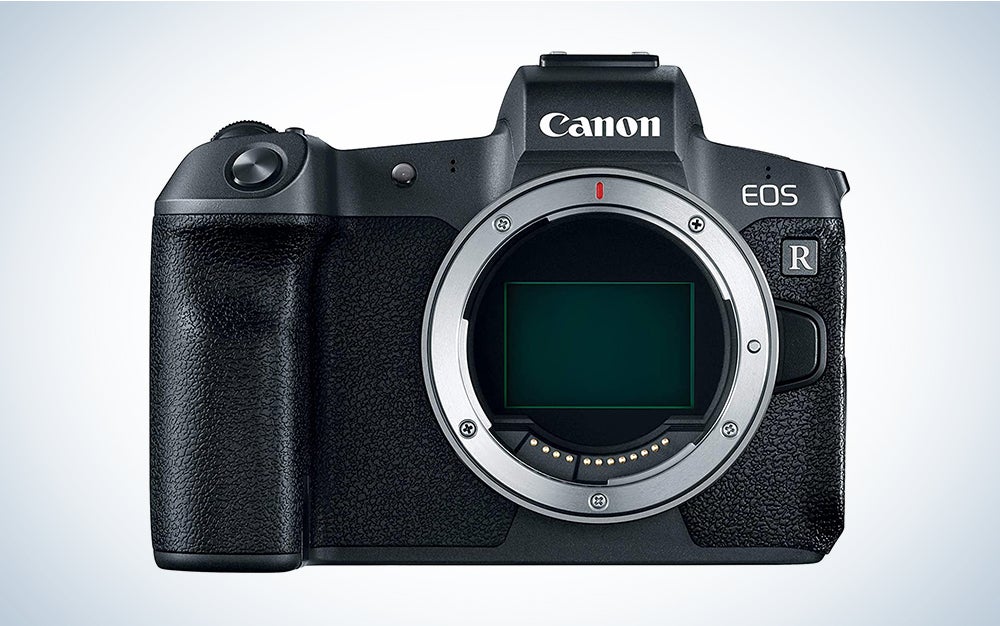 Light Show
A full-frame camera—in a compact mirrorless camera body. Amazon
Check Price
Canon's EOS R series brings their technology to mirrorless cameras—including a full-frame sensor and their excellent dual-pixel autofocus system—in a body a fraction of the size and weight of their DSLRs. You can go cheaper (eg., the EOS RP) or pricier (eg., the EOS R5) within the series, but we like the Canon EOS R for post people, and particularly for vlogging needs.
The camera's external buttons and internal interface will be familiar for all Canon DSLR users, but the body is far slimmer, making it ideal as a vlog camera (as does its flip screen). Note that the Canon EOS R is a mirrorless camera using a RF lens mount, while Canon's DSLR cameras use an EF mount. The good news: You can use all your EF mount lenses on the RF lens mount with their reasonably priced adapter.
Best camera gear on a budget: What you get for under $150
When looking at the cheap vlogging camera lineup, there are major trade-offs: no flip screen, no option for an external mic, etc. While these wouldn't be deal breakers for a standard camera, they are when it comes to vlogging, as quality audio is essential, and most vlogging involves filming oneself.
There are excellent options around the $400 mark, like our choice for best travel vlogging camera, the Canon PowerShot SX740, which offers 4K video, a flip screen, and other vlogging essentials for $399 at the time of posting.
But if you're looking for something seriously affordable, you're better off looking for ways to bolster the camera in your smartphone. No, the sensor doesn't compare to the picks above, but with improvements for audio and lighting, as well as lens attachments and a tripod, you can DIY your own cheap, effective vlogging setup. And if you decide to stick with vlogging or when it makes financial sense, you can invest in a camera later.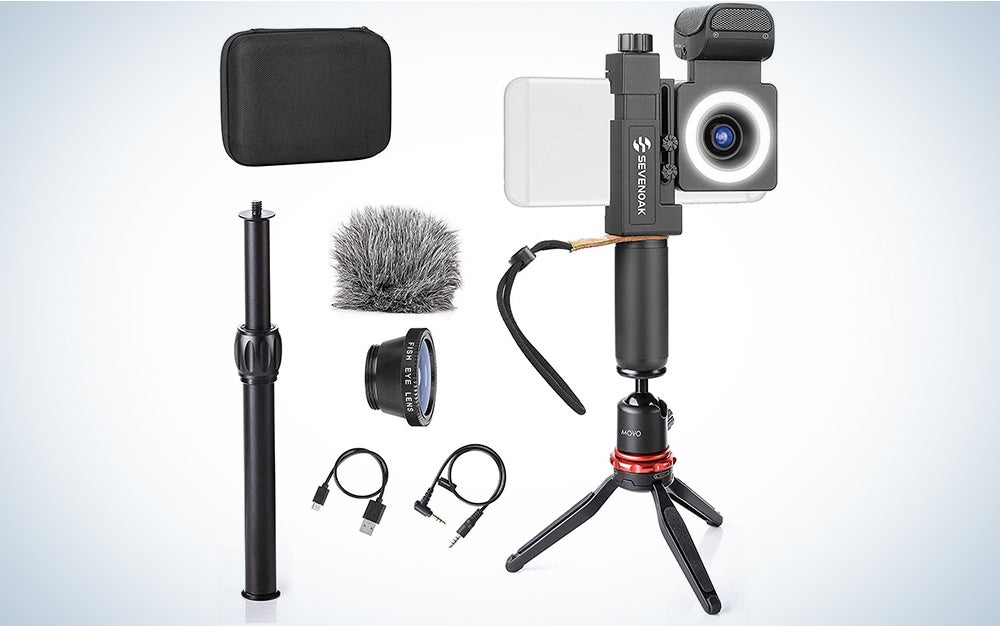 Screen Time
This smartphone video rig improves lighting, audio, and stability to your phone's video for higher quality vlog content. Amazon
Check Price
The most essential improvements to a smartphone for vlogging are lens, sound, and light. This kit provides good options for all three, plus other nice-to-haves. Two lens adaptations allow for more visual range, and an external stereo mic with windscreen majorly improves sound. The location of the light in this Movo bundle is particularly good, as it ensure the light is centered evenly in the frame. The extendable tripod adds needed stability and height for on-surface recording, while the grip of the video rig means a much more stable video — and less arm and hand interference — when you're filming by hand. And hey, your smartphone has a built-in flip screen. And ta-da: A cheap vlog camera is yours.
FAQs
Q: What is the best camera for vlogging for beginners?
The best vlog camera for beginners depends on goals. If it's to experiment with vlogging without too much commitment, we recommend the smartphone video rig that's our budget vlogging camera pick. If it's ease of use, we recommend our choice for best overall vlogging camera, the Sony ZV-1, for its mid-level price point, its improved audio without an external mic, and its overall performance that doesn't demand too much technical know-how to get right.
Q: What should I look for when buying a vlogging camera?
The most important features to look for when buying a vlogging camera are the ones that improve sound, video quality, and ease of use. Namely: an external mic input (or better camera mic), great autofocus and a lens aperture that is portrait-friendly, and a flip screen.
Q: Are GoPros good for vlogging?
If you're looking for adventure, know you'll be out in the elements (whether that's poolside or mountainside), want something truly pocket-size, and—most critically—don't care if you can see what you're filming as you do, GoPros can be great. We'd generally recommend a GoPro as an add-on to your vlogging equipment, as they don't (and were not designed to!) really replace a full camera.
A final word on shopping for the best vlogging camera
The best vlogging camera lets you focus on the content of the vlog rather than an overly complicated camera set-up or interface, and makes you look and sound better while doing it. For most users, a vlogging camera with a flip screen is the best. For low-light, interchangeable lenses, and better stills, look for a full-frame camera. And whether you're looking for a video camera for YouTube or the best camera for travel vlogging, pay attention to the f-stop and focal length of the lens based on your needs, and do not — ever! — forget to look for a better mic, and an external mic input. Vlog on, now: The camera loves you.