Updated Aug 2, 2023 3:35 PM
Don't let bad audio happen to good videos! It may seem like obvious advice, but unfortunately, there are a ton of vloggers out there who simply aren't concerned with capturing quality audio for their video content. In many ways, the audio quality on a video is more important than how it looks. A mediocre video with excellent audio quality will likely get more views and engagement than something beautifully shot but has a narrator who hasn't taken the time to record the audio correctly. Luckily there are a ton of great mics on the market that make it easy for content creators to record quality audio without too much fuss. These are the best microphones for vlogging that will make your vlogs sound more professional and hopefully lead to more engagement online. 
How we picked the best microphones for vlogging
The editors and writers at Pop Photo have decades of experience in just about every genre of photography and video. When selecting the best microphones for vlogging, we looked at a range of brands and various form factors suitable for different vlogging styles. In addition, how well the mics handled noise, especially background noise, was an important consideration. Lastly, we tried to pick products at different price points so that there were options no matter your budget. 
Related: The best cameras for vlogging
The best microphones for vlogging: Reviews & recommendations
Don't let your voice fade into the background noise. From desktop mics for voiceovers to compact, camera-mounted shotgun mics, these vlogging microphones will elevate your sound quality.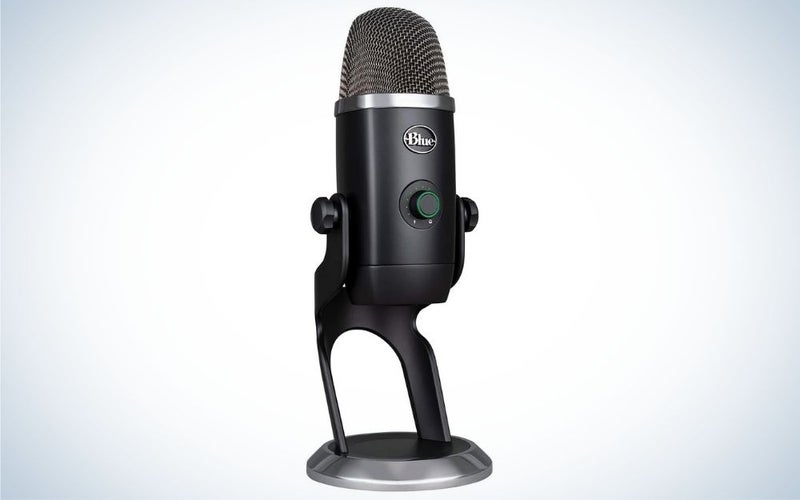 Specs
Connector type: USB
Power source: USB
Polar pattern: Omnidirectional, cardioid, bi-directional, stereo
Form factor: Desk/studio
Pros
Four pickup patterns
Simple to use
Excellent sound quality
Cons
Has to be used on an even surface
Blue Yeti mics are a favorite of podcasters, streamers, and vloggers for a reason. This line of USB condenser mics is straightforward to use. It has an 11-segment LED light to monitor metering and make real-time adjustments as you record. In addition, Logitech G Hub and Blue Sherpa desktop apps will give you access to the Blue VO!CE broadcast effects to make sure your audio recordings sound their best for your vlog.
The Blue Yeti mic allows for four different polar patterns, meaning you can tailor settings to what you will be recording. As a result, it will provide excellent quality with manageable background noise, no matter if you do single-person voiceovers or large group conversations.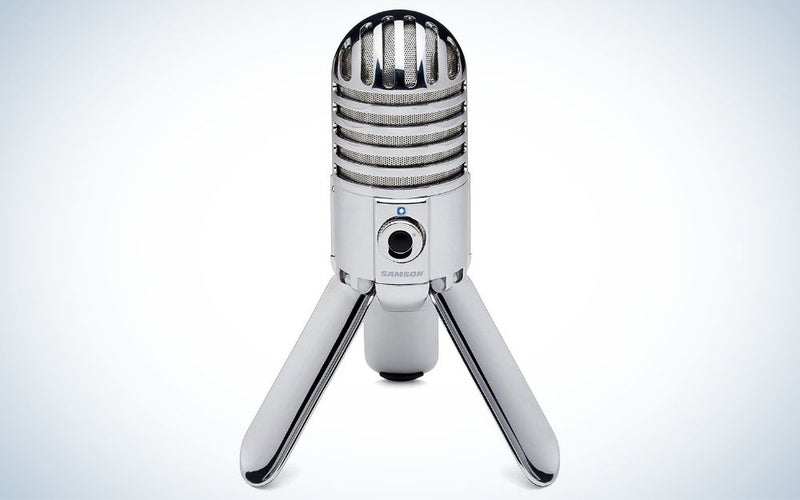 Specs
Connector type: USB
Power source: USB
Polar pattern: Cardioid
Form factor: Desk/studio
Pros
Attractive design
Easy to use
Small and portable
Cons
No gain control on the mic
The Samson Meteor Mic has a smooth, flat frequency response of 20hz-20khz, which is great for capturing the details of your voice. Cardioid pickup patterns are all on the front of the microphone, which helps minimize any ambient sound from being picked up while recording. In addition, 1/ 8-inch stereo headphone output allows for zero-latency monitoring while recording, and the unique foldable legs double as a perfect compact stand for this mic.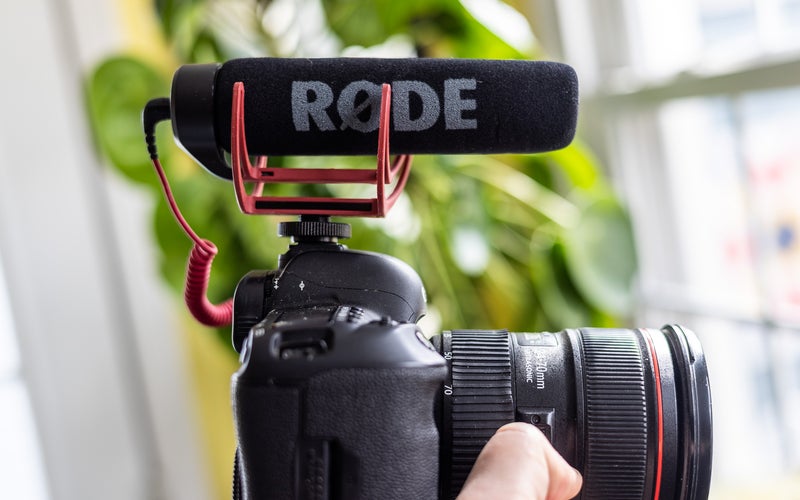 Specs
Connector type: 3.5mm mini-jack output
Power source: Camera plug-in power – minimum 2.5V
Polar pattern: Supercardioid
Form factor: Shotgun
Pros
Very lightweight
Plug-and-play design
Picks up minimal background noise
Cons
Range can be a bit limited
Although most modern cameras can shoot good-quality video, the preamps tend to be lacking—the Rode VideoMic Go fixes that. Your camera powers this compact directional mic, so there is no need for an interface or extra batteries to keep it running. It attaches to the top of your camera and has a tight pickup area to capture the sound happening directly in front of your camera while minimizing distracting background noises. An integrated Rycote Lyre shock mount isolates the mic from bumps and vibrations in the recording. If you plan to be shooting a lot on location while vlogging, this accessory will make a big difference in your final product.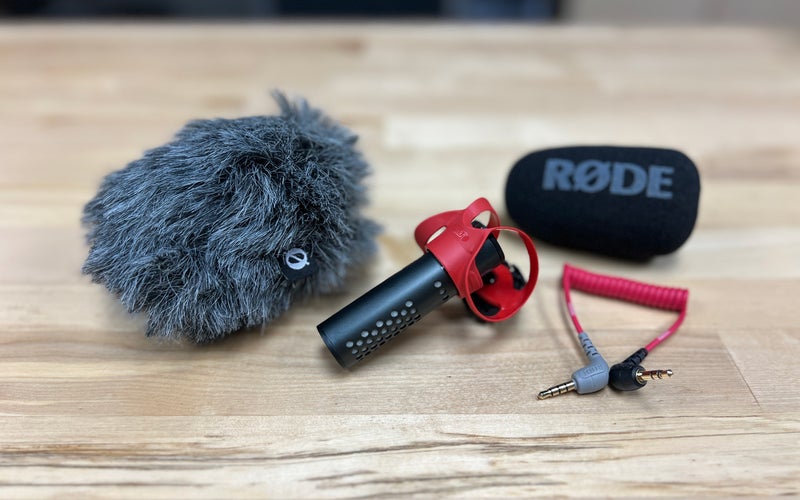 Specs
Connector type: 3.5mm TRS
Power source: Camera plug-in power
Polar pattern: Supercardioid
Form factor: Shotgun
Pros
Very compact and lightweight
Comes with foam and furry windshields
Isolation mount minimizes knocks and bumps while shooting
Also works with smartphones
Cons
Requires an adapter to work with most iPhones 
Doesn't mount directly on a smartphone
If the Rode VideoMic GO isn't quite small enough for you, the VideoMicro II is the way to go. Weighing only 1.37 ounces, this tiny powerhouse attaches to most cameras—as well as some smartphone cases, grips, and tripods—with a cold shoe mount and 3.5mm TRS plug. Rode designed a new feature—the HELIX isolation mount—specifically for the VideoMicro II. This new mount protects against knocks and bumps while recording. 
Two windshields are included for enhanced sound capture when outside or in noisy settings. We used the furry windshield while recording in a very loud warehouse, and the sound isolation is incredible. Without the mic, the audio is all but unusable because of the high level of background noise. However, when filming with the VideoMicro II and the furry windshield, we can clearly capture voices without the background noise totally taking over. Plus, with the easy plug-and-play design, it allows us to quickly and easily record high-quality audio in any environment.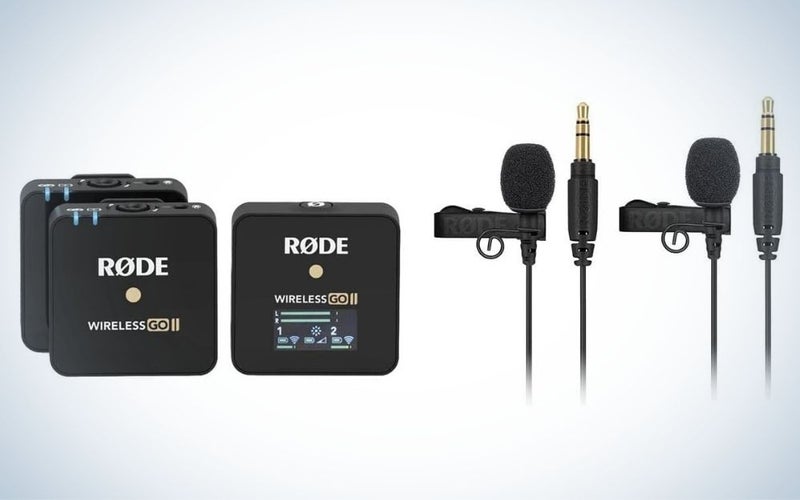 Specs
Connector type: USB, 3.5 mm Jack
Power source: In-built rechargeable lithium-ion battery
Polar pattern: Omnidirectional
Form factor: Clip-on pack
Pros
Affordable for wireless options
Simple to setup and use
Extremely compact in size
Excellent sound quality
Cons
More expensive than wired options
This set of wireless lavaliers includes two transmitters with internal microphones and a receiver, allowing you to mic yourself and an interview subject and capture quality audio while on the go. It's a versatile mic setup that could be useful for vlogging and shooting documentaries or short news videos. They have a 3.5mm TRS analog output, USB-C, and are iOS-compatible. The power source is a built-in rechargeable lithium-ion battery that can operate for 7 hours when fully charged and can be charged via USB. You can also use the Rode receiver as an interface.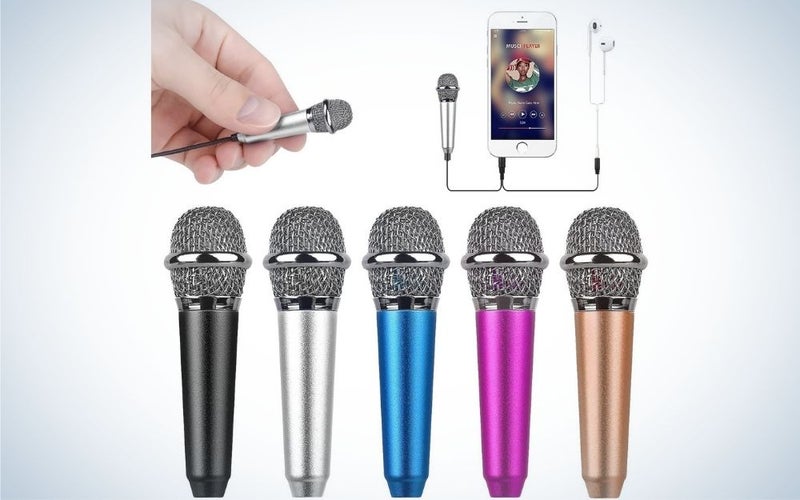 Specs
Connector type: 3.5 mm Jack
Power source: Laptop or phone – 3V
Polar pattern: Unidirectional
Form factor: Handheld or desktop with stand
Pros
Trendy, fun design
Compact and easily packable
Extremely affordable
Cons
This tiny 58mm mic offers comedic relief and decent audio capture for a ridiculously low price. Designed to work with a smartphone, you will need to hold this mini condenser mic close to your mouth if you want the best results. Will it sound as good as the other mics in this guide? It certainly won't—but it's also significantly more budget-friendly than the other mics in this guide. If you are looking for something inexpensive and are shooting your vlogs on your phone, this is actually a pretty capable product to get you started. It has also become iconic on Tik Tok and other social media platforms, so it has some extra clout there.
Things to consider before buying a microphone for vlogging
Selecting the best microphones for vlogging depends a lot on the kind of content that you will be covering. There is a wide variety of microphones available that are good for different styles of audio recording. Realistically, however, you may need a variety of mics to use depending on what you are recording. It's not unusual to see popular vloggers at home or in the studio, but also out in the world on-location showing you how they got their shots. So ultimately, the mic that you use to capture your audio for your vlog should be the one that makes the most sense for a given situation.
There can be a lot of technical jargon thrown around with microphones that may be confusing if you are new to the world of audio. We've highlighted some of the more important terms below to help you decide on the best microphones for your vlogging. 
Types of microphones
One of the important considerations for vlogging microphones is the form factor you need, which essentially is where and how you will use the mic. There are three main options: Studio mic, lavalier mic (wireless or wired), or shotgun mic. As the name implies, Studio mics are your best bet if you will be in a studio or office setting. They are usually attached to a stand or boom on a desk, so you need a surface for them. Studio mics also are generally connected to a computer via USB, meaning you can simply plug them into your laptop and start recording. 
If your vlog content features on-location shoots, shotgun or lavalier mics that plug into your camera or a dedicated audio interface will serve you better than a USB studio microphone. A shotgun mic sits on your camera's hot shoe or a separate boom. They are a barrel-shaped mic and pick up sounds in the direction the mic faces. In addition, shotgun mics usually have a shock-absorbing mount so that they don't pick up noise when moved around. 
Lavalier mics–which can be wired or wireless–are the other option for on-location run and gun shoots. These are small, two-part mics with a receiver on the camera and a microphone that clips onto a person. They are closer to the mouth of the user than shotgun mics, meaning they can easily pick up on someone's speech, and it is easier to edit out background noise.
Polar pattern 
A mic's polar pattern refers to the direction or angle a mic can pick up sound. You can think of it as lens focal length and angle of view. Certain polar pattern types will pick up an area entirely surrounding the mic, whereas others only pick up what is directly in front of it. There are many different polar patterns, but omnidirectional and unidirectional are the most relevant to vlogging.
Omnidirectional mics pick up sound from 360 degrees around the mic. These mics are ideal for recording group discussions or situations where you want to capture environmental sounds. Of course, more audio from more directions might sound ideal, but when it comes to vlogging, streaming, or podcasting, a cardioid mic–a unidirectional device–is usually the preferred mic type.
Unidirectional mics record out of one specific area of the microphone. A cardioid mic is a variety of unidirectional mic that records in a heart-shaped pattern. These are ideal because they do a really good job of focusing primarily on your voice. In fact, they pick up about one-third as much ambient noise as omnidirectional. So, if you are recording your vlogs in a place where there might be background noise from neighbors, city streets, or anything else, a cardioid mic will be a great pick. 
Dynamic vs condenser mics
The other thing to consider when shopping for a mic for vlogging is the difference between dynamic and condenser mics. A condenser mic is usually more sensitive, which means you will get a crisper detailed sound, but it also means they pick up more of those background noises—or things like heavy breathing and lip-smacking. Many vloggers prefer a condenser mic to a dynamic mic and simply choose to minimize distractions like breathing or lip-smacking when they make their edits. 
Budget
When shopping for a vlogging microphone, the final thing to consider is your budget. In recent years the cost of microphones has come down significantly, and you can pick up a very capable USB mic or on-camera shotgun mic for around $100. Although there are certainly fancier options on the market, many require an audio interface to operate and a sound person to dial in the levels. We selected the mics in our buying guide with the assumption that most vloggers work alone, so the picks in this buying guide reflect those lower-cost microphones that are easy to operate alongside filming. 
FAQs
Q: Do I need a microphone for vlogging?
One of the easiest ways to elevate the quality of your vlog is by elevating the quality of your audio capture. While the built-in microphones in cameras and smartphones can do a decent job, they can't compete with standalone mics. Poor audio quality will be distracting, making it harder to get your message across. It is less likely that viewers will engage with your content when you have low-quality audio. An inexpensive USB mic is an excellent choice if you are mostly vlogging from a home studio, while an on-camera mic that slides into your camera's hot shoe will work better when you are grabbing footage on the go.
Q: How much does a microphone for vlogging cost?
The price of microphones can vary widely, from under $100 to upwards of $1000. Most vloggers will be content with microphones on the lower end of the scale. Generally speaking, a USB-powered condenser mic will be plenty for most vloggers or streamers who are primarily recording at home or in a studio. If you plan to shoot a lot of content away from your computer, consider a pair of wireless lavs or an on-camera microphone to capture audio. 
Q: How to choose a vlogging microphone?
Choosing the right microphone for you depends a lot on the content of your vlog and where you will be filming. A USB condenser mic is a great option when you can plug into a computer in a controlled environment. This style of microphone also tends to be more budget-friendly. On the other hand, if you're going to be doing lots of vlogging on location, or your vlog will include interviews with others, a pair of wireless lav mics and an on-camera shotgun mic will likely be a better fit. 
Final thoughts the best microphones for vlogging 
Ultimately, audio quality is one of the most important—if not the most important—elements when making a vlog or any other kind of video content for the web. A video with bad audio quality is more likely to struggle with keeping would-be fans engaged. Investing in a nice USB mic, an on-camera shotgun, or a set of wireless lav mics will go a long way in elevating the professional quality of your vlogs, live streams, or whatever else you happen to be filming. Don't let bad audio quality hold you back with one of the best microphones for vlogging.
Why trust us
PopPhoto has a long history of delivering the opinions of some of the sharpest and most prolific camera dorks the world has to offer. Since 1937, we've been reviewing cameras, providing wisdom from well-known photographers, and generally just nerding out about all that goes into making great pictures. Our current crop of writers and editors have decades of professional photography and camera writing experience among them. Collectively, we've probably shot with just about every camera and lens combo you can imagine—as well as some obscure stuff you may not even know about. Remember the Casio Tryx folding camera? PopPhoto does.
We also get that buying a camera is a big decision, which is why we're dedicated to helping folks choose the right one (or, in our case "ones") for their needs. Case in point: Handing over top dollar for an expensive rig may leave you unsatisfied if it doesn't fit your preferred shooting style. Sure, a $6,000 sports-oriented DSLR can capture landscapes, but do you really need to do it at 30 frames-per-second? No, you don't.