Hands-on with the Canon PowerShot V10: A compact video-centric camera
This compact camera is also very affordable.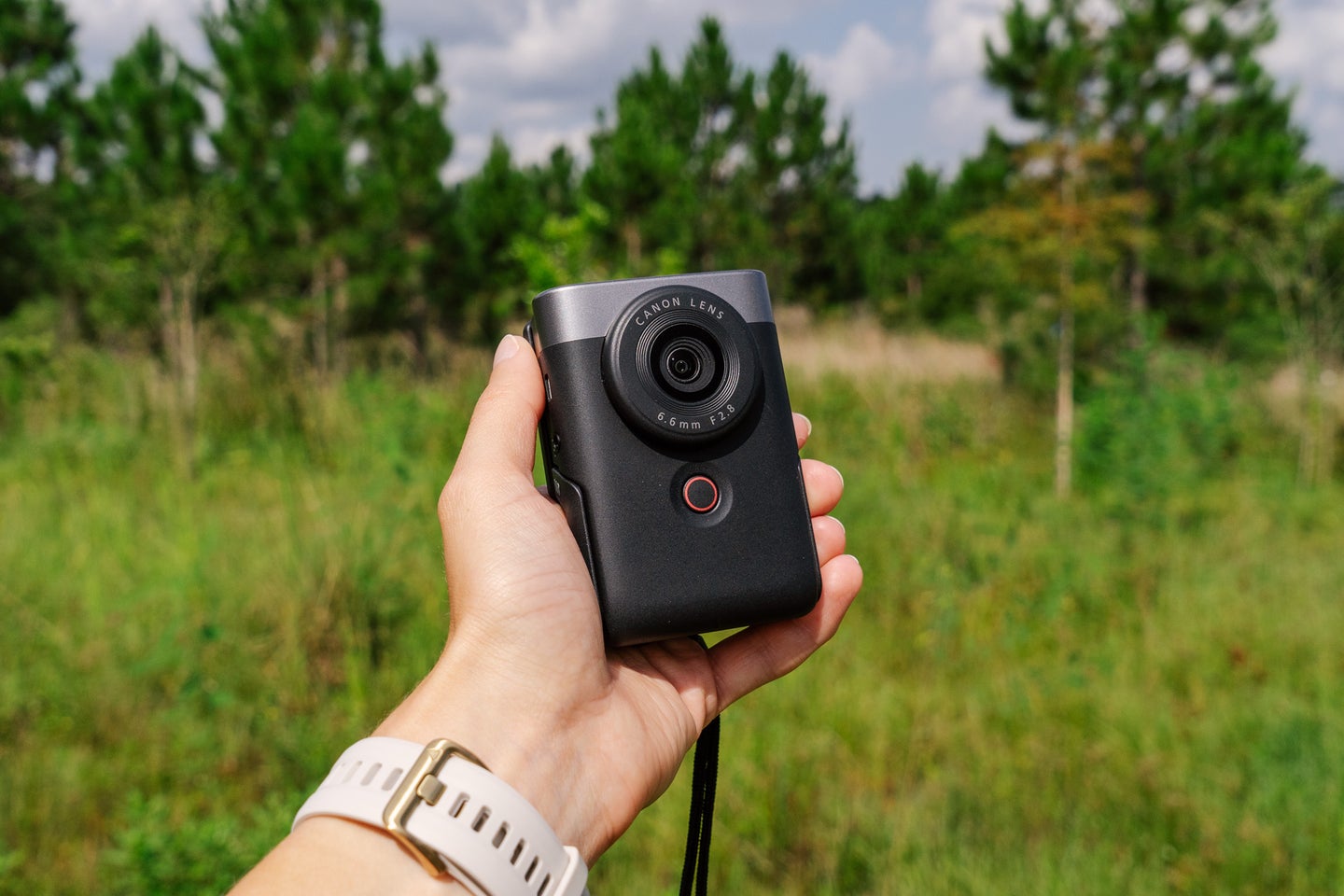 We may earn revenue from the products available on this page and participate in affiliate programs. Learn more ›
Vlogging cameras have become a force in recent years. Just about every major brand has released multiple cameras intended for vlogging use, but most of them follow the same formula and basic design. Canon opted to think outside the box for a new vlogging camera, and the result kicked off its new PowerShot V series of cameras. 
The PowerShot V10 is a pocketable, point-and-shoot-style camera. While it offers some manual video controls, most of the modes are totally automatic. When it comes to still photos, it exclusively offers automatic settings. That, along with the very paired-down menu system, makes it an ideal option for beginner content creators. Canon sent us a camera to test out, and we've had the opportunity to shoot around with it for a few months now. Overall we've been impressed, especially given the price of the camera.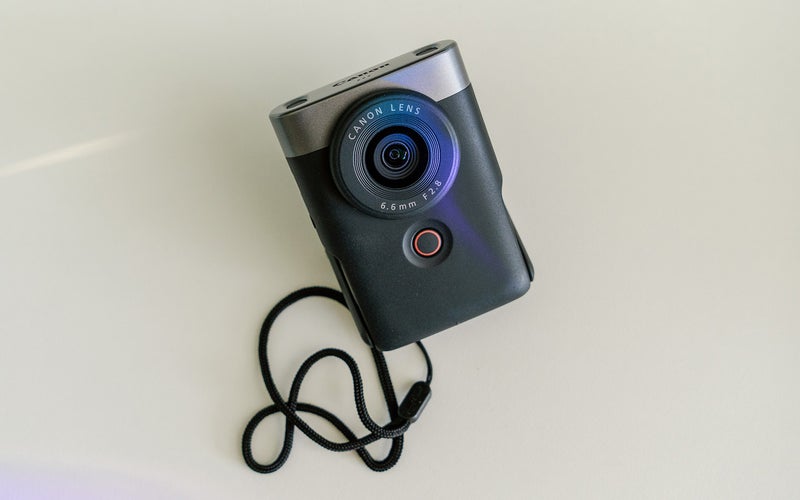 Overview: The PowerShot V10 is a tiny video-centric camera with a one-inch sensor, built-in kickstand, integrated 19mm equivalent f/2.8 lens, and a simplified user interface ideal for beginners.
Key specs
Sensor: 20.9-megapixel 1" CMOS sensor
Video quality: 4K 30 p video
Lens: 19mm equivalent f/2.8
Display: 460,000-Dot 2″ touchscreen LCD
Minimum focusing distance: 2 inches
Memory card slot: microSD
Dimensions: 3.5 x 2.5 x 1.4 inches
Weight: 7.4 ounces
Pros
Very tiny and easy to carry around
Extremely simple to use
Digital stabilization is highly effective when not using zoom
Built-in stand 
Integrated ND filters
Ultra-wide-angle lens 
Cons
No raw photos
Lens gets dirty easily
A little tricky to hold due to compact size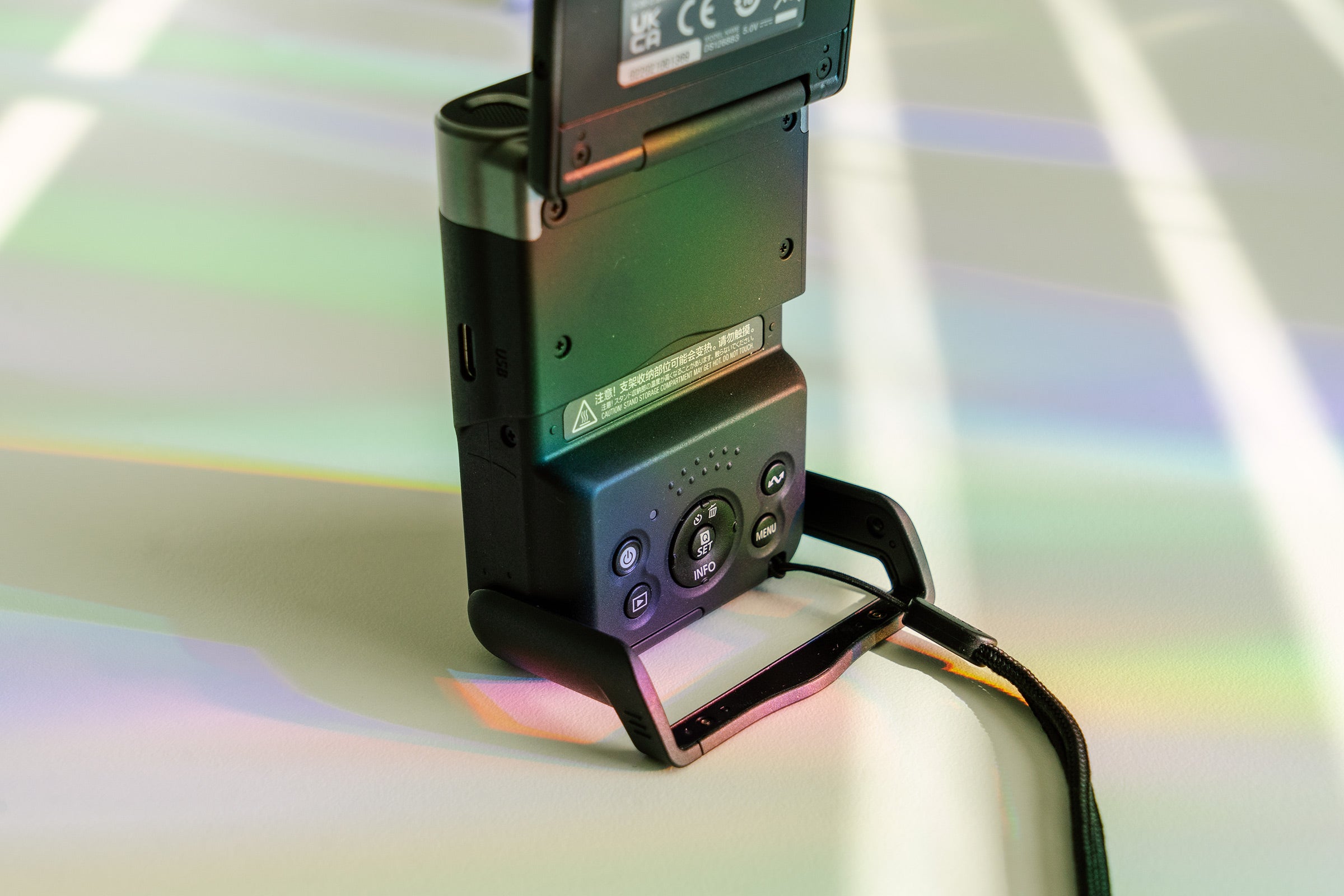 Canon PowerShot V10 design & handling
The first thing that struck me about the V10 is just how tiny it is. It's about half the height of the Google Pixel 7a smartphone and roughly twice as thick. While the compact and lightweight size certainly makes it easy to carry around, I found myself wishing it had a little extra length to it. There's not much room below the lens to actually hold the camera, and there's no grip of any sort, which makes it a bit tricky to hold, especially without getting a finger in the shot. I have pretty tiny hands, so I could imagine it would be extra challenging for those with larger paws. 
Perhaps the most unique feature found on Canon's newest vlogging camera is the built-in stand. It folds up into the camera so that it is barely noticeable when not in use. It's a very sleek feature. You have to fold up the display in order to fold out the kickstand, but then you have a steady camera without needing to remember a separate tripod. It would have been nice to see some rubberized material on it to keep it from sliding on smooth surfaces, but overall it works really well. It also can serve as a handle of sorts to hold onto when filming.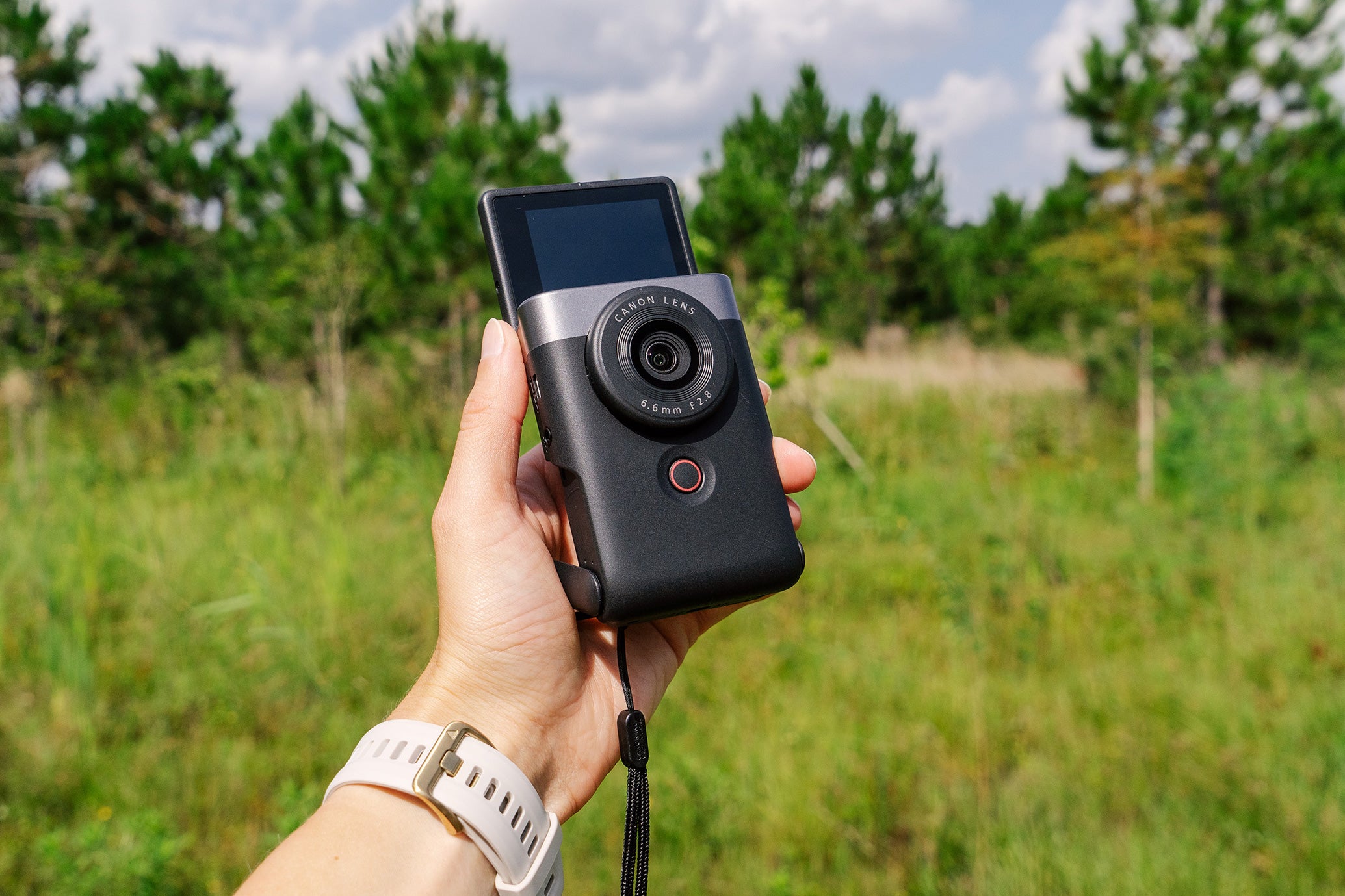 Display & camera
The two-inch touchscreen is paltry compared to the three-inch displays we're used to on bigger mirrorless cameras, but it has to be in order to fit the compact size of the camera. It flips up all the way to make recording yourself easier. The default brightness is hard to see in bright sunlight, but at full brightness, it is very visible, even on sunny days. 
The front of the camera is dominated by the integrated 19mm equivalent f/2.8 lens. It sticks out from the camera a good amount, with the glass element flush against that protruding bit. As a result, it gets dirty really easily. I almost constantly had fingerprints or some sort of debris on it. And Canon doesn't include any sort of lens cap or cover, so I'd also be worried about it getting scratched if just thrown in a bag. I would suggest purchasing a microfiber bag and keeping a cleaning cloth on hand as well.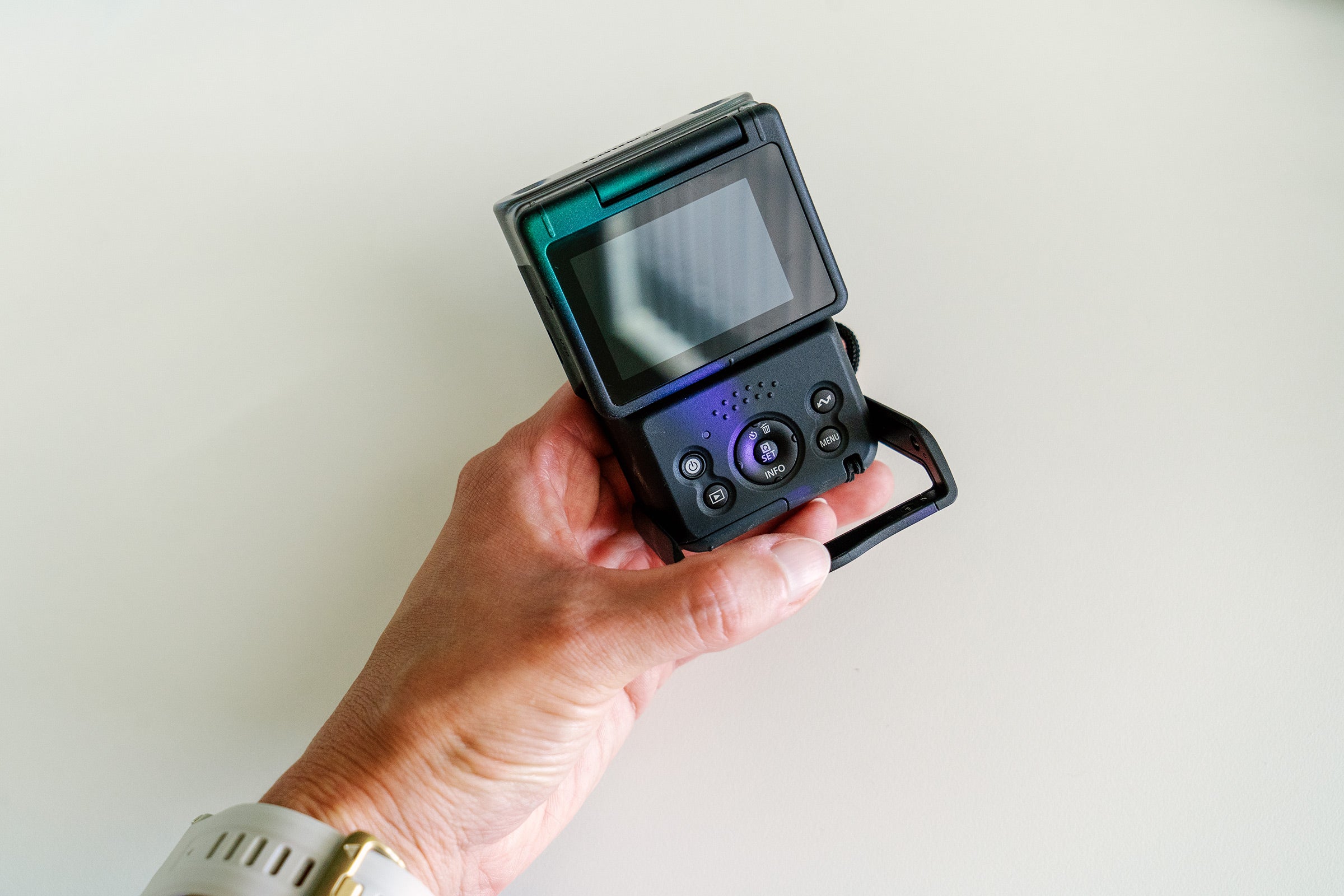 Ports and controls
While the built-in stand is nice, if you are in a situation without a level surface or want more or less height, you'll want to use a tripod. Luckily Canon included a tripod socket on the bottom of the camera to support that. The bottom is also home to the single microSD card slotThe camera also offers a mini HDMI port and a mic jack. There are two built-in stereo microphones, but you can add an external mic via the mini jack if you want even better sound quality. The integrated battery charges via the USB-C port found on the opposite side of the camera. 
The back of the camera is where you'll find all the controls for the camera. Canon massively simplified the buttons and menu systems on the V10 compared to its EOS R cameras. It's a very beginner-friendly design. The front of the camera is home to a large record button smack dab in the middle, which is easy to find and press just by feel.
Using the Canon PowerShot V10
Using the V10 is about as straightforward as it gets. Canon designed the camera to be an easy transition for those moving from smartphones, and indeed, it feels very similar to using a smartphone. The touchscreen provides quick access to the most important settings, such as the ability to change video modes or switch to Auto Photo. You can also access the color filters and digital zoom options right on the touchscreen when in one of the video modes. 
The touchscreen is very responsive. But, because of how small it is, the menu items are pretty squished together. I have small fingers, but I could see selecting individual settings and menu items being a challenge for those with larger hands. Luckily there are not very many menu items to contend with, but it still would have been nice to see a slightly larger font or a UI that is better for such a tiny screen.
Once you have the settings where you want them, it's as simple as pressing the large record button on the front of the camera. When in video mode, another press ends the recording. It doesn't require any force to press the button, so you won't have any jarring movements when starting or stopping.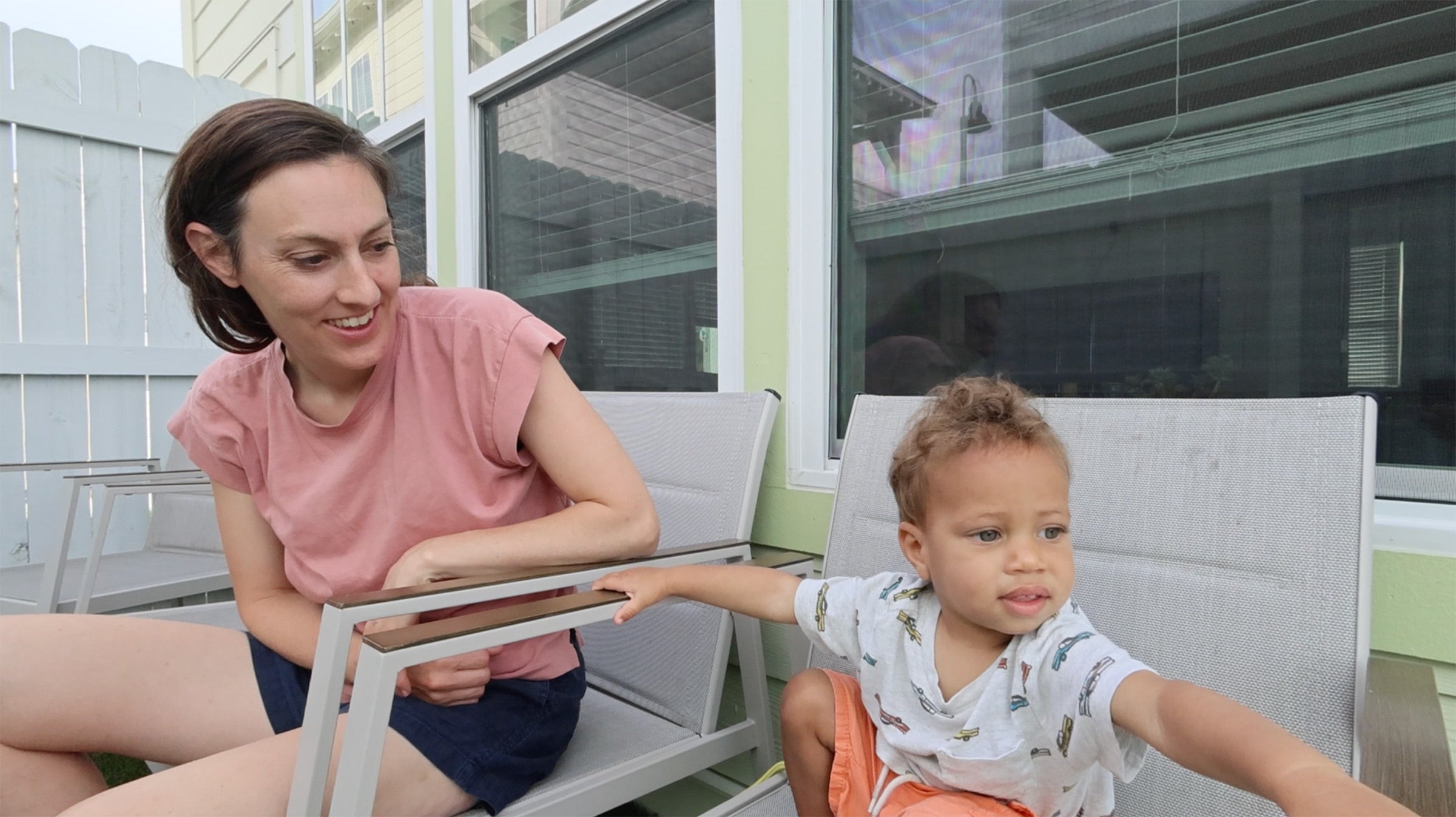 Video quality
The video quality from this tiny point-and-shoot is reasonable, at least considering the price. It's capable of 4K UHD 30p or full HD 60p, which is on par with what many drones or smartphones are capable of these days. It seems likely to get outdated quickly. But the camera is much cheaper than most of the devices that offer the same or better, and it's plenty of quality for social media applications, which is where most creators who are likely to use this camera will be sharing content.   
Although I didn't take advantage of these features, The V10 can act as a webcam when connected to a computer. And it supports live streaming through Facebook and YouTube via the Canon Camera Connect app, which is an ideal feature for content creators. 
The V10 features four different recording modes: Auto, Smooth Skin, Movie IS, and Manual. Since this camera is geared towards beginners, I almost exclusively shot in the three auto modes. Overall the exposure looks good, though it tends to shoot slightly overexposed in bright conditions. You can easily adjust this with the exposure compensation setting, however. 
The videos do have a moderate HDR look to them (it's less than what your smartphone would produce), but it isn't overpowering. It's mild enough that there is room to go in and edit footage if you would like to, but they don't necessarily need it, either. 
Many of the recording settings give a warning about the camera shutting off suddenly because of a rise in internal temperature. I didn't record anything longer than five minutes or so when using the camera and didn't have the camera turn off, but I did see a little temperature icon on the screen after a handful of clips back to back when standing in the hot sun.
One of the things that I really like about the V10 is how easy it is to record vertical video. You just need to rotate the camera 90 degrees, and the camera will automatically adjust. There's no need to go into menus and change settings or crop video in an editing program after the fact. I found it very intuitive—the screen will be vertical when recording vertically—and simple. 
Sound
Canon built the V10 with two stereo mics and a third mic that filters background noise. These mics do a really nice job and result in good sound quality, especially if you are talking while holding the camera. I was impressed by how it handled a very windy day at the beach. The mics picked up my sister's voice pretty well, even when she wasn't right next to me. The wind noise was really strong, but you can bring some of that down in editing. And you can buy windshields to attach to the mics, which would help as well.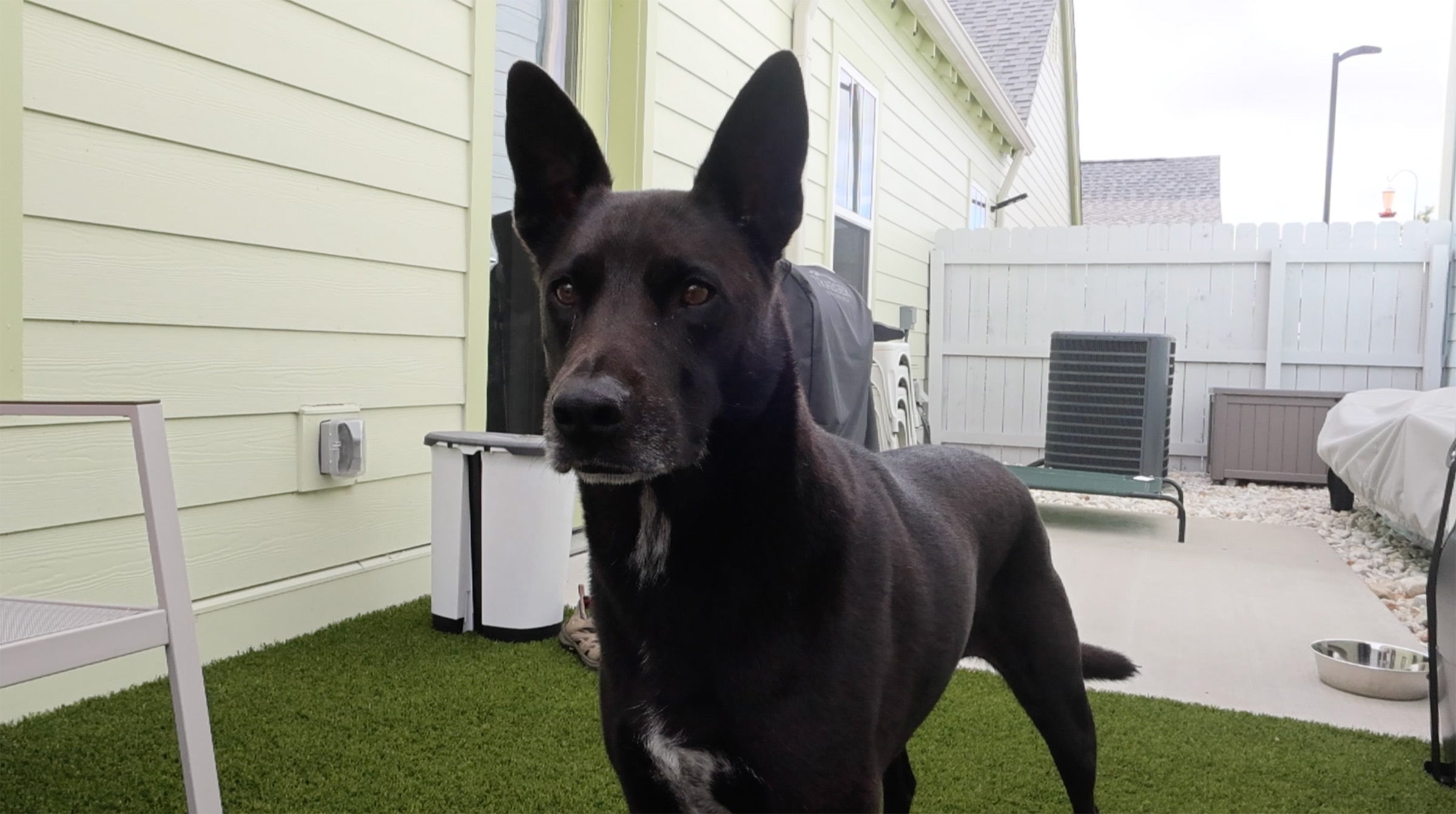 Autofocus
There are only two autofocus options on the PowerShot V10: Face tracking AF or Specified frame AF. It's important to note that there is no eye detection or tracking. I found the autofocus to be okay, but not overly impressive. It did a solid job of finding human faces but would not find my dog's or cat's faces. 
When I was recording a single person, I noticed the camera switching focus from the background to the subject far more than I would like or expected. And when I had multiple people in the frame, the camera seemed to want to stick to the person in the background, which was annoying.
Canon specifies that the minimum focus distance is only two inches, but the V10 really struggled with focusing on close objects or subjects when recording video. I got still photos nice and close, but the autofocus when recording video just would not focus on things closer than a foot or so. 
Stabilization modes  
The V10 provides access to Canon's iMovie Digital Image Stabilization (IS). This is one of the few settings that gets a bit confusing in terms of the user interface. You can select Movie IS Mode from the touchscreen as one of the quick options, but then the individual stabilization modes require you to go into the menus. That's not the case for the other recording modes, so I found it an odd mismatch. But, once in the menu, you can change Digital IS to off, on, or enhanced. The camera also provides an Auto Level mode, but it cannot be used with Digital IS.
Since it is digital stabilization, it results in a slight crop. That means you won't get the full wide-angle effect of the lens when using it. If you need that wide perspective, you may want to invest in a gimbal setup. 
The Enhanced IS works really well, provided you're zoomed out. Without any level of zoom enabled, it smoothed the video out nearly completely when I was recording while walking. It definitely gets the job done. But, when zoomed in, especially all the way, the stabilization just doesn't cut it. I wouldn't recommend using the zoom function unless you are on a tripod or on a stable surface. The basic level of stabilization does smooth the video out some, but walking was a bit jittery. It's passable, especially if you try to walk smoothly, and won't crop in as much. 
Skin smoothing
Smooth Skin movie is one of the four available recording modes on the PowerShot V10. There are five different levels available. I found the result to be less than impressive in my brief test. Level five resulted in a very obvious blur on my face. Level one was much better, but it definitely isn't as successful as the filter that your phone likely automatically applies. And when you have Skin smoothing turned on, you can't also use the digital stabilization, which is unfortunate.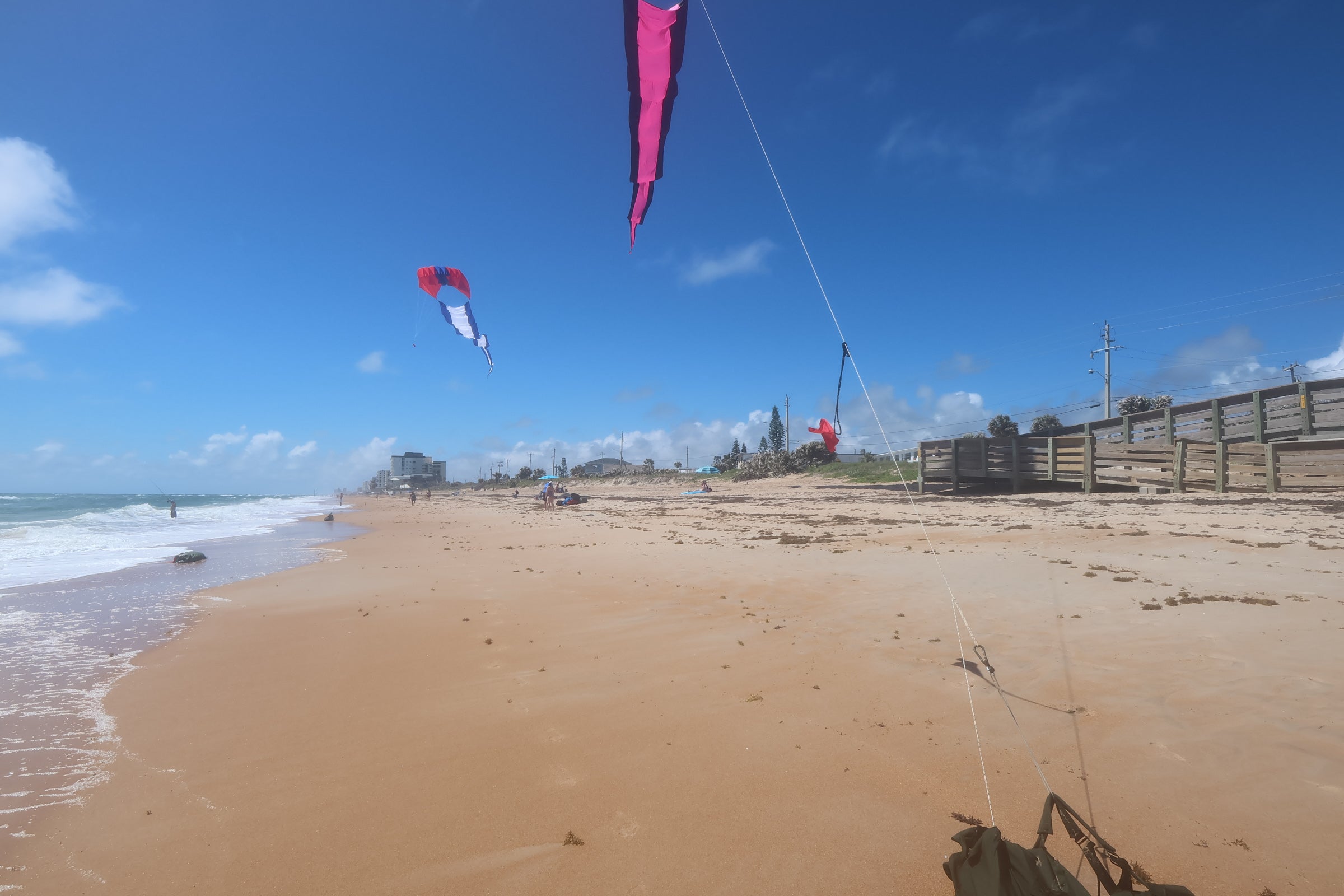 Photo mode & image quality
Although the V10 is a vlogging camera, it is capable of taking still photos. Unfortunately, the options are extremely limited. It can only take jpeg files, with no raw support. There are four quality options, from 20 megapixels (55472 x 3648) down to 3.8 megapixels (2400 x 1600). And you can change the aspect ratio from 3:2 to 4:3, 16:9, or 1:1. And that is it in terms of options for still images.
Unlike when recording video, photo mode does not provide access to any digital zoom options. So you're stuck with the ultra-wide-angle lens view. You also won't get access to the different filters and color profiles that are available when recording video on the V10. And photo mode only supports automatic exposure. I found the camera to tend towards slightly overexposed. That's rather disappointing since highlights on jpeg files are even less likely to be recovered than raws. Luckily there is an exposure compensation option. That feature was especially helpful in tricky lighting situations like backlighting or sunny days at the beach. But I found myself almost always turning it down to -2 or even -3.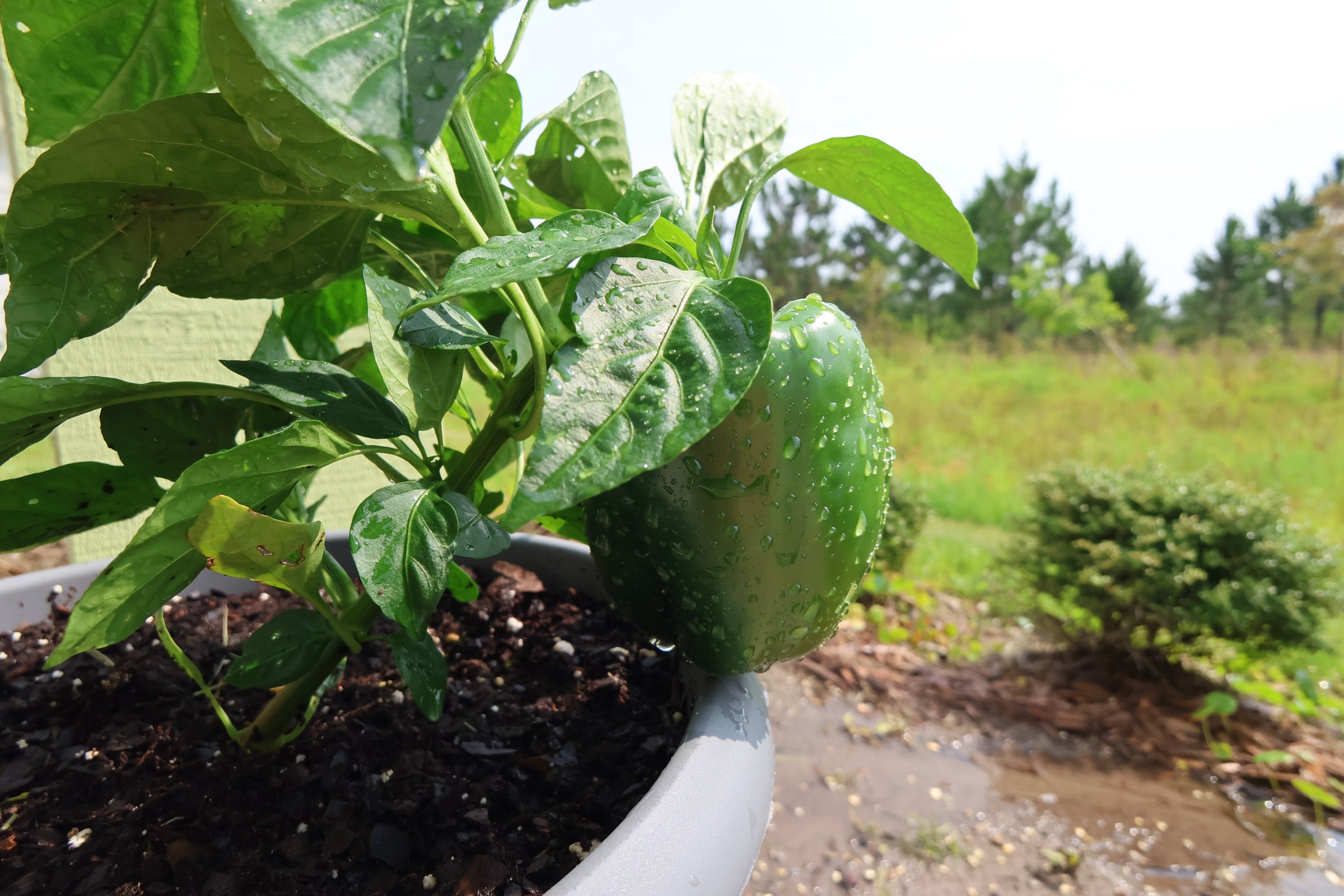 In terms of image quality, it's much like you'd expect from a basic point-and-shoot camera or a smartphone. It's not wow-worthy, but it gets the job done for quick snapshots. Images are well-detailed, and there is a fair amount of dynamic range for jpeg files should you want to edit them. They are very slightly on the dull side in most scenarios—especially when compared to the overprocess results of smartphones. They could benefit from a slight boost in contrast and saturation. But the skin tones are typical of Canon's cameras, with natural and attractive results. 
Final thoughts on the Canon PowerShot V10
Canon's V10 is an interesting little camera. It definitely has its fair share of issues, including so-so autofocus, mediocre photo quality, and a lens that gets dirty if you just look at it wrong. But it has quite a few things going for it as well. The sound quality is really excellent, the menu systems are nicely simplified so that it is extremely easy to use, the built-in stand is convenient, and the compact size is great for bringing on trips or keeping in a jacket pocket. The video quality isn't wow-worthy, but it is a step above many smartphones. 
There are not that many basic point-and-shoot cameras available these days, especially ones that are actually affordable. So the Canon PowerShot V10 offers a nice alternative to more advanced or expensive cameras or simply using your phone. It would be an ideal choice for someone who wants a travel camera that requires zero fuss or for those who are getting into content creation and want something other than their phone. All-in-all, we think it's a promising device and are excited to see where Canon takes this one in future iterations.
More image examples from the Canon PowerShot V10