Canon announces a new line of vlogging cameras with the PowerShot V10
The latest camera from Canon is tiny and simple to use, making for an easy transition from smartphones.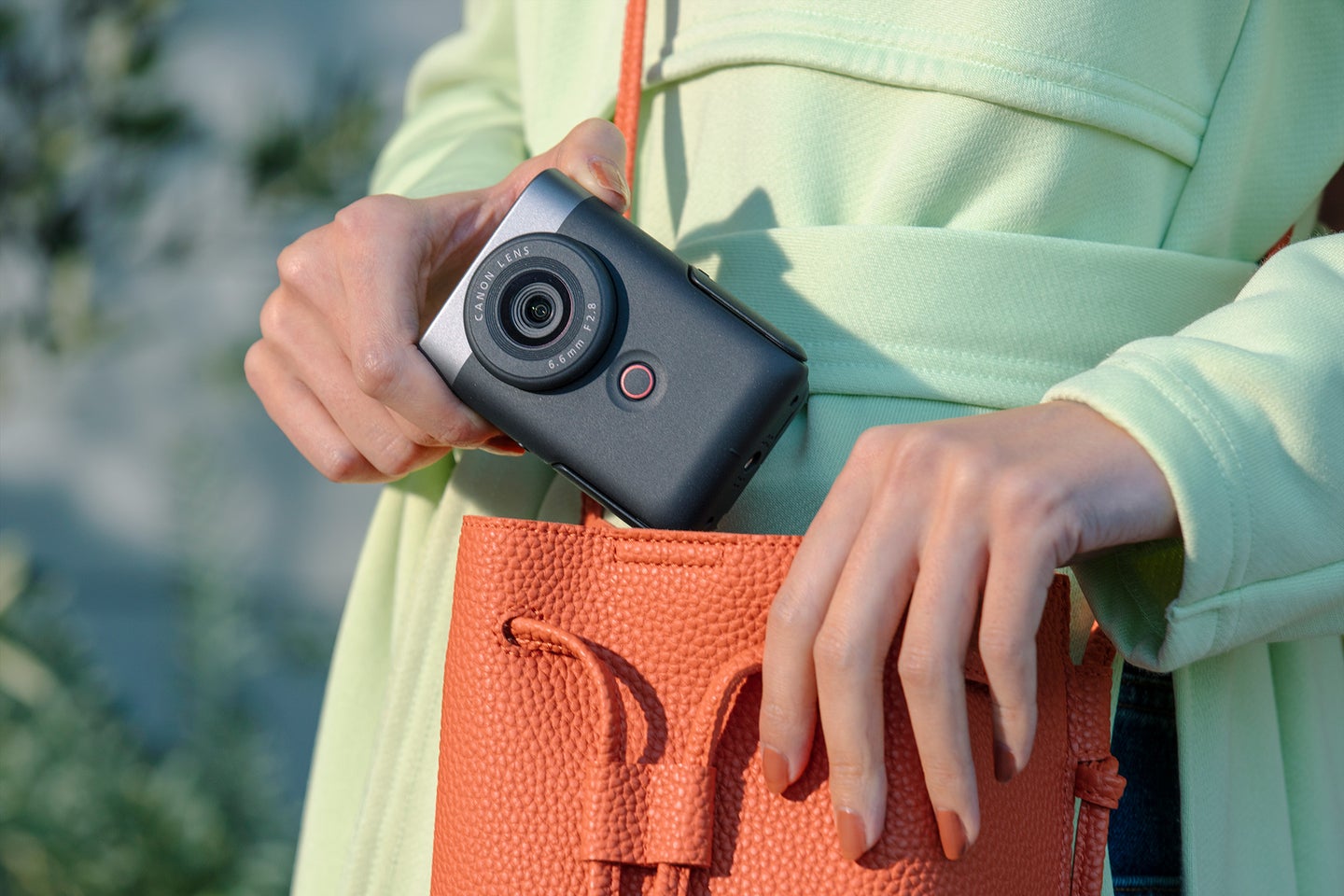 It's no secret that social media content creation is an exploding industry. And in light of that, it's no surprise that we continue to see companies releasing camera equipment geared toward video creation for social media platforms. That trend very much continues with Canon's latest release, the PowerShot V10. This new compact camera also marks the beginning of Canon's new consumer video production, live streaming, and vlogging line of cameras, the PowerShot V series. The V in the name stands for Video Communication, and indeed, the specs and features of this camera are primarily focused on video.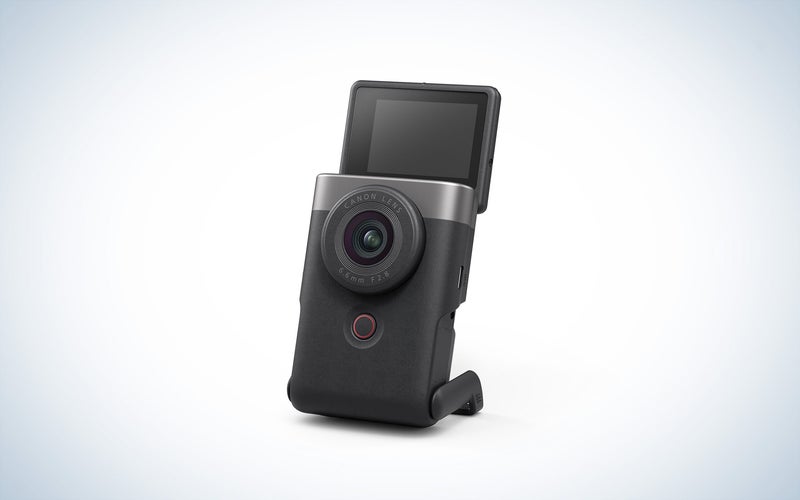 Canon PowerShot V10 at a glance
4K UHD 30P, Full-HD 60p video
Newly designed integrated 19mm f/2.8 wide-angle lens
Smartphone-like handling
1″ CMOS sensor
13.1 megapixels
Webcam capability
Livestream compatible
Face-tracking AF
Built-in image stabilization
Two built-in stereo microphones and third mic for background noise reduction
Built-in stand
Compact and lightweight
Single microSD card slot
Ships in June for $429.99
What is the Canon PowerShot V10?
Canon's latest camera differs quite significantly from most camera releases in the past few years, thanks to its simplicity, size, and sub-$500 price tag. The PowerShot V10 is essentially a point-and-shoot camera with an integrated 19mm f/2.8 lens. Though the lens is a fixed focal length, it supports digital zoom up to 3x. It's a tiny camera, weighing just 7.4 ounces and measuring only 2.5 by 3.5 by 1.3 inches. That's smaller than the PowerShot G7X III, the EOS M50 II, and even the iPhone 14.
As is evident by the size, Canon designed this camera to handle much like a smartphone, making it easier and more familiar to use for those coming from mobile devices. It's ideal for content creators and vloggers wanting a step up from their smartphones without diving into a much more advanced camera setup. It features simplified menus and shooting modes, meaning there is less to sift through and learn.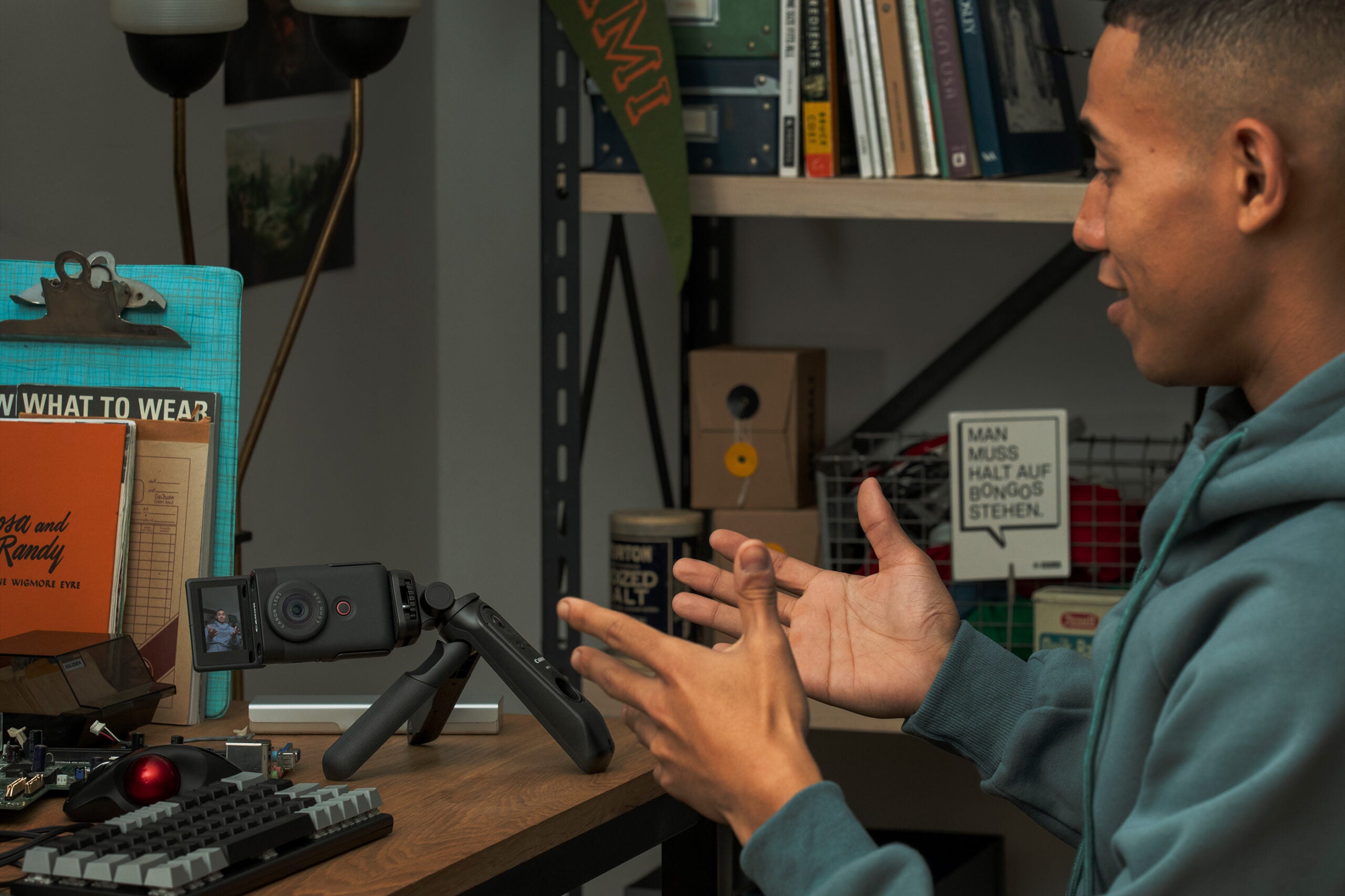 PowerShot V10 for recording video
Though the PowerShot V10 is a pared-down camera compared to Canon's other recent releases, it still offers plenty of features and quality that make it worth upgrading to from your phone or to use as a secondary camera. For starters, the one-inch CMOS sensor is larger than that of just about every phone currently available, other than a select few. That means that it will provide better low-noise video results in dark conditions, opening up the possibilities of where you can record. Quality, in general, should be better than your smartphone as well, with Canon explaining that it will produce quality similar to the PowerShot G series and EOS series cameras.
The V10 is capable of 4K UHD 30p video or full HD at 60p. It features two built-in stereo microphones, with a third mic that serves as a filter for background noise, giving you clear audio. The compact camera can be used as a webcam when connected to a computer. And it also supports live streaming through Facebook and YouTube via the Canon Camera Connect app.
The movie recording mode offers a few different selectable scenes to simplify the process. That includes Auto, Smooth Skin mode with five levels of effect, and Manual Exposure movie mode. Manual Exposure mode is still simplified compared to other cameras, as you can only change aperture and shutter speed. ISO is always automatically selected. There are also 14 creative color filters built into the camera, so you don't have to spend time editing.
The V10 offers Movie Digital Image Stabilization (IS) with two different levels (Enhanced or Auto) to keep your videos smooth. Auto Level mode keeps your shots level as you record by essentially rotating and cropping the image. These modes cannot be combined or used with Smooth Skin mode, however. Autofocus supports face tracking as well as Specified Frame autofocus (for showcasing products) but is not capable of detecting or tracking eyes. By default, the camera is set to record horizontally, but it can be rotated to record social media-ready content in vertical format.
PowerShot V10 for still photos
Canon very much focused on video features in the V10, but it can take still photos. It produces 13.1-megapixel images with image quality fixed to fine. There is no raw support, so you'll be stuck working with jpeg files, but that's likely not an issue for most people. The compact size makes it an ideal travel camera, especially if you want the flexibility of recording video and taking photos.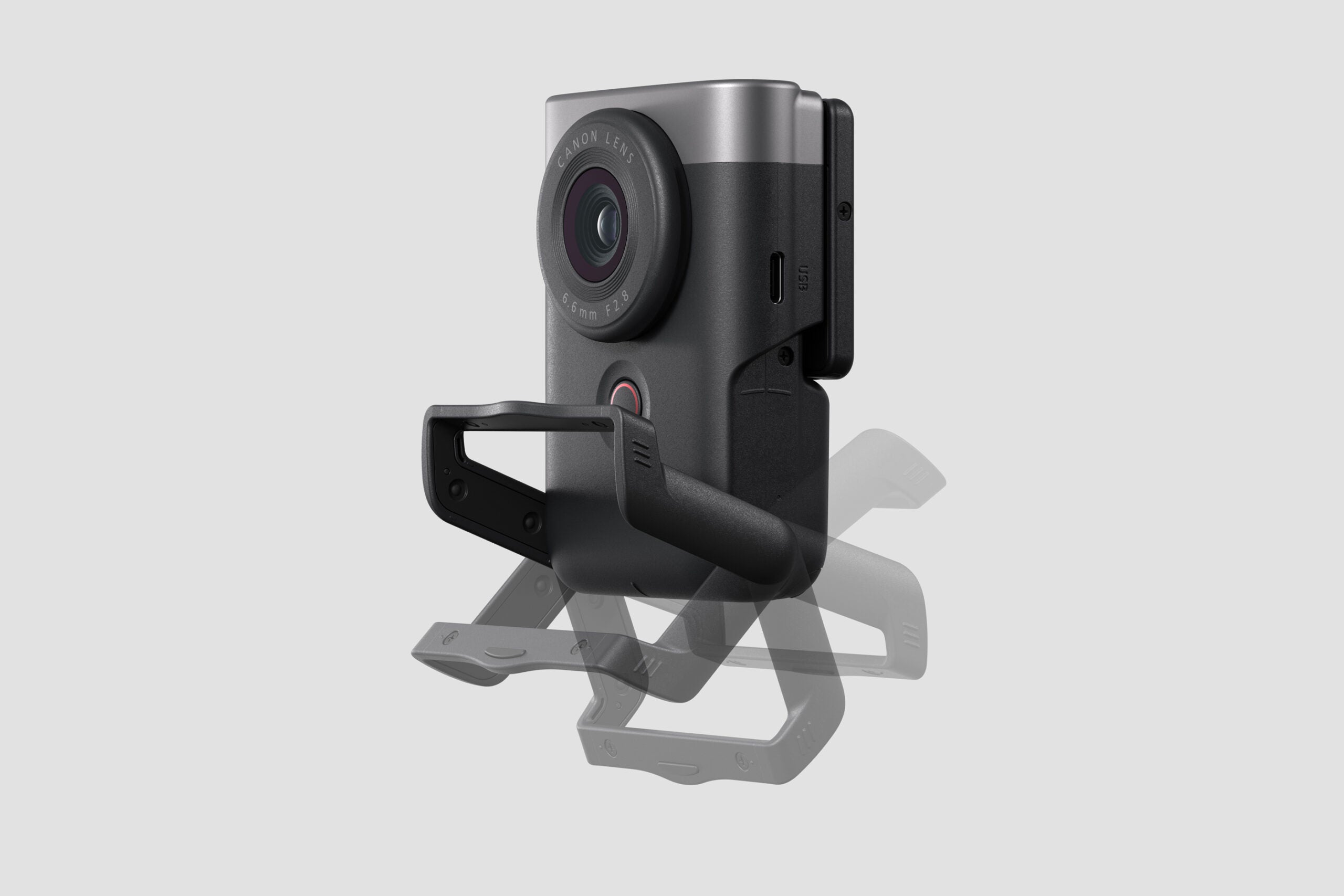 Even more details
One unique feature of the V10 is the integrated stand. You don't need a tripod necessarily, since the stand angle is adjustable from -30 to +30 degrees. However, if you do want to use a tripod, there is a tripod socket on the bottom of the camera. The built-in lithium-ion battery charges via USB-C and provides approximately 55 minutes of battery life when recording 4K video.
Canon specified that the V10 uses a new intuitive UI that supports one-handed operation. It's meant to feel like using your smartphone. For taking photos or starting a recording, there is a shutter button on the front, or simply touch the screen on the back.
Pricing & availability
The Canon PowerShot V10 is available for pre-order now for an estimated retail price of $429.99 and will begin shipping in June.