Updated Sep 11, 2023 11:37 AM
We may earn revenue from the products available on this page and participate in affiliate programs. Learn more ›
Choosing travel cameras for your trips can be an overwhelming prospect. You're faced with a ton of great options, from advanced mirrorless systems to compacts and action cameras. It's easy to get lost in the noise. Plus, when you consider features like video capabilities, screen type, and sensor size, it can be downright confusing. All of these features need to fit your photographic—and budgetary—needs. Knowing what you intend to use your captures for and what is most vital for you when traveling with a camera is the best place to start. These are the best travel cameras available, no matter what you are looking for.
How we picked the best travel cameras
The editors and writers at Popular Photography have decades of photography experience in just about every genre and have covered and reviewed just about every major camera on the market. When selecting the products in this list of best travel cameras, we looked at a wide range of important features in travel cameras. We researched the different camera choices available and compared specs and image and video quality. Size and weight, sensor size, autofocus abilities, battery life, and lens options were just some of the considerations. In addition, we noted any unique attributes or settings available on the cameras. We also aimed to choose offerings at different price points and cover the range of camera types from DSLR to compact. All of these considerations allowed us to compile a list of cameras suitable to various travel styles and capture needs.
The best travel cameras: Reviews & recommendations
While you certainly can use your smartphone to document your travels, there are lots of reasons to bring a dedicated camera along. Whether you're looking for better image or video quality, a different perspective, or just don't want the distraction of your phone, the best travel cameras will help you capture epic images to help you relive your trip down the line.
Specs
Resolution: 20.1 megapixels
Sensor size: 1-inch
Lens mount: N/A
Image stabilization: Digital and optical in the integrated lens
Memory card slots: Single Slot: SD/SDHC/SDXC
Weight: 10.65 ounces
Dimensions: 4 x 2.29 x 1.69 inches
Pros
4K video
Versatile 24-200mm zoom lens built into the camera
Fast autofocus with AF points covering nearly the entire field of view
Cons
The newest iteration of the Sony RX100 is an excellent bridge between a compact camera and a DSLR or mirrorless option. Its pocket-ready size makes it easy to carry and pack, an important feature for a travel camera. The smooth finish on the camera body does make it a bit slippery, but a wrist strap can help with carrying. 
Despite falling into the compact category, it has the option to use full manual mode (and other staples like aperture and shutter priority), allowing you to have complete control over your images. The 24-200mm equivalent lens covers both the wide-angle and telephoto sides of things, which is helpful for documenting a range of subjects on your travels. Plus, with a maximum aperture of f/2.8-4.5, you can still get nicely blurred backgrounds for drawing attention to your main subject. It's also handy for shooting in low light if you don't want to rely on the built-in pop-up flash.
The RX100 VII has 4K video recording with human and animal eye autofocus, which mimics Sony's higher-end mirrorless models. The newly designed sensor and BIONZ X image processor allow for extremely fast autofocus, with 68% of the image area covered by AF points.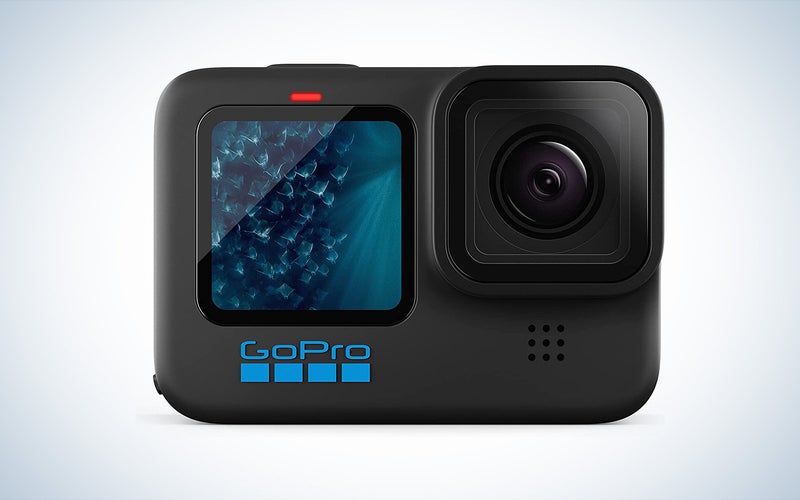 Specs
Resolution: 27 megapixels
Sensor size: 1/1.9-inch
Lens mount: N/A
Image stabilization: Digital
Memory card slots: Single microSD
Weight: 4.5 ounces
Dimensions: 2.8 x 2 x 1.3
Pros
5.3K video
Award-winning stabilization
Extremely compact
Waterproof without a case
Tons of mounting accessories
Cons
Still not the best in low light conditions
Limited controls
GoPro cameras have been synonymous with travel cameras for quite some time. That's in part thanks to how rugged and compact they are. And now, the GoPro HERO 11 features the largest sensor of any GoPro yet. It can produce 27-megapixel stills, as well as 5.3k 60p video. And the expanded image sensor allows for more flexibility when zooming, cropping, changing digital lenses or adjusting the aspect ratio. You'll be able to easily create vertical videos for social media platforms without losing most of your image.
GoPro's HyperSmooth 5.0 image stabilization system is truly impressive, offering several modes depending on the activity in which you're participating. It's even burly enough to smooth out footage from high-impact activities like mountain biking or skiing. And it offers Horizon Lock to keep your footage level even as you move around.
GoPro also added new night effects to its latest action camera. That includes modes for documenting star trails, creating light painting photos, or capturing vehicle light trails. It still won't perform as well in low light conditions as something like a mirrorless camera, but it has been improved compared to previous models.
If you want the latest GoPro, the recently released Hero 12 offers even longer run times and higher-quality HDR video.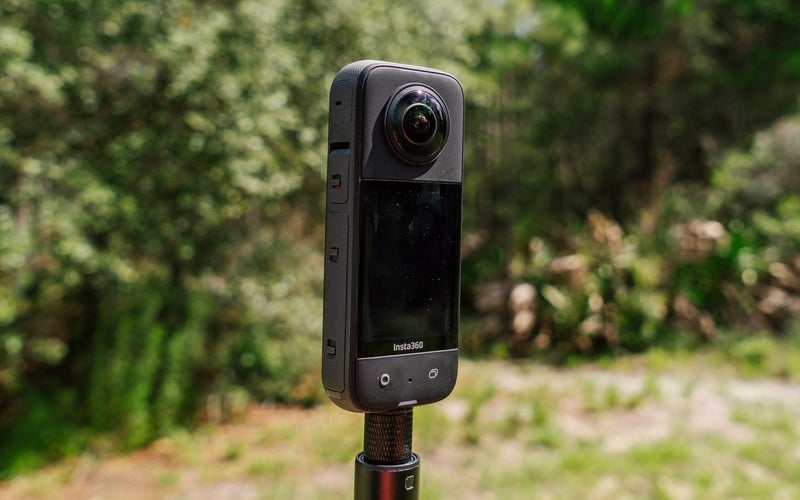 Specs
Resolution: 48 megapixels
Sensor size: 1/2-inch
Lens mount: N/A
Image stabilization: Yes
Memory card slots: Single microSD
Weight: 6.3 ounces
Dimensions: 4.5 x 1.8 x 1.3
Pros
Excellent stabilization
Unique 360-degree perspective
Lots of mounting options
High-quality video
Cons
App is a bit tricky to use
If you want something a bit unique for your travels, the Insta360 X3 action camera fits the bill. It records 360-degree video with its dual lenses so that you can show every direction for immersive content. The selfie stick is invisible in the footage, so you won't have that distracting element in your shots. And it's plenty rugged, with an IPX8 rating and waterproofing down to 33 feet without a case, making it an ideal travel camera for rugged adventures.
The X3 offers many different video and photo modes for extra versatility. It's capable of 5.7K 24p 360-degree video, 4K 30p single-lens footage, 8K 360-degree timelapse, or ultra-wide 170-degree shots at 2.7K resolution. It can also create up to 72-megapixel photos, so you'll be able to get high-quality stills as well. And thanks to its 6-axis gyroscope and FlowState Stabilization technology, your videos will be smooth and level no matter how adventurous your activity.
The camera pairs with the Insta360 app, which gives you lots of creative control. It provides lots of AI-powered features to simplify the process, or you can have full control. If working with 360-degree files, you can choose the direction the camera points, have it follow something, and so much more. The app is a little confusing to use, so takes some getting used to, but it offers nearly endless editing options.
To learn more about the Insta360 X3, read our full review.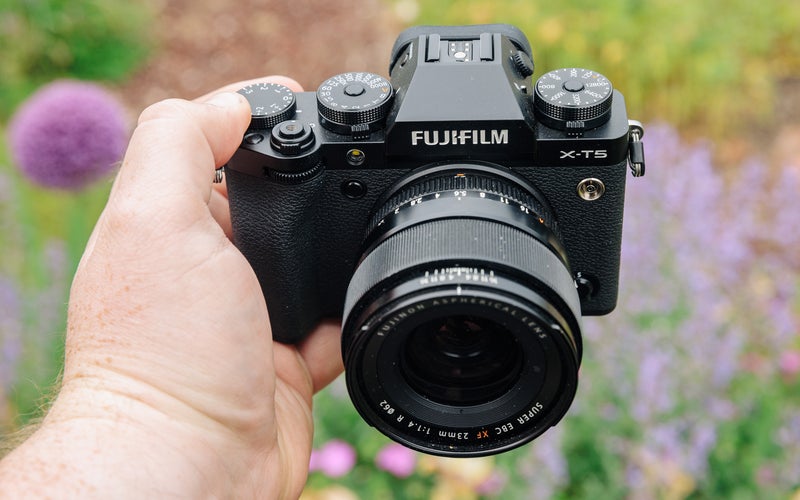 Specs
Resolution: 40.2 megapixels
Sensor size: APS-C
Lens mount: Fujifilm X
Image stabilization: Sensor-Shift, 5-Axis
Memory card slots: Dual slot: SD/SDHC/SDXC (UHS-II)
Weight: 1.2 pounds
Dimensions: 5.1 x 3.6 x 2.5 inches
Pros
6.2K video at 30fps
In-body stabilization
Attractive in-camera film presets
Tactile camera controls
Solid weather sealing
Cons
Expensive for an APS-C camera
Rear screen only tilts
The newest version of Fujifilm's X-T5 camera is an ideal choice for a hybrid shooter who wants to take both photographs and video on their trips. As an APS-C mirrorless camera, the body is relatively compact, which is ideal for a travel camera since it won't take up much room in your bag. And it features Fujifilm's typical retro styling, so it will look cool when you bust it out on your trips. Plus, there are lots of tactile dials on the top of the camera that keep you from digging in the camera menus, which is always ideal for staying in the moment.
The X-T5 offers 40.2 megapixels for detailed, high-quality photos. If that's not enough, you can take advantage of Pixel Shift Multishot, which automatically takes 20 frames with a single press of the shutter to produce a 160-megapixel file. The electronic shutter goes up to 1/180,000 seconds, with 20 frames per second burst shooting to help you document fast action.
On the video side, it's capable of 6.2K 30p video or oversampled 4K footage. The seven-stop in-body image stabilization system will help with achieving sharp photos even when shooting in low light. And it will help keep your videos smooth, even without a gimbal.
As with other Fujifilm cameras, it comes with lots of different film simulation modes. These can give your photos a more polished, unique look without needing to spend time editing, which is ideal when traveling.
To learn more about the X-T5, check out our full review.
Best mirrorless on a budget: Canon EOS R100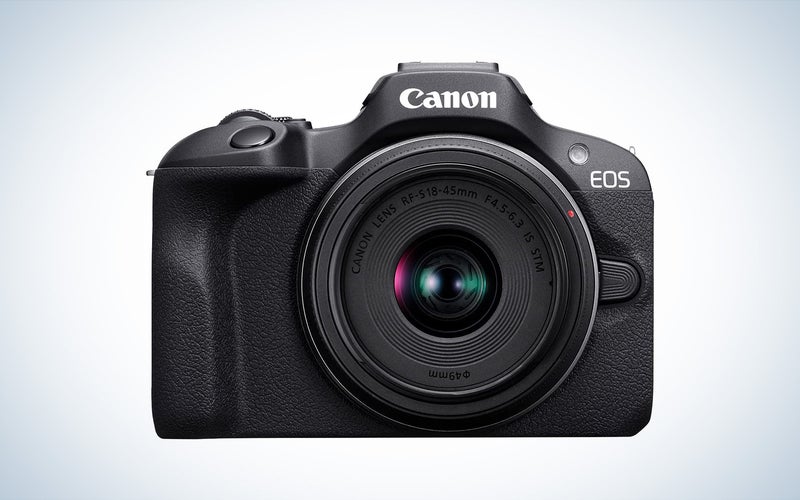 Specs
Resolution: 24.1 megapixels
Sensor size: APS-C
Lens mount: Canon RF
Image stabilization: None
Memory card slots: Single slot: SD/SDHC/SDXC
Weight: 12.6 ounces
Dimensions: 4.6 x 3.4 x 2.7 inches
Pros
Budget-friendly
Very compact
Excellent image quality
4K video 24p video
Cons
Rear screen is fixed
No touchscreen functionality
Canon's EOS R100 is an absolutely tiny camera, especially for one that offers interchangeable lens functionality. It is compatible with all RF lenses, as well as EF lenses if you get an adapter. The camera weighs a measly 12.6 ounces, making it the smallest Canon R line camera yet. It's also very affordable.
Despite the small size and budget price, this camera has a lot to offer. It's capable of cropped 4K 24p video, of you can record full HD at up to 60p. The autofocus system is very advanced for a budget camera, so you can trust that your images and videos will be in focus without much work on your end. The Eye Detection will even work when you are trying to get full body shots of a subject. Still images will also be high-quality thanks to the 24.1-megapixel sensor and excellent dynamic range.
The main downside to the camera is the rear screen. It is fixed, so you won't be able to flip it around for selfies. And it isn't a touch screen. But it offers lots of wireless connectivity options for transferring your files, so you don't need to worry about sitting down to a computer to get images to share to social media while traveling.
Specs
Resolution: 12.9 megapixels
Sensor size: Full-frame
Lens mount: Sony E
Image stabilization: Digital, 5-Axis
Memory card slots: Single slot: SD/SDHC/SDXC (UHS-II)
Weight: 1.1 pounds
Dimensions: 4.8 x 2.8 x 2.1 inches
Pros
In-body stabilization
Impressive autofocus
Unlimited 4K recording
Lots of color control options
Cons
Single UHS-I card slot
Lower resolution sensor isn't as ideal for stills
Sony's ZV-E1 is a full-frame camera that is specifically built for vloggers. It is an interchangeable lens camera, unlike its more budget-friendly sibling mentioned below, meaning you can have more control over the look of your content thanks to the wide selection of lenses for Sony E mount. And, even though it's a full-frame camera, it's still very compact and lightweight, making it ideal for travel.
The ZV-E1 offers advanced and impressive autofocus. It can even track multiple people in a single frame, which is helpful if you are traveling with a group. It also offers focus breathing compensation, which is a change in focal length when adjusting the focusing distance. A bokeh switch allows for a custom level of bokeh, so you can fine-tune the style of your shots.
Perhaps most importantly, the video from the ZV-E1 is excellent. It's capable of up to 4K 120p video or 240 fps with full HD resolution. And there are no recording limits, so you can record long cuts. It provides access to advanced color control, such as S-Cinetone, for natural-looking skin tones. You can also adjust the gamma, black level, knee, color level, and more. Or you can import and apply your LUTs in camera to save you editing time.
Best for video on a budget: Sony ZV-1
Specs
Resolution: 10.1 megapixels
Sensor size: One-inch
Lens mount: N/A
Image stabilization: Digital and optical in the integrated lens
Memory card slots: Single Slot: SD/SDHC/SDXC
Weight: 10.4 ounces
Dimensions: 4.15 x 2.36 x 1.71 inches
Pros
Compact and lightweight
Excellent autofocus
Flip-out screen great for vlogging
Cons
Less than impressive battery life
24-70mm lens may not be wide enough for some
This is the first version of Sony's entry-level vlogging camera, but it is still an excellent choice and will save you money over the latest iteration. To create this vlogger camera, Sony used much of the tech featured in the more expensive RX100 line, resulting in superb quality in a bit more stripped-down package. They also added a handgrip on the ZV-1, making it easier to hold. And, the screen flips to the side, making selfies easier to record even when you have accessories on the hot shoe. 
Despite being a small point-and-shoot camera, you get 4K video and access to tons of AF points across the sensor. There is even a focus mode that allows you to easily shift focus from your face to elsewhere in the foreground, which is helpful for showing off your travel finds.
While the quality of the 24-70mm lens is solid, having something a little wider would have been ideal. If you do want a wider lens, the new ZV-1 II offers an 18-55mm equivalent lens. It also features a faster sensor and a new mic design. It will cost you a little over $100 more at the time of writing but may be worth it if you want that wide view for documenting travel.
Things to consider before buying the best travel cameras
When selecting the best travel cameras for your trips, there are a handful of things you should consider.
Your photography style
It is essential to consider what kind of traveler you are and how you intend to use the camera. For example, if you don't mind traveling with heavy gear and want quality over anything else, your camera needs will differ from someone who likes to travel fast and light. Likewise, a backpacking trip through a jungle could call for a different camera than a luxury cruise. Deciding on what your priorities are first will help you narrow down all of the options available to you in a camera.
Size
You'll want to pay attention to both dimensions and weight in your setup. The amount of space that a camera takes up in your bag is significant when maximizing what you can bring along. Carrying a heavy camera around on your back while in between destinations or holding it for long periods while out and about gets old fast, so weight does make a difference. Even a few ounces can start to weigh you down on long treks.
Features
You'll want to choose a camera that offers features you'll actually use but skips others that won't be necessary. For example, if you want to take lots of selfies or group photos, a camera with a screen that flips around will be extremely helpful. Or, perhaps you would like to take lots of videos and share your travels. If so, paying attention to the video recording capabilities is a good idea.
Ruggedness and weather-sealing
Moisture and sand don't play nicely with electronics. Hard falls can do even more damage. If you're planning to take your camera out into the wilderness or other treacherous terrain, opt for a camera with robust weather sealing. Some cameras come with an IP (ingress protection) rating that will tell you exactly how much exposure to water, dust, and shocks they can withstand. Even if you're not headed into the jungle, travel can take a toll on cameras, so ruggedness always comes in handy. 
Image size and quality
Not every photo is destined to become a giant print.  If you plan to use photos and videos solely for social media and to remember your trip, spending money on a camera with exceptional image quality and large files is unnecessary. However, if you want to make large prints of your images or produce high-quality films from video footage, you will want to invest in a camera with more megapixels and higher video resolution. Just remember, more pixels require more storage, so don't skimp on those SD cards.
Cost
As with most purchasing decisions, cost is a significant factor. This is especially true with a travel camera, as you are likely putting an expensive piece of equipment at risk of getting broken, lost, or stolen, depending on how you use it. Finding a camera that isn't pushing your budget to the max may be a good idea because of the risk. Insuring your equipment before trips is also recommended.
FAQs
Q: Are mirrorless cameras better for travel?
Mirrorless cameras are often smaller than DSLRs because they can cut out all the space and weight required for the mirror mechanism. That also gives mirrorless cameras fewer moving parts, which means fewer things to break during your trip. As mentioned above, lighter and smaller cameras are ideal for travel, making mirrorless a frequently preferred option for travel cameras.
Q: Is GoPro good for travel photography?
GoPro cameras are excellent for travel for a few reasons. First, they are built to withstand extreme conditions, so you don't have to baby them by any means. Second, they are tiny. You can easily throw one into your backpack or even a jacket pocket, making lightweight travel more possible. Lastly, they have excellent video capabilities and pretty solid still photo specs. However, they are limited in exposure control (among other things), and the ultra-wide-angle lens may not be ideal for all settings. There are tradeoffs, but overall it is an exceptional pick for travel.
Q: Can an iPhone 12 replace a DSLR?
The iPhone 12's camera is impressive, no doubt. And as photographer Chase Jarvis once said, "the best camera is the one that's with you." Depending on your goals for your travel photography, the iPhone can absolutely replace a DSLR. However, if you want more control over your images or want higher-quality files, a dedicated camera, whether a DSLR or something else, will be the way to go.
Final thoughts on the best travel cameras
Choosing the best travel cameras will come down to your travel style (rugged adventures or luxury stays), documentation needs (stills or video), and how much control you want with your camera. For most users, the Sony Cyber-shot DSC-RX100 VII is a well-rounded option that meets a variety of needs. In addition, it offers more quality and features than a phone would, making it a worthwhile upgrade.
Why trust us
PopPhoto has a long history of delivering the opinions of some of the sharpest and most prolific camera dorks the world has to offer. Since 1937, we've been reviewing cameras, providing wisdom from well-known photographers, and generally just nerding out about all that goes into making great pictures. Our current crop of writers and editors have decades of professional photography and camera writing experience among them. Collectively, we've probably shot with just about every camera and lens combo you can imagine—as well as some obscure stuff you may not even know about. Remember the Casio Tryx folding camera? PopPhoto does.
We also get that buying a camera is a big decision, which is why we're dedicated to helping folks choose the right one (or, in our case "ones") for their needs. Case in point: Handing over top dollar for an expensive rig may leave you unsatisfied if it doesn't fit your preferred shooting style. Sure, a $6,000 sports-oriented DSLR can capture landscapes, but do you really need to do it at 30 frames-per-second? No, you don't.