Insta360 X3 camera review: A versatile 360 action camera
With a solid build, robust waterproofing, an easy-to-use design, and high-quality results, the X3 is a truly well-rounded camera.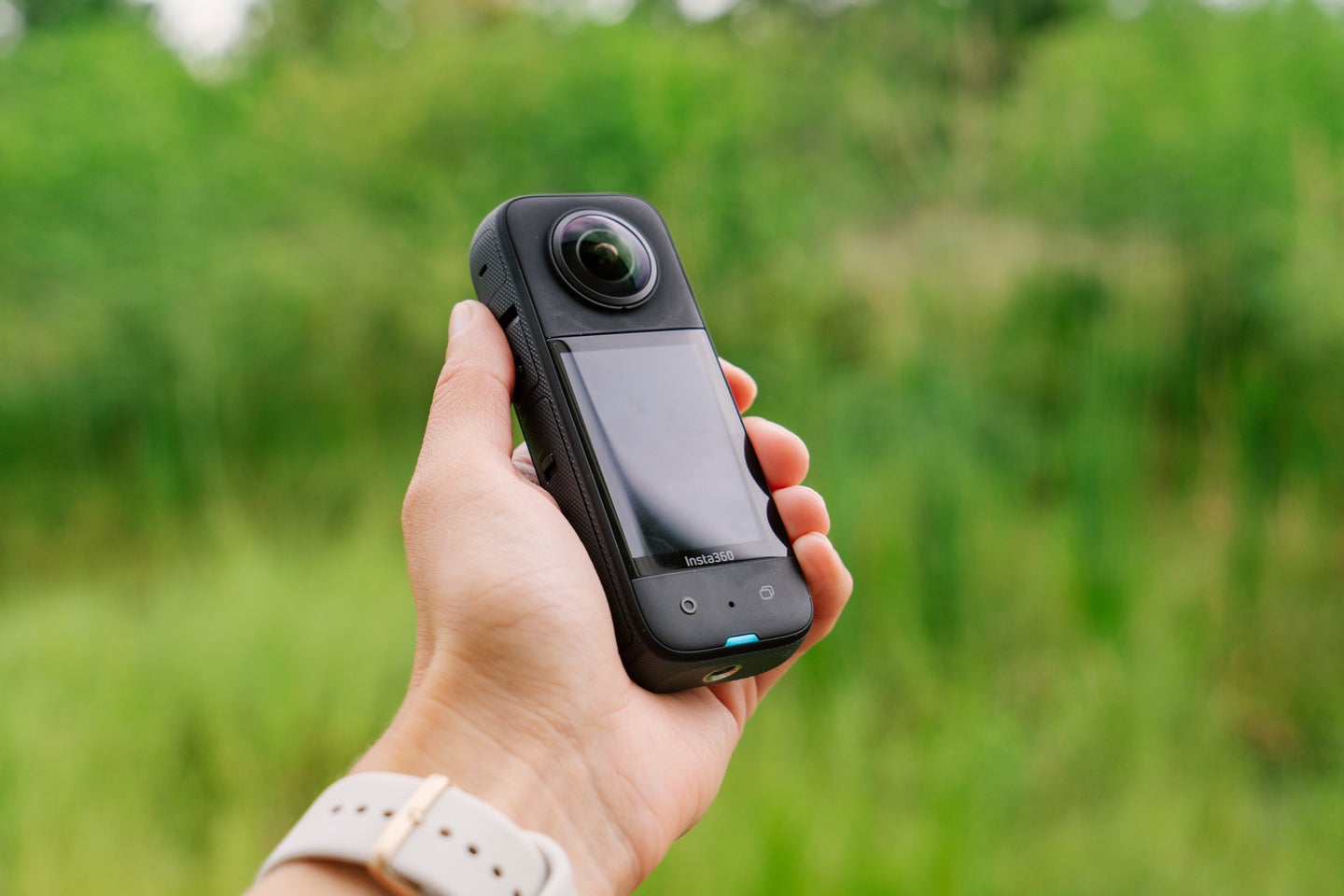 We may earn revenue from the products available on this page and participate in affiliate programs. Learn more ›
Insta360 has also been around for some time, making a name for itself with its dual lens, 360-degree cameras. The 360-degree footage is one of the primary features that make it stand out against its main competition, GoPro. The immersive video style opens up a lot of creative doors that wouldn't otherwise be possible. That's especially true if you are skilled with editing. I've been testing out The Insta360 X3 for a few months now, and although I haven't done anything too crazy in terms of action-based activities, it has been a lot of fun to see what is possible with this unique action camera.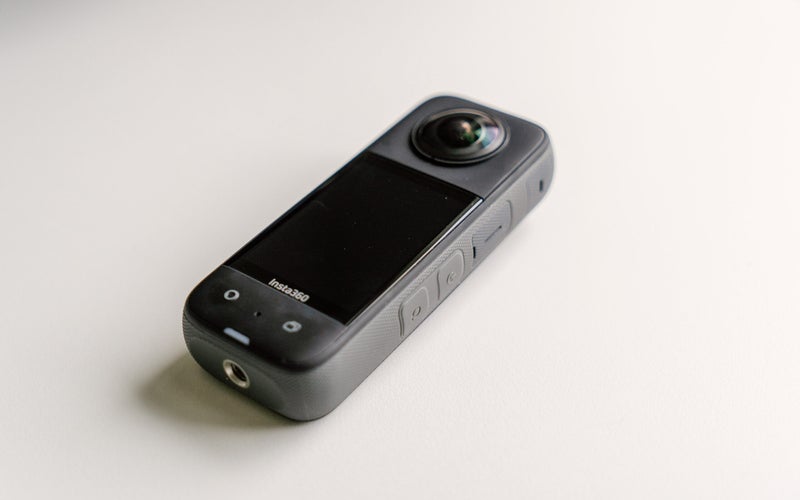 Overview: The Insta360 X3 is relatively simple to use, offers impressive stabilization and high-quality videos, and provides a lot of creative opportunities when editing footage.
Pros
360-degree video provides unique perspective
Also records single-lens, traditional action cam footage
Highly effective stabilization
Impressive microphone
Desktop app is available on top of the mobile app
Rugged build quality and waterproof without a case
Lots of different recording and photo modes
Overall easy to use and learn
Cons
Mobile app for editing is a bit tricky to use at first
360 videos have to be processed before sharing
Taking still photos is rather slow and clunky
Some things can only be done with the desktop app
Some appealing shooting modes are only available when shooting 360 footage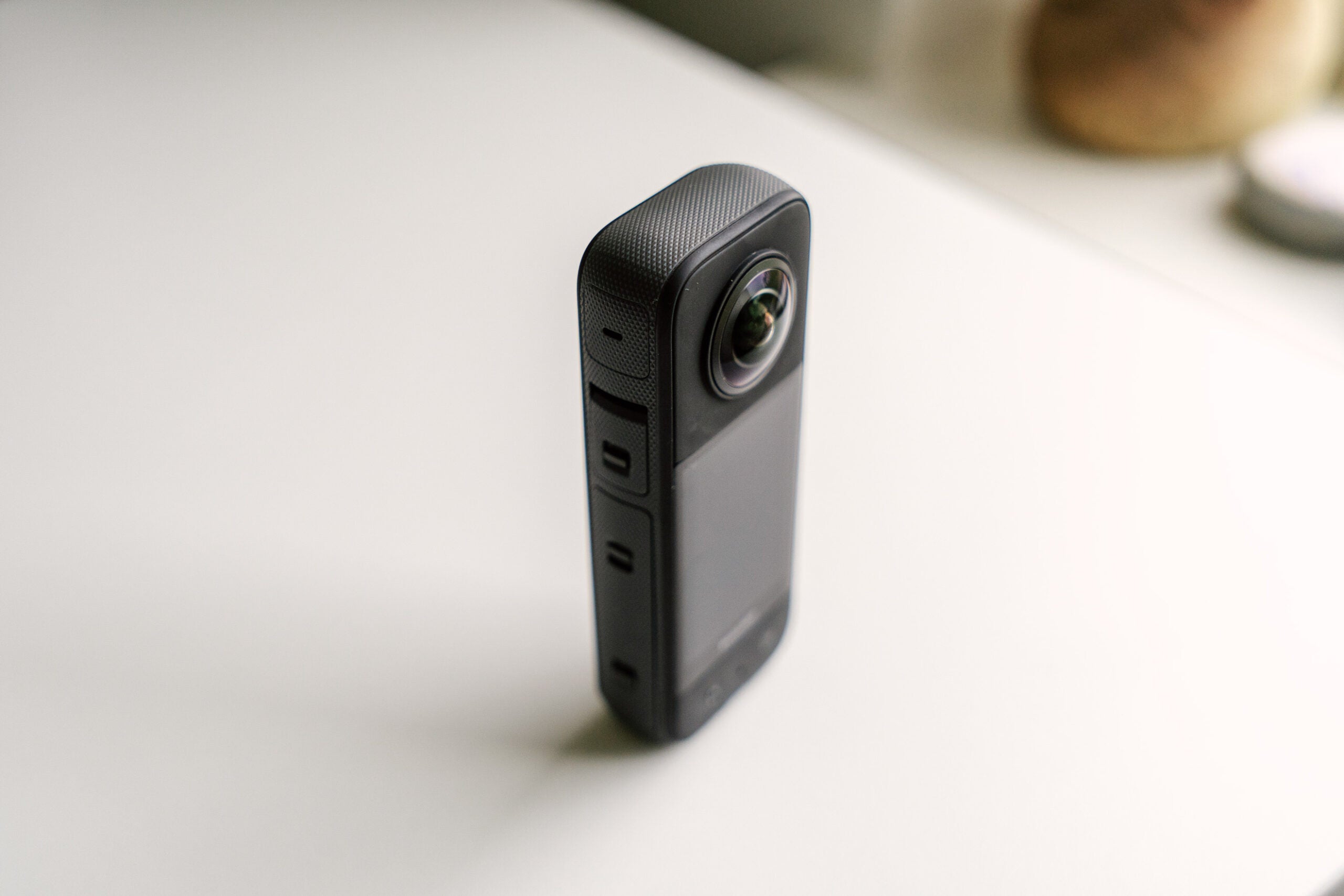 Insta360 X3 design
The Insta360 X3 is very simple design-wise. It's a narrow rectangle meant to be used vertically, much like a smartphone. It's fitted with two cameras, one on the front and one on the back, which enables the 360-degree footage. Both cameras protrude from the body, so it is easy to accidentally touch and smudge them when moving the camera around. You'll want to keep a microfiber cloth or something similar on hand to clear off the lens.
I'd recommend at least purchasing the Get-Set Kit, which includes a lens cap to keep the camera safe when you aren't recording. If you want even more protection while recording—which would be smart if you are capturing activities that kick up debris—you can get sticky lens covers as well.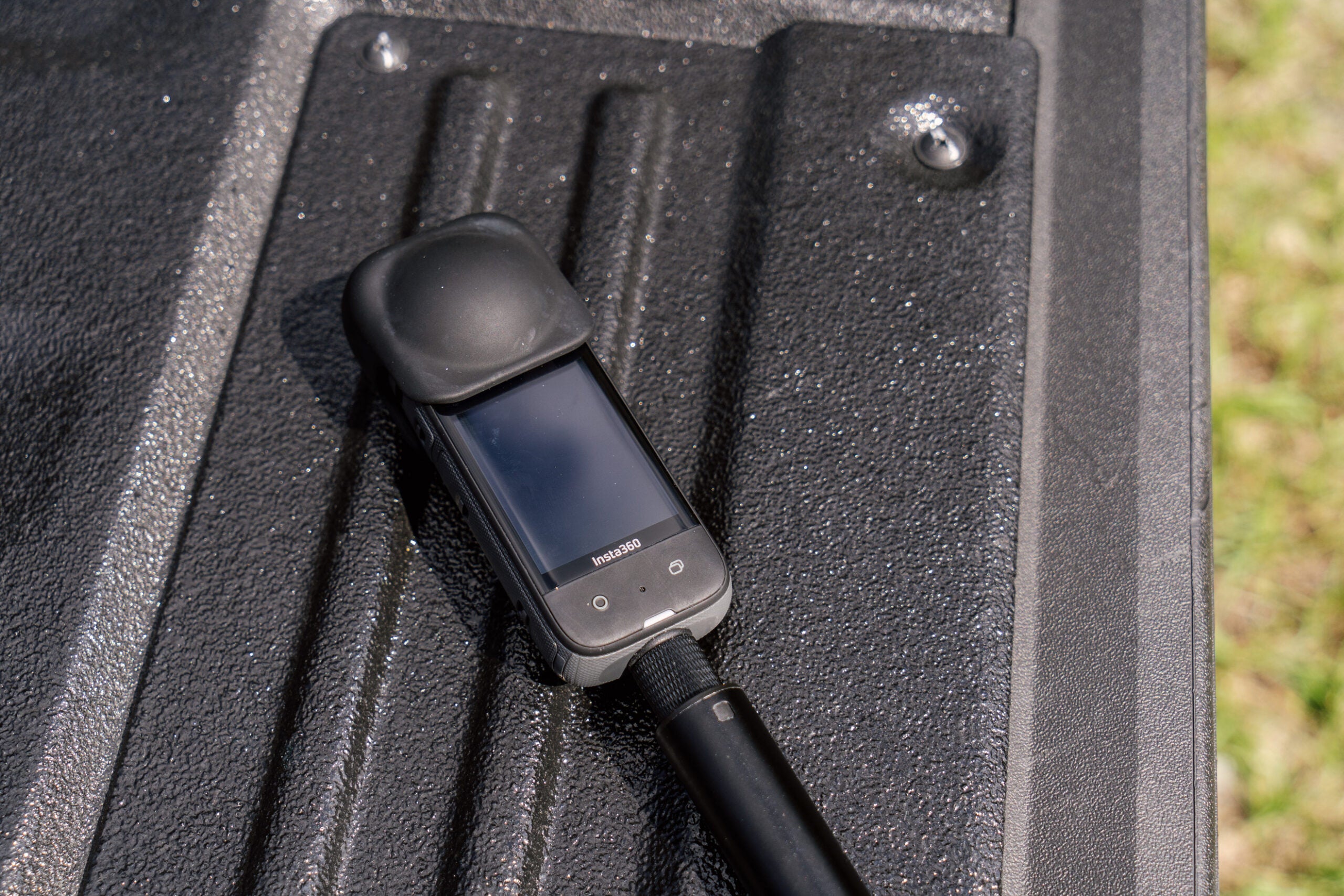 A 2.29-inch touchscreen fills the back of the camera. It's a responsive touchscreen with easy-to-use, mostly familiar, and intuitive gesture controls. The default brightness makes it hard to see in bright sun, so you'll want to bump that up before going outside. But, with the brightness all the way up, it is easily viewable even at noon on a sunny day. The large screen size also makes it easy to adjust settings and frame your shots when you aren't recording 360-degree content. 
Besides the touchscreen, there are four buttons to help navigate and use the X3. The back of the camera features two. One is indicated by a circle, and it starts and ends recordings or takes photos. The stacked rectangles icon defaults to changing from the inner and outer single lenses to 360 mode, which is very convenient. It can also be customized, but the only other option is to start and end recordings, which seems redundant and unnecessary. The side of the camera also offers up two buttons, one for powering on and off and one that pulls up a quick menu with preset settings for different types of activities.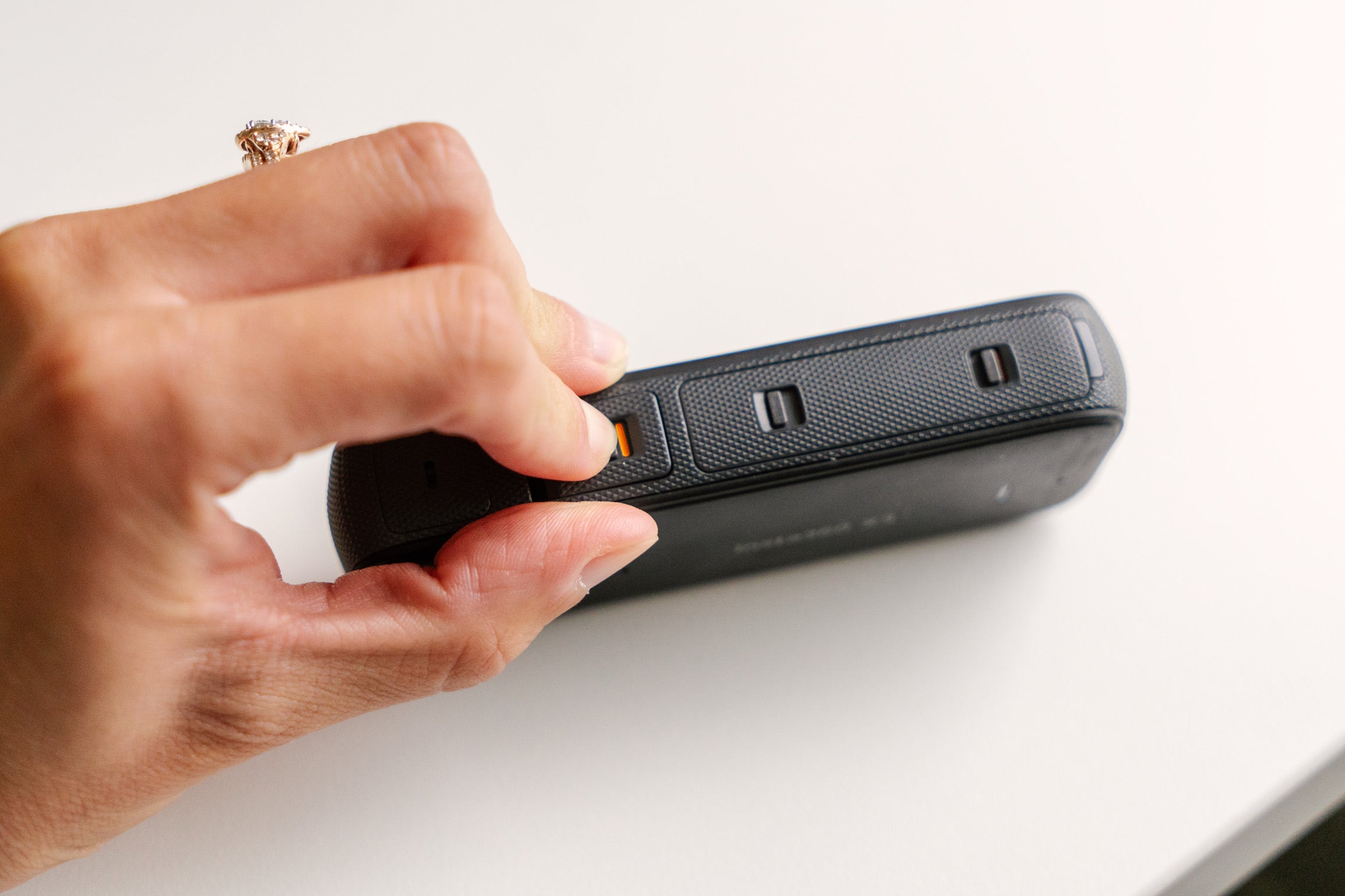 X3 build quality
The narrow rectangular shape is easy to hold, aided by the textured plastic sides and soft-touch plastic front. Even when the camera is wet, it doesn't get slippery at all, which is reassuring. And it just feels nice in the hand. Although I didn't have any drops or crashes, it feels like the body would stand up to a lot.
As we would hope to see in any action camera, the X3 is ruggedly built with an IPX8 rating. That makes it waterproof down to 33 feet without a case. If you want to go even deeper—or want more reassurance when underwater—you can take advantage of the dive case to get down to 164 feet. 
One excellent feature of the X3 is the color-coded doors. These give you a quick, noticeable visual queue if a door isn't snapped shut all the way and therefore isn't watertight. That way, you can be sure that it's ready to dunk underwater without flooding the electronic guts. I didn't go any deeper than a few feet with it, but I was sticking it in salt water, and the camera was totally fine after. I'd definitely recommend rinsing it with fresh water afterward, though.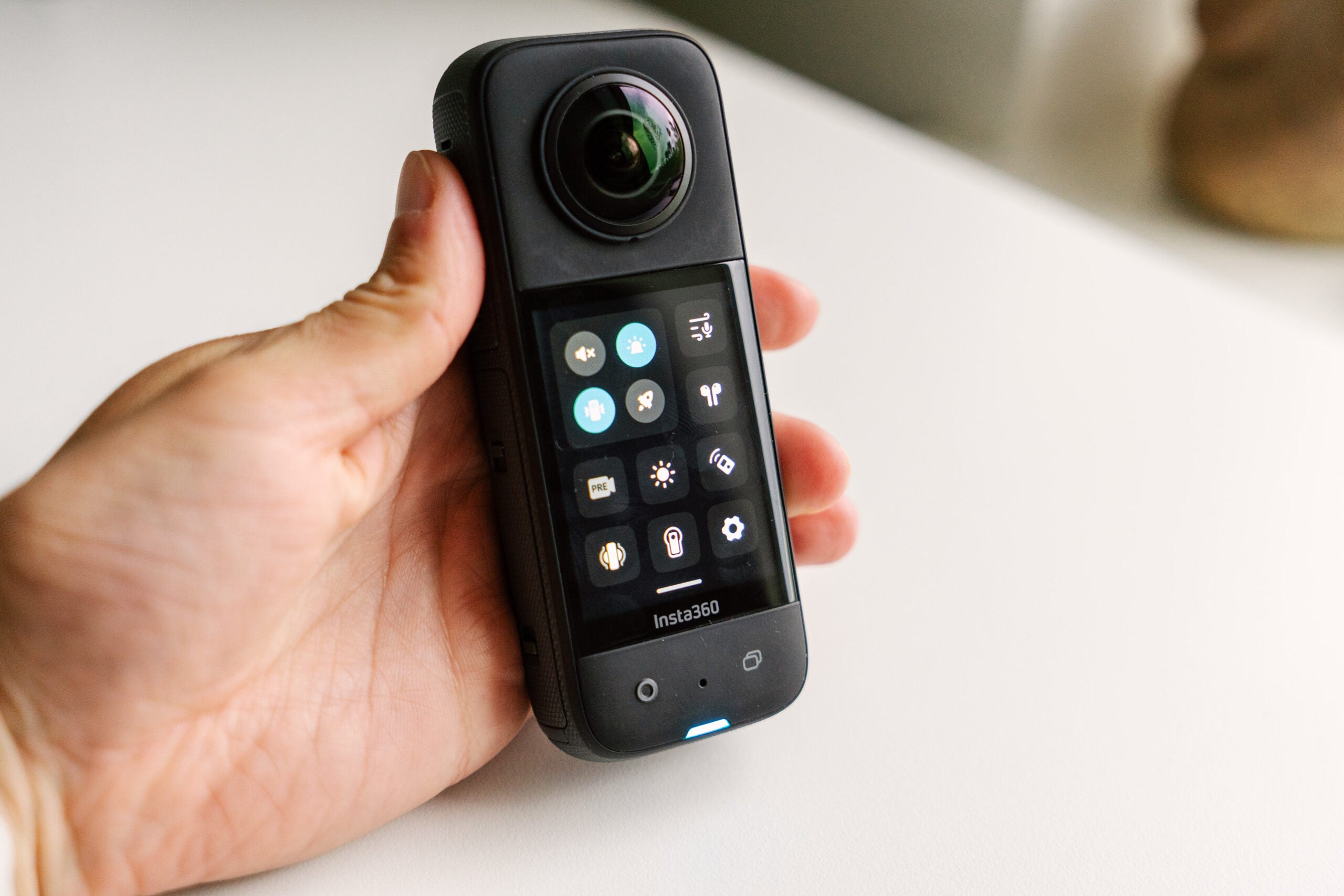 Using the Insta360 X3
Using the X3 is overall very simple. It does take some getting used to all the shortcuts and menu items. But that's true of any new camera, especially in the action camera segment, where buttons are typically sparse. 
Most settings and features are accessed from the touchscreen, with some quick access options via the buttons. As mentioned, the circle button to start and end recording or to take a photo. And the two stacked rectangles allow you to quickly switch between 360 mode, single inner lens, or single outer lens. These buttons take some force to press, and it's a bit too much for my liking. It prevents accidental button pushes, which is nice, but it makes it slower to operate, especially if you don't have a sturdy grip on the camera. You also need to hold the power button down to fully turn the camera off, as just pressing it only puts it to sleep. 
There are quite a few customization options within the camera. That way, you can set it up in a way that makes sense for your particular activity and needs. For example, you can turn on sounds so that it is obvious when you are turning the camera on or off, taking a photo or starting a recording, and so on. It's annoying at times, but when you are in a situation that requires quick reaction time and prevents looking closely at the screen, it's nice to have that verification that you are indeed recording.
If you buy the base version of the Insta360 X3, it doesn't come with the selfie stick. And while you can hold the camera without, 360 photos and videos are a bit trickier. Because of the fisheye perspective, your hand is pretty much guaranteed to be visible in 360 content, no matter how careful you are. I would definitely recommend using the selfie stick—which becomes invisible automatically—as a result.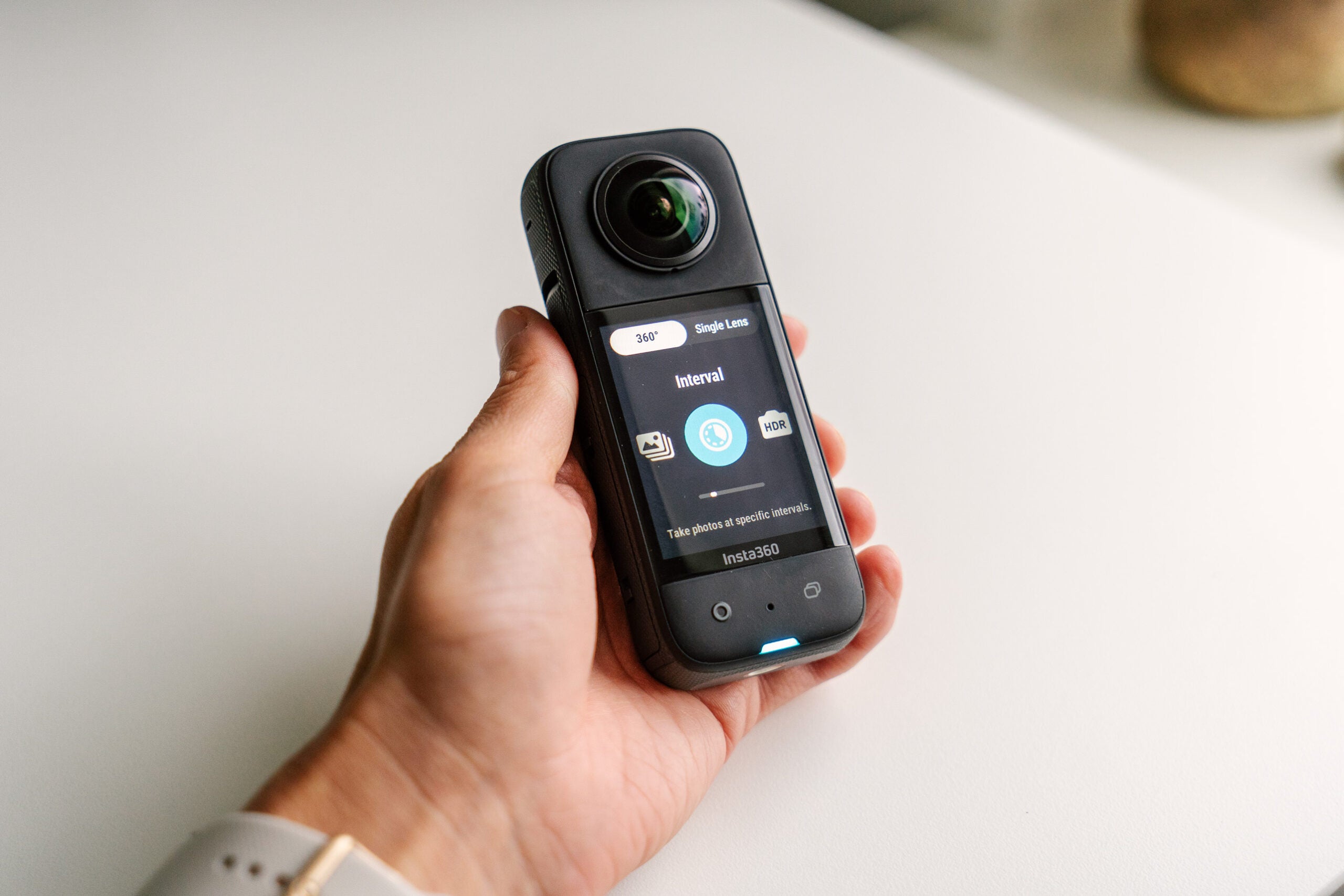 Recording modes
The X3 offers up a wide range of recording modes suitable for many different scenarios. It makes it easier to get content that you will like and be able to use. And helpfully, as you scroll through all the different modes, the camera provides a brief explanation of what it is at the bottom of the screen. 
I primarily used the basic video and photo modes, along with Active HDR and HDR photos. But you'll also have access to Starlapse, Bullet Time, Timelapse, TimeShift, Loop Recording, burst shooting, and interval shooting. The X3 automatically adjusts settings based on the different modes you are using. There's no fussing with individual settings to get things just right for a particular style of shooting. 
If you do want more control, you can swipe left on the touchscreen to manually change camera settings such as shutter speed, ISO, white balance, EV, and color profile. Different recording modes offer various combinations of these settings, however. For example, Active HDR only allows you to adjust white balance, while Timelapse offers all options. Although I didn't use it, I appreciate having the option to make fine-tuned adjustments if I want or need to. 
Single lens modes
One of the things that I love about the Insta360 X3 is that I could use it for more than just 360-degree footage. You can use a single lens on either the front or back to take more traditional action cam photos or videos. But you do lose out on most shooting modes when using a single lens, which is unfortunate. Modes such as Active HDR, Starlapse, Timelapse, Bullet Time, and more, are only available when shooting 360 content.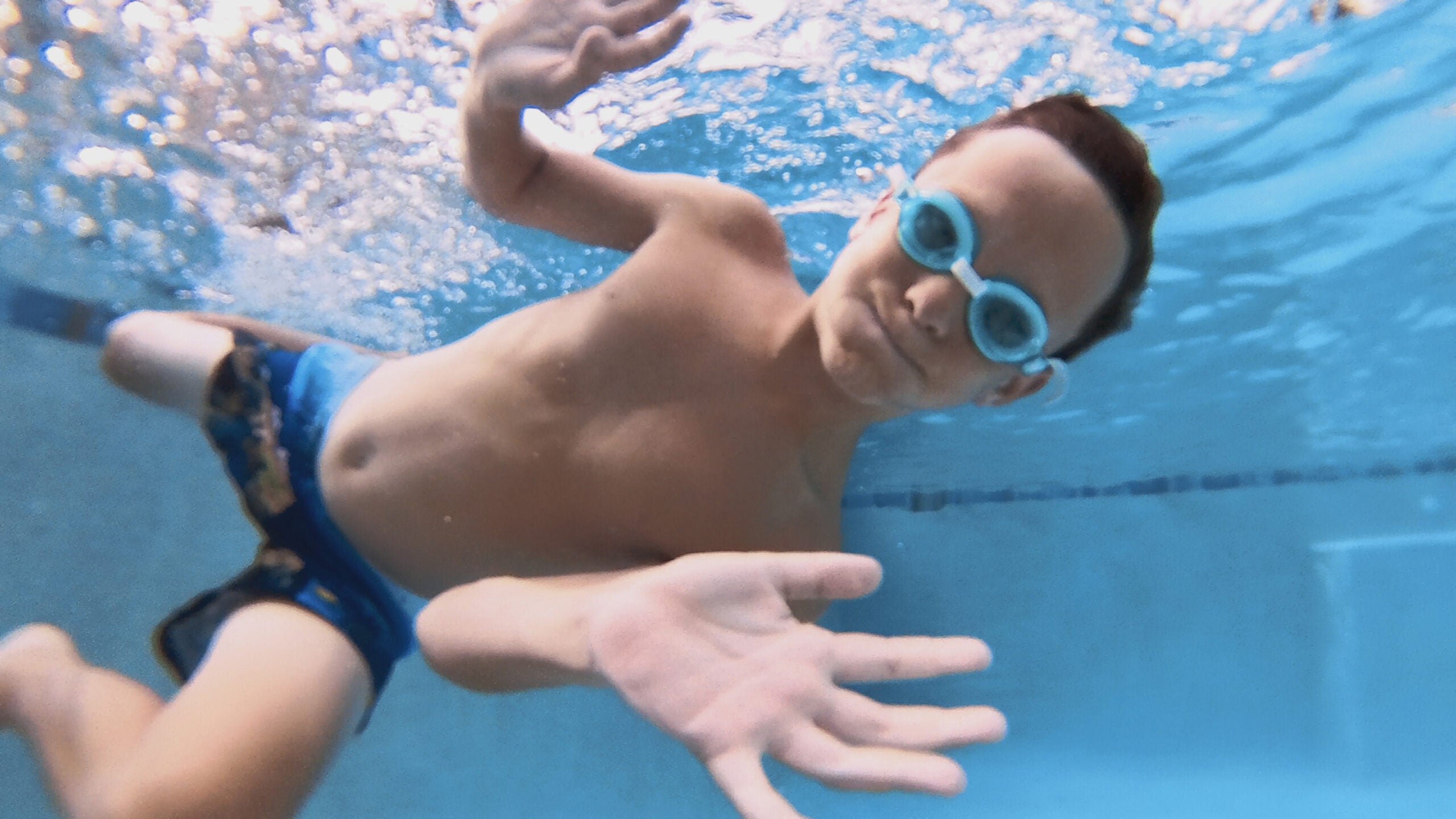 Underwater use
The X3 is waterproof without a case, but you can purchase a dive case to go deeper. To help with using a case, the Insta360 X3 features a specific Dive Case mode on the camera itself. I found it necessary to use that mode even without a case, however. When I was using the camera fully submerged underwater, the pressure from the water had the tendency to activate the touchscreen and change the camera or settings while I was recording. To avoid this, I turned on the Dive Case Mode, which locks the screen to prevent just what I experienced. With this mode on, most you'll use the physical buttons for most operations instead of the touchscreen. And it's a simple swipe up to exit Dive Case Mode. You will need to change the stitching method when editing, however, as otherwise, the edges are very obvious because of this mode.
Still photos
The Insta360 is capable of taking photos, but I found the process to be clunky and slow. When you press to take a photo, you first get a brief loading screen that says "Capturing…" and then another that says "Saving." All said and done, it takes roughly five seconds. That may not sound like much, but it gets annoying when you want to take a quick snap and move on. And it doesn't work all that well for action shots. There is a burst mode that takes nine photos in rapid succession, which makes action shots possible. But a faster photo mode would be very appreciated.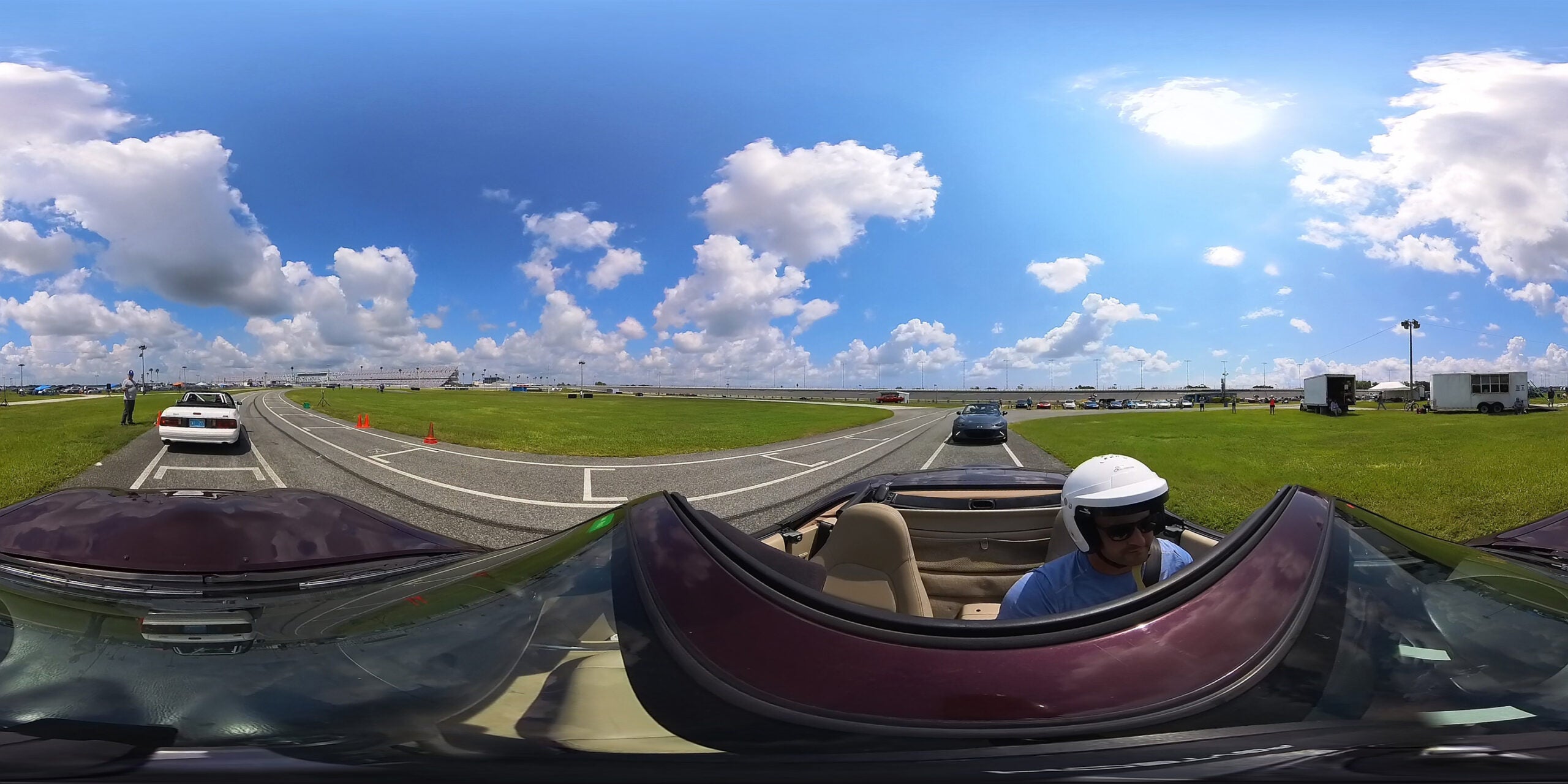 Photo, video, & sound quality
Overall, I was very impressed with the video quality of the Insta360 X3. The camera is capable of up to 5.7K 360-degree, auto-stitched videos or 4K single-lens videos. These are clear, richly colored, and detailed without an overly processed look. The amount of editing that is possible is also very nice. 
Most impressive, however, was Insta360 FlowState Stabilization. I went for a trail run while holding the camera, which usually results in jittery video, even with stabilization. While you can definitely notice some movement, it is very subtle and almost entirely smoothed out.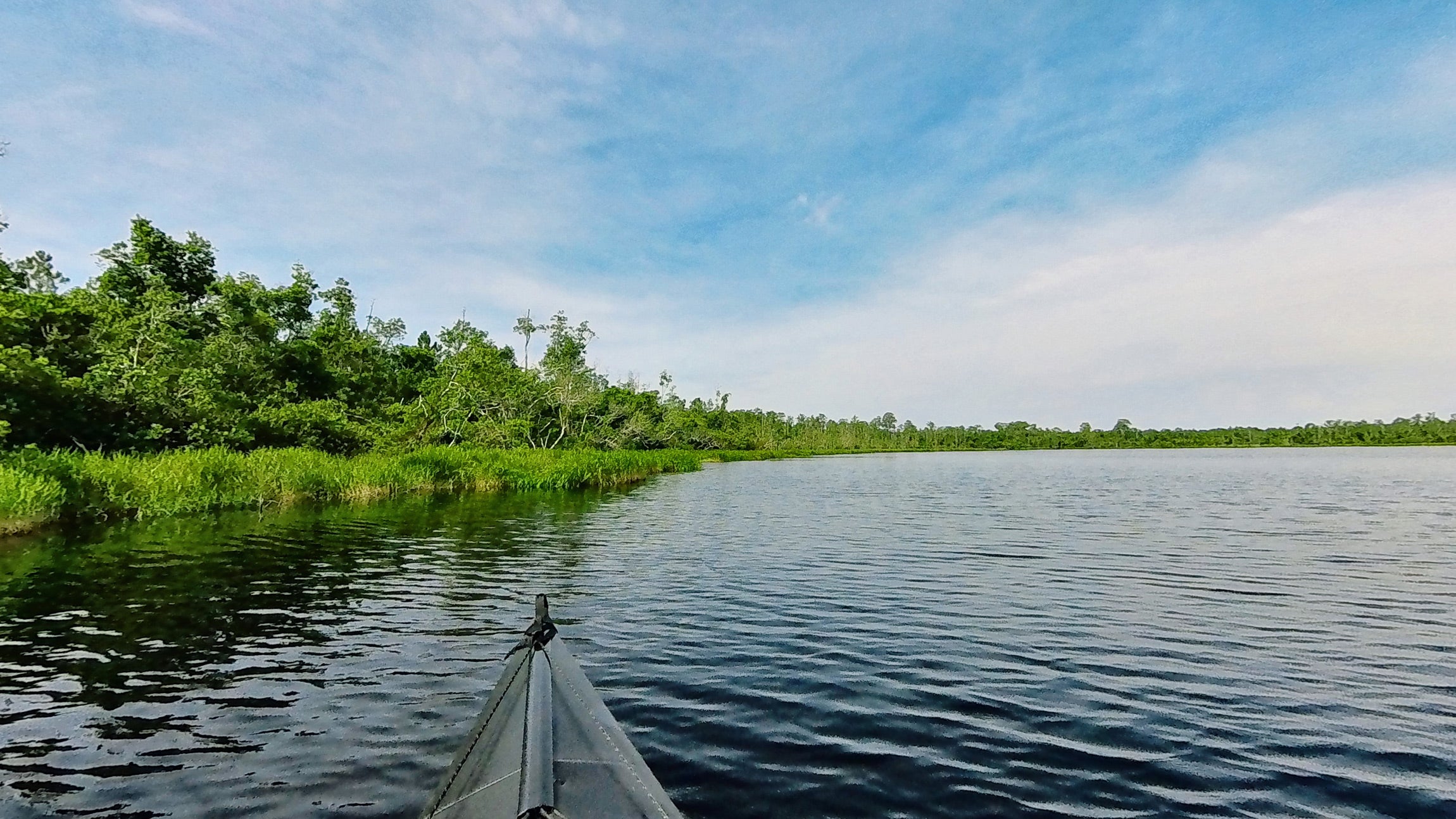 The X3's photo quality was slightly less impressive, but that's in line with most action cameras. The overall quality was slightly lower than most of the newest smartphones. They also tend to be a little over-sharpened. But, for quick snapshots during adventures and travel, they absolutely get the job done.
I was also really impressed by the sound quality of the X3. It utilizes four microphones to record stereo audio with reduced wind noise. Even when I was outside with a good amount of background noise, voices came through loud, clear, and natural sounding.  
Insta360 app
In order to take full advantage of all the camera's features and to do much of anything with the photos or videos, you'll need to pair it with the Insta360 app. Pairing is simple, and all you really need to do is open the app and turn the camera on. The app leads you through prompts, and there are minimal permissions to grant, so it's a pretty quick process. You do need to pair each time you enter the app, but after the initial setup, this is pretty fast. 
The Insta360 app acts as an editing program, social media platform, and tutorial base, so you can learn how to get even better content from your Insta360 camera. You can also review your camera roll and even use your phone as a remote for the camera with a preview right on your phone's display. 
The app keeps the gallery neatly organized and provides the ability to sort by types of photos and videos. The one thing missing is a filter for 360 videos, as you can only sort by Video, Standard Video, or Active HDR videos. Luckily, it is easy to tell which are 360 videos, as they show up as a circle in the thumbnails, compared to a filled square for single lens videos.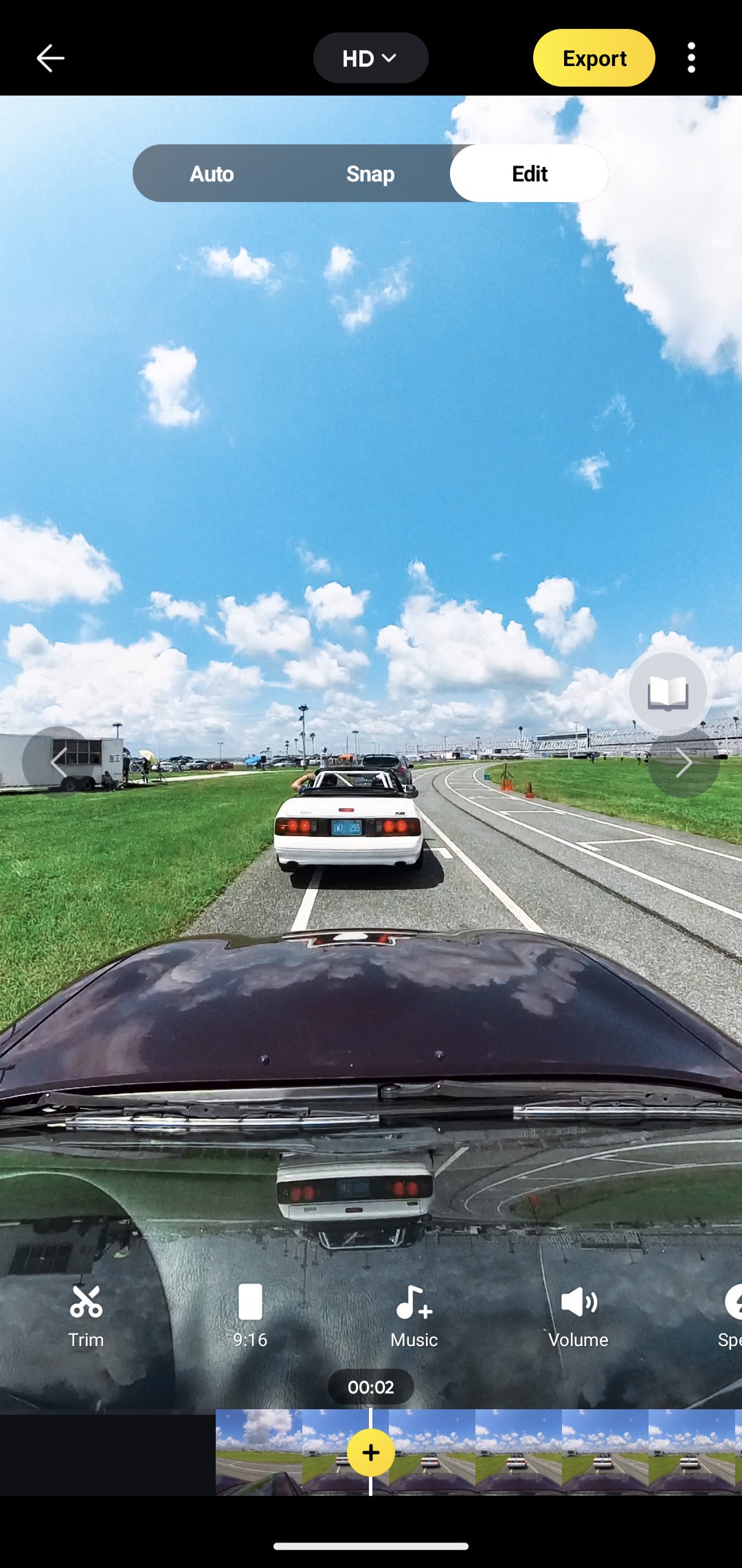 Editing photos and videos from the Insta360 X3
Editing photos and videos is where the app gets a little tricky, at least at first. That's partly because there are just so many options for adjustments when working with 360 materials. The beauty of 360 video (and photos) is that you can reframe materials in editing, but that opens a whole world of possibilities. That results in a steep learning curve, especially for getting creative, high-quality edits. 
While editing 360 videos in the mobile app, you can choose between three editing modes: Auto, Snap, or Edit. Each of these offers different tools and benefits and makes sense for different types of people and activities. 
Manual editing
Edit is where you have full manual control over your editing. You can trim clips, change the aspect ratio, add music, apply filters, and even adjust things like exposure, contrast, sharpness, and more. There's no shortage of controls, so you could easily spend a long time editing if you wanted to. 
One thing that frustrated me to no end when I first started working in the app is that 360 videos default to slowly turning the full 360 degrees automatically. Insta360 buried the setting to change in a less-than-obvious place. To do so, you need to tap the three dots in the top right corner. Once there, you can turn on Direction Lock, which will keep the video pointed in a consistent direction unless you change it. That same menu is where you can turn off stabilization (though I can't imagine a situation where you would want to do so) and turn off or on the automatic identification of tracking targets. There are also two color adjustment settings in this menu, which seem very out of place. 
Auto editing 
Auto, as it sounds, uses AI to automatically choose the clips and angles that it thinks are best. It even adds music to the clip, giving you a fully edited piece without any work on your part. This works well for some things but typically missed the mark in my testing. It would choose angles that weren't interesting or actually showing anything relevant. And it edited in some really jumpy transitions, which isn't ideal. But it is nice to have the option of a no-fuss way of editing 360 content.
Snap editing
Snap is rather unique. You move your phone to reframe the video, almost like you are re-recording it. You can also use your finger to drag. If you are working with a video that doesn't have lots of turns and movement, this would work well, but it can be tricky otherwise. I was editing a clip of my husband's autocross event, with lots of tight turns, and had to take full advantage of my office chair spinning completely around many times. Interestingly, I didn't see a way to turn off the automatic rotation of a clip, so I had to keep moving to the left to keep the video from slowly spinning in a circle when I wasn't moving.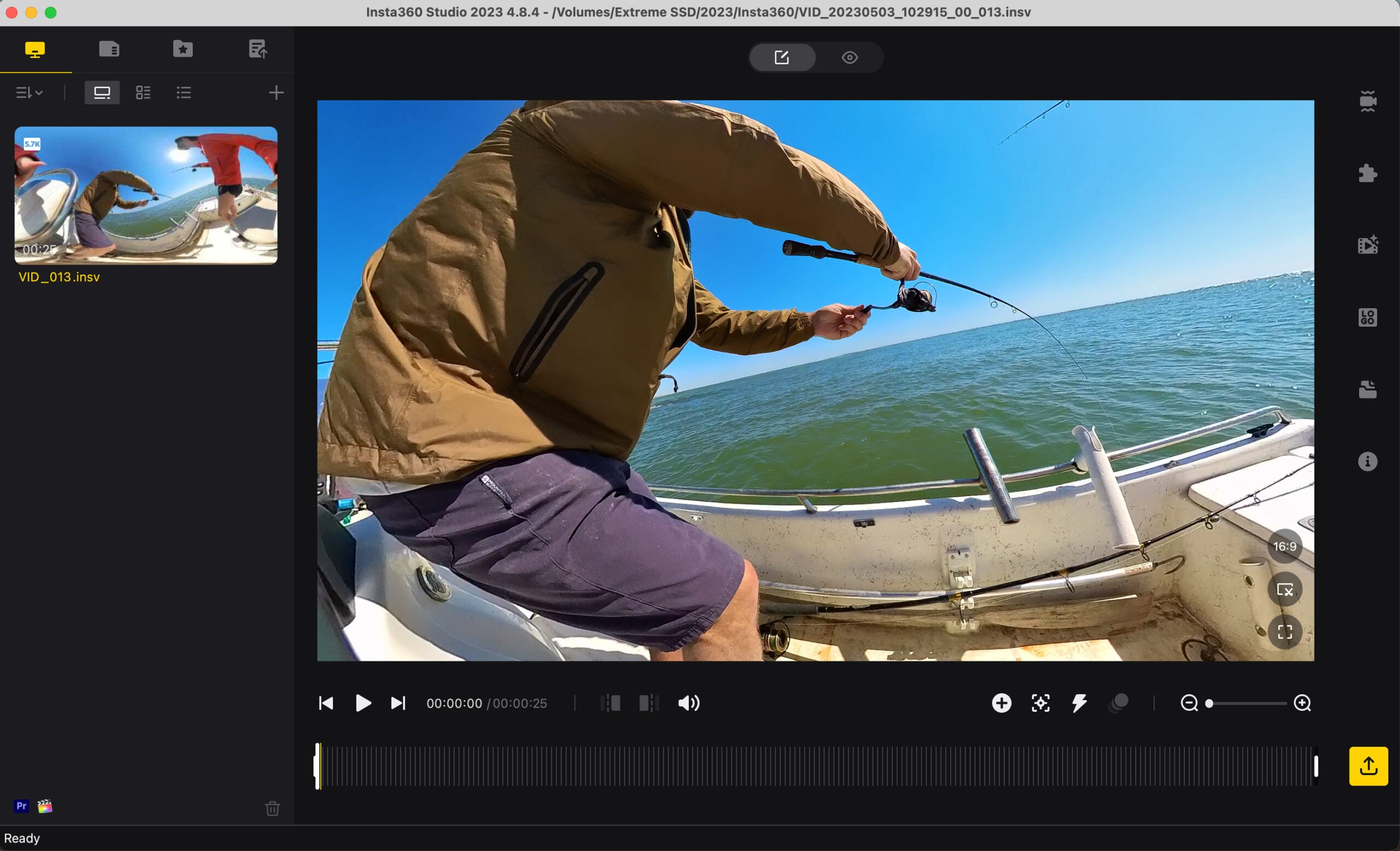 Desktop editing
Some edits—such as those to raw files—are only possible on the desktop Insta360 app, called Insta360 Studio. Luckily, the desktop app is more intuitive than the mobile app for most things. And, of course, the larger timeline makes it easier to make precise adjustments than tapping on a tiny phone screen. 
The downside to the desktop app is that you won't have access to all the filters or manual exposure, brightness, contrast, and color adjustments found in the mobile app. That's true for both photos and videos. There are minimal automatic adjustments available, though. For photos, you can at least turn on PureShot, which looks like it automatically adjusts contrast and exposure. Videos offer up Color Plus, Clarity Plus, and Aqua Vision 2.0, which are all automatic, but you can adjust strength. It is disappointing that the desktop app doesn't offer more color grading type options, but hopefully, this is something Insta360 can adjust down the road. 
Should you want to use an editing app that you are already familiar with, you can take advantage of plugins for Premiere Pro or Final Cut Pro.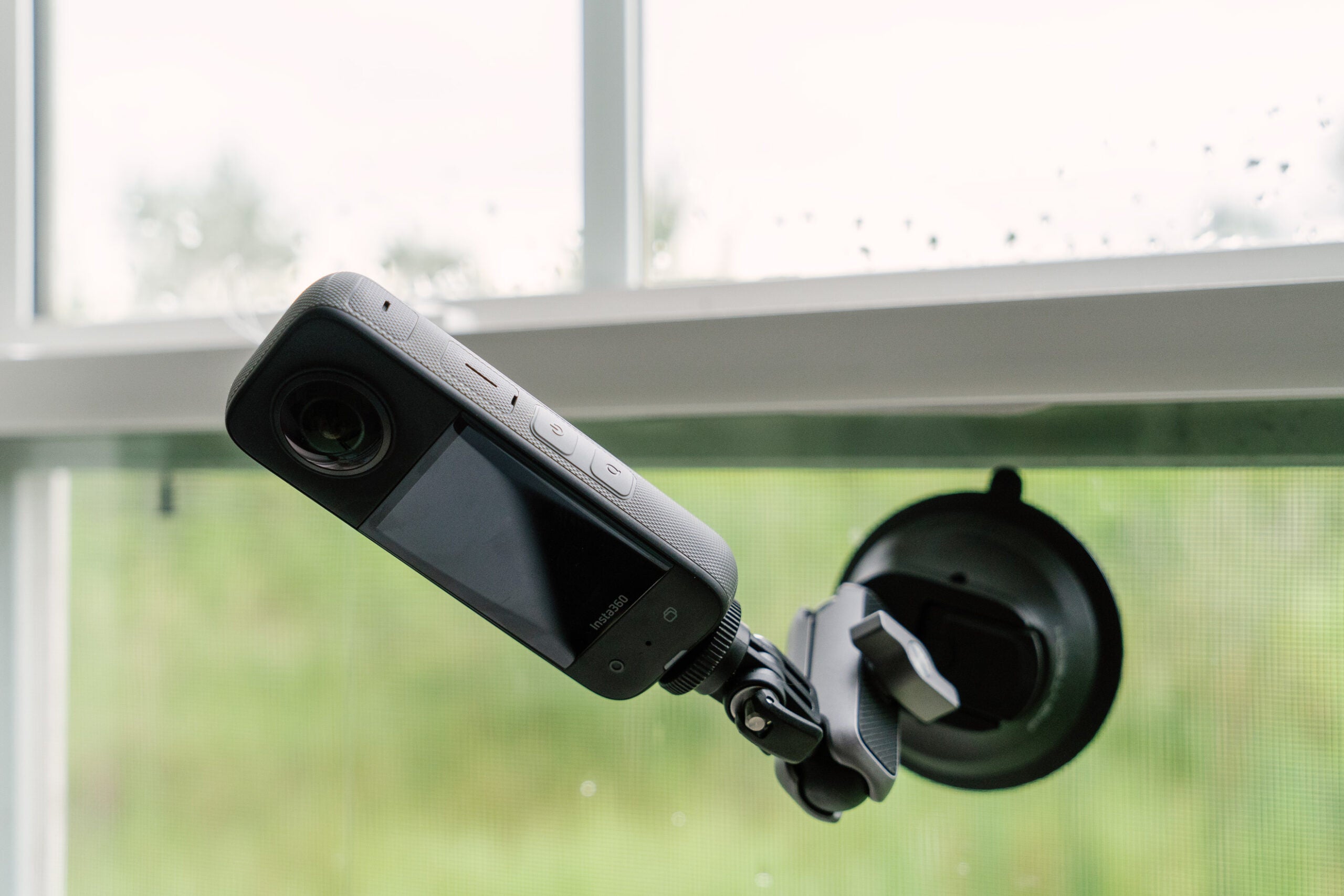 Final thoughts on the Insta360 X3
While GoPro briefly dabbled in 360 video with the GoPro Max, and there are a handful of other brands making 360 cameras, Insta360 undoubtedly owns this market. The Insta360 X3 is a versatile, well-rounded camera that will work well for just about anyone wanting to record in this unique format. It offers impressive stabilization abilities, flexible editing tools, and excellent video quality for both 360 and single-lens videos. As with most action cameras, it falls short in low-light situations and with still photos. And there's room for improvement, especially within both the desktop and mobile app. But overall, it's a great little camera for anyone who wants to record their travels or rugged adventures.