Best 360 cameras of 2023
Capture amazing panoramas with one of these great 360 cameras.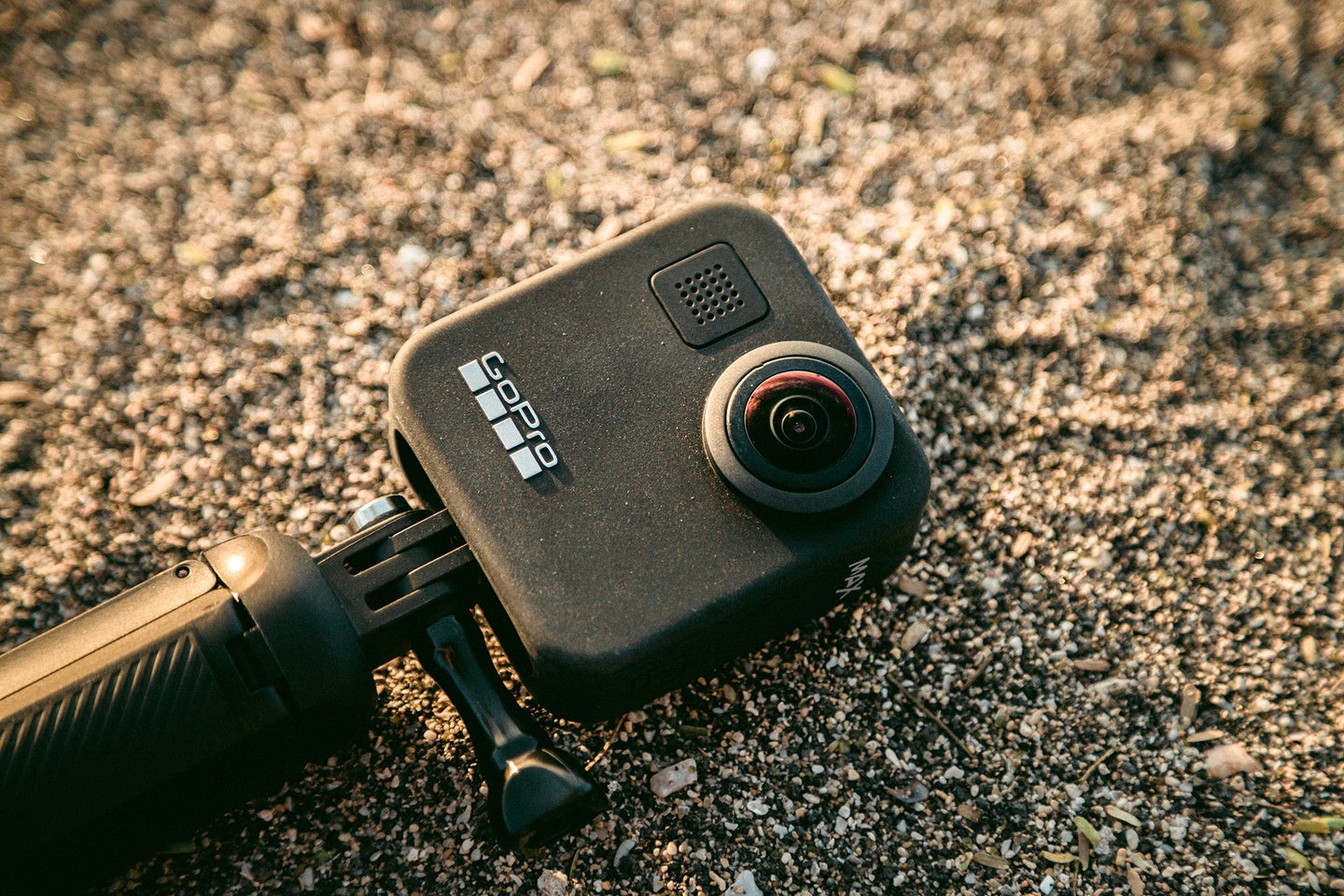 We may earn revenue from the products available on this page and participate in affiliate programs. Learn more ›
Great photography is all about the framing, lighting, and overall composition—whether you're shooting still or moving images. With 360 cameras, painstakingly deciding on what to shoot is no longer an issue, because you are literally shooting everything around you on all sides. The best 360 cameras use two back-to-back fisheye lenses and then merge these images together seamlessly. This means you can get to your location and shoot (capturing everything), and then reframe to get the optimal images afterward using a mobile or computer app. To add to the ease of use, most 360 cameras are lightweight and small—and it's possible to strap them on or position them easily without a lot of fuss.
We're happy to report that 360 cameras are better and easier to use than ever before, with lots of options to choose from and major improvements in image stabilization for better quality images. Many 360 cameras on the market are designed for use for action-adventure and sports. These cameras have amazing image stabilization, and often are durable and waterproof. Other 360 cameras focus on delivering cinematic quality images and would be useful in shooting virtual reality, or high-quality panoramic-style video and still images. When you're ready to start shopping for your own, be sure to also think about battery life as well as how the camera will perform in low light situations.
With advances in editing on apps, these cameras are much easier and more fun to use than they once were—and deserve consideration even for beginner photographers and casual users.
Features to consider when shopping for the best 360 camera
The best 360 cameras will be easy and fun to use and provide impressive high-resolution panoramic views of the world around you. Consider features that will allow you to take your camera in the water, onto the front of your bike, or out for a night stroll on your next vacation. No matter what your vision, we've selected a few of the best cameras with 360 frames for you to consider.
For sports and other action videos, look for image stabilization
You know the cell phone video you took while running after your kids, that later made you all feel like throwing up? Yeah, you can tell yourself it's artistic, but really nobody likes to watch a bouncy, shaking camera. Professional camera operators are able to shoot amazing action sequences without shaking by using tools such as steady cams, tripods, and gimbals. Today the best 360 cameras have image stabilization software that does the work for you, with pretty impressive results.
In order to stabilize the camera when shooting, 360 cameras use a combination of technology to smooth out the video. Sensors inside the 360 camera are able to record specific movements while software translates the movement into yaw (around Z-axis), pitch (around Y-axis), and roll (around X-axis) values. Stabilization software keeps the movement and direction of the video but smooths out movements. The software can provide a gimbal-like stabilization resulting in some pretty smooth action video.
This little waterproof 360 camera is a great choice for your action-adventure videos. It's got an impressive 5.7K resolution, which will capture lots of details. The FlowState stabilization technology stabilizes your footage without the use of any professional equipment.
Consider an 8K camera for the sharpest 360 videos on the market
Maybe you're that person who is first in line for gadgets that offer the latest cutting edge technology, or maybe you just want to shoot the sharpest, most cinematic 360 images possible. The best 360 cameras with 8K video will deliver some truly mind-blowing images. While 4K video is impressive enough, 8K offers maybe the most impressive images the human eye can recognize.
The resolution an 8K camera is 7,680 pixels horizontally x 4,320 pixels vertically. However, it's important to point out that when shooting in 360 this translates to 29.4 megapixels (to compensate for the omnidirectional image capture). An 8K resolution will generate a noticeably sharper image with more details and makes your images qualify as VR-grade video. Currently, there are only a few brands on the consumer market that offer this quality of video—previously this resolution was only available for professional use and was extremely expensive. Recent innovations have allowed this technology to become lighter, smaller, and more reasonably priced. If you are interested in creative 360 camera film-making 8K technology is a pretty fantastic feature to look for.
Creative film-makers will enjoy the ability to capture 360 video and photos in 8K resolution. The camera boasts two 20MP CMOS sensors that help capture footage at 30 frames per second and 4K video at 200 frames per second. A 2.4 inch OLED touchscreen on the camera allows for adjusting controls. While the image is impressive, this camera is not waterproof so using outdoors might be an issue.
Water sport enthusiasts need an underwater 360 action camera
If you want to capture and share highlights from your action-packed adventures the best 360 camera to use should be waterproof and usable underwater. Whether you are snorkeling, sailing, surfing, or splashing through muddy puddles on your mountain bike, investing in a 360 action camera designed for not just movement, but for water will ensure your camera will last and be able to stand up to the job.
In order for 360 cameras to be waterproof, they typically will include protective lenses that easily snap on and transform the camera from land to water-friendly. It's important to read through the specific guidelines and manual for use – as most commonly there is a limit to how far you can go underwater; usually around 16 feet maximum. For deeper water, you may want to consider additional accessories for your camera like a dive case or dive bubble. The combination of the mesmerizing panorama that 360 cameras provide and the addition of water are not to be feared, just be sure to look for a 360 camera that features waterproofing.
This is an all-around good choice for a 360 camera, it is rugged, waterproof up to 16 feet, and captures high-quality images with image stabilization. Footage from the underwater camera can be easily edited using the app on your cell phone.
Low light photography requires a powerful 360 camera to do the job well
Even the most experienced photographers know that shooting in low light is a real challenge. For example, in low light, a photographer might increase the ISO settings, use slower shutter speeds or adjust the aperture. This is when experience and knowledge of your camera's settings really come into play to get the best results.
The best 360 cameras for low light photography feature top of the line image sensors that offer high resolution imagining as well as support high ISO settings. High ISO settings are very important for low light photography because they allow you to capture images in darker environments and can prevent motion blur when shooting ultra-fast action.
Finally, the best 360 cameras for low light photography will offer image stabilization technology as well as allow for the support of raw file formats. Image stabilization will help reduce any "noise" that may be found in low light images. Raw files are easily edited using professional editing software like Photoshop, which will allow for any final tweaking to make your low light photography and videos incredibly impressive.
This is a powerful and capable 360 camera, with impressive capability in low light settings. A large sensor allows for high resolution, highly sensitive shots. A range of shooting modes and settings allow for creative control of the camera. Supports raw file format for enhanced editing. This is a more expensive 360 camera and would be more suited for an advanced photographer with experience.
Just starting out with a 360 camera and want something easy to use and easy to edit?
You don't have to go to film school or have been James Cameron's production assistant to use a 360 camera. In fact, they can be fairly easy and fun to use. The best 360 camera for beginners will help you out by doing some of the work for you. Being a dual-lens machine there will be seams between the camera's images and editing these seams is referred to as stitching. While these seams can be edited (or stitched) in Apps, there are some cameras that stitch the seams on their own. As a beginner, it's easier to get a camera to do that work for you.
Additional features to look for in the best 360 camera for beginners are image stabilization and waterproofing. Even if you are not planning on strapping the camera to your jet ski, knowing the camera will work even when you are caught in a stray rainstorm is a pretty comforting feature for newbies. Image stabilization capabilities will automatically correct for the movement or tilting of your camera, making a fancy gimbal unnecessary. Finally, you want to select a 360 camera that has an easy to use app for editing and you'll be on your way to creative filmmaking.
This is a great option for beginners because it is small and comes with easy to use editing software. This camera stitches camera footage on its own, which helps simplify the overall process. Experiment with the invisible selfie stick feature, which gives the appearance of a drone camera or third-person perspective.
Best budget 360 camera: What you get for under $300
When it comes to cameras typically you do get what you pay for. There are some very inexpensive 360 cameras available for sale, but we recommend going for an entry-level camera manufactured by a quality brand. These entry level cameras are designed to be affordable and are often easier to use in order to appeal to beginners. Some may have less advanced features, but there are options that don't sacrifice image quality. The best budget 360 camera will be able to provide high resolution and quality images, allow for image stabilization, and will allow for seamless stitching. While it's important to compare features and make sure that you get the 360 camera that can handle your projects, if you are more of a beginner or casual user, we think you should consider a budget 360 camera.
Great entry-level 360 camera for the casual user, corrects for camera shake, and is lightweight and small. Enhanced night view mode corrects image for shooting in low light settings. This is a good choice if you intend to shoot short 360 videos or still panoramic photos, as the camera can only handle 3 minutes of 4K video per recording. Be aware if longer 4K videos are your plan, this isn't the model to choose.
FAQs
Q: How do I choose a 360 camera?
The best 360 camera will be easy to use, will produce quality images, and have a coherent field of view. Whether you choose a single-lens system or multiple lenses and sensors, the images should be minimally distorted. Finally, the camera should come with an app to stitch your footage together, share footage and even live stream.
Q: How does a 360 camera work?
The best 360 camera captures multiple directions and offers clear spherical views of their surroundings. Most 360 cameras use two fisheye lenses pointed in opposite directions to capture truly omnidirectional views.
Q: Which is the best 360 video camera app?
While all the best 360 cameras will come with their own apps, we recommend the user-friendly GoPro app. Some editing features the app allows for are quick auto-editing, reframing, clip creation, color correction, and sharing. The GoPro app works with your smartphone, PC, or Mac.
A final word on shopping for the best 360 cameras
The best 360 cameras will provide a stunning panoramic view of your world. With high-resolution video, details are captured, and cutting edge image stabilization provides smooth footage without any special equipment. Videos are easily edited using apps from your cell phone or computer. Get out and share your adventures with the best 360 cameras.