| | | | | | |
| --- | --- | --- | --- | --- | --- |
| Best overall | | Insta360 X3 | | SEE IT | High quality video, effective stabilization, and plenty of recording modes earn this the top spot. |
| Best for vlogging | | GoPro Max | | SEE IT | This GoPro features six mics for high-quality surround sound audio recording. |
| Best budget | | Ricoh Theta SC2 | | SEE IT | Get a solid mix of features for a relatively affordable price. |
We may earn revenue from the products available on this page and participate in affiliate programs. Learn more ›
Updated Aug 18, 2023 11:57 AM
Framing and overall composition are critical to great photos and videos, and with 360 cameras, painstakingly deciding on what to shoot is no longer as much of an issue. These unique cameras literally shoot everything around you on all sides, giving you full control in the editing process of what's in the frame. That's because 360 cameras use two back-to-back fisheye lenses and then merge these images together seamlessly. It allows you to capture everything and then reframe to get the optimal images afterward using a mobile or computer app. 
Many 360 cameras on the market are designed for use in action-adventure and sports. These cameras have amazing image stabilization and often are durable and waterproof. To add to the ease of use, most are lightweight and small, and it's possible to strap them on or position them easily without a lot of fuss. Other 360 cameras focus on delivering cinematic-quality images and would be useful in shooting virtual reality or high-quality panoramic-style video and still images. No matter what you plan on using it for, 360 cameras offer a fun and versatile way to create content.
How we chose the best 360 cameras
When selecting the cameras included in this guide, we considered a range of specs and features that are essential to any camera type. Resolution, overall image and video quality, stabilization, sound quality, and battery life were all essential components of successful 360 cameras. As most of these devices are also intended to be action cameras, we looked at portability, durability, and mounting methods. Lastly, since 360-degree footage requires editing, we assessed each camera's associated editing program. Our decisions were based on a mix of hands-on experience, brand knowledge, editorial reviews, and user feedback. 
The best 360 cameras: Reviews & Recommendations
360 cameras allow for dramatic and immersive footage. And they provide much more flexibility when it is time to edit your photos or videos. Whether you are a professional looking for a camera for your high-end productions or an adventure lover simply wanting to capture your mountain biking trips in a fun way, these cameras are sure to tick all the right boxes.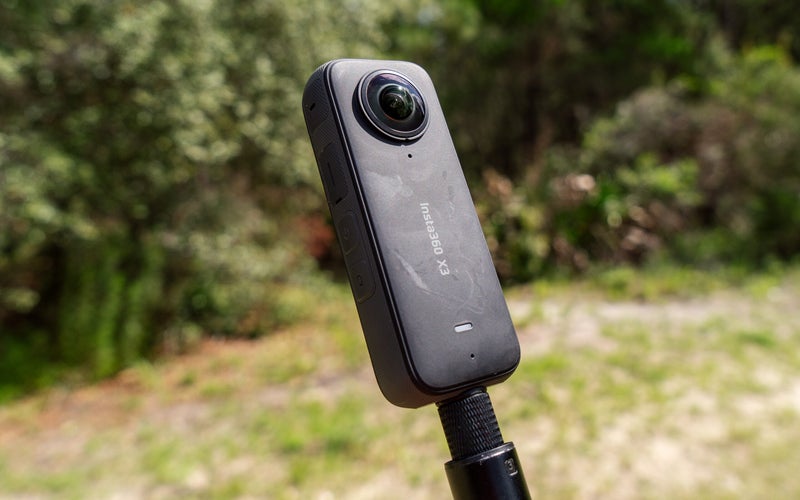 Specs
Sensor size: ½-inch
360 Video resolution: 5.7K
360 Still image resolution: 72 megapixels
Memory card slot: microSD/microSDHC (UHS-I)
Waterproof: Yes, to 33 feet
Dimensions: 4.5 x 1.8 x 1.3 inches
Weight: 6.3 ounces
Pros
Very effective image stabilization
Excellent video quality
Great sound quality from built-in mics
Lots of photo and video modes
Cons
App takes time to learn
Photos are slow to take
The Insta360 X3 is a versatile, well-rounded 360 camera, which is why it wins our top spot. The camera features a half-inch sensor, which is larger than the previous generation of this device. It's capable of high-quality 5.7K 360-degree video or immersive 72-megapixel 360 photos. You can also use just a single lens (on either the front or back) if you don't want 360 footage all the time. There are lots of different modes, including 8K timelapse, active HDR, Starlapse, burst shooting, and more, giving you lots of flexibility.
As a true action camera, the X3 offers impressive image stabilization to smooth out your video, even during jumpy movement. It's also ruggedly built and is waterproof to 33 feet without a case, making it a fantastic underwater camera. And the Invisible Dive Case makes it possible to record seamless 360 videos even deeper. However, since it is a 360 camera with two protruding lenses, you'll need to take care to keep those safe. If you don't buy a bundle, you may want to purchase a lens cap or even some Sticky Lens Guards to keep them safe. 
The X3 is capable of taking photos, but it is a bit slow to take and process them, so it can be a bit frustrating and isn't ideal for action shots. The mobile app also takes some time to learn, and some things can only be done on the desktop app. But this is a do-it-all 360 action camera with a reasonable price compared to other options, making it the best choice for most.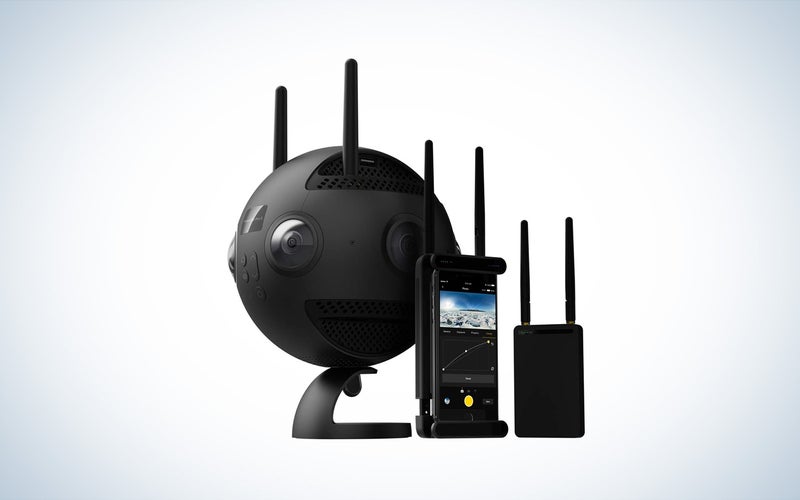 Specs
Sensor size: Unspecified
Maximum 360 video resolution: 8K
Maximum 360 still image resolution: 144 megapixels
Memory card slot: SD/SDHC/SDXC
Waterproof: No
Dimensions: 5.6 x 5.6 x 5.6 inches
Weight: 3.41 pounds
Pros
Class-leading image and video quality
Long-range monitoring makes recording easier
Spherical spatial audio
Pro-level controls and features
Cons
Expensive
Requires six microSD cards for each camera along with an SD card
Although most 360 cameras are capable of excellent image and video quality, they fall a bit short of pro-level capabilities. The Insta360 Pro 2 is an answer for professionals wanting to create high-end content for VR or 3D applications. This device relies on six individual cameras with f/2.4 fisheye lenses. It also features four microphones for recording ambisonic spatial audio, so you can get immersive sound with your videos.
The Pro 2 is capable of recording 3D videos at up to 8K 30p or 2D video at up to 60 fps. If you lower the quality to 4K, you can get up to 120 fps. And you can even live-stream 360-degree content up to 4K quality. It is also capable of still photos up to 12K, but this requires stitching via a computer. It offers an HDR function for better quality even in tricky light, and the 9-axis FlowState stabilization is highly effective for creating smooth videos even when moving. 
One exciting selling point of the Pro 2 is its FarSight. This feature allows you to connect a transmitter to the camera and a receiver to your phone or tablet and control the device from a distance. Insta360 says this provides a ground-to-ground range of 1000 feet, meaning you won't have to hide last minute when recording 360 content. This is an expensive device, but it does provide a long list of pro-level features for those who need the best.
Best affordable 8K camera: KanDao QooCam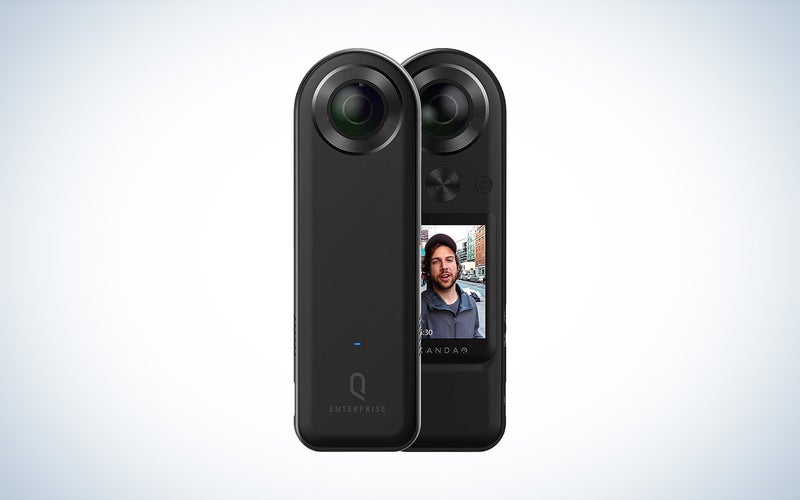 Specs
Sensor size: 1/1.7-inch
Maximum 360 video resolution: 8K
Maximum 360 still image resolution: 20 megapixels
Memory card slot: microSD/microSDHC/microSDXC
Waterproof: No
Dimensions: 7 x 2.2 x 1.3 inches
Weight: 9.7 ounces 
Pros
4K slow-motion footage
High-quality video
Manual exposure settings
Effective stabilization
Cons
Not waterproof
Still pricey
Creative filmmakers on a budget will enjoy the ability to capture 360 video and photos in 8K resolution without spending a small fortune. The KanDao QooCam is still not a cheap device, but it offers a lot of quality for the price. The camera boasts two 20-megapixel CMOS sensors. These help capture 8K footage at 30 fps and 4K video at 120 fps for epic slo-mo video. It's also capable of 16-bit color stills that are rich and detailed. 
A 2.4-inch OLED touchscreen on the camera allows you to easily compose shots and adjust controls. It offers a long list of quick modes such as pano, super slow-motion, live-streaming, and more. Or you can take manual control of the exposure for fine-tuned results. And the 6-axis image stabilization effectively smooths out video even during jarring movements. While the image quality certainly is impressive, this camera is not waterproof or drop-proof. As a result, you'll want to be careful when using this outdoors or when recording action. 
Best for vlogging: GoPro MAX
Specs
Sensor size: Unspecified
Maximum 360 video resolution: 5K
Maximum 360 still image resolution: 5760 x 2880 megapixels
Memory card slot: microSD/microSDHC/microSDXC
Waterproof: Yes, to 16 feet
Dimensions: 2.5 x 2.7 x 1.6 inches
Weight: 5.75 ounces 
Pros
Very compact and lightweight
Can record traditional GoPro wide-angle footage
Superb stabilization
Six microphones record 360 audio
Cons
360-degree photo quality isn't great
GoPro cameras are extremely well known for their impressive quality and stabilization. And while its 360 camera offering may be a few years old now, it still has a lot to offer. The camera is capable of 5K 360 video, or 5760 x 2880 still photos. These are stitched automatically in the camera, making it faster to edit and share. You can also use a single lens to record traditional GoPro footage, making it very versatile. 
Vloggers will appreciate the high-quality sound that's possible from the GoPro MAX. It features six separate microphones, so you can record 360-degree surround sound from the tiny camera. It also supports live streaming up to 1080p. The MAX is waterproof without a case to 16 feet and is ruggedly built, so a drop or two won't kill it. And you get GoPro's impressive stabilization for smooth video as well.
Specs
Sensor size: 1-inch
Maximum 360 video resolution: 4K
Maximum 360 still image resolution: 23 megapixels
Memory card slot: None, 51GB of internal memory
Waterproof: No
Dimensions: 5.2 x 1.9 x 1.2 inches
Weight: 6.42 ounces 
Pros
Large, back-illuminated CMOS sensors
Excellent low-light performance
Easy to use
Thid-party plugin access
Cons
Internal memory is limiting
Expensive
The Ricoh Theta Z1 was the first 360 camera to feature large, one-inch sensors, which gives it an edge in terms of image quality. And these sensors are back-illuminated, making them even better in low-light situations. As a result, this camera is a favorite for real estate virtual tours. Plus, the Automatic DR (dynamic range) compensation makes it easier to get well-exposed images even in the high-contrast lighting scenarios you're likely to find in interior spaces. 
The camera offers a range of shooting modes and settings that allow for lots of creative control. That includes a selectable aperture from f/2.1, f/3.5, and f/5.6 for greater control of depth of field. It supports raw file format for enhanced editing of the 23-megapixel photos. And the dual microphones result in quality audio. The Theta Z1 is a more expensive 360 camera, so it is best suited for advanced photographers with experience and a need for high-quality content.
Specs
Sensor size: 1/2.3-inch
Maximum 360 video resolution: 4K
Maximum 360 still image resolution: 5376 x 2688 megapixels
Memory card slot: None, 14GB internal memory
Waterproof: No
Dimensions: 1.78 x 5.14 x 0.9 inches
Weight: 3.67 ounces 
Pros
Available in four colors
Affordable
Very slim and lightweight
Easy to use
Cons
Quality is below more expensive models
The Ricoh Theta SC2 is a great entry-level 360 camera for the casual user, thanks to its very approachable price. It's also extremely slim compared to other models, thanks to Ricoh's proprietary folded optics system. And with the four different color options, it ends up looking more like a remote or phone than a 360 camera. Despite the budget price, the camera is capable of 4K 360 video that is stitched in-camera. And it's capable of 5376 x 2688 360-degree photos as well.
The Theta SC2 is extremely easy to use, with plenty of modes to easily produce quality content. It corrects for camera shake to produce smooth videos when hand-holding the camera. Face Mode automatically centers faces in the middle of the frame and ensures the image is properly exposed on the face instead of the background. And Night Mode corrects images in low-light settings. The quality of photos and videos won't match what you will get from a more expensive 360 camera, but it is quite excellent for the price.
What to consider when buying the best 360 cameras
360 cameras should be easy and fun to use. And they should provide impressive high-resolution panoramic views of the world around you. While there aren't endless 360 options available, especially with vastly different specs, it can still be confusing to sort through what matters. Below are some key items to pay attention to when shopping for a 360 camera.
Image stabilization
You know the cell phone video you took while running after your kids that later made you all feel like throwing up? Yeah, you can tell yourself it's artistic, but really nobody likes to watch a bouncy, shaking camera. Luckily, most 360 cameras feature image stabilization software that smooths out videos for you without any additional fancy gear, with pretty impressive results. Some cameras offer more effective stabilization than others, however. If you are hoping to use your 360 camera for action videos, you may want to watch sample footage to verify it will offer enough stabilization. 
Resolution
Maybe you're that person who is first in line for gadgets that offer the latest cutting-edge technology, or maybe you just want to shoot the sharpest, most cinematic 360 footage possible. 360 cameras with 8K video will deliver some truly mind-blowing images. While 4K video is impressive enough, 8K offers the most impressive images the human eye can recognize.
An 8K resolution will generate a noticeably sharper image with more details and makes your images qualify as VR-grade video. Currently, there are only a few brands on the consumer market that offer this level of quality. Previously this resolution was only available for professional use and was extremely expensive. Recent innovations have allowed this technology to become lighter, smaller, and more reasonably priced, but it still comes with a fairly steep price tag. If you're interested in creative 360 film-making, 8K technology is a pretty fantastic feature to look for, but be prepared to pay higher prices.
Waterproofing
If you want to capture and share highlights from your action-packed adventures, you'll want a camera that is durably built and able to handle whatever you throw at it. Whether you are snorkeling, sailing, skiing, or splashing through muddy puddles on your mountain bike, investing in a 360-action camera designed for not just movement but for water will ensure your camera will last.
It's important to read through the specific guidelines and manual for use, as each camera will have a limit as to how far you can go underwater, if at all. The most common waterproofing depth is 16 feet, though some go to 33 feet. For deeper water, you will need to consider additional accessories for your camera, like a dive case or dive bubble. 
Low light abilities
Even the most experienced photographers know that shooting in low light is a real challenge. For example, in low light, a photographer might increase the ISO settings, use slower shutter speeds or adjust the aperture. This is when experience and knowledge of your camera's settings really come into play to get the best results.
The best 360 cameras for low light photography feature top-of-the-line image sensors that offer high-resolution imagining as well as high ISO settings with excellent noise handling. High ISO settings are very important for low-light photography because they allow you to capture images in darker environments and can prevent motion blur even when shooting ultra-fast action.
Editing tools
You don't have to go to film school or have been James Cameron's production assistant to use a 360 camera. In fact, they can be fairly easy and fun to use. Many of these cameras are even ideal for beginners and will help you out by doing some of the work for you. Being a dual-lens machine, there will be seams between the camera's images, and editing these seams is referred to as stitching. While these seams can be edited (or stitched) in apps, many cameras stitch the seams on their own. As a beginner, it's easier to get a camera to do that work for you.
Even if the camera stitches the 360 photos and videos for you, you'll likely need to do some level of editing in order to share your content. Most camera companies offer mobile or desktop apps for editing, whereas some allow for plugins to work with programs like Adobe Premiere Pro. If you want the ability to quickly edit video on your phone and share to social media, be sure to look for a camera that provides an easy-to-use mobile app. 
Budget
When it comes to cameras, typically, you do get what you pay for. Most 360 cameras are fairly expensive, but they offer impressive stabilization, high-end image quality, and loads of features. There are some very inexpensive 360 cameras available for sale, but we recommend at least going for an entry-level camera manufactured by a quality, trusted brand. These entry-level cameras are designed to be affordable and are often easier to use in order to appeal to beginners. Some may have less advanced features, but there are options that don't sacrifice image quality. 
FAQs
Q: How do I choose a 360 camera?
The best 360 camera will be easy to use, will produce quality images, and have a coherent field of view. Whether you choose a single-lens system or multiple lenses and sensors, the images should be minimally distorted. Finally, the camera should come with an app to stitch your footage together, share footage, and even live stream.
Q: How does a 360 camera work?
A 360 camera uses multiple lenses to capture different directions at the same time, offering a clear spherical view of the surroundings. Most utilize two fisheye lenses pointed in opposite directions, with each grabbing 200 degrees of image per lens. This results in 400 degrees of coverage, which involves some overlap. Many cameras automatically stitch the separate photos or videos together to hide the overlap and seam, though some do require manual editing. 
Q: Which is the best 360 video camera app?
While all the best 360 cameras will come with their own apps, we recommend the user-friendly GoPro or Insta360 apps. Some editing features these apps allow for are quick auto-editing, reframing, clip creation, color correction, and sharing. 
Final thoughts on the best 360 cameras
360 cameras will provide uniquely stunning panoramic views of your world. They also offer much more flexibility when editing, allowing you to reframe as you see fit. And most of these devices are highly-capable action cameras, making it possible to record immersive, epic footage of your adventures. If you're hoping to capture a different perspective, a 360 camera is the way to go.
Why trust us
PopPhoto has a long history of delivering the opinions of some of the sharpest and most prolific camera dorks the world has to offer. Since 1937, we've been reviewing cameras, providing wisdom from well-known photographers, and generally just nerding out about all that goes into making great pictures. Our current crop of writers and editors have decades of professional photography and camera writing experience among them. Collectively, we've probably shot with just about every camera and lens combo you can imagine—as well as some obscure stuff you may not even know about. Remember the Casio Tryx folding camera? PopPhoto does.
We also get that buying a camera is a big decision, which is why we're dedicated to helping folks choose the right one (or, in our case "ones") for their needs. Case in point: Handing over top dollar for an expensive rig may leave you unsatisfied if it doesn't fit your preferred shooting style. Sure, a $6,000 sports-oriented DSLR can capture landscapes, but do you really need to do it at 30 frames-per-second? No, you don't.