Best underwater camera: Five things to consider
An underwater camera can help you get shots of your summer adventures that your smartphone camera (or even a fancy DSLR) could never capture.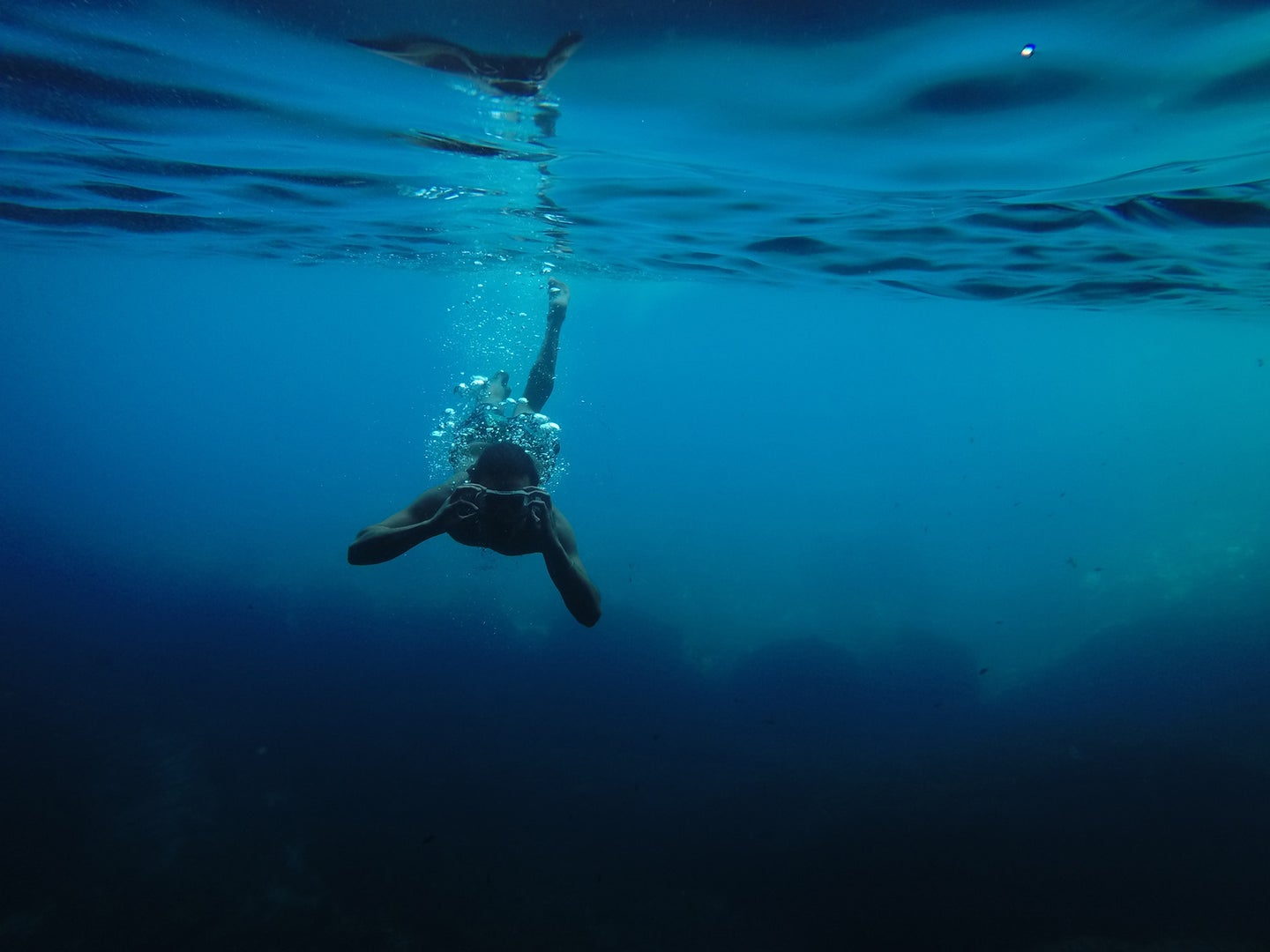 The best underwater cameras are used by professional photographers and hobbyists alike, but with a wide range of brands and price points—and an even wider range of features— choosing the right model can be daunting.
Luckily, there are plenty of models on the market at the moment to address just about anyone's underwater ambitions. You can find solid options priced anywhere from twenty bucks, to a couple of hundred dollars. So whether you need an underwater fishing camera, a waterproof DSLR, or just a solid action camera that you won't have to worry about if you end up taking it to the beach this summer, there is sure to be a gadget that meets your needs.
All you need to think about is specifically what you plan on doing with your camera. What intense conditions might it face? What kind of footage are you hoping to create? After looking at these things to consider, it should be easy for you to assess which tool on the market is the best underwater camera for you.
How to find the best underwater camera for all your photography needs
To figure out what tool is going to be the best underwater camera for you, you'll want to think about your process, the conditions you might expect, and the kind of footage you're hoping to collect. You want your camera kit to fit your needs, so considering the following questions will help you to easily understand how to choose an underwater camera for you.
The best cameras for shooting underwater
Everyone's underwater camera needs are different. You're not going to want to buy the same camera for ice fishing as would for snorkeling. They're entirely different activities with their own specific underwater photography challenges. So let's start by thinking broadly.If you don't have specific underwater needs, but you're looking to shoot more casually, you can look for an underwater camera the same way you would look for a typical model. In addition to water resistance, you'll want to make sure your camera has enough resolution and a good imaging sensor that can handle tough lighting situations. If the lens is attached, you'll likely want the flexibility of a zoom. You may also want some to look for built-in bonus features and modes in case you choose to play around or get creative with your shots.
Best underwater camera for everyday use: Olympus Tough TG-6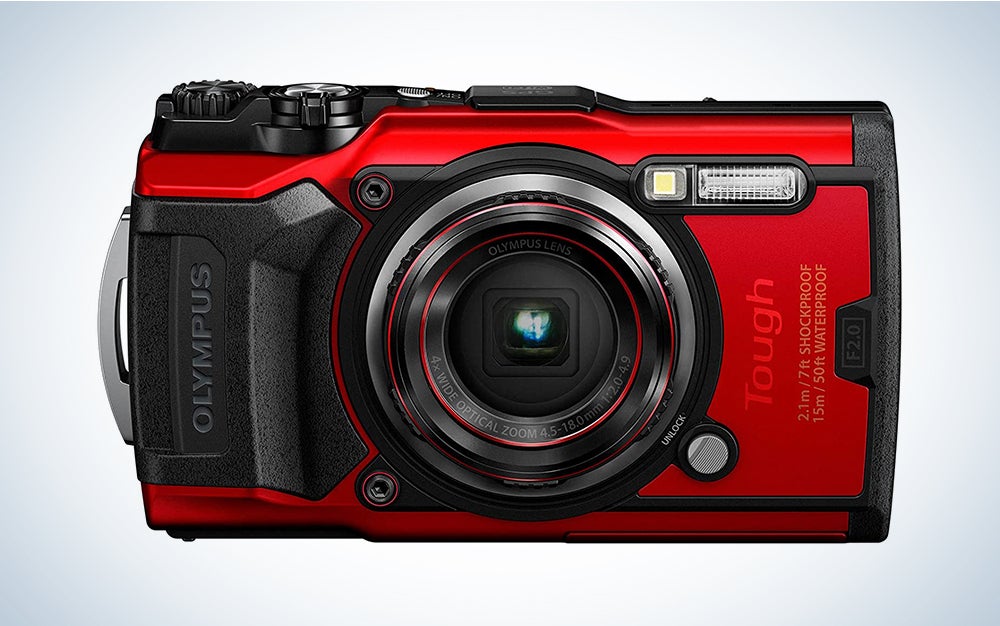 Durable, Flexible, and Easy To Use
The Olympus Tough TG-6 is built like some of the most popular consumer-targeted cameras, and it's built for adventure. Amazon
Check Price
The Olympus Tough TG-6 is a capable underwater camera that doesn't clutter up its menus or design with lots of buttons and settings. It can survive depths of 50 feet and temperatures as cold as 14°F. Its built-in lens has a 4x optical zoom, which is about the same as using a 25-100mm zoom lens—for reference, that's a little wider than your smartphone camera when zoomed out. This camera has many built-in settings so you can do the most without having to know the most; this includes five different settings for underwater shooting alone, so you'll be sure to get the best possible shot no matter the subject. If you're a professional or a camera nut, however, this may not be the best option for you. While it's CMOS sensor can shoot both 4K video and 12MP photos, this is still significantly smaller than the sensors on many DSLRs and mirrorless cameras. This will make it much more difficult of a tool to use if you're trying to produce cinematic shots with blurry backgrounds. And without interchangeable lenses or fully manual settings, it won't provide the same level of control as shooting on a professional-grade camera.
How deep are you going?
The key issues that arise as you plan deeper adventures are depth rating, functionality, and lighting. If you plan on staying closer to the surface level of the water, these factors may not be as big of a concern for you. So let's talk about what features will come into play as you take your plunge.
First, deep divers will want the best digital camera that can not only seal out unwanted moisture, but also withstand the intense pressure from the water above. That means that the deeper you're going, the sturdier your underwater camera will need to be. As you peruse products, a "depth rating" will tell you exactly how deep each camera will be able to go. If you're going especially deep, the best underwater camera for you is going to be one with a higher number. Most deep dives will have you going anywhere from 18 to 30 meters deep, so you'll want to make sure your camera can handle the pressure for about 100′ of the water above's weight.
You'll also want to consider functionality. Think about how much clumsier basic tasks feel under water, and think about how many tiny buttons are on the DSLR you have at home. Even if you're looking for a professional camera, you'll likely want a model that has simpler functionality so you don't miss any shots due to messed up settings.
Most importantly, a concern you will not want to overlook is lighting. If you plan on using your camera mostly near or above the surface of the water, lighting won't be a huge issue for you during the day. However, as you dive away from the sunlit surface, you'll continue to lose light, and taking pictures will become more and more difficult. You'll want a camera that can provide you with continuous lighting — not flash; this is to avoid potentially disturbing any sealife you might be hoping to capture.
Best underwater camera for deep diving: SeaLife Micro 3.0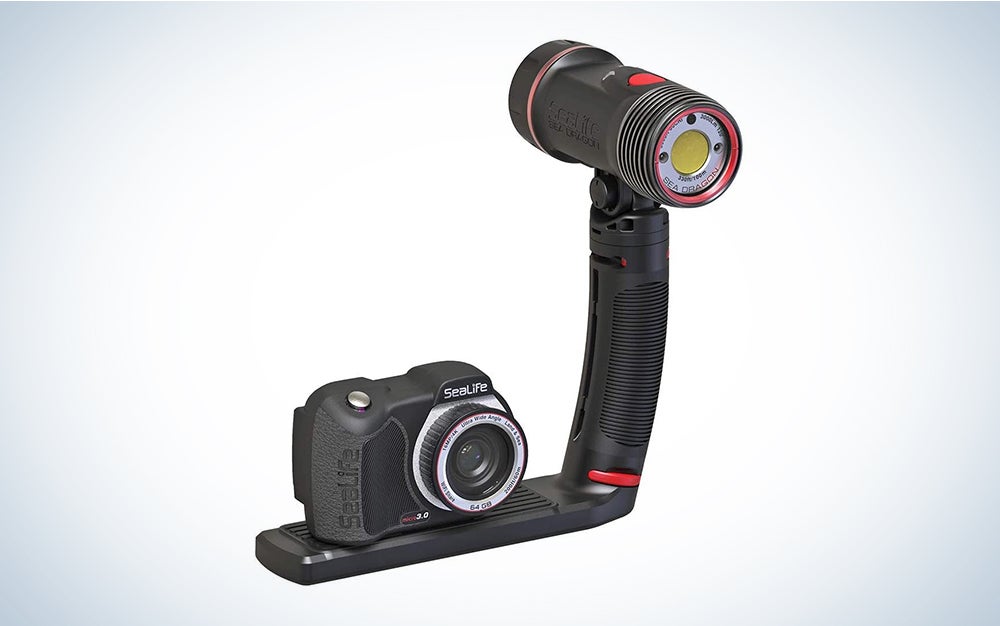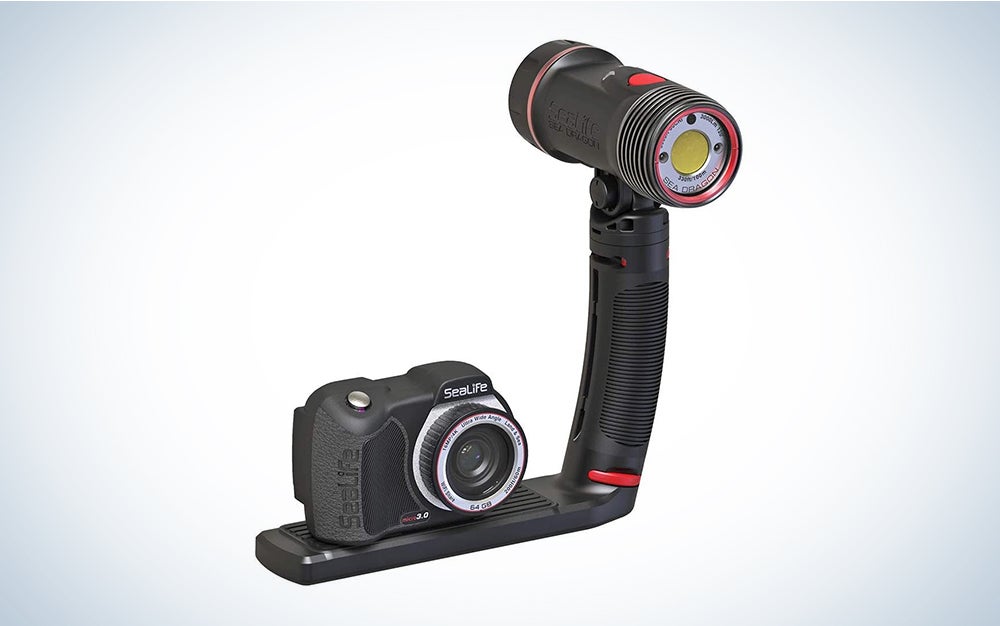 Sturdy, Airtight, and Built For Ease Under Water
The SeaLife Micro 3.0 is water safe up to a whopping two hundred feet deep.
In addition to the SeaLife Micro 3.0′s impressive watertight seal, this camera can manage depths down to 200 feet, making it the best waterproof camera for deep sea expeditions. It has large piano-key like buttons, so even underwater you'll be able to easily navigate your settings. This professional underwater camera also comes with a large arm, making it easier to operate as well. And at the top of the arm? A wide angle, daylight LED that can provide you with a continuous 3000 lumens of light for a full hour of shooting. However, this camera comes with a price tag that may be too big for the average hobbyist: $999.
Will you be shooting underwater video?
If you're looking for the best underwater camera for video, you should know that your stellar photography camera might let you down as soon as you hit record. If you do plan on shooting video, you'll want to make sure you have solid image quality, and some stabilization.
Firstly, you'll want to make sure that your camera's resolution for video is high enough to enjoy your footage wherever you'll be viewing it later. This is probably going to be on your phone, computer screen, or maybe even a large home TV. Although you may love another camera for it's photography, many cameras will downgrade their imaging features as soon as they flip to video mode. So you'll want to make sure the video you receive is going to be high resolution. When you're looking at packaging, check for words like "HD video," "2K," or "4K."
And of course resolution isn't everything—if your camera footage is blurry from shaking and movement, no amount of pixels can help that image look better. Be on the lookout for stabilization features. Usually marked by an acronym including the letters "IS" for "image stabilization", these features can come in a variety of different forms and names. Optical IS physically moves glass elements inside your lens to counteract the camera's shaking. Some models offer in-body image stabilization, which moves the sensor instead of the lens elements. Digital IS, in contrast, combats shakiness through an algorithm. Optical IS is preferable to digital IS, however combining the two can lead to excellent results.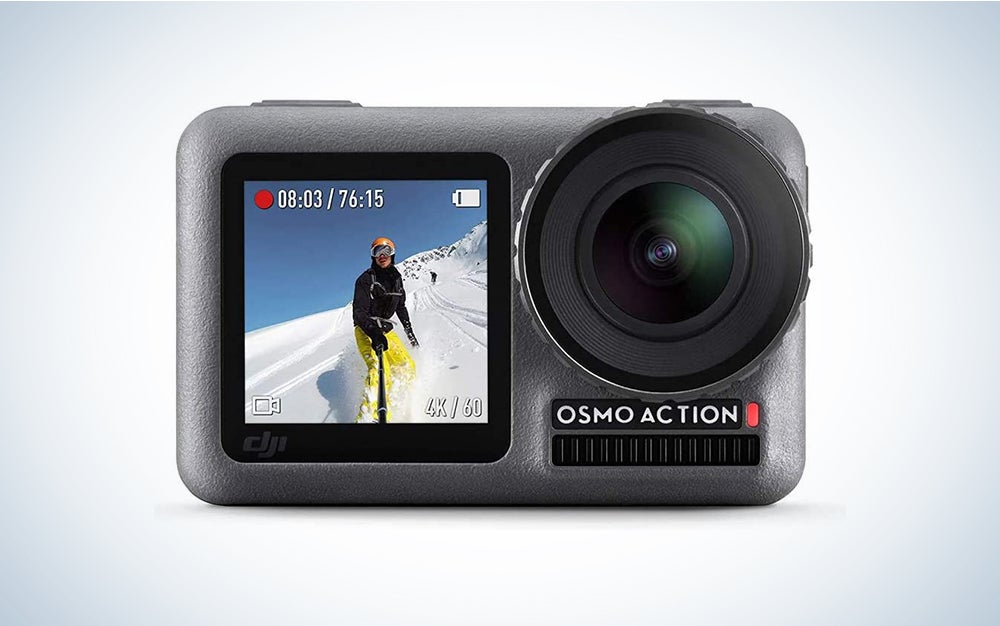 Compact, Powerful, and Versatile
Small enough to operate between your thumb and forefinger, but powerful enough to provide stabilized HDR 4K video, even underwater. Amazon
Check Price
Small but mighty, this DJI Osmo Action waterproof video camera shoots 4K HDR video, which means not only will the video be a high enough resolution for you to comfortably watch on your TV when you get home, it will also be well-exposed even in dramatic conditions. DJI is particularly known for their innovative and cost-effective stabilization tools, and this little action camera is no exception. A feature called "Rock Steady" combines optical and digital IS that will make your footage look like your camera was on top of a steady cam instead of just strapped to the front of your buddy's boat. This underwater compact camera is small enough to hold in a single fist, and can be purchased with tools to easily mount onto any person, vehicle, or gear you could imagine. As a bonus, it's front and back screens make it easy to monitor your footage, and the camera has a handful of cinematic modes to get creative with.
However, the DJI Osmo Action is only waterproof in conditions less than 35′ deep, so this is not the camera you want to take with you if you plan on taking shots particularly far down in the water. Although the lens is durable enough for outdoor adventures, it is unfortunately not interchangeable or even zoomable; this is a better choice for someone looking for a point-and-shoot experience.
Do you need a fishing camera?
Fishing cameras can look and function in a very different way to many other products in the underwater camera category. Cameras which are meant to be operated in your hands won't quite do well here, because you'll be up on your boat, the ice, or the dock, far away from where you're actually hoping to capture images. Rather, you're going to want a monitor that stays with you above sea level while your underwater fishing camera plunges down to where the fish are. Here's what you'll want to look for: a good quality monitor, a strong cord connecting your camera, and a compact housing. If you're hoping to save and share the images you're viewing, be sure to also check that the product is also set up to record.
The monitor needs to be good quality, not in terms of resolution and image, but also against elements like sunlight since you'll likely be viewing it from outside. What can help here is to find a monitor that is particularly bright, and even perhaps has a physical hood to block the glare of the sun. You'll also want your monitor to connect to your camera through a cable that is both sturdy and long. If it's not strong enough, the wiring sending you your image could get damaged, and make it difficult for you to receive a signal from your camera. If it's not long enough, the camera may not be able to go deep enough to see the fish you're trying to catch. And if all these features are available in a compact housing, then this tool will be able to fit into your pocket or fishing kit without you having to deal with any extra hassle. Be mindful as you shop, however, that many of these products are designed for simply viewing sealife as you fish. If you're hoping to record and save the images you're viewing on your monitor for later, you'll want to be sure that the product has recording capabilities, and that it either comes with the necessary hardware to do so, or that you're able to purchase an additional recorder.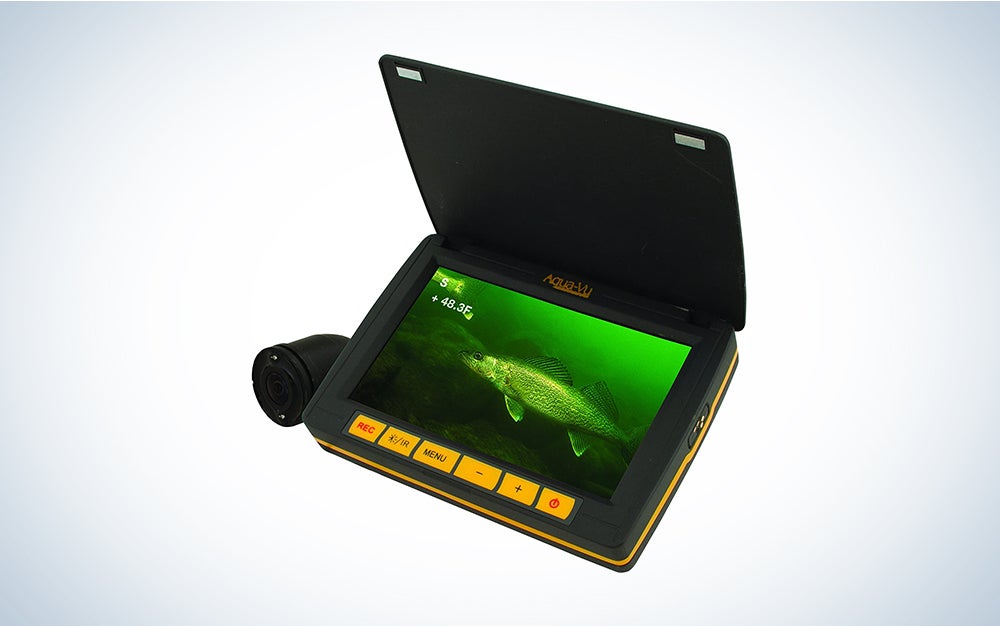 Durable, Compact, and Packed with Features
Small enough to fit in your pocket while still managing to combine all the necessary features needed for fishing. Amazon
Check Price
The Aqua-VU Micro 5.0 has a tethering cable that's nearly 19m long, and it's monitor is an optimal 5″, making it ideal for both easy viewing and easy travel. The bright LCD comes with a sun shield that doubles as a screen protector for visibility during the day. It has recording capabilities, and an integrated DVR, so you'll be able to not only see the fish during your trip, but save the footage as you would with a traditional video camera. While the camera and cable are both fully waterproof, the monitor is only water resistant. It can handle momentary submersion in the water, but be mindful that it is not meant to be fully submerged for longer periods of time.
Do you already have a non-waterproof camera you love?
The best camera is often the camera you already own. But don't dunk your brand new Canon straight into the ocean just yet. On professional sets, you won't often see waterproof cameras being used. Rather, you'll see a non-waterproof camera housed in what's casually referred to as a "lung." These housings can take any camera you already own, DSLR, mirrorless, film, etc. and instantly turn it into the best underwater camera on the market. Best of all, you don't have to shell out much extra cash. What you'll want to look for here is mainly compatibility. Many camera manufacturers will produce underwater housings that fit their specific cameras perfectly, and many more will produce generic housings that fit certain styles or sizes of cameras.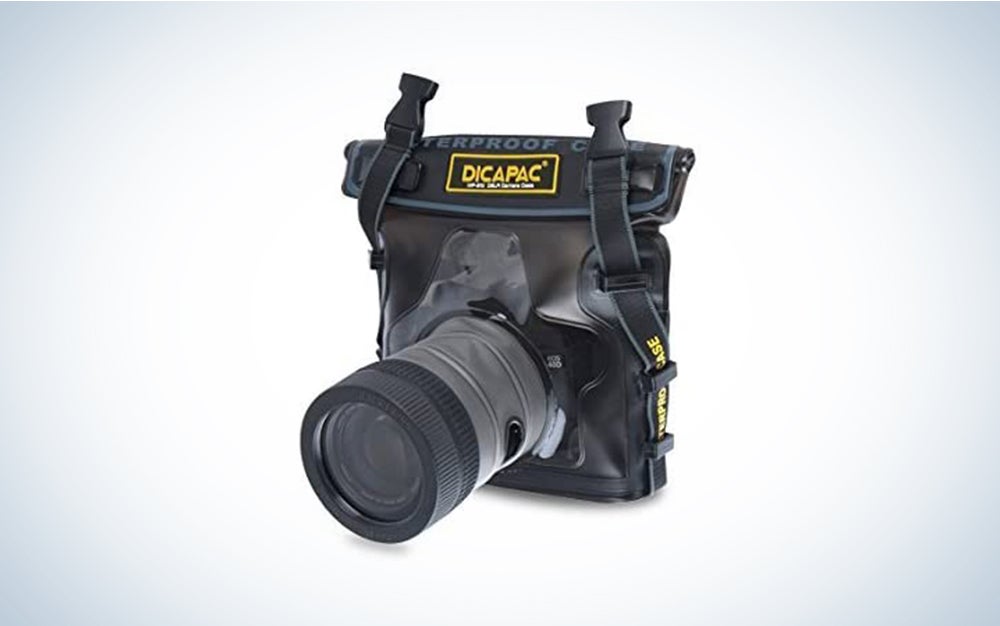 Simple and Reliable
DiCAPac's waterproof housing is designed to fit any SLR camera. Amazon
Check Price
If you're hoping to use the SLR camera you already own underwater, the DiCAPac WP-S10 literally has you covered. The casing is designed so that all of your camera controls are easily accessible while you shoot, and has built in UV protection for your lenses. The product costs just over $60, making it incredibly affordable, especially in comparison to buying a whole second camera.
As with any waterproof housing, the closer you can get your lens to the front of the housing, the less distortion you'll get from adding that second layer between your lens and your subject. And before you begin shooting, make sure to test out the product underwater with no equipment inside — if for any reason the product is defective, you'll be thankful you took precautions before diving right in.
The best budget-friendly option is a waterproof disposable camera for $30
While there are a lot of really cool underwater cameras, these tools can all be really pricey, coming in at an average of a few hundred dollars. If those price tags scare you off, don't worry. There are waterproof disposable cameras that shoot on film, are easy to use, and are super affordable.
Affordable, Easy To Use, and Waterproof
This Kodak disposable film camera is only $30, and it's built to be used underwater. Amazon
Check Price
You've probably used Kodak's regular disposable cameras. This is a film camera designed for a point and shoot experience, with the added benefit of a waterproof plastic casing. Most impressive, it's only $30. Just be careful if you're using this camera on vacation. It's a film camera, so if you plan on flying you won't want to send it through the TSA's x-rays, as these can damage undeveloped film in either your carry-on or your checked luggage. Tell a TSA worker in advance that you have film, and they'll be able to give you other options instead of sending it through their machine.
FAQ: people also ask
What is a good underwater camera for snorkeling?
The best underwater camera for snorkeling is the Olympus Tough TG-6. It has five different presets for shooting underwater, making it super easy to use in this leisurely underwater setting.
Can underwater cameras be used on land?
Yes. Most underwater cameras are just regular cameras with waterproofing capabilities. You can think of most of these tools as simply having an extra specific feature of withstanding water contact and/or water pressure. The exception here is physical camera design. For example, if you're using a specialized fishing camera with a full 50′ cable and separated monitor, this device might feel rather unwieldy to try to use on land.
How to choose an underwater camera?
Instead of comparing features, start by thinking of what setting you'll be using your camera in. Different underwater cameras have entirely different designs for different purposes, so knowing whether you'll be snorkeling, diving, fishing, or shooting by the pool will quickly narrow down your search into something more manageable.
The best underwater camera for you is one that's geared up for the same activity as you.
To find the best underwater camera for your needs, start by assessing your own plans. With so many awesome products on the market, there is no such thing as "the best camera," but there is certainly a specific camera that is designed perfectly for your purpose.