Updated Jun 7, 2023 5:22 PM
We may earn revenue from the products available on this page and participate in affiliate programs. Learn more ›
If you have been paying attention to the camera market over the last decade, you've noticed mirrorless cameras overtaking DSLRs as the most dominant category in interchangeable-lens cameras. While Canon, Nikon, and Pentax still sell plenty of DSLRs, more than a half-dozen companies—including Canon, Fujifilm, Nikon, Olympus, Panasonic, Sigma, and Sony—are fully committed to their mirrorless systems. The market has expanded so much that there are now mirrorless cameras for every type of shooter, from the video-focused to the photography purist. No matter what you are looking for, the best mirrorless camera will help you get the shot.
How we chose the best mirrorless cameras
We have been writing about and reviewing cameras for decades and have personally used most of the major cameras released in recent years. This list is a result of extensive hands-on testing, market research, user feedback, editorial reviews, and spec comparisons. While the mirrorless market has grown substantially in recent years, there are still only a handful of companies making the cameras that you really want to buy. We looked at the entire mirrorless camera landscape and chose the models that best fit the needs of different kinds of shooters. 
Best mirrorless cameras: Reviews & recommendations
The options for mirrorless cameras have expanded to include something for just about every situation you may find yourself in. Whether you are wanting a compact, budget-friendly vlogging camera or a professional-level, high-resolution beast, or something in between, there is a mirrorless camera that will work for you.
Best with in-body image stabilization (IBIS): Canon EOS R5
Specs
Resolution: 45 megapixels
Sensor size: Full-frame
Lens mount: Canon RF
Image stabilization: Sensor-Shift, 5-Axis
Memory card slots: Dual slot: CFexpress Type B and SD/SDHC/SDXC (UHS-II)
Weight: 1.62 pounds
Dimensions: 5.43 x 3.84 x 3.46 inches
Pros 
High-resolution sensor
Articulated screen
Up to 8 stops of stabilization with some lenses
Advanced video features
Cons
Although it's a little pricey, the full-frame Canon EOS R5 delivers excellent stabilization. You'll get up to 8 stops in combination with some Canon IS lenses. Other impressive parameters include speedy (and accurate) autofocus and tracking thanks to its Dual Pixel CMOS AF II system. It's dust and water-resistant to withstand the rigors of outdoor photography and comes equipped with dual memory card slots, including a CFexpress. This is essentially the mirrorless version of Canon's stalwart 5D DSLR line. As a result, it can handle just about anything a pro photographer could need it to do in a relatively compact body.
If you don't need the 45-megapixel resolution and super-high-res video chops found in the R5, the Canon EOS R6 Mark II offers much of the same in terms of focusing and stabilization with a more reasonable 24.2-megapixel resolution and matching SD card memory slots.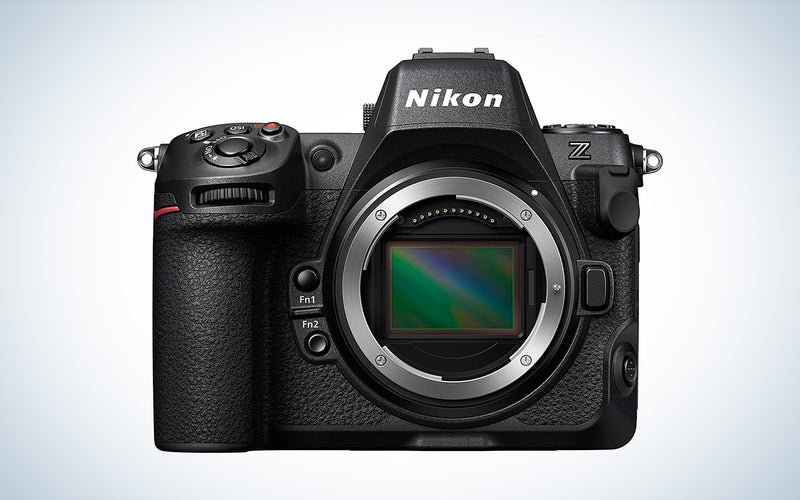 Specs
Resolution: 45.7 megapixels
Sensor size: Full-frame
Lens mount: Nikon Z
Image stabilization: Sensor-Shift, 5-Axis
Memory card slots: Dual slot: CFexpress Type B/XQD and SD/SDHC/SDXC (UHS-II)
Weight: 2 pounds
Dimensions: 5.7 x 4.7 x 3.3 inches
Pros 
Fantastic image quality
Offers lots of on-body controls
Fast burst shooting
High-quality video
Cons
No mechanical shutter
A bit difficult to get right now
The Nikon Z8 is essentially the Z9 in a more compact and affordable package. It's $1,300 less than the flagship Z9 yet features the same sensor, processor, and autofocus capabilities. And it weighs more than half a pound less than the Z9. Of course, that's in part because the Z8 lacks a built-in vertical grip, but the more compact form factor makes it an ideal choice for videographers or those who prioritize weight in their setup. 
The Z8 is a true hybrid camera with impressive specs and features across the board. It's capable of 8K 60p 12-bit raw recording internally in the N-RAW format. You can record at 8K 30p for roughly two hours continuously. And it offers 4K 120p for slow-motion footage. 
The 45.7-megapixel sensor results in excellent image quality for photos. And if you like a still from a video clip, you can grab 33MP stills from 8K footage or 11MP stills from 4K footage. The Z8's autofocus is also superb, with accurate and fast subject detection and tracking. 
We'll have a full review of the Z8 coming soon to provide even more insight. But, as a popular new release, the Z8 can be a bit hard to find right now, which is one of the main downsides. If you see it in stock somewhere, you'll want to make the purchase as soon as possible if you are serious about picking one up.
Best for pros runner-up: Sony a1
Specs
Resolution: 50.1 megapixels
Sensor size: Full-frame
Lens mount: Sony E
Image stabilization: Sensor-Shift, 5-Axis
Memory card slots: Dual slot: CFexpress Type A and SD (UHS-II)
Weight: 1.6 pounds
Dimensions: 5.07 x 3.81 x 2.74 inches
Pros 
High-resolution sensor for superb detail
Advanced and impressive autofocus
Fast burst shooting
Plenty of tactile controls
Cons
The Sony a1 is a camera built for those who want serious performance from their camera. The specs are impressive across the board. It offers a 50.1-megapixel sensor with stacked back-illuminated design and integrated memory. That sensor allows for 15 stops of dynamic range and the ability to capture tons of detail from a scene. It also handles noise extremely well, so you can get away with higher ISOs.
One area that the a1 really shines is burst shooting. It's capable of up to 30 full-sized raw frames per second with the electronic shutter. That's faster than just about everything available at that quality. The autofocus is equally impressive. It's extremely fast and accurate, and it can focus down to -4 EV, so you can shoot in dark situations and still use autofocus. 
The a1's electronic sensor is able to read out at a whopping 1/260th second, which allows you to sync a flas at up to 1/200th second. And, with the mechanical shutter, you can sync flash up to 1/400th second without relying on a high-speed sync. It's an ideal camera setup for studio photographers and sports photographers alike. And with the 8K 30p and 4K 120p video, it makes for an excellent tool for videographers or hybrid shooters as well.
If the burst shooting isn't as important to you as resolution, the Sony a7R V offers an impressive 61 megapixels, resulting in truly stunning image quality even for the most serious pixel peepers. 
Best for low light photography: Nikon Z6 II
Specs
Resolution: 24.5 megapixels
Sensor size: Full-frame
Lens mount: Nikon Z
Image stabilization: Sensor-Shift, 5-Axis
Memory card slots: Dual slot: CFexpress Type B / XQD and SD/SDHC/SDXC (UHS-II)
Weight: 1.4 pounds
Dimensions: 5.3 x 4 x 2.7 inches
Pros
Superb image quality overall, but especially in low-light
Intuitive controls and menu systems
Compact
Exemplary metering system
Cons
24-megapixels may feel a little low for some shooters
The well-rounded, full-frame Nikon Z6 II mirrorless camera is equipped with great still and video features. Its low light capabilities range from minimal image noise at high ISOs and, critically, excellent low light AF—down to -4.5EV, one-stop lower than its Z6 predecessor. That means it can focus in the moonlight—even when it's less than a full moon. As a bonus, the Nikon Z6 II is equipped with a special low-light autofocus mode that takes its capabilities an additional two stops, providing a good balance between minimal levels of image noise and effective autofocus in very low light.
The Sony A7S is another solid option, especially if you shoot a lot of video or you don't need a ton of megapixels. The 12-megapixel resolution seems paltry to many still photographers, but that low resolution comes with extremely clean high-ISO images.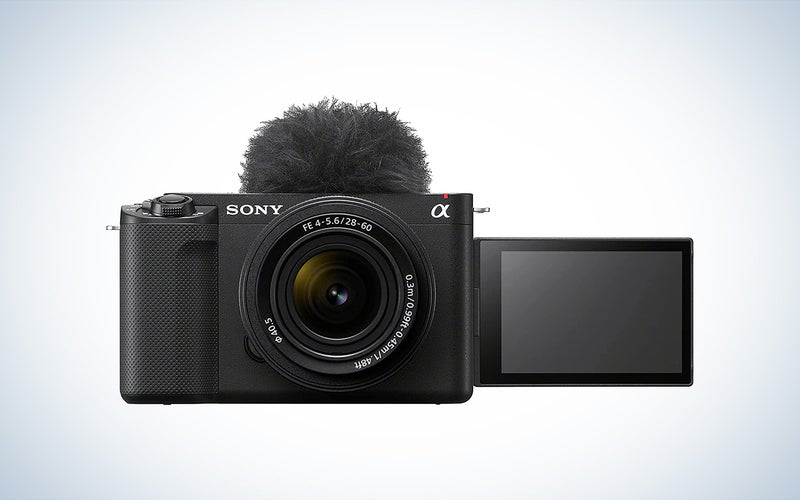 Specs
Resolution: 12.9 megapixels
Sensor size: Full-frame
Lens mount: Sony E
Image stabilization: Digital, 5-Axis
Memory card slots: Single slot: SD/SDHC/SDXC (UHS-II)
Weight: 1.1 pounds
Dimensions: 4.8 x 2.8 x 2.1 inches
Pros 
Compact and lightweight
Excellent stabilization
Good in-camera audio
Superb autofocus abilities
Cons
Low resolution isn't great for photography
Single SD card slot
The Sony ZV-E1 is a full-frame mirrorless camera tailored to serious vloggers and content creators. Unlike its smaller sibling—the ZV-1 II—the ZV-E1 is an interchangeable lens camera, allowing you to choose from the vast selection of Sony and third-party lenses available for E-mount. Despite the full-frame sensor, the camera is very compact and lightweight, weighing only slightly over a pound, making it easier to hold even if you are filming yourself. 
The ZV-E1 is capable of 4K 120p video or full HD up to 240p. The Cinematic Vlog setting makes it easy to create cinematic footage with a single touch, putting controls such as aspect ratio,  frame rate, look mode, mood, and AF modes on one screen. The 5-axis optical image stabilization is highly effective. And when you need even more stabilization, the dynamic active mode stabilization utilizes AI recognition and tracking to automatically crop footage to keep focus on the subject. 
As we've come to expect from Sony cameras, the ZV-E1's autofocus abilities are very advanced. It offers Multiple Face Recognition to track multiple people in a single frame, and the Product Showcase Setting makes it easy to switch focus between a product and subject. The main downside to this camera is the 12.9-megapixel sensor. While the 12.9-megapixel sensor could be limiting in terms of still photos for some, for professional vloggers, this camera is the best choice at the moment.
If you are a vlogger that doesn't want to fuss with lenses or spend so much on a camera, the ZV-1 II is the next best thing. It features a built-in 18-50mm equivalent lens with 4K 30p video and plenty of content creator-specific tools.
Best for vlogging runner-up: Sony a7C
Specs
Resolution: 24.2 megapixels
Sensor size: Full-frame
Lens mount: Sony E
Image stabilization: Sensor-Shift, 5-Axis
Memory card slots: Single slot: SD/SDHC/SDXC (UHS-II)
Weight: 1.1 pounds
Dimensions: 4.9 x 2.8 x 2.4 inches
Pros 
Compact form factor fits in camera rigs
Flip-around screen makes for easy vlogging
Advanced autofocus tracking with nearly 700 AF points
4K and 1080p footage at high bitrates
Cons
No viewfinder might be a downside for hybrid shooters
No 4K at 60 fps
Size and weight matter when you're holding a camera pointed at yourself all day long, and Sony's A7C is one of the most compact full-frame mirrorless cameras on the market. It has everything a vlogger needs, including 4K capture, a screen that flips forward so you can monitor your shot in real time, and a microphone jack for accessories. It also offers advanced autofocus that keeps you or your subject in focus without much fuss on your end. 
The small, rectangular form factor makes it easy to attach gimbals and other filmmaking equipment. That comes in handy when you're trying to maximize your production value and have viewers slamming those like and subscribe buttons on Youtube. There isn't an electronic viewfinder, which makes it a bit harder to use in bright sunlight, but video is rarely shot while looking through a viewfinder anyway. 
Specs
Resolution: 40.2 megapixels
Sensor size: APS-C
Lens mount: Fujifilm X
Image stabilization: Sensor-Shift, 5-Axis
Memory card slots: Dual slot: SD/SDHC/SDXC (UHS-II)
Weight: 1.2 pounds
Dimensions: 5.1 x 3.6 x 2.5 inches
Pros 
High-resolution sensor results in lots of details
Capable of up to 20 fps
6.2K maximum video resolution
Excellent feel to the controls
Cons
Viewfinder feels small compared to full-frame models
The Fujifilm X-T5 is a truly fantastic camera. In fact, one of our editors calls it one of the most enjoyable cameras he's ever used. It offers lots of tactile controls, including an ISO dial and physical switch for shutter drive modes. These keep you from digging into menus nearly as often as other cameras. The body feels like a small SLR, including a physical dial for shutter speed, which makes the camera feel like an analog one. 
Fujifilm built the camera around a high-resolution 40.2-megapixel sensor that does a great job of grabbing lots of detail from a scene. It comes with Fujifilm's excellent film simulation modes, which could save you time when it comes to editing. And the autofocus is responsive and accurate.
While the camera is primarily for still shooters, there are plenty of impressive features for video creators. For example, it can shoot up to 6.2K 30p video or oversampled 4K footage. And it offers plenty of video capture formats, including F-LOG2 and Apple ProRes Raw.
Specs
Resolution: 24.1 megapixels
Sensor size: APS-C
Lens mount: Canon RF
Image stabilization: None
Memory card slots: Single slot: SD/SDHC/SDXC
Weight: 12.6 ounces
Dimensions: 4.6 x 3.4 x 2.7 inches
Pros
Extremely compact and lightweight
Affordable
Compatible with all RF lenses
4K 24p video
Cons
Fixed rear display
No touchscreen functionality
The Canon EOS R100 is a new release that happens to be the most affordable camera in Canon's R line yet. It's also the smallest, weighing just 12.6 ounces with the battery and memory card. Despite the small size and affordable price, it has a lot to offer. For starters, the 24.1-megapixel sensor will provide image quality on par with the M50 Mark II. But you get the benefit of RF lenses, as well as EF lenses with an adapter. That opens up a lot of possibilities for glass.
The R100 is capable of cropped 4K 24p video or full HD at 60p. It utilizes Dual Pixel AF with 3975 autofocus points and supports subject detection and Eye Detection AF. And Eye Detection works even when the subject is further away for full body shots. Unfortunately, the rear screen is fixed, meaning it can't be flipped around for selfies or vlogging, and it isn't a touchscreen. But, for the price, the R100 is hard to beat for those wanting a casual yet capable camera. 
What to consider when shopping for the best mirrorless camera
Choosing the best mirrorless camera for you depends on your needs. Are you looking for a mirrorless camera for beginners or something more specialized? Buying something below or at your level may hinder your development as a photographer or videographer when you outgrow its features. However, buying a pricy pro body may clutter up your shooting experience with features you'll never even use. We'll take a look at some of the parameters that will help you make the best choice.
In-body image stabilization
Image stabilization, which is available in some cameras and lenses, goes by different acronyms and names across brands—VR (vibration reduction), OIS (optical image stabilization), and SteadyShot, to name a few. Image stabilization senses the movement of the camera while you're taking the picture and makes adjustments—either in the camera or in the lens or both—in order to counteract that shake and prevent blurry photos. It can also help smooth out video when shooting handheld. 
Many mirrorless cameras offer IBIS (in-body image stabilization). One of the great things about IBIS is that, by default, every lens you use is image stabilized, which is like an instant upgrade to your current non-IS lenses. As a bonus, IBIS and IS lenses can often work together to deliver even greater levels of stabilization.
Image stabilization is measured in steps or exposure stops. Put simply, each step or stop of IS decreases the shutter speed needed to maintain a blur-free image. Obviously, the more stops, the better when you're shopping for a mirrorless camera with IBIS. It's important to realize, however, that some of those numbers reflect a combination of in-body stabilization and lens stabilization to get the maximum effect.
Low-light performance
Photographers often encounter low-light situations where the choices are either to boost the ISO and risk image noise, miss the shot, or use a flash. The latter isn't always the best option, especially if you want to capture the scene's ambiance, or flash is prohibited. Keep in mind that most mirrorless cameras do not have built-in flash anyhow; rather, they have a hot shoe to attach an external flash.
Flash aside, there are three basic elements of low-light photography to consider. First, full-frame cameras are typically better at low-light photography since their larger sensor size gathers more light. You also need to consider how well the camera keeps image noise at bay while maintaining good detail and sharpness and whether the camera's autofocus can function well in low light. The latter is measured as minus "x" EV.
If you frequently shoot indoors—whether at parties or indoor sporting events—low light performance will be key to getting the shots you want. And even if you shoot outdoors, higher ISO settings can come in handy for capturing fast action like sports, which requires extremely short shutter speeds to freeze motion.
Video
While you can vlog or record video with pretty much any mirrorless camera, there are features that not only make vlogging easier but combine to deliver the best footage possible. Two key features in a mirrorless camera for video are an articulated LCD and a microphone jack. The former lets you flip the LCD out and away from the camera to view yourself as you're filming. At the same time, an external microphone can be mounted on the camera's hotshoe without blocking the LCD. In-body image stabilization is ideal since it steadies the shot regardless of what lens you use and can help steady video when handholding the camera.
In the end, vlogging doesn't always require 4K resolution, but it's always better to have the option if and when you need it.
FAQs
Q: Why are mirrorless cameras better than DSLRs?
There are a few ways in which mirrorless cameras outperform DSLRs. In general, mirrorless cameras and their lenses are generally smaller and lighter if only because they don't need a mirror inside to flip up and down. Mirrorless cameras have electronic viewfinders that show the same information and image as the LCD, so, conveniently, there's rarely a need to move your eye from the EVF to the LCD—including when reviewing images.

DSLRs also use dedicated autofocus sensors that exist outside of the imaging sensor. If the two sensors get out of alignment, the camera needs adjustment, or the photos will turn out blurry. Also, regarding autofocus, mirrorless cameras offer extremely accurate face and object tracking that DSLRs typically can't match.
Q: What's the best mirrorless camera?
The best mirrorless camera truly depends on an individual's needs and priorities. The Nikon Z8 is one of the most impressive and well-rounded mirrorless cameras available right now, thanks to the high-resolution sensor, impressive video specs, and excellent autofocus. But the Z8 is more camera than many need. From a budget perspective, you can't beat the Canon EOS R100, which offers some advanced features at a very affordable price.
Q: How do the different size sensors affect picture-taking on mirrorless cameras?
One of the main differences is how sensor size impacts a lens's angle of view. A full-frame sensor delivers the same angle of view as it would on a 35mm film camera. An APS-C sensor "crops" the image by 1.5x or 1.6x (Canon). Attaching a 100mm lens, for instance, will look more like a 150mm lens on an APS-C camera. Micro Four Thirds sensors double the effective focal length, so a 100mm lens delivers a 200mm equivalent focal length. That can be both a positive and negative depending on your needs. If you want longer reach, the smaller APS-C sensors can offer it. If you want wider lenses, it's easier to achieve on a full-frame body.
A final word on shopping for a mirrorless camera
Shopping for the best mirrorless camera is really a personal issue. It's important to think about what kind of images or videos you want to capture and then find the features that make it possible—whether it's low light, video for vlogging, or action shots. Don't be fooled into thinking you need the latest and greatest to make the best decision. There are plenty of solid options at various price points, including budget models.
Why trust us
PopPhoto has a long history of delivering the opinions of some of the sharpest and most prolific camera dorks the world has to offer. Since 1937, we've been reviewing cameras, providing wisdom from well-known photographers, and generally just nerding out about all that goes into making great pictures. Our current crop of writers and editors have decades of professional photography and camera writing experience among them. Collectively, we've probably shot with just about every camera and lens combo you can imagine—as well as some obscure stuff you may not even know about. Remember the Casio Tryx folding camera? PopPhoto does.
We also get that buying a camera is a big decision, which is why we're dedicated to helping folks choose the right one (or, in our case "ones") for their needs. Case in point: Handing over top dollar for an expensive rig may leave you unsatisfied if it doesn't fit your preferred shooting style. Sure, a $6,000 sports-oriented DSLR can capture landscapes, but do you really need to do it at 30 frames-per-second? No, you don't.