We may earn revenue from the products available on this page and participate in affiliate programs. Learn more ›
Updated Mar 20, 2022 9:51 AM
If you have been paying attention to the camera market over the last decade, you've noticed Mirrorless cameras overtaking DSLRs as the most dominant category in interchangeable-lens cameras. While Canon, Nikon, and Pentax still sell plenty of DSLRs, more than a half-dozen companies—including Canon, Fuji, Nikon, Olympus, Panasonic, Sigma, and Sony—are fully committed to their mirrorless systems.
Sensor size plays a key role when selecting a mirrorless camera. Like DSLR cameras, mirrorless models are available with full-frame (in which the sensor is the size of a picture taken on 35mm film) and APS-C sensors, which are roughly a third smaller. But there's a third option as well: Micro Four Third sensors, which are half the size of full-frame and show up in Olympus and some Panasonic cameras. Whether or how this affects your choice is up to you, of course. Sensor size may be outweighed by other parameters such as low light performance, in-body image stabilization, or whether a particular mirrorless camera is a good choice for vlogging.
You might be wondering why some of the high-end cameras like the Sony A1, Canon EOS R3, and the Nikon Z9 are missing from this list when they obviously belong here. It's mostly because you can't currently buy them with any reliability thanks to product shortages. Rest assured, those cameras will be here down the road because they're all wonderful, but they don't do you much good on a list like this if you can't actually get one. We're also in the midst of working on our Sony A7 IV review, which will also very likely land on this list very soon.
How we picked the best mirrorless cameras
We have been writing about and reviewing cameras for decades and have personally used most of the major cameras released in recent years. This list is a result of extensive hands-on testing, market research, user feedback, editorial reviews, and spec comparisons. While the mirrorless market has grown substantially in recent years, there are still only a handful of companies making the cameras that you really want to buy. We looked at the entire mirrorless camera landscape and chose the models that best fit the needs of different kinds of shooters. While we left off some of the truly high-end stuff that's out of stock everywhere, we focused on models that are available on the market and offer a solid mix of performance and price.
Features to consider when shopping for the best mirrorless camera
Choosing the best mirrorless camera for you depends on your needs. Are you looking for a mirrorless camera for beginners or something more specialized? Buying something below your level may hinder your growth as a photographer when you outgrow its features. However, buying a pricy pro body may clutter up your shooting experience with features you'll never even use. We'll take a look at some of the parameters that will help you make the best choice.
In-body image stabilization
Image stabilization, which is available in some cameras and lenses, goes by different acronyms and names—VR (vibration reduction), OIS (optical image stabilization), and SteadyShot, to name a few. Image stabilization senses the movement of the camera while you're taking the picture and makes adjustments—either in the camera or in the lens—in order to counteract that shake and prevent blurry photos.
Many mirrorless cameras offer IBIS (in-body image stabilization), a popular feature among photographers. One of the great things about IBIS is that, by default, every lens you use is image stabilized, which is like an instant upgrade to your current non-IS lenses. As a bonus, IBIS and IS lenses can often work together to deliver even greater levels of stabilization.
Image stabilization is measured in steps or exposure stops. Put simply, each step/stop of IS decreases the shutter speed needed to maintain a blur-free image. Obviously, the more steps/stops the better when you're shopping for a mirrorless camera with IBIS. It's important to realize, however, that some of those numbers reflect a combination of in-body stabilization and lens stabilization to get the maximum effect.
Low-light performance
Photographers often encounter low light situations where the choices are either boost the ISO and risk image noise, miss the shot or use a flash. The latter isn't always the best option especially if you want to capture the ambience of the scene and/or flash is prohibited. Keep in mind that most mirrorless cameras do not have built-in flash anyhow; rather, they have a hotshoe to attach an external flash.
Flash aside, there are three basic elements of low-light photography to consider. First, full-frame cameras are typically better at low light photography since their larger sensor size gathers more light. You also need to consider how well the camera keeps image noise at bay while maintaining good detail and sharpness and whether the camera's autofocus can function well in low light. The latter is measured as minus "x" EV.
If you frequently shoot indoors—whether at parties or indoor sporting events—low light performance will be key to getting the shots you want. And even if you shoot outdoors, higher ISO settings can come in handy for capturing fast action like sports, which requires extremely short shutter speeds to freeze motion.
Video
While you can vlog with pretty much any mirrorless camera, there are features that not only make vlogging easier but combine to deliver the best footage possible. Two key features in a mirrorless camera for video are an articulated LCD and a microphone jack. The former lets you flip the LCD out and away from the camera to view yourself as you're filming. At the same time, an external microphone can be mounted on the camera's hotshoe without blocking the LCD. In-body image stabilization is ideal since it steadies the shot regardless of what lens you use and can help steady video when handholding the camera.
In the end, vlogging doesn't always require 4K resolution but it's always better to have the option if and when you need it.
Best mirrorless cameras: Reviews & Recommendations
Best with in-body image stabilization (IBIS): Canon EOS R 5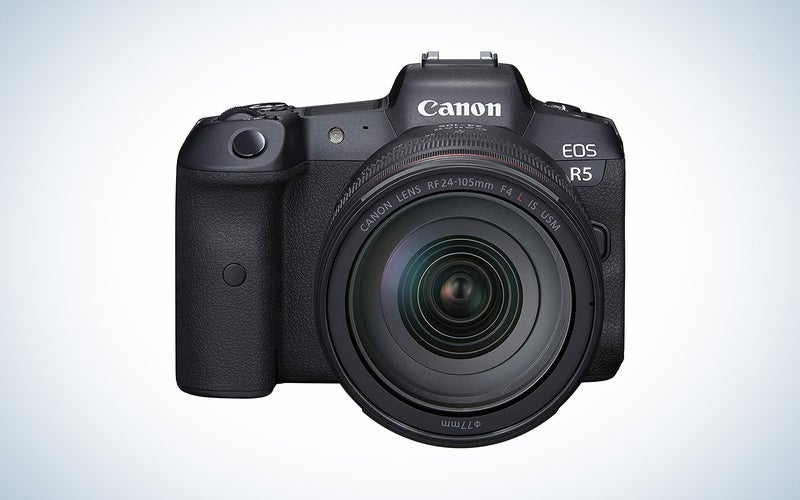 Why it made the cut: The in-body stabilization can work in concert with the a system inside the lens to keep things super-stable.
Specs:
Sensor size: Full-frame
Resolution: 45-megapixels
Lens mount: Canon RF
Dimensions: 5.43 x 3.84 x 3.46″
Weight: 1.62 pounds
Pros: 
Advanced, high-resolution sensor
Articulated screen
Up to 8 stops of stabilization with some lenses
Advanced video features
Cons:
Although it's a little pricey, the full-frame Canon EOS R5 delivers excellent stabilization—up to 8 stops in combination with some Canon IS lenses. Other impressive parameters include speedy (and accurate) autofocus and tracking thanks to its Dual Pixel CMOS AF II system. It's dust and water-resistant to withstand the rigors of outdoor photography and comes equipped with dual memory card slots, including a CFexpress. This is essentially the digital version of Canon's stalwart 5D DSLR line and it can handle just about anything a pro photographer could need it to do in a relatively compact body.
If you don't need the 45-megapixel resolution and super-high-res video chops found in the R5, the Canon EOS R6 offers many of the same in terms of focusing and stabilization with a more reasonable 20-megapixel resolution and matching SD card memory slots.
Best for low light photography: Nikon Z6 II
Why it made the cut: Nikon's mid-level full-frame mirrorless camera doesn't pack the sensor with pixels, which translates into less noise in low-light.
Specs:
Sensor size: Full-frame
Resolution: 24.5-megapixels
Lens mount: Nikon Z
Dimensions: 5.3 x 2.7 x 4 inches
Weight: 1.29 pounds
Pros: 
Superb image quality overall, but especially in low-light
Intuitive controls and menu systems
Compact
Exemplary metering system
Cons:
24-megapixels may feel a little low for some shooters
The well-rounded, full-frame Nikon Z6 II mirrorless camera is equipped with great still and video features. Its low light capabilities range from minimal image noise at high ISOs and, critically, excellent low light AF—down to -4.5EV, one-stop lower than its Z6 predecessor. That means it can focus in the moonlight—even when it's less than a full moon. As a bonus, the Nikon Z6 II is equipped with a special low light autofocus mode that takes its capabilities an additional two stops, providing a good balance between minimal levels of image noise and effective autofocus in very low light.
The Sony A7S is another solid option, especially if you shoot a lot of video or you don't need a ton of megapixels. The 12-megapixel resolution seems paltry to many still photographers, but that low resolution comes with extremely clean high-ISO images.
Best for vlogging: Sony A7C
Why it made the cut: Despite its compact size, this camera has everything an aspiring video shooter would want.
Specs:
Sensor size: Full-frame
Resolution: 24.2-megapixels
Lens mount: Sony E
Dimensions: 5 x 2 7/8 x 2 3/8″ 
Weight: 1.12 pounds
Pros: 
Compact form-factor fits in camera rigs
Flip-around screen makes for easy vlogging
Advanced autofocus tracking with nearly 700 AF points
4K and 1080p footage at high bitrates
Cons:
No viewfinder might be a downside for hybrid shooters
No 4K at 60 fps
Size and weight matter when you're holding a camera pointed at yourself all day long, and Sony's A7C is one of the most compact full-frame mirrorless cameras on the market. It has everything a vlogger needs, including 4K capture, a screen that flips forward so you can monitor your shot in real-time, and a microphone jack for accessories. The small, rectangular form factor makes it easy to attach gimbals and other filmmaking equipment that comes in handy when you're trying to maximize your production value and have viewers slamming those like and subscribe buttons on Youtube.
Why it made the cut: It's even smaller than the Sony and offers great opportunities for adapting old lenses.
Specs:
Sensor size: Micro Four Thirds
Resolution: 20-megapixels
Lens mount: Olympus
Dimensions: M43
Weight: 14.6 ounces
Pros: 
Absurd image stabilization with some lenses
Very compact
Rugged built quality
Easy to adapt vintage lenses
4K capture
Cons:
Small sensor adds crop factor to lenses
If you're looking for something better suited to a hybrid photography and blogging roll, the Olympus O-MD E-M5 III makes it easy to produce great blogs thanks to its fully-articulated LCD and external microphone jack. Shoot in 4K or UHD video with a steady hand thanks to its excellent built-in image stabilization. Unfortunately, there's no headphone jack but that's about the only compromise vloggers will have to make with this Four Thirds mirrorless camera.
Why it made the cut: It borrows features from higher-end models and offers them at a lower price.
Specs:
Sensor size: APS-C
Resolution: 26.1-megapixels
Lens mount: Fujifilm X
Dimensions: 1.8 x 13.5 x 3.3 inches
Weight: 13.5 ounces
Pros: 
Rugged, DSLR-style body
Advanced image processor for quick operation and better image quality
Excellent film simulation modes for those who don't want to edit
Solid overall featureset
Great layout for controls
Cons:
Not as good in low-light as full-frame competition
With enough features and speed to capture most types of situations, the Fuji X-T30 II is a good option for most photographers who want a compact and speedy mirrorless camera. Fast and accurate autofocus is complemented by excellent face detection to ensure your human subjects are always sharply focused. Add up to 8 frames per second continuous shooting (30fps in sports mode), 4K video and a series of unique film simulation to this compact, portable camera, and the Fuji X-T30 II is a camera you'll carry with you when you're out and about. The X-T30 I lacks image stabilization but if you have the extra dough, check out the higher-end X-T3 or X-T4 models.
Why it made the cut: Simplified controls and a small form-factor make this a great option for beginners.
Specs:
Sensor size: APS-C
Resolution: 24.1-megapixels
Lens mount: Canon M
Dimensions: 4.57 x 3.46 x 2.32″
Weight: 1 pound
Pros: 
Very compact
Affordable
M lenses are also affordable
Easily adapts to use other Canon lenses
Cons:
Limited built-in controls
When spending your hard-earned dollars, you're looking for good value and the Canon EOS M50 II delivers. Content creators will appreciate the Instagram-friendly vertical video and the free software that turns the Canon EOS M50 II into a webcam. A touchscreen vari-angle will appeal to vloggers and you'll find a good mix of still and video features, too, including 4K video capture.
FAQs
Q: Why mirrorless cameras better than DSLRs?
There are a few ways in which mirrorless cameras outperform DSLRs. In general, mirrorless cameras and their lenses are generally smaller and lighter if only because they don't need a mirror inside to flip up and down. Mirrorless cameras have electronic viewfinders that show the same information and image as the LCD so, conveniently, there's rarely a need to move your eye from the EVF to the LCD—including when reviewing images.

DSLRs also use dedicated autofocus sensors that exist outside of the imaging sensor. If the two sensors get out of alignment, the camera needs adjustment or the photos will turn out blurry. Also in terms of autofocus, mirrorless cameras offer extremely accurate face and object tracking that DSLRs typically can't match.
Q: What's the best mirrorless camera for 2022?
It's still early in the year but it seems that the Canon EOS R5 with its high resolution, 45 megapixel, full-frame sensor is in the lead for excellent still image quality. Even with those large files, the speedy Canon EOS R5 can capture up to 20 frames per second in continuous shooting mode. The Canon EOS R6, Nikon Z6 II, and Sony A7 IV are also great ways to get into the full-frame mirrorless camera market if you have some money to make the investment.
Q: How do the different size sensors affect picture-taking on mirrorless cameras?
One of the main differences is how sensor size impacts effective a lens's angle of view. A full-frame sensor delivers the same angle of view as it would on a 35mm film camera. An APS-C sensor "crops" the image by 1.5x or 1.6x (Canon). Attaching a 100mm lens, for instance, will look more like a 150mm lens. Micro Four Thirds sensors double the effective focal length so a 100mm lens delivers a 200mm equivalent focal length. That can be both a positive and negative depending on your needs. If you want longer reach, the smaller APS-C sensors can offer it. If you want wider lenses, it's easier to achieve on a full-frame body.
A final word on shopping for a mirrorless camera
Shopping for the best mirrorless camera is really a personal issue. It's important to think about what kind of images you want to capture and then find the features that make it possible—whether it's low light, video for vlogging, or action shots. Don't be fooled into thinking you need the latest and greatest to make the best decision. There are plenty of solid options in various price points, including budget models.