The Canon EOS R100 is the most affordable and compact EOS R camera yet
Both the new EOS R100 and RF28mm f/2.8 lens are tiny.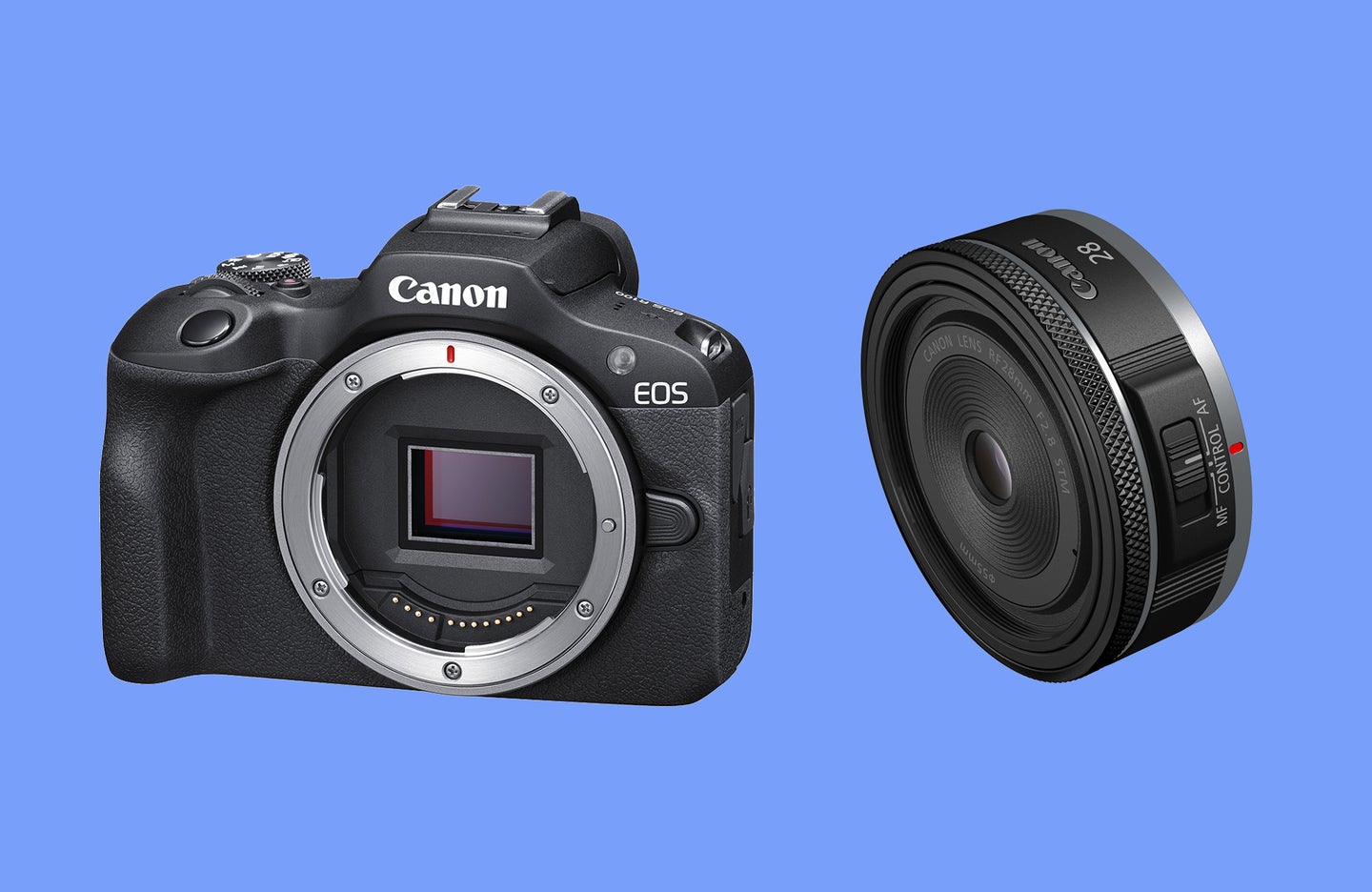 Canon sure has kept us on our toes lately with plenty of releases. And now, the imaging giant has announced two more new pieces of gear: a new mirrorless camera and wide-angle pancake lens. The EOS R100 is a tiny, beginner-friendly camera. Though it is capable of 4K 24p video, it bucks the vlogging camera trend. Instead, it offers a more well-rounded, beginner-friendly set of features, such as a true viewfinder, Eye Detect autofocus, and a 24.1-megapixel APS-C sensor. The RF28mm F2.8 STM lens is the second part of this release, and it keeps the tiny trend going. As a pancake lens, it barely sticks out from the camera, making it ideal for any situation that calls for a light and low-profile setup.
What is the EOS R100?
Canon's newest camera sits right at the entry point to the company's mirrorless lineup of cameras. While it isn't a direct replacement for the Canon EOS Rebel T7—a classic base-model DSLR that Canon says is sticking around—it serves a similar function as a true beginner camera. It's ideal for those who want to step up from their smartphone, either for quality reasons or to have the benefits of a dedicated camera. Canon built this camera for those who want the ability to take high-quality photos and videos of a wide variety of subjects, including family and friends, everyday life, and travel.
Canon EOS R100 details
Despite its beginner friendliness, the R100 gets some quality specs and features that should make it an impressive little device. Canon built the camera around a 24.2-megapixel APS-C CMOS sensor with a DIGIC 8 image processor. That allows for cropped 4K 24p video or full-width Full HD video at 60p. You can also take advantage of a built-in 4K time-lapse mode and vertical video that is social media-ready.
The EOS R100 is compatible with all RF and RF-S lenses. You can also use EF or EF-S lenses using an EF-EOS R adapter. Unfortunately, you will not be able to take advantage of the added control ring on the more expensive version of the adapter, as that control ring will not function on the R100.

Build & handling
One of the key things that make the R100 stand out is its compact size. At just 12.56 ounces and measuring only 4.58 x 3.37 x 2.71 inches, it is the smallest and lightest EOS R camera yet. It's smaller than the R50 and M50 Mark II, which were both already tiny cameras. The compact size will make this camera an excellent travel companion as well as an easier camera to have with you to document daily life.
The camera features an OLED electronic viewfinder with 2.36 million dots. It also uses a three-inch LCD on the back of the camera. It's important to note that the rear display does not offer touchscreen functionality and is fixed in place. You won't be able to tilt it around to assist with selfies or even adjust the angle when shooting with the camera held low. Both the fixed format and lack of a touchscreen seem like an odd choice by Canon, but it was likely a move to keep the cost of this camera as low as possible.
The R100 does provide a pop-up flash and a single SD card slot. There's also a USB-C, micro-HDMI, and a 3.5mm microphone port. And it offers both Bluetooth and Wi-Fi connectivity, allowing you to pair the camera to your phone in order to remotely control the camera or to transfer photos and videos. In fact, using the image.canon app, you can upload your files directly to Google Photos, Photoshop, Lightroom, or Frame.io. That means you can keep your files backed up just as you do on your smartphone or easily get them into an editing program if you want to make any adjustments.
Autofocus
The EOS R100 utilizes Dual Pixel AF with 3975 autofocus points across 143 autofocus zones across the entire image area. The system supports automatic subject detection and Eye Detection AF, though does not offer animal detection or subject tracking. It will be able to track bodies and faces, however. And Eye Detection works even when the subject is far away, such as when you want the full subject in the frame.
Photo & features
Canon specified that the EOS R100 should offer image quality on-par with the M50 Mark II. It provides a native ISO range of ISO 100-12800 and should offer plenty of dynamic range to assist in tricky lighting situations. For those who want the camera to handle things, it offers access to Canon's Scene Intelligent Auto, which can help in creating well-exposed images even in difficult light. And it's capable of up to 6.5 frames per second for documenting action.
As mentioned, the EOS R100 offers cropped 4K 24p video. There isn't in-body stabilization, but it does provide Movie Digital IS to help smooth out your videos somewhat. And IS coordinated control allows you to take advantage of lenses that offer built-in stabilization.

Who should buy the EOS R100?
The EOS R100 is very much a beginner camera geared towards those who are just setting up from a smartphone or moving over from a camera like the Rebel T7. While it offers well-rounded specs and features, it is not a camera for everyone.
The lack of a touchscreen or tilting LCD will likely be a deal breaker for some, especially those who record selfie videos and need to be able to see what they are recording. For those individuals, the R50 is likely the better choice. Likewise, the 6.5fps is plenty for many, but if you are someone who wants to capture lots of fast action, the R50 or R7 with their 15fps would be the way to go.
But, if you are looking for a simple, basic camera that can still produce quality images and videos without breaking the bank, the R100 will likely hit a sweet spot. It should make for a relatively smooth transition from a smartphone while offering enough controls for those who want some room to grow.
Canon RF28mm F2.8 STM details
The newest RF lens is a pancake style, meaning it is incredibly slim and lightweight. In fact, it only sticks out an inch from your camera, making it barely noticeable. And it weighs a measly 4.2 ounces. Though the lens is designed for full-frame cameras, it will work on APS-C cameras such as the R100, offering 45mm coverage.
This wide-angle lens offers a minimum focusing distance of 9.1 inches and a maximum magnification ratio of 0.17x. There is a configurable control ring that you can use to control a range of exposure settings, such as aperture, ISO, and exposure compensation. It uses an STM stepping motor for quiet, accurate, and smooth autofocus that will even work well for video applications. And the seven-blade circular aperture helps produce attractive bokeh.
Pricing & availability
The new Canon EOS R100 is available for pre-order now in three configurations. The body only is $479.99, or you can get a camera and lens kit with the RF-S 18-45mm f/4.5-6.3 IS STM lens for $599.00, or get a two lens kit (the RF-S 18-45mm f/4.5-6.3 & RF-S 55-210mm f/5-7.1) with the camera for $829.00. They will begin shipping in July.
The RF28mm F2.8 STM lens is also available for pre-order for $299.99 and will begin shipping in July.