| | | | | | |
| --- | --- | --- | --- | --- | --- |
| Best full-frame | | Canon RP | | SEE IT | The full-frame sensor inside is bigger than the rest on the list. That's good news if you have a lot of old Canon lenses. |
| All around champ | | Fujifilm X-T200 | | SEE IT | This compact body borrows some high-end features from cameras above it in the lineup. |
| Shake buster | | Olympus OM-D E-M10 Mark IV | | SEE IT | The built-in 5-axis image stabilization system is very handy for avoiding shaky shots. |
We may earn revenue from the products available on this page and participate in affiliate programs. Learn more ›
Updated Apr 22, 2023 7:54 AM
Choosing a good camera for beginners is more complicated than simply selecting the latest and greatest model in the line. Entry-level cameras typically offer beginner-specific features that help new shooters learn the nuances of advanced photography. The best mirrorless camera for beginners, however, also leaves room to grow as your skills evolve. 
Rather than sending you out into the complicated mirrorless digital camera world alone, we've put together this simple guide to help you choose your tool. The secret to success: Identify the most important features that you'll need and emphasize them. You don't want to end up paying a lot of extra cash for features you'll rarely use. That could be lens money.
The best mirrorless cameras for beginners: Reviews & Recommendations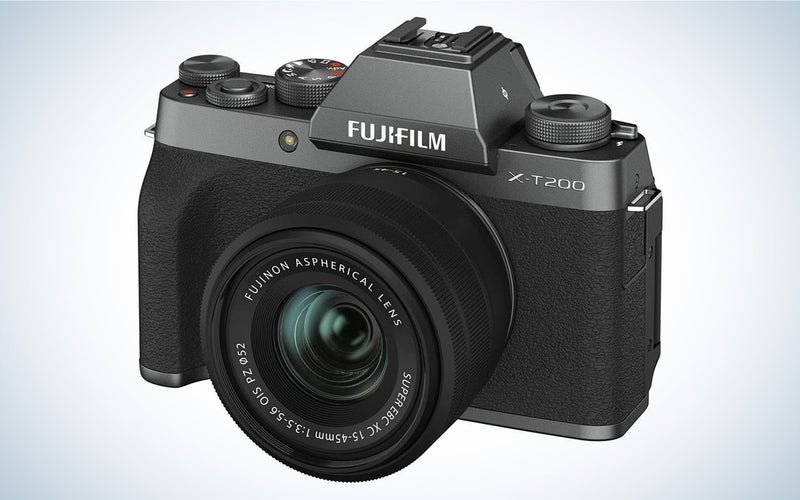 Our expert's pick for the best mirrorless camera for beginners overall is the Fujifilm X-T200. This DSLR camera embodies a classic SLR shape with an eye-level finder and a grip on the right-hand side. Inside, you'll find Fujifilm's renowned 24-megapixel APS-C sensor, which handles color differently than other digital sensors. That makes it uniquely capable of capturing pleasant-looking images with no editing required. It even emulates famous Fujifilm film stocks. The 3.5-inch vari-angle screen punches above its weight at this price and the camera gives you tactile controls with knobs and buttons that make for super-quick navigation once you get the hang of it. 
Best full-frame: Canon RP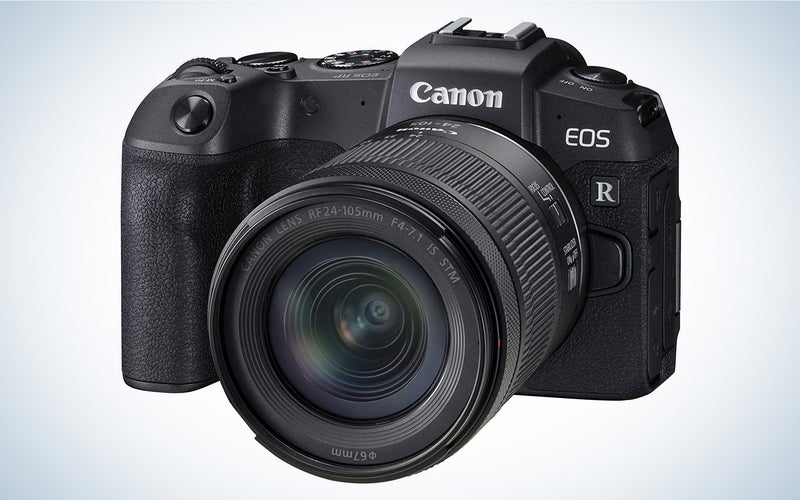 This affordable Canon mirrorless full-frame camera for beginners offers a very nice 26.2-megapixel resolution for just under $1,000 retail. It shoots 2160p video and employs Canon's facial tracking focusing system. The body looks and feels a lot like a DSLR so it will be an easy transition if you're making the switch. It will also work excellently with Canon's huge back catalog of EF lenses if you get the simple adapter to go with it.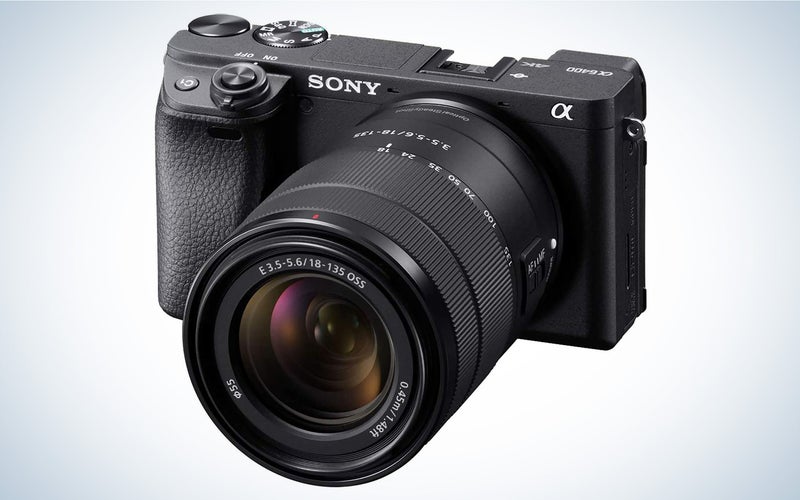 This isn't the most recent addition to the Sony A6X00 line, but you can find it for a solid deal including a lens and it will give you lots of room to grow into it. The sensor employs Sony's 4D focusing system, which is meticulous when it comes to keeping faces in focus, even when you're moving around. The screen flips up to face you so it doesn't stick awkwardly out to the side of the camera. Plus, it shoots beautiful 4K footage of your lovely mug.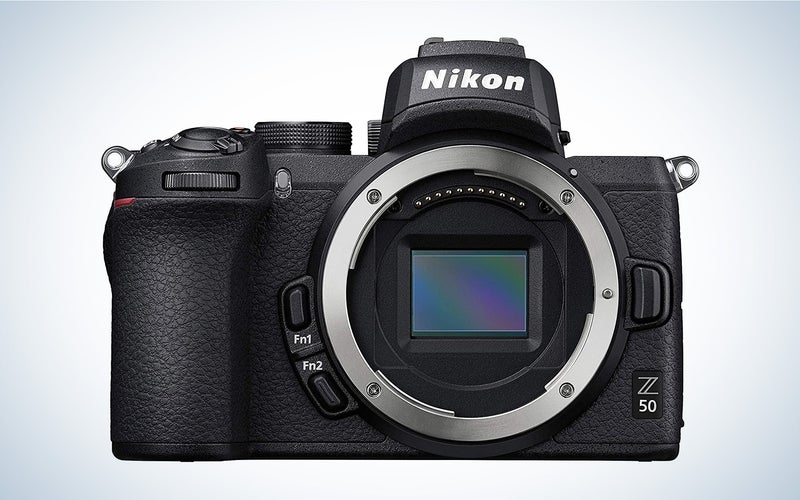 This isn't the smallest mirrorless camera on the market, but the Nikon Z50 is smart about the space it uses. The whole thing weighs less than 14 ounces, which is a pittance compared to some DSLRs. Despite its small size, it still offers a selection of tactile controls and a chunky handgrip to go with its 20.9-megapixel sensor and advanced AF system.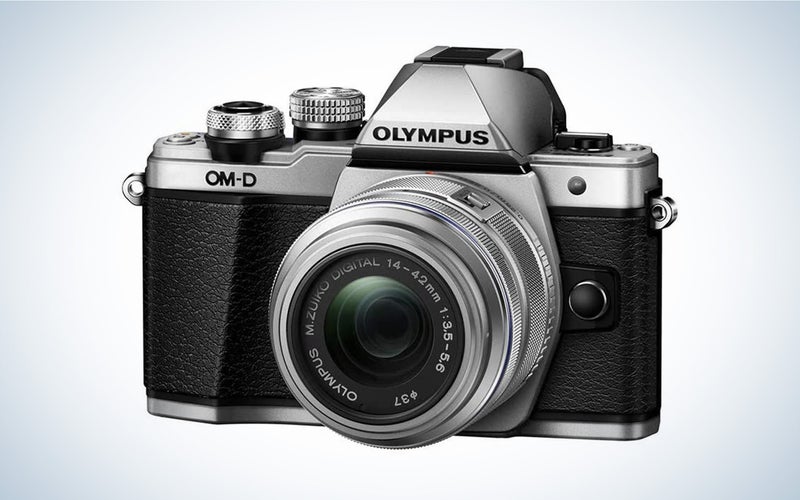 The Olympus OM-D E-M10 Mark IV is a tiny little camera with some impressive specs. Its Micro Four Thirds sensor moves in five different directions to try and counteract the movement of your hands as you press the shutter—it's the best mirrorless camera for beginners looking for image stabilization. It promises up to 4.5 stops of shake correction, which is up there with the best of them. Despite its small size, you also get a solid collection of tactile controls including a mode dial and control knobs.
Choosing the best mirrorless cameras for beginners
It can be hard to understand exactly what the phrase "mirrorless camera" means, so we'll run through the basics here quickly. If you're already schooled on the nuances of the DSLR vs. mirrorless camera debate, you can probably skip straight down to the recommendations. 
For the uninitiated, mirrorless cameras get their identity from something they lack: a mirror. DSLRs (and their film-based SLR predecessors) rely on mirrors inside the camera body to reflect light coming in through the lens up to the focusing sensor and through the optical viewfinder. DSLRs dominated the advanced digital camera market for years before advanced CMOS image sensor tech changed the game. 
Mirrorless cameras simply funnel light through the lens directly onto the imaging sensor. That sensor pumps out a live feed of what it sees through to an electronic viewfinder or the screen on the back of the camera. Attached lens cameras worked like this for years before interchangeable-lens mirrorless cameras came along. 
Why are mirrorless cameras desirable?
Without the mirror inside the body, mirrorless cameras can keep the lens much closer to the sensor, which typically reduces the overall size of the camera itself. 
Because mirrorless cameras rely on their main imaging sensor for focusing, they're also less likely to need adjustments than DSLRs. That sensor-based focusing also allows the camera to perform more advanced focusing features like precise image tracking and facial recognition. 
Some beginners also prefer mirrorless cameras because the image they see in the viewfinder looks very close to what the final result will be. With a DSLR, you see a simple reflection, but the camera settings may leave you with a shot that's blown out or too dark. Mirrorless cameras reduce that chance. In fact, they will allow you to see, in real-time, how changing your settings will affect your overall picture. That's great for learning purposes.
What's not so good about mirrorless cameras?
DSLR's advantages over mirrorless cameras have waned over the years. Some shooters still prefer the zero-lag experience of looking through an optical viewfinder. 
DSLRs also typically natively accept older lenses. So, if you're upgrading from a Canon EF or Nikon N system, your lenses will probably still work with a new DSLR. You'll have to use an adapter if you want to put them onto a mirrorless camera
Don't give up on features you'll want later
It's easy to get lost in camera spec sheets when you're out there shopping. The best mirrorless camera for beginners, however, isn't always the most advanced model on the block. Ideally, you'll choose something that's easy to navigate and won't drown you in buttons, dials, and endless menu screens. Some advanced Canon cameras, for instance, have more than five menu screens dedicated just to changing focus settings. That's great for a working pro who knows just what they want. But, for a beginner, it can get overwhelming quickly.
As you hone into your personal style, you'll likely figure out exactly what camera you want when you upgrade. To get started, though, you want something with a well-rounded feature set that you can grow into without getting discouraged. 
If you aspire to professional work, it also can't hurt to get something capable so you can use it as a backup body even after you've upgraded. Buying into a system can get really expensive so you'll want to choose wisely at the start. 
Moving up to a full-frame mirrorless camera
When photographers talk about "full-frame" cameras, they're typically referring to those that have a sensor the size of a single image shot on 35mm film. With a sensor that size, your lenses work exactly as you'd expect them to. When you use a smaller sensor, however, the smaller chip can only capture part of the image circle so your final image looks cropped. It can make it difficult to get truly wide-angle views or achieve the same kind of buttery blurry backgrounds when shooting on fast lenses. 
Many pros rely on full-frame mirrorless cameras but don't let anyone tell you that they're absolutely necessary. There are some truly wonderful and capable APS-C options out there (some of which are on this list). The best mirrorless camera for beginners depends more on features than pure imaging power.
For aspiring vloggers
If you're shooting video on your own, there are a few things you should consider. First and foremost, you want something light and compact. If you're going to be holding a camera at arm's length with the full weight of a Gorillapod weighing you down, you don't need a bulky camera adding to the load. 
You'll also want to make sure that you have a solid screen. Look for a screen that flips forward, but maintains a sturdy connection to the body without sticking out too far. Moving screens are good. Screens that stick out and get cracked off in a subway door are not. Trust me. 
You'll also, of course, want to make sure that the camera captures top-quality video. People these days don't smash those link and subscribe buttons for blurry, grainy footage.
Looking for the best mirrorless camera for beginners with smaller hands?
DSLRs have big mirror boxes inside of their bodies taking a lot of space. Mirrorless cameras don't need all of that. As a result, the bodies can be smaller. That's not always the case. Large sensors, wide lens mounts, and lots of electronics can clutter up some mirrorless cameras until they bloat to the size of their DSLR pals.
You want to go small with your camera, but make sure it still includes the features you want and feels comfortable in your hand. If a camera is too small, your hand can actually cramp trying to hold onto it (trust me on this one, too). As you move up to higher-quality lenses, they also tend to increase in size and include more heavy glass. In that case, you want something sturdy to counterbalance the weight of the lens. It's literally all about balance.
Keep it steady with image stabilization
You can't change the laws of physics. And those laws say that too much camera shake will result in blurry images. Luckily, modern cameras have advanced tech inside that can prevent those ruined pictures. Some cameras rely on lenses with built-in vibration reduction. They work well, but those lenses typically demand higher prices than non-stabilized glass. 
Some cameras, however, offer internal image stabilization systems that actually require the sensor to move around inside the body. You'll often hear these systems rated by a number of stops. Those measurements have a specific meaning, but they're also meant to represent absolute best-case scenarios that don't translate into the real world. Just know that a larger number is typically better there.
FAQs
Q: Do professional photographers use mirrorless cameras?
This is an easy one: Yes! Mirrorless cameras have usurped DSLRs in pretty much every arena at this point. With advanced autofocus tracking, awesome image quality, and ever-growing lens options, the arguments against mirrorless are few and far between. Even pro sports photographers have started switching to mirrorless, which is a huge deal.
Q: What are the advantages and disadvantages of a mirrorless camera
If you like an optical viewfinder with zero lag, there's still nothing quite like a DSLR. You'll also find that you get much better battery life out of a DSLR since it's not using quite so many screens. 

When it comes to advantages, though, there are plenty. The autofocus tracking is far beyond what you'll find in a DSLR and the real-time image previews in the viewfinder can be a great learning tool.

Q: Is Nikon or Canon better?
This question is decades old and it's not very relevant anymore. If you're jumping into mirrorless and you already have some Nikon or Canon lenses in your collection, just stick to your brand. But, you also shouldn't limit yourself to those brands. Fujifilm and Sony have been killing the mirrorless game for years now and it would be criminal to ignore them.
A last word about the best mirrorless cameras for beginners 
Don't be afraid to take the leap into mirrorless cameras. Now is the time to do it. The market is saturated with the best mirrorless camera for beginners that will help you learn and then let you shine when your skills are honed. Even if you can't afford something new, there are some great older options out there on the secondary market. The Sony A7 II? Still awesome. Whatever you get, be sure to get out there and shoot until you're sick of it. You probably won't get sick of it, though.