| | | | | | |
| --- | --- | --- | --- | --- | --- |
| Best overall | | Fujifilm X-T4 | | SEE IT | Tactile controls and excellent performance make this an all-around winner. |
| Best compact | | Fujifilm X100V | | SEE IT | Lots of advanced features and a great lens make a perfect everyday shooter. |
| Best Instax | | Fujifilm Instax Square SQ1 | | SEE IT | The classic square format gives a retro feel with modern tech. |
Updated Jan 18, 2023 12:50 PM
Fujifilm is a well-known photography brand, the creator of iconic color negative and color slide films, underwater film cameras, and 35mm film point and shoots. They still make film and offer an excellent line of instant cameras through the Instax line, but in recent years they've been releasing exceptional mirrorless digital cameras as well. Fujifilm offers a number of mirrorless digital cameras created with both the professional and the amateur photographer in mind. Fujifilm's cameras are typically lighter than DSLRs, feature settings that emulate old film stocks, and have design elements that are reminiscent of old film cameras. 
Fujifilm offers two major lines of digital mirrorless cameras: the X series and the GFX line. The X series cameras are typically built around an APS-C sensor, while the GFX line is built around a large 43.8 by 32.9mm CMOS sensor, for delivering extremely high-resolution images. These interchangeable lens cameras use a G mount lens instead of the X mount and are aimed at a more professional market. Here's how to determine the best Fujifilm cameras for your needs.
Features to consider when picking a Fujifilm camera
Fujiflm currently offers over 20 digital cameras between its X series mirrorless cameras, GFX medium format cameras, and Finepix line, and even more when you include all of the Instax cameras. Don't let the sheer amount of cameras overwhelm you—with a little bit of research you should have no trouble finding the best Fujifilm cameras for you. 
The highest-end Fujifilm cameras are found in the GFX line and include the GFX100, GFX50S, and the GFX50R. The GFX50S and GFX50R are medium format mirrorless cameras that are built around a large CMOS sensor and deliver extremely high-resolution images. The GFX50R is a rangefinder-style camera, while the GFX50S has an SLR focusing system. The GFX100 is a large format mirrorless digital camera that can shoot 102MP images. The cameras in the GFX are designed with a professional shooter in mind and the price points reflect that. 
Within Fujifilm's X series line, you will find the greatest diversity in price points and camera functionality. The Fujifilm X series line features cameras with interchangeable lenses for professionals and amateurs and fixed lens premium compact cameras. 
On the Instax side of things, you will find cameras and printers with much lower price points that print Instax instant film in credit-card-sized formats and larger square formats. The Instax cameras are simple to use, extremely fun, and leave you with a tangible picture for sharing.
Related: Best Portrait Lens: Fujifilm Lenses For Portrait Photography
Things to consider when shopping for a Fujifilm camera
Body style
Fujifilm only makes mirrorless cameras, but they come in two distinct body styles: SLR-style and rangefinders. SLR-like designs like the X-T4 should feel familiar to shooters coming from Canon or Nikon systems. The viewfinder sits where you'd expect to find it on a camera with a mirror in it. The rangefinder-style cameras like the X100V and the X-Pro3 use a more rectangular design that some shooters find more aesthetically appealing. Which one you prefer depends on your habtis.
Pick a system
Fujifilm offers several systems to choose from depending on your needs. The X series features both fixed and interchangeable lenses. Fixed-lens cameras are often more compact, which makes them a great choice for travel, street photography, and capturing life's everyday moments. The X series cameras with interchangeable lenses remain compact while giving you a lot more versatility when shooting, but also tend to get more expensive as you build out your lens collection. The GFX line offers interchangeable lenses with larger sensors. They typically offer superior image quality, but they offer fewer lens choices, cost more, and come with more bulk.
Future-proofing
One of the best things about the Fujifilm camera system is that the company continues to support older cameras through regular firmware updates. Everytime Fujifilm releases something new to its camera line, they are quick to add software that brings some of that new functionality to earlier releases. This makes Fujifilm an excellent long term investment camera. Read on for some of the best Fujiflm cameras currently available.
The X-T4 is designed around a 26.1 megapixel back-side illuminated CMOS sensor and has a larger battery capacity than its predecessors in the line. It has a mechanical shutter that shoots 15fps, making it the fastest in the X series line. The 1.62 million pixel vari-angle touchscreen LCD allows you to shoot from a variety of positions and change things like focus with a simple touch. It's easier to switch between video and photo modes on the X-T4 and the camera is capable of recording 4K/60p and Full HD/240p slow motion video. This is one of the most versatile cameras from Fujifilm and is great for all kinds of shooters while remaining incredibly compact. This one comes bundled with a 16-80mm lens to get you started shooting. 
Best fixed lens Fujifilm camera: Fujifilm X100V
The Fujifilm X100V has a fixed 23mm F/2 lens and is built around a 26.1 megapixel CMOS 4 sensor with a quad-core CPU, while only weighing 1.05lbs. It has excellent autofocus down to lighting conditions of -5EV, and has a hybrid viewfinder that allows shooters to easily swap between 0.52x magnification OVF and its 3.69M-dot OLED EVF. The camera isn't much bigger than a smartphone, making it easy to take with you wherever you are headed and is a discrete tool for street photography. An optional lens adapter adds weather-sealing protection to the camera too.
Best medium format Fujifilm mirrorless cameras: Fujifilm GFX 50S II
Fujifilm's GFX line features cameras that are designed with the professional shooter in mind and the price point reflects that. The Fujifilm GFX 50S II is built around a 51.4 megapixel CMOS sensor—approximately 1.7 times larger than a standard full-frame sensor—and because of that can produce extremely high-resolution images. The camera has 14-stops of dynamic range, a minimum ISO sensitivity of 100, in-camera RAW conversion to an 8-bit TIFF format, and a number of beautiful Fujifilm film simulation modes. It features a detachable 3.69M-dot EL electronic viewfinder and a 2.36M-dot three-directional tilting touchscreen LCD.
Photography is meant to be joyful and Fujfilm's Instax Square SQ1 is designed with that in mind. The Instax Square SQ1 shoots square format Instax film, is easy to use, and has a stylish design that comes in a variety of colors. Because it's made of plastic, it's cheaper than the mirrorless cameras on this list, making it a great gift for the photographer in your life. It features a retractable 65.75mm lens, fully-automatic exposure control, a selfie-mirror on the front of the lens, and a special selfie mode. It's powered by two CR2 lithium batteries and shoots on Instax Square Format film, which comes 10 frames per pack.
Best budget mirrorless Fujifilm camera: Fujifilm X-T200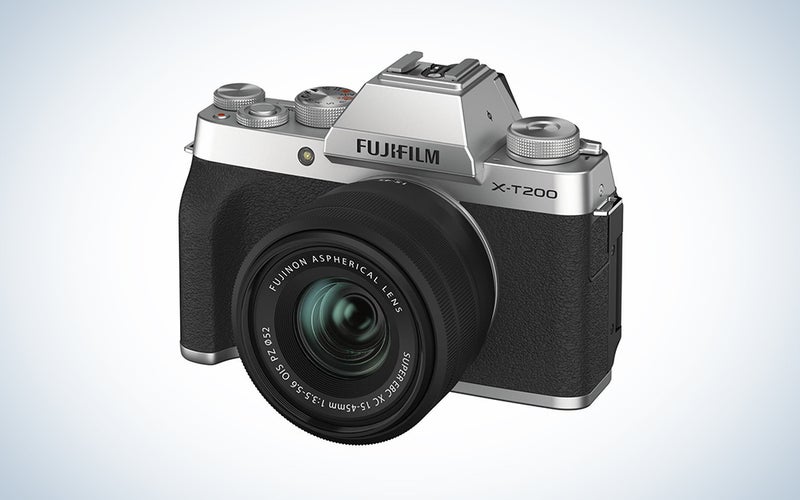 If you're just moving up into your first mirrorless camera from a smartphone, you'll appreciate the X-T200's bright, responsive 3.5-inch touchscreen. It allows shooters to quickly and easily access menus, settings, and shooting modes. But, it's not totally reliant on its screen. The 2.36-million dot electronic viewfinder lets you shoot with the camera to your eye like a typical DSLR. It has a 24.2-megapixel sensor inside with Fujifilm's excellent color science, which churns out very solid JPEG that you can often post without extra editing. It matches the Fujifilm X-series retro-inspired design, so there are plenty of tactile controls. And, since it's compatible with the entire lineup of X-series lenses, its capabilities can grow with your skills.
Related: Best Instant Cameras: Polaroids, Instax, and more
FAQs
Q
: Whi
ch Fujfilm camera is the best?
Selecting the best Fujifilm camera is all about figuring out what you will be shooting and what your budget looks like. The Fujifilm XT-4 is one of the most versatile cameras in the X series line with its image stabilization and interchangeable lens capabilities, while the Fujifilm X100V is a premium compact with a fixed lens that's great for capturing life's everyday moments. If you are just starting out with photography and don't have a ton of cash to spend consider the X-T200, which is an entry-level APS-C camera that shoots 4K video. Since it takes X series lenses, this one is a great way to slowly grow your collection of glass before upgrading to a more advanced Fujifilm X series camera.
Q: Which camera is better, Fujifilm or Sony?
Deciding what camera system between Fujifilm and Sony is "best" really comes to a matter of personal preference and what you are looking for in a camera. We live in an era where the majority of camera manufacturers are creating quality products that perform equally well under similar circumstances. Fujifilm and Sony both make excellent mirrorless cameras. The majority of Fujifilm cameras feature an APS-C sized sensor, which is smaller than what you will find in Sony's mirrorless cameras. Many photographers agree that Fujifilm cameras feature more straightforward menu systems and a tactile feel that makes them more fun to shoot with. 
Q: Is Fujifilm X-A5 worth it?
The Fujifilm X-A5 is one of Fujifilm's least expensive mirrorless cameras, but it's an older model that can sometimes be difficult to find online. It's a great entry-level APS-C camera, but for just a little bit more money we recommend investing in an X-T200, which has additional autofocus points, an advanced sensor, a fully-articulating LCD touchscreen, and can shoot 4K video.
How we picked the best Fujifilm cameras
The PopPhoto staff has decades of photographic experience across just about every genre. We've tested, or at least used, just about every major camera released in since the film days. These selections are based on a mixture of hands-on experience and research, which includes user reviews, professional adoption, and editorial evaluations.
For these picks, we focused on choosing models that fit specific use cases. Fujifilm offers a litany of cameras, but we chose those that would address people's needs according to their specific budgets. We also aim to find cameras that won't be obsolete in the near future without writing off models that might be a generation or two old, but still have lots of life left in them.
Last thoughts about selecting the best Fujifilm cameras for you
Fujifilm has a variety of excellent mirrorless cameras in its lineup, so selecting the best Fujifilm cameras depends a lot on your personal preferences as a photographer. Fujifilm cameras are designed in a way that makes them feel more like a traditional film camera, which many photographers think makes them a lot more enjoyable to take pictures with. They have an easy-to-navigate menu system, a number of beautiful in-camera film simulations that will likely cut down on your post-processing time, and they continue to offer regular firmware updates to older cameras in the line. That way, you can recapture the joy of photography with a Fujifilm mirrorless camera and feel confident your investment will be relevant for years to come.