| | | | | | |
| --- | --- | --- | --- | --- | --- |
| Best overall | | Fujifilm X-T5 | | SEE IT | Tactile controls and excellent performance make this an all-around winner. |
| Best compact | | Fujifilm X100V | | SEE IT | Lots of advanced features and a great lens make a perfect everyday shooter. |
| Best Instax | | Fujifilm Instax Square SQ1 | | SEE IT | The classic square format gives a retro feel with modern tech. |
Updated Jun 6, 2023 12:04 PM
Fujifilm cameras run the gamut from pro-grade mirrorless cameras, to enthusiast models with advanced features, and the super-fun Instax instant film cameras. Fujifilm's cameras are typically lighter than DSLRs, feature settings that emulate old film stocks, and have design elements that are reminiscent of old film cameras. The company offers two major lines of digital mirrorless cameras: the X series and the GFX line. The X series cameras are typically built around an APS-C sensor, while the GFX line is built around a large 43.8 by 32.9mm CMOS sensor, for delivering extremely high-resolution images. These interchangeable lens cameras use a G mount lens instead of the X mount and are aimed at a more professional market. Here's how to determine the best Fujifilm cameras for your needs.
How we picked the best Fujifilm cameras
The PopPhoto staff has decades of photographic experience across just about every genre. We've tested, or at least used, just about every major camera released since the film days. These selections are based on a mixture of hands-on experience and research, which includes user reviews, professional adoption, and editorial evaluations.
For these picks, we focused on choosing models that fit specific use cases. Fujifilm offers a litany of cameras, but we chose those that would address people's needs according to their specific budgets. We also aim to find cameras that won't be obsolete in the near future without writing off models that might be a generation or two old but still have lots of life left in them.
Related: Best Portrait Lens: Fujifilm Lenses For Portrait Photography
The best Fujifilm cameras: Reviews & recommendations
While we make several specific recommendations here, we suggest you check out all the models, as there's lots of overlap between the cameras. Also, if you click on something and find it out of stock at the moment, don't be shocked. Fujifilm cameras are in high demand right now, and they can go out of stock quickly, so don't hesitate if you're going to make a purchase.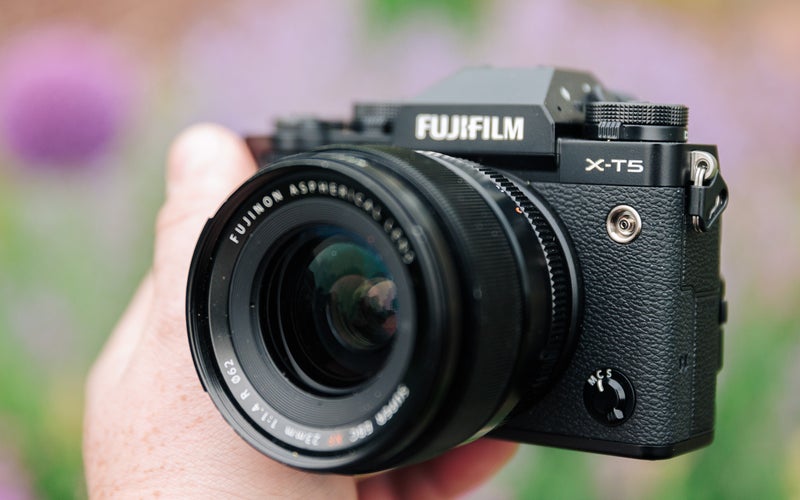 Specs
Megapixels: 40.2
Card slots: 2 SDXC
Lens mount: Fujifilm X
Screen size: 3-inch
In-body image stabilization: Yes
Pros
High-resolution sensor captures tons of detail
Excellent dynamic range
Fantastic feel and tactile controls
Expanded film simulation modes
Up to 15 fps with mechanical shutter or 20 fps with electronic shutter
6.2K maximum video resolution
Solid AF performance
Cons
Viewfinder can feel small compared to full-frame models
The Fujifilm X-T5 is one of the most enjoyable cameras I have ever used, full-stop. It builds on the already-excellent X-T4 by adding a 40.2-megapixel sensor on par with the chip found in the upmarket X-H2. That extra resolution makes a big difference when it comes to pulling as much detail as possible out of a scene. All the tactile controls have stuck around, including an ISO dial and exposure compensation dial, both of which get used frequently. A physical switch lets you switch between shutter drive modes, which saves time compared to digging into a menu.
The body employs the familiar small SLR design, which has worked excellently for Fujifilm. The lenses have aperture rings, and there's a physical dial for shutter speed, which makes shooting manual feel like an analog process. It's also extremely quick and intuitive once you get the hang of it.
While this camera clearly prioritizes still images, it's no slouch when it comes to video. The X-T5 shoots up to 6.2K video at 30 fps, or it can oversample 4K. It also offers a heap of advanced video capture formats, including F-LOG2 and Apple ProRes Raw.
The viewfinder can feel a bit small if you're coming from a full-frame model, but it's easy to get used to. The 3-inch touchscreen display also helps if you want to shoot with your eye away from the finder. Plus, the robust weather sealing makes it comfortable out in the elements.
For the $1,699 retail price, the X-T5 is an extremely powerful photographic and video machine that's absolutely capable of pro-grade work without all the bulk that comes from full-frame bodies and lenses.
Specs
Megapixels: 26.1
Card slots: 2 SDXC
Lens mount: Fujifilm X
Screen size: 3-inch
In-body image stabilization: Yes
Pros
Excellent overall image quality
Film emulation modes
Great design and handling
Compact and light
Lots of tactile controls
Up to 4K video
Cons
Missing the extra resolution from the X-H2 or X-T5
The X-T4 is designed around a 26.1-megapixel back-side illuminated CMOS sensor and has a larger battery capacity than its predecessors in the line. It has a mechanical shutter that shoots 15fps, making it the fastest in the X series line. The 1.62 million pixel vari-angle touchscreen LCD allows you to shoot from a variety of positions and change things like focus with a simple touch. It's easier to switch between video and photo modes on the X-T4 and the camera is capable of recording 4K/60p and Full HD/240p slow motion video. This is one of the most versatile cameras from Fujifilm and is great for all kinds of shooters while remaining incredibly compact. This one comes bundled with a 16-80mm lens to get you started shooting.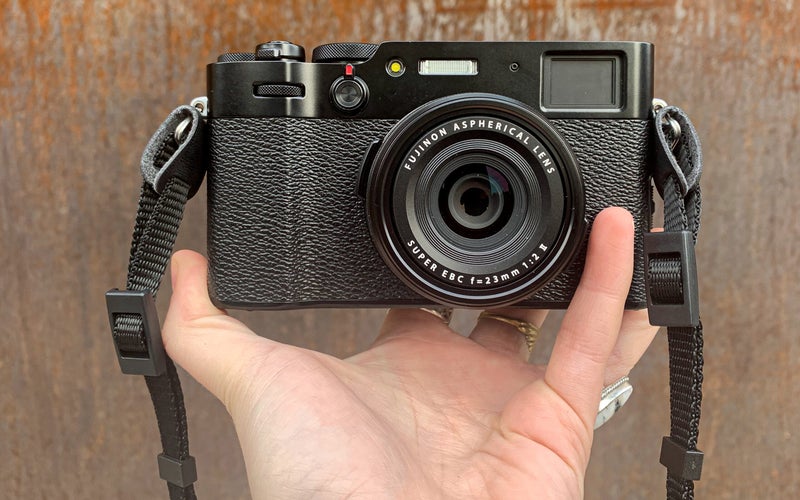 Specs
Megapixels: 26.1
Card slots: 1 SDXC
Lens mount: Fixed
Screen size: 3-inch
In-body image stabilization: Yes
Pros
Super-sharp fixed prime lens
Clever hybrid viewfinder
Tactile controls
Much-improved autofocus
Full-sized APS-C sensor like you'd find in interchangeable-lens cameras
Quiet and subtle for street photography
Cons
Nearly impossible to find without a huge markup due to shortages
The Fujifilm X100V has a fixed 23mm F/2 lens and is built around a 26.1 megapixel CMOS 4 sensor with a quad-core CPU, while only weighing 1.05 pounds. It has excellent autofocus down to lighting conditions of -5EV, and has a hybrid viewfinder that allows shooters to easily swap between 0.52x magnification OVF and its 3.69M-dot OLED EVF. The camera isn't much bigger than a smartphone, making it easy to take with you wherever you are headed and is a discrete tool for street photography. An optional lens adapter adds weather-sealing protection to the camera too.
Specs
Megapixels: 50
Card slots: 2 UHS-II SD
Lens mount: Fujifilm G
Screen size: 3.2-inch
In-body image stabilization: Yes
Pros
Sensor is larger than a full-frame for capturing more detail and depth of field effects
Great for adapting high-end old lenses
In-body stabilization offsets the size
Fantastic color and dynamic range
Intuitive controls
G-mount lenses are superb (if pricey)
Cons
Much bulkier than X-series camera
Pricy
Fujifilm's GFX line features cameras that are designed with the professional shooter in mind and the price point reflects that. The Fujifilm GFX 50S II is built around a 51.4 megapixel CMOS sensor—approximately 1.7 times larger than a standard full-frame sensor—and because of that can produce extremely high-resolution images. The camera has 14-stops of dynamic range, a minimum ISO sensitivity of 100, in-camera RAW conversion to an 8-bit TIFF format, and a number of beautiful Fujifilm film simulation modes. It features a detachable 3.69M-dot EL electronic viewfinder and a 2.36M-dot three-directional tilting touchscreen LCD.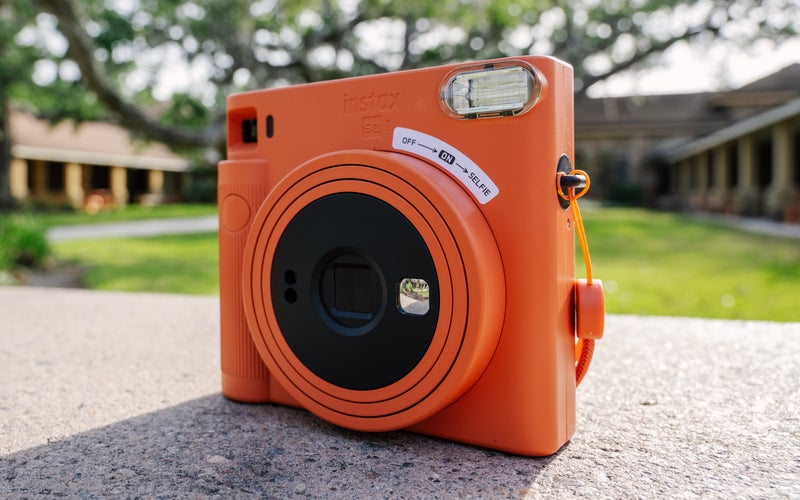 Specs
Megapixels: N/A
Card slots: N/A
Lens mount: Fixed
Screen size: N/A
In-body image stabilization: N/A
Pros
Stylish design
classic-style square film format
Selfie mirror on the front for composing
Light and easy to carry
Fully auto exposure is great for parties
Cons
Film can get expensive
Manual controls aren't there if you want them
Photography is meant to be joyful and Fujfilm's Instax Square SQ1 is designed with that in mind. The Instax Square SQ1 shoots square format Instax film, is easy to use, and has a stylish design that comes in a variety of colors. Because it's made of plastic, it's cheaper than the mirrorless cameras on this list, making it a great gift for the photographer in your life. It features a retractable 65.75mm lens, fully-automatic exposure control, a selfie mirror on the front of the lens, and a special selfie mode. It's powered by two CR2 lithium batteries and shoots on Instax Square Format film, which comes 10 frames per pack.
Specs
Megapixels: 26.2
Card slots: 2 UHS-II SD
Lens mount: Fujifilm X
Screen size: 3-inch
In-body image stabilization: Yes
Pros
Stacked shutter reads out extremely quickly which makes the electronic shutter more useful
Up to 4K at 120 fps capture in some modes
Up to 14 stops of dynamic range
Excellent high-ISO performance
Advanced video formats (F-Log or F-Log2, Apple ProRes RAW, and Blackmagic RAW) available through an external recorder and HDMI
Cons
The most advanced video capture modes require a specific external recorder like the Atomos V+
Rather than cranking up the resolution north of 40 megapixels like the X-T5 and the X-H2, the X-H2S maintains the 26.1-megapixel resolution many Fujifilm fans had already grown accustomed to. This isn't a typical Fujifilm sensor, however. It's a stacked sensor, which means it has computing elements integrated directly into the chip to allow for faster readout. That's good news for shooters who want to capture fast action without wobbly distortion happening in their images.
The camera body is basically identical to the standard X-H2, which is a good thing. It has a 3-inch tilting touchscreen display and ample tactile controls. The X-H2S offers an expanded ISO range (up over 51,000 on the top end) and exceptional low-light performance for an APS-C sensor.
The X-H2S really shines in video capture mode. It can't pull down 8K video, but you don't really need it to. It can, however, capture 4K video at up to 120 fps. If you add an external recorder into the mix, you unlock more advanced formats, including F-Log or F-Log2, Apple ProRes RAW, and Blackmagic RAW footage. You can push the boundaries even more and capture F-Log or F-Log2 in resolutions of up to 6.2K in Apple ProRes RAW 1 and Blackmagic RAW 2 if you pair it with an Atomos V+ recorder and BlackMagic Design Video Assist Monitor. Even without all of that extra gear, the video capture is still the best that Fujifilm cameras offer. It really just depends on how far you want to go into the cinematic realm.
Related: Best Instant Cameras: Polaroids, Instax, and more
Features to consider when picking a Fujifilm camera
Fujifilm currently offers over 20 digital cameras between its X series mirrorless cameras, GFX medium format cameras, and Finepix line, and even more when you include all of the Instax cameras. Don't let the sheer amount of cameras overwhelm you—with a little bit of research, you should have no trouble finding the best Fujifilm cameras for you. 
The highest-end Fujifilm cameras are found in the GFX line and include the GFX100, GFX50S, and GFX50R. The GFX50S and GFX50R are medium-format mirrorless cameras that are built around a large CMOS sensor and deliver extremely high-resolution images. The GFX50R is a rangefinder-style camera, while the GFX50S has an SLR focusing system. The GFX100 is a large format mirrorless digital camera that can shoot 102MP images. The cameras in the GFX are designed with a professional shooter in mind, and the price points reflect that. 
Within Fujifilm's X series line, you will find the greatest diversity in price points and camera functionality. The Fujifilm X series line features cameras with interchangeable lenses for professionals and amateurs and fixed lens premium compact cameras. 
On the Instax side of things, you will find cameras and printers with much lower price points that print Instax instant film in credit-card-sized formats and larger square formats. The Instax cameras are simple to use, extremely fun, and leave you with a tangible picture for sharing.
FAQs
Q
: Whi
ch Fujfilm camera is the best?
Selecting the best Fujifilm camera is all about figuring out what you will be shooting and what your budget looks like. The Fujifilm XT-4 is one of the most versatile cameras in the X series line with its image stabilization and interchangeable lens capabilities, while the Fujifilm X100V is a premium compact with a fixed lens that's great for capturing life's everyday moments. If you are just starting out with photography and don't have a ton of cash to spend consider the X-T200, which is an entry-level APS-C camera that shoots 4K video. Since it takes X series lenses, this one is a great way to slowly grow your collection of glass before upgrading to a more advanced Fujifilm X series camera.
Q: Which camera is better, Fujifilm or Sony?
Deciding what camera system between Fujifilm and Sony is "best" really comes to a matter of personal preference and what you are looking for in a camera. We live in an era where the majority of camera manufacturers are creating quality products that perform equally well under similar circumstances. Fujifilm and Sony both make excellent mirrorless cameras. The majority of Fujifilm cameras feature an APS-C sized sensor, which is smaller than what you will find in Sony's mirrorless cameras. Many photographers agree that Fujifilm cameras feature more straightforward menu systems and a tactile feel that makes them more fun to shoot with. 
Q: Is Fujifilm X-A5 worth it?
The Fujifilm X-A5 is one of Fujifilm's least expensive mirrorless cameras, but it's an older model that can sometimes be difficult to find online. It's a great entry-level APS-C camera, but for just a little bit more money we recommend investing in an X-T200, which has additional autofocus points, an advanced sensor, a fully-articulating LCD touchscreen, and can shoot 4K video.
Last thoughts about selecting the best Fujifilm cameras for you
Fujifilm has a variety of excellent mirrorless cameras in its lineup, so selecting the best Fujifilm cameras depends a lot on your personal preferences as a photographer. Fujifilm cameras are designed in a way that makes them feel more like a traditional film camera, which many photographers think makes them a lot more enjoyable to take pictures with. They have an easy-to-navigate menu system, a number of beautiful in-camera film simulations that will likely cut down on your post-processing time, and they continue to offer regular firmware updates to older cameras in the line. That way, you can recapture the joy of photography with a Fujifilm mirrorless camera and feel confident your investment will be relevant for years to come.
Why trust us
PopPhoto has a long history of delivering the opinions of some of the sharpest and most prolific camera dorks the world has to offer. Since 1937, we've been reviewing cameras, providing wisdom from well-known photographers, and generally just nerding out about all that goes into making great pictures. Our current crop of writers and editors have decades of professional photography and camera writing experience among them. Collectively, we've probably shot with just about every camera and lens combo you can imagine—as well as some obscure stuff you may not even know about. Remember the Casio Tryx folding camera? PopPhoto does.
We also get that buying a camera is a big decision, which is why we're dedicated to helping folks choose the right one (or, in our case "ones") for their needs. Case in point: Handing over top dollar for an expensive rig may leave you unsatisfied if it doesn't fit your preferred shooting style. Sure, a $6,000 sports-oriented DSLR can capture landscapes, but do you really need to do it at 30 frames-per-second? No, you don't.