Best instant cameras of 2022
Get some instant gratification with these instant film cameras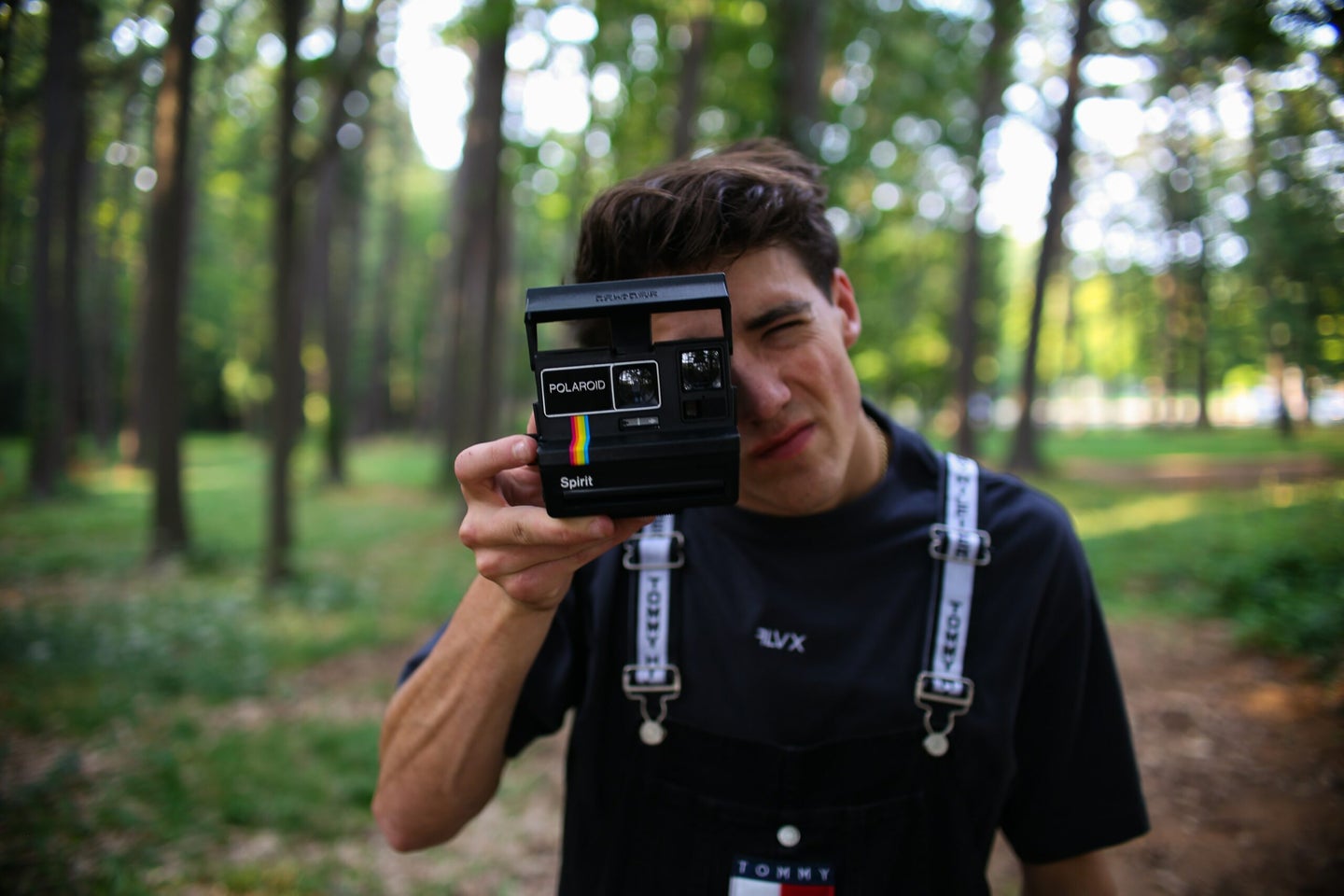 Instant cameras are a fun and extremely easy way to dive into photography. The cameras are typically fully automatic, making them a great option for kids, enthusiastic amateurs, or seasoned pros. Prints are produced in just a few seconds and these days come in a variety of sizes. While older readers will probably think of a black Polaroid camera, there are plenty of fun, modern instant cameras, like a Fujifilm Instax camera, that come in unique, fun colors. If you have never tried instant photography we are sure that one of these best instant cameras will make you fall in love.
A brief history of instant film photography
The instant camera was invented by Edwin H Land of Polaroid in the late 1930s. Polaroid was the primary maker of instant cameras until the 1970s when Kodak introduced an instant camera (and was subsequently sued by Polaroid).
Instant film photography became an incredibly popular way of shooting photographs in the 60s and 70s—it appealed to growing families in the suburbs, as well as professional artists like Andy Warhol, who used the cameras to produce some of his most famous works of art. Although there are still plenty of vintage working instant cameras on the market, it can be difficult to find the correct formats of film for them or the batteries that make them run.
Luckily there are plenty of modern instant cameras being made that provide the joy of instant photography in smaller packages that use easy-to-find (and more affordable) film. A few of the best instant camera options today come from Polaroid, Kodak, and Fujifilm. Fujifilm Instax currently offers the largest variety of instant cameras and film formats, although companies like Polaroid and Kodak continue to offer options as well.
Consider film formats when shopping for the best instant camera
When looking for the best instant camera for you, it's important to consider what type of film you would like to be shooting. Most modern-day instant cameras either shoot Polaroid i-Type or 600 film or some format of Instax film.
Polaroid 600 film is the traditional square format film, similar to the Polaroid frames that you might find tucked away in old family photo albums. This Polaroid film is compatible with 600 cameras and Polaroid i-Type cameras. Film packs come with 8 frames per pack and typically cost $20 per pack. Polaroid i-Type film is the newest format and is only compatible with i-Type cameras.
Fujifilm Instax film comes in three sizes: mini, square and wide; each type of film is compatible with specific styles of camera. Mini is the most popular Instax film, comes with ten frames to a pack, and costs approximately $15 for a single pack. Instax Mini is regularly sold in bulk and if you purchase a lot of film packs at once, the price comes down. Instax Square and Wide also come with 10 frames per pack, and cost approximately the same amount.
In recent years a third type of instant camera has been developed that prints to Zink paper instead of film. Zink paper offers more prints per roll of paper and is cheaper than instant film. It's a decent option for the photographer on a budget, although the print quality isn't quite as good as what you get with film.  
Best instant cameras: Picks & Recommendations
The Polaroid Originals OneStep+ is an analog instant camera for the modern age. It's built-in Bluetooth and app make it easy to create double exposures or light painted images on instant film. Portrait lens mode allows you to take a photo between 1 foot and 3 feet, while standard mode lets you shoot from 3 feet to as far away as your instant camera can see. It has a powerful flash for shooting indoors and self-timer mode for capturing selfies and group photos. It's compatible with I-type and 600 film, which each come with 8 frames per pack.
The best square Instax camera is a camera designed specifically to shoot Fujifilm Instax Square film, the SQ1 is an easy-to-use instant camera that is a great option for beginners. It has a retractable 65.75mm F/12.6 lens, fully automatic exposure control, and a flash that always fires. You pull on the lens to activate the camera's selfie mode and can use the little mirror on the front of the lens to check your frame before you fire. It's powered by two CR2 batteries and comes in orange, blue, or white. Although it lacks some of the creative features of other Instax cameras, it consistently prints beautiful,l nicely exposed square frames.
Similar to the SQ1, the Instax Mini 11 is an easy-to-use camera that shoots Instax Mini film. It has a compact body with a transparent ring lens, automatically selects the shutter speed depending on the scene, and has a pull out lens to activate selfie mode with a tiny mirror on the front that lets you check your frame before you shoot. The Instax Mini 11 comes with two shutter button accessories that allow you to customize the camera and is available in five different colors: lavender, blush pink, light blue, white, or black. It's powered by two AA batteries and shoots Instax Mini format film.
Related: Polaroid Fade-to Black Film Made Photos That Disappeared Way Before Snapchat
The Mini Liplay Instax camera combines the digital and analog worlds. It's an instant camera that lets you view your frames before you print them and lets you record sounds that can be played by scanning a QR code. It has a 2.7-inch LCD screen, integrated digital filters and frames, remote shooting options via the Liplay app, and images are stored on a micro-SD card. It essentially combines the tech of an Instax printer and an Instax camera into one device—and since you can view your prints before you print them, you don't have to worry about wasting frames on unwanted images. The Liplay is charged via USB.
The Kodak Printomatic has a 5MP sensor, a wide angle f/.2 lens, and shoots to Kodak Zink Photo Paper instead of more expensive film packs. The prints that it makes are water-resistant, tear-resistant, smudge-free, and have a sticker back so you can display them on anything. You don't need an ink cartridge to print and if you are out of paper the camera will save images to its MicroSD card to be printed at a later day. Although Zink paper is an inexpensive way to print instantly, the quality isn't quite as good as what you might get with a camera that is using instant film packs.
FAQs
Q: Do Instax cameras run out of ink? 
Instax cameras print to film packs and not on Zink paper, so it isn't possible for them to run out of ink. When you've shot through your pack of film simply load in a fresh pack to keep shooting. 
Q: Can you take out Polaroid film and put it back in?
Whether you are shooting with a Polaroid camera or an Instax camera, you will want to keep your film in the camera once you've loaded it up. Pulling out a Polaroid film pack before you have shot through all 8 frames will expose it to sunlight and ruin the film. 
Q: What kind of batteries do Polaroids need? 
Modern day Polaroid cameras have a Li-Ion battery that is charged via USB. Cameras like the Instax Mini 11 are powered by two AA batteries.
(Re)discover your love of photography with an instant camera
Instant photography is a fun and incredibly approachable way to capture the world around you. There is something incredibly rewarding about firing the shutter and watching an image appear before your eyes a few minutes later. Regardless of the instant film format that you choose to shoot, we think that these instant cameras will put a smile on the face of the photographer and the subject. Rediscover the magic of photography with an instant film camera.