Instax Square SQ1 review: A modern camera with old-school style
It's just as easy to use as the Mini cameras, but gives you larger square images.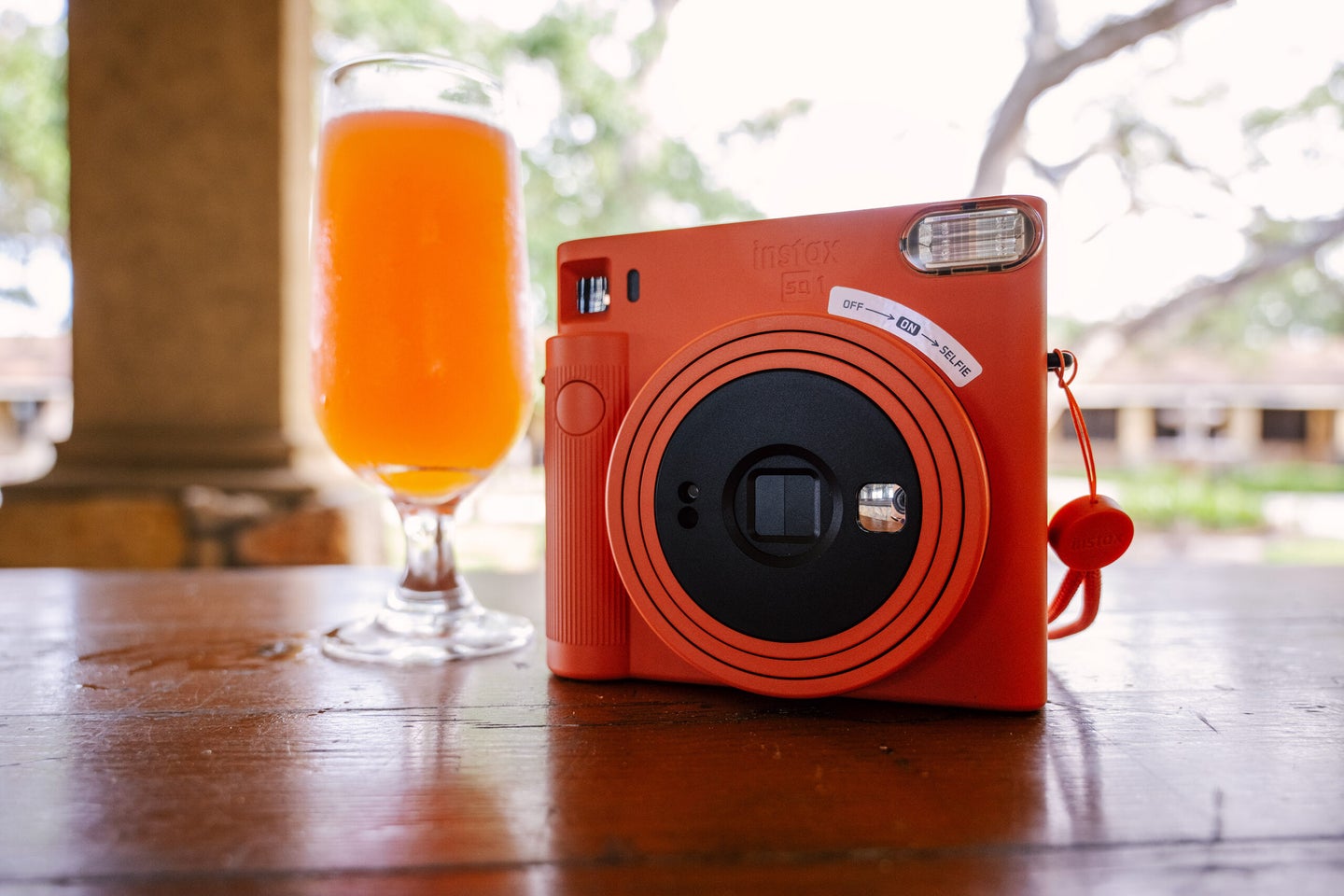 We may earn revenue from the products available on this page and participate in affiliate programs. Learn more ›
Fujifilm's Instax line is larger than most people probably recognize. The Instax Mini has long been the star of the show, getting most of the attention and popularity. But Fujifilm makes a few instant devices, from simple analog point-and-shoot cameras to smartphone-connected hybrid cameras and even smartphone printers with no camera at all. The Instax Square SQ1 is the former, but with a slightly more grown-up look when compared to the Instax Mini.
Released in 2020, the Square SQ1 is Fujifilm's third Square camera, following in the footsteps of the SQ10 and SQ6. The square format provides a 2.4 by 2.4-inch image area, which is 1.5 times larger than the Instax Mini film. It clearly harkens back to the old-school Polaroid 600-style images that dominated decades ago. I've been shooting with the SQ1 for a few months now, getting to know the ins and outs of this automatic instant camera. 

Instax Square SQ1 design & build 
The SQ1 is a drastic departure from the original SQ10 and the SQ6 in terms of design. For starters, it loses the two-toned colorway in favor of one solid color (with the exception of the black lens) available in three flavors: Chalk White, Glacier Blue, and Terracotta Orange, which is what I have been using. 
The camera itself replaces the familiar bubbly curves with more straight lines and facets. There is a bit of a rounded handle on the side of the camera, which features vertical lines, providing a nice texture for a better grip on the camera. In all, it looks more grown up and sophisticated. It is still a fully plastic body, but it feels really solid. Our review unit has taken more than a few knocks as I've carried it around with me, and besides one small mysterious stain, you'd never know. 
The primary moving part is the lens, which you twist to turn on and change to selfie mode. It turns nicely with just enough resistance that you aren't accidentally turning the camera on or off, but you don't have to fight it, either. And it slots into place when you get to the different modes, which is nice. A potential issue I see is that the battery door isn't connected to the camera at all. So when you eventually need to change the batteries, you'll have to be careful not to drop or lose that door. It's a minor thing, but I could see it being a problem. 
Measuring 5.1 by 4.7 by 2.3 inches, the camera isn't tiny by any means. You won't be keeping it in a pocket unless you have unusually large jacket pockets. But it's just small enough that it's easy to carry around with the included strap, which is how I usually keep it with me. It also fits nicely inside my smallest camera bag for those trips that I don't want to carry. 

Camera design features
The Instax Square SQ1 utilizes a Fujinon 65.75mm f/12.6 lens. The lens is plastic, which will reduce sharpness in the images, but not overly so. It uses a zone-focusing system, essentially meaning the focus is fixed. You can focus from 11.8 to 19.7  inches when in Selfie Mode, which is also used for close-up shots. The built-in flash on the SQ1 is automatic and offers an effective range of one to 7.2 feet. 
Getting started with the Instax Square SQ1
Getting the Square SQ1 up and running is just as easy as the Mini 11. It comes with batteries already loaded in the camera, so you don't even need to worry about that. You'll need to purchase a pack of film (we'd recommend a few), but then it's as simple as popping the film in by lining up the yellow marks on the camera and film pack. The included instructions walk you through how to do this as well.
Once the film is loaded, you turn the lens to extend it and turn the camera on. The first shutter press will eject the dark slide that protects the film pack from light, so you'll want to do that before you invest in a photo you actually want to take. If you want to take a selfie, just twist the lens a little more to engage selfie mode. 

Using the Instax Square SQ1
Since the Instax Square SQ1 is a fully automatic camera, it's extremely easy to use. It's the true definition of a point-and-shoot camera. It automatically detects what the exposure should be and adjusts the shutter speed between ½ and 1/400 second. The flash goes off with every shutter press, whether you are shooting in full sun or a dark interior. It makes a mostly accurate exposure foolproof, so whether you know nothing or everything about photography, you can get good images with this camera.
The viewfinder is easy to look through and offers a target spot to help with composing your images. What you see through the viewfinder is almost exactly what you'll get in your images, so you can accurately frame things. And when you want to take selfies, there's a mirror on the front to help ensure you are actually in the frame. 
It is worth pointing out that because the shutter speed can get so slow, even with the flash, there's a potential for motion blur in images. There's no display to show what the shutter speed will be, so you'll want to hold the camera steady every time just to be safe. As mentioned, the camera uses zone focusing, so you don't need to worry about dialing in focus yourself. It can be a bit tricky to get things in focus, as subjects too far away or too close will be blurry. I found that between two and four feet or so was the sweet spot, but it takes some playing with.
After you take an image, the film will spit out the top of the camera. Be sure to wait until it is done making noise to remove it. And don't worry that it's all white when it first comes out; that's totally normal as it takes 90 seconds for the image to fully develop. I found the hardest part of the entire process was finding a safe place to put the prints when out and about, as they shouldn't get bent, especially in those first 90 seconds. 

My biggest complaint about using the SQ1 is the touchy shutter. The shutter button is extremely sensitive and easy to press accidentally. In fact, I took a few unintentional photos when I first started using the camera because my finger happened to slip over it when I was handing the camera to someone or putting it down. It would be nice to have more resistance there to avoid such situations. 

Image quality
The Instax Square SQ1 utilizes Instax Square film. You get a 2.4 by 2.4-inch image area within a 3.4 by 2.8-inch frame. That's 1.5 times the image area of Instax Mini film, so it'll be easier to see your images. But it's still smaller than classic Polaroid film, which provides a 3.1 by 3.1-inch image area. It's large enough to see some good detail in your shots and to have more of an impact when you display them, but don't expect the classic, larger Polaroid size. 
As mentioned, the SQ1's lens is plastic, and as a result, you won't get perfectly sharp images no matter what you do. But they are sharp enough to provide clear and fun images. I found the photos tended to be slightly dark, but I would rather that than overexposed. The flash is well-balanced for the most part, so you don't get overly washed-out images. And the colors are extremely natural and just saturated enough, especially skin tones. 

Final thoughts on the Fujifilm Instax Square SQ1
Pros
Very straightforward to use
Makes selfies easy
Nice image size
Attractive camera design
Good image quality
Film is relatively inexpensive
Cons
Shutter button is easy to accidentally press
Flash goes off no matter what
Even though the Square SQ1 may look more mature than the Mini 11, it is still just as fun and easy to use. It's a true point-and-shoot, so there's no fussing with exposure or focus. And there's no app connectivity or fancy display, so it's just pure, analog, old-school fun. Sure, it can be tricky to get sharp images. But with a camera like this, you are best embracing the softness. It's not meant to be a high-resolution powerhouse. It's meant to be fun and playful. The larger image size is also quite nice and something I much prefer compared to the Instax Mini film size. 
One thing I was not expecting was that the Terracotta Orange Square SQ1 garnered more attention when I was out and about compared to the Mini 11. It led to a few conversations with people, which was fun to see. I even took a photo of a couple in a brewery after chatting with them about the camera, leaving them with the print. I really enjoyed the social aspect of the camera, and it encouraged me to keep bringing the camera with. It's a nice reprieve from highly technical and precise digital cameras. And having that instant physical print is just plain magic, no matter how many times you see it.