Instax Mini 11 review: A fun party trick
Fujifilm's automatic instant camera is easy and fun to use.
We may earn revenue from the products available on this page and participate in affiliate programs. Learn more ›
Fujifilm's Instax line of instant cameras runs the gamut from advanced hybrid digital models to extremely basic point-and-shoots designed to emphasize the simplicity of the format. The Instax Mini 11 leans into that latter category to provide a quirky, streamlined, and ultimately highly enjoyable experience, no matter your skill level or age.
After many iterations, the company released the Instax Mini 11 in 2020. I've been shooting around with one for a month to see what it's capable of. And, since it's a fully automatic camera, I also passed it off to my nieces and nephews (who are between the ages of five and 11) for a bit during our Christmas gathering. Fujifilm markets the camera as a fun device for parties, partly because of how easy it is to use, and we definitely found that to be true.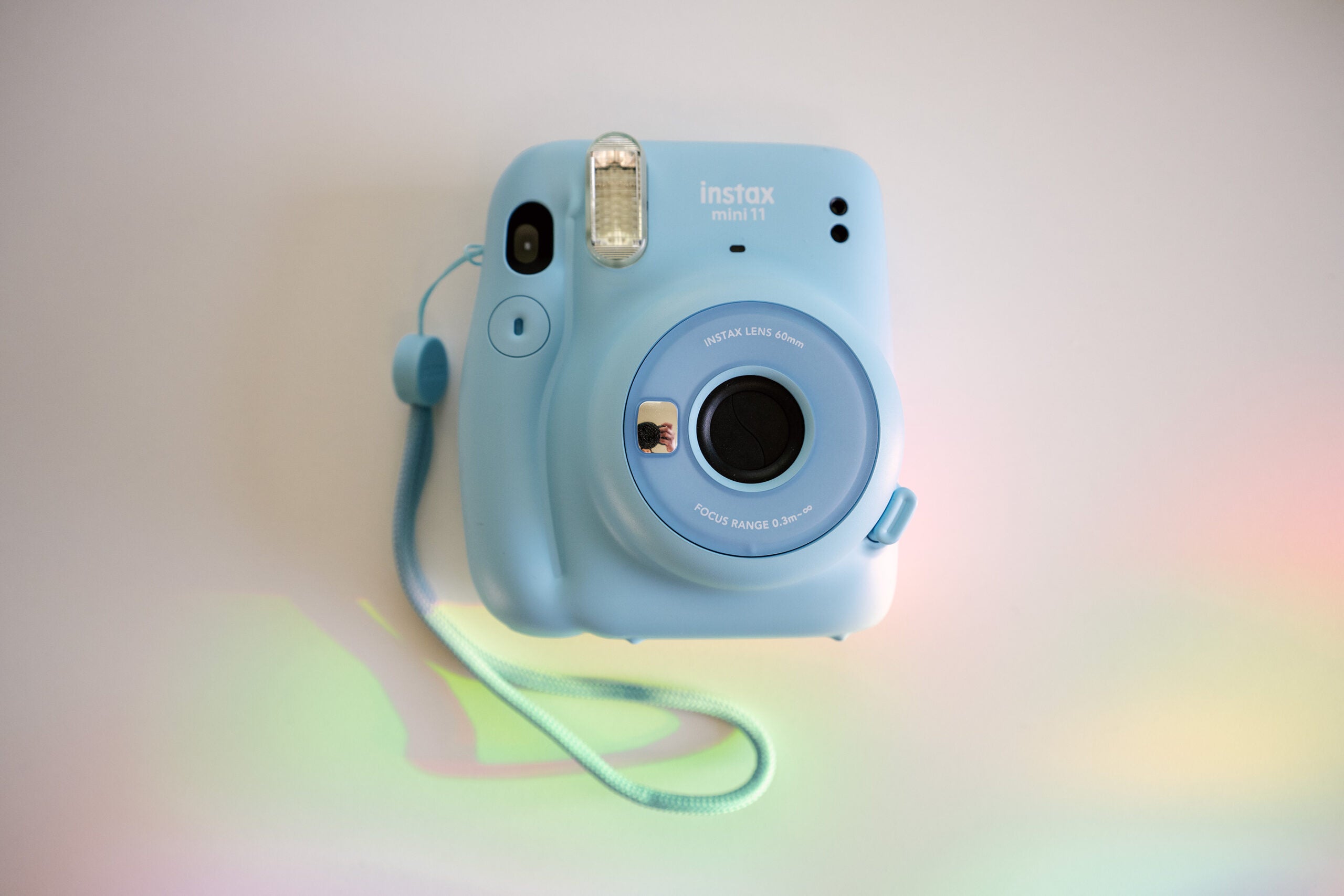 Instax Mini 11 design & build 
The Instax Mini is an affordable camera (typically around $69 at the time of writing), and with that comes a plastic body. It does, however, offer a glass lens, which is a first for Instax Minis. It comes in five colors: Blush Pink, Charcoal Gray, Lilac Purple, Ice White, or Sky Blue, which is the version I've been reviewing. The Instax Mini 11, of course, doesn't feel like a high-end camera, but it doesn't feel overly cheap, either. It feels sturdy enough to take some minor hits and be fine. 
There's not much to the Instax Mini 11, which is why it's as durable as it is. The only real moving part is where the lens pops out from the camera. Pull it out to turn the camera on, then push it back in when you're done shooting. That's the one area where I could see the potential for issues. I was pushing it in at one point, and it got stuck a little, which made me apprehensive about pushing on it more. It was ultimately fine, but the process was slightly unsettling. It also feels forced to pull the lens out for selfie mode. With kids pushing and pulling on it repeatedly, it could be a weak point.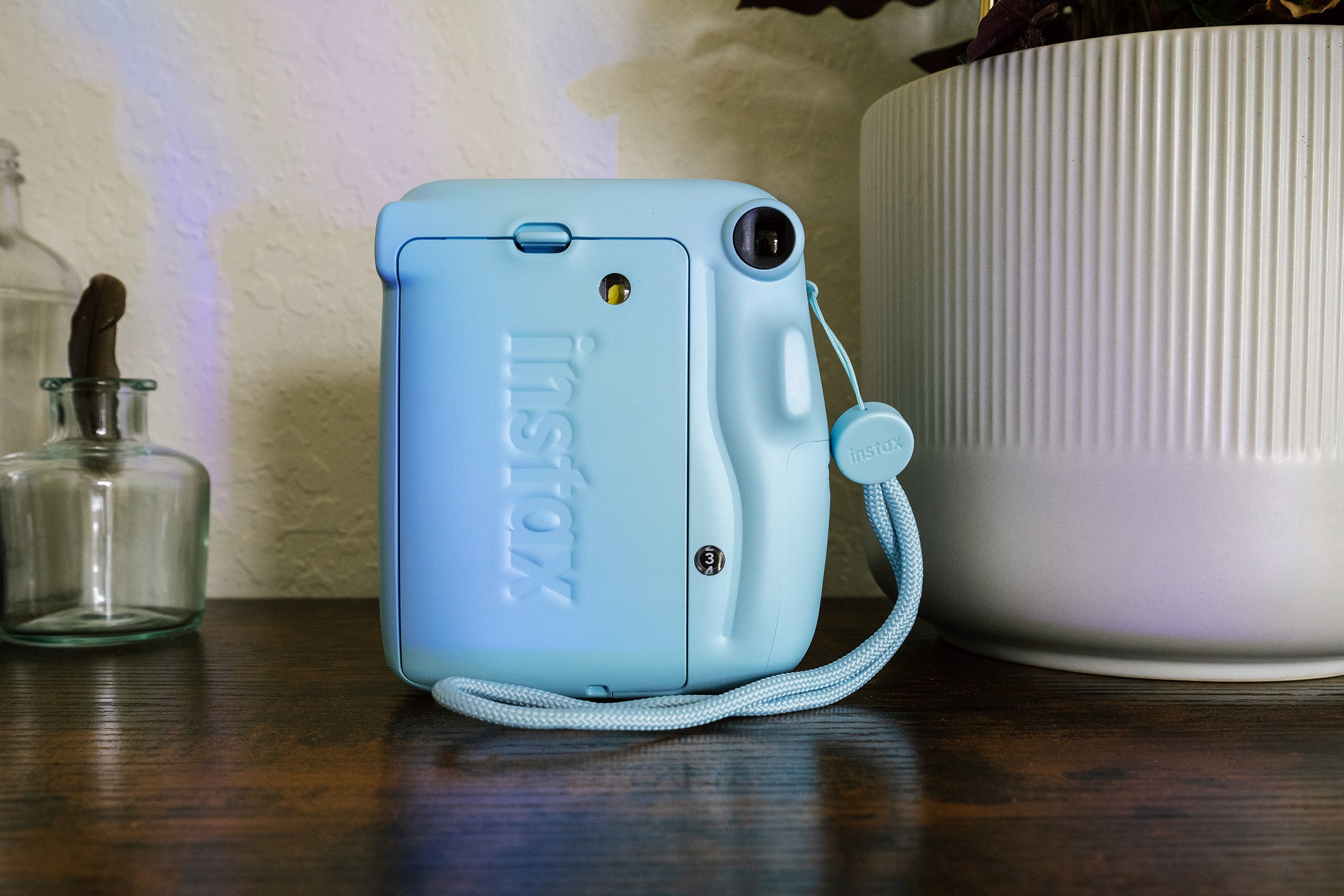 Besides the lens, you'll find a viewfinder, film compartment on the back, and a film counter. The front comes equipped with a small mirror for composing selfies, light sensor for controlling exposure, flash, and the shutter button. There are no other buttons or settings to fuss with. At 2.6 x 4.2 x 4.8 inches, it's not a tiny camera. But it's small enough to pop into a backpack or purse easily. And it only weighs 10.3 ounces, so you could even carry it by the strap and not be too bothered. 
One thing I didn't love about the Mini 11 is how slippery it is. The plastic body is entirely smooth, with no texture to speak of. There is a slight protrusion to act as a hand grip and an optional lanyard to keep it on your wrist, but they only do so much. While I managed not to drop it, it would be really nice to have some texture for better grip, at least on the sides.
Getting started with the Instax Mini 11
Getting started with this instant camera is extremely simple. You'll need two AA batteries for power and at least one pack of film (though you'll want more). The instructions are basic but walk you through loading the film and taking photos with plenty of diagrams and graphics. 
Once you have film and batteries in the camera, just press the button by the lens to extend it, which turns the camera on. And you can pull on the lens to extend it and turn on selfie or closeup mode.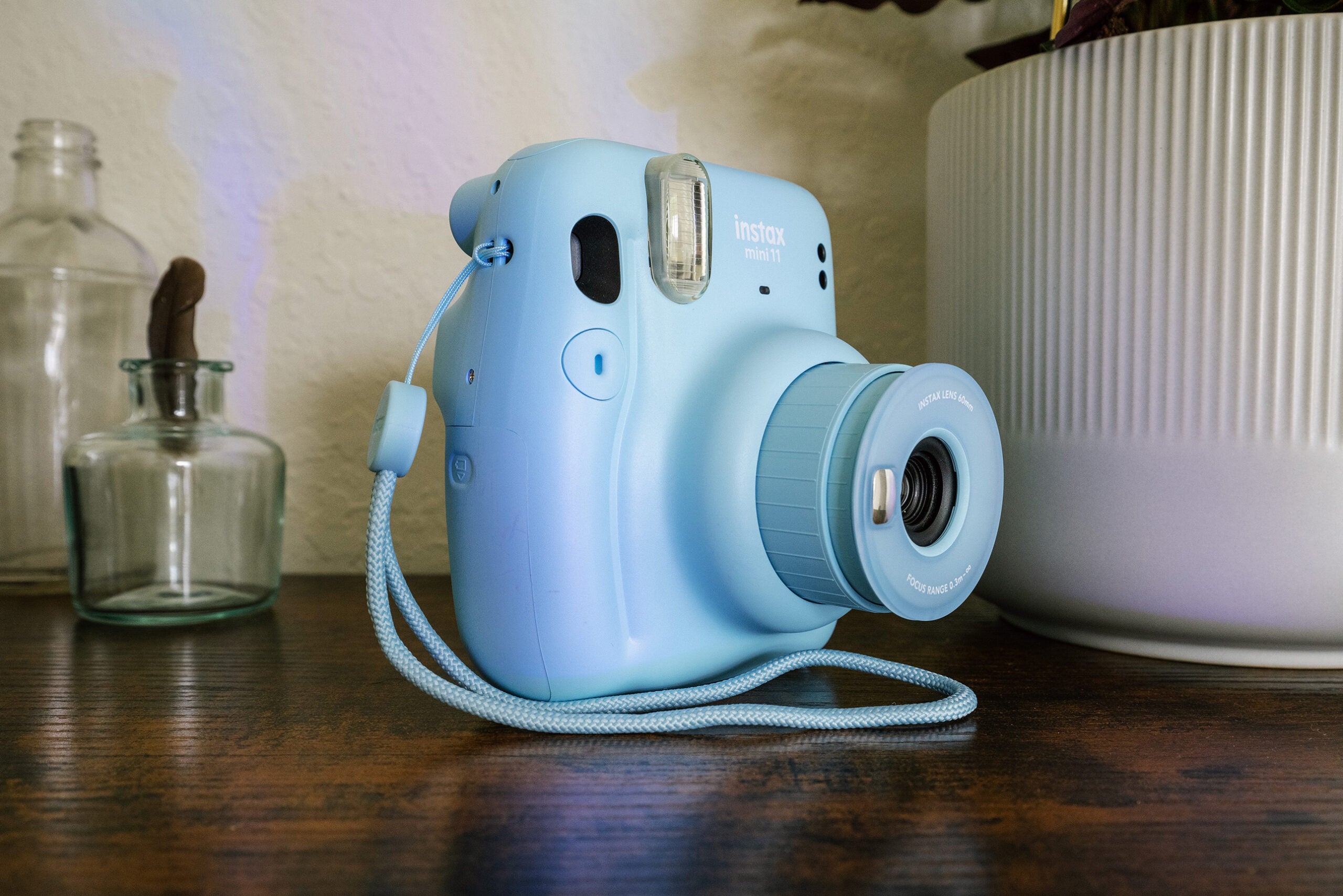 Using the Instax Mini 11
Once the film is loaded, the camera couldn't be much easier to use. It is fully automatic in every way, including automatic exposure and flash. Taking a picture only requires pushing the shutter button. My nieces and nephews, all under 12, each took a few photos with the camera, and they all could figure it out. They inherently got it without any instruction beyond how to hold the camera.
There is also no focusing with this camera, adding to the simplicity. Instead, it relies on zone focus, which is based on distances. Normal mode requires a subject to be at least 19.7 inches away for it to be in focus, while selfie mode can focus on subjects from 11.8 to 19.7 inches. Despite those zones, you really need to find the sweet spot of distance to get the sharpest results. Subjects will be blurry if they are too close or far away. I found about three feet to be ideal when shooting in normal mode. Anything beyond that was soft, and anything closer is noticeably out of focus.
The viewfinder is small but easy to look through. But be aware that it shows slightly less than what you'll actually get in the frame. And the lens provides fairly wide coverage, offering the full-frame equivalent of a 35mm lens, which is helpful for taking selfies or group photos. 
Since the camera utilizes auto exposure and has a small, f/12.7 aperture, it relies on flash for everything. In fact, the flash goes off for every shot, even when in bright sunlight. And even with the flash, the shutter speed can get a bit slow if you are photographing in a dimly lit space. You'll want to try to hold the camera as steady as possible to avoid blurry shots.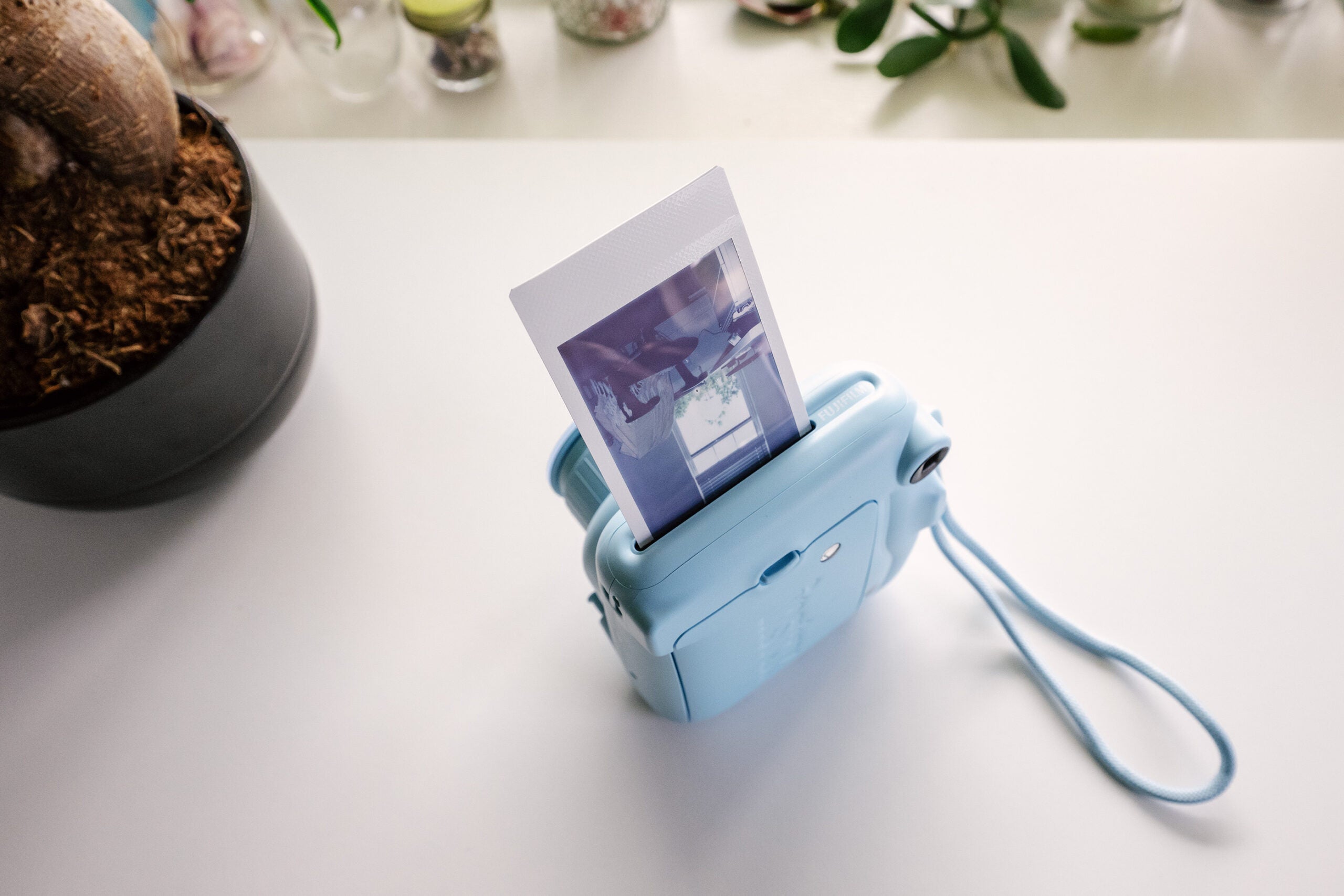 When you take a photograph, the film will spit out from the slot on the top of the camera. Be sure to wait until the camera stops making noise to pull the film out the rest of the way. And be aware that the image won't instantly be there. It takes about 90 seconds to develop fully, and no, you don't need to shake it. 
Image quality of the Instax Mini 11
The Instax Mini 11, as the name implies, spits out small little images. They are just 2 x 3 inches with an image area of 2.4 x 1.8 inches. They are fun, but it can be hard to see much detail since they are so small. 
As essentially a toy camera, the Instax Mini 11 doesn't put out the sharpest, most perfect results. The newly added glass lens produces sharper images than past versions of the Mini, but it still won't be like what you're used to from a smartphone or a more expensive camera.
The flash is similarly quirky. It goes off for every shot, which can result in overexposed and washed-out results, especially if white objects are in the frame. But when the camera nails the exposure, the results can be great. The colors were neutral but well-saturated, with vibrant blue skies and rich greenery from plants. 
All that said, if you embrace the less-than-perfect results, it can produce some fun images. Some of the camera's quirks can even lend themselves to creative images if you want to experiment with it. And having a physical photo in your hand in just a few minutes is pretty special, even if they aren't the absolute best.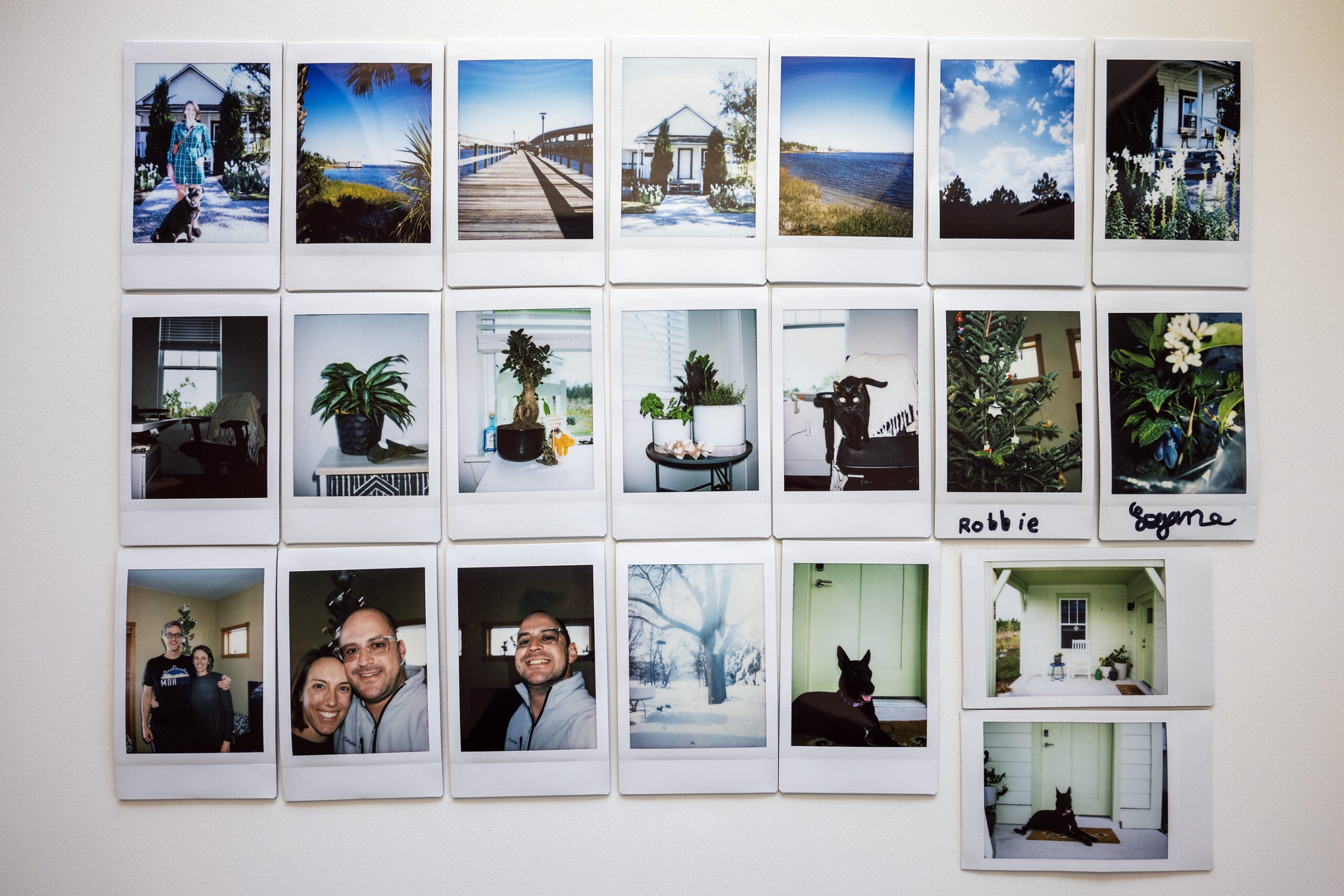 Final thoughts
Pros
Affordable
Easy to use
Film is easy to find
Lightweight and small
Produces fun results
Makes selfies easy
Cons
Camera body is pretty slippery
Flash goes off for everything, even when not needed
Can be tricky to get great images
The Instax Mini 11 is is a playful camera. Everything from the price and color options to the total lack of manual controls make it fun and simple in a refreshing way. Of course, as a result, images won't be flawless. But with some patience and planning, you can get surprisingly good pictures. Or, just point and shoot without worrying about it. 
The Instax Mini 11 is meant to be fun. It's meant to document snapshots at parties, concerts, or on vacation, not high-end portraiture or still life. The Mini 11 is perfect for capturing memories. It's a fun family camera. Seeing the excitement on kids' faces when a photo seemingly magically appears right before their eyes is absolutely fantastic. And it's ideal for people who don't want to take photography too seriously, either because they never have or because they need a break from precise technology. 
Related: Best instant cameras