We may earn revenue from the products available on this page and participate in affiliate programs. Learn more ›
Updated Sep 23, 2022 3:31 PM
Canon has been one of the most dominant and prolific camera makers for more than half a century. The company released its first digital camera, the EOS D30, back in 2000, when most photographers were still loyal to their film bodies and digital was a novel concept. In 2020, however, Canon held nearly half of the global digital camera market. The company's current lineup has options aimed at every level of photographer, from budding beginners to seasoned pros. While options are good, the wide selection of Canon cameras can be difficult to navigate, so here are some things to consider before jumping full-force into the Canon ecosystem.
Best Canon cameras: Mirrorless vs. DSLR
While mirrorless cameras have done a lot to eclipse DSLRs in recent years, Canon still sells a number of extremely capable and worthwhile DSLR models. 
Canon DSLRs like the EOS 5D Mark IV and the EOS-1D X remain favored tools of wedding photographers, sports shooters, and photojournalists. When the 5D line debuted back in 2005, it was the first consumer DSLR to feature a full-frame sensor. In 2008, the 5D Mark II was the first DSLR to offer pro-grade video capabilities. It was a game changer. The 5D line has remained one of the most important camera lines of the digital era.
Canon's DSLRs are built to take a beating, which is one of the reasons that many pros still use them. Although they are heavier and bulkier than Canon's mirrorless cameras, they typically have increased battery life and will withstand more abuse. Canon's DSLRs are compatible with EF mount lenses. 
Canon didn't release its first full-frame mirrorless camera until 2018 when other brands like Sony were already well-established. Canon had its APS-C M-line for some time before that, but it's clear that full-frame was the more important market segment. 
The full-frame R cameras (which now includes the high-end R5 and R6 models) employ Canon's new RF mount. The bodies still work with the older EF lenses thanks to an adapter, which makes upgrading into the new mirrorless ecosystem much less painful from a budget perspective. Canon's line of mirrorless cameras are much lighter than the DSLRs, more compact and are known for precise autofocus and the ability to eliminate shutter noise with the silent shutter feature.
Best Canon cameras: Reviews & Recommendations
Best full-frame mirrorless camera: Canon EOS R5
The Canon EOS R5 is the brand's flagship mirrorless camera, at least for the moment. It pairs its ample 45-megapixel resolution with a powerful Digic X image processor. As a result, it boasts an ISO range of 100-51200 (expandable to 1024001), high speed shooting up to 12fps with a mechanical shutter, and 20 fps with the electronic silent shutter. It has dual memory card slots and promises fast, accurate AF with its dual-pixel CMOS AF and subject tracking for human and animal subjects. If you are looking for a pro-level camera inside a compact mirrorless camera body look no further. It even has robust video capabilities that top out at 8K, though that's not its primary purpose. If you want truly pro video features, you'll want to upgrade to a Canon cinema camera.
Best mid-range Canon DSLR: Canon EOS 90D
The Canon EOS 90D is one of the best APS-C DSLRs that Canon currently offers. It can shoot 10fps, has a 45-point all cross-type AF system, can shoot 4K UHD 30P video, and has Wi-Fi and Bluetooth compatibility. Face and eye detection while shooting in live view is excellent and the fps capabilities make it great for shooting fast-moving action. This is a versatile DSLR for advanced amateur shooters who are interested in capturing stills and video. Canon has been refining this line for more than a decade and that experience shows here.
Although the Canon 5D Mark IV was released five years ago, it remains a popular full-frame DSLR among professional photographers. It has an ISO range of 100-32000 (expandable to 50-102400) and shoots 4K video at 30p or 24p. It has excellent dual-pixel CMOS AF, an LCD touchscreen monitor, and a 7fps burst mode. It was the first 5D camera to feature WiFi capability, which is great for photographers who need to be sharing images shortly after they were shot. This is an excellent tool for high-level enthusiasts or professionals looking for a lighter setup than the bulky EOS 1D-X. The Mark IV is also built like a tank so you don't have to worry about it crapping out during an intense shoot.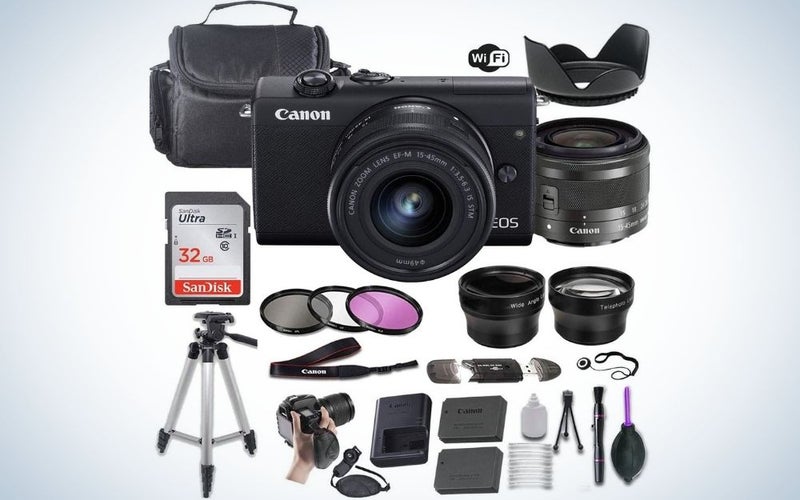 The Canon EOS M200 is a pocket-friendly camera built around a 24.1-megapixel APS-C CMOS sensor with a DIGIC 8 image processor and a responsive flip-up touch screen. Almost all of the camera's settings can be adjusted via the screen making this a great camera for shooters coming from a smartphone. The EOS M200 has built-in Wi-Fi for easy sharing, Creative Assist to help newer shooters nail their shots, and a self-portrait mode. This camera for beginners comes bundled with a Canon EF-M 15-45mm f/3.5-6.3 IS STM lens so you can start shooting as soon as it arrives.
Although it's pricier than some of the entry-level Canon DSLRs the 1-inch sensor inside of the Canon G9 X Mark II makes this under $500 compact camera an excellent deal. It has a 20-megapixel CMOS sensor, DIGIC 7 image processor, a 28-84mm lens, a 3-inch touch screen display, and the ability to shoot 8.2 fps. It shoots full HD video and has Wi-Fi and Bluetooth capabilities for easy sharing with your smartphone. Plus, the integrated lens means you won't be tempted to spend every paycheck on new glass for it.
Things to consider when choosing the best Canon cameras for you
While you want to choose a camera that will let you grow and adapt to your skills as you improve, overkill is a real possibility. For instance, a high-end, pro-level camera like EOS-1D X Mark III has lots of capabilities, but it's also huge and heavy. It's not an ideal travel camera. If you are doing a mixture of professional and personal work with the camera the 5D Mark IV might be a better option for you. 
If size and bulk is an issue you should absolutely consider one of Canon's full-frame mirrorless cameras. Many of the cameras in this line were designed with a professional user in mind, and because of that silent shutter, they can also be extremely helpful when photographing sensitive situations where you don't want the clack of the shutter disrupting the scene. The R5 for instance is smaller and lighter than the 5D Mark IV, but offers more resolution and advanced mirrorless AF functions.
Canon's high-end mirrorless cameras and DSLRs come with high price tags, luckily Canon has plenty of budget-friendly DSLRs and compact cameras that will fit the bill for photographers who are just starting out or amateurs that are looking to upgrade from shooting with their smartphone. Just remember to save some cash for lenses.
FAQs
Q: Which is the best Canon for beginners?
Even though they're a generation old by now, the original Canon R and Canon RP are also solid choices for beginners who plan to get more advanced. They offer full-frame sensors and Canon's excellent AF tracking tech. Plus, the RF (or EF lenses with an adapter) will work well with future Canon full-frame mirrorless bodies if you want to upgrade down the road.
Q: Which Canon DSLR has the best image quality?
Right now, the Canon R5 provides the company's best mix of image quality and resolution. Its 45-megapixel captures hold up nicely to editing and fixes like noise reduction. While the 1D X Mark III is technically the company's flagship, many of its strengths relate to capture speed and autofocus. It only spits out 20-megapixel images, which is relatively low for many applications.
Q: Are Canon cameras waterproof?
The Canon PowerShot D30 is Canon's dedicated waterproof point-and-shoot camera. It can function at depths of 82 feet making it an excellent choice for scuba divers, snorkelers, or casual beachgoers. The majority of Canon's pro-level cameras are considered weather-proof as they are dust and moisture-resistant, but should not be submerged in water without proper waterproofed cases. 
Final thoughts on the best Canon cameras
Jumping into a camera system is a big decision, but Canon has been a safe bet for decades. It's still regularly announcing new models and compatible lenses. While choosing the best Canon camera isn't always easy because the lineup is so deep, a little legwork will lead you to the right body. Leave yourself room to grow, but don't talk yourself into paying for features you'll probably never use.