| | | | | | |
| --- | --- | --- | --- | --- | --- |
| Best overall | | Canon EOS R5C | | SEE IT | The R5C features a fan to prevent overheating and is capable of up to 8K video. |
| Best for pros | | Canon EOS C300 Mark III | | SEE IT | This pro-level camera features a Super 35mm sensor and is Netflix approved. |
| Best budget | | Canon EOS R100 | | SEE IT | It's tiny and affordable yet still offers 4K 24p video. |
We may earn revenue from the products available on this page and participate in affiliate programs. Learn more ›
Published Aug 31, 2023 10:52 AM
Canon cameras for video were some of the first to adopt HD video, starting with the EOS 5D Mark II. It was the first DSLR to offer full-HD video recording capability and made it possible for photographers to dive into video without having to invest in an expensive cinema camera. Since then, Canon has made it a priority to release cameras that work exceptionally well for shooting video along with still photography. The company's current lineup features a number of cameras aimed at a wide variety of video shooters. Keep reading to learn more about the best Canon cameras for video.  
How we chose the best Canon cameras for video
When selecting the best Canon cameras for video use, it was important to choose options that would appeal to a wide variety of video shooters: from professionals to content creators, vloggers, and enthusiasts looking to capture life's everyday moments on something that isn't their phone. We considered a range of budgets, features, and usability when selecting the cameras for this buying guide. We have hands-on experience with the majority of cameras that appear here, but also relied on editorial reviews and user feedback when making our selections. 
The best Canon cameras for video: Reviews & recommendations
Canon offers a huge array of cameras that shoot video for the creator at every level and every budget. No matter what your experience level, Canon likely has a product that will work for you. 
Specs
Resolution: 45 megapixels
Sensor size: Full-frame
Lens mount: Canon RF
Image stabilization: Digital only 
Memory card slots: Slot 1: CFexpress Type B Slot 2: SD/SDHC/SDXC (UHS-II)
Weight: 1.7 pounds
Dimensions: 5.6 x 4 x 4.4 inches
Pros
Shoots 8K video
Excellent autofocus
Built-in fan 
Includes waveforms
Cons
Short battery life
Only offers digital stabilization
You can think of the Canon EOS R5C as the video-centric version of the EOS R5. This 8K capable camera lacks image stabilization but features a built-in fan to prevent overheating while shooting. Canon built the camera around a 45-megapixel sensor and its DIGIC X image processor. It offers 15 stops of dynamic range, can record 10-bit 4K video at 120 fps, and is capable of shooting 45-megapixel stills. 
On top of all that, the Canon EOS R5C features a comfortable ergonomic build with fully customizable buttons. It's a highly capable video camera that's much smaller than a dedicated cinema camera and more budget-friendly. We do wish the battery life on this one was a bit longer, but this camera still checks a lot of boxes for filmmakers at many levels. 
Specs
Resolution: 8.85 megapixels
Sensor size: Super 35mm 
Lens mount: Canon EF
Image stabilization: Yes, electronic IS 
Memory card slots: Dual slot: CFexpress Type B and Single slot: SD/SDHC/SDXC
Weight: 3.86 pounds (body only)
Dimensions: 6 x 5.8 x 6.6 inches (without grip)
Pros
Excellent image quality
Cinema RAW light capabilities 
Intuitive menus 
Netflix streaming approved 
Cons
Canon's EOS C300 Mark III is a high-end cinema camera designed for use on film productions and commercial shoots. It features a super 35mm sensor and advanced color science for accurate reproduction of skin tones. It can shoot 4K at 120p, has Dual Pixel CMOS AF up to 120p, and supports 4-channel recording. 
The modular design of the C300 Mark III makes it easy to customize with accessories depending on a filmmaker's individual needs. It certainly isn't cheap, but for filmmakers working on commercial sets, documentary work, or professional film shoots, it's one of the best Canon cameras for video on the market.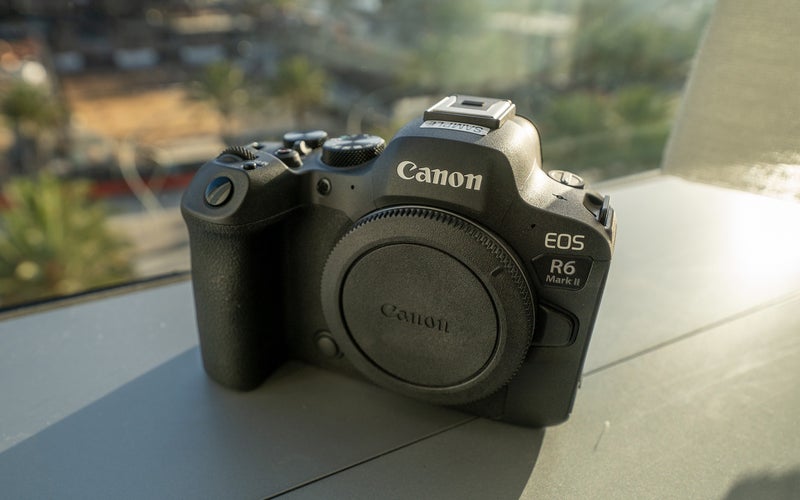 Specs
Resolution: 24.2 megapixels
Sensor size: Full-frame
Lens mount: Canon RF
Image stabilization: Sensor-Shift, 5-Axis
Memory card slots: Dual slot: SD/SDHC/SDXC (UHS-II)
Weight: 1.3 pounds (body only)
Dimensions: 5.4 x 3.9 x 3.5 inches
Pros
10-bit video 
False color display
Capable of 6K video with an external recorder
Dedicated video controls
Cons
Inconsistent AF performance with video
IBIS can lead to warp at edges of the frame
The EOS R6 Mark II is a fantastic hybrid camera for the creator who wants to shoot stills and video. That's especially true because Canon decided to clearly separate the controls for each function. The R6 Mark II is capable of shooting 6K with an external recorder or 4K at 60p internally. And it includes advanced video features like false color display, C-Log, and HDR PQ modes. 
The image quality is excellent when shooting with the R6 Mark II, but there are some inconsistency issues when using AF while shooting video. Ultimately, the R6 Mark II is highly functional for a large variety of shooters with a price point that is nearly half of that of the R5 series. 
To read more about the R6 Mark II, check out our full review.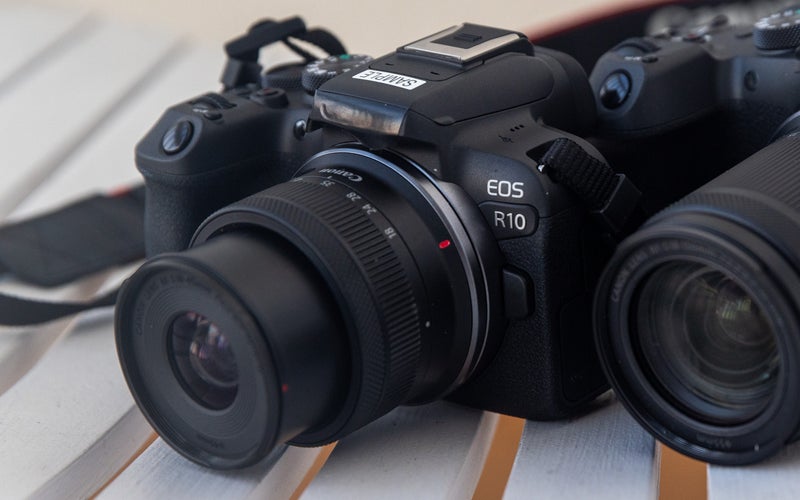 Specs
Resolution: 24.2 megapixels
Sensor size: APS-C 
Lens mount: Canon RF
Image stabilization: Digital (video only) 
Memory card slots: Single SD/SDHC/SDXC (UHS-II) slot
Weight: 15.1 ounces
Dimensions: 4.8 x 3.5 x 3.3 inches
Pros
10-bit HDR PQ video 
4K 60p capabilities
Affordable
Out-of-camera HDR
Cons
Unreliable AF tracking in video mode
Rolling-shutter issues in 4K mode
Most vloggers want an uncomplicated, compact camera that will help them gather footage quickly without fiddling with too many settings or menus. That's exactly where the EOS R10 excels. The camera uses the full sensor when recording UHD 4K 30p and can also shoot 4K 60p with a cropped region of the sensor. 
The fully articulating screen makes it an ideal option for doing a vlogging walk-and-talk or filming content in a home studio. It also features out-of-camera HDR, so you can plug it directly into an HDR TV or quickly upload it to YouTube. Unfortunately, you can't record Log with this model, and its autofocus can be a bit unreliable with fast-moving subjects. Nevertheless, it's a great choice for a content creator who is looking to capture footage that doesn't require much post-processing work. 
To learn more about the Canon EOS R10, check out our full review.
Specs
Resolution: 24.1 megapixels
Sensor size: APS-C
Lens mount: Canon RF 
Image stabilization: None 
Memory card slots: Single SD/SDHC/SDXC slot
Weight: 12.6 ounces
Dimensions: 4.6 x 3.4 x 2.7 inches
Pros
Compact and affordable
4K/24p video capabilities (cropped sensor)
Excellent image quality
Cons
Canon designed the EOS R100 to be an entry-level, affordable camera, and its features certainly reflect that. Although it has video features and is good for filming short clips, the low price point does come with a lower level of quality. It can shoot 4K 24p video using a cropped portion of its sensor or full-width 1080 60p. The R100 can shoot in slow motion, but only at 720 resolution. Features like Movie IS can smooth out camera movement, but once again, it comes with a crop. However, if you are looking for something simple and with a better lens than your phone, the R100 is a decent budget-friendly starting point for filming. 
What to consider when shopping for the best Canon cameras for video 
Sensor size
Having a nice big sensor is important when filming video. As a result, Full Frame and Super 35 are the most popular sizes found in cameras designed for shooting video. But how much of the sensor they are actually using is just as important. For example, a camera that can shoot 4K footage using the full width of a sensor will give you more leeway in the edit than one that is shooting 4K with a cropped area of the sensor. 
Stabilization
Shaky footage can take a lot away from your content. It can even be a significant deterrent for people trying to watch your videos, leading them to click away and watch something else instead. If you plan to record videos while hand-holding your camera and don't have the budget for a gimbal, be sure to look for a Canon camera that offers effective image stabilization. And pairing your camera with a lens that also offers image stabilization will help you out even more.
Video resolution
4K capabilities have become the norm in the video world. Although it's certainly nice to have a camera that can do that, it does mean you will need to stock up on fast memory cards and a speedy machine that can handle those massive files. Certain clients will demand 4K resolution footage, but in many scenarios, having 1080p footage will be plenty. Ultimately, the video resolution you need will depend on where your footage will be seen. 
Budget
The price of Canon cameras for video use is all over the map. A high-end Canon cinema camera can cost you up to $10K, while entry-level models can run between $600 and $1,000. More expensive doesn't always mean best, though. Before you buy, consider your budget and what types of video content you'd like to be shooting. If you are primarily using your camera to capture footage that will be shown online, a mid-level machine should get you plenty of mileage. 
FAQs
Q: Does Canon have a 4K camera?
Canon sells a number of cameras that offer 4K capabilities, many of which are highlighted in this buying guide. The Canon EOS R6 Mark II, Canon EOS R5, Canon EOS R5C, Canon 1DX III, and the Canon 5D Mark IV are just a few of the cameras that can shoot 4K video. 
Q: Do I need to use autofocus when shooting videos?
Shooting in autofocus or manual focus is a personal choice that often comes down to the preference of the person behind the camera. Many new mirrorless cameras offer advanced autofocus settings that can automatically detect a subject and hold focus, making it easier to have in-focus footage. However, many filmers who grew up without this tech simply find that it's better for them to focus manually rather than depending on the camera's autofocus to do the job for them. You also may need to manually focus if you have a specific vision that isn't in line with subject tracking. 

Q: Are DSLR cameras good for videography?
Although DSLRs certainly helped start the influx of online video—thanks in big part to Canon's 5D Mark II—these days, many videographers prefer to use either an advanced mirrorless camera or a dedicated cinema camera for capturing video. However, if you happen to have an older DSLR lying around and want to try your hand at some video, it's a great starting point for learning. 

Final thoughts on Canon cameras for video
Ultimately, there is no one-size-fits-all Canon camera for video since Canon offers a variety of solid options for filmers at all levels. Canon was one of the first camera companies to put serious video tech inside of their products, and it's no surprise that they continue to create cameras that put the needs of video makers at the forefront. Choosing the right camera for you means evaluating your budget, what your needs are as a video creator and where you ultimately want to see yourself go. Thankfully, there are a lot of great choices in Canon's lineup that can grow alongside your video career. 
Why trust us
PopPhoto has a long history of delivering the opinions of some of the sharpest and most prolific camera dorks the world has to offer. Since 1937, we've been reviewing cameras, providing wisdom from well-known photographers, and generally just nerding out about all that goes into making great pictures. Our current crop of writers and editors have decades of professional photography and camera writing experience among them. Collectively, we've probably shot with just about every camera and lens combo you can imagine—as well as some obscure stuff you may not even know about. Remember the Casio Tryx folding camera? PopPhoto does.
We also get that buying a camera is a big decision, which is why we're dedicated to helping folks choose the right one (or, in our case "ones") for their needs. Case in point: Handing over top dollar for an expensive rig may leave you unsatisfied if it doesn't fit your preferred shooting style. Sure, a $6,000 sports-oriented DSLR can capture landscapes, but do you really need to do it at 30 frames-per-second? No, you don't.