| | | | | | |
| --- | --- | --- | --- | --- | --- |
| Best overall | | Sony FX30 | | SEE IT | The FX30 cinema camera offers a solid balance of quality, features, and price. |
| Best for 6K | | Blackmagic Design Pocket Cinema Camera 6K G2 | | SEE IT | This Blackmagic camera offers 6K video in a compact, relatively affordable package. |
| Best budget | | Canon EOS R50 | | SEE IT | The R50 will help you create quality videos for less. |
Updated Oct 24, 2023 1:19 PM
We may earn revenue from the products available on this page and participate in affiliate programs. Learn more ›
There isn't one to rule them all when it comes to cameras for YouTube. Instead, finding the best camera for YouTube videos comes down to what kind of content you're creating. If you're streaming Among Us from your desk, you may not need as many frills as someone filming themselves leaping off waterfalls. Depending on your circumstances, the right camera may be one that is ultra-portable and allows you to frame yourself as you walk and talk. Or perhaps the most important consideration is getting the best video quality possible. We'll guide you through the best cameras for YouTube, no matter what type of content you want to create.
The best cameras for YouTube: Reviews & Recommendations
Whether you're just starting up your YouTube channel or looking to upgrade your content to continue growing your audience, these cameras will help bring out the best in your work.
Specs
Resolution: 26 megapixels
Sensor size: APS-C
Lens mount: Sony E
Image stabilization: Sensor-shift, 5-axis
Memory card slots: Dual slot: CFexpress Type A / SD
Weight: 1.2 pounds
Dimensions: 5.1 x 3.1 x 3.3 inches
Pros
Capable of quality stills as well
Advanced and accurate autofocus
Compact and lightweight
4K video up to 120p
Cons
No viewfinder
4K 120p comes with a 1.6x crop
Dedicated cinema cameras are typically quite expensive, but Sony's entry to its cinema line offers plenty of features borrowed from Sony's high-end cinema cameras at a very reasonable price. The FX30 can record 10-bit 4K video, which is oversampled from a 6K crop in a Super 35 format. It's capable of up to 120 frames per second, though that comes with a 1.6x crop. 
The FX30 offers 14 stops of dynamic range and a Dual Base ISO system for more flexibility in bright and low-light situations. It also provides lots of control when it's time to sit down and edit as well, thanks to the S-Cinetone, S-Log3, and HLG profiles. Should you not want to spend time editing, you can apply LUTs in-camera.
As with most Sony cameras, the FX30 features an advanced Fast Hybrid autofocus system. That includes real-time Eye AF and tracking for both humans and animals. Focus breathing compensation allows you to smooth out focus breathing in-camera with select lenses in 4K up to 60p or 120p after recording. Finally, the 5-axis in-body image stabilization helps smooth content when shooting handheld. All in all, the FX30 offers a lot for the price, making it the best for most YouTube creators. 
Specs
Resolution: 12.1 megapixels
Sensor size: Full-frame
Lens mount: Sony E
Image stabilization: Sensor-shift, 5-axis
Memory card slots: Dual slot: CFexpress Type A / SD
Weight: 1.6 pounds
Dimensions: 5.1 x 3.3 x 3.1 inches
Pros
Superb low-light performance
Compact and lightweight
Built-in fan
High-quality 4K video
Cons
No viewfinder
Resolution tops out at 4K
If you like the form factor of the FX30 but want a step up in terms of sensor size, the FX3 is your best bet. Sony built the FX3 around a full-frame 12.1-megapixel sensor. The larger sensor size with low resolution results in larger pixels for gathering more light. That means better low-light performance than the FX30. You'll be able to get clean footage even with ISOs as high as 12800, which is very impressive. It also offers 15 stops of dynamic range for more flexibility in tricky lighting situations. 
The FX3 also shines over the FX30 in slow-motion performance. It's capable of 4K 120p video with no crop and with internal 10-bit 4:2:2 sampling or 16-bit raw output. You'll have access to S-Cinetone, as well as S-Log-3, S-Gamut3, S-Gamut3.Cine, and HLG HDR. These match well with higher-end Sony cinema cameras in case you're using the FX3 as a second camera for your YouTube shoots.
The FX3 comes with Sony's impressive autofocus system with superb eye and subject tracking and plenty of helpful settings. The compact body with the important controls on the top of the device makes it easier to hold and adjust settings while shooting. And it's compatible with cages, XLR adapter handles, and other accessories for even better ergonomics during long shoots.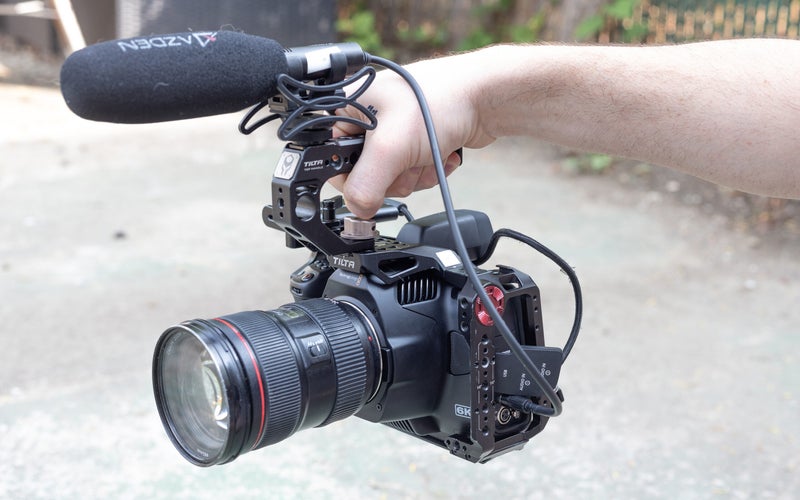 Specs
Resolution: 21.2 megapixels
Sensor size: Super35
Lens mount: CanonEF
Image stabilization: None
Memory card slots: Slot 1: SD/SDHC/SDXC (UHS-II), Slot 2: CFast 
Weight: 2.65 pounds
Dimensions: 7.08 x 4.84 x 4.41 inches
Pros
Affordable for what you get
Easy-to-use menus
Superb 6K video quality
Compatible with optional EVF
Cons
No built-in ND filters
No built-in stabilization
Sometimes, 4K footage just doesn't cut it. If you need high-quality 6K content, the Blackmagic Design Pocket Cinema Camera 6K G2 (BMPCC 6K G2) is one of the best options available. That's in part due to its relatively approachable price, which makes it easier for those just getting started. It utilizes the Canon EF mount, which also makes buying lenses more approachable, as you won't need to buy high-end cinema lenses. 
Despite the reasonable price, the BMPCC 6K G2 is a truly advanced cinema camera. Blackmagic built the camera with the same 6K S35 sensor as the 6K Pro, which results in 16 stops of dynamic range and dual native ISO up to 25,600. It's capable of 6144 x 3456 6K footage up to 50 fps or 6144 x 2560 (6K 2:4:1) up to 60 fps. 
This camera for YouTube features a five-inch articulating touchscreen and an option electronic viewfinder for working on bright days. Though most YouTube filmmakers will want a cage, the camera is very compact and feels very nice in the hand on its own. Of course, the low price means there are some compromises. It doesn't offer built-in ND filters, so you'll want to pick those up for your lenses. It also doesn't provide any stabilization, so if you are shooting handheld, you'll want a gimbal for smooth videos. 
To learn more, check out our full review of the Blackmagic Design Pocker Cinema Camera 6K G2.  
Specs
Resolution: 12.9 megapixels
Sensor size: Full-frame
Lens mount: Sony E
Image stabilization: Yes
Memory card slots: Single slot: SD/SDHC/SDXC (UHS-II)
Weight: 1.1 pounds
Dimensions: 4.8 x 2.8 x 2.1 inches
Pros
Very compact for a full-frame camera
Impressive stabilization
Useful AI-based features
Dust and moisture resistant
Cons
The Sony ZV-E1 is a seriously impressive camera for YouTube content. It's capable of 4K video at up to 120p or full HD up to 240p. The body features a better heat-dissipating structure, so you should be able to get up to 60 minutes of recording time even at 4K60p. Beyond heat limitations, there are no recording time limits, making long clips possible.
Sony packed this camera with an extensive list of content creator-friendly features. That includes an AI processing unit that enables impressive AI recognition and autofocus tracking. It can automatically crop the frame to focus on a specific subject. Multiple Face Recognition allows you to track multiple subjects in the frame. The Product Showcase Setting can switch AF tracking between you and your product to make product spotlights easier. Plus, a bokeh switch allows you to adjust the level of bokeh that you want.
The ZV-E1 offers impressive five-axis optical image stabilization or smooth footage even without a gimbal. The Optical Active Mode offers better stabilization when walking, and the Dynamic Active Mode adds electronic stabilization for even more stable footage with fast movements or longer focal lengths. Despite all these features, the camera body is one of the most compact full-frame cameras available, making it easier to hold when recording and more travel-friendly. If you need impressive specs in a small package for vlogging, this is one of the best available full-frame cameras for YouTube.
Specs
Resolution: 2 megapixels, 1080p video resolution
Sensor size: Size unspecified
Lens mount: N/A
Image stabilization: None
Memory card slots: None
Weight: 5.7 ounces
Dimensions: 3.7 x 1.7 x 2.8 inches with clip
Pros
60 fps possible at 720p
78-degree field of view
Two built-in omnidirectional mics
Auto light correction
Cons
The folks at Logitech created the C922x streaming camera with YouTubers in mind. It streams in full HD at 30 fps. Or, should you need something faster, you can drop the resolution down to 720p for 60 fps. Your streamed content won't suffer from any sort of lag or distortion. And the glass lens on this webcam will result in sharper content compared to plastic lenses.
The C922x offers light correction so that shadows and natural lighting shifts don't mar your content. Its autofocus function means you can get animated without losing followers. And the two built-in omnidirectional microphones can sub in for a full mic if you haven't picked up a professional option yet. You will sound natural and clear throughout your stream, even if you move around a lot.
Plus, the C922x Pro includes a free six-month subscription to XSplit, which can simplify your live-streaming process. This is one of our favorite webcams in general, but it makes for an especially fantastic choice for those sharing their content on YouTube.
Specs
Resolution: 20.1 megapixels
Sensor size: 1-inch
Lens mount: N/A
Image stabilization: Yes
Memory card slots: Single slot: SD/SDHC/SDXC
Weight: 10.65 ounces
Dimensions: 4 x 2.29 x 1.69 inches
Pros
Compact and portable
Versatile 24-200mm equivalent built-in zoom lens
Fast autofocus
4K video
Cons
Expensive for a compact camera
Don't let the Sony RX100 VII's size deceive you—it's an extremely powerful vlogging camera for YouTube built for capturing vivid images and 4K video on the go. Its Zeiss Vario Sonnar large-aperture, high-magnification zoom lens delivers stunning image quality up close and at a distance. It covers a 35mm equivalent range of 24-200mm, making it ideal for everything from group selfies to wildlife photos and videos. The tiny size and built-in lens make it a perfect travel companion, especially if you like to travel light.
The AI-aided, real-time tracking keeps your subjects in focus, while Active SteadyShot mode provides image stability as you walk and talk. The 4K 30/24 fps video is crisp, while full HD offers 120 fps for epic slow-motion footage. A Photo Capture function is built right into the camera, so you can grab 8.29-megapixel stills from your 4K footage to use as thumbnails in your videos or social media promos. A built-in microphone with audio output means you won't need to bring an extra mic and travel lighter, but should you want it, there is a 3.5mm external microphone port to add a mic as well.
Specs
Resolution: 27 megapixels
Sensor size: 1/1.9-inch
Lens mount: N/A
Image stabilization: Yes, HyperSmooth 6.0 stabilization
Memory card slots: Single slot: microSD/microSDHC (UHS-III)
Weight: 5.4 ounces
Dimensions: 2.8 x 2 x 1.3 inches
Pros
Highly compact and portable
Extremely rugged and waterproof design
Award-winning stabilization
5.3K video at 60 fps
Cons
Battery won't last all day
The GoPro HERO12 is the go-to action-oriented camera for YouTube, thanks to its durable body and impressive image-stabilization software. Even videos of serious action, such as mountain biking or trail running, will be smooth and stable thanks to the HyperSmooth 6.0 digital stabilization. As has been the case for the last handful of GoPro cameras, the body is extremely rugged and adventure-ready, even without a case. It's waterproof to 33 feet on its own, and the water-repelling lens will make photos and videos in wet conditions sharper.
The HERO12 allows up to 5.3K60p video for professional-looking footage. Built with content creators in mind, its larger sensor provides more flexibility when it comes to aspect ratios. It can record at a nearly square 8:7, which provides the largest vertical field of view of any GoPro yet. That's ideal for vertical videos you want to share to YouTube Shorts or on TikTok or Instagram. Or you can create immersive 16:9 POV video thanks to the HyperView digital lens. 
The Hero12 truly has an extensive list of features to love, especially for active and adventurous YouTube creators, making it a top choice when it comes to cameras for YouTube. We've highlighted the Creator Edition here, which comes with all the accessories you may need for your YouTube videos, including the Media Mod with built-in microphone, the Volta Battery Grip, and Light Mod. If you know you'll be using the GoPro exclusively for action and don't need the accessories, you can save some money and opt for the camera-only version.
Specs
Resolution: 24.2 megapixels
Sensor size: APS-C
Lens mount: Canon RF
Image stabilization: None
Memory card slots: Single slot: SD/SDHC/SDXC
Weight: 13.2 ounces
Dimensions: 4.6 x 3.4 x 2.7 inches
Pros
Budget-friendly
Light and compact
Advanced autofocus
Beginner-focused features
Cons
You don't have to settle for a less-than-impressive camera if you need a budget camera for YouTube. Canon's EOS R50 packs plenty of advanced features into this beginner-friendly body that is quite affordable, especially for what you get. It's also extremely lightweight and compact. Hand-holding the camera is easier for longer periods, and you'll be more likely to actually bring it with you. The lightweight design also helps with recording smooth videos since there is no built-in stabilization.
The R50 is capable of 6K oversampled 4K 30p video or full HD at up to 120p for slow-motion playback. Those are some seriously impressive video specs for such an affordable camera. It also provides access to advanced autofocus features such as whole-area tracking, subject detection, and Movie for Close-up Demo Mode. You can continuously record for up to one hour, making it an excellent vlogging camera for single takes. 
To learn more, check out our full review of the EOS R50. 
Things to consider when shopping for the best cameras for YouTube
YouTube is a vast world with nearly endless types of content. The social media platform hosts informal vertical shorts, pro-level documentaries, inspiring movies, vlogs, and everything in between. Because of that, finding the best cameras for YouTube can be painstaking since each type of content calls for different features and specs. For example, someone creating casual vlogs of their daily life will have much different camera needs than someone working on high-end productions. 
The sheer number of cameras available makes it even more challenging. But we aim to help filter through the noise. Below, you'll find some key features to look out for to help guide you through which camera is best for you and your YouTube content. 
Autofocus
One of the most important features of all cameras for YouTube is autofocus abilities. Your YouTube videos won't look very polished if the focus is frequently off. While most modern cameras offer impressive autofocus features with AI-based tools, they aren't all created equal. You also may need specific features depending on what you film. 
For example, if you show off products frequently, you may want a camera with a product showcase mode to make focus changes easier when filming on your own. If your YouTube videos focus on people who move around in the frame, you'll want excellent face and eye tracking with settings geared towards that. 
Sensor size
Sensor size isn't everything, but it does have an impact on your videos. Full-frame cameras offer a slew of upgrades to image quality, including bigger pixels and the ability to capture more light. More light results in more vibrant colors as well as better performance in low-light situations. However, if you know you won't be filming in many dark situations and need a budget-friendly camera for YouTube, a smaller sensor will still provide plenty of quality and performance. 
Stabilization
One big factor that can make people click away from your YouTube content is shaky footage. Videos with lots of movement are hard to watch, so it's important to smooth out your content in some way. Luckily, many mirrorless cameras and cinema cameras offer in-body image stabilization (IBIS) to help produce smoother videos even when shooting handheld on the go. 
That said, not all cameras offer the same level of stabilization. If you know you'll be recording while moving around a lot, focus on cameras with more successful stabilization features. You may also want to invest in a gimbal, as IBIS can only do so much. 
Audio
Beyond stabilization, poor audio quality is another surefire way to push people away from your YouTube content. If viewers can't hear you or your subject talking, they won't stick around. Some cameras for YouTube offer fairly good-quality audio, but you'll want to invest in an external microphone for the best quality. 
The type of mic that you'll need varies depending on what type of content you are filming, but no matter what, you'll want to be sure that your camera offers a mic input. A hot shoe is also valuable for mounting the mic unless you opt for a cage that allows for accessories. And if you are really serious about your audio, a headphone jack for monitoring levels will be crucial. 
Size & build quality
For those who record on the go or during travels, camera size may be a key factor in selecting a camera. Likewise, if you shoot handheld a lot, a compact body is important. It's no fun to lug around a big, bulky camera. It can even limit how long you'll be able to film. If you know you won't be using your camera on a tripod very often, look for compact, lightweight bodies. 
Another important thing to consider is build quality. Some cameras for YouTube are built to be rugged devices with weather sealing and durable materials. However, even those aren't intended to be submerged in water or dropped down cliffs. For adventure-focused YouTube content, an action camera may be the way to go. 
Live-streaming capabilities
If you're a streaming YouTuber positioned in front of your state-of-the-art gaming PC or doing nuanced tutorials, you will have some specific camera requirements that differ somewhat from other types of content. For many, a webcam is the easiest option for streaming purposes, as you won't have to fuss with camera settings or finding a place for a bulky camera. If that's the case, look for a webcam that produces a top-notch image, offers a good frame rate, stays in focus, and isn't drastically impacted by changes in room light. This will ensure that you capture all your video in detail without inconsistencies in lighting or focus as the subject moves in-frame.
If you want to step beyond a webcam for your streams or want something that can be used for more than just your live streams, a mirrorless camera may be the way to go. Some camera manufacturers, such as Canon, make it easy to use their cameras as webcams, which can simplify the process. Some even offer built-in support for YouTube live streams. Be sure to check what the connectivity options are, and also think about what type of tripod or mount you'll need for the camera as well. 
FAQs
Q: Which camera is best for YouTube beginners?
Which cameras are the best cameras for YouTube beginners really depends on the kind of content you are creating. If you plan to stream in front of your computer or gaming console, a webcam like the above-mentioned Logitech should serve you well. It provides a steady video output along with autofocus and light correction. 

If you're planning to spend most of your time on the go, you'll want to consider a dedicated camera like the Canon EOS R50. Or, if you are focused on action videos, a GoPro camera offers excellent quality in an easy-to-use package.
Q: How much is a good camera for YouTube?
If by good you mean "top of the line," you'll need to spend upwards of $3,000. But if you're looking at something functional with a decent number of high-quality features, you can find options between $500 and $1,000.
Q: What makes a camera good for YouTube?
A good YouTube camera needs to provide a level of image quality that won't lose you followers, at the least. After that, you'll want to consider what kind of content you'll be creating. If you're on the move, image stabilization is essential, as is battery life. If you'll be streaming from your desk, you'll want to make sure your camera has autofocus and can adjust for changes in lighting.
Final thoughts on the best cameras for YouTube
We loathe to say it, but content is king. When shopping for the best cameras for YouTube, you'll need to consider what type of content you'll be creating. Providing commentary on a DOTA stream has far different demands than capturing extreme sporting events or documenting trips to the backcountry. It will mean the difference between buying a stationary streaming webcam and purchasing a mirrorless, full-frame wonder of modern photography.
No matter what you're creating, you'll want a decent image, but just how good really depends on what kind of standards you can afford to support and what kind of standards you're growing audience demands of you.
Why trust us
PopPhoto has a long history of delivering the opinions of some of the sharpest and most prolific camera dorks the world has to offer. Since 1937, we've been reviewing cameras, providing wisdom from well-known photographers, and generally just nerding out about all that goes into making great pictures. Our current crop of writers and editors have decades of professional photography and camera writing experience among them. Collectively, we've probably shot with just about every camera and lens combo you can imagine—as well as some obscure stuff you may not even know about. Remember the Casio Tryx folding camera? PopPhoto does.
We also get that buying a camera is a big decision, which is why we're dedicated to helping folks choose the right one (or, in our case "ones") for their needs. Case in point: Handing over top dollar for an expensive rig may leave you unsatisfied if it doesn't fit your preferred shooting style. Sure, a $6,000 sports-oriented DSLR can capture landscapes, but do you really need to do it at 30 frames-per-second? No, you don't.