Blackmagic Pocket Cinema Camera 6K G2 review: Pro-grade cinema camera without the high price tag
This compact Blackmagic Design camera is an ideal choice for those just getting started in cinematography.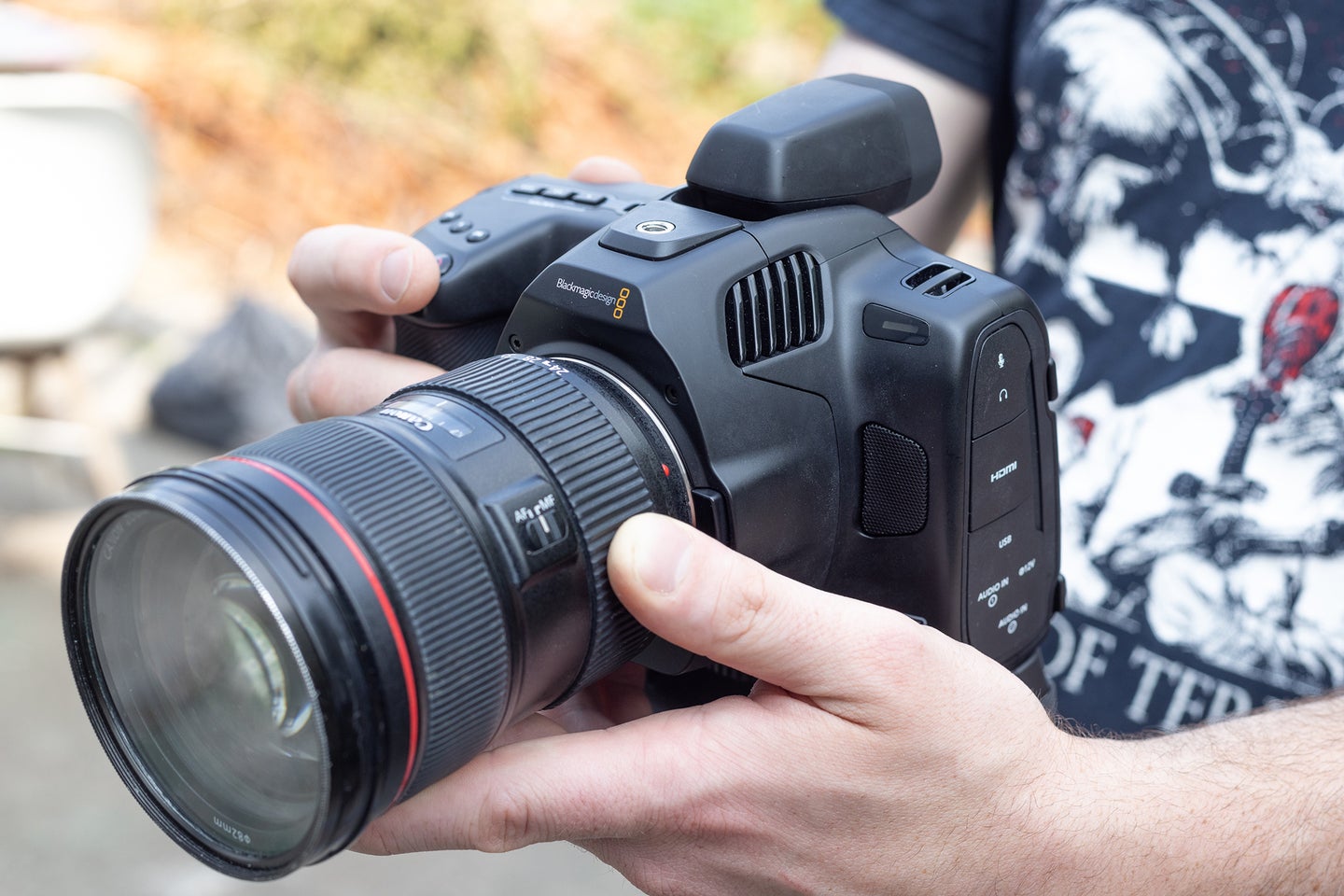 We may earn revenue from the products available on this page and participate in affiliate programs. Learn more ›
The Blackmagic Pocket Cinema Camera 6K G2 offers videographers high-quality raw footage at an early-in-the-career-friendly price point. Its compact profile makes it an ideal choice for the filmmaker working solo. The menu systems are intuitive and easy to navigate, and while it certainly isn't designed to do everything, it's an excellent choice for capturing beautiful video footage. The Blackmagic Pocket Cinema Camera is known for its excellent video quality and advanced color science, and the 6K G2 did not disappoint. We spent a few weeks using the BMPCC 6K G2 to see how it performed in real-world situations to put it to the test.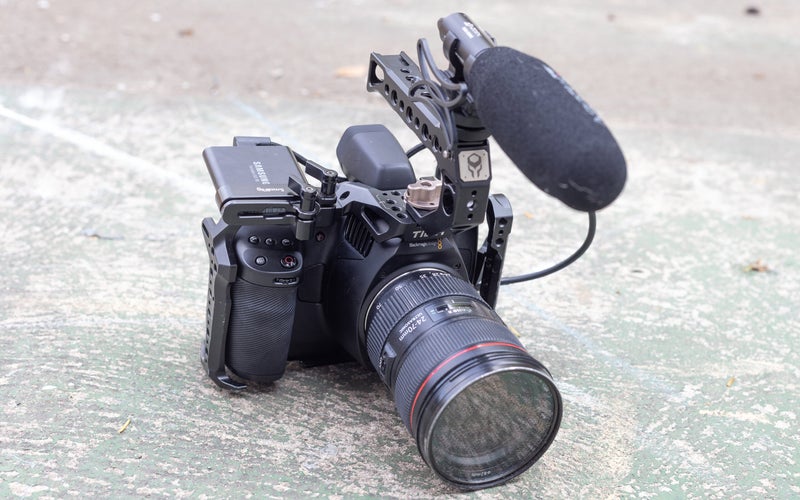 Overview: The BMPCC 6K G2's compact form factor makes it an ideal choice for solo and run-and-gun filmmakers. It offers beautiful video quality and intuitive controls at a relatively affordable price.
Key specs:
Image sensor: 23.1 x 12.99 mm (Super35) CMOS
Sensor resolution: 21.2 megapixels (6144 x 3456)
Max video quality: Raw 6K (6144 x 3456) up to 50 fps
Lens mount: Canon EF
Memory card slot: Slot 1: SD/SDHC/SDXC (UHS-II), Slot 2: CFast
Built-in microphone: Stereo
Dimensions: 7.08 x 4.84 x 4.41 inches
Weight: 2.65 pounds
Pros
Affordable cost 
Articulating screen
Optional EVF
Intuitive menu system
Delivers beautiful high-quality video footage
Cons: 
No built-in ND filters
Battery attachment makes the camera body bulky
Best used with a cage, which will need to be purchased separately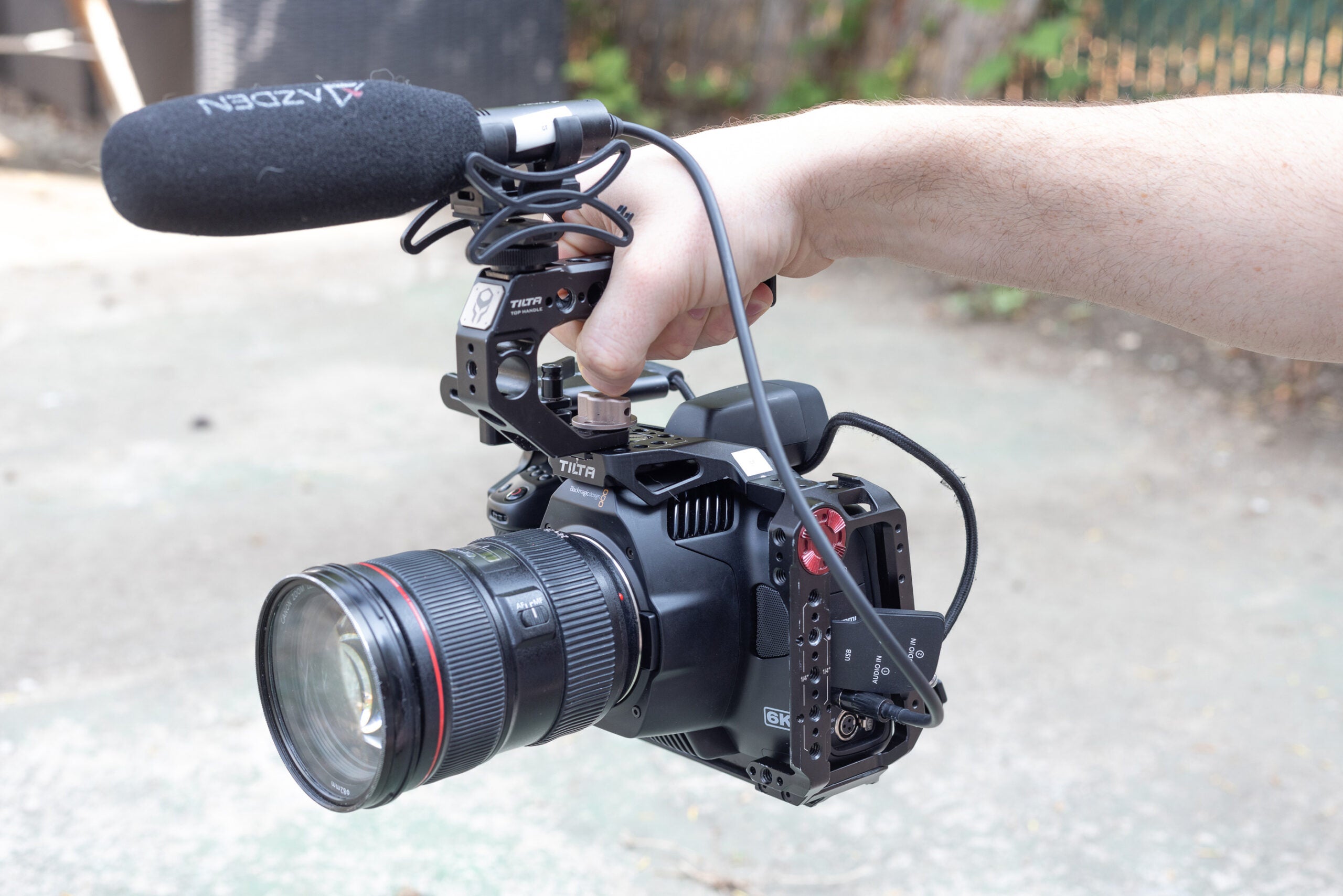 What's new 
The BMPCC 6K G2 has a larger battery for longer shooting times and includes an optional EVF attachment and an articulating touchscreen. In many ways, the BMPCC 6K G2 is similar to the BMPCC 6K Pro in form and function. While the Pro has a higher nit value on its touchscreen and built-in pro filters, the G2 is $540 cheaper. That price difference makes it a great choice for a filmmaker on a budget or as a secondary camera.
It can shoot 6144 x 3456 6K footage up to 50fps and 61244 x 2560 (6K 2:4:1) up to 60fps. There are also options to shoot in 60fps at 5.7K, 4K DCI, Ultra HD, and 3.7K 6:5 anamorphic. If you want to shoot at 120 fps, you will need to drop the resolution down to 2.8K 17:9 or HD.
Blackmagic Pocket Cinema Camera 6K G2 design
The BMPCC 6K G2 has a similar form factor to the 6K Pro. In hand, it feels like a chunky oversized DSLR, although most filmmakers will probably end up putting the camera in a cage for easier handling. It's just over 7 inches wide, 4.84 inches tall, and 4.4 inches deep; the body weighs only 2.65 pounds. Although it's not small enough to fit in your actual pocket, it is much more lightweight compared to other cinema cameras on the market. It utilizes a Canon EF lens mount that is compatible with many photography and cinema lenses. 
The BMPCC 6K G2 maintains the same intuitive controls found on the 6K Pro. There's a big on/off switch on the top of the camera, next to three customizable buttons. Here you will also find controls for ISO, shutter speed, white balance, and a massive record button. Although Blackmagic didn't design this camera for photography, there is still a dedicated button for capturing stills while recording.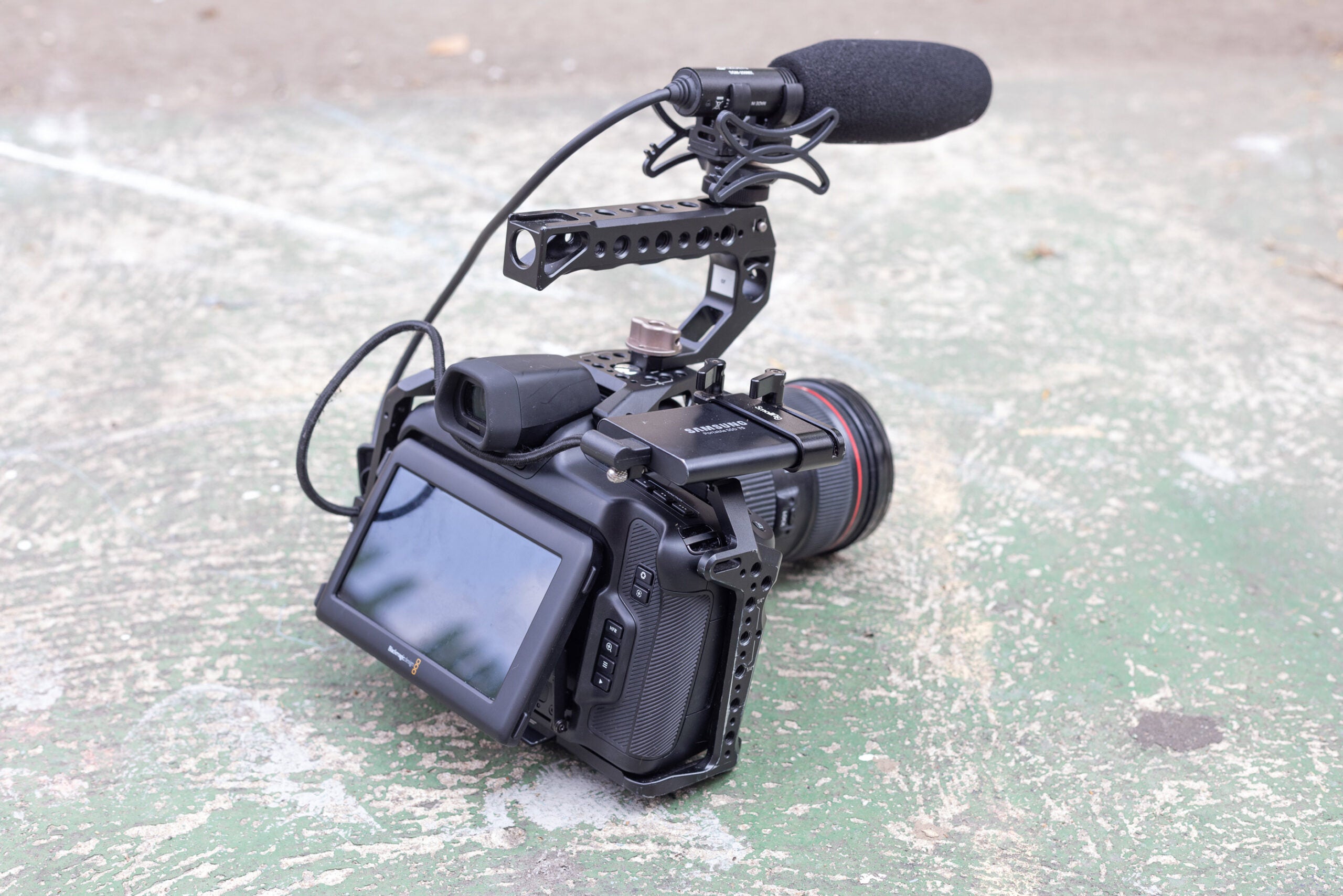 The 5-inch articulating touchscreen is where you will change the majority of the settings on the camera. By hitting the button with three lines, you'll access the menu. On the back of the camera, you will also find controls for iris, focus, high frame rate, zoom, and playback. You can find a smaller record button beside the lens mount and an aperture wheel on the front of the grip. 
The camera's right side features slots for a CFast media card or an SD card, with the audio connections on the left side. The bottom of the camera contains the battery door and standard ¼-20 threaded holes for attaching the camera to a tripod or shoulder mount. 
Most filmmakers will probably want to use the BMPCC 6K G2 with a third-party cage to take advantage of additional accessories. These metal housings are covered in additional threaded holes and make it easy to attach handles, audio equipment, extra monitors, and more. Essentially, the cage makes it so filmmakers can rig out their cameras as they see fit. Although this will add some bulk to the lightweight design, it makes the camera a lot more versatile.
Overall the BMPCC 6K G2 has a streamlined design, well-laid-out controls, and an intuitive menu that makes it easy to start shooting.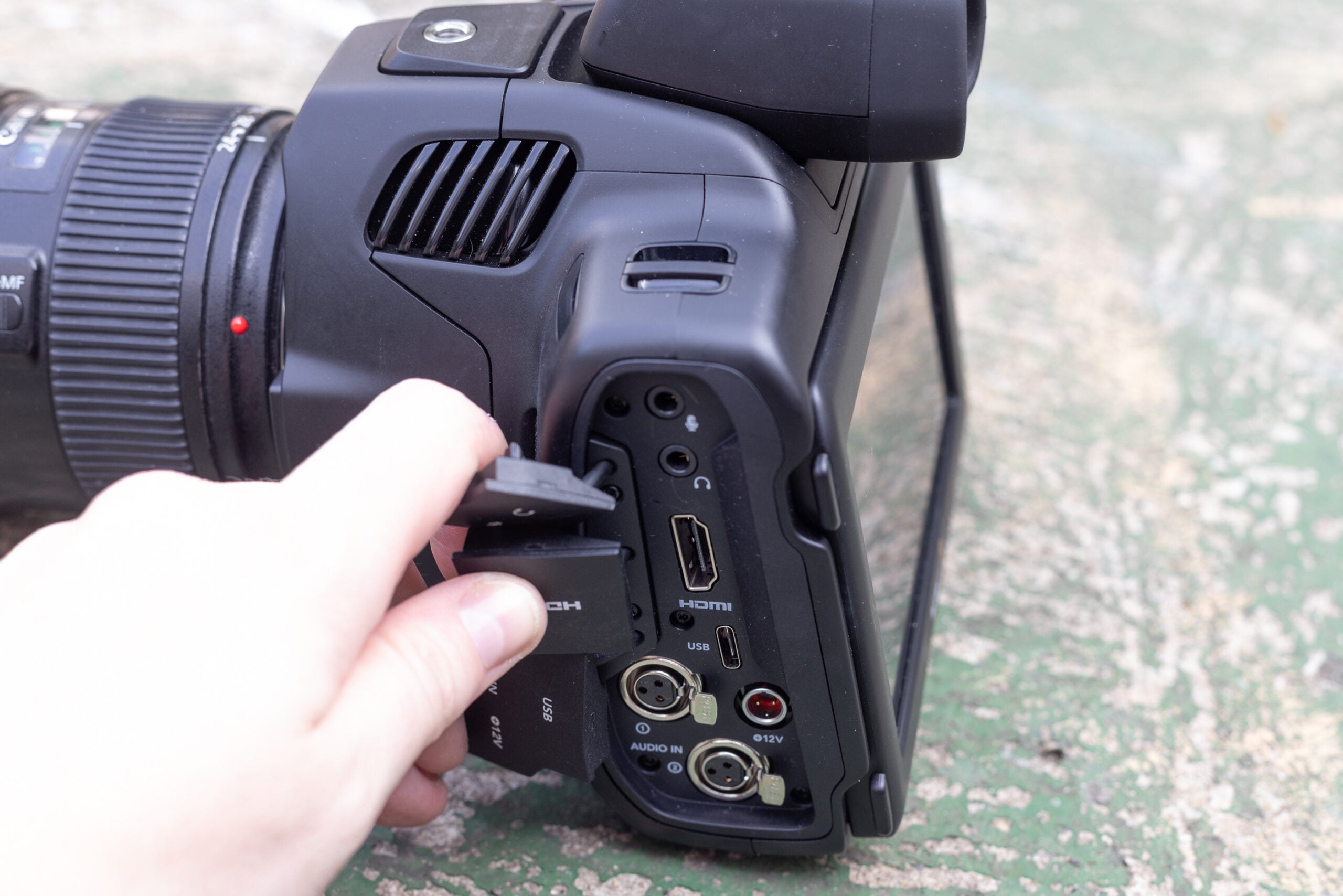 Audio connections
Like the BMPCC 6K Pro, the G2 has two locking mini-XLR mic inputs with phantom power. It also sports a 12-volt power input, an ⅛ inch audio input, headphone out, a USB-C jack, and an HDMI output. The controls are placed behind small doors to protect them when not in use. A pair of integrated microphones surround the lens mount. They are fine for capturing ambient audio, but an external mic is your best bet for capturing interviews or dialogue. 
Battery
The BMPCC 6K G2 uses a single Sony NP-F570 battery that can record for approximately 60 minutes. Filmmakers looking for longer battery life can attach a battery pack that holds two additional batteries to the bottom of the camera's body. It will prolong the camera's recording time, but it does add considerable bulk and will require the camera to be in a much larger cage. 
Although I didn't find it necessary during my time with the camera, having that extra juice could be useful. That's especially true if you plan on mounting the camera on a tripod for a long interview or for capturing video footage of a lengthy presentation or event. 
Recording media
The BMPPCC 6K G2 can record up to 6K RAW to CFast media cards, external SSDs, or SD UHS-II cards. If you are using external SSDs, make sure that you have cable locks to keep the connection between the SSD and the camera secure. Having a camera cage with a dedicated slot for securing an SSD is also recommended.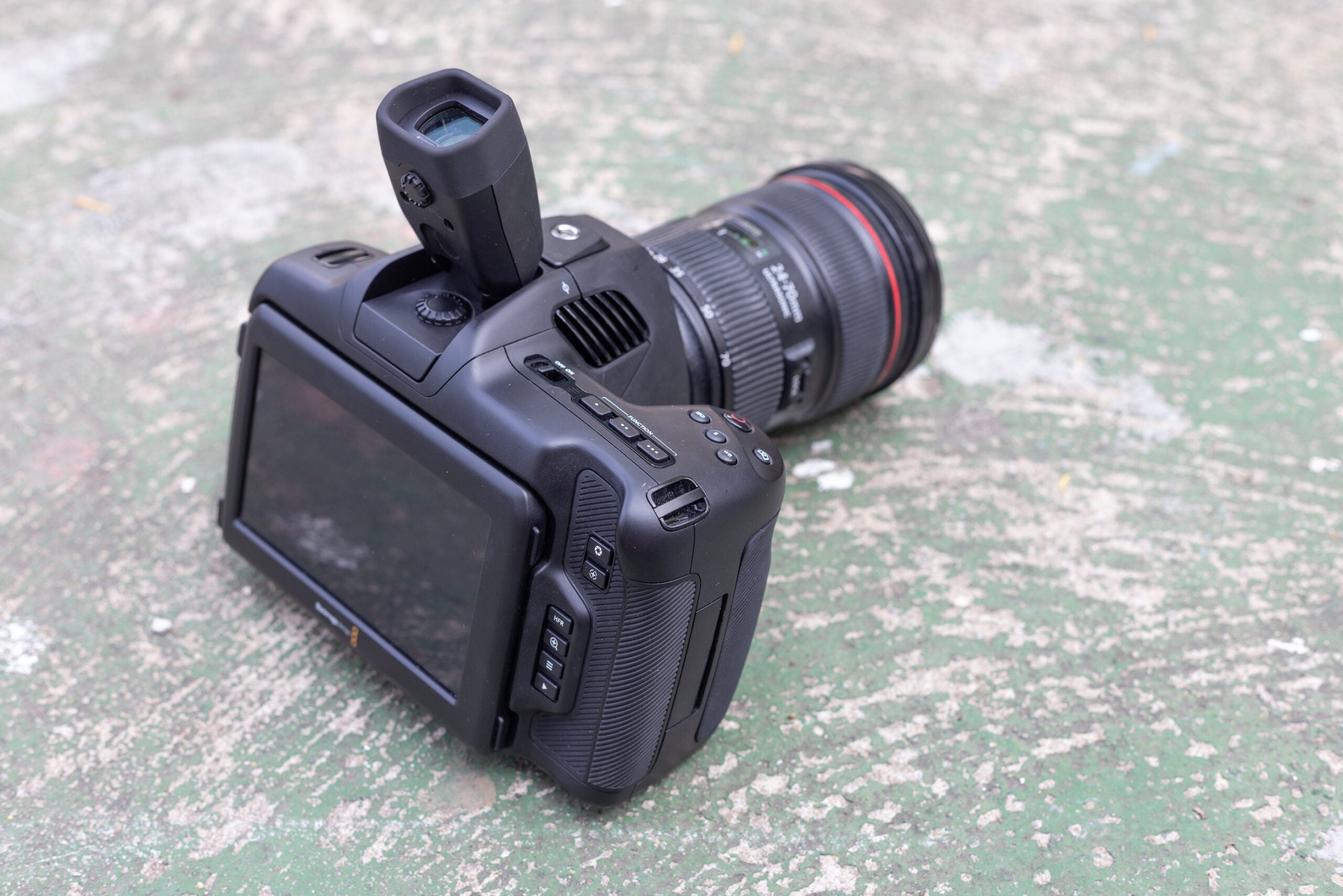 EVF 
New to the BMPCC 6K G2 is the Pro Electronic Viewfinder. This optional accessory attaches to the port on the top of the camera. Although the bright articulating screen is excellent in many situations, having the option to add an EVF makes it easier to shoot. It also makes it easier to pull focus when shooting outdoors on a bright sunny day. The EVF comes with three sizes of eyecup as well. 
Final thoughts on the Blackmagic Pocket Cinema Camera 6K G2
The BMPCC 6K G2 offers pro-level video quality on a budget. That makes this an excellent option for indie filmmakers early in their careers. It's also an attractive second camera for more seasoned shooters. The compact size makes it easy to travel with, and its adaptable design makes it versatile enough to work on a variety of shoots. The menu system is extremely intuitive (especially when compared to mirrorless cameras that try to do it all). But most importantly, it's capable of delivering absolutely stunning footage. Plus, at $1,595, it's an affordable way for young filmmakers to make the jump to working with a cinema camera.