| | | | | | |
| --- | --- | --- | --- | --- | --- |
| Best for indie filmmakers | | Sony PXW-FS7 XDCAM Super 35 Camera System | | SEE IT | A powerful video camera with a Super 35 sensor. |
| Best DSLR that's also a video camera | | Canon EOS-1D X Mark III | | SEE IT | A well-rounded camera for excellent stills and 4K video. |
| Best fixed-lens camera | | Panasonic AG-CX350 4K Camcorder | | SEE IT | A fixed-lens option with powerful zoom capabilities. |
We may earn revenue from the products available on this page and participate in affiliate programs. Learn more ›
Updated Mar 29, 2022 3:06 PM
Video is arguably one of the most important media formats of our time—with nearly every content creator, influencer, photographer, or artist dabbling in creating their own movies. And luckily, with the advent of video becoming so popular across social media, cameras have become smaller, lighter, and more feature-rich, with the standard quality now hovering around 4K. Along with these incredible updates to the latest in video tech, prices have dropped precipitously, fueling the growth of vlogging, indie-filmmaking, and citizen journalism, not to mention making it easy to put top-quality gear into the hands of home-movie enthusiasts, documentarians, students, community groups, businesses, YouTubers, sports teams, your grandmother, and anyone else who wants to capture memories or tell stories. So read on while we demystify some of the ins and outs of today's cameras. We've got suggestions for the best video cameras for gear backed up by hands-on experience, because the less time you spend scratching your head, the more you can spend bringing your projects to life.
What's inside your video equipment makes all the difference
Video camera technology is designed to capture the best image possible under a variety of conditions. Understanding what's inside your equipment will help you find the best camera for your needs, so let's take a look under the camera's hood. 
Sensors: The digital video camera's eye
The digital video camera's sensor captures light to create an image. Manufacturers use different size sensors. Here are some of the most common from biggest to smallest. Full-frame is found on many DSLRs and some newer professional cameras. APS-C (also known as Super-35) is used by many professional and prosumer cameras and are about 15 percent smaller. Micro Four Thirds is a high-quality sensor mostly found on mirrorless cameras that's about half the size of a full-frame sensor. 1-inch sensors are found on many all-in-one camcorders. Then, you get down into a range of sensors that are about 1/2.3 to 1/2.55 inches and are used in budget-priced compact digital video cameras, and cameras on most people's phones. Today, all sensors produce solid images, but smaller sensors "crop" the image much like you'd do in Photoshop. The resolution doesn't change—smaller sensors can still shoot 4K, for example—you'll just see less of the frame.
Resolution
Not long ago, high-definition cameras were all the rage, producing images that are 1920 pixels wide by 1080 pixels tall—often described as 1080p. Today, 4K video, which captures 3840 pixels by 2160, has become the norm on everything from your phone's camera to professional models used in Hollywood. (3840 x 2160 is known as UHD 4K and matches the resolution of 4K televisions; many 4K video cameras also shoot 4096 by 2160, which is 256 pixels wider.) You can also find prosumer and professional cameras that can capture 6K and 8K footage, and recently released cameras go as high as 12K. 
Do you need the highest resolution possible? Not necessarily. HD is enough for most hobbyists. If you have greater filmmaking ambitions, or you're producing content for a YouTube channel, you'll likely want to shoot in 4K. Even if you deliver your final product in HD, you can use the extra pixels to safely create artificial zooms without losing resolution. 
Bit Depth
Bit-depth determines a camera's color accuracy. Today's 4K video cameras come in both 8-bit and 10-bit flavors. Eight-bit 4K captures 16.7 million colors, while 10-bit goes up to 1.07 billion. The long and short of it: A camera shooting in 10-bit 4K will deliver a more color-accurate image than one shooting in eight-bit. On top of that, the larger color space makes color-correcting the footage easier—and that's important if you're playing around with creative styles or you just need to fix something that wasn't properly exposed. Many consumer cameras, and even some professional cameras, shoot with 8-bit color depth, so don't be put off if that's what your budget allows. You'll still get beautiful footage that can be used in many different applications. 
Lenses
Whether you're a hobbyist or a professional, your video camera options include those with fixed lenses and those with interchangeable ones. Both are feature-rich and produce excellent results. Often, fixed-lens cameras are less complicated to use thanks to their all-in-one design. They can also save you money in the long run because you won't have to buy separate lenses. On the flip side, cameras with interchangeable lenses, including DSLRs and mirrorless cameras, provide more creative flexibility and often use better glass. There's a reason Hollywood movies use cameras with interchangeable glass. But these cameras are often more expensive. 
Extra features

The best video cameras are more than just sensors and lenses, and when shopping for a model that suits your needs, there are some other features worth thinking about. Most video cameras have microphone inputs, either ⅛-inch or balanced XLR. Many of the higher-end models—but not DSLRs—have built-in Neutral Density Filters, also known as NDs, that can drop in front of the sensor to help cut the light. In-body stabilization is handy for keeping shaking to a minimum. Finally, many cameras shoot beautiful slow-motion footage, and if that's a creative option that interests you, look for ones that can shoot at 60, 120, or 240 frames per second. 
Finding the best video camera for you 
There's an old adage that says the best camera is the one you've got on you, and to a certain extent, that's true. But if I've learned anything over the years as a cameraman, producer, and director on documentaries and docu-series, it's that there's no one-size-fits-all camera; it's important, whenever possible, to find the one that fits your unique needs as a creator. Having the right camera for you and whatever you're shooting will allow you even greater creative flexibility and success. So why settle for what's in your pocket?
Why it made the cut: The Sony PXW-FS7 XDCAM has a Super 35mm sensor capable of 14 stops dynamic range in S-Log3 and lots of frame rate options, giving you more control.
Specs:
Sensor: Super 35mm Single-Chip Exmor CMOS
Max recording resolution: 4096 X 2160
Dimensions: 6.14 x 9.41 x 9.72 inches
Weight: 9.9 lb
Pros:
Large super 35mm sensor
Wide range of frame rate options
Good ergonomics
Cons:
Sony's indie workhorse features a Super 35 sensor and shoots 10-bit 4K at a variety of frame rates, including 24, 30, 60, 120, and 180 fps for lush slow motion. Its E-mount works with Sony's line of lenses, and with adapters, it can take advantage of a wide range of popular photo- and cinema glass. Two XLR audio inputs deliver 48v phantom power, and a built-in ND filter cuts up to six stops of light to aid in exposure.
Why it made the cut: For those who want the flexibility of shooting pro-quality stills along with excellent 4K video, the Canon EOS-1D X Mark III is a reliable choice.
Specs:
Sensor: 36 x 24 mm (Full-Frame) CMOS
Max recording resolution: 5472 x 2886
Dimensions: 6.22 x 6.6 x 3.25 inches
Weight: 3.17 lb (body with battery and memory)
Pros:
Excellent autofocus
Robust and durable build quality
Easy to switch between stills and video
Accepts fast CFExpress cards
Cons:
Could use more customization options
The third update to Canon's venerable 5D series of full-frame cameras shoots 10-bit 4K at up to 60 fps. It features a 191-point autofocus system that can track a subject's head and face using deep learning technology, and the legendary Canon color science looks gorgeous. An EF mount accepts still- and cinema lenses from Canon as well as other top manufacturers. Small and lightweight, it's perfect for people who want the flexibility of shooting fantastic photos and rich video without carrying extra equipment.
Why it made the cut: Canon's VIXIA HF G50 is an affordable and compact camcorder with great video quality.
Specs:
Sensor: 1/2.3″-Type CMOS Sensor
Max recording resolution: 3840 x 2160
Dimensions: 4.5 x 3.3 x 9.1 inches
Weight: 1.91 lb (body with battery and memory)
Pros:
Compact and lightweight
Dual SD card slots
Good stabilization
Built-in ND filters
Cons:
The HF G50 records 8-bit 4K footage at 30 fps and HD at up to 60 fps for versatility. It features dual SD card slots that can record in Relay mode, which automatically switches over to the second card to capture longer events, and Dual Record mode, which essentially backs up your files to the second card in real time. The camera includes a standard 3.5mm mic input for improved audio, and tools for focus and exposure assistance. The G50 can also be used as a high-end web camera, which is perfect for vloggers and YouTubers who like to broadcast live.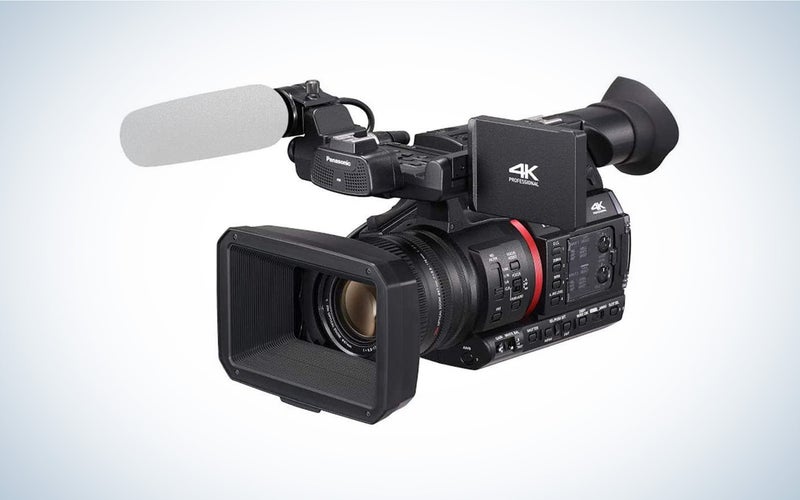 Why it made the cut: Panasonic's camcorder offers a quality fixed-lens with 20x zoom for those wanting versatility without a full lens arsenal.
Specs:
Sensor: 1″-Type MOS Sensor
Max recording resolution: 3840 x 2160
Dimensions: 7.1 x 6.8 x 12.2 inches
Weight: 4.19 lb
Pros:
Excellent stabilization system
Wide zoom range for versatility
Lightweight
Cons:
No log/V-Log recording capability
This fixed-lens camera features 10-bit UHD 4K and HD recording, at up to 60 fps and 120 fps respectively. The built-in lens can zoom from 24.5mm (full-frame equivalent) to 490mm, making it excellent for sporting events, news gathering, lectures, or other non-fiction situations. Dual XLR audio with 48v phantom power connects to professional microphones, while internal ND filters provide two, four, or six stops of light reduction.
Why it made the cut: This budget pick doesn't skimp on features with offerings like face detection, solid image stabilization, and easy-to-use controls.
Specs:
Sensor: 1/5.8″-Type CMOS Sensor
Max recording resolution: 1920 x 1080
Dimensions: 2.1 x 2.3 x 5.0 inches
Weight: 6.7 oz (body only)
Pros:
Good image stabilization
Very lightweight
Easy to use
Affordable
Cons:
Slow autofocus
No external mic port
Sony's entry-level handycam features 1080p HD recording and a 60x zoom to get in tight on the action. Face detection optical image stabilization make it much easier for even novice videographers to capture satisfying footage. At this price, don't expect the highest-quality images or much control over the camera's functionality—this is not a tool for filmmakers. But as something small to use on a vacation, or to introduce kids to the fun of making videos, it's ideal.
FAQs
Q: What cameras do professionals use?
Professionals generally use cameras that provide not only high image quality, but also maximum flexibility and control. This often means cameras with interchangeable lenses, high bit-rate recording, 4K or higher resolution, and a wide dynamic range. These professional cameras also can output their video signals to external monitors, and can be rigged out with filmmaking tools like matte boxes, follow-focus knobs, and larger external batteries. Some professionals, especially documentary makers and news teams, also look for built-in ND filters and high-quality audio inputs. 
Q: How do you clean and maintain your digital video camera? 
After shooting, wipe down your camera with a light cloth to remove dust and dirt, paying particular attention to the areas around the focus, zoom, and aperture wheels if it's a fixed-lens camera. Be sure to use a lens cleaning kit to maintain your glass. Use a blower to remove dust from the front element, and the included lint-free tissues to wipe away any fingerprints. For more stubborn ones, lens-cleaning solution can be used, but never use harsh cleansers like window cleaner, which can damage a lens's protective coating. If you're shooting in inclement weather, use a camera cover to hold back the rain—in a pinch, a plastic bag can suffice, but make sure it's fitted over the camera in a way that won't inadvertently capture water. If you get dust on your camera's sensor, use a special sensor cleaning kit to remove it—the last thing you want to do is damage the sensor, the very heart of your camera. If problems with the camera's operation come up, consult the factory or a certified repair shop.  
Q: What type of cameras do YouTubers use?
There isn't any camera specifically designed to work with YouTube. In fact, any video camera that can shoot HD, and has inputs for an external microphone, can make an excellent YouTube camera. It all depends on what you're trying to shoot. For instance, if you're recording yourself reviewing your favorite band's new record, you probably don't need a camera with fancy lenses or 4K resolution. On the other hand, if your YouTube channel features you traveling to exotic locations and visiting breathtaking vistas, a high-end video camera or DSLR with top-notch lenses and lots of control over the image will capture the kind of footage that carries your audience with you on your journeys. 
It's a wrap on shopping for the best digital video camera
I've been working professionally for a long time and I've rarely met a camera that couldn't do what I needed it to do, and these days, advances in technology make that even more true. However, like any tool, each video camera has its strengths and weaknesses, and it's worth the time to investigate the technology when figuring out the best video camera for accomplishing your creative goals. Are you a vlogger? Journalist? Feature-filmmaker? There's a camera out there for you and if you take the time to learn to use it right, your projects will get the red-carpet treatment.