| | | | | | |
| --- | --- | --- | --- | --- | --- |
| Best overall | | Holy Stone HS110D FPV RC Drone with 1080P HD Camera | | SEE IT | A good camera drone with plenty of features. |
| Best for beginners | | Ryze Tech Tello Drone for Beginners | | SEE IT | Fully programmable while still being straightforward to fly. |
| Best for video | | CHUBORY WiFI FPV 1080P HD Drone | | SEE IT | Two camera angles for unique perspectives and quality video recording. |
Updated Apr 27, 2023 9:56 AM
We may earn revenue from the products available on this page and participate in affiliate programs. Learn more ›
Drones aren't just for the military or incredible wildlife documentarians anymore. In the past decade, drones have become widely accessible and have mostly taken the place of toy airplanes or toy helicopters. Today, drones have become a favorite among photographers, videographers, kids, and anyone who just wants to fly a cool toy. They're fun, sleek, and stimulating. Drones can be pretty expensive. While there are extreme cases of $300,000 drones (good lord), most higher-end drones fall around $1K-$2K. For novice flyers or those watching their budget, this can be off-putting. Luckily, there are lots of great budget options available. While they might not be as fancy and advanced as their more expensive counterparts, there are several options that are stable, easy to use, and offer a great user experience. Here are some of the best drones under $100 so you can take flight.
How we chose the best drones under $100
The writers and editors at Pop Photo have decades of experience in just about every genre of photography and photography-adjacent topics. When selecting the best drones for under $100, we wanted to make sure to find quality options that still had decent features and were easy to fly, despite the low price point. Stability in the air and battery life were important factors as well. Lastly, we tried to select drones that fit various use types and user preferences.
The best drones under $100: Reviews & Recommendations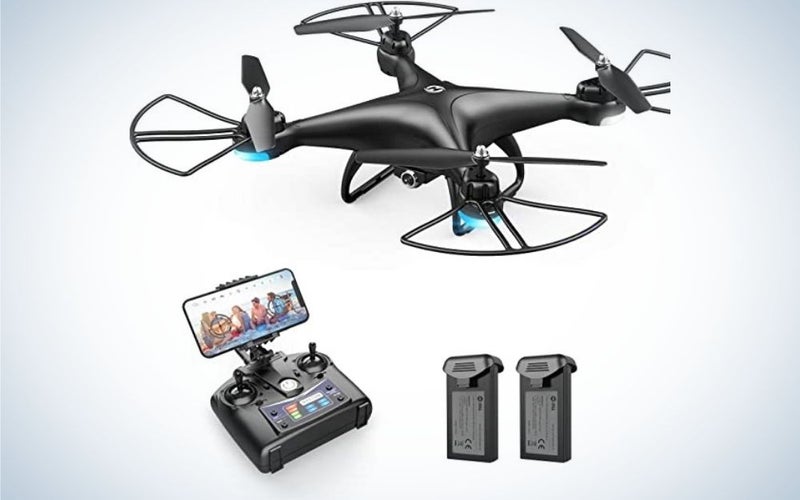 Why it made the cut: With a variety of features, this budget drone has a bit of everything in a perfect mid-size model with a 1080p FPV camera and lots of easy-to-use in-app controls.
Key Features:
Dimensions: 12.6 x 12.6 x 4.70 inches
Weight: 5.3 oz
Recording Modes: 120° FOV 1080P
Pros:
Excellent value
Easy to use remote
Great for beginners
1080p video capabilities
Cons:
Not wind-proof
Phone app asks multiple permissions; may be too intrusive for some users
The Holy Stone is the holy grail when it comes to the best drones under $100. It features a pre-set button that allows for flips in any direction and a landing feature that assists novice flyers, so you don't crash your new toy.
It also has a 1080P FOV 120° HD FPV camera with altitude hold for great images, tons of mobile control features in the app like voice control and gravity sensor control, and multiple speeds. And it comes with two batteries for a total of 20 minutes of flight time.
The app is easy to use, and the mid-size body makes for a perfect user experience. However, some customers didn't like how seemingly invasive the app can be; it may be too intrusive for some.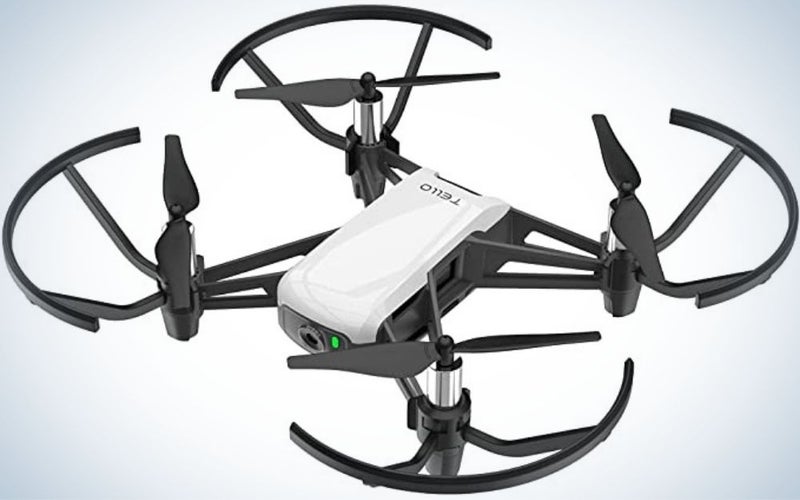 Why it made the cut: This lightweight and easy-to-use drone is ideal for beginners because it's simple, stable, lightweight, and controlled via an app. 
Key Features:
Dimensions: 3.86 x 3.66 x 1.61 inches
Weight: 2.82 oz
Video Output Resolution: 1280 x 720 pixels
Pros:
Lightweight
Easy to maneuver
Stable
Takes good 5 MP photos and videos
Cons:
Not great for dark/nighttime use
Not suitable for windy conditions
Limited to 99 ft altitude
With intuitive controls and an easy-to-use app, this drone for beginners is super simple to use while learning how to fly properly.
The high-capacity battery offers 13 minutes of flight time, which is excellent at this ultra-low price point. In addition, you can record 5 MP pictures and videos with EZ Shots and easily share them on social media from your smartphone. This drone is also fully programmable with Scratch, an MIT-developed coding system that teaches kids how to program.
At under 3 oz, it's super lightweight, which is a double-edged sword. It won't be suitable for windy conditions, and we don't recommend using the drone in low light conditions or at nighttime. All in all, it's a great starter drone that doesn't offer a ton of frills but will help take good bird's eye photos and videos and get you started with drone flight control.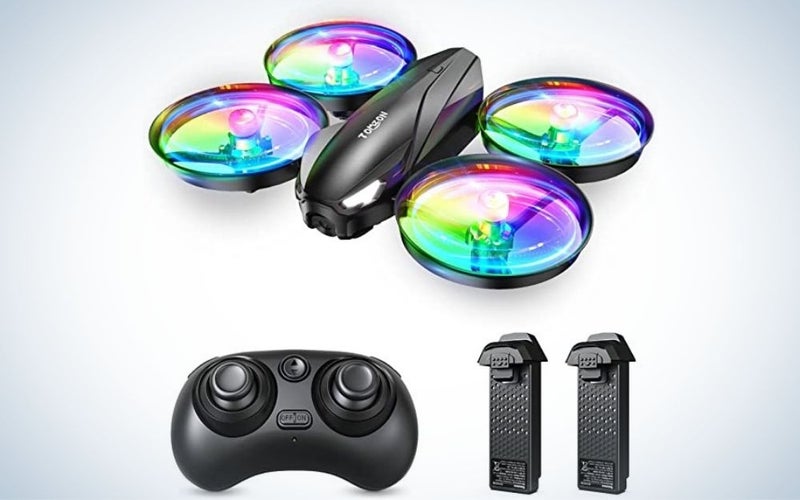 Why it made the cut: Get your kids in on the drone fun with this remote-controlled quadcopter with several LED light-up features, quick and easy pairing with the included remote, and 3D flips that make flying cool.
Key Features:
Dimensions: 5 x 6.22 x 1.65 inches
Weight: 12 oz
Flight time: 16-18 min
Pros:
Automatic pairing
Easy to control
One key controls
Colorful LED lights for fun night flying
Safety guards
Cons:
This simple drone for kids is all about the coolness factor while still teaching your kids how to fly. Unfortunately, it doesn't have a camera, so it's more suitable as a gift for little ones looking to dip their tiny toes into the world of drones.
Since accidents happen, it's helpful that outside safety guards protect the propellers. In short: this thing is hard to break. The remote is kid-sized for small hands, and you won't have to rely on an app for use. It's stable, easy to control, and comes with four LED lights with seven color effects on the motors, making for cool lighting effects. These lights are also great for night use. 
The "push to flip" feature creates fun drone flips in the air, an exciting thing for kids and adults alike. The drones can last for up to 18 minutes of flight time with 360° rotation and feature one-key landing/taking-off with three different speed adjustments to make learning to fly super accessible for any age.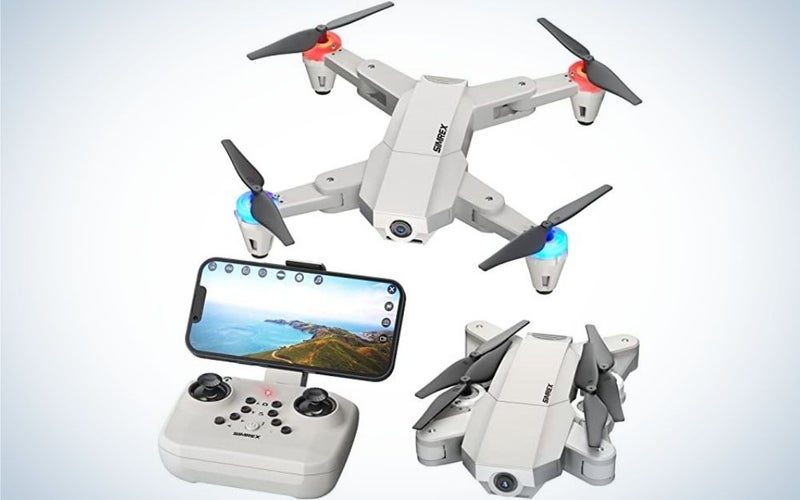 Why it made the cut: This WiFi-enabled, foldable, palm-sized FPV drone features a 720P HD Camera, Altitude Hold, up to 12 minutes of use, and live video that stays steady without needing any assistance. 
Key Features:
Dimensions: 6.39 x 4.59 x 3.76 inches
Weight: 12 oz
Video Output Resolution: 1280 x 720 Pixels
Pros:
720P HD Camera
Compact and foldable
3D flips
Variety of pre-programmable options
App is clear and syncs well
Cons:
Phone holder may not be suitable for all phones
Could have longer battery life
A great starter drone or toy for more seasoned flyers, this mini drone fits in the palm of your hand and weighs next to nothing. The controls are extremely easy to use, no matter your experience. In addition, it has several pre-set controls, such as one-button landing, that make flying a breeze.
It can be controlled via mobile phone or remote control and includes a Headless Mode, so you never get disoriented. This mini drone also features a built-in 720P high definition FPV Wifi Camera, which takes quality aerial photos. The foldable design means it is compact and space-saving while stored, yet sizable enough for stability while in flight. The battery lasts up to 12 minutes, which isn't long but is impressive for its size.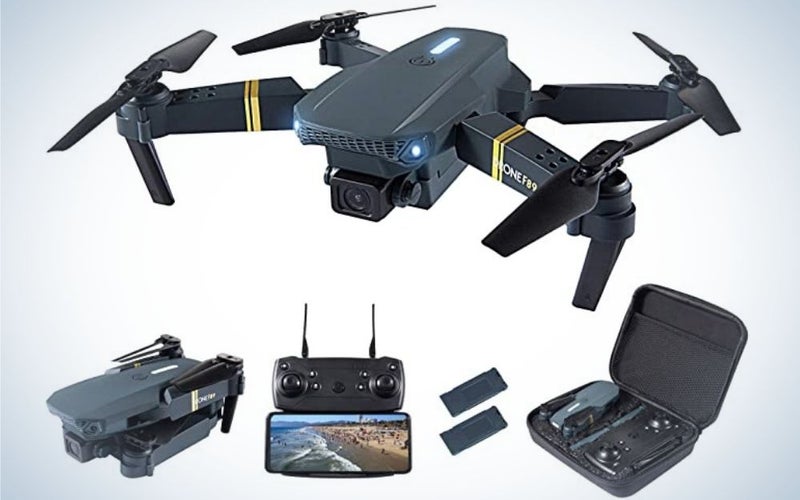 Why it made the cut: Take incredible aerial videos with this 1080p HD video drone that's tiny, easy to take on the go, and offers a whopping 40 minutes of flight time.
Key Features:
Dimensions: 9.29 x 8.31 x 2.83 inches
Weight: 1.48 pounds
Video Output Resolution: 1920 x 1080 pixels
Pros:
Up to 40 minutes of flight time
Foldable and compact
Protective guards
Dual cameras / Optical flow positioning
App supports Apple & Android
Cons:
Included instructions are confusing
"Follow me" function is sometimes wonky 
This HD FPV video drone with altitude hold has a little bit of everything for a budget model. It features a switchable front camera and bottom optical flow camera so you can have live images looking straightforward and simultaneously a good shot of what's happening below. The two camera angles help capture a whole scene from different angles.
You get tons of features, including auto-hover, one-key take-off and landing, one-key flip and roll, "follow me," and more. It's super simple and easy to use, making it a good option for beginners and kids.
The best part? You get up to 40 minutes of flight time, which is one of the longest we've seen at this price point. It's also so compact that you can easily take it in a backpack for hikes.
Things to consider before buying the best drones under $100
We'll give it to you straight: for under $100, you can get a quality, easy-to-use drone, but don't expect frilly features and tons of bells and whistles. Before you buy a drone, just be sure to look out for a few key features, such as the ones below. 
Video capability
Do you intend to use the drone for photography or video? Since several options under $100 include video, you might as well look for drones with that feature and practice taking photos and videos on a model you won't be as worried about damaging.
RFT
RTF stands for Ready to Fly. That means the model comes ready to go and doesn't require any more tools, hardware, or setup. There are lots of RTF drones under $100.
Battery charge time to flight time ratio
Look for drones that offer longer flight times with reasonable battery charge times, so you can fly often and for more extended periods without having to wait hours for just 5 minutes of flying. Many cheaper drones have shorter flight times, so one way to combat this issue is to purchase a few extra batteries.
Stability
Look for features that keep your drone stable. Since most cheap drones are made with lightweight plastic, they might not be as good at remaining stable in windier conditions. Look for language like "Altitude Hold" in the description, which means it analyzes and works with the air pressure to hold its position in flight.
FAQs
Q: What happens if a drone goes out of range?
If a drone goes out of range, that means it's lost its signal. Usually, a drone will have a built-in failsafe to ensure you don't lose it. Most GPS drones (DJI) automatically "return to home" when the signal is lost.
Q: How high can a drone fly?
How high your drone flies is super important. 400 feet is the maximum altitude allowed by the FAA, as otherwise, you might run into aircraft and cause some seriously dangerous situations. However, some smaller drones aren't even capable of flying that high, so you may not need to worry about it. 
Q: How far can a drone fly?
How far a drone can fly is dependent on the model and price point. Usually, you're looking at about 20-100 yards for most toy and budget models, but higher-end models can fly several miles.
Final thoughts on the best drones under $100
Budget drones make quadcopter flying more accessible to novice flyers, kids, or anyone who just wants to dip their toes into the world of drones. If you're looking for fun aerial picture taking and want to learn how to use drones without shelling out hundreds of dollars, these drones under $100 will give you a high-quality experience at a great price point.
Why trust us
PopPhoto has a long history of delivering the opinions of some of the sharpest and most prolific camera dorks the world has to offer. Since 1937, we've been reviewing cameras, providing wisdom from well-known photographers, and generally just nerding out about all that goes into making great pictures. Our current crop of writers and editors have decades of professional photography and camera writing experience among them. Collectively, we've probably shot with just about every camera and lens combo you can imagine—as well as some obscure stuff you may not even know about. Remember the Casio Tryx folding camera? PopPhoto does.
We also get that buying a camera is a big decision, which is why we're dedicated to helping folks choose the right one (or, in our case "ones") for their needs. Case in point: Handing over top dollar for an expensive rig may leave you unsatisfied if it doesn't fit your preferred shooting style. Sure, a $6,000 sports-oriented DSLR can capture landscapes, but do you really need to do it at 30 frames-per-second? No, you don't.