| | | | | | |
| --- | --- | --- | --- | --- | --- |
| Best overall monitor for photo editing | | BenQ SW271 27 Inch 4K HDR Professional IPS Monitor | | Check Price | With stunning 4K resolution and factory-calibrated 99% Adobe RGB, this pick checks all the boxes when it comes to high-quality monitors for photo editing. |
| Best color-accurate monitor for photo editing | | BenQ PD3220U 32 inch 4K Monitor | | Check Price | For stunning color quality that will have your edits looking tack-sharp, this pick's AQ Color Technology captures every hue with 100 percent of sRGB and 709 color spaces. |
| Best budget photo editing monitor | | Dell U2520DR 25 Inch 1440p QHD UltraSharp, IPS Thin Bezel Monitor | | Check Price | No need to sacrifice color reproduction, peak brightness, or image quality for price with this affordable, yet high-powered QHD monitor. |
Updated Apr 15, 2022 2:16 PM
Whether you're a professional photographer or budding enthusiast, the monitor you use for editing can make or break your photos. That's why we're taking a close look at the best monitors for photo editing.
There are a number of factors at play when selecting the best monitor, but one concern reigns, above all others—a monitor's ability to display accurate colors. Without color accuracy, you can spend hours tweaking on screen only to wind up with an abomination of a print. Without a color-accurate display, there is no guarantee that the images you're editing feature the colors you saw through your camera's lens.
To avoid that disaster you'll want to look for an in-plain monitor (or IPS) to make sure colors are properly displayed. You'll also need to see how much of the sRGB and Adobe RGB spectrum your monitor can display. The ideal is around 90 percent for sRGB and 70 percent for Adobe.
Monitor definition plays a major part in both how much and how many your monitor can display at one time and the level of detail it can handle in each of your photos. Whether FHD, WQHD, or 4K makes a major difference is a fairly contentious argument, but we'll take a look. We'll also take a dive into that eternal question: "Does size matter?"
Features to consider when shopping for the best monitor for photo editing
Join us for a look at the features you'll want to consider when finding the best monitor for photo editing. We'll explore the very basics, like color accuracy, as well some of the flashier features that professional photographers swear by.
Professional photography editing calls for full SRGB & Adobe Color coverage
There are plenty of features to consider when searching for the best monitor for photo editing, size, definition, curve, etc., but you can throw all of that out the window if you don't have a monitor that can appropriately reproduce colors. Using a monitor that can't accurately display a wide range of colors means you won't be editing the photo you actually shot. That picture you snapped this summer of your daughter's lemonade stand won't come out the way you saw it and the way you shot it. The spectrums of greens in the grass behind her might look uniform and drab. The sun won't shimmer through the blue sky like you know it did on that day.
To avoid that, you'll want an IPS monitor, which uses aligned liquid crystals to display rich color. You want to make sure the monitor can handle 90 percent for sRGB and 70 percent for Adobe. Sure, you can use online calibration tools, but many monitors now provide built-in calibration software to make sure the colors you're seeing are represented on other monitors, on social media, and in prints.
Consider going 4K for your photo editing monitor
Not every photographer works off a 4K monitor, but it's hard to deny the benefits of higher definition. A monitor that displays more detail means you'll be able to make more precise edits. Photoshop really shines in 4K and its scalability means you'll be able to work on photos in full definition without them taking up your entire screen. If you work with 4K video, you'll certainly want to edit in that format. Before you go running to the store for a 4K monitor you need to make sure your computer actually supports it. If it doesn't, it might be time for an upgrade or two.
If you need more screen space, go for an ultra-wide monitor
The more room you have to display your photos, the more detail will be displayed. Ultrawide monitors provide the space you need while multitasking, utilizing your editing tools alongside your palettes, and diving deep into your drafts. Traditional monitors have a 16:9 ratio whereas ultrawide monitors display 21:9 or higher. Ultrawide monitors provide the experience of working off of two monitors while generally costing less. Setting up one large monitor for photo editing also is generally easier and requires fewer wires.
The key for ultrawide is to go big. Don't go below 34″. Anything below that and you'll have diminishing returns in terms of definition and usability. If you can't afford an ultrawide over 34″ it's best to consider a monitor with high definition rather than an increased horizontal workspace.
The pros and cons of a curved monitor for photo editing
Curved monitors for photo editing provide an immersive experience unlike any other while giving you the space of an ultrawide. Designed with the human eye in mind, curved monitors expand the field of view by curving the edges of the screen toward the viewer, bringing the image into peripheral vision. Their benefits include reduced eye strain so that you can work for longer without needing a break. Their curved edges also result in reduced image distortion, making it easier to gauge the impact of your edits. Like ultrawide monitors, they generally give you more room to multitask. We don't recommend picking up a curved monitor less than 34″. The curve doesn't mean much without the size to accommodate it.
Look at the full package, not a single feature
You may fall in love with one feature like ultrawide or curved, but finding a monitor you plan to dedicate to photo editing means judging how multiple features come together to meet your needs. We cannot stress enough how important IPS and color accuracy are to a winning formula. Besides that, a resolution above standard HD is recommended, as is a monitor dedicated to providing color accuracy, along with a design that works to reduce eye strain. If you are planning to regularly use the monitor for entertainment and gaming, other factors certainly come into play.
This BenQ monitor is the standard by which other monitors must be judged. Not everyone needs it, but professional photographers will find themselves mesmerized and bemused by all of its features. Its 27-inch, 4K HDR screen displays immense detail. It covers 99 percent of Adobe colors, 100 percent of sRGB, and comes factory-color-calibrated. It also allows for hardware calibration through Palette Master Element Software. A detachable shading hood makes sure outside light doesn't interfere with your edits. It isn't ultrawide or curved, but it's designed with one thing in mind: editing photos.
This 32-inch BenQ monitor delivers amazing color accuracy, covering 100 percent of sRBG and 95 percent of DCI-P3 in 4K. It also provides a number of eye-care technologies that prevent flickering and harmful blue light. A dual-view mode allows for photos to be displayed side-by-side. The trade-off for such a color-accurate monitor is slower response times. Thankfully, if you plan to put this to work as a dedicated photo-editing monitor response time should not matter much.
This Viewsonic monitor puts its 4K definition to use across 43-inch so that you'll be able to dive into the most minute detail in your photo masterpiece. Featuring IPS and multi-picture viewing technology that allows 4 video sources, picture-in-picture, and picture-by-picture technology, this monitor easily accommodates photo and video editing. This pick also offers flexible connectivity, as it can support laptops, PCs, and Macs, so you can ensure your setup is seamless.
This 34-inch LG Ultrawide monitor for photo editing gives you space to work, along with 99 percent sRGB color coverage. Its 1080p resolution may leave something to be desired for some, but its adjustable height and viewing angle can make your photo editing setup more comfortable. This pick also responds in rapid time, with a 75 Hertz Refresh Rate and 5ms GTG Response Time. As for other features, it's pretty bare-bones, but it makes for a good entry point for those who want a taste of the ultra-wide.
At 34″, this LG Ultrawide monitor for photo editing isn't the biggest on the block, but its curve draws you into every image. Multitasking tools allow for split-screen and multiple video and image displays. It also promises 99 percent sRBG coverage. Its WQHD definition is touted by many photographers as the preferable definition for image editors, and HDR10 comes in hand for any video editing or watching you might do. The height and tilt are also adjustable, so you can make your desk set up suit your preferences.
Photo editing monitors on a budget: What you get for under $400
The general wisdom is that when buying a monitor for photo editing you shouldn't go for the biggest and cheapest monitor you can find. What you should look for is IPS technology, good color coverage, decent resolution, and at least some adjustability. DELL, LG, Viewsonic, and other recognized manufacturers make budget models that do just that. If you're looking for something to get the job done without breaking the bank you don't have to stress.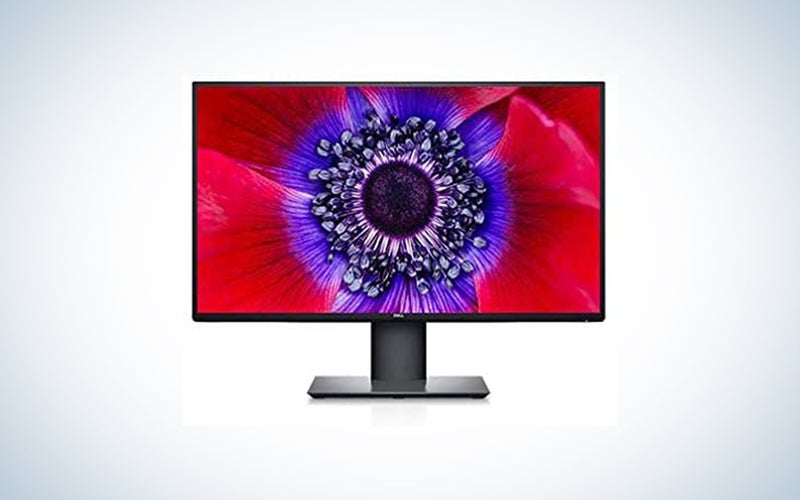 The Dell U2520DR gives you what you need for basic photo editing. It offers 99 percent sRBG color coverage and QHD, so you won't have to worry too much about color accuracy. It also comes with a very adjustable base that makes finding the ideal angle easy.
FAQs
Q: Do you need a 4K monitor for photo editing?
Do you need a 4K monitor to edit photos? No. However, 4K does provide a level of detail that standard HD simply does not, especially when you are using larger monitors. And yet, 4K does require higher-end video cards and can make lower fidelity images look worse than they do elsewhere. For this reason, many photographers advocate for QHD or 1440P.
Q: Is a curved monitor good for Photoshop?
Curved monitors are generally preferred by gamers, but there are benefits for those doing photo work as well. The curve is more ergonomic for our eyes. It reduces distortion and shadows. Advocates also say curved monitors are much more immersive, allowing greater attention to detail. However, curved monitors are generally more expensive. And some picture editors say that curved monitors distort the perception of straight lines, making photo editing more difficult.
Q: How bright should your monitor for photo editing be?
While this isn't exactly a settled debate, many professional photographers adhere to the Adobe RGB standard, which recommends 160 NITS. For some that is much too bright and for others too dark. But it is a good standard to shoot for.
A final word on shopping for the best monitor for photo editing
When shopping for the best monitor for photo editing, remember that color is key. Make sure you're looking at monitors with IPS technology that can display around 90 percent of sRGB and at least 70 percent of Adobe. While resolution and screen size can come down to personal preference, many photographers advocate a QHD, a resolution of 1440P. You don't need the most expensive monitor to get your work done, but make sure the monitor you purchase allows you to do your best work.