Updated May 8, 2023 2:20 PM
We may earn revenue from the products available on this page and participate in affiliate programs. Learn more ›
Whether you're a professional photographer or a budding enthusiast, the monitor you use for photo editing can make or break your photos. Without a quality monitor, you can spend hours tweaking your edits only to wind up with an abomination of a print or a frustratingly different look on another device. Features like color accuracy, panel technology, contrast ratio, and resolution all factor into what makes a monitor ideal for photo editing. It can be a potentially overwhelming decision. But we've found some of the best monitors for photo editing to help make the process easier.
How we picked the best monitors for photo editing
The writers and editors at PopPhoto have decades of photographic experience, which means we have spent countless hours in front of our computers and monitors editing photos. We've learned, at times, the hard way, what makes or breaks a good editing monitor. 
It should come as no surprise that color accuracy was our number one priority in choosing editing monitors. We also looked at brightness and contrast ratios, as those will impact viewing conditions and accurate edits as well. Lastly, we considered connectivity options and stand ergonomics.
The best monitors for photo editing: Reviews and Recommendations
The best monitor for you will depend on your level of experience, work preferences, the final purpose of the photos, and, of course, your budget. Below you'll find monitors suitable for a variety of needs at various price points. You're sure to find something that is ideal for you. 
Why it made the cut: With a detailed 4K resolution, exceptional color accuracy, and a color mode for previewing prints, this monitor is a top choice for photographers.
Specs
Screen size: 32 inches
Resolution: 3840 x 2160
Refresh rate: 60 Hz
Color gamut coverage: 99% Adobe RGB, 95% DCI-P3, 100% sRGB, 100% Rec. 709
Dimensions with stand: 29.4 x 25.7 x 8.8 inches
Pros
Excellent color accuracy
4K resolution
Good connectivity options
Includes color space for previewing prints
Cons
BenQ is one of the top choices for photo and video editors for a reason. This IPS monitor for photo editing offers truly impressive color accuracy right out of the box. It covers 99 percent of Adobe RGB, 100 percent of sRGB, and 95 percent of DCI-P3. It also features a 16-bit lookup table (LUT) for better color blending and 10-bit support for 1.07 billion colors. If you want to keep colors accurate over time, it supports hardware calibration without changing graphics card settings.
Beyond colors, the monitor utilizes an effective anti-glare panel coating for better viewing. It also includes a detachable shading hood for even more precise color accuracy when you need it. There are plenty of ports for connectivity, including two HDMI inputs, a DisplayPort 1.4 input, and a USB Type-C that supports device charging up to 60W. The included stand offers a good amount of adjustability, but it's also 100 x 100mm VESA compatible if you want an ergonomic monitor arm.
The Paper Color Sync will be a significant help for those who print their photos frequently. It simulates printing results when you provide the color gamut, printer model, and paper type. As a result, you'll spend less time re-printing and waste less ink and paper since you'll know what it will look like beforehand. It's truly the ideal choice for serious photographers.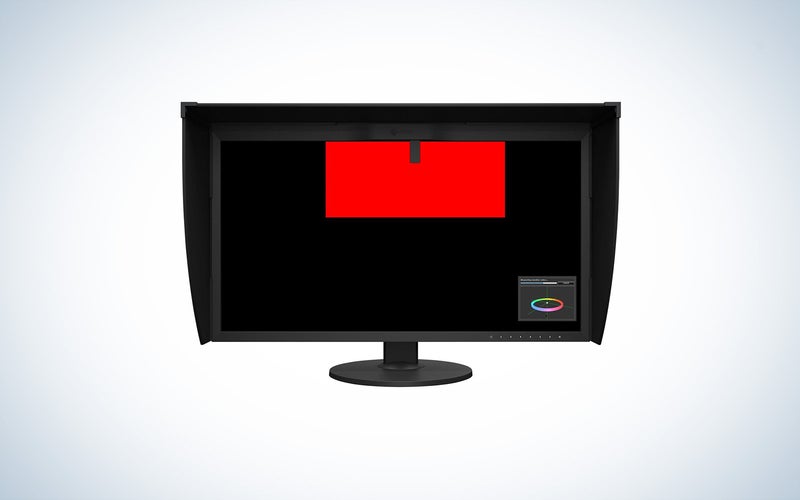 Why it made the cut: For the most particular creative professionals, this Eizo monitor offers a stunning 4096 x 2160 resolution on the 31.1-inch screen, 10-bit support for 1.07 billion colors, and 24-bit LUT. 
Specs
Screen size: 31.1 inches
Resolution: 4096 x 2160
Refresh rate: 23-61 Hz
Color gamut coverage: 99% Adobe RGB, 98% DCI-P3
Dimensions with stand: 28.9 x 23.1 x 11.4 inches
Pros
Stunning resolution
Superb color accuracy
Wide viewing angles
Cons
Yes, this monitor may cost more than most computers. But with the high-end price, you get some serious quality. Eizo designed this monitor with professional photographers, videographers, and designers in mind, that much is clear. It covers 99 percent of Adobe RGB gamut and 98 percent of DCI-P3 for accurate colors. It also offers a 1500:1 contrast ratio for true blacks and provides HDR gamma support. 
This professional photo editing monitor has a large 31.1-inch display with a 4096 x 2160 native resolution to see details better. It also features a 4K zoom function, which allows you to enlarge parts of the screen to check details and focus accuracy. This feature is especially ideal for those who make large prints, as sharp images are even more critical in those cases.
One of the best features for creatives is the built-in sensor and free access to ColorNavigator 6 software. It also supports ColorNavigator NX quality control (QC) software which saves calibration information to the monitor instead of the computer. All of this makes calibrating your monitor even easier, meaning you're more likely to do so more frequently, resulting in better photos and videos.
Why it made the cut: The BenQ PD3220U features a beautiful 4K resolution with HDR support, three display modes for different use cases (CAD/CAM, Animation, and Darkroom), and 100 percent sRGB color gamut coverage.
Specs
Screen size: 31.5 inches
Resolution: 3840 x 2160
Refresh rate: 60 Hz
Color gamut coverage: 100% sRGB, 100% Rec. 709, 95% DCI-P3
Dimensions with stand: 28.1 x 24.7 x 10.6 inches
Pros
Detailed 4K resolution
Large screen size
Good color accuracy
Includes an ergonomic stand
Cons
Adobe RGB coverage isn't as good as other options
A 4K resolution is the preferred choice for photo editing since it lets you see details better. This is especially useful for judging how accurate your focus is before you start spending time on edits. This BenQ monitor is a fantastic 4K monitor for photo editing, as it offers a 4K native resolution along with a pixel density of 140 ppi for excellent detail rendering.
The monitor provides 100 percent coverage of sRGB and 95 percent of DCI-P3 for accurate colors. Though BenQ doesn't offer numbers, reviews do mention lower Adobe RGB coverage, which isn't as ideal for printing work. But it supports DualView, which allows you to see two different color modes side-by-side on the same display, so you can judge how your photos will look on other platforms more easily. It also comes calibrated so that you can trust your colors right out of the box.
One unique bonus with this monitor is the Hotkey Puck G2. This device sits on the monitor stand or your desk and provides access to customizable shortcuts to the settings you need. There are plenty of ports for connectivity options, including two HDMI, one DisplayPort 1.4, and two Thunderbolt 3 ports that allow for daisy-chaining multiple displays.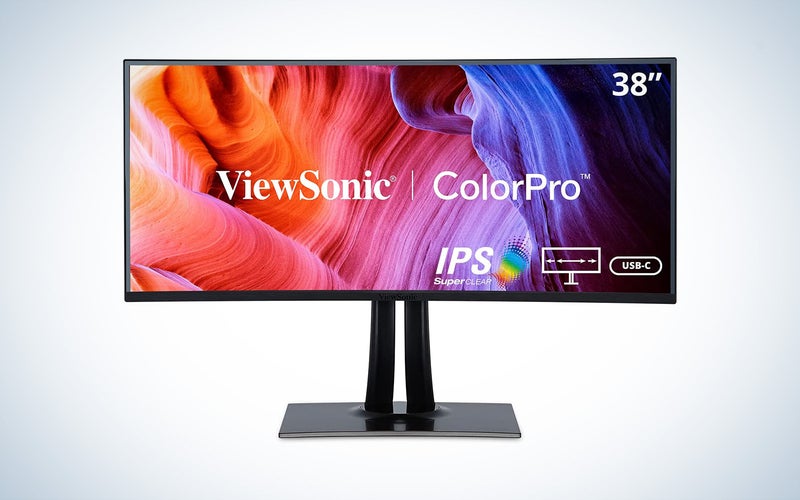 Why it made the cut: The ViewSonic VP3881 offers a large, 37.5-inch display for more screen real estate and a curved format for a more immersive experience with less eye strain. It also provides a 4K resolution and factory calibration. 
Specs
Screen size: 37.52″ inches
Resolution: 3840 x 1600
Refresh rate: 75 Hz
Color gamut coverage: Not provided
Dimensions with stand: 35.3 x 24.8 x 11.8 inches
Pros
Immersive 2300R curve
Accurate factory calibration 
Large, ultra-wide display size
Ergonomic stand
Cons
A large monitor for photo editing is preferred by most for a few reasons. First, you can fit more than one window for better efficiency. And, perhaps more importantly, you'll be able to see details more easily. This ViewSonic 37.5-inch monitor provides a wide, immersive view. It's also the best curved monitor for photo editing with its 2300R curve.
ViewSonic doesn't provide specific color gamut coverage, but each monitor comes factory-calibrated with a detailed calibration report for sRGB, EBU, SMPTE-C, Rec. 709, and DICOM-SIM color spaces. It features a 14-bit LUT and 3D LUT and supports 4.39 trillion colors. And although colors are very accurate right out of the box, it supports hardware calibration. 
The monitor comes with a stand that provides plenty of adjustments, including swivel, tilt, and height adjustments. It's also VESA compatible should you want to use a different stand or monitor arm. And there are plenty of ports on the monitor for connectivity options.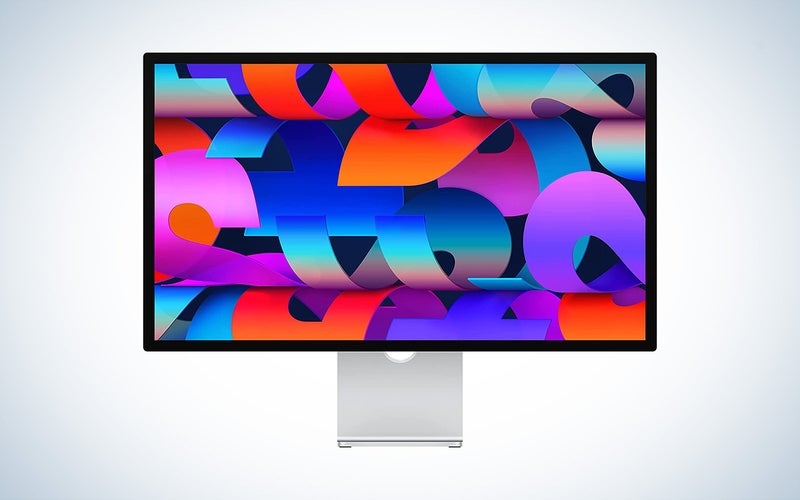 Why it made the cut: Mac enthusiasts can't go wrong with the sleekly designed Studio Display. It offers a beautiful 5K resolution with 600 cd/m² brightness and support for 1.07 billion colors.
Specs
Screen size: 27 inches
Resolution: 5120 x 2880
Pixel density: 218 ppi
Color gamut coverage: Not provided
Dimensions with stand: 24.5 x 18.8 x 6.6 inches
Pros
Sleek design
Detailed 5K resolution
Very bright display
Excellent color accuracy out of the box
Cons
Height adjustable stand costs more
Isn't VESA compatible if you purchase with a stand
Apple is known for its quality displays across its products, which is why designers and artists tend to be drawn to them. The Apple Studio Display continues the trend with a stunning 5K resolution with a pixel density of 218 ppi. It also offers a whopping 600 cd/m² of brightness, which is more than any other monitor on our list. 
Unfortunately, Apple only provides a little in the way of specifics for color gamut coverage or contrast. But, as with other Apple products, the monitor has rich, accurate colors right out of the box. It will work flawlessly with your Mac products, so you won't have to fuss with setup after your purchase. It will work with Windows computers, but you won't be able to change any of the settings and won't have access to some features.
One benefit of this monitor over the others is that it actually includes quality speakers. In fact, it features six speakers with support for Spatial Audio. It also contains a three-mic array and a 12MP ultra-wide camera so that you can take video calls on the monitor itself. That's not a necessity for some, but it may be nice for those who work remotely.
If you want an Apple monitor but want even more quality, the Pro Display XDR is another fantastic, albeit very expensive, choice. It offers 6K resolution, even more brightness, and a higher contrast ratio.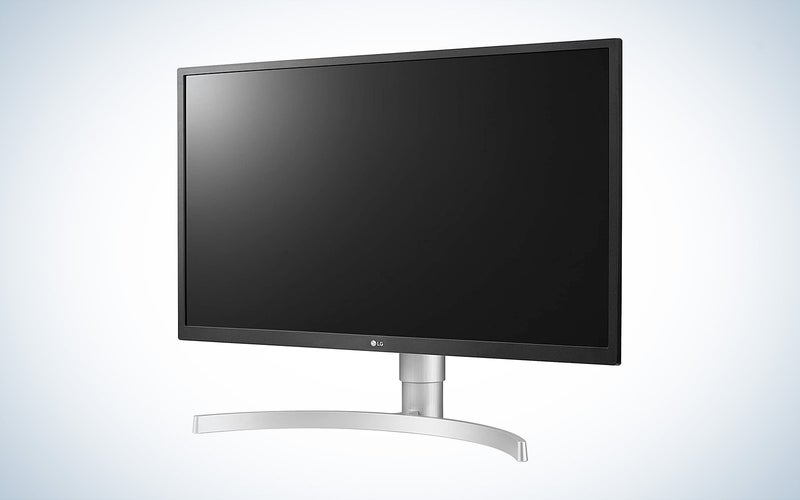 Why it made the cut: This LG monitor offers 4K resolution, a 300 cd/m² brightness rating, and wide viewing angles at a very affordable price.
Specs
Screen size: 27 inches
Resolution: 3840 x 2160
Pixel density: 169 ppi
Color gamut coverage: 98% sRGB, 98% CIE1931
Dimensions with stand: 24.5 x 22.5 x 9.1 inches
Pros
Very affordable for the quality
4K resolution
Wide viewing angles
Sleek design
Cons
The LG 27UL550-W proves that you don't need to drop a fortune to get a quality 4K monitor. It offers an excellent pixel density of 169 ppi, so you'll be able to see lots of detail. You'll also get just as much brightness (300 cd/m²) as more expensive monitors, and it provides a 1000:1 static contrast ratio with support for HDR.
This 27-inch monitor for photo editing covers 98% sRGB and 98% CIE1931. That's lower than the more expensive options above, but it's more than enough if you are a casual photographer or someone who doesn't need precise color. It also comes factory calibrated, so you can jump right into editing.
If you also want to use the monitor for some light gaming or video work, the AMD Radeon FreeSync technology and 5 ms response time will be useful. The monitor comes with a stand that is attractively designed, or it is VESA compatible. Though it doesn't offer quite the quality or features of pricier options, you really can't go wrong with this one for the price. 
Things to consider when shopping for the best monitors for photo editing
There is a seemingly endless list of monitors available these days. They come in all sorts of sizes with different types of screen technology and fancy, jargon-rich features. It can be downright confusing to sift through the noise and figure out what is actually important and what is best for your needs. 
Screen technology & color accuracy
There are a number of factors at play when selecting the best monitor, but one concern reigns supreme: A monitor's ability to display accurate colors. None of the other features really matter if you don't have a monitor that can appropriately reproduce colors. 
Using a monitor that can't accurately display a wide range of colors means you won't be editing the photo you actually shot. It may also mean that when you share your image on social media or websites, it will look drastically different than what you saw on your screen. Or, if you print photos, your prints may look entirely off, which is especially bad if you print images for clients. 
To avoid that, you'll want an IPS monitor for photo editing, which uses aligned liquid crystals to display rich color. If you want accurate results, you want to ensure the monitor can handle at least 90 percent sRGB and 80 percent Adobe RGB and DCI-P3. Not all monitors provide it, but a display with a low Delta E number, which refers to how much the displayed color differs from the input color, is best. For photo editing, you'll want a Delta E under two. 
Lastly, if you need extra precise color, you'll need to use a calibration tool. If that's the case, verify that the monitor you are looking at supports hardware calibration. Luckily, these days, many monitors come factory calibrated and offer built-in calibration software, which is plenty accurate for most people. 
Consider going 4K for your photo editing monitor
Not every photographer works off a 4K monitor, but it's hard to deny the benefits of higher definition. A monitor that displays more detail means you'll be able to make more precise edits. It will also allow you to see more easily if your focus is accurate, which is especially crucial to identify before printing.
Photoshop really shines in 4K, and its scalability means you'll be able to work on photos in full definition without them taking up your entire screen. If you work with 4K video, you'll certainly want to edit in that format. While there are monitors that offer more resolution, your computer may not even be able to support that, so it may not be worth your money at this point.
If you need more screen space, go for an ultrawide monitor
The more room you have to display your photos, the more detail you will be able to see. Ultrawide monitors provide space to multitask, utilizing your editing tools alongside your palettes and whatever else you need up. They aren't for everyone, but they can be very useful for increasing productivity and saving you the headaches of switching between windows.
Traditional monitors have a 16:9 ratio, whereas ultrawide monitors display 21:9 or higher. Ultrawide monitors provide the experience of working off of two monitors while generally costing less. Setting up one large monitor for photo editing also is generally easier and requires fewer wires. 
The key to ultrawide is to go big. Don't go below 34 inches. Anything below that, and you'll have diminishing returns in terms of definition and usability. If you can't afford an ultrawide over 34 inches, it's best to consider a monitor with high definition rather than an increased horizontal workspace.
The pros and cons of a curved monitor for photo editing
Curved monitors for photo editing provide an immersive experience while giving you the space of an ultrawide. Designed with the human eye in mind, curved monitors expand the field of view by curving the edges of the screen toward the viewer, bringing the image into peripheral vision. 
Their benefits include reduced eye strain so that you can work longer without needing a break. Their curved edges also decrease image distortion, making it easier to gauge the impact of your edits. Like ultrawide monitors, they generally give you more room to multitask. But we don't recommend picking up a curved monitor less than 34 inches. The curve doesn't mean much without the size to accommodate it.
Look at the full package, not a single feature
You may fall in love with one feature like ultrawide or curved, but finding a monitor you plan to dedicate to photo editing means judging how multiple attributes come together to meet your needs. We cannot stress enough how essential IPS and color accuracy are to a winning formula. Besides that, a resolution above standard HD is recommended, along with a design that reduces eye strain. If you are planning to regularly use the monitor for entertainment and gaming, other factors–such as response time and refresh rate–certainly come into play.
Photo editing monitors on a budget: What you get for under $400
The general wisdom is that when buying a monitor for photo editing, you shouldn't go for the biggest and cheapest monitor you can find. Instead, you should look for IPS technology, good color coverage, decent resolution, and at least some adjustability. DELL, LG, Viewsonic, and other recognized manufacturers make budget models that do just that. 
If you're looking for something to get the job done without breaking the bank, you don't have to stress. There are quality options available at reasonable prices. But keep in mind that going with a cheap monitor will result in fewer features and potentially less accurate colors and contrast. For casual photographers, that won't be an issue, but if you need accuracy, you'll need to spend a bit more.
FAQs
Q: How much does a monitor for photo editing cost?
A monitor for photo editing can cost anywhere from $200 for very basic, less professional models to upwards of $6,000 for high-end displays. While some options at the lower price points offer good quality, these are generally best suited to those new to the medium or photographers who dabble for fun. For the most part, if you require highly accurate colors and photography-specific features, you'll need to spend around $1,000. 
Q: What resolution is best for photo editing?
Do you need a 4K monitor to edit photos? No. However, 4K provides a level of detail that standard HD simply does not, especially when using larger monitors. For those who are serious about photography, we recommend a 4K monitor. Plus, as technology has improved, 4K monitors are not much more expensive than lower resolution options, making it worth it to spend a little more for better quality.
Q: Is a curved monitor good for photo editing?
Curved monitors are generally preferred by gamers, but there are benefits for those doing photo work as well. The curve is more ergonomic for our eyes, thus reducing eye strain. That's a big win for those who spend hours at our computers churning through galleries. You'll also get less glare and distortion on a curved screen, which makes editing easier. And advocates say curved monitors are much more immersive, allowing greater attention to detail. 

However, curved monitors are generally more expensive. And some picture editors say that curved monitors distort the perception of straight lines, making photo editing more difficult for certain subjects. It mostly comes down to personal preference on whether a curved monitor is the right choice for you
Q: How bright should your monitor for photo editing be?
While this isn't exactly a settled debate, many professional photographers adhere to the Adobe RGB standard, which recommends 160 nits. For some, that is much too bright, and for others, too dark. The ideal brightness also depends on the conditions of the space you are editing in. But it is a good standard to shoot for.
Final thoughts on shopping for the best monitors for photo editing
Remember that color is king when shopping for the best monitor for photo editing. Make sure you're looking at monitors with IPS technology that can display at least 90 percent of sRGB and 80 percent of Adobe RGB and DCI-P3. You'll also want a Delta E less than 2. While resolution and screen size can come down to personal preference, a 4K monitor will provide a better editing experience, especially on larger displays. Of course, you don't need the most expensive monitor to get your work done, but make sure the monitor you purchase allows you to do your best work.