2016 Pop Awards: The Best Camera and Photo Gear of the Year
All the best new camera and photo gear of the year!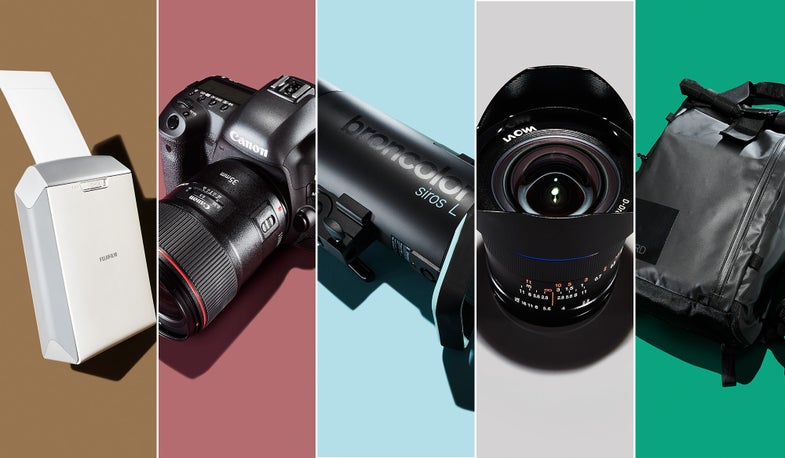 We may earn revenue from the products available on this page and participate in affiliate programs. Learn more ›
Throughout the year we examine, evaluate, and test a ton of equipment, then make careful note of the products that can help make your photography better and more fun. And now we give the best of them POP Awards for Photography's Outstanding Products for 2016.
It's been a while—seven years—since Nikon last introduced a pro-grade DX (Nikon-speak for APS-C- format) DSLR, but boy was it worth the wait. With 20.9MP, the D500 aced an Excellent image quality rating from ISO 50–3200 in our lab test. From the top-of-the-line Nikon D5 it inherits the 153-point autofocus system, 2.4-million-dot touchscreen, 180,000-pixel metering sensor, and 30 fps 4K video capture. The full ISO range goes from 50 to 1,638,400 (yes, that's ISO 1.64 million), but the stratospheric ISOs will give you lots of noise. Sports and action shooters note: The D500 can crank along at 10 fps, up to 200 JPEGs, and one of the two card slots is for super-speedy QXD cards. Have a set of DX lenses? This may well be the upgrade body you're waiting for.
$1,997, street, body only
360fly 4K
OK, so the 360fly doesn't make a perfectly spherical capture—this single-lensed device will take in 360 degrees horizontally, yes, but only 240 degrees vertically. It makes up for this by capturing 30 fps at 4K-pixel density—in this case, a 2880×2880 square format—which made for great resolution and color in our field test. And it's water- and shock-resistant. Transfer videos from the 64GB internal memory to a smartphone via Bluetooth or to a computer via the included USB dock.
$500, street
Adorama Flashpoint Xplor 600 HSS TTL
Want a powerful monolight, say 600 Ws? Check. Also want location shooting with built-in battery power? Check. And you want TTL flash control? You got it with this monolight, as long as you're a Canon or Nikon shooter. The wireless transmitter will work up to just about 32 feet in outdoor settings, and built-in optical slaving lets you do multi-light setups, too. And the Li-ion battery pack is rated to up to 450 full-power pops.
$749, direct, for single head and transmitter
Portable battery power for monolights is now commonplace, but the Siros 800 L showcases the latest trend—built-in Li-ion battery power that eliminates the separate power pack and cables for a truly all-in-one strobe. This unit impressed us with its power, 800 Ws, variable over a nine-stop range; accurate output; and consistent color temperature throughout the range. It will give you 220 full-power pops, and you can swap in another battery ($290, street) to keep on shooting. A Broncolor app lets you control the unit from a smartphone. What's missing? TTL control, which we're seeing on more and more studio strobes.
$2,347, street, for single head; $4,699 for two-head kit with umbrella, softbox, reflectors, and rolling backpack
Epson FastFoto FF-640 High Speed Photo Scanning System
Get those shoeboxes full of photos out of the closet! This device is designed for digitizing old family photos, and can blaze through 60 4×6-inch prints per minute at 300 dpi (and at a max of 600 dpi at half that speed). Moreover, with two scan heads, it can scan the back of prints simultaneously for hand-writen notes or date stamps. It can handle prints up to 8.5-inches wide and 120-inches long, so it won't choke on panoramic prints. Mac- and Windows-compatible, it can auto color-correct and be configured to scan in grayscale for enhanced speed.
$650, street
You say you want a revolution? Don't look for it in the 5D Mark IV, which continues Canon's tradition of making sensible, incremental improvements to the very popular 5D full-frame line. Sensor resolution goes up to 30.4MP from the 22.3MP of the 5D Mark III, for an Excellent-rated picture resolution of 3130 lines at lower ISOs in our lab test. The flip side is that it takes a hit in noise performance—it maintains a Low or better rating to only ISO 3200, as opposed to ISO 12,800 for its predecessor. Video capture also gets a bump up to 4K at 30 fps, up from 1080p HD with the Mark III. And with this Mark IV, we finally have a 5D with Wi-Fi.
$3,499, street, body only
Version II of Canon's high-speed full-framer ups the ante with a new type of optics said to substantially reduce chromatic aberration—the optical nastiness that can produce color fringing and blurry edges. We tested it and found the claim to be true—fringing was practically non-existent. Same was true for optical distortion, which was rated imperceptible. And as for sharpness, it turned in excellent SQF numbers. It's expensive, and relatively heavy, but it's one "L" of a lens.
$1,699, street
In our lab test of this printer, we liked some un-pro-like things about it: the setup was very easy, and the pared-down menus made for less complicated operation. But we liked the pro qualities too: excellent color rendering on prints up to 17×22 inches (sheet media only), the built-in color density sensor, and the 12-cartridge Lucia pigment ink set. One of those cartridges is Chroma Optimizer, designed to counteract the color shift that can occur with glossy papers. Relatively fast for its class: six minutes for a 13×19 at best quality. Not for the faint of back, though­—this monster weighs 70 pounds.
$1,300, street
Just for reference, this focal length on Fujifilm's APS-C ILCs works out to the equivalent angle of view of a 150–600mm lens on a full-frame camera, making it ideal for sports, action, faraway scenics, and wildlife. That it produces excellent sharpness, imperceptible distortion, and virtually no light falloff across all tested focal lengths doesn't hurt either. Nor does the stellar performance of the Optical Image Stabilization, which averaged four stops of additional handholding ability for our testers. It's big for its focal length but relatively light ("relative" being 3.13 pounds). So bring a monopod.
$1,899, street
The X-Pro2 builds on the X-Pro1 without messing with success. The chief upgrade is the 24.3MP X-Trans APS-C-format sensor, up from the 16MP chip of the X-Pro1. The hybrid viewfinder—which can go from an optical finder to an EVF—now switches near-instantly via a single lever. To aid manual focusing, you can also superimpose an enlarged electronic view in a lower corner, and, in the EVF or LCD, impose a split-image focusing aid. AF has been beefed up with more focusing points, and the already ergonomic body has been made more so. If you're comfortable limiting yourself to an EVF instead of the X-Pro2's hybrid finder, you can save about $100 and opt for Fujifilm's X-T2.
$1,699, street, body only
Fujifilm Instax Share SP-2 Smartphone Printer
How's this for a twist on instant prints? This pocketable printer, about the size of a biggish smartphone, makes 2.4×1.8-inch prints on Instax Mini film from your smartphone (or from Instagram or Facebook) via Wi-Fi. It uses RGB OLEDs to print in color, black-and-white, or sepia. Hit the reprint button to make duplicate prints. It runs on CR2 lithium batteries; 10-print packs are about $8, street.
$200, street
Apple iPhone 7 Plus
The iPhone 7 Plus piles on upgrades: It's the first iPhone with two lenses, a 28mm f/1.8 and a 56mm f/2.8 (35mm equivalents), which cuts down on digital zooming for better picture quality; optical image stabilization for 4K video and stills; digital flicker reduction under fluorescents; and an increased color gamut. Note, these goodies are available only in the 7 Plus, not the smaller 7.
From $769, direct
Our Pop Photo Test Lab team was highly skeptical when they got in this lens, developed with funding from Kickstarter (!) by the Chinese firm Venus Optics. They were gobsmacked by the test results: This full-frame orthoscopic (i.e., non-fisheye) lens slam-dunked the tests, with excellent SQF, light falloff gone by f/4, and, most notably, only slight barrel distortion—really, really good for a wide-angle with a 121-degree angle of coverage (that's a third of the horizon). In mounts for Canon, Nikon, Pentax, and Sony A and E; manual focus only.
$949, street
The beautiful Pen-F reprises the look of the Olympus Pen F film SLR of the 1960's, down to a film rewind knob (now the on/off switch). But the modern 20.3MP Micro Four Thirds pulled an Excellent resolution rating in our lab test, and its five-axis sensor-shift image stabilization adds an average of four stops of handholding leeway. View through the 2.36-million-dot EVF, or on the touchscreen LCD. With its small size and light weight it is a fine choice for a street shooter or traveler.
$1,199, street, body only
Another Kickstarter baby, the Everyday Backpack pretty much eliminates the need for a rain cover, as its Kodra (a relative of Cordura) exterior is double-coated on each side with polyurethane. The dual side-access panels open to an interior with three padded dividers that fold out to smaller sub-dividers, enabling you to fit a big DSLR body and three lenses. No rear access panel, but clever anodized magnetic hardware allows the bag to expand while staying securely fastened.
$219, street
The Prvke (pronounced "provoke") is another Kickstarter-funded adventure backpack obviously designed with photographers in mind. To wit: tough tarp and dobby fabric construction, side access panels, weather-resistant zippers, a sling strap with a 1/4–20 tripod-mount screw that lets you ditch the camera strap, and an accessory gear cube that you can customize for your cameras and lenses. And an FAA-approved sleeve for laptops up to 15 inches.
$165, direct; $270 for photo bundle with gear cube, accessory straps, and rainfly
Designed for smaller-than-full-frame ILCs, this lens from upstart Rokinon is available in mounts for Canon M, Fujifilm X, Sony E, and Micro Four Thirds. Depending on sensor size, it works out to an equivalent of 75mm to 100mm—ideal for portraits and candids. Making it even more ideal, the lens tested with excellent sharpness, imperceptible distortion, and extremely well-controlled light falloff. What's missing? Autofocus—like most all Rokinons, it's manual-focus only. But focusing is silky smooth and well damped, and the price is definitely right.
$429, street
Sigma 50–100mm f/1.8 DC HSM Art
If a 2X zoom range doesn't impress you, this other number—f/1.8—should, because that's a constant wide aperture on this APS-C- format lens, making it a superlative choice for portraits, low-light candids, and action. Available in mounts for Nikon, Canon, and Sigma DSLRs, it translates into a full-frame equivalent of 75–150mm or 80–160mm, depending on camera make. As part of Sigma's Art series of high-end lenses, it's chock full of exotic glass, uses the super-quiet HSM motor for autofocus, and can mate with Sigma's USB Dock for firmware updates and AF adjustments. And yes, it's big (6.3 inches long) and heavy (3.3 pounds—eek!), but repeat over to yourself: "f/1.8, f/1.8…"
$1,099, street
The Sony a6000 is a hard act to follow, but Sony managed it with the a6300. While the pixel count is about the same, the 24.2MP APS-C sensor is new, employing copper wiring for faster data throughput. Combined with a tweaked image processor, it speeds up autofocus, allows 4K video at 30 fps, and 11 fps continuous shooting—with metering and AF between shots. Image quality proved Excellent through ISO 3200. Sensitivity gets bumped up to ISO 51,200, and the new model has nearly three times the number of AF points as the a6000. As far as the design, Sony did little—fine by us.
$998, street, body only
In a world where we rarely see innovative compacts, Sony remains committed to pushing them farther. The fifth iteration of its RX100 can capture video at up to 960 fps to allow up to 40X slow motion for up to 8 seconds. It also captures 4K footage. The 20.1MP camera has a buffer for up to 150 full-sized JPEGs at 24 fps with AF tracking and metering still in effect. The RX100 V has a 24–70mm equivalent f/1.8–2.8 lens, and a pop-up 2,359,296-dot OLED EVF. In other words, this is a little camera for big-time shooters.
$998, street
Ho hum, another 85mm f/1.8 lens. But when we looked at the specs and test performance of this full-framer, we promptly stopped ho-humming. This is the first fast 85mm lens with image stabilization—Tamron calls it Vibration Compensation—and it garnered an average of three stops extra handholding leeway for our testers. Distortion was imperceptible, and light falloff was nonexistent—that's none, at any aperture. It's sealed against moisture, has fluorine coating on the front element to resist goop, and, borrowing a page from Sigma, can connect with a TAP-in Console for firmware updates and AF adjustments. In mounts for Canon, Nikon, and Sony.
$749, street
Tokina AT-X 14–20mm f/2 Pro DX
An extra-wide-angle zoom with an f/2 constant aperture! This APS-C format zoom is the equivalent of 21–30mm (Nikon) or 22.4–32mm (Canon), the two mounts in which it's available. In our lab, it came through with Excellent SQF numbers at all tested focal lengths, and stellar light falloff performance—as in none at 16mm. At the widest focal length, it did show visible barrel distortion, although not that unusual and on par with competitive lenses. Note to Tokina: How about a version in Sony and Pentax mounts?
$799, street
Westcott Rapid Box Beauty Dish
It's a beauty dish! No, it's an umbrella! Stop, it's two light modifiers in one! This highly portable, collapsible gadget opens up like an umbrella to form a 24-inch-diameter dish, and comes with a diffusion panel that lets it mimic a small softbox. It's available in mounts for the major studio strobes.
$300–$350, street, depending on strobe mount