Camera Bag Review: Peak Design Everyday Backpack, Tote and Sling
The super-popular series of camera bags is here for round two.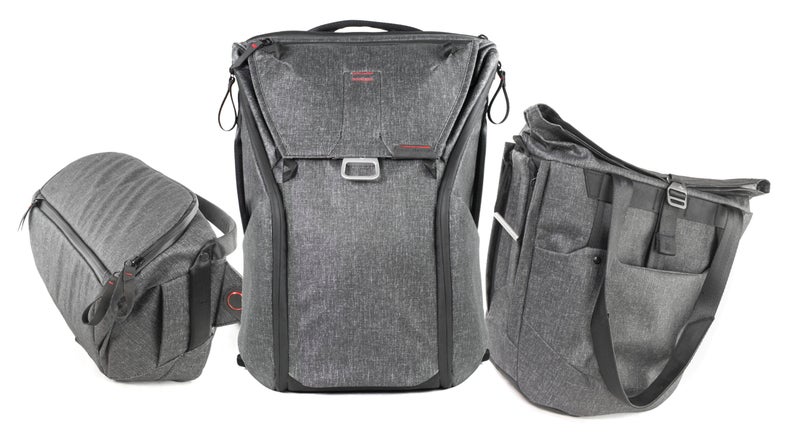 We may earn revenue from the products available on this page and participate in affiliate programs. Learn more ›
After wowing us in 2015 with the release of their Everyday Messenger, Peak Design has released three new bags (one even comes in two different sizes) that bring their signature attention to design and aesthetics to different styles of storing and transporting gear. Each of the three bags is made from the same water-resistant polyurethane-coated Kodra fabric as their original and integrate weather-proof zippers and custom anodized hardware for easy and secure closures. Depending on your style, the Backpack, Sling and Tote are also available in two versions of handsome gray, "Ash" and "Charcoal," the former of which also features light-brown Nubuck trimming.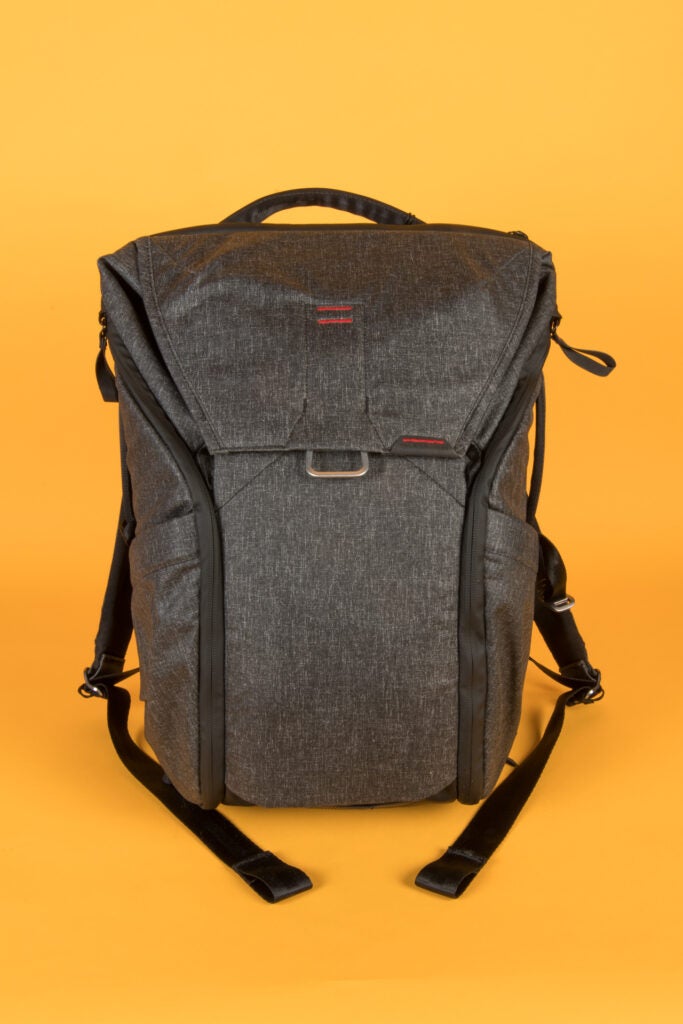 Peak Design's Everyday Packpack (20L)
Front View
As the logical follow-up to their debut hit Messenger (which now comes in two sizes), the Backpack has a lot to live up to. Like its fore-bearer it also comes in two sizes – either in a 20 and 30 liter variety, designed to better match the daily carry needs of photographer's varying lifestyles. The 20L, which we sampled, comfortably fit a tablet, large DSLR body, four lenses, a speedlight, a charger and a pair of over-ear headphones, all with room to spare. Both packs feature integrate tripod support via side pockets and external straps.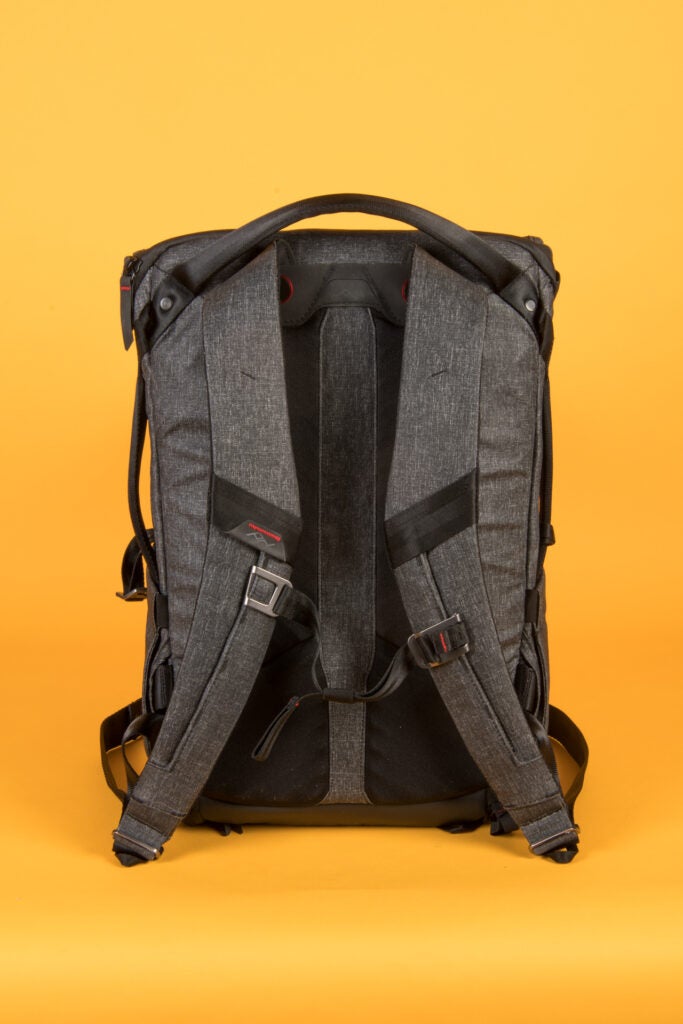 Peak Design's Everyday Packpack (20L)
Rear View
Like the Messenger, these bags are expandable and open and close via a magnetic latching system on the top of the bag that is a pleasure to use, being both quick to open and secure in closure. While the Backpack can be opened from the top, it seems to be designed primarily for side-access, via two weather-proofed zippers that run vertically up the front sides of the pack. Within, each pack's soft interior provides a grippable surface for three articulated velcro dividers which ingeniously flip and fold for additional subdivision of the space inside.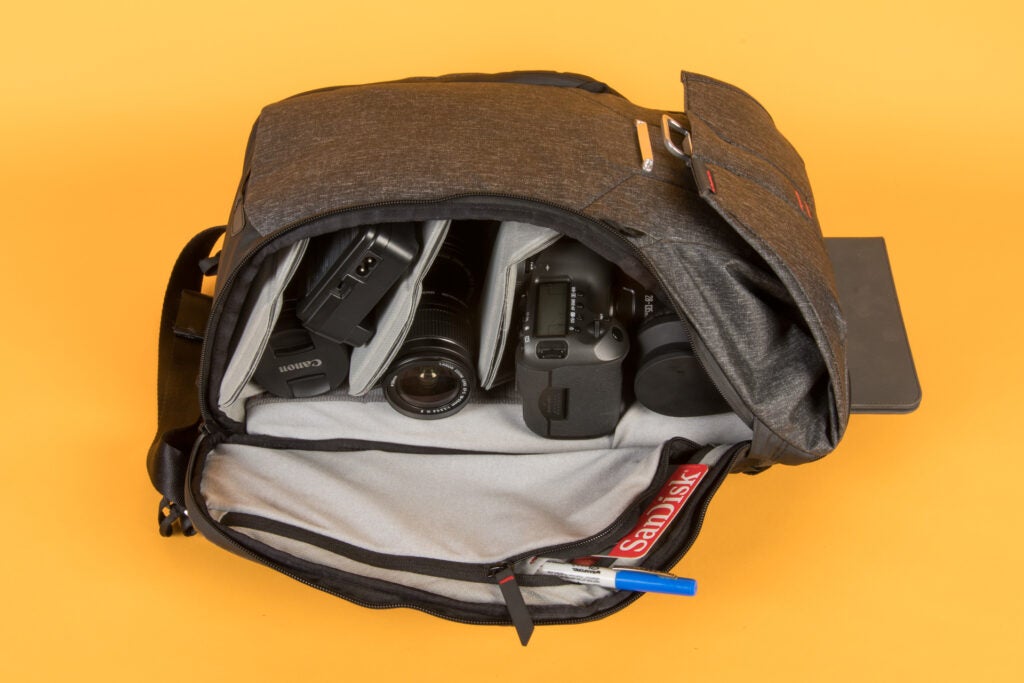 Peak Design's Everyday Packpack (20L)
Side View
The two wing-like flaps that are revealed when the pack is fully unzipped are filled with a bevy of soft pockets for hard drives, pens, memory cards and notebooks. At the top of the bag, a padded vertical space provides safe storage for a 15-inch (20L) or a 16-inch (30L) laptop, that sits flat against your bag when worn. The padded shoulder straps ensure that this Backpack is comfortable to wear, even when fully loaded with gear. When on long trips or when biking with the bag, an included sternum strap with custom hardware keeps the pack fitting snugly.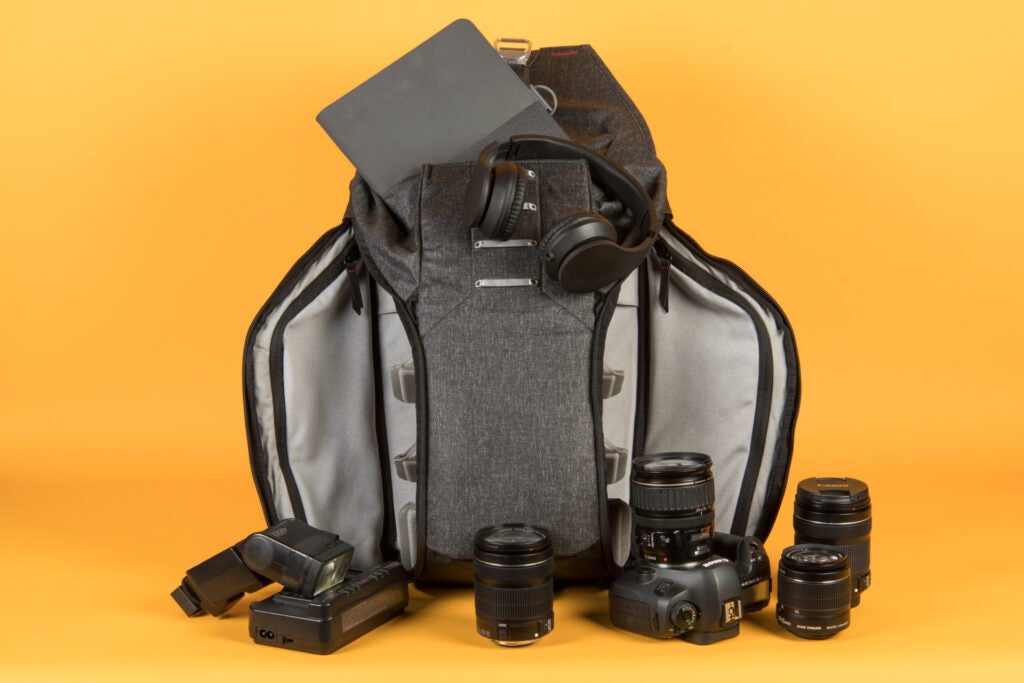 Peak Design's Everyday Packpack (20L)
Front View with Gear
I found the storage system for the stap a bit odd – it's not permanently attached to the shoulder straps, but clips onto one strap or another a bit more precariously than I was comfortable with as I didn't want to lose it. However, the waist strap which also helps to secure the pack, tucks cleanly and conveniently into hidden pockets at the bottom of the bag. Two more hidden straps, on the front of the back, can be attached to a number of anchor points around the pack for exterior storage for large and light items like shipping tubes.
Peak Design's Everyday Sling
Front View
Larger than their utilitarian Field Pouch but smaller than their Everyday Messenger, the new Sling fills a gap in their bag line, being both unobtrusive and able to carry a few photographic essentials. This messenger-style pack is comprised of two main pockets, the larger of which features a padded interior that's configurable with soft, articulated dividers, similar to those in the Backpack, which fold out and up to create smaller spaces inside the bag.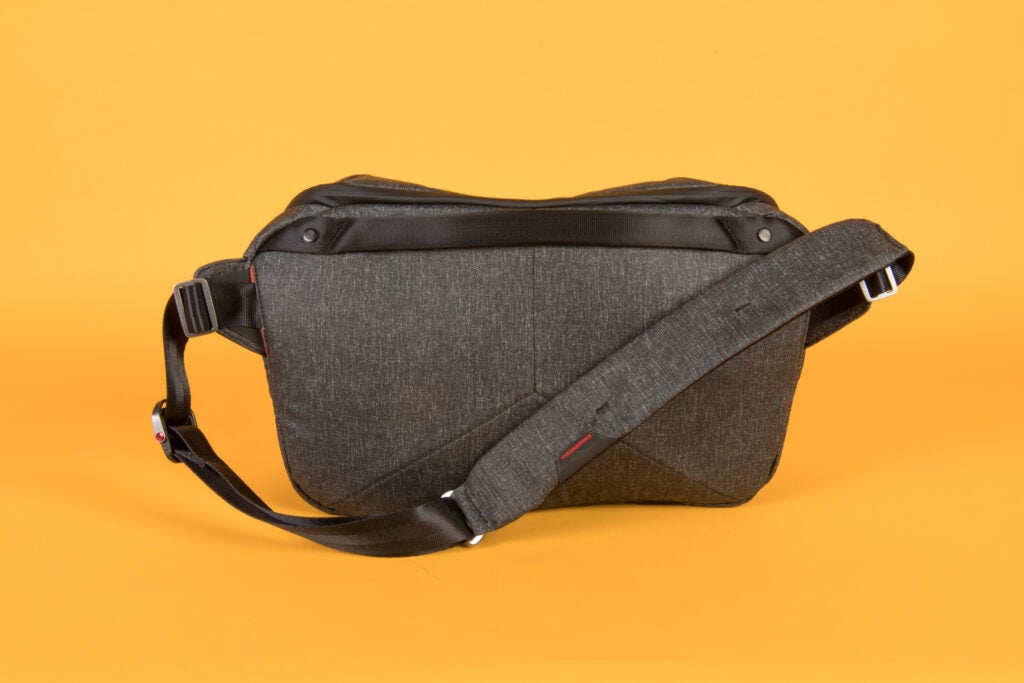 Peak Design's Everyday Sling
Rear View
Within this larger pocket, you'll also find a zippered storage spot for smaller tablet computers. A secondary pocket on the exterior of the Sling expands to reveal additional storage space and includes a padded lip with specialized holding places for memory cards, pens and various small gear. Two straps, made from a durable-feeling black webbing help expand and contract this compartment but also provide support for carrying smaller tripods, as well.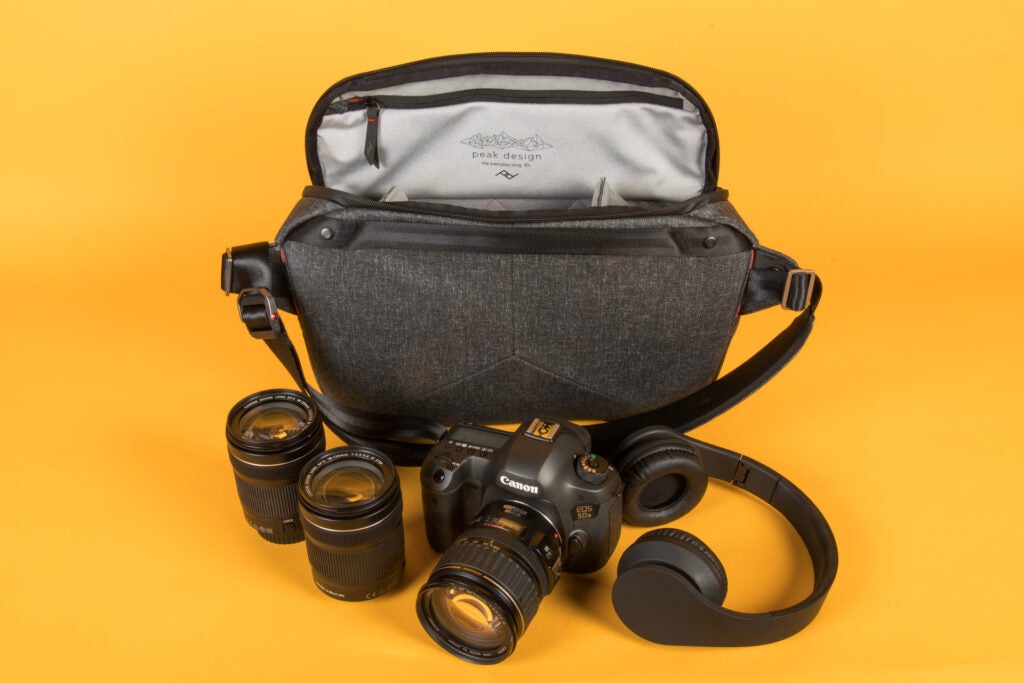 Peak Design's Everyday Sling
Front View with Gear
The single shoulder strap, part of which is padded for extra comfort, adjusts quickly and easily via a bit of hardware you'll already be familiar with if you own their SlideLite camera strap. While the Sling won't hold nearly the same amount of gear as some of its larger cousins, we still managed to pack a full-sized DSLR, three lenses and a pair of foldable earphones inside of it. For those with mirrorless kits, this bag will likely accommodate even more gear.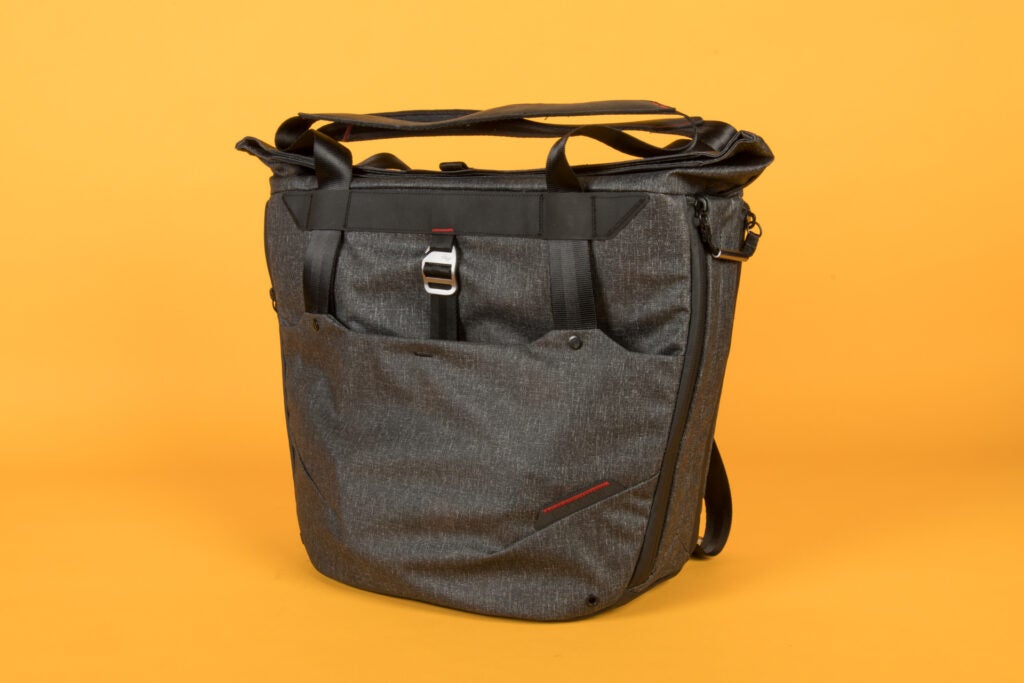 Peak Design's Everyday Tote
Front View
The Tote is perhaps Peak's most unorthodox camera bag, another way of looking at it is to think of it merely as and well-designed multi-purpose shoulder bag that can also hold camera and related gear extremely effectively. As with all tote-style bags, this one is accessible by the top, which opens and closes by virtue of a Nubuck-lined mouth that seals up with magnets embedded in the fabric. An adjustable strap of webbing can be hooked across the top of Tote's mouth to ensure a firmer closure when travelling. Not to be outperformed by other bags in the Everyday line, the Tote also features two zippered side-access panels for nabbing cameras and lenses without rummaging around inside the middle of the bag. The interior itself, while retaining the ability to function more-or-less as catch-all for random items, can be configured to organize gear just as easily Peak's seemingly more camera focused packs. Dedicated storage for tablet and notebook computers is provided by a soft interior envelope that includes a strap to keep them help securely in place.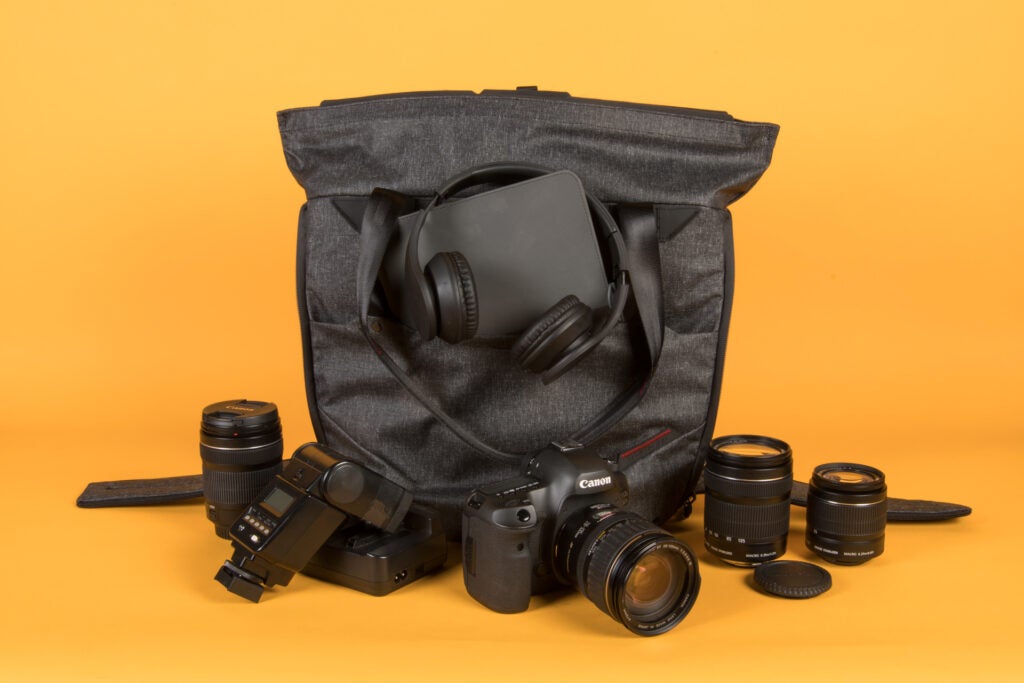 Peak Design's Everyday Tote
Front View with Gear
Padded vertical dividers are articulated to fold out and down within the bag to make user-configurable spaces perfect for larger DSLRs and longer lenses. An array of small pockets line the rim of the Tote's interior and are perfect for tucking away cables, memory cards and film. We managed to stuff a tablet, full-size DLSR, four lenses, a flash, charger and some over-ear headphones (the same gear we fit into the Backpack) inside the bag and still had room to spare. The shoulder straps on this bag are long enough so that the bag sits comfortably between your arm and body, and I found that it didn't ride to high or ever feel like it was crowding my armpit area, as sometimes happens with tote-style bags. For backpack-lovers though, two included external straps can be attached to allow you to wear the Tote on your back, while the larger handles can be tucked into the inside of the bag for convenience. As a tote-lover, I found this bag in particular to be particularly compelling, especially as it is somewhat of an anomaly in the world of gear packs.