Lighting Review: Broncolor Siros L 800 Battery-Powered Monolight Strobe
Lots of power without the power cables.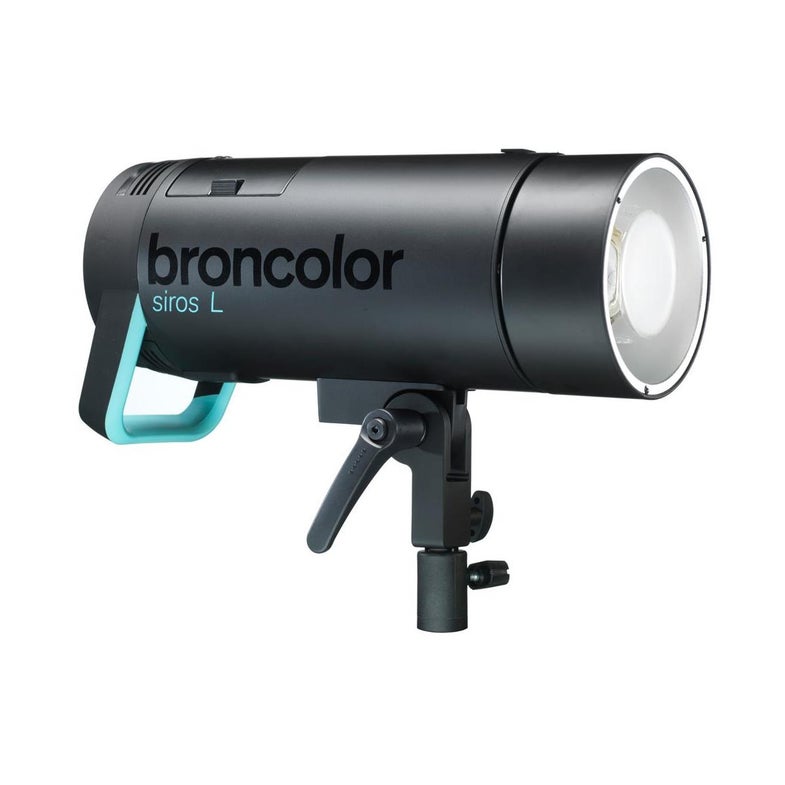 We may earn revenue from the products available on this page and participate in affiliate programs. Learn more ›
Traditionally, one of the biggest problems with a monolight is the power cord. Even if you gain mobility by using a power pack, it ends up being one more thing to carry to a shoot, and means that you'll have to run a cable. Cables are easy to trip over and they add time to set up and break down. As some other strobes have had in recent times, Broncolor's Siros L 800 relies on a rechargeable Lithium-ion battery pack that mounts on the unit's main body. The batteries provide up to 220 flashes per charge and you can buy spares ($290, street) if you think you'll need more. Charging takes about 70 minutes.
With 800 Ws of power, we weren't surprised to find that the Siros L 800 packs plenty of pop. At maximum power, with our Sekonic L-758Dr light meter one meter (3.3 feet) from the Siros L 800's bare bulb and set to ISO 100 and 1/100 sec., we would have needed to dial in f/45 for a proper exposure. That matches what Broncolor claims. As we stepped down through the strobe's 9-stop power range, we found that the measured output remains extremely close to the claimed output. As you decrease the output by one whole number on the strobe's LED, the output decreases by one whole stop, within one or two tenths of a stop of variance throughout most of the range. Only at the lowest setting did we see a greater discrepancy and even then it was within a half-stop.
We also measured the color temperature at full power, half, and minimum to assess consistency with our Minolta Colormeter IIIF. Broncolor uses its Enhanced Color Temperature Control system to adjust flash voltage and duration in order to maintain color across the strobe's output range. At full power, our meter measured 5370 degrees Kelvin. This rose a bit to 5660 K at half power and 5800 K at the lowest power setting. That's a solid performance.
At 8.2 pounds, the Siros L 800 is a tad on the heavy side. It comes with its own bag and if you opt for the two-light kit, it also includes a 33.5-inch silver/black umbrella, 23.6-inch square softbox, reflectors, a sync cord, and a rolling backpack to carry it all.
The control system on the light itself is relatively simple, centering around a dial that lets you adjust output in tenths of a stop with single clicks or a whole stop with a more robust flick. More interesting, though, is that you can control the Siros L 800 using the free bronControl app for iOS or Android devices through an ad-hoc Wi-Fi connection. The app can adjust up to six strobes at a time with only a minimal lag as settings switch. Recycle times were quick enough to not be a problem even with fairly rapid shooting at full power. We loved that the app tells you the flash duration at the current power setting. The 25W LED modeling light is plenty bright and could probably serve as a modest constant light source in a pinch, though its color temperature is quite warm.
The one thing that we were left wanting with the Siros L 800 is TTL support. Given how often you can find that with third-party systems these days, we were surprised that Broncolor hasn't seen fit to include it on a light such as this yet.
As is often the case when buying a high-end moonlight, the Siros L 800 will set you back a pretty penny. The single light can be had for $2,348 (street), while the two light kit costs $4,700 (street). With professional power comes professional pricing.