Camera Test: Sony Alpha 6300
Sony follows up its best-seller with another winner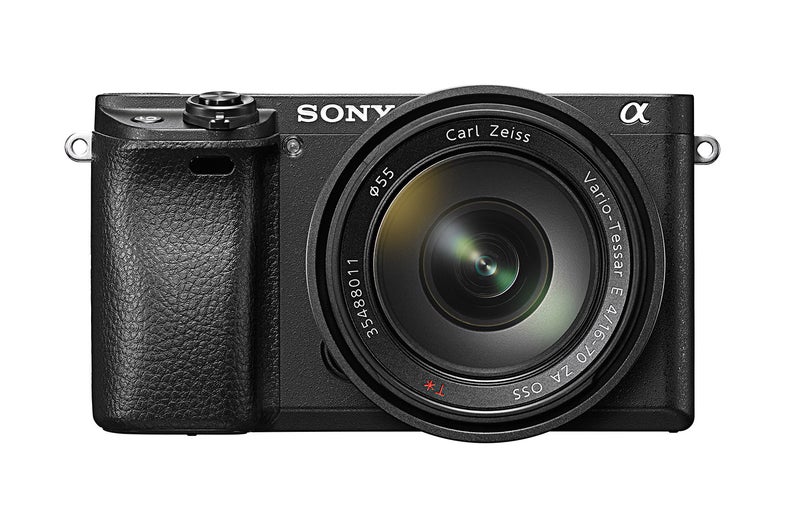 We may earn revenue from the products available on this page and participate in affiliate programs. Learn more ›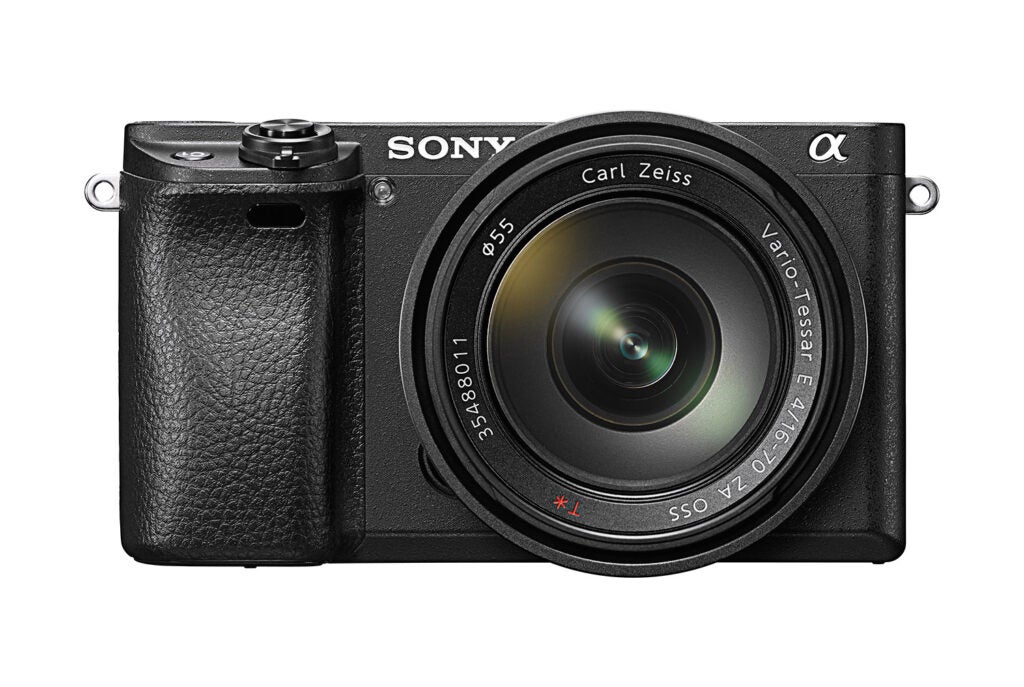 According to Sony, the Alpha 6000 was the best selling mirrorless camera ever. Now the company is trying to strike gold again with the A6300.
The pixel count of the APS-C-sized CMOS sensor remains essentially the same at 24.2MP (the A6000's was 24.3MP), but the A6300's new chip employs copper wiring to help speed the data readout, benefitting its 4K video output as well as autofocus. AF also got a boost with the addition of more focusing points: Sony embedded 425 phase-detect points into the imager along with 169 contrast-detect points, up from the A6000's 179 phase-detect and 25 contrast-detect points. The sensitivity range extends an extra stop, topping out at ISO 51,200. Plus the A6300's top burst speed of 11 frames per sec now includes AF and metering between shots.
Faced with this new $998 (street, body only) imaging machine, our minds, as they often do, turned to the Popular Photography Test Lab. Would we really see the difference under both controlled conditions as well as under real-life shooting scenarios in the field?
In the Test Lab
Ample resolving power combines with accurate colors and impressive noise performance to earn the A6300 an Excellent rating from its lowest sensitivity setting of ISO 100 through ISO 3200.
With Sony's Image Data Converter still yielding the same kind of strange results we saw back when we tested its A77 II DSLR, and given that Adobe already officially supports the new camera in Photoshop Lightroom and Adobe Camera Raw, we used ACR to process the A6300's 14-bit RAW images into 16-bit TIFFs for lab testing. As we did with the Leica Q, tested on page 70, we applied 0, 25, 50, 75, and 90 percent luminance noise reduction and then looked for the best balance of low noise and high resolving power to decide how much to apply to the final test images. We ended up with 25 percent NR at ISO 100 and 200, 50 percent at ISO 400 and 800, and 75 percent at ISO 1600 and above.
Capturing 2825 lines per image height at ISO 100, the A6300 easily nabbed an Excellent rating in this test. Plus, it held that resolution well as the sensitivity increased. At ISO 800 resolving power fell only slightly to 2740 lines, and it impressively managed 2660 lines at ISO 3200. It dropped below 2500, our cutoff for an Excellent rating, to land at 2460 at ISO 12,800. After that resolution dropped more precipitously to end up at 2000 lines at the camera's top sensitivity of ISO 51,200.
To compare, Nikon's D7200, a similarly priced 24.2MP APS-C-sensor DSLR, showed like results, matching the A6300's 2825 lines at ISO 100, and serving up 2050 at ISO 51,200, though the Nikon only allows monochrome shooting at the higher ISO. Panasonic's 20.3MP Lumix GX8, a similar-style Micro Four Thirds ILC, was able to capture 2660 lines at ISO 100, 2550 at ISO 800, and 1925 lines at its top sensitivity of 25,600.
With an average Delta E of 7.8 in our color accuracy test, the A6300 comes in just below the cutoff of 8 in this lower-is-better scale. That's essentially the same as the 7.9 that the GX8 scored, but not quite as good as the D7200's 6.7. Still, all three of these cameras capture wonderfully accurate colors—you'll have a hard time seeing this level of variation under ordinary viewing conditions.
In our noise test, the A6300 earned top honors of Extremely Low only at ISO 100. But, it also kept noise to a Low or better rating all the way up to ISO 3200, a good showing for such a little body. (Image noise, partially a function of heat, tends to arise more in smaller cameras.) While the Nikon held noise to a Low or better rating up to ISO 1600, it did show slightly cleaner images than the Sony did at ISO 200 and 400. The Panasonic very impressively kept noise to Low or better up to ISO 6400 and maintained its Extremely Low rating up to ISO 1600. Again, though, the GX8 can't match the resolving power of either the D7200 or the A6300. The Sony achieves a nice balance of noise control and image detail and is the smallest camera of the bunch.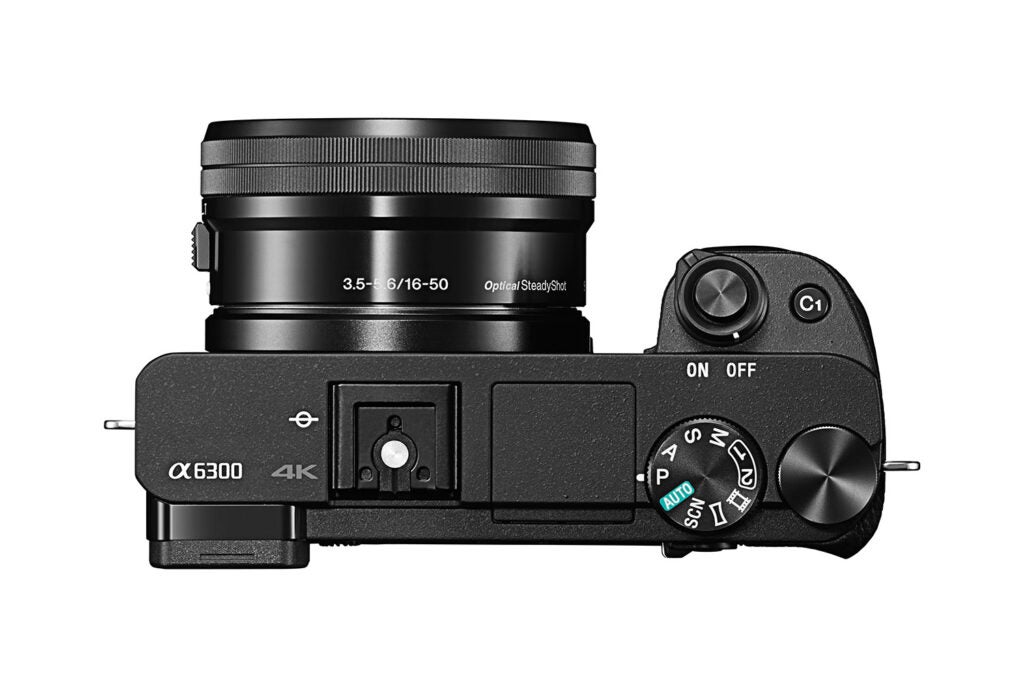 In the Field
With essentially the same body design as its predecessor, the A6300 provides a comfortable grip, ample customizable buttons for a non-pro camera, and an even better OLED electronic viewfinder with 2,359,296-dot resolution. The 3-inch LCD on the camera back tilts up and down, though it doesn't flip for selfies.
You can use Wi-Fi to frame shots and trigger the shutter or to transfer images. Annoyingly, if you want fuller control of the camera's settings through your smartphone, you'll have to connect the camera to a Wi-Fi network and download Sony's free Smart Remote Control app. Obviously Sony hopes to get you interested in buying some of its apps this way, but it comes across as more of a nuisance that you have to jump through hoops to gain control that is native to most cameramaker's Wi-Fi apps.
The updated AF system can track moving subjects, even while the A6300 captures bursts at up to 11 frames per second for up to 47 large, fine JPEGs, or 21 RAW frames before the buffer fills. No AF system is perfect, and we found that the A6300's was flummoxed in certain instances—most notably while shooting wakeboarding with water droplets flying haphazardly through the air (which we tried while on a press trip to Miami that Sony hosted to introduce the camera). But outside of the most challenging circumstances, the A6300 did a good job of tracking and its AF proved pleasingly fast. At the camera's top burst speed, the EVF doesn't quite keep up and you'll notice slight interruptions in the view. Dial down to 8 fps and you'll get a smoother view.
One of the nicer things about Sony's latest iteration of its hybrid AF system is that it functions very smoothly with the company's A-mount lenses that can mount on the A6300 through the LA-EA3 ($198, street) A-mount to E-mount adapter. While larger zoom lenses will feel out of place with this small body, prime lenses, such as Sony's excellent Zeiss-badged 50mm f/1.4 ZA balance nicely on the A6300. Plus, if you press the button in the center of the command wheel, you'll switch to AF point selection. Press it again and the directional controls revert to give you access to display, ISO, exposure compensation, and drive mode.
Video shooters should like the footage captured with the A6300. The camera uses the most pixels of any Sony camera—about 20MP—to record 4K footage, and the results look wonderful on huge 4K televisions. Furthermore, the continuous AF in video mode is a big step up from the version on the A6000, though professional video shooters still likely won't want to rely on it, since a minor amount of shifting occurs. For amateurs it will likely be more than acceptable when used properly. Regular high-definition (1080p) video can reach frame rates up to 120 fps, letting you get either 4X or 5X slow motion, depending on whether you choose to output the footage at 30 fps or 24 fps. Again, the quality of the footage was very impressive.
The Bottom Line
Sony's A6300 is a worthy successor to the A6000. While the engineers didn't fundamentally change the camera design, we think that's a good thing. The A6300 is quite petite and with one of Sony's smaller lenses, such as the 16–50mm f/3.5–5.6 kit lens, it's easy to carry around anywhere or throw it in a purse or little camera bag. The same might be said for Panasonic's GX8, but you're going to need a larger bag if you opt for Nikon's D7200.
That said, the number of lenses available for that Nikon definitely outnumber those available for Sony's E mount. You can use one of Sony's adapters to use its A-mount DSLR lenses on the A6300, opening the door to lots of legacy Minolta glass, but Sony still has a little way to go when it comes to native specialty lenses for its E and FE systems.
Furthermore, while we've been counting the A6300's size as a plus, when it comes to fancy glass, such as Sony's full-frame G-Master lenses that were announced at the same time as this camera, those large lenses feel quite unbalanced when mounted on this little body. The same can be true of larger lenses on entry-level DSLRs, of course, but the difference here is quite pronounced.
Overall, the A6300 is a great camera. Sony was wise to keep much of its design the same while upgrading its core systems to keep it very competitive in a growing sea of quite impressive image capture devices.
Specifications
IMAGING: 24.2MP effective, APS-C-sized Exmor CMOS sensor captures images at 6000×4000 pixels with 14 bits/color in RAW mode
STORAGE: Memory Stick PRO Duo, SD, SDHC, and SDXC store JPEG, ARW RAW, and RAW + JPEG files
BURST RATE: Full-sized JPEGs (Fine mode), up to 47 shots at 11 fps (with continuous AF and metering enabled); RAW, up to 21 shots at 11 fps
AF SYSTEM: TTL hybrid phase/contrast detection with 425 phase and 169 contrast points; single-shot and continuous AF with focus tracking and face detection
SHUTTER SPEEDS: 1/4000 to 30 sec, plus B (1/3-EV increments)
METERING: TTL metering with 1200-zone evaluative, centerweighted, and spot (size of spot unspecified)
ISO RANGE: 100–25,600 in 1/3-EV increments, expandable to 100–51,200
FINDER: 0.39-inch, 2,359,296-dot OLED with 100% accuracy; 0.70X magnification
VIDEO: Records at up to 3840x2160p 30 or 1920x1080p 120 in XAVC S (at up to 100Mbps); up to 1920x1080p 60 in AVCHD (at up to 28Mbps); built-in stereo microphone; stereo microphone input; clean HDMI output to external recorder
FLASH: Built-in pop-up flash, GN 19 (feet, ISO 100); X-sync speed: 1/160 sec
LCD: Tilting 3-in. TFT with 1,228,800-dot resolution; five-step brightness adjustment
OUTPUT: Micro USB, micro HDMI video, Wi-Fi, NFC
BATTERY: Rechargeable NP-FW50 Li-ion, CIPA rating 350 shots
SIZE/WEIGHT: 4.7×2.6×1.9 in.; 0.9 lbs with a card and battery
PRICE: $998 street, body only; $1,148 street, with E 16–50mm f/3.5–5.6 PZ OSS zoom lens
INFO: sony.net