Canon EOS 5D Mark IV DSLR Camera Review
The long-awaited update in Canon's pro-grade DSLR line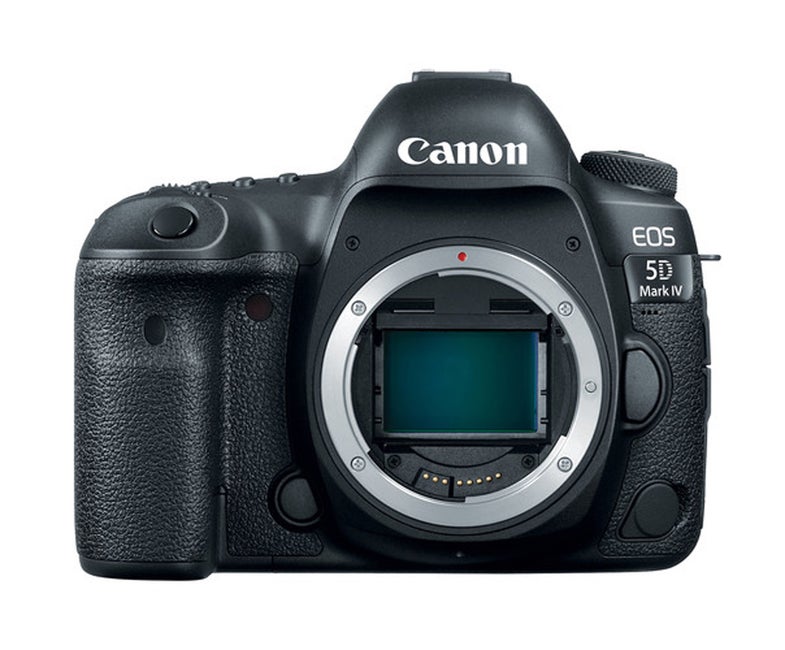 We may earn revenue from the products available on this page and participate in affiliate programs. Learn more ›

From the beginning, Canon's 5D series of full-frame DSLRs have been one of the most common workhorse cameras for serious shooters not at the top-of-the-line 1D level. While taking Hollywood by storm thanks to impressive video capture, these cameras have also set a standard for high resolution, though not the most resolving power available, and low-noise high-ISO still images. So, we weren't too surprised to see that Canon didn't take the EOS 5D Mark IV in a very different direction from the Mark III. Why mess with success?
The Mark IV sees a bump in resolution up to 30.4MP from the Mark III's 22.3MP. Sensitivity, when expanded, still spans ISO 50–102,400, but the top standard setting is now an unusual ISO 32,000—a third of a stop higher than the Mark III's ISO 25,600. Burst shooting steps up to 7 frames per second from 6 fps and can shoot large, fine JPEGs until your CF card is full when using a UDMA mode 7 card. Video capture now tops out at 4K at 30 fps, 1920×1080 at 60 fps, or 1280×720 at 120 fps. Plus, you can now operate the camera from, or transfer images to, your smart device thanks to built-in Wi-Fi—finally.
We wasted no time putting the EOS 5D Mark IV through the rigors of the Popular Photography Test Lab and spent time using it in the field to see how it stacks up.
First Look: Canon EOS 5D Mark IV
by popphoto
In the Test Lab When a camera maker adds pixels, noise performance can be affected. So while the 5D Mark IV earned an Excellent rating in overall image quality, as its predecessor did, the newer camera maintained that rating over a shorter span of ISOs: from its lowest sensitivity of ISO 50 through ISO 3200. That's the same result as Nikon's D750, but less than the range of the 5D Mark III, which rated Excellent from ISO 50 through ISO 12,800.
In our Resolution test, the 5D Mark IV's extra pixels helped it earn an Excellent rating by delivering 3130 lines per picture height at ISO 50. That's plenty more than our cutoff of 2500 lines for top honors. The Mark IV held a lot of that resolving power as the sensitivity rose. At ISO 400 it served up 3100 lines, barely dropping to 3080 at ISO 1600, to 2990 at ISO 6400, and to 2630 at its top non-expanded sensitivity of ISO 32,000. From there resolution falls off faster, with 2330 lines at ISO 51,200 and 1850 at the top sensitivity of ISO 102,400. Nikon's D750 captured 2875 lines at ISO 50 and 2100 lines at that camera's top sensitivity of ISO 51,200—less resolution over all. It's also worth noting that the 5D Mark III delivered 2750 lines at ISO 50, and the Mark IV exceeds that at ISO 6400.

Noise control, though not as impressive as the Mark III was, remains a strong point for the 5D Mark IV. Earning our best rating of Extremely Low at its bottom three ISOs, noise edges up to Very Low for the next three ISOs and hits a Low rating at ISO 3200. From there it jumps up to Moderately Low at ISO 6400 before reaching Unacceptable territory from ISO 12,800 upward. The D750 managed to avoid an Unacceptable rating at all in this test, giving it an advantage when shooting at higher ISOs, though it can't match the Canon's resolution at those settings. As we do, unless otherwise noted, we processed all of our test images using the RAW conversion software that ships with the camera and using the default amount of noise reduction. In this case that's Canon's Digital Photo Pro.
When it comes to image quality it seems that this iteration of the 5D is about bumping up the resolving power. With judicious application of noise reduction, it's likely possible that you can bring down the noise some more to try to match the D750 at ISO 6400 while still maintaining more resolving power. At ISO 51,200 though, you'd likely be sacrificing more resolution than makes sense if you tried to make the noise results of the 5D Mark IV and D750 align.

In the Field
The overall design of the 5D Mark IV remains very similar to the Mark III. The grip is still very comfortable even over the course of shooting for many hours. Dual command wheels make manual shooting easier and the rear command wheel can be used to set exposure compensation when in aperture- or shutter-priority mode. The joystick makes menu navigation and AF point/area placement a breeze. While some photographers may complain about the menu structure, given the number of things you can change through them, we think that Canon does as good a job as any other camera maker in this area. The lack of a pop-up flash, though, feels like an oversight, especially with Nikon including one on the D750.
Next to the joystick is a new button for autofocus area selection. Press it after you press the main AF point selection button and you can cycle through different options for grouping AF points. This can be useful when using tracking AF, especially if you want the camera to start tracking a subject when it enters the frame. The other noticeable difference from the Mark III is that the remote control terminal has moved to the front of the camera because the step up to USB 3.0 means that the USB port is bigger.

As was the case with the Mark III, the Mark IV has plenty of customization available and you should be able to configure it so that it melds comfortably with your shooting style.
While not a huge bump, the step up to 7 fps for burst shooting is welcome. It's nice that you can fill the memory card with JPEGs when shooting to a card with a fast enough write speed (UDMA mode 7 CF or UHS-I speed class 3). If you're capturing RAW, you'll get 21 shots per burst, or 16 RAW+JPEGs, with one of those fast cards.
The 4K footage captured by the 5D Mark IV looks quite nice, with tons of detail and very pleasing color. Better still, during playback you can pause, navigate to your favorite frame, and export an 8.8MP still image. If the reduced image size isn't a problem, it's a great way to effectively step up to 30 fps capture for those extra elusive moments. Full HD footage also looked great, as did the 720p slow-motion capture. Plus, the addition of Dual Pixel CMOS AF makes AF tracking during video capture a realistic option while also speeding up the process of live-view shooting.
Because each pixel is split in two for Dual Pixel CMOS AF, Canon realized that it can also use this to determine depth information and use that during RAW conversion to slightly shift the plane of sharpest focus, create fake bokeh adjustments, or reduce ghosting. Adobe plans to add support for what Canon is calling Dual Pixel RAW files in a future update of Adobe Camera Raw and Lightroom. Until then you have to use Digital Photo Pro and select Start Dual Pixel RAW Optimizer to launch a window where you can make adjustments. The adjustments are subtle but can make a real difference if you're shooting at f/1.4 and trying to nail focus on your portrait subject's nearest eye.
We're not sure why it took so long for Canon to recognize that Wi-Fi should be built into every one of its DSLRs, but we're glad that it seems to have come around. Initial setup is on par with what you'll experience with most other camera makers, and the layout of the controls makes it easy to change basic settings and switch between video and still capture. The convenience of being able to control the camera from afar or transfer images to a smartphone or tablet immediately after capture can't be understated.

The Bottom Line Cranky (and unrealistic) shooters will likely complain that the 5D Mark IV isn't a massive enough upgrade, or that there isn't some new whiz-bang feature that they've never seen before. But, if you take a step back and realize that this camera is the bread and butter for so many photographers out there, you'll realize that it's a meaningful move forward from the Mark III.
That said, we wouldn't be surprised if there are a good number of Mark III shooters who might not feel the need to step up. If you don't want to shoot 4K and the prospect of pulling 8.MP still from it doesn't appeal to you, or if you don't feel that you need the extra resolution, then it might not make sense to opt for the Mark IV. We do think that there will be a large number of 5D Mark II shooters that will find the Mark IV quite appealing. If you're just stepping up to a camera of this magnitude for the first time, we can say with ease that you've picked a good time to join the 5D crowd.