Lens Review: Venus Optics Laowa 12mm f/2.8 Zero-D
A stellar debut wide-angle prime.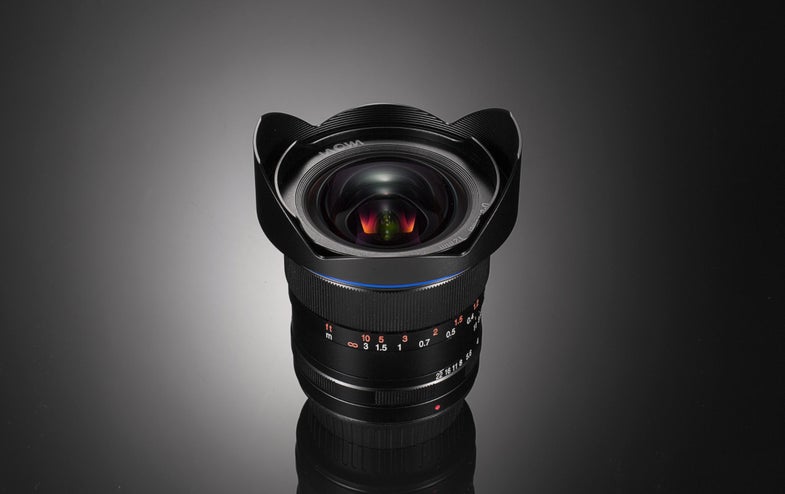 We may earn revenue from the products available on this page and participate in affiliate programs. Learn more ›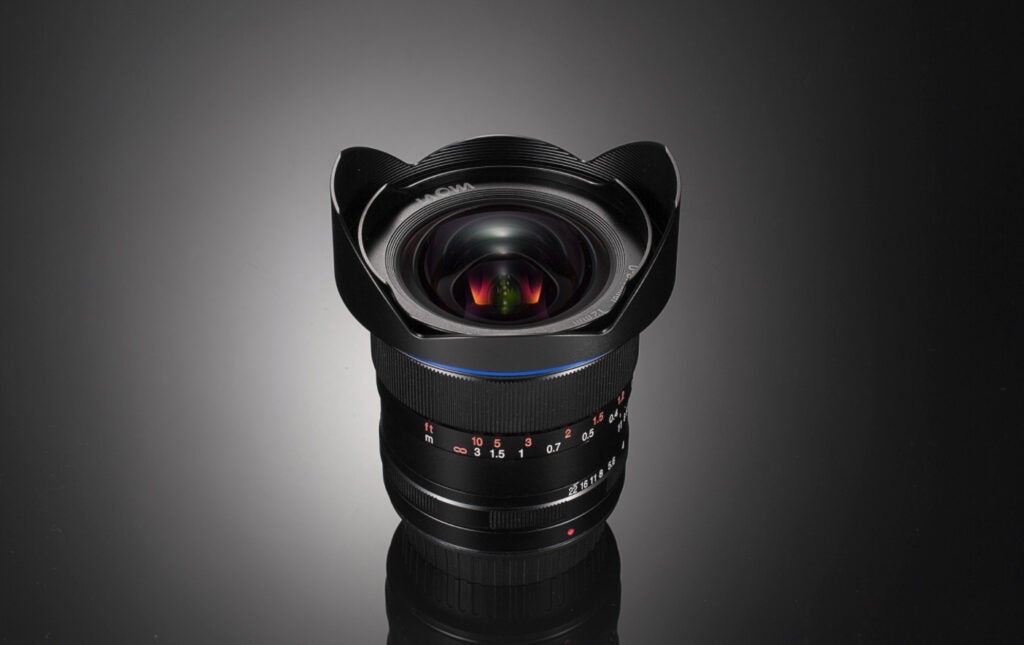 We typically don't test equipment that comes from a Kickstarter campaign, but we were intrigued by the newest offering by Venus Optics (full name: Anhui ChangGeng Optical Technology Company), the full-frame Laowa 12mm f/2.8 Zero-D, which its maker calls the widest rectilinear lens with a f/2.8 maximum aperture; it also claims it has "close to zero" distortion. While it was still in Kickstarter mode at press time, the company assured us that the lens will be sold for about $949 at major photo retailers starting in September and sent us a production sample to test. This was a challenge we couldn't pass up.
This manual-focus prime will be available in Canon EF, Nikon AF, Pentax K, and Sony A and E mounts. The metal lenshood is included, and you can add a filter holder ($50) and Magic Shift Converter for Sony E mount ($300), which enlarges the image circle to create the equivalent of a 17mm f/4 shift lens with +/– 10mm shift on full-frame Alpha ILCs. The optical formula includes 16 elements in 10 groups with three extra-low dispersion elements and two aspherical elements.
Even with all that glass and a metal body, the lens weighs a mere 1.33 pounds, less (up to 1.22 pounds less) than the lenses we compared it to: the Canon 14mm f/2.8L II, Nikon 14mm f/2.8D, and Zeiss Distagon 15mm f/2.8 prime lenses, plus the Nikon 14–24mm f/2.8G, Sigma 12–24mm f/4.5–5.6, and Tamron 15–30mm f/2.8 zooms. It is also has an incredibly short length of 3.19 inches, shorter than the others by up to 2.50 inches. For such a wide-angle lens this is an incredible feat.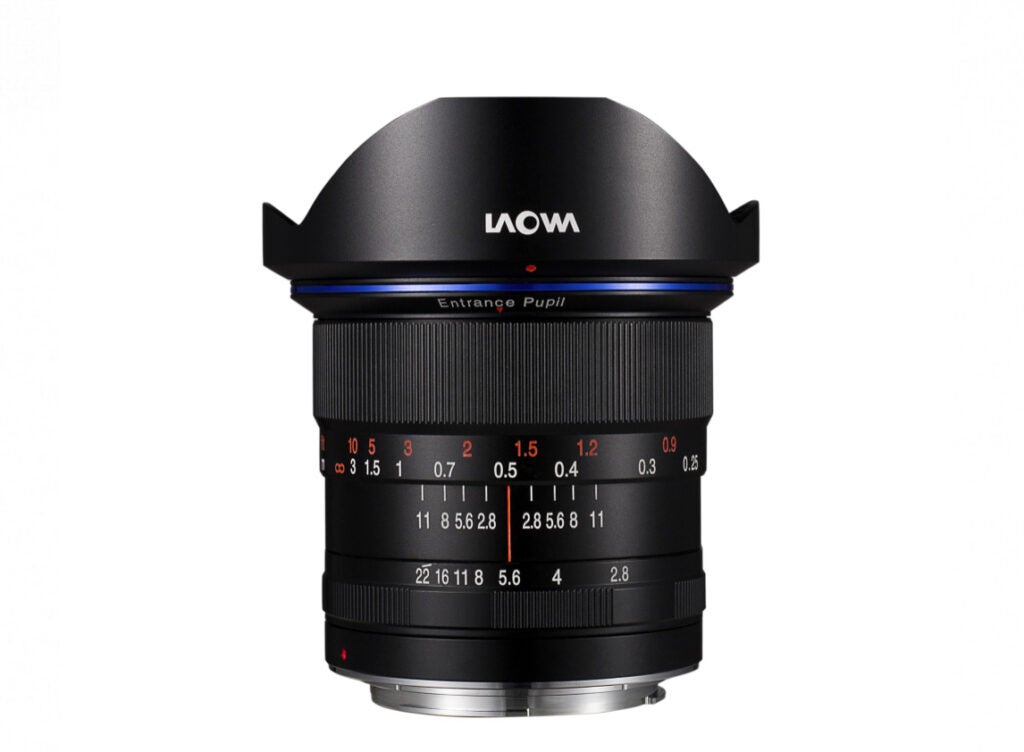 Its focus ring is easy to grip, although the 190 degree turning radius seemed a bit much. Typical of manual-focus lenses, it has a rather extensive depth of field scale—from f/2.8 to f/8—and the distance scale (feet in bright orange, meters in white) is clearly legible.
In our test lab, the Laowa 12mm earned Excellent SQF results for sharpness and contrast on our optical bench. It did slightly better than the Nikon 14mm, the Sigma 12–24mm at 12mm, and the Tamron 15–30mm at 15mm; it had the same results as the mighty Zeiss Distagon 15mm. Only the Canon 14mm and the Nikon zoom very slightly outperformed it. And what about distortion? Our tests using DxO Analyzer 6.1 showed 0.17% (Slight) barrel distortion—not zero, but our test standards are higher than most, and our procedures differ from those Venus uses. At any rate, the Laowa controlled distortion much better than all the competitive lenses we tested, the range going from 0.27% (Slight) for the Canon 14mm to 0.55% (Visible) for the Tamron at 15mm. Kudos to Venus Optics for an outstanding distortion result for such a wide-angle lens.
Vignetting was gone by f/4, a good outcome and better than four of the other lenses. Its remarkable close focusing distance of 7 inches and maximum magnification of 1:4.95 again trumps all the other lenses—the Canon 14mm came nearest, focusing to 7.5 inches and magnifying at 1:5.7.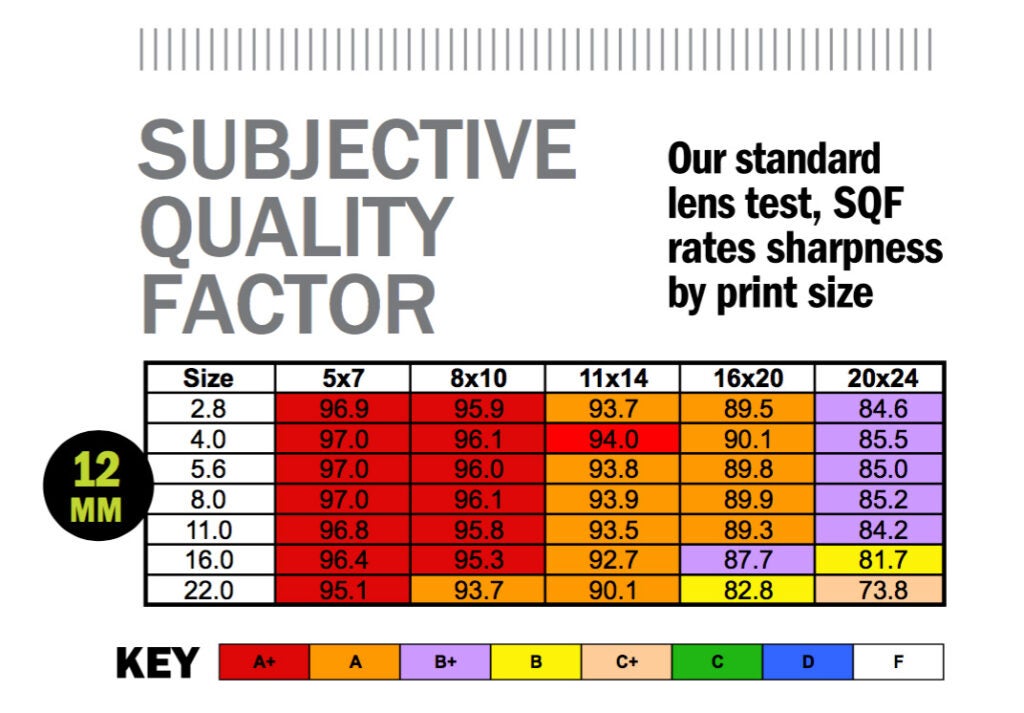 To be honest, we in the Pop Photo Test Lab were suspect about whether this new lens would make the grade in our demanding test procedures. But it not only succeeded, it surpassed many of its competitors—what a nice surprise. Also a nice surprise is the price of $949, less than all but one of its rivals (the Sigma costs the same). We are looking forward to testing more Venus Optics lenses.