Bargains of the Year: 2014's Best Camera Gear Deals
A round up of the best deals you will find on cameras, lenses and accessories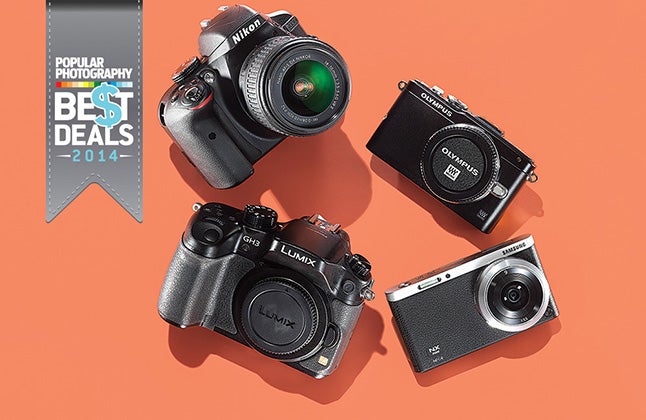 We may earn revenue from the products available on this page and participate in affiliate programs. Learn more ›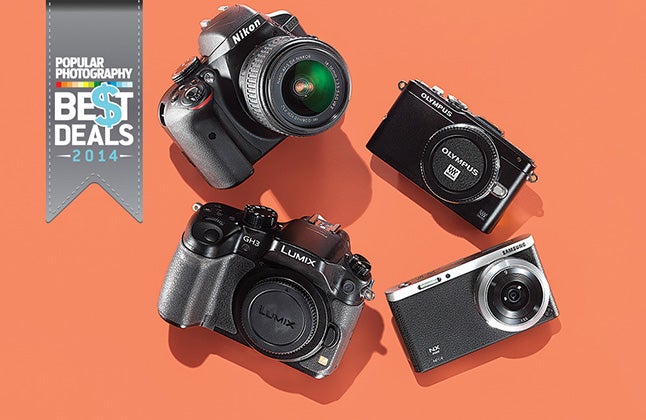 Photo: Brian Klutch
The cost of photo equipment can add up quickly. We scoured through all the gear we saw this year and found the best values, so you can pay attention to your exposures instead of your bank account.
Cameras
Nikon D3300
Nikon has been delivering lots of resolution in its DSLRs over the past couple of years. In the D3300's case, this resulted in an Excellent image quality rating in our lab tests from ISO 100 through 400. With faithful color reproduction and speedy autofocus, this **$547 **entry-level could be just the thing for great shots of your active children. Its fast burst rate of 5 frames per second matches our suggested minimum for shooting sports.
Panasonic Lumix GH3
Panasonic hasn't stopped selling the GH3, despite releasing the GH4 this year. Why? We think it's because the company knows that some shooters don't need to step up to the GH4's 4K video recording, and the GH3 is a very capable still and video camera in its own right. It earned an Excellent image quality rating from ISO 125 through 400, has Excellent color accuracy, and can capture up to 18 RAW images (or fill your SD card up with JPEGs) at 6 frames per second. With a rugged, weather-sealed body, it's a bargain at $1,098****.
This mid-level ILC boasts a 16MP Four-Thirds-sized sensor and sensitivity up to ISO 25,600; its 3-inch tilting LCD touchscreen lets you tap your subject to snap the picture. There's no pop-up flash, but the PL5 comes with Olympus's small FL-LM1 hot-shoe flash. It'll record video at up to 1920x1080i60 and its sensor-shift image stabilization will work with whatever lens you mount on the camera. You can pick up the PL5 with a 14-42mm f/3.5-5.6 II R lens for $600.
Samsung NX Mini with 9mm lens
Lots of street shooters will go out with just a single prime lens, typically a wide angle between 24 and 35mm. With its 1-inch sensor, the**** **$400 **NX Mini's 9mm lens has a field of view similar to a 24mm lens on a full-frame camera. It scored an Extremely High image quality rating in our test and has built-in Wi-Fi that lets you change camera controls and trigger the shutter remotely; it's also easy to transfer images to a smartphone for sharing.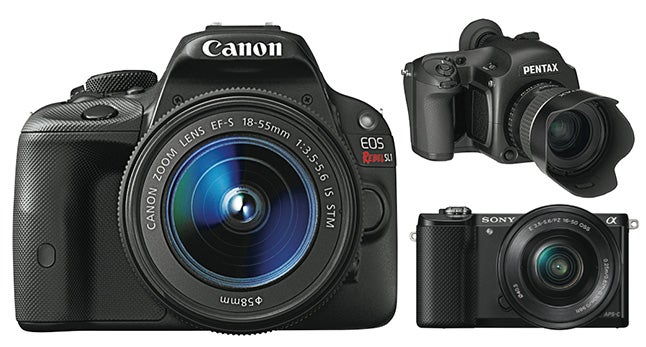 Canon EOS Rebel SL1
If you want a small camera, you might consider an ILC, but Canon's SL1 is nearly as small as some mirrorless cameras. In our lab tests it achieved an Extremely High image quality rating from ISO 100 through 1600, delivering enough resolving power to make large prints and with solid noise control, so you won't see much grain unless you want to add it in after the fact. It's missing Wi-Fi, but you can add an Eye-Fi Mobi card to port images to a smartphone. With an 18–55mm f/3.5–5.6 IS STM kit lens, the SL1 streets for**** $599.
Pentax 645D
When first announced, Pentax's 645D seemed a bargain in the medium-format digital world. Now that Ricoh has dropped the price to**** $4,997, it's as bargain as you can get for a 40MP medium-format SLR body. Its CCD imager can't offer the massive sensitivity range of the 645Z, but its range of ISO 100–1600 is what one might have expected before CMOS invaded the medium-format world.
Sony a5000
While Sony's fancy a6000 has been making more headlines this year, its a5000 lets you get into mirrorless for $448 with a 16–50mm f/3.5–5.6 kit lens. Its 20.1MP APS-C-sized sensor is plenty for the average shooter. It sports Wi-Fi for image sharing, 1920x1080p60 video capture, and a 3.0-inch 460,000-dot tilting LCD that flips up for selfies.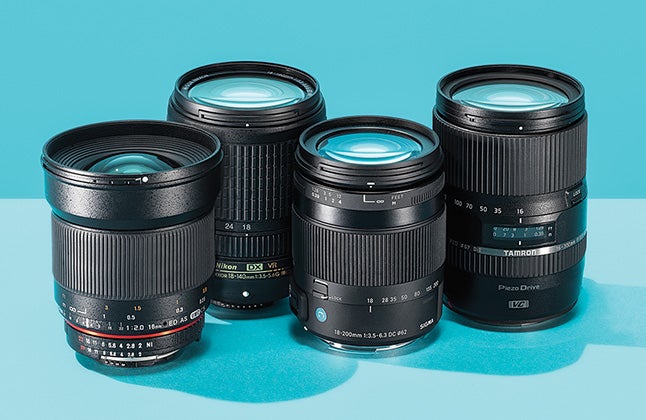 Photo: Brian Klutch
Lenses
Made for APS-C bodies, this fast, manual-focus, ultrawide is available in 10 different mounts, including the rarely seen (non-Micro) Four Thirds. The well-damped focusing ring turns 170 degrees and the depth-of-field scale covers all whole stops from f/4 through f/22. The lens is bit large and heavy for its class, uses 77mm filters, and showed visible barrel distortion; but, you'd have to spend hundreds more than this optic's $379 price to find something comparable with minimal distortion.
Nikon 18-140mm f/3.5-5.6G DX ED VR AF-S
Covering an equivalent focal-length range of 27–210mm on Nikon's APS-C bodies, this utili-zoom can cover most of the casual shooter's needs. In our tests it showed distortion on par with other lenses in this class, but it got slightly better SQF results than comparable lenses from Canon, Pentax, and Tokina. Nikon's Vibration Reduction gave our testers 3 stops of hand-holding leeway in lab tests. Since our test in April of this year, the price has dropped by $100, making it a steal at $497.
Sigma 18–200mm f/3.5–6.3 DC Macro OS HSM
This compact, light, big-range zoom had excellent SQF numbers at all tested focal lengths when we reported our lab results in August. Labeled macro, it has a maximum magnification of 1:2.59 and focuses as close as 12.53 inches. Its optical image stabilization gave us an average of 2.66 stops of shutter-speed leeway, which should help when racked out to 200mm. We described its autofocus as "responsive, accurate, quiet, and in every way satisfying." What else is there to say? It costs just $399.
Tamron 16–300mm f/3.5–6.3 DiII VC PZD Macro
We dubbed this lens the "Zoom King" in our July 2014 test due to its monstrous 18.8X range. Covering an equivalent of 24.8–465mm on the APS-C bodies it was designed for, it showed a very impressive magnification of 1:2.30, and near-lack of distortion in macro range. We saw no vignetting in the macro range, or at 35mm, 100mm, or 300mm. Even at 16mm, light falloff was gone by f/4. If you're going to buy one lens to keep on your camera at all times, this **$629 **optic is the one.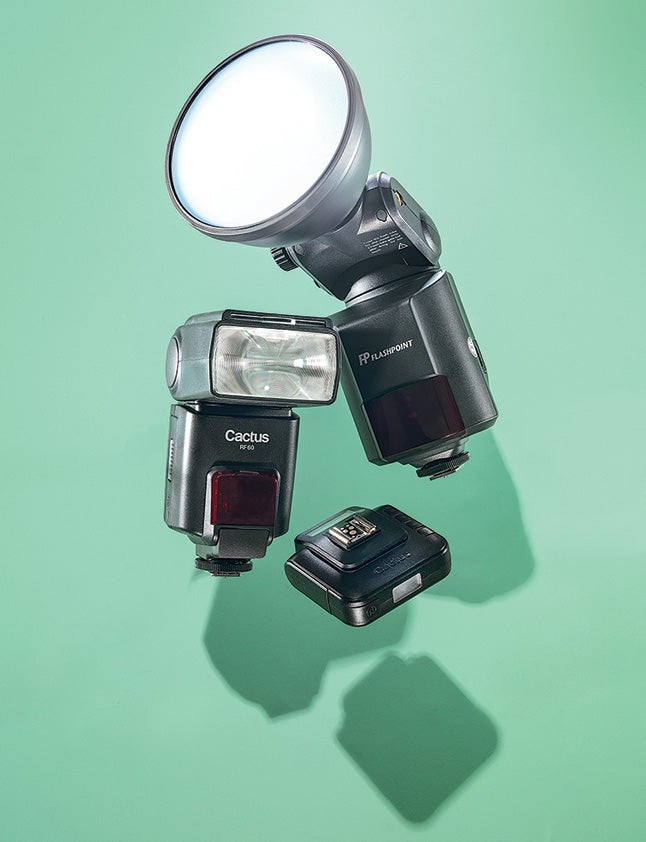 Photo: Brian Klutch
Flashes
Cactus RF60 flash and transceiver
Wireless flash control for multiple off-camera flash units can get pricey quickly, since most manufacturer's systems won't work together. The $140 Cactus RF60 has a built in 16-channel transceiver with a maximum range of 328 feet, thanks to its 2.4GHz RF transmission, and a guide number of 183 feet at ISO 100 when zoomed to 105mm. Best of all, it can control multiple brands of flash units simultaneously in up to four groups. If you don't want to use the flash as a controller, you can add the V6 transceiver for $55.
FlashPoint**** ****StreakLight 360 Ws Flash
For an event photographer, nothing's more helpful than a powerful, long-lasting flash unit. If you can't abide the over-$1,000 price tag of a Quantum Instruments Qflash, Adorama's $390 FlashPoint StreakLight 360 Ws unleashes photons with faster recycling times than most shoe-mount flashes, and it's adjustable from full power down to 1/128 power in 1/3-stop increments. It has an AF-assist beam, two sync jacks, an optical slave trigger, and a stroboscopic mode. It also comes with two diffusion discs and accepts Lumedyne and Quantum accessories.
Phottix Mitros+ and Odin Trigger
An off-camera radio frequency (RF) wireless flash with a shoe-mounted controller lets you place your flash anywhere within hundreds of feet and control the unit from your shooting position. Though slightly less powerful than Canon's Speedlight 600EX-RT, the Mitros+'s 190 guide number at ISO 100 is plenty powerful. Plus, this flash/trigger combo's $550 price tag is the same as the cost of the Canon flash alone. Adding Canon's trigger would bring you up over $800.
Accessories
**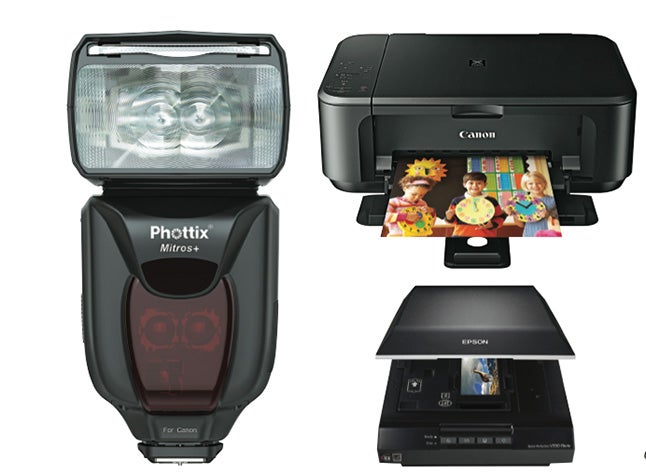 **
If you're a photographer who wants an all-in-one printer/scanner at a great price, you should definitely turn your eye toward a unit made by a dedicated imaging brand such as Canon. This model will scan at up to 1200×2400 dpi, and its AirPrint system lets you print directly from an iPhone or iPad, while the built-in Wi-Fi allows printing from anywhere in your home. It's only a two-cartridge ink system (black and multi-color) and is limited to letter-size paper, but it's compatible with a large array of paper types and can be had for just $60.
If you're only an occasional 35mm film shooter, it might not make sense to get a dedicated film scanner. A flatbed such as this Epson, which can scan both negatives and slides, will likely prove more versatile in the long run, especially if you and your family also have prints that need digitizing. With 48-bit color depth and 6400X 9600-dpi resolution, the V550 will pull all of the detail out of those prints and its Easy Photo Fix and Digital ICE technology can help speed up any retouching needed. It goes for only $170.
We've got a positive outlook on this negative film. At $7.90 for a three pack, that's just over $2.50 per roll. While it costs about the same as drug-store film, this film probably hasn't been sitting on a store shelf since the Clinton administration. Plus its high contrast gives you that special Lomo aesthetic that compensates well for old fixed-lens cameras or old lenses that often yield low-contrast images.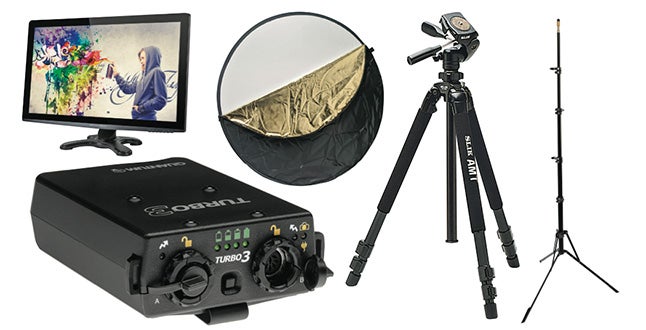 Monoprice 27-inch IPS WQHD display
LCD monitors that use in-plane switching (IPS) technology can display more consistently accurate colors across wider viewing angles compared with those using twisted nematic (TN) technology. While IPS monitors usually cost extra, this Monoprice will set you back just $460. According to the company, it can recreate 1.07 billion color combinations.
**Quantum Turbo 3 Battery **
Though it may seem pricey at $624, the Turbo 3 will reduce your shoe-mount flash's recycle time to around
a second and can make it last for upwards of 1,000 shots. It can charge up to two flashes at once and has a gauge to let you know how much power you have left. You can also use it to power a wide variety of camera bodies, and it can power your camera and a flash at the same time.
**Monoprice 41.3-inch 5-in-1 collapsible reflector **
The company that made its name by selling well-made audio-video cables has quietly turned its attention to photo accessories. We were floored by this $14 reflector. It can function as a diffuser or you can use the zippered cover to turn it into a silver, gold, white, or black reflector. The steel frame collapses into a 16-inch storage pouch.
Slik Pro 700DX A.M.T Super Titanium Alloy Tripod
Think of it as the Mongoose BMX bike of tripods. Using titanium alloy instead of aluminum, this $100 three-footed camera support is 40 percent lighter than aluminum tripods with the same 15-pound weight capacity, according to Slik. And while its maximum height is 74.8 inches, you can use its three-step leg angle adjustment to get it down as low as 15 inches. Meanwhile, the 700DX weighs in at a meager 7.05 pounds.
LumoPro LP605 Portable Light Stand
When you're carrying around a lot of gear, every ounce counts. This light stand extends up to 7.5 feet, but weighs an easy-to-tote 2.6 pounds. Three removable, retractable spikes on the legs can be pushed into the ground to help secure the stand when shooting on location. Made of sturdy aluminum and containing five telescoping sections, the **$40 **LP605 is topped with a standard 5/8-inch stud with both 3/8-inch and 1/4-inch 20 threads.
**3Pod V2AH Video Tripod **
A tall, sturdy video tripod is not easy to find. With a smooth-turning pan/tilt fluid head, 77.56-inch maximum height, and load capacity of 14 pounds, this support from Adorama seems like it should cost more than $150. The legs and head each have their own spirit level, the quick-release plate has a nifty safety lock, and the panning arm is reversible to accommodate both left- and right-handed shooters. The 'pod weighs 13.5 pounds and comes with a padded carrying case.