Camera Test: Pentax 645Z Review
Making medium-format CMOS semi-affordable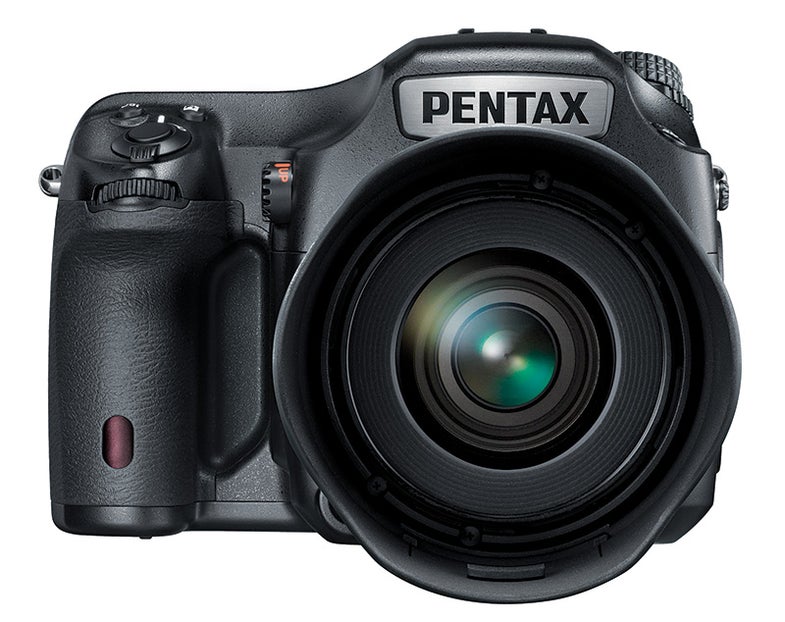 We may earn revenue from the products available on this page and participate in affiliate programs. Learn more ›
Until very recently, you had to shell out tens of thousands of dollars to get a new digital medium-format camera, and in some cases you'd spend that much on the camera back alone. And if you're used to shooting with a 35mm (full-frame) or smaller-format DSLR, you've probably become accustomed to shooting at sensitivities over ISO 6400, while medium-format shooters used to have only CCD sensors with lower sensitivity (not a problem for photographers in a controlled studio environment or employing plenty of light). Now, thanks to a new CMOS sensor made by Sony, Ricoh has produced this 51.4MP Pentax 645Z ($8,497, street, body only), Hasselblad has made the 50MP H5D-50c ($27,500, street, body and back), and Phase One has introduced the 50MP IQ250 ($34,990, list, back only). That puts the Pentax's price nearly in 35mm territory: Canon's EOS-1D X body currently streets for $6,799 and Nikon's D4s body costs $6,497.
Pentax seems to be trying to lure 35mm shooters into medium-format with its camera design and features, too. While the Hasselblad and Phase One still limit your sensitivity to ISO 6400, the 645Z reaches ISO 204,800. Similarly, the buttons and menus on the Pentax give more of the feel of a 35mm DSLR than shooting with either of the other two CMOS medium-format offerings.
So should you consider switching formats? Let's take a look.
In the Test Lab
The sensor in the 645Z maintains the 4:3 aspect ratio of 6×4.5cm film, though it measures 44x33mm. In terms of surface area, that's quite a difference: 2,700 square millimeters for film versus 1,452 for digital. But next to a full-frame sensor's 864 square millimeters, it's still substantial real estate. Multiply the focal length of a Pentax digital 645 lens by 0.79 to get a good approximation of the equivalent field of view in a full-frame system.
Since we didn't get a copy of Pentax's Digital Camera Utility software until the very end of our testing period, we used Adobe Lightroom 5.5 to process our test images, which we shot as DNG RAW files. As with other cameras that ship with Lightroom, we applied various levels of luminance noise reduction in processing and used the same NR settings for our resolution test images as those in the noise test. All test images were shot with the 55mm f/2.8 AL smc Pentax-D FA 645 SDM AW lens, which Pentax describes as "a new standard lens, optimized for the 645Z." Its focal length is the full-frame equivalent of about 43mm.
Given all those pixels, it's no surprise that the 645Z scored an Excellent rating in our resolution test, with 4425 lines per picture height at ISO 100. For comparison, Nikon's 36MP D800 turned in 3510 lines at its best, and Sony's 36MP a7R served up 3325 lines. While this mega-resolution certainly impresses, you have to decide whether you really need it. It opens up great possibilities for cropping and making gigantic enlargements, but you'll end up with 300MB TIFF (16-bit) files after the RAW conversion. You'll need a powerful computer.
That said, the Pentax 645Z holds its resolution well until ISO 6400, where it captured 4260 lines. Resolution drops to 4025 lines at ISO 25,600; 3425 at ISO 102,400; and 3200 at its highest sensitivity of ISO 204,800. Pretty amazing stats for anyone coming from the 35mm world.
In our noise test, without having the camera maker's default settings to go by, we applied 25% luminance noise reduction from ISO 100 through ISO 800, stepped up to 50% from ISO 1600 through ISO 102,400, and applied 75% at ISO 204,800. With those settings the 645Z got Extremely Low ratings at its lowest two sensitivity settings. Noise remained at a Low or better rating up to ISO 1600, and reached an Unacceptable rating at ISO 6400. If you plan to reproduce the 645Z's images smaller than their maximum size, the impact of noise may be diminished quite a bit.
It earned an Excellent rating in color accuracy, but with an average Delta E of 7.8, it barely squeaked by our cutoff of 8.0 for top honors.
In our autofocus test, we found the 645Z quite sluggish compared with most 35mm and APS-C DSLRs. At the brightest light level in our test (EV 12), it locked focus and captured an image in 0.81 second—at least twice as much time as it takes for most full-frame DSLRs. At EV 4, comparable to moderate indoor lighting, it took just more than a second. And at the dimmest level in our test, EV –2, the 645Z took longer than two seconds to focus.
In the Field
Upon first getting the 645Z, it seemed smaller and more manageable than we had imagined. But it's much larger than even the largest 35mm DSLRs—we garnered some stares during the few weeks we carried it around. The big sensor requires a huge reflex mirror with plenty of room to flip up and down. We did most of our field testing with the 55mm f/2.8, but also spent a few days with a vintage 120mm f/4 SMC Pentax-A macro lens built for Pentax's first 645 film body.
While the 645Z works quite well handheld, it's too heavy to use that way for hours at a time. You may want a geared tripod head if you plan to do macro work, since the camera's bulk and weight make it more difficult to use a standard pan/tilt head with great precision.
The body itself is well designed. The grip is very deep, so people with large hands won't feel cramped. Control wheels and buttons are laid out in a way that will make smaller-format shooters feel at home, especially if you already use Pentax bodies. Many of the buttons are assignable, even some that seem like they wouldn't be, such as the four on the left of the camera's top. There's so much space on the camera body that dials and dedicated buttons abound. At first, the dial to switch between still and video capture felt strange, since we're used to doing this via the mode dial, but it was great in use. The dial for mirror lock-up also proved convenient in shooting with long shutter speeds.
The 3.2-inch LCD tilts up and down and was very useful when framing macro shots of flowers in Fort Tryon Park's garden in upper Manhattan. While this is a feature that some photographers scoff at, a large percentage of the medium-format shooters we showed the camera to agreed that it would come in handy when not shooting tethered. Another thing we noticed while photographing the flowers is that because of the 645Z's large sensor size, you'll want to stop down further than you would with a 35mm camera if you want an equivalent depth of field.
While fast for medium-format, the 645Z's burst rate of 3 frames per second can't really compete with the likes of the Canon EOS-1D X's 12 fps. Still, it captures up to 30 JPEG frames per burst, or up to 10 RAW shots. Given that its RAW files can easily top 70MB each, that's not bad at all.
With files this big, we were pleased the 645Z has two SD card slots that can be set to automatically switch from one card to the other when the first card fills, or to record RAW to one and JPEG to the other, or to mirror.
Another use of the second slot is to employ a FLU card to add wireless capabilities. As with other recent Pentax DSLRs, such as the K-3, you can use a 16GB FLU card ($100, street) to add Wi-Fi to control basic camera functions and transfer images from the camera to your smartphone or tablet for instant sharing. Unlike most cameras with Wi-Fi, you don't have to download an app. Instead, you connect to the 645Z over Wi-Fi, open a Web browser, and type "pentax" instead of a URL—you'll see an image preview and interface for camera controls. It's not quite as slick-looking as some apps, but it gets the job done well.
Video captured with the 645Z looks very nice, with minimal artifacts and nicely saturated colors. While it's not overwhelming, we did see a slight jello effect on fast-moving subjects. This is common in DSLRs, however, and in this, the 645Z is about average.
The Bottom Line
The Pentax 645Z brings high-quality medium-format imagery within reach of a whole new group of photographers. Its overall feel is similar enough to the smaller-format DSLRs that most shooters know for them to face only a slight learning curve after switching. And you can mount Pentax medium-format lenses going back multiple generations, many of which sell on the used market for around the same price as some new 35mm-format glass.
So if you've ever dreamed of stepping up to medium format, you should seriously consider the 645Z. But you should also think about whether you really need (and have the computing power to deal with) its very large images.
SPECIFICATIONS:
IMAGING: 51.4MP effective, 44x33mm CMOS sensor captures images at 8256×6192 pixels with 14 bits/color in RAW mode
STORAGE: Dual SD/SDHC/SDXC slots stores JPEG, TIFF, PEF or DNG RAW, and RAW + JPEG files; compatible with FLU card to add Wi-Fi capabilities
BURST RATE: Full-sized JPEGs (Fine mode), up to 30 shots at 3 fps; RAW (14-bit), up to 10 shots at 3 fps
AF SYSTEM: TTL phase detection with 27 focus points (25 cross-type in the center); single-shot and continuous AF; effective range, EV –3 through 18
SHUTTER SPEEDS: 1/4000 to 30 sec, plus B (1/3-EV increments); shutter rated to 100,000 cycles
METERING: TTL metering with 86,000-pixel Multi-segment (evaluative), centerweighted, spot (size of spot not specified). Effective range: EV –1–21 (ISO 100; 55mm f/2.8)
ISO RANGE: ISO 100–204, 800 (in 1/3-, 1/2-, or 1-EV increments)
VIDEO: Records at up to 1920×1080 at up to 60 interlaced fps in MP4 AVC/H.264, built-in stereo microphone; stereo minijack input; adjustable sound recording level; maximum clip length 25 minutes
FLASH: No built-in flash; hot shoe accepts accessory flashes; flash sync to 1/125 sec
VIEWFINDER: Fixed eye-level Keplerian telescopic trapezoid prism; 98% accuracy; 0.62X magnification with D series lenses; 0.85X magnification with A and FA series lenses
MONITOR: 3.2-inch tilting LCD with 1,037,000-dot resolution; 15-step brightness adjustment
OUTPUT: USB 3.0, micro HDMI video, X-sync socket
BATTERY: Rechargeable D-LI90 Li-ion, CIPA rating 650 shots
SIZE/WEIGHT: 6.1×4.6×4.8 in., 3.4 lb with a card and battery
STREET PRICE: $8,497, body only
INFO: www.us.ricoh-imaging.com