Lens Test: Sigma 18-200mm f/3.5-6.3 DC Macro OS HSM
Sigma revises a much-loved zoom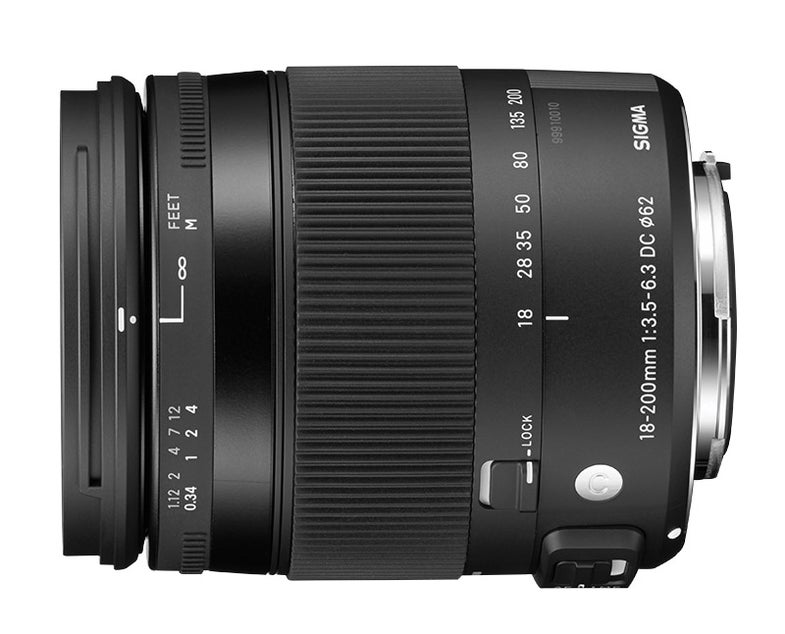 We may earn revenue from the products available on this page and participate in affiliate programs. Learn more ›
Is the 18–200mm APS-C zoom a sought-after lens category? We've tested four of them in recent years, and almost all the current stabilized models are in their third-generation. (Yes, they're popular.) The new version, the 18–200mm f/3.5–6.3 DC Macro OS HSM ($399, street), is Sigma's third such zoom and the first to join its family of Global Vision glass. It's in the C (Contemporary) group, no doubt due to its attractive pricing.
Weighing about a pound, it's several ounces lighter than Sigma's 18–200mm Version II. It's also compact: even fully racked out, it casts no shadow when used with the on-board flash of our Canon EOS Rebel T4i.
Quite beautiful, the lens contrasts matte black surfacing with crisp, delicate markings—including a macro scale atop the barrel. Our only gripe? The tiny, gray-on-black subject distance scale on the skimpy manual-focus collar-—a challenge to read even in good light. (The manual focus ring's turning radius of 60 degrees is also skimpy.) The zoom turn is stiff, but okay. (Our Version II test sample was prone to serious zoom creep.) The zoom ring's locking switch signals from afar whether it's locked or not. Finally, the lens' autofocus is killer. It jumps to sharpest focus: responsive, accurate, quiet, and in every way satisfying.
In our lab, the lens performed well. Distortion showed some improvement over Version II, rising into the Slight from Visible range (at 100mm) in our DxO Analyzer 5.3 tests. While this lens lacks the impressive 15X zoom range of a mega all-in-one, its SQF numbers were Excellent at all focal lengths. Most 15Xers inevitably drop from Excellent to Very Good, or even Good at the long end. For shooters requiring convenience, plus uncompromised sharpness, this could be your lens.
To their credit, none of the 18–200mm APS-C macro zooms that we've tested recently have shown serious light falloff or distortion in their macro ranges. If this month's macro feature inspires you, consider this well-priced Sigma.
SPECIFICATIONS
**18-200MM: **(18.62–200.07mm tested), f/3.5–6.3 (f/3.51–5.99 tested), 16 elements in 13 groups. MF ring turns 60 degrees. Zoom ring turns 80 degrees. Focal length marked at 18-, 28-, 35-, 50-, 80-, 135-, and 200mm.
DIAGONAL VIEW ANGLE: 76–8 degrees
WEIGHT: 1.01 lbs
FILTER SIZE: 62mm
MOUNTS: Canon AF, Nikon AF, Sigma AF, Sony AF, Pentax AF
INCLUDED: Lenshood
STREET PRICE: $399
WEBSITE: sigmaphoto.com
TEST RESULTS
DISTORTION: At 18mm, 0.51% (Visible) barrel; at 50mm, 0.35% (Visible) pincushion; at 100mm, 0.26% (Slight) pincushion; at 200mm, 0.22% (Slight) pincushion
MACRO DISTORTION: At 200mm, 0.01% (Imperceptible) pincushion
LIGHT FALLOFF: At 18mm, gone by f/5; at 50mm, none; at 100mm, none; at 200mm, none
MACRO LIGHT FALLOFF: At 200mm, none
CLOSE-FOCUSING DISTANCE: 12.53 inches
MAXIMUM MAGNIFICATION RATIO: At 18mm, 12.58; at 50mm, 1:5.12; at 100mm, 1:2.96, at 200mm, 1:2.59
IMAGE STABILIZATION: 2.66 stops
MACRO STABILIZATION: 1.83 stops