Lens Test: Sigma 18–200mm f/3.5–6.3 II DC OS HSM
Sigma slims down its top all-in-one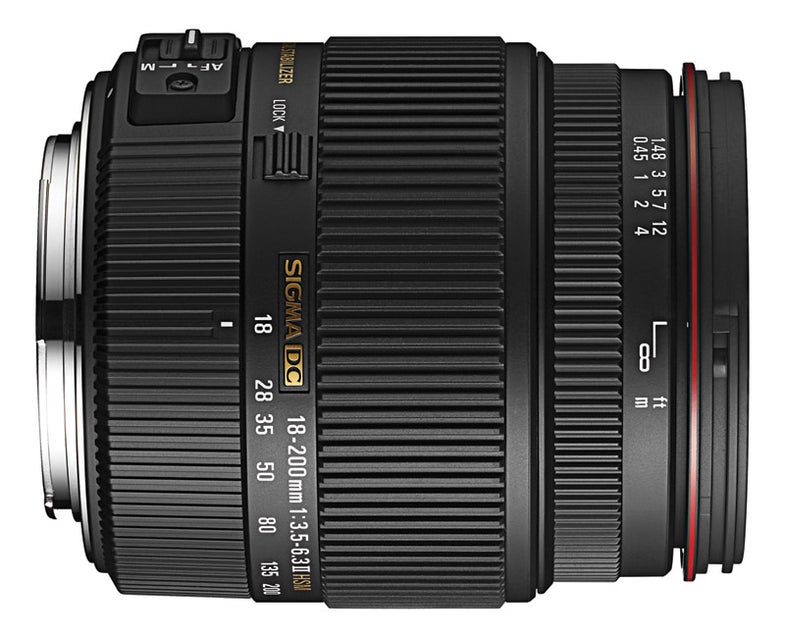 We may earn revenue from the products available on this page and participate in affiliate programs. Learn more ›
Released in October of 2011, this second iteration of Sigma's stabilized 11.1X all-in-one zoom ($499, street) offers two seemingly significant upgrades: a high-tech FLD glass element, plus Sigma's silent HSM focusing motor. This APS-C-only zoom is the full-frame equivalent of about 30–320mm, depending on your camera's body.
Noticeably lighter and more compact than the earlier version, the new zoom is more than a half-inch shorter at all focal lengths, and several ounces lighter. It takes 62mm filters, down from 72mm. Like the older lens, it is compact enough to cast no shadow at any focal length or focusing distance when used with our test camera's built-in flash.
Our test sample's unusually loose zooming action produced significant zoom creep when the camera/lens rig was aimed up or down. This can cause future focus and composition issues, especially if the zoom helical gets looser with age, as such things are wont to do. The barrel lock has little use here, as it can only be engaged at the lens' contracted 18mm focal length setting. But this isn't to suggest the lens suffers from what manufacturers call "slop." Like its older brother, construction quality is high, with rugged switches and rings—it feels solid.
The turning radius for the manual focus ring is short (60 degrees), so unlike the Rokinon tested this month, its subject distance scale is practically useless for low-light scale focusing. However, the Sigma's barrel-top macro scale ranges from 1:3.8 to 1:13.2, and might appeal to close-up shooters.
Nearly silent and satisfyingly fast, the HSM focusing motor is a welcome improvement over that of the older lens, which we described in our October 2007 test report as "moderately fast and somewhat noisy."
On our optical bench, the new lens turned in Excellent-range SQF numbers at all four tested focal lengths. This is great for an all-in-one zoom, as most in this class dip into the Very Good sharpness range at at least one focal length. (And Nikon's 18–200mm dipped past Very Good into the Good range at 200mm.) Ironically, the heralded incorporation of Sigma's special FLD glass seems to have produced the opposite of the intended effect: Despite the FLD element, Version II's performance numbers were slightly below those of Version I's at our 11×14 benchmark magnification, though all were in the Excellent range.
The new lens' distortion control proved problematic, as well. The earlier lens produced Visible-range barrel distortion (0.57% at 18mm) at only one of the four tested focal lengths, and Slight-range pincushion distortion at the three other (longer) zoom settings. The new lens did the opposite: Three of four focal lengths produced less-than-desirable Visible-range distortion, and only one (200mm) rose to Slight. In its defense, the new version's 0.54% barrel distortion at 18mm, while rated Visible, nevertheless represents a best-in-class performance of comparable tested lenses.
Sigma's fall-off-free corners at three of four focal lengths and its maximum 1:2.63 subject magnification also won it best-in-class ribbons. If you're shopping for an all-in-one, take a look at this Sigma. While it's slower at the long end compared to similar glass, it's significantly less expensive and in many ways optically superior.
SPECIFICATIONS
18–200mm (18.65–201.10mm tested), f/3.5–6.3 (f/3.43–6.13 tested), 18 elements in 14 groups. Focus ring turns 60 degrees. Zoom ring turns 80 degrees. Focal length marked at 18-, 28-, 35-, 50-, 80-, 135-, and 200mm.
Diagonal view angle: 69–7 degrees.
Weight: 1.16 lbs. Filter size: 62mm.
Mounts: Canon AF, Nikon AF, Pentax AF, Sigma AF, Sony/Minolta AF.
Included: Lenshood.
Street price: $499.
Website: www.sigmaphoto.com
TEST RESULTS
Distortion: At 18mm, 0.54% (Visible) barrel. At 50mm, 0.41% (Visible) pincushion. At 100mm, 0.32% (Visible) pincushion. At 200mm, 0.26% (Slight) pincushion.
Light falloff: At 18mm, gone by f/5. At 50mm, 100mm, and 200mm, no detectable light falloff.
Close-focusing distance: 12.81 inches.
Maximum magnification ratio: At 18mm, 1:10.74. At 50mm, 1:6.11. At 100mm, 1:3.27. At 200mm, 1:2.63.
Image stabilization: 1.5–2 stops.