Camera Test: Canon EOS Rebel SL1 DSLR
Canon's latest rebel is the smallest DSLR ever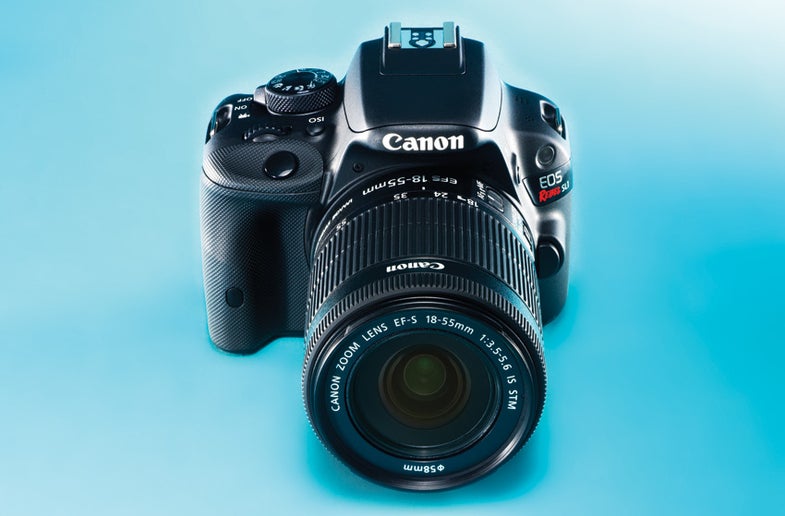 We may earn revenue from the products available on this page and participate in affiliate programs. Learn more ›
The whole point of the cameras we call interchangeable-lens compacts (ILCs) was supposed to be their small size. By removing the mirror, manufacturers could shrink camera bodies to heretofore impossible levels of tininess. Now, five years after we gave Panasonic's Lumix G1 our Camera of the Year award for pioneering that concept, Canon has delivered the EOS Rebel SL1, an 18MP DSLR that is smaller than Panasonic's current flagship ILC, the Lumix GH3.
Sure, it's a bit unfair to compare the two, as the Lumix is weather-sealed and decked out with high-end features—and costs about twice as much as this new Rebel. The SL1, clearly an entry-level model, streets for $799 (with 18–55mm f/3.5–5.6 EF-S IS STM lens); body-only, it sells for $649. But, it goes to show that there is still plenty of room in this world for DSLRs. And this one takes up much less room than most.
To see how big a splash the world's smallest DSLR could make, we subjected it to the rigors of the Popular Photography Test Lab and extensive field tests.
In the Test Lab
Canon has made its take on the SL1 clear in its television ads: This is the family camera. As such, it should deliver high-quality images with little fuss. And in this sense, we can say that the camera lives up to its promise.
The SL1 earned an Extremely High rating in overall image quality from its lowest sensitivity of ISO 100 through ISO 1600—impressive for such an inexpensive camera, and covering a wide enough range for most family shooting scenarios.
While resolution could be higher, given its 18MP APS-C-sized CMOS sensor, the camera delivered a maximum of 2440 lines per picture height in our test—very close to an Excellent score. It holds onto a lot of that resolving power as the ISO increases: at ISO 1600, 2330 lines; at ISO 6400, 2200 lines. Past that point resolution drops sharply, landing at 1800 lines at the SL1's top sensitivity of ISO 25,600 (Canon calls it H). The recently released Rebel T5i eked out just slightly more resolution, despite having a similar, if not identical, sensor. In our color accuracy test, it easily earned an Excellent rating with an average Delta E of 7.1.
As is often the case lately, Canon has kept noise well under control. The noise-reduction presets in the Digital Photo Professional RAW conversion software that ships with the camera make control simple. Noise is kept to Low or better from ISO 100 through ISO 1600. It doesn't reach an Unacceptable level until ISO 12,800, and even at ISO 25,600 it remains lower than that of a lot of cameras.
The SL1's main phase-detection autofocus system proved very fast and maintained plenty of speed as we dimmed the lights. At the brightest level of our test, it was able to focus and capture an image in a mere 0.38 seconds. It remained under a half-second until the living-room light level of EV 6, where it took 0.52 seconds to lock and fire. The camera was able to focus in less than a second throughout the range of light levels in which Canon states AF will function.
The company rates only the center AF point as effective down to EV –0.5, but in our tests the SL1 managed to focus and shoot in 0.99 seconds at EV –1. We also found that it eventually would focus at EV –2, as well, though the speed varied from just over a second to nearly two, averaging about 1.35 seconds. Given that variability, we didn't include EV –2 in our official test results.
In the Field
The Rebel SL1 is positively tiny. It measures just 4.6 inches on the longest side, and the height is only 3.6 inches, pentamirror housing notwithstanding. Even Canon's modestly sized 50mm f/1.4 lens (the one we use for lab testing) looks large on this body.
The kit lens is a revamped version of the 18–55mm f/3.5–5.6 IS zoom that is now compatible with Canon's STM system for quiet, fast focusing during live view or video shooting. For those occasions, the SL1 boasts an increased area of coverage—80 percent of both the horizontal and vertical frame—compared with the previous bodies with Canon's Hybrid AF system.
We spent a big portion of our field-test shooting the SL1 with Canon's 40mm f/2.8 pancake STM lens. This made for a cute, lightweight rig that was easy to bring just about anywhere. And since that lens can close-focus to less than a foot, there were few photographic opportunities we couldn't tackle.
Despite the camera's small size, the SL1 doesn't suffer as much as you'd expect when it comes to controls. Sure, there aren't that many physical controls, but there are dedicated buttons for live view, ISO, exposure compensation, AF point selection, and more. Plus, the quick menu—with its dashboard style presentation—lets you check or change any of the most important shooting parameters.
The camera's grip is so small that we'd challenge any adult (or even a big kid) to keep a pinky on the thing while shooting. Most of the time, we had both pinky and fourth finger tucked up underneath the body—though there's room for the fourth finger, it felt most comfortable under the camera. We liked that the top of the grip essentially connects to the side of the finder hump. This provides a good level of leverage for angling or pivoting the body.
A nicely rubberized area on the camera back provides a scooped out area for your thumb, making the camera about as comfortable as you can expect from a body this size; it also keeps your thumb separated from the two control buttons on the upper right of the back, preventing accidental presses.
If you're hoping to use the SL1 for sports shooting, you may find the burst rate of 4 frames per second a little on the slow side. The AF does a reasonably good job of keeping up with moving subjects, though you can expect a few more soft shots than with the tracking systems in one of Canon's more expensive bodies, such as the EOS 60D. For most parents shooting their kid's field hockey or lacrosse games, though, the SL1 should do fine. If your child turns out to be a track and field star in high school, you might want to step up to a faster burst and fancier AF tracking.
Other features seemed on course for a consumer-level DSLR. But given the strong competion at this level, as well as Canon's demonstrated capabilities, we found a few things lacking. Built-in Wi-Fi, for instance—the drive toward connectivity is unstoppable at this end of the market, and we feel the SL1 should have met that demand. An articulated, or at least tilting, LCD monitor is another feature we missed here (in its defense, the fixed touch screen probably saves space).
Continuous AF during video shooting was on par with most ILCs, though our brief hands-on time with a preproduction EOS 70D, which includes Canon's new Dual Pixel CMOS AF, made us think that this soon-to-be-released DSLR will become the new gold standard for AF while shooting video, at least for amateur shooters. As far as video quality goes, the footage we shot was quite nice. Persnickety videographers might notice some compression artifacts, but for the average family, the SL1 will produce very pleasing footage. There's even a stereo microphone input in case the built-in mono mic isn't enough for you.
The Bottom Line
It's not easy to compare the EOS Rebel SL1 to other cameras. While the Lumix GH3 is ever so slightly larger, most ILCs—especially those that seek to mimic the rangefinder style—are actually smaller. Furthermore, their native lenses are often also smaller.
In ads for ILCs and DSLRs, you'll most likely be told about video shooting these days, but we're not convinced that people are shooting more videos than stills with these kinds of cameras. Whatever you capture, if you plan to hold the camera above your head, or shoot at low angles, it's not as flexible a body as Canon's own T5i (tested in our August issue) or the Fujifilm X-M1. And if you want built-in Wi-Fi, you'll need to look elsewhere, or else opt for an Eye-Fi card to go with the littlest EOS.
But the SL1's optical finder still beats any of the electronic viewfinders available in the SLR-style ILCs. Photographers who don't love the blocky shape of rangefinder-style ILCs will find in the SL1 a truly portable camera that can tackle most of the situations a casual shooter will encounter.
Add to that the vast number of lenses available for the Canon mount (some of which will look silly and may not balance well when attached to the SL1's tiny body), plus all the accessories available for the Canon system, and the SL1 makes a very compelling option right now. And, the images we got from the APS-C-sized sensor look great. For most family shooters and anyone looking for an easy-to-carry vacation camera, Canon's EOS Rebel SL1 is an excellent option.
Specifications:
IMAGING: 18MP effective, APS-C-sized CMOS sensor captures images at 5184×3456 pixels with 14 bits/color in RAW mode.
STORAGE: SD, SDHC, SDXC. Stores JPEG, CR2 RAW, RAW + JPEG.
VIDEO: Up to 1920x1080p30 MPEG-4/H.264 MOV; built-in mono mic, stereo minijack mic input; hybrid contrast/phase detection AF with continuous AF in video mode; maximum clip length approximately 29 min 59 sec.
BURST RATE: Full-sized JPEGs (Fine mode): 4 fps up to 1140 shots; RAW (14-bit): 4 fps up to 8 shots when using a UHS-I memory card.
AF SYSTEM: TTL phase detection with 9 focus points (center cross-type at f/5.6, vertical line sensitive at f/2.8). Single-shot and continuous with predictive focus tracking, and face detection.
SHUTTER SPEEDS: 1/4000 to 30 sec (1/3-EV increments); shutter life not rated METERING: TTL metering using.
63-zone sensor with evaluative, centerweighted, partial (approx. 9% of finder), and spot (approx. 4% of finder) metering; 1–20 EV (at ISO 100, f/1.8).
ISO RANGE: ISO 100–12,800 (in 1/3- or 1-EV increments); expandable to ISO 100–25,600.
FLASH: Built-in pop-up with TTL autoflash, GN 31 (ISO 100, feet), covers 18mm angle of view; flash sync to 1/200 sec.
VIEWFINDER: Fixed eye-level pentamirror.
LCD: Fixed 3-in. LCD touch screen with 1,040,000-dot resolution; 7-step brightness adjustment.
OUTPUT: Hi-Speed USB 2.0, mini HDMI video, composite video.
BATTERY: Rechargeable LP-E12 Li-ion, CIPA rating 380 shots.
SIZE/WEIGHT: 4.6×3.6×2.7 in., 0.9 lb with card and battery.
STREET PRICE: $649, body only; $799, with EF-S 18–55mm f/3.5–5.6 IS STM lens.
VIEWFINDER TEST: Accuracy, 95% (Excellent); Magnification, 0.87X (Very Good).
FOR INFO: www.canoneos.com.