Canon Rebel T5i Camera Test
The Canon Rebel T5i follows a tradition of inexpensive excellence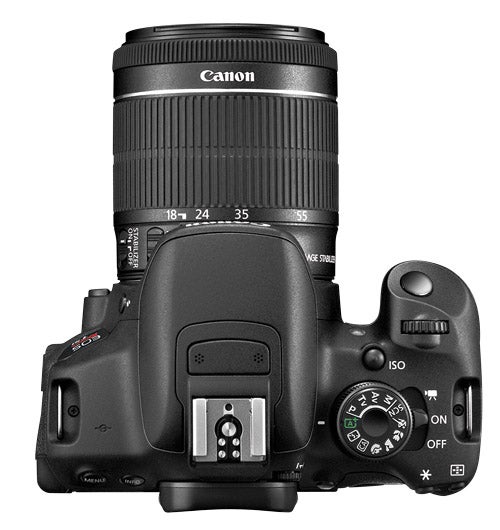 We may earn revenue from the products available on this page and participate in affiliate programs. Learn more ›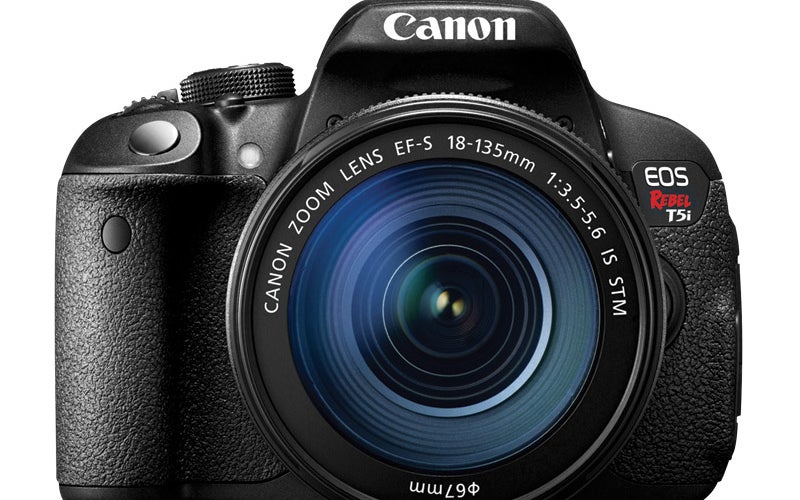 Canon's EOS Rebels have long been a safe bet for anyone looking for a relatively inexpensive DSLR with plenty of bang for the buck. The newest top Rebel, the 18MP EOS Canon Rebel T5i ($899, street, with 18–55 f/3.5–5.6 EF-S IS STM lens), boasts ISOs up to 25,600, 5-frames-per-second bursts, and a 3-inch, 1.04 million-dot articulating LCD screen. The hybrid autofocus system of the Canon Rebel T5i has nine traditional cross-type points, plus phase-detection points built into the CMOS sensor that work with Canon's STM lenses, whose stepping motors allow for quiet continuous AF during video capture. Video fans will have Canon's full suite of movie-making features at their disposal: choice of 30 fps or 24 fps capture, audio recording through the built-in stereo microphone or the minijack stereo mic input (complete with audio level adjustments), and the Video Snapshot mode that lets you piece together short clips as you shoot.
On paper, the Rebel T5i looks like a great, all-purpose image-capture device. We challenged it in the Popular Photography Test Lab.
In the Test Lab
With just enough resolving power to earn it an Excellent rating at its lowest sensitivity setting, the Canon EOS Rebel T5i garnered an overall Image Quality rating of Excellent at ISO 100. Color accuracy also earned top honors with an average Delta E of 6.7.
Once the ISO went beyond 100, however, resolution fell enough to bring the T5i's rating down to Extremely High. At ISO 200 it dropped to 2450 lines per picture height; at ISO 800, it held on to most of that, turning in 2440 lines. By ISO 6400, resolution had dropped to 2100 lines, and at the top sensitivity of ISO 25,600 (Canon calls it Hi), it fell to 1860 lines.
Given the T5i's 18MP sensor, this performance isn't bad, though it doesn't stand out as exceptional, either. But it should suffice for the folks most likely to buy this Rebel.
In our noise test, the T5i fared well. The camera maintained a Low or better rating from ISO 100 through ISO 800, and at ISO 1600, the T5i's noise rose only to Moderately Low—one reason, perhaps, that resolution took a hit at this point. Plus, the noise level didn't reach Unacceptable until ISO 12,800.
In our AF test, the T5i did quite well. At the brightest light level in our test, EV 12, the T5i focused on our target and captured an image in 0.32 sec. The camera was able to keep that time below a half second down to EV 2, where it focused and captured in 0.51 sec. It didn't drop below 1 sec at any of the light levels at which the AF system is rated to function. While Canon rates the system as effective down to –0.5 EV, our test unit was able to focus reliably at –2 EV, so we reported that data in the test results. The camera's AF speed varied significantly more at –2 EV, but it didn't fail to find focus on our test target.
In the Field
The T5i continues the Rebel line's tradition of well-designed interfaces in well-made bodies. Canon forgoes a second memory card slot and also limits the camera to a single command wheel, just behind the shutter button. (With the exposure-compensation button located near your thumb, it makes most sense to place the lone command wheel just where it is.) Between the well-organized, tabbed menus, dedicated hard buttons, and quick menu and touchscreen, we were able to change most settings quickly and easily during our shooting.
We spent most of our field testing time shooting with either the new 18–55mm kit lens or the 24–70mm f/4L EF IS lens. When shooting with the latter in live view or video, we found AF to be on the sluggish side, though faster than we've noticed in previous Canons.
But we were pleasantly surprised at the speed of AF in those modes when using the STM kit lens. Though you're still likely to notice the change in focus when moving from one subject to the next while shooting video, it was fast enough to make home movies look like they were shot with a camcorder rather than a DSLR. We were also quite pleased with the feel of the kit lens in manual focus, which employs the focusing motors rather than the physical helicals. While this method is known to introduce focusing lag, it felt nearly instantaneous in this case.

In general, we enjoyed shooting video with the T5i. The footage generated showed plenty of detail, pleasing colors, and few artifacts. While we always recommend off-camera audio, the T5i's built-in stereo mic did an admirable job and has a fairly effective wind filter. There's no headphone jack to monitor sound, but that's not something we expect yet at this price level.
Burst shooters should be happy with the T5i's top continuous shooting speed of 5 fps, which we suggest as the minimum for serious sports photography. The continuous AF was able to keep up well with moving subjects outdoors on sunny days, although it faltered slightly in lower light, as when we shot a burst of a subway train pulling into a station (to be fair, it only missed two of frames out of 10).
It seems strange that Canon didn't decide to include Wi-Fi in the T5i. This worked so well in the EOS 6D that we found ourselves staring longingly at the T5i's menu, as if Wi-Fi might suddenly appear. It never did.
The Bottom Line
Canon's latest flagship Rebel remains as a great choice for an entry-level DSLR. Compare it with Nikon's D3200, and you'll face a choice between the Nikon's greater resolution (2710 at ISO 100) and higher noise (Unacceptable noise levels by ISO 3200) and the Canon's lower resolution, lower noise, and 1-fps faster bursts. The Rebel T5i also focused faster than the Nikon at every light level in our test.
Add to that the Canon's fully articulated touchscreen and the comparison becomes one of brute resolving power versus overall versatility. Since few people looking for a DSLR in this price range are likely to make use of the Nikon's extra pixels, and that we are increasingly viewing images on screens and at smaller sizes, it's hard to make a case for the Nikon over this Canon.
So, if you don't already have lenses for a particular system, the Canon EOS Rebel T5i seems like the best bet in entry-level DSLRs.
Specifications
Imaging: 18MP effective, APS-C-sized CMOS sensor captures images at 5184×3456 pixels with 14 bits/color in RAW mode.
Storage: SD, SDHC, SDXC. Stores JPEG, CR2 RAW, or RAW + JPEG files.
Video: Records up to 1920x1080p 30fps in MPEG-4 H.264 format; built-in stereo microphone; stereo microphone input; approx. 29 min. 59 sec. maximum clip size at highest quality.
Burst Rate: Full-sized JPEGs (Fine), up to 30 shots at 5 fps; RAW (14-bit), up to 6 shots at 5 fps using a UHS-I compatible SD card.
AF System: TTL phase-detection with 9 illuminated focus points (all cross-type points); single-shot, continuous, predictive focus tracking; tested sensitivity down to EV –2 (at ISO 100, f/1.4).
Live View: Hybrid contrast/phase-detection, or single-shot phase-detection AF with mirror interrupting view momentarily.
Shutter Speeds: 1/4000 to 30 sec, plus B (1/3-EV increments); shutter life not rated; flash sync to 1/200 sec.
Metering: 63-zone TTL metering; evaluative, center-weighted average, partial (approx. 9% of viewfinder at center), and spot (approx. 4% of finder at center); range, 1 to 20 EV (at ISO 100).
ISO Range: ISO 100–12,800 (in 1/2- or 1/3-EV steps), expandable to ISO 100–25,600.
Viewfinder: Fixed eye-level pentaprism.
LCD: Articulated 3.0-in. TFT touchscreen with 1.04 million-dot resolution, 7-step brightness adjustment.
Output: Hi-Speed USB 2.0 and mini-HDMI video.
Battery: Rechargeable LP-E8 Li-ion; CIPA rating, 440 shots.
Size/Weight: 5.2×3.9×3.1 inches, 1.3 lbs with a card and battery.
Street Price: $750, body only; $900 with EF-S 18–55mm f/3.5–5.6 IS STM lens.
Info: www.canoneos.com