Camera Test: Panasonic Lumix DMC-GH3 Interchangeable-Lens Compact
Could Panasonic's new "small" camera be the best ILC yet?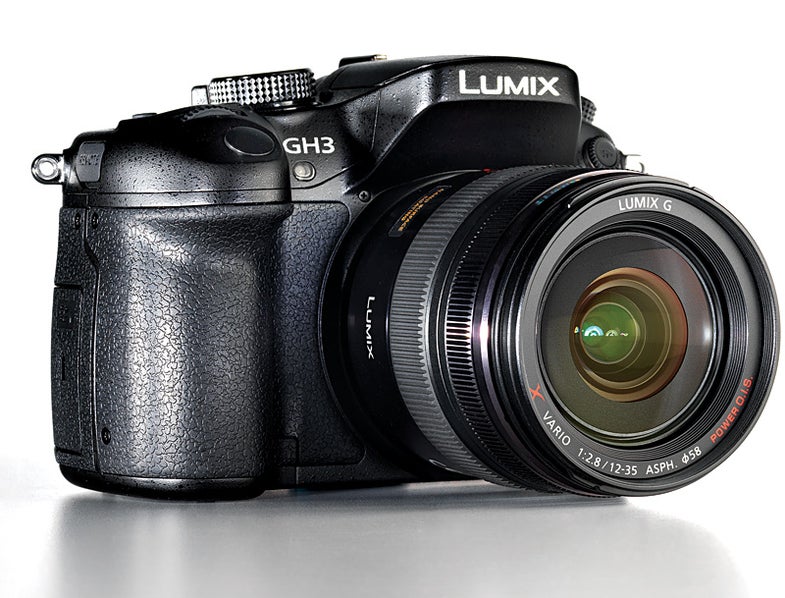 We may earn revenue from the products available on this page and participate in affiliate programs. Learn more ›
Micro four Thirds cameras, along with other mirrorless bodies, have always been billed as smaller than DSLRs. While they definitely are, Panasonic's Lumix GH- and G-series bodies take their design cues from the reflex cameras that came before them. The latest flagship model from Panasonic, the Lumix GH3 ($1,298, street, body only), is the largest interchangeable-lens compact yet made, but also marks a new level of camera for this format.
Like Olympus's OM-D E-M5, the GH3 is weather-sealed, and its rugged magnesium-alloy body feels strong enough to stand up to heavy use. Plus, Panasonic built in support for three different ways of recording 1920x1080p video at much higher bit rates than its predecessor—likely in response to the large number of users who opted for a third-party firmware boost to the GH2's video recording. Add to that a 6-frames-per-second burst speed, an articulated OLED touch screen, and a generous complement of dedicated control buttons, including five assignable function buttons.
Interested yet? We thought you might be, so let's see how it fared in our lab and field tests.
In the Test Lab
With impressive resolving power for a 16MP sensor, the GH3 earned an overall image quality rating of Excellent from its lowest sensitivity of ISO 125 through ISO 400. Not a huge surprise, given that this is Panasonic's new top camera, and the level of shooter the company is targeting with it.
Color accuracy also took top honors, an Excellent rating, with an average Delta E of 6.5. While this is slightly better than the Olympus OM-D's score, you'd be hard pressed to discern a dif-ference at this level of accuracy.
In our resolution test, the GH3 delivered 2530 lines per picture height for an Excellent rating. (We used Panasonic's 25mm f/1.4 DG Summilux Leica normal lens for all lab testing.) As expected, the version of Silkypix software that ships with the GH3 doesn't vary the noise reduction applied as ISO setting is increased, and very little noise reduction is applied at default. As a result, the noise numbers in our official results are high, while resolution isn't sacrificed to the noise-reduction gods. At default settings, the GH3 held onto lots of resolving power as sensitivity increased. At ISO 800, it was still at 2525 lines; by ISO 6400, it fell to 2380. Even at its maximum of ISO 25,600, it served up 2200 lines.
Switching to JPEG capture, the GH3 delivered 2410 lines at ISO 125, which would give it an Extremely High rating in this test. At ISO 800, the GH3's JPEG achieved 2340 lines, while at ISO 6400 and 25,600, JPEGs delivered 2250 and 1970 lines, respectively.
Noise remains the bane of Micro Four Thirds cameras, and the GH3 is no exception. Though images were wonderfully clean at ISO 125 and ISO 200, where TIFFs converted from RAW files had Extremely Low noise, as the sensitivity rose the noise followed closely. For TIFFs, ISO 400 was the last level to see a Low or better rating in our test, and noise reached Unacceptable levels by ISO 1600.
Sure, you can add more noise reduction, but it's telling that JPEGs output by the camera eked out only one more stop of Low or better noise and still reached an Unacceptable rating at ISO 1600. All told, we were impressed with the GH3's ability to control noise without huge sacrifices in resolution in camera-generated JPEG images.
In the Field
We've been fans of Panasonic's DSLR-style ILCs since their inception, and the GH3 is its most impressive body yet. The level of customization—and integration of hard buttons and touch screen capability—is unrivaled in the camera world. Even if you disdain touch controls to the point of never using them, you'll still be able to achieve a level of control that will match what you can expect in a DSLR.
You can make extremely quick work of changing a focusing point, switching ISO, and capturing a shot in just a few moments. Our biggest gripe? Panasonic eliminated the click toggle from the command wheel at the top right of the camera back. On the GH2, it provided a quick way to move between setting aperture (or shutter speed) and exposure compensation. Now you'll have to press a button, move your finger to the front command wheel, and press the button again when you're done.
Autofocus proved quite fast, among the speediest we've seen in an ILC. Tracking performed well on the subjects we shot, such as cyclists and cars moving through New York City streets.
Video from the GH3 was about as good as you can get in a non-dedicated video camera at this price. If you opt for one of the high-bit-rate options, be forewarned that you'll fill memory cards quite quickly. Persnickity videographers looking to use the GH3 in place of a much more expensive video camera will likely begrudge this camera the minor moiré or other artifacts that occasionally show up. But for non-pro shooters, or serious shooters on a budget, the video from the GH3 should more than suffice.
If you're looking for the best video quality you can get out of it, the GH3 does offer uncom-pressed 8-bit 4:2:0 color-space video through the camera's HDMI jack. There are built-in stereo mics, and you can also add an external stereo mic through a mini-jack input. For more advanced shooters, the GH3 includes support for time- code recording. So, if you plan to use multiple cameras, syncing them up after the fact can be simplfied somewhat.
Serious burst shooters will like that the GH3 can shoot at 6 fps with continuous metering and autofocusing. If you can manage with metering and focus on the first frame only, you can capture up to 20 fps. RAW shooters will have to accept a mere 18 frames when shooting in bursts, but the number of JPEGs is limited only by the capacity of the memory card.
Speaking of memory cards, the camera has only one slot. On the plus side, this has a dedicated hatch, which is something you can't always take for granted in the ILC world. If Panasonic really wants to entice pro photographers to its cameras, it should add a second slot on the next GH camera, especially given the level of video capture this series has achieved.
The Wi-Fi functions in the GH3 worked well when transfering images to a smartphone. We installed the Lumix Link app on a Samsung Galaxy S3, and had the devices paired and an image on the phone all within 10 minutes. You can also use the app as a remote to shoot stills or video.
Strangely, though, you can start, but not stop, video. To stop video recording after it has been started with the app, you must press the video-recording button on the camera. Hopefully this will be fixed soon with a firmware update, app update, or both.
The Bottom Line
If you're looking for the Micro Four Thirds body with the best possible video and wonderful still capture, the GH3 is the camera for you. Its obvious competition, Olympus's OM-D, doesn't offer the same level of video capture. Even without this advantage, we'd still be inclined to opt for the GH3 simply because you'd have to add the OM-D's $250 optional grip to get the solid handholdability that you get with the GH3's built-in grip. But the OM-D's retro style has won the hearts of many, many shooters. And while we like to champion practicality over style, in this case it may be too close to call.
Specifications
IMAGING:16MP effective, Four Thirds-sized LiveMOS sensor captures images at 4912×3264 pixels with 12 bits/color in RAW mode
STORAGE: SD, SDHC, SDXC slot stores JPEG, RW2 RAW, RAW + JPEG, and MPO (with optional 3D lens) files
BURST RATE: Full-sized JPEGs (Fine mode), up to memory card capacity at 6 fps; RAW (12-bit), up to 18 shots at 6 fps
AF SYSTEM: TTL contrast detection with 23 focus areas; single-shot and continuous AF with face detection and subject tracking
SHUTTER SPEEDS: 1/4000 to 60 sec, plus B (1/3-EV increments); shutter life not rated.
METERING: TTL metering with 144-zone Multi-pattern (evaluative), centerweighted, spot (size of spot not specified). EV 0–18 (ISO 100)
ISO RANGE: Standard, ISO 200–12,800 (in 1/3-EV increments); Expanded, ISO 125–25,600
VIDEO: Records at 1920x1080p at up to 60 fps in AVCHD v. 2.0 (28Mbps); at 1920x1080p at 30 fps in ALL-I (72Mbps) or IPB (50Mbps) MOV format; built-in stereo microphone; stereo minijack mic input. Maximum clip length 120 min, or 29 min. 59 sec. for units purchased in Europe
FLASH: Built-in pop-up; GN 40 (feet); covers 14mm (28mm equiv.) field of view; flash sync to 1/160 sec
VIEWFINDER: Fixed eye-level OLED with 1,744,000-dot resolution
MONITOR: 3-inch articulated OLED touchscreen with 614,000-dot resolution; 7-step brightness adjustment
OUTPUT: USB 2.0, mini HDMI video, composite video, minijack stereo headphone, and Wi-Fi
BATTERY: Rechargeable DMW-BLF19PP Li-ion, CIPA rating 540 shots with Panasonic 12–35mm f/2.8 lens
SIZE/WEIGHT: 5.2×3.7×3.2 in., 1.2 lb with a card and battery
STREET PRICE: $1,298, body only
INFO: www.panasonic.com