New Gear: Olympus PEN E-PL5, E-PM2, and 15mm F/8 Body Cap Lens
Olympus unveils two new micro four thirds bodies and a nifty accessory lens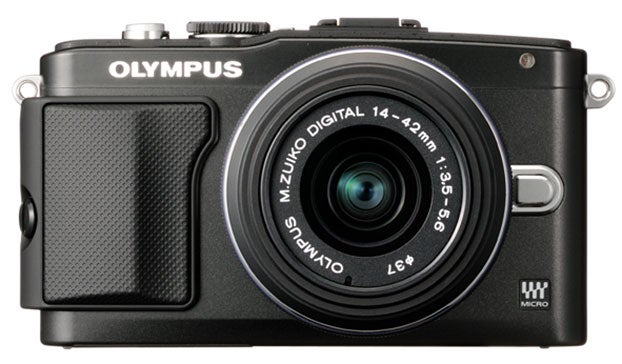 We may earn revenue from the products available on this page and participate in affiliate programs. Learn more ›
A few years ago, Photokina was the birth place of the Micro Four Thirds format, so it's fitting that Olympus would introduce the new PEN E-PL5 and E-PM2 here in Cologne. They're just progressive updates to already-existing lines, but there are some notable new features packed into these tiny bodies.
PEN E-PL5
**

**
Just like its predecessor, the E-PL5 has an articulating screen and a small, all-metal body. From an imaging standpoint, it's built around a 16.1-megapixel High-Speed Live MOS sensor and the TruePic VI image processor found in the OM-D E-M5 and the newly-announced XZ-2 advanced compact.That gives it a maximum ISO setting of 25,600.
The screen is now a 460,000 dot, 3-inch touchscreen that enables touch AF, which Olympus seems very proud of. We'll be giving that a test later.
There's no built-in flash, but it comes with an optional hot-shoe flash, as well as detachable grip that you can easily remove depending on how you like the feel of the camera. A pretty cool inclusion.
Like the XZ-2, the E-PL5 is also compatible with the Toshiba Flash Air card, which gives it WiFi features that seem to be all the rage with just about every new camera at the moment.
PEN E-PM2
**

**
The littlest member of the PEN family shares many of its features with the E-PL5, including the sensor, image processor, removable flash, touch interface and Flash Air compatibility.
The E-PM2, however, has a built-in grip with a button for calling up the Live Guide function that helps shooters learn how to deal with most photographic situations.

Pricing and Availability
The E-PL5 body alone will cost $649 when it's released in October. It will come in silver, black, and white. You can also get a kit with the 14-42mm kit lens for just $50 more.
The PEN E-PM2 checks in $100 cheaper at $549. The kit lens once again adds $50, bringing that total price to $599.
**15mm F/8 Body Cap Lens

**
As an interesting little bonus for today's PEN announcements, Olympus also announced a body cap that actually doubles as a lens. The 15mm lens has a full-frame equivalent focal length of 15mm and a constant aperture of f/8, meaning that it doesn't get bigger or smaller. It's an interesting little piece of kit and adds a lomo-type feel to the PEN bodies. It's certainly more interesting than the typical body caps, which I tend to lose at every opportunity.