Photokina 2016: All The Best New Gear
A roundup of all the best new gear shown at the world's biggest camera tradeshow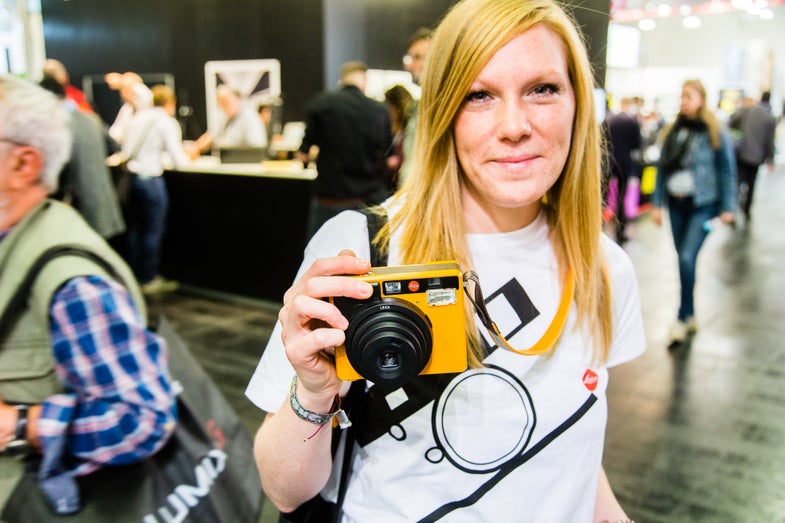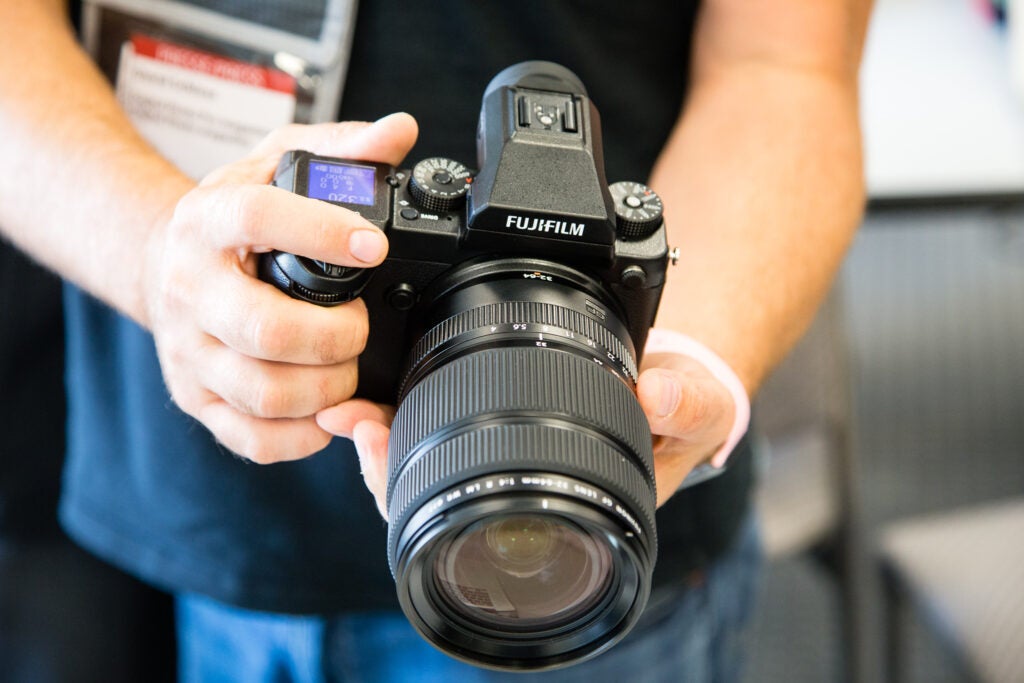 Fujifilm GFX Medium Format Camera System
Fujifilm GFX Medium Format Camera System
We've been in Germany at Photokina 2016 all week to bring you the best new camera gear from the show floor. Scroll on and let the wave of awesome new gear wash over you.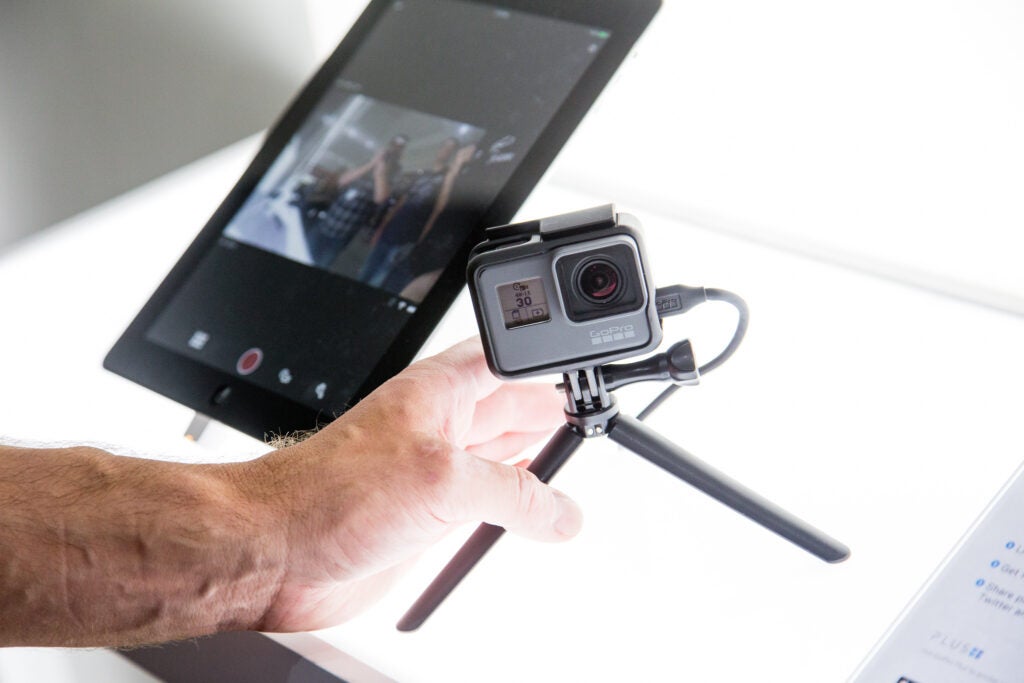 GoPro HD Hero5 Black
Lots of action shooters have been eagerly awaiting the new flagship GoPro camera and we got our first chance to meet it here at the show. The HD Hero5 no longer needs that familiar clear GoPro case to be waterproof or tough. It also now responds to voice commands and has a full-on touchscreen on the back of the camera for composing shots, as well as controlling the settings. The imaging stats haven't changed much, but I have no doubt that the screen and voice commands will make this feel like a much different camera in the field. Get all the details here.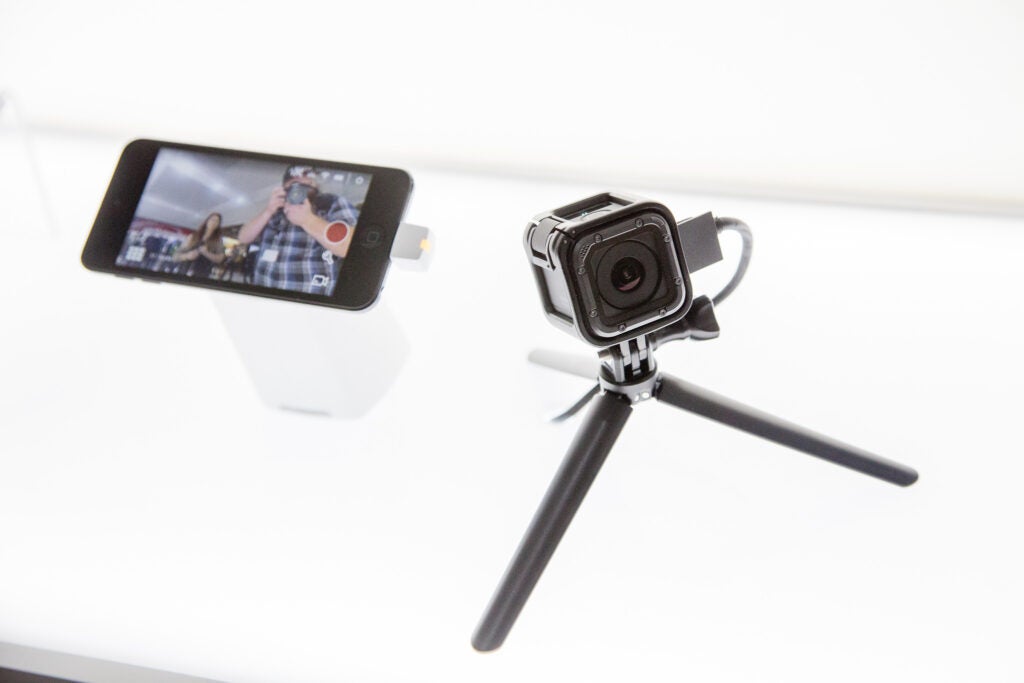 GoPro HD Hero5 Session
The other new GoPro to make its debut at Photokina is the HD Hero5 Session. Like the Session that came before it, this new model takes the same tiny cube form-factor, but now has voice-control like the big Hero5. Also like its bigger sibling, it has new advanced image stabilization, which is a welcome addition.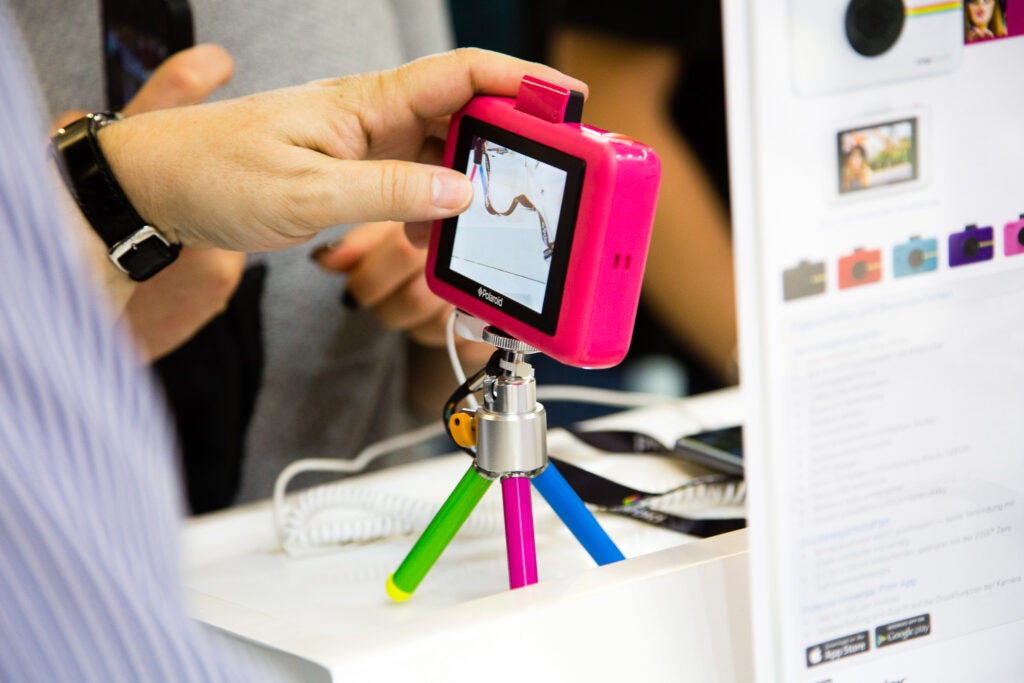 Polaroid Snap Touch
The original Polaroid Snap camera didn't have a screen. It fit with the whole retro Polaroid vibe, but it wasn't very practical. Now, the company has released the Snap Touch, which has a 3.5-inch touchscreen on the back, as well as a 13-megapiel sensor inside. Of course, it can still instantly print photos, it just does so in a much more practical and efficient way. It's one of the more fun new cameras here at the show.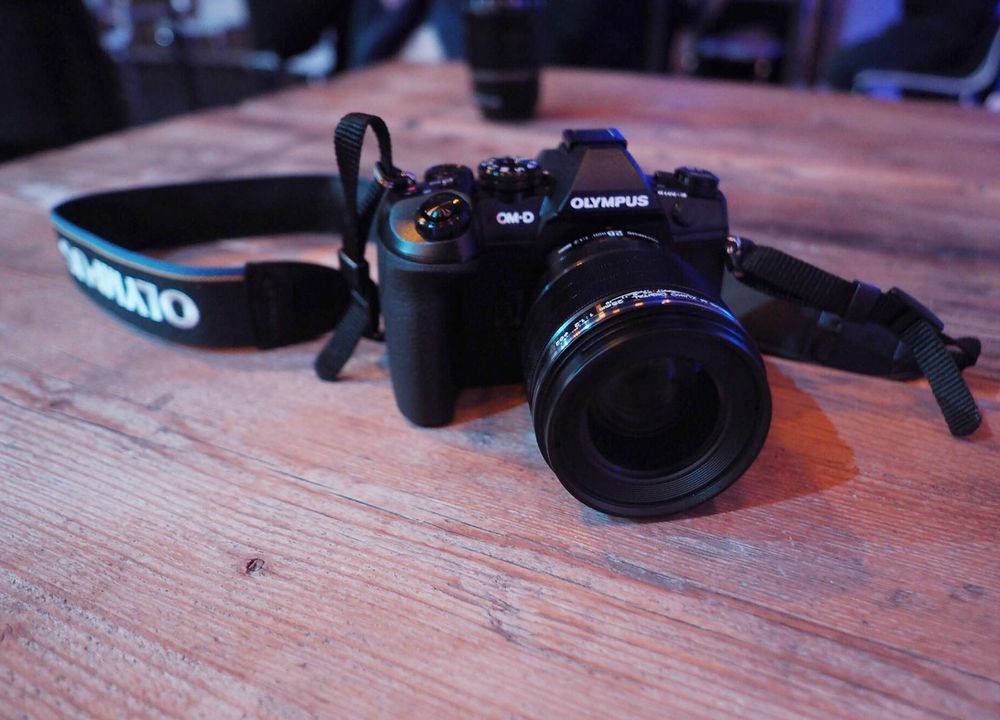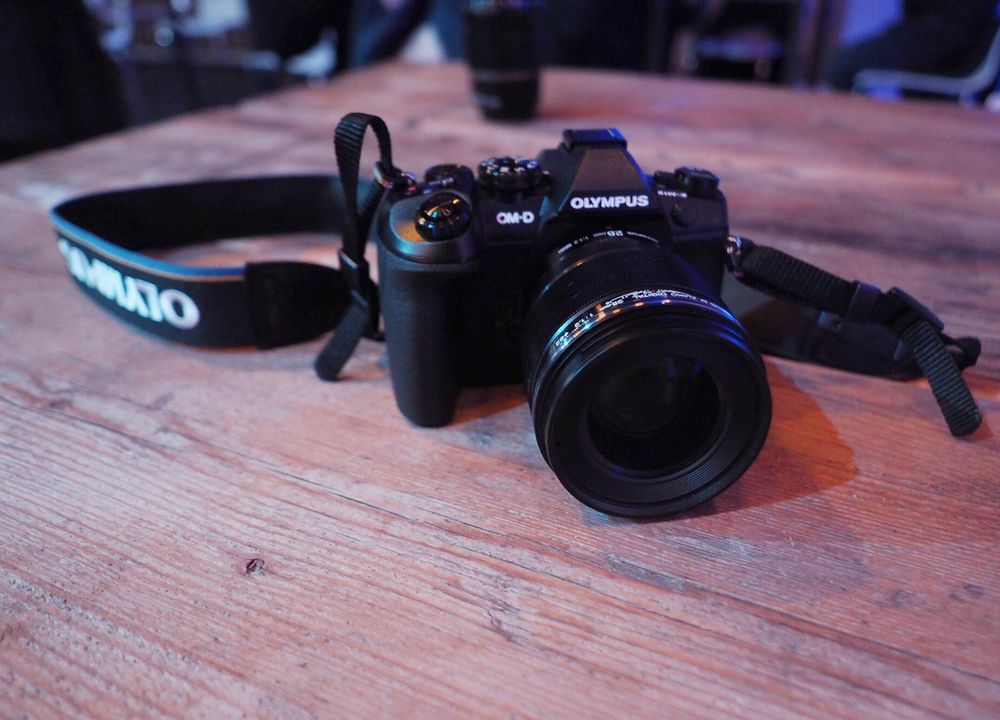 Olympus OM-D E-M1 Mark II
We met a number of new flagship cameras here at Photokina 2016, but it was definitely the Olympus OM-D E-M1 Mark II that made the splashiest entrance. Olympus promises a full stop better low-light performance, a totally revamped autofocus system with 121 selectable points, and the ability to crank out 18 fps with AF tracking on or a massive 60 fps with tracking turned off. Check out the rest of the details in our hands-on post.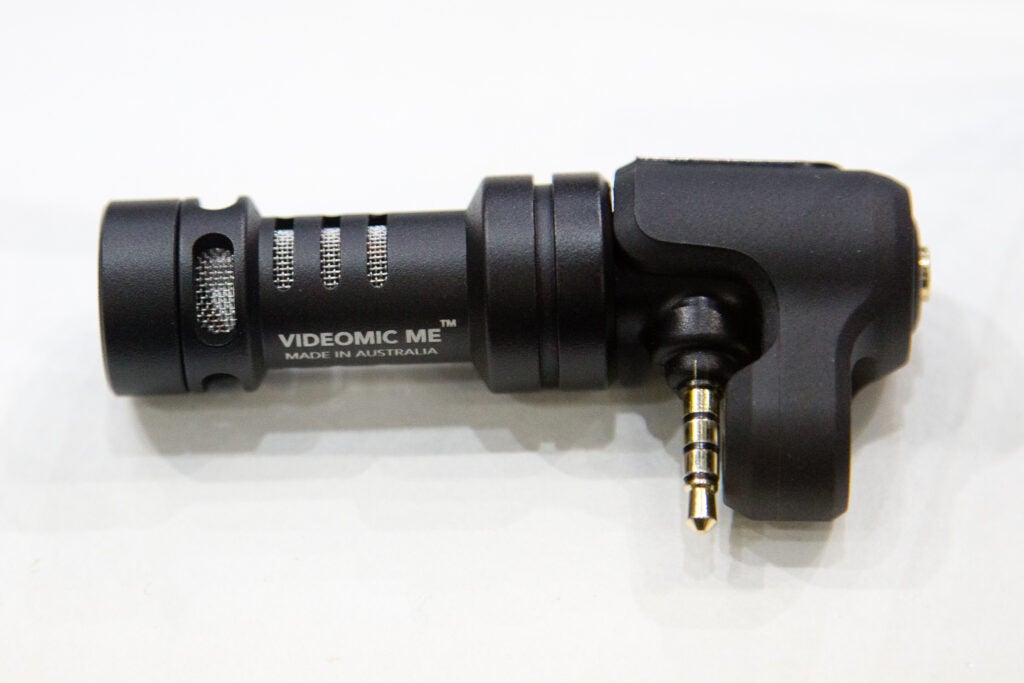 Rode Videomic Me
Made for smartphones (at least those smartphones that still have headphone jacks), this tiny directional microphone goes way beyond the gray label junk that primarily inhabits this space. It provides higher-end sound and can use a variety of accessories like the adorably-named "dead cat."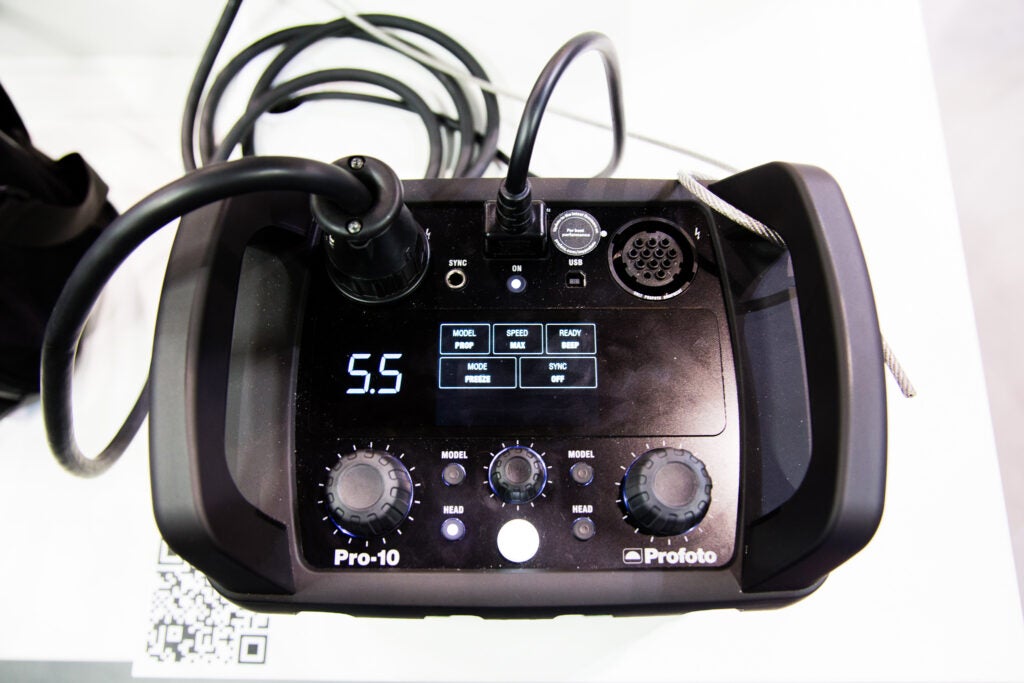 Profoto Pro-10
The big trend in cameras at Photokina 2016 was speed, and that was true for lighting as well. Profoto's new Pro-10 flash power pack is capable of generating flash speeds as quick as 1/80,000th of a second. It operates at power levels between 2.4 and 2,400 watts, so it's also capable of churning out a serious amount of flash power. Of course, the price on this one is going to be for professional budgets only (and even then, it's likely a rental), but the stats truly are impressive, especially if you're trying to freeze action.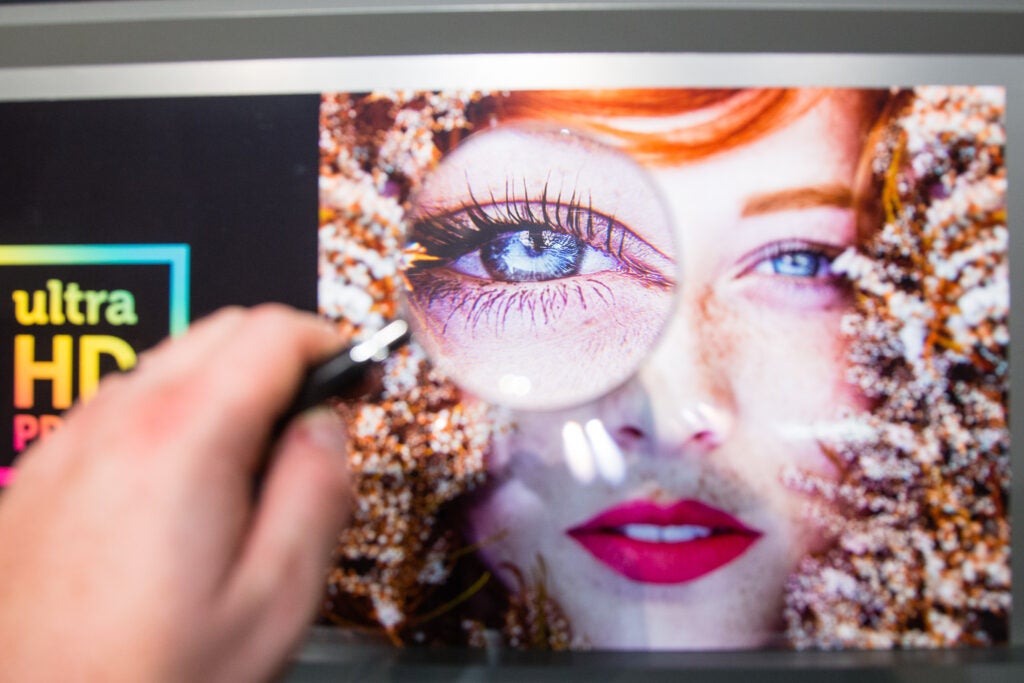 White Wall Ultra HD Prints
The news in the camera world is all about high-res and White Wall is following suit in the print arena. These super-high-end prints use special paper under acrylic glass in order to really pop the details in photos. The big prints look crazy up close.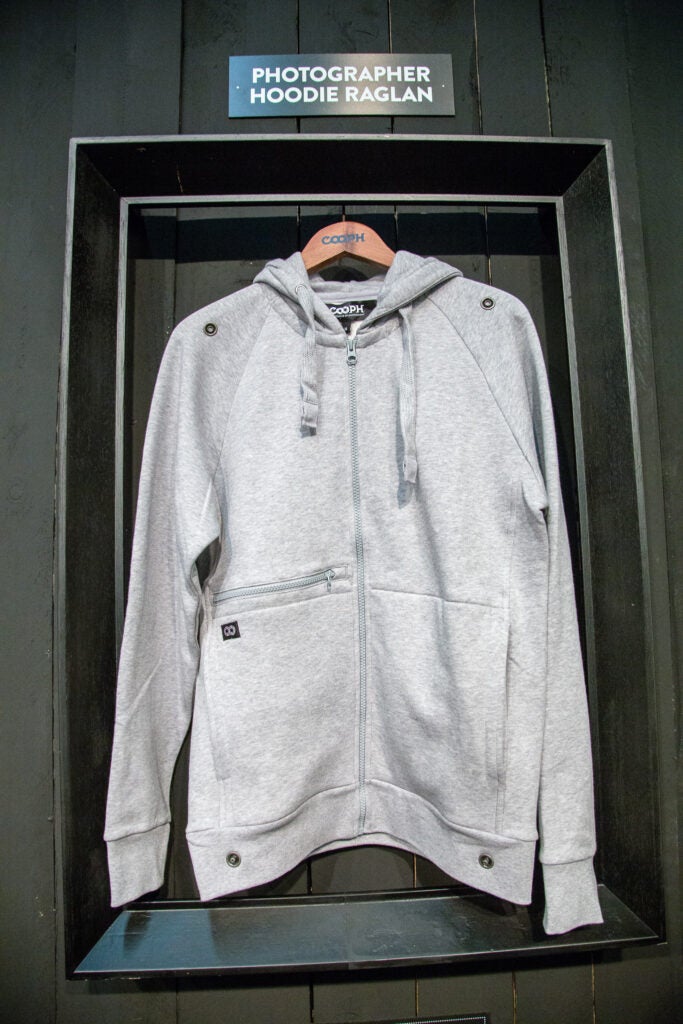 Cooph Photographer Hoodie
Lots of pockets, slim fit, durable materials, a built-in face mask for sleeping during travel, and snaps to help it fold up into a sling for protecting gear. Cooph needs to hurry up and get its gear in more American stores.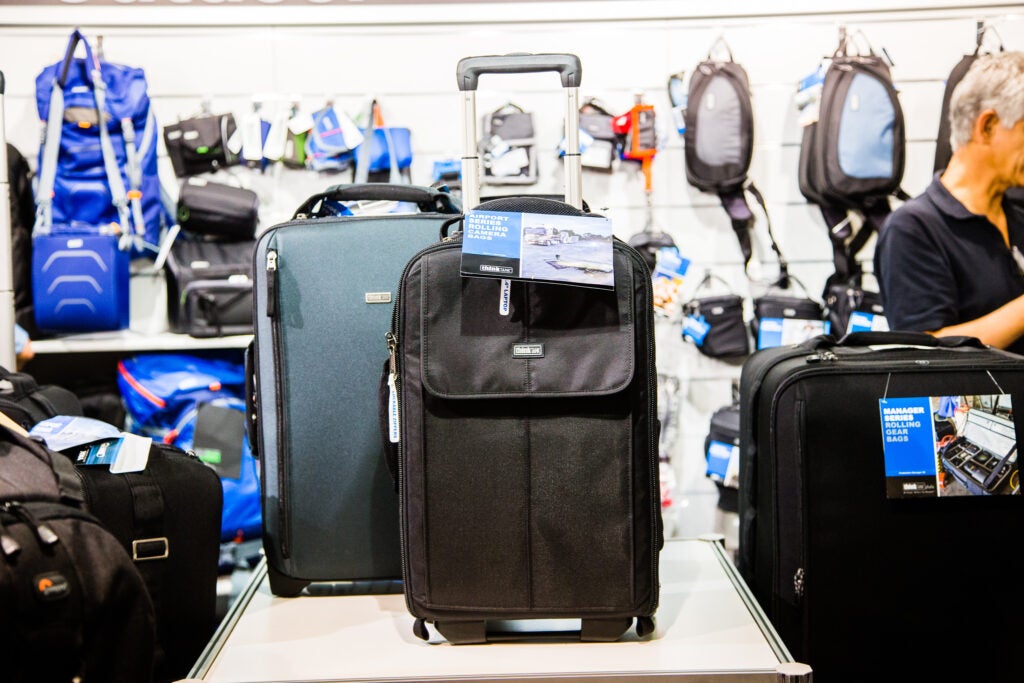 Think Tank Airport Advantage Rolling Camera Bag
The latest rolling bag from Think Tank feels a lot like most other Think Tank bags, and that's certainly meant to be a compliment in this case. It feels sturdy and spacious despite its rather slim form factor. Seems like a contender for frequent travelers. See our full announcement post here.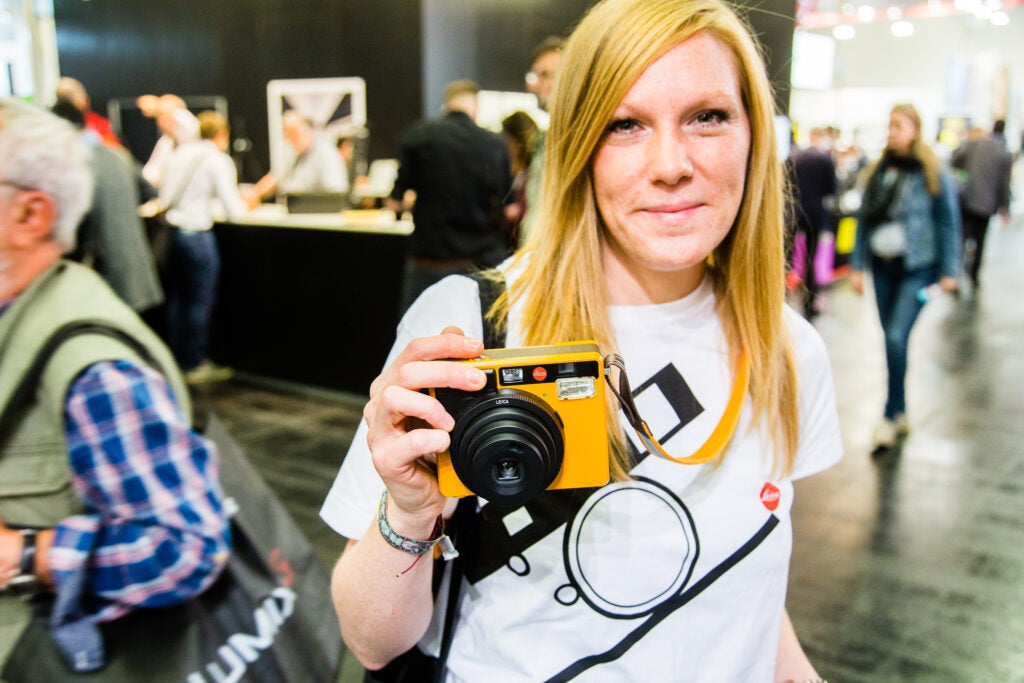 Leica Sofort Instant Film Camera
Leica's Photokina announcements typically involve high-class cameras with massive price tags, but this year, the company's big story was a small instant film camera called the Sofort. It comes in three colors and uses Instax Mini-sized film. Sure, it's $300 price tag is kinda high compared to the competition, but after using it I really did end up wanting one. More details here.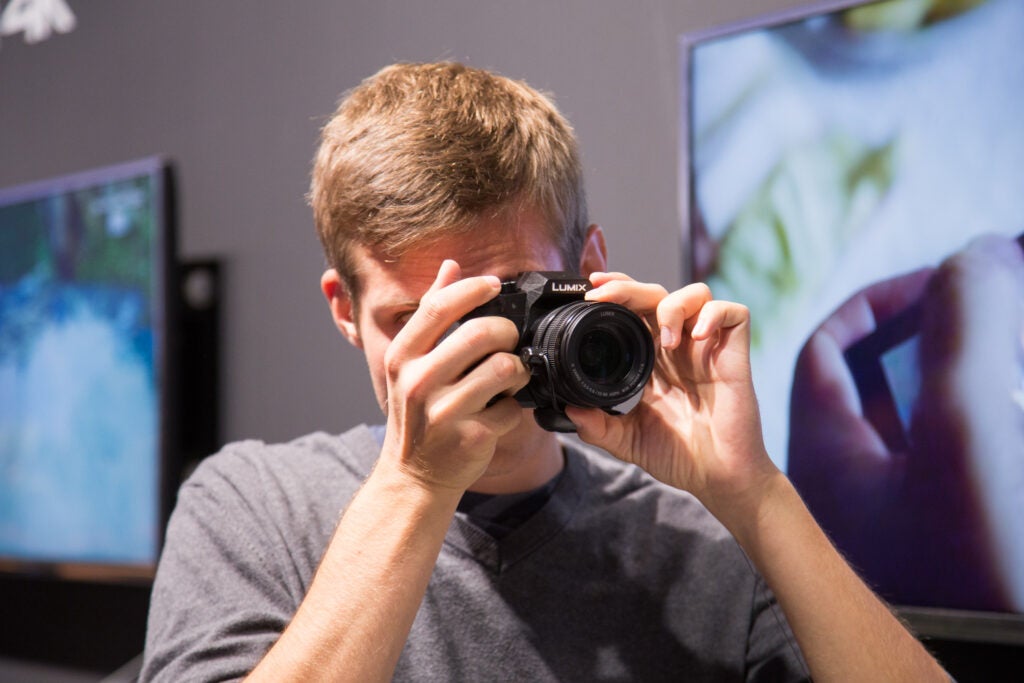 Panasonic Lumix G85
There was a bit of confusion about the exact name of the new Panasonic camera, but residents of the USA will know it as the G85. It's a full-featured, mid-level interchangeable-lens compact that's built to be tough, so it's splash-proof and dust-resistant. It looks like a solid performer and you can see all the details here.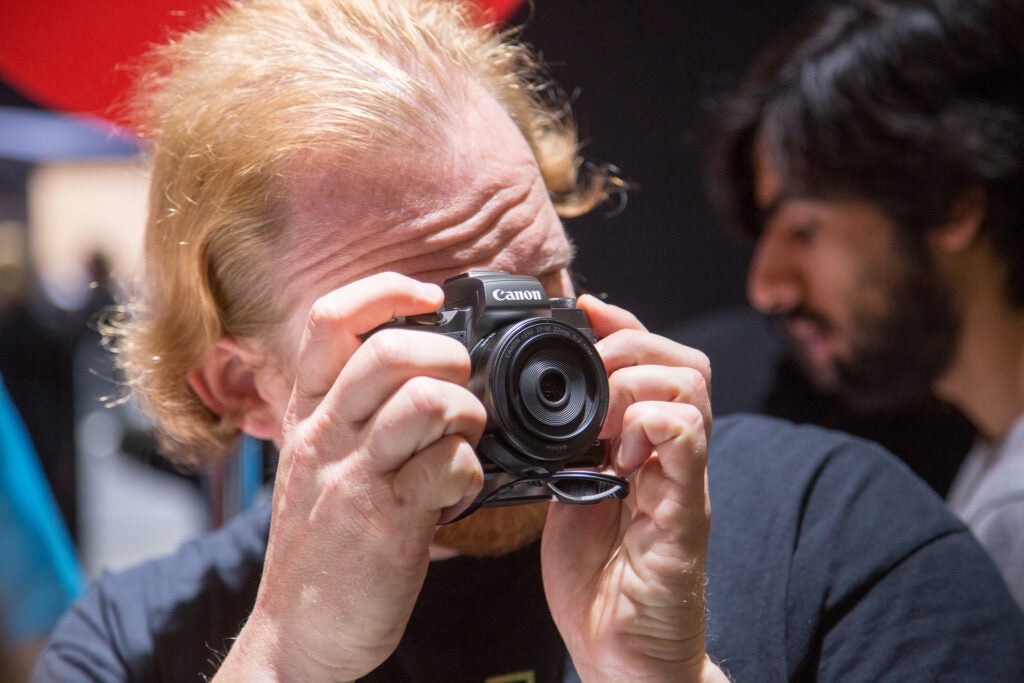 Canon EOS M5 Mirrorless Camera
It was announced a while back, but the M5 had its coming out party here in Germany. It's Canon's flagship mirrorless effort. You can get all the details here in our announcement post.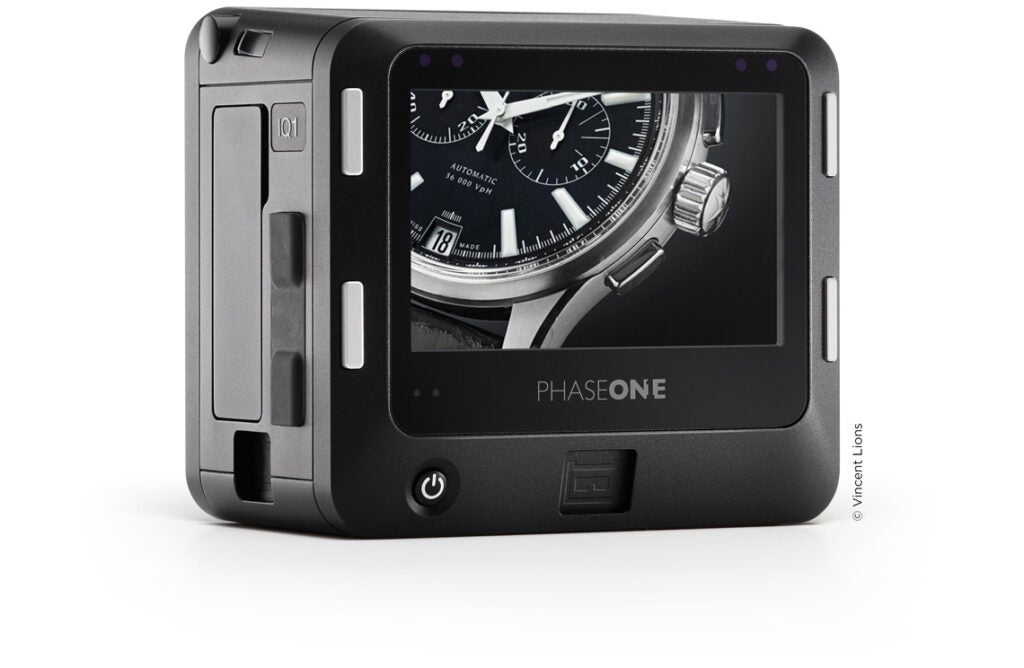 Phase One IQ1 100-megapixel Medium Format Digital Camera Back
The Fujifilm GFX wasn't the only new medium format camera in town for Photokina 2016. The Phase One IQ1 is dubbed a "no frills" digital back, sporting all of the same imaging firepower as the IQ3, like a 100-megapixel resolution and 15-stops of dynamic range, but without the bells and whistles for shooting like electronic shutter or live view.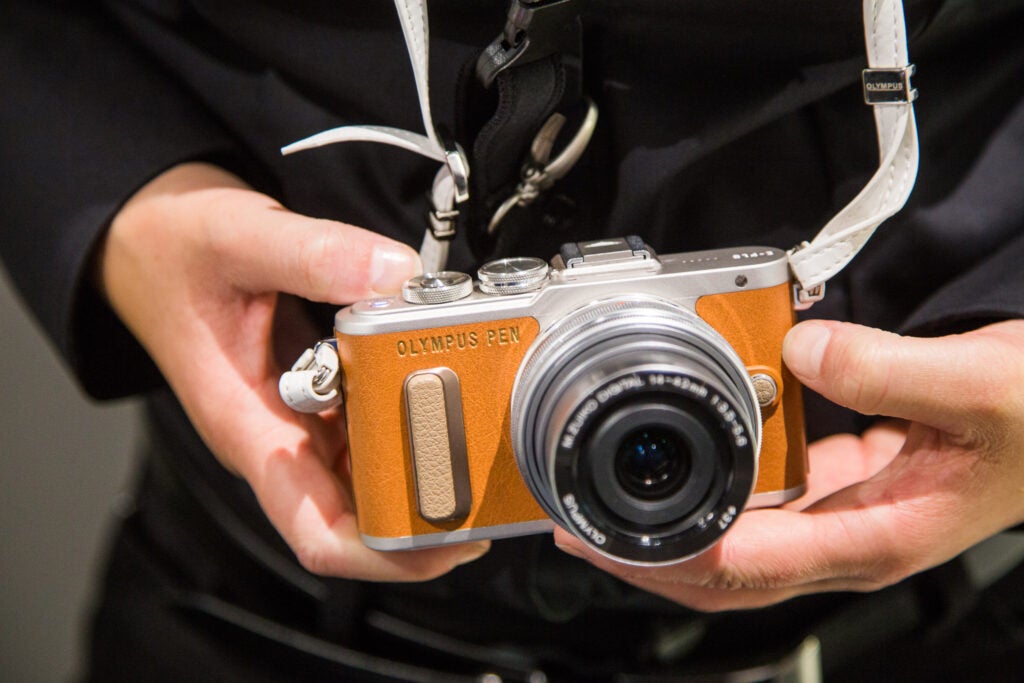 Olympus PEN E-PL8
The OM-D E-M1 Mark II is a pretty big upgrade from its predecessor, but the new PEN E-PL8 is a pretty standard upgrade for this consumer-grade interchangeable-lens compact camera. It has a 16-megapixel Live MOS sensor with three-axis image stabilization. It also has a 3-inch flip touch screen that makes it very capable in the realm of selfies.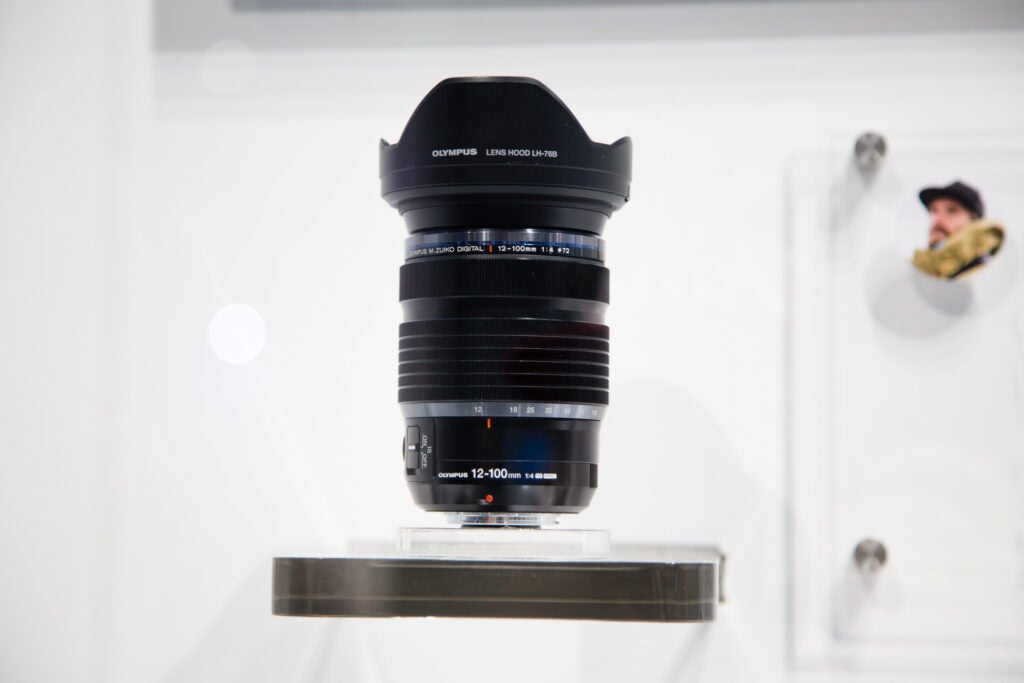 Olympus 12-100mm F/4 IS Pro Zoom Lens
I first held the new Olympus do-it-all zoom at the OM-D E-M1 Mark II launch event. The announcement promises up to six stops of image stabilization, which is pretty unheard of in the real world. I was able to test it out a little and got some mostly-sharp images with 1-second—and even 2 second—exposures. This seems like a really killer option for a lens that never comes off the camera when traveling.
Nikon 105mm f/1.4 Prime Lens
OK, so this thing wasn't exactly announced here at Photokina, but it is one of our first opportunities to see it in person. It's a chunky piece of glass with an insanely-beautiful front glass element. It seems to balance very nicely with a higher-end DSLR body and we can't wait to get one in to test. It's going to be bokeh-city. Here's the full post with all of the details.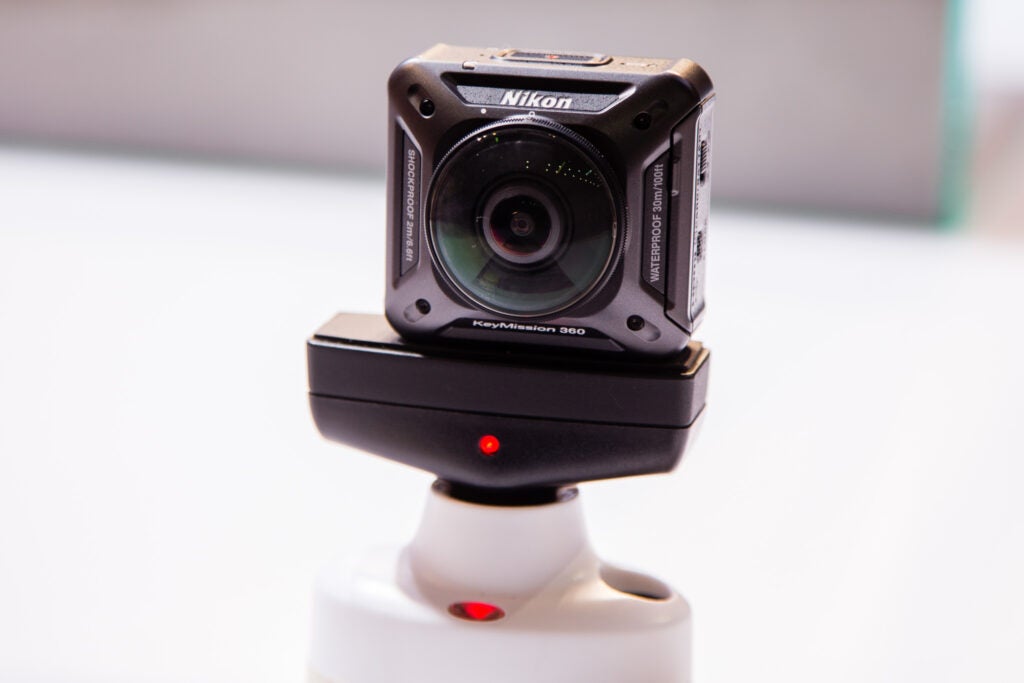 Nikon KeyMission Cameras
Another surprising development here at the show came in the form of the Nikon announcements. The company announced the final availability of the KeyMission 360 VR camera we first saw at CES, as well as two new action cameras, the KeyMission 170 and the KeyMission 80. The KeyMission 170 is a GoPro-style action camera, while the KeyMission 80 is a candy-bar style life-logging camera. You can see all the details in our full post.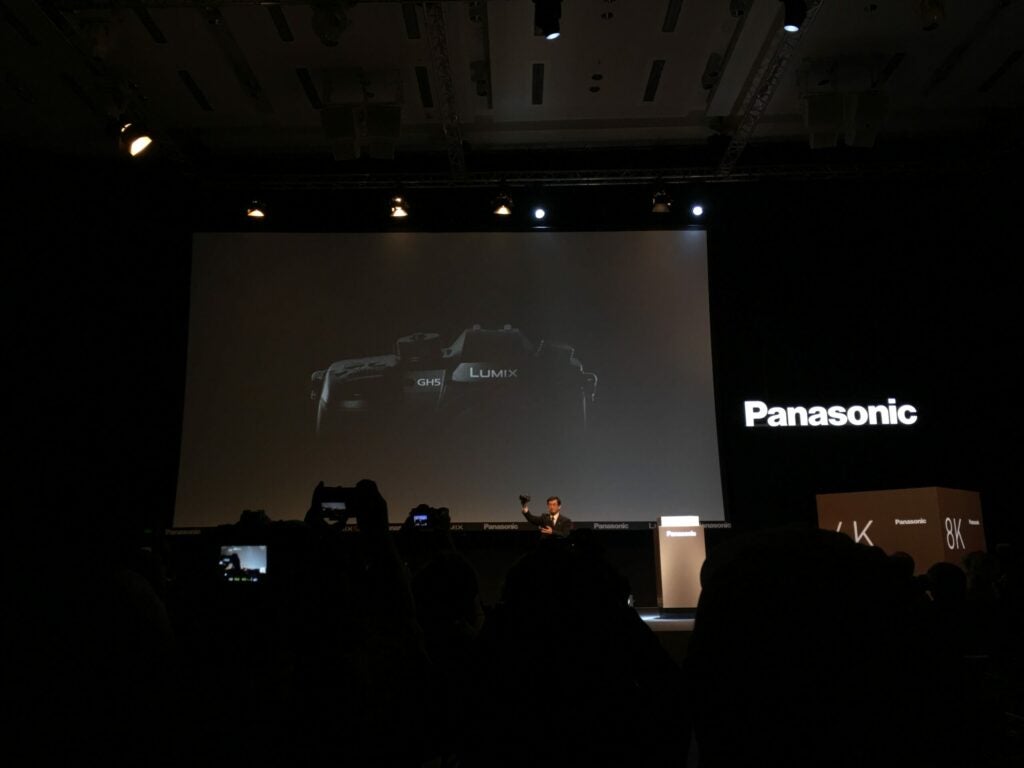 Panasonic GH5 Prototype
The GH5 isn't a real camera just yet, but Panasonic took the show as an opportunity to let us know that it's coming. When it does arrive next year, it will bring with it an impressive pile of stats, but perhaps none more notable than the 6K video capture, which will also allow for 6K images to be pulled from moving captures.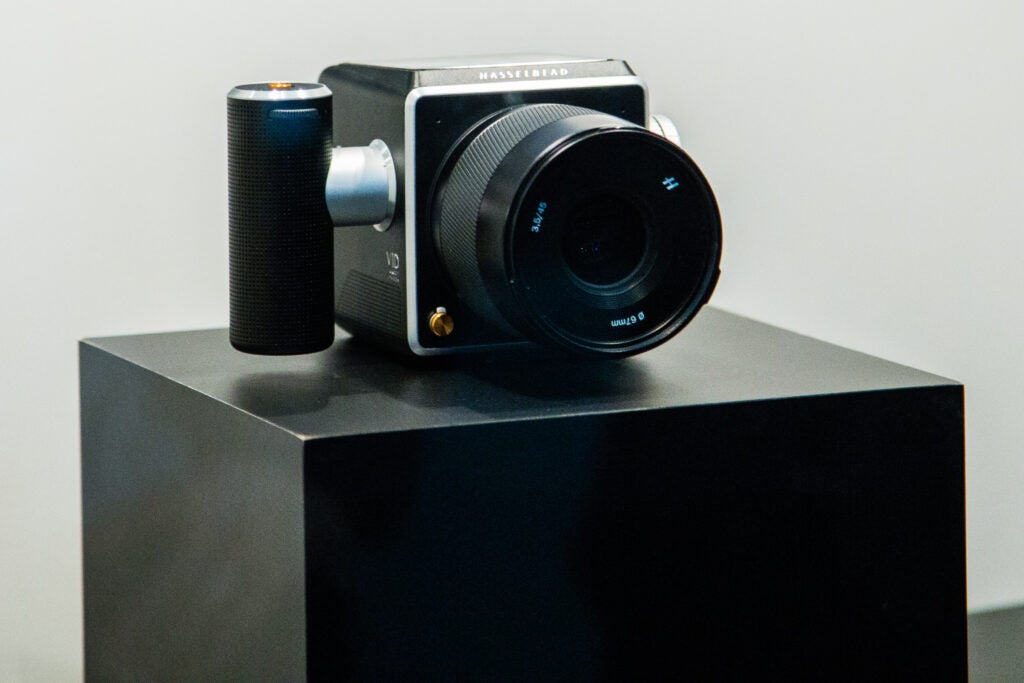 Hasselblad V1D Modular Medium Format Camera Concept
The only version of this camera Hasselblad had on the floor looked like a very early prototype (basically a wood block shaped like a camera), but it represents a pretty interesting idea. The camera would be one of Hasselblad's iconic medium format rigs with different modules that can be swapped in and out. Want the handle and grip on the left? Sure. Want tons of viewfinder options? No problem. It's a clever idea if it ever comes into the real world. Details here.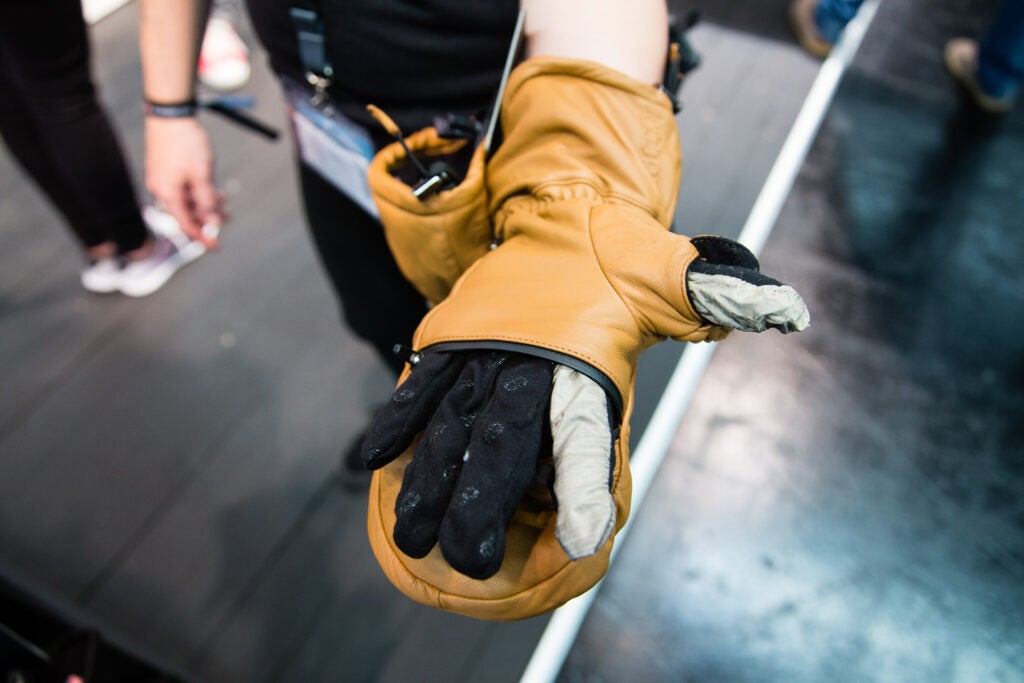 Cooph Photo Glove Ultimate
We are really big fans of the Cooph clothing for photographers and the company's new convertible winter glove seems like a real winner. The inside is extremely soft and warm, but the mitten flips back to expose the fingers for shooting. The forefinger and thumb are touchscreen compliant as well. They come in several colors including this camel brown color and black.
Profoto D2 Monolight
Following along with the speed theme, this moonlight-style strobe is capable of flash durations as quick as 1/63,000th of a second. Aside from its quick flashes, it also has built-in TTL, which makes it a very versatile light to have in the studio. Check out our full post for all the details.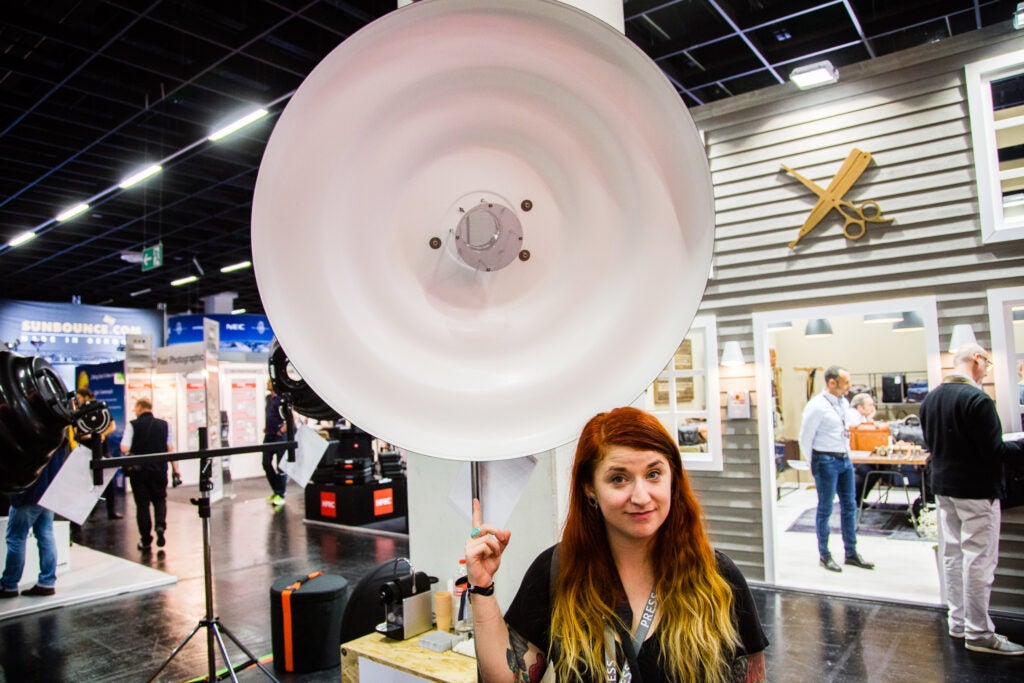 Mola Softlights 43.5-Inch Beauty Dish
"It's big and shallow so it really looks like window light," is how the Mola rep described the performance of this massive beauty dish. The company is based in Canada and has a whole array of beauty dishes, including a rather massive silver dish that looks like it would create a laser beam of light.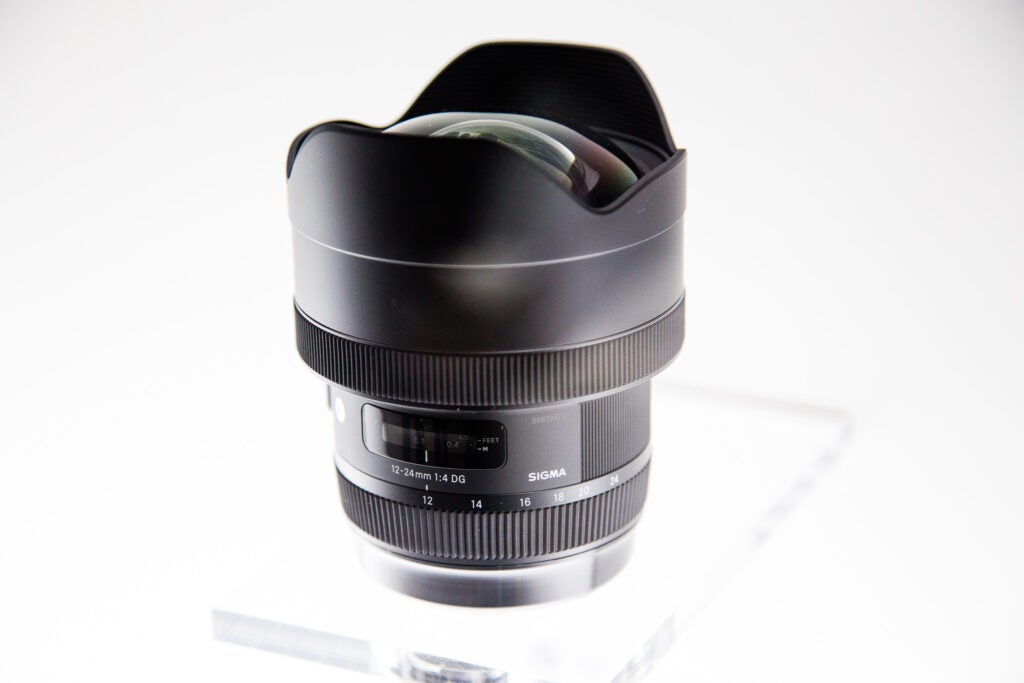 Sigma 12-24mm F/4 Art Zoom Lens
The previous version of this wide-angle, full-frame zoom lens had a variable maximum aperture, but the new version stays at f/4 across the entire zoom range, which is a great improvement. According to Sigma, it took the addition of one of the biggest ever aspherical elements to make it happen.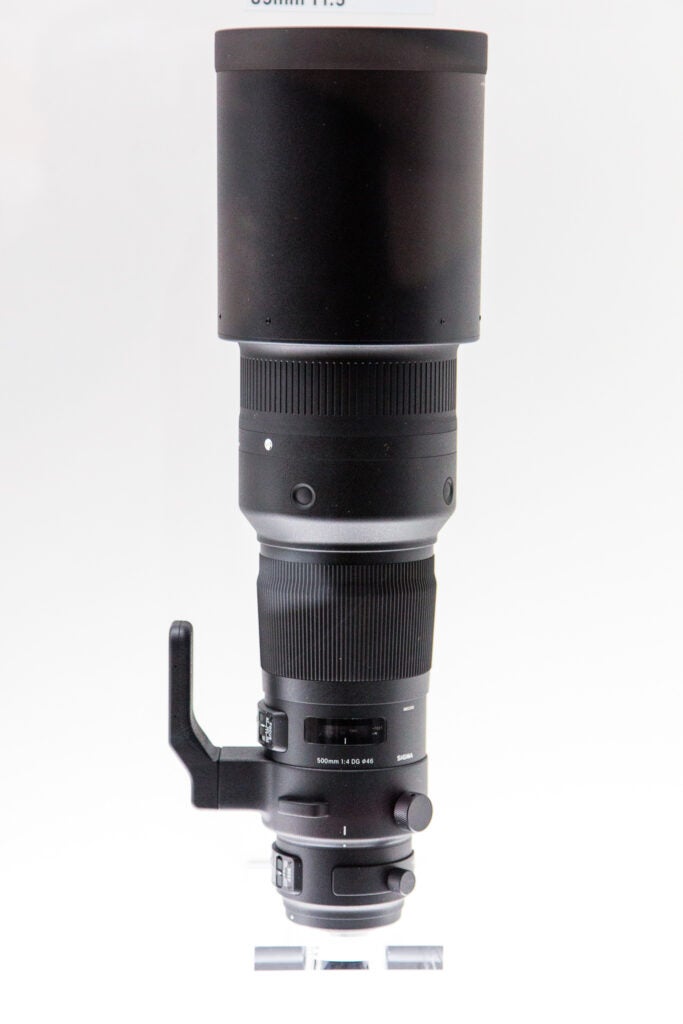 Sigma 500mm f/4 DG OS HSM
With its ultra-tough build quality, carbon fiber hood, and $5,999 price tag, this lens is clearly aimed at pro sports and wildlife photographers. We got to see it in person and it looks every bit as impressive as it does on paper. It's another clear indicator that Sigma wants to greatly increase its penetration into the pro market.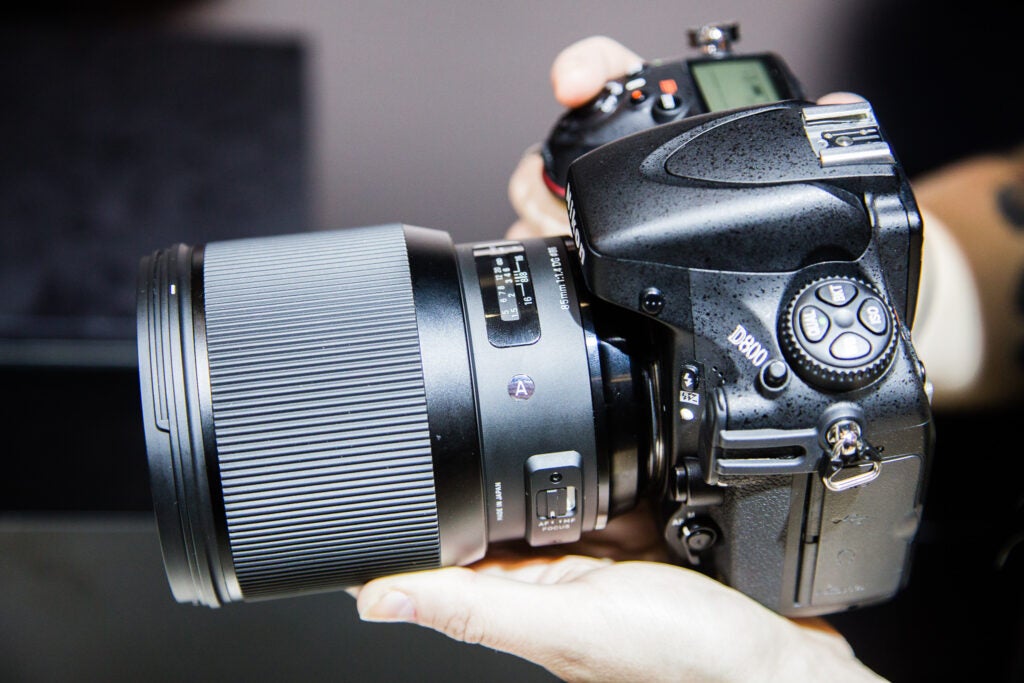 Sigma 85mm F/1.4 Art Series Lens
We have been expecting Sigma to add the 85mm focal length to its mega-popular Art series lens line for a while, and it finally got official here at Photokina 2016. The outside of the lens has been updated to match the satin-black finish of the rest of the Art line, and inside it has gotten a bit of an optical overhaul. It also promises faster AF and better coatings than its non-Art predecessor. It will cost $1,199. More details here.
Tamrac Nagano Camera Backpack
If there was a trend in camera bags at this year's show, it was certainly light weight materials. The new Tamrac Nagano is absurdly light when empty despite having room for a couple camera bodies and lenses with accessories. It doesn't have a ton of pockets outside the main compartment, but its portability seems like a win.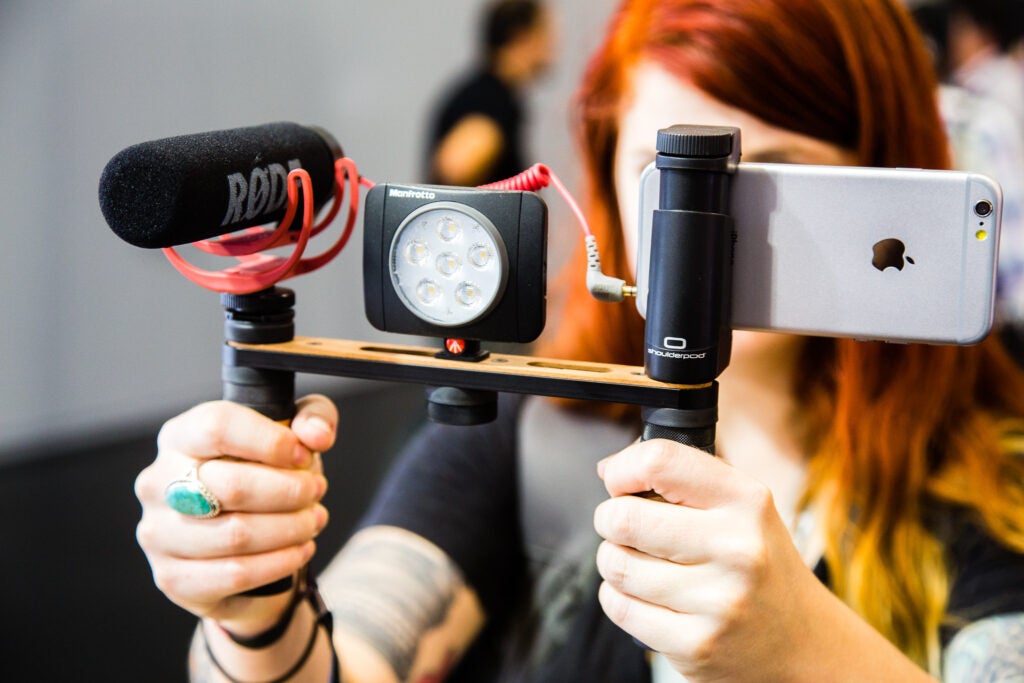 Shoulderpod Smartphone Video Accessories
The company doesn't really have distribution in the US just yet, but this line of high-end smartphone cinematography gear seems really excellent. You have the option of wooden handles and rails, which can be customized to accommodate a wide variety of accessories.
Lowepro PhotoStream RL 150
It's hard to make a rolling camera case look sexy, but I think the new LowePro PhotoStream RL 150 is quite a looker. It's built to hold a whole bunch of gear (1-2 pro DSLRs, plus eight lenses, and other accessories), while still fitting carry on requirements. The tough front panel is meant to take abuse and it has bit, sturdy wheels for easy rolling. Look for a review in the coming weeks.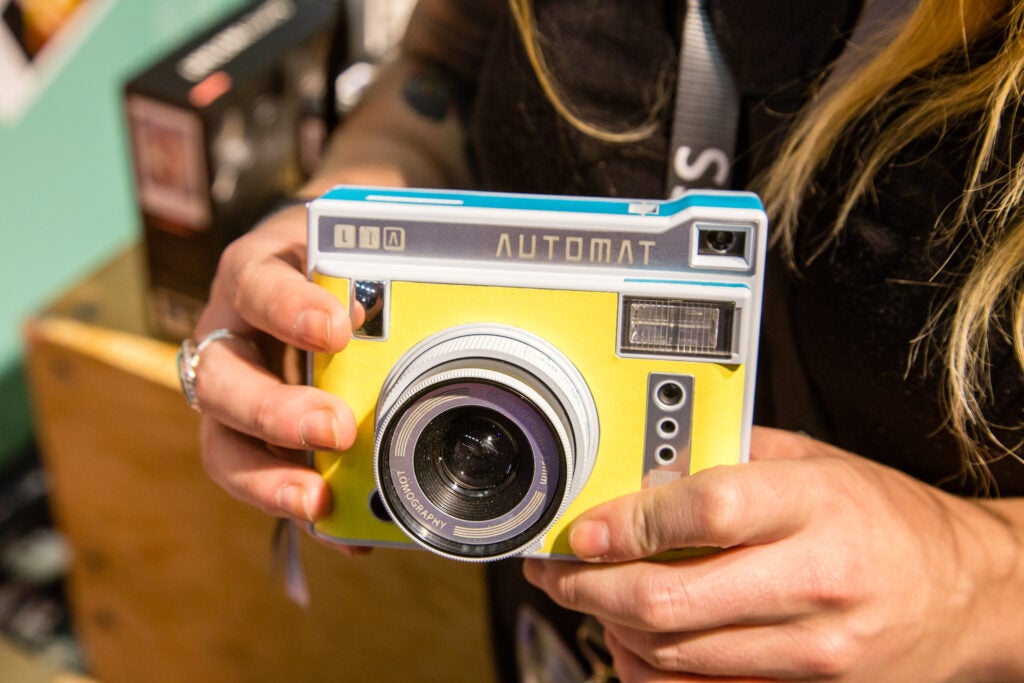 Lomography Lomo'Instant Automat Film Camera
The Leica Sofort isn't the only new instant film camera in town. The Lomography Automat is stylish, but in a different, retro way. It's extremely light and has a rather nice lens on the front, making it perfect for carrying around at a party.
GoPro Karma Drone
There's less drone news than you might expect here at Photokina 2016, but the GoPro karma's debut was a pretty big deal. The drone is meant to be super-easy to fly, and very versatile. The core of the drone is made up of a removable gimbal (basically a motorized camera stabilizer on a stick) that can be removed and used when not in flight. At first glance it looks great and I'm excited to get my hands on one when they become available.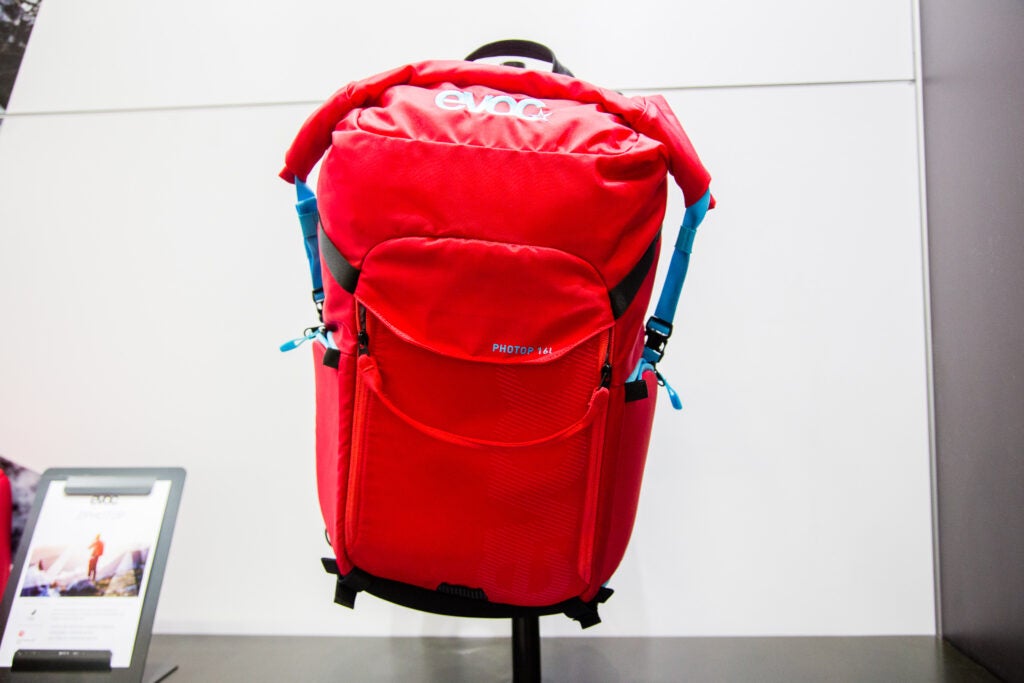 Evoc Photop 161
Evoc is a company known for making backpacks specifically for hardcore bike riders, but its camera bag lineup seems rather great. This weather-proof bag has a roll top for expanding its capacity and its extremely light with no gear inside. It has access to your gear from both sizes and is built to withstand the rigors of shooting in the field. Both the red and the grey colorways also look rather excellent.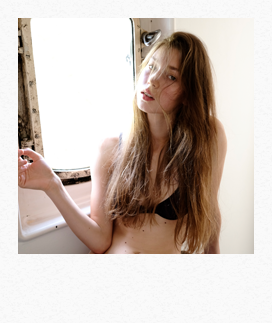 Fujifilm Instax Square Film
Fujifilm's big news was its new medium format camera, but the company was also bragging about its upcoming Instax Square film, which seems like it will be a great replacement for the iconic Polaroid 600 instant film that was everywhere in the '80s and '90s. Fujifilm will reportedly be making a camera to go with the new film size as well.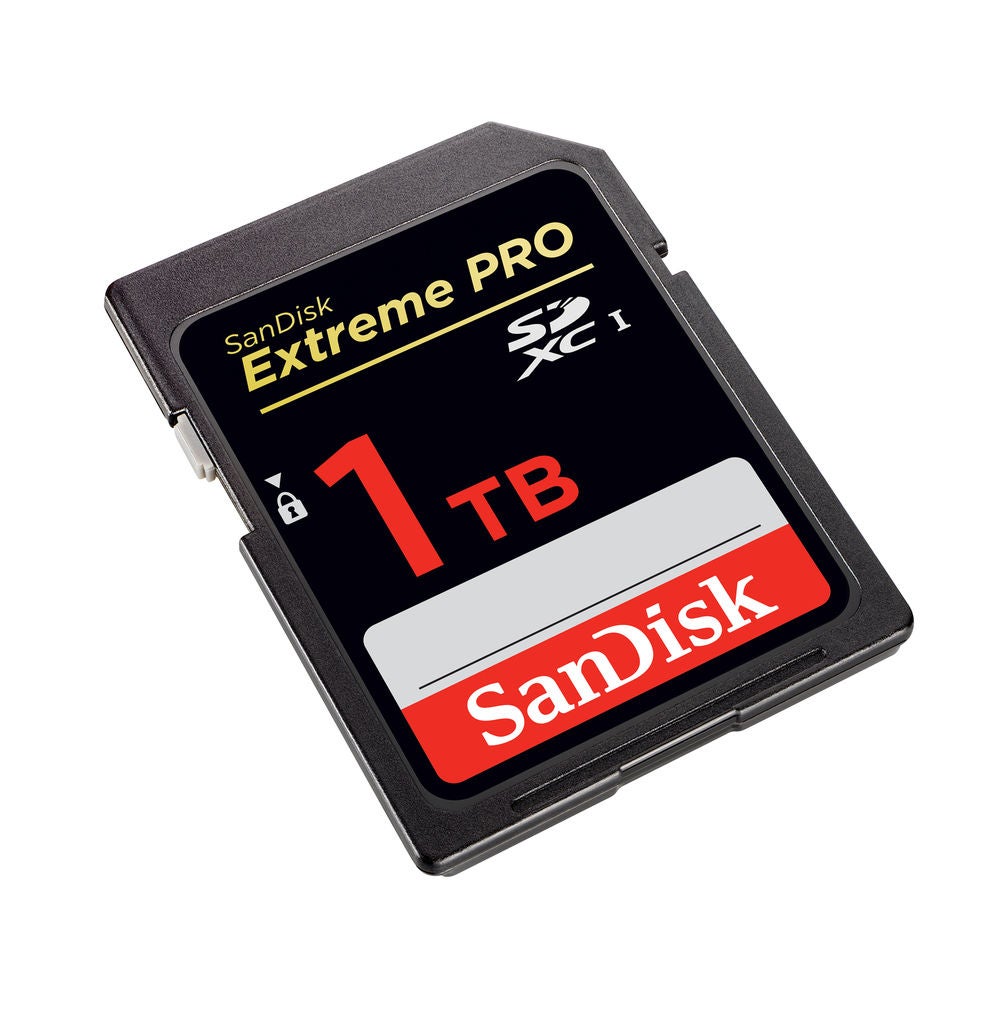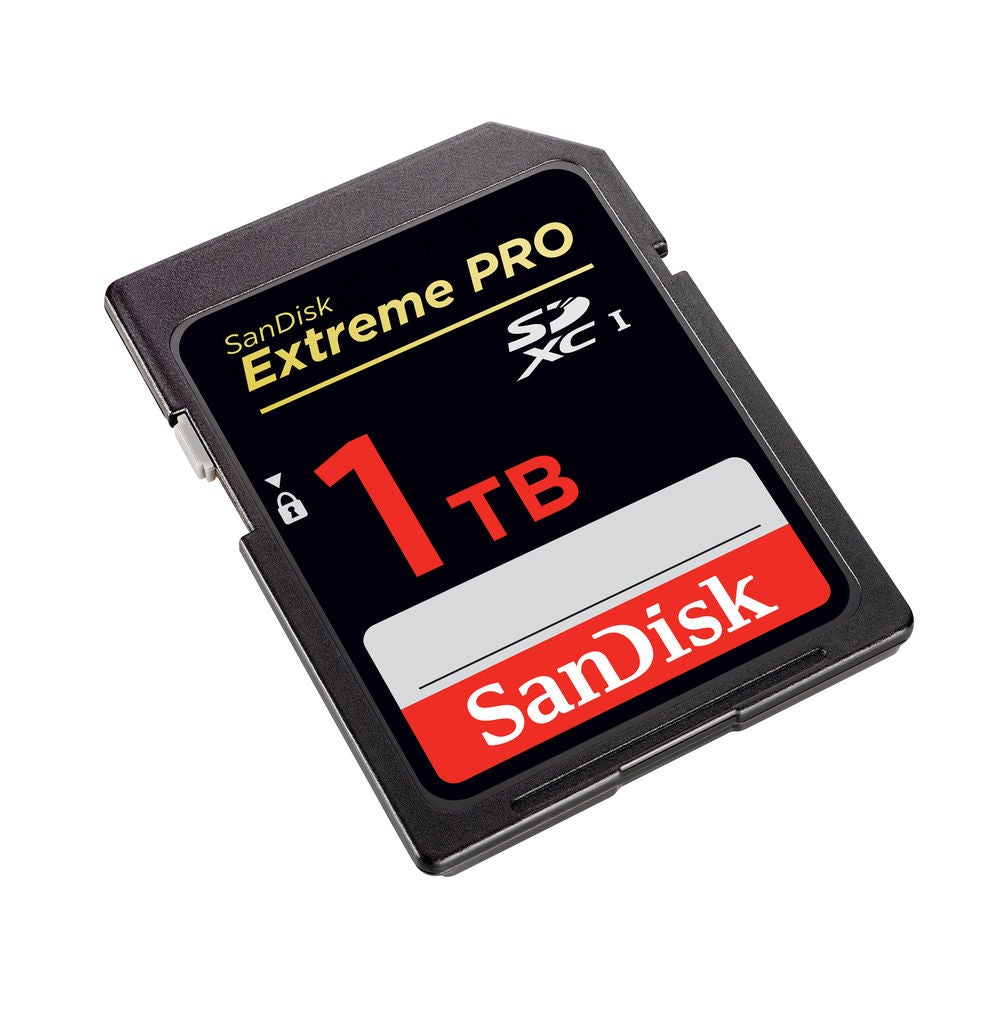 Sandisk 1 TB SD Memory Card
Oddly enough, one of our most popular posts from the entire show was the simple announcement of Sandisk's new 1 terabyte SD memory card. The card is pretty much identical to the company's current offerings, only with twice as much storage. It's certainly a benchmark and will likely become much more common sooner than later with the impending era of super-high-res video and photography. Official post here.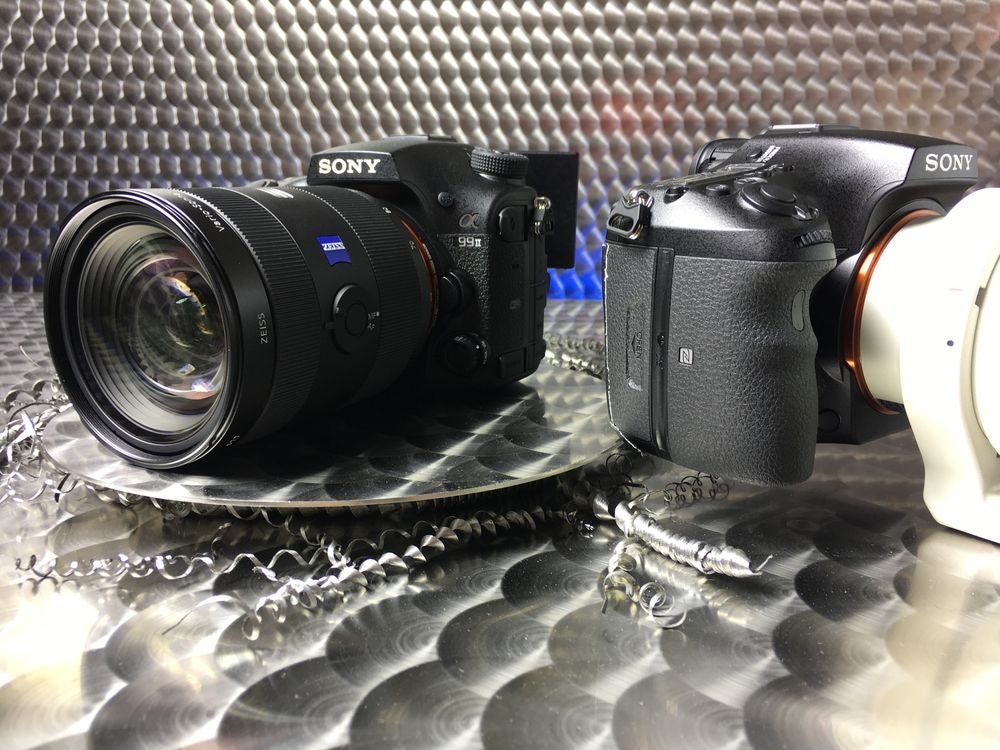 Sony A99 Mark II Camera
One of the biggest surprises of the show was the announcement of the new Sony A99 Mark II. The new Alpha flagship is about as feature-packed as you could ask for, with a 42.4-megapixel sensor, an insane autofocus system with 399 sensor-level AF points and 79 more on a dedicated AF sensor, and some truly impressive focus tracking skills. Check out our first hands-on with the A99 Mark II here.