2021 Pop Awards: The year's best camera and photo gear
The 2021 Pop Awards include no fewer than four affordable prime lenses, plus 20 other outstanding products.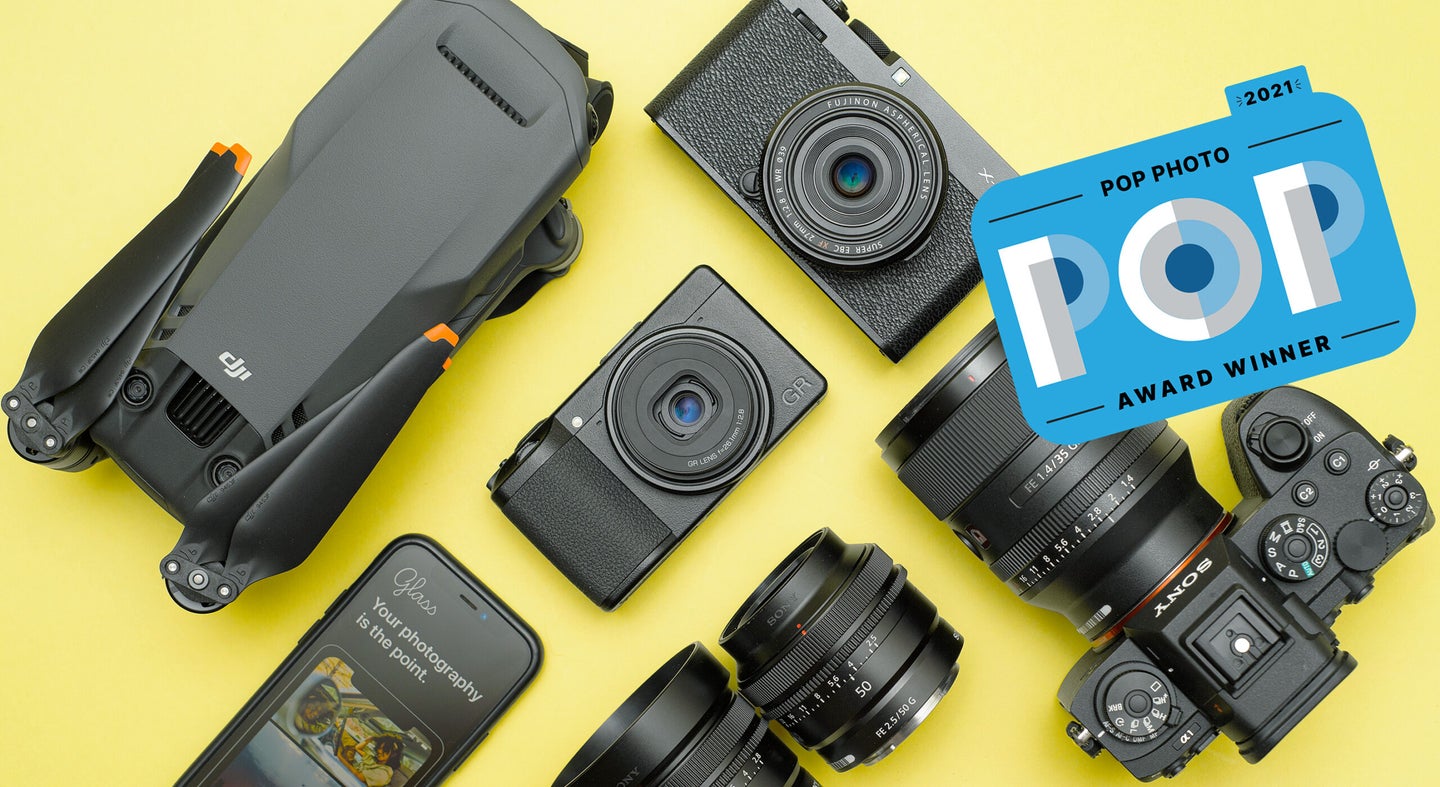 A lot has changed in the photography world since we last rounded up the best new photo gear of the year. Mirrorless cameras have elbowed out DSLRs in popularity, smartphone cameras have become more capable than ever thanks to computational learning, Olympus no longer exists as a camera brand, and interest in film photography is surging.
But one thing that hasn't changed is our excitement about new camera gear and technology. This year, though, the Pop Awards looks a bit different. Not only are there three smartphone-centric winners among our 24 honorees, but, rather than lean solely on our in-house editorial team to debate the winners, we convened a panel of professional photographers, writers, and educators to help us decide. This year's awards also include our top prize, Camera of the Year (hint: it's not a DSLR).
Candidates were recommended and evaluated based on ingenuity, attainability, and outright awesomeness. The result of this process is a mix of pro and consumer gear, from the very expensive—a $4,500 large format printer—to the rather affordable—a $5 a month app. These products not only push the boundaries of what's possible, but they also make photography more accessible, enjoyable, and immersive. Simply put: They make us excited to make pictures.
A refreshing Instagram alternative 
Remember when Instagram was a fun place to go check out your friends' artsy photos? When it wasn't fueled by algorithms, ads, and influencers? We barely do, either. If you long for those simple days, we've got some good news for you: The Glass Photography app is a photo-sharing platform launched earlier this year with an emphasis on simplicity. In fact, in many ways, it's the antithesis of Instagram. There are no ads and no algorithms; images are presented in chronological order, and addictive features like "likes" and follower counts are hidden away. Glass caters to both professional and amateur photographers alike—i.e., anyone who loves sharing their photos and finding inspiration from the work of others. More importantly, anything shared on the app remains solely owned by the poster. That's because the app is user-funded; Glass costs either $5 a month or $30 for a year, but you can sign up for a free 14-day trial right now. Glass may still be still very much in its infancy, but we're already impressed by what the space is cultivating: a creative community without a commercial angle.
A bag for all body types
Shimoda—a bag manufacturer less than five years old—understands that what's comfortable for one person's body, may not be for another's. The brand's new Explore v2 backpacks are proof of this. Available in three sizes, the collection offers four versions of Shimoda's super-comfy shoulder straps. There's the standard set that comes with the bag, as well as three others designed to more comfortably contour to curvier body types—these are available upon request, free of charge. In addition, the bag offers a height-adjustable chest harness and a removable hip belt for added comfort and stability. But comfort isn't the only game. You'll find plenty of pockets—including storage for a tripod, water bottle, and laptop—as well as a luggage pass-through. And its main camera compartment is modular and removable, so if you're rolling with less gear, you can swap it out for a smaller storage option. It's also an incredibly handsome and lightweight pack that doesn't scream "I have a camera in here!"  
The evolution of hybrid strobe and constant light
Lighting for video comes with a unique set of challenges. Light and Motion equipped the Reflex and Reflex S LED units to pump out flicker-free constant light for video, or to strobe at up to 20 fps with a flash duration as low as 0.5 milliseconds to freeze action in photos. Both modes draw power from the built-in battery, which can run for 30 to 600 minutes depending on the power level. Even beyond its lighting specs, the Reflex series goes out of its way to offer maximum versatility: Built-in receivers allow Godox and Elinchrom transmitters to wirelessly control the output; the rotating lens can adjust beam width between 12 and 120 degrees; and, because Light and Motion has years of underwater gear chops, the Reflexes are IP65 certified rugged and waterproof, so they'll survive brutal shoots in the field.  
The best action camera gets better in just about every way
GoPro has been refining its HD Hero action cameras for more than a decade, and some updates have been bigger than others along the way. The HD Hero10 isn't a revolution from the camera that came before it, but it brings a cadre of smart and very useful upgrades that make it worth buying over its predecessors. The new GP2 processor allows it to crunch more image data than ever, so it can shoot 4K footage at 120 fps without hiccups. (That speed also bumps its 120 fps slow-motion capture up to 1080p HD.) It can even go beyond 4K to 5.3K footage at 60 fps, which may not sound like a big leap, but it actually nets very nearly double the pixels of 4K—in case you want to crop or use software to stabilize your footage in post. You likely won't need that second option very often, though, since GoPro's HyperSmooth 4.0 tech offers the best active image stabilization we've seen so far. 
A flexible budget prime for Nikon
Nikon launched its mirrorless Z-mount system in 2018 and since then has added an impressive number of full-frame bodies and lenses, including the budget Nikon Z5 in 2020. But affordable Z-mount lenses have lagged— that is, until this year, when Nikon rolled out the Z 28mm f/2.8 ($299) and Z 40mm f/2 ($299). The former is a great bargain option for wide-angle shooters, but it's the latter that has us hyped: 40mm lenses are fairly uncommon in the digital era. They ride a fine line between focal lengths considered "wide-angle" and "normal," which means a 40mm can effectively be used as either in a pinch, making it a darling for street photographers but also a sweet piece of kit for a range of photographic disciplines. Its f/2 maximum aperture is also just fast enough to be used in low-light. At the same time, it's nice and sharp wide open, lightweight, and quite compact A truly modern nifty fifty…we mean, forty…indeed. 
A petite system camera with big image quality
The Fujifilm X-E4 is the brand's smallest and lightest system camera on the market. It features paired-down controls, a simple rectangular design, and classic film rangefinder stylings, but don't let its minimalism fool you, the $849 (body-only) X-E4 still has all the moxie of its flagship siblings. Everything from its 26MP APS-C sensor to its 4K video capture to its autofocus system and processor match that of the X-T4 and X-Pro3—for much less coin. But it's the X-E4's petite footprint, especially when paired with the optional 27mm f/2.8 WR kit lens ($1,049 for the kit), that makes it so gosh darn appealing. It's the kind of camera you can easily sling around your neck and forget it's there. Image quality is outstanding, and you'll find 18 of Fujifilm's retro-inspired film simulations built-in. A 3-inch tilting touchscreen adorns the back, along with a solid electronic viewfinder. It can charge over USB, features in-camera RAW editing, and can share images to a smart device. Overall, it's a fabulous camera for travel. 
The best photo and video editing laptops
Modern digital photography is tough on computers. With skyrocketing megapixel counts and editing programs increasingly reliant on AI-powered utilities, processing a single image takes serious computing power. This year, Apple released its M1 Pro– and M1 Max-powered MacBook Pros, laptops that can handle photo and video editing with the same acumen you'd expect out of a maxed-out desktop workstation. Apple's secret sauce involves building its own system-on-a-chip, which integrates essential components, including the CPU, graphics processor, machine learning cores, and even the system memory. By cutting down on data transfer time and system redundancies, Apple created laptops that can blast through full-res, 45-megapixel RAW files in Capture One Pro as if you were simply swiping through your smartphone's camera roll. Any computer that saves this much time in the editing process absolutely deserves an award.
The largest pocketable travel printer
Fujifilm's Instax printers have been on the market for a while now, but could only tap the brand's  "Mini" sized film. But no more. After listening to customer feedback, Fujifilm unveiled the Instax Link Wide printer ($150) this fall, the only pocket-friendly, battery-powered printer capable of producing images larger than a business card. It's fun and easy to operate: Simply pair it with a mobile device and get printing. You can customize images or make edits using the Instax Link app, the battery is good for up to 100 shots per charge, and prints cost around $1 a shot. It functions equally well as a party companion as it does as a dedicated printer for greeting cards and/or thank you notes. A truly delightful analog alternative to staring at photos on a screen. 
A dual-camera drone that ups aerial quality
DJI's foldable and semi-affordable Mavic line of drones has a well-earned spot in the kits of enthusiasts, semi-pro, and professional photographers. The latest Mavic 3 model represents a complete redesign and major improvement over its predecessor, thanks in part to a new twin-camera module. The drone sports both a large sensor, wide-angle camera, and a smaller-sensor telephoto camera with a 28x zooming capability (optical+digtial). Both are mounted on the same 3-axis gimbal for super-smooth capture. The former uses a sizable Four-Thirds sensor, providing impressive image and video quality, even in low light. The Mavic 3 captures 12-bit RAW stills—in addition to JPEGs— and up to 5.1K/50p video (or 4K/120p footage for a slow-motion effect). Omnidirectional obstacle sensors, plus a slew of design improvements, help ensure the drone both stays in the sky and returns home in one piece after flying for as long as  46 minutes and as far away as 9.2 miles. 
An affordable alternative to pricy Leica glass
There's plenty of beautiful glass to attach to a Leica M-mount camera body. Unfortunately, most of it costs as much as a used—or sometimes new—car. The 35mm Summilux, for instance, provides exceptional sharpness and color rendition for the hefty price of around $6,000. Voigtlander's new APO-LANTHAR 35mm f/2 is a little bigger than the Leica, and a stop slower, but it's also nearly $5,000 cheaper and still does justice to the quality and simplicity of the M-series rangefinders. Voigtlander's apochromatic lens design (hence the "APO" in the name compensates for the fact that different colors of light focus at slightly different distances from the lens itself. Left unchecked, this effect could create ugly colored fringing, especially around high-contrast edges. That's not an issue here. Combined with superb sharpness and smooth manual-focus only performance, this relatively affordable lens truly feels at home on Leica's high-end rangefinders.
A smartphone built for computational photography
Google equipped its new flagship Android phone with a trio of camera modules, all of which come with relatively familiar stats: The main 50-megapixel sensor sits behind a wide-angle lens, the one behind the ultra-wide glass checks in at a typical 12 megapixels,  and the telephoto lens sits vertically inside the device, offering 4x optical zoom on a 48-megapixel sensor thanks to periscope-style folded optics. The real advancement inside the Pixel 6 Pro, however, starts with the chip inside. Google's custom-built Tensor chip eschews the typical Qualcomm silicon found in most Android phones in order to max out its performance during AI tasks. As a result, the PIxel 6 Pro offers some of the most effective and natural-looking HDR in any smartphone. Its digitally-assisted zoom looks sharp without muddying up fine details or oversharpening images to ruination. And Google even expanded its HDR tech to every frame of video the camera shoots, so the motion has the same look and feel as the photos. Add in cool features like a simulated long exposure mode, and you get a truly impressive smartphone photography experience.
New life for old, low-res RAW files
With simple names like 4K and 8K, it's easy to forget just how many pixels ultra-HD screens really pack. A 4K picture works out to 8 megapixels, while you'll need 33 megapixels to fill an 8K screen. Those numbers sound daunting for your old digital camera images—or even modern 12-megapixel smartphone files. The new Super Resolution feature in Camera RAW relies on Adobe's Sensei AI tech. Engineers trained the neural network that underlies the process on millions of image pairs, each containing one low-res and one high-res version of the image. Over time, the model began to understand how to increase resolution without simply guessing what the extra pixels should look like. As a result, small RAW files can grow up to 4x while maintaining sufficient image quality for large prints or displaying on pixel-dense screens. And, because the learning model can improve, Super Resolution should only get better over time.
A lens to shoot VR on a single sensor
Shooting VR or 3D content requires multiple points of view slightly offset from each other in order to trick a viewer's eyes and brain into seeing depth. With this quirky lens, Canon has given its RF-mount cameras the ability to do that with just one camera. The 5.2mm fisheye relies on folded optics, which bend light through the lens barrel to send two complete images to a single full-frame sensor like the one inside the R5 mirrorless camera. The unique glass provides a 190-degree total field of view, and using the R5's 8K capture, can churn out super-high-res footage that viewers can immerse themselves in with help from a VR headset. It's a niche lens, but it adds an entirely new functionality to Canon's RF cameras, and illustrates some of the benefits shooters will enjoy as we move further into the mirrorless era.
Affordable primes for Sony mirrorless
We love to acknowledge fancy technological advancements as much as we do sensible, consumer-friendly ones. And Sony's new line of G prime lenses is the perfect example of the latter. At $599 apiece, the Sony 24mm f/2.8G, 40mm f/2.5G, and 50mm f/2.5G each provide a delightful balance of versatility and affordability in modern, compact, and lightweight packages. Optical performance from each is impressive with excellent central sharpness wide open and super-fast autofocus. The G-series primes are also nearly identical in terms of size and weight, which means a video shooter using a gimbal can swap one for the other without needing to make adjustments. And, unlike other budget primes, these are dust and moisture-sealed, and the body of each is constructed of aluminum as is the baseplate. In short, they are among the most-practical full-frame primes for Sony shooters. Full stop. 
The first step toward movie-worthy footage on a smartphone
Adding fake blur to simulate depth-of-field effects in smartphone images has been around since the dawn of portrait mode in the mid-2010s. It started off extremely awkwardly with jagged edges and weird blur showing up where it shouldn't. Since then, it has gotten really good. Apple's new Cinematic Mode in the iPhone 13 Pro could have a similar trajectory. Cinematic Mode employs Apple's machine learning algorithms to create shallow depth of field effects in video capture. With two subjects in a frame, iPhone shooters can move focus between them in real time to simulate a movie-making technique called racking. The feature still has plenty of bugs to work out, including slight halos around human subjects, but it's easy to see the potential as the algorithms get smarter and hardware gets burlier. It could be a very useful tool for video shooters down the road.
 An accessible mirrorless camera
The modest EOS M50 Mark II certainly lost the spotlight to the sports-and-wildlife-focused EOS R3 this year. This little mirrorless body is among the most affordable ($599 for the body, $699 with a kit lens), capable, and easy-to-use cameras in its class. It boasts a 24MP APS-C sensor, packed inside what looks like a shrunken-down DSLR. Control points are ample, and a fully-articulating touchscreen—as well as a solid electronic viewfinder—add to its versatility. The M50 Mark II uses Canon's latest Dual Pixel autofocus, the same found in its flagship, which includes an eye-tracking mode for tack-sharp images of friends and family. Image quality is outstanding, with punchy, vibrant out-of-camera JPEGs. 
An impossibly handy light for any situation
At six inches wide and just over three inches tall, this 7-ounce panel manages to cram in a total of 263 individual LEDs. Together, they can produce 1,500 LUX at 0.5 meters, which is 50 percent more than Lume Cube's original Panel Go—and plenty of illumination to act as a key light for a portrait in a dark setting, or just throw some fill on a subject in strong backlight. In a pinch, it can even make smartphone selfies a lot more flattering. The Panel Pro's built-in Bluetooth connection enables simple wireless control from an app: Easily adjust the power from 5 percent all the way up to full blast, or change the light temperature to match the ambient light. Outside the natural colors, the Panel Pro can produce an array of vibrant colors, and even flash in preset patterns for video capture or creative long exposures. 
A street photography classic, refined
The original film Ricoh GR first debuted in 1996 as a sleek, pocketable camera with a super-sharp fixed 28mm lens—an instant classic for street photography, even to this day. Since then, 12 GR models with similar designs and fixed 28mm (or wider) lenses have come out. This year's Ricoh GR IIIx is the exception. Though almost identical in principle to 2018's GR III, this new model sports a 40mm f/2.8 lens, paired with a 24MP APS-C sensor. This combination means the GR IIIx is the only large sensor, fixed-lens camera on the market with a "normal" lens, rather than a wide-angle. It also means street photographers who love the GR III's design but dislike 28mm now have the perfect little camera to call their own. And, despite its throwback roots, you'll still find modern conveniences like a 3-inch touchscreen and USB charging. 
A super-fast zoom ready for anything
For most zoom lenses, f/2.8 is the magic number when it comes to aperture. It's fast enough for many low-light situations, but not so spacious that it makes the lenses huge. Any time a zoom goes below that threshold, it's exciting, especially when it's a lens as versatile as Tamron's 35-150mm f/2-2.8 Di III VXD. It's the first zoom lens for Sony full-frame cameras to break the f/2.8 barrier. The 2.5-pound glass is the pro's equivalent to a walk-around lens, combining the most useful parts of a 24-70mm and a 70-200mm zoom into a single lens that can handle everything from wide-angle exposition shots to standard coverage to telephoto portraits. With those stats, it's easy to cover an entire wedding or event without ever having to swap lenses. 
A serious update to a classic shoulder bag
Tenba's DNA line of messenger and shoulder bags has been a photographer favorite for years. So when we heard the brand was doing a complete design overhaul, we were a tad nervous. But we were thrilled to see the changes brought about in the new DNA line. Functionally, there's a lot to love: The bottom of the packs are now completely waterproof, and a quick-access zipper on top makes it easier than ever to deploy your camera in a pinch. The main compartment is also removable/swappable, and an updated memory foam strap should ensure lasting comfort. There's also an additional "security strap" to keep the bag in place while biking or running/walking. And exterior loops allow you to expand storage or attach accessories with ease. Bringing a classic into the modern age is never an easy feat, but Tenba pulled it off. 
 A new 'holy grail' zoom for Micro Four Thirds
Micro Four Thirds shooters have long enjoyed a wide range of fast-aperture primes. But the number of fast-aperture zooms before 2021? Just one: the Panasonic Leica 10-25mm f/1.7. As a companion to that lens, Panasonic released the Panasonic Leica 25-50mm f/1.7 earlier this year. At $1,800, it's a pricey piece of glass, but it's also a lens we couldn't keep our hands off of. With a 50-100mm equivalent focal length and an f/3.4 equivalent max aperture, it's especially well-suited for portraiture but can handle pretty much anything—wide-angle shots being the only notable exception. You'll get excellent sharpness and subject separation when shooting wide-open with eye-pleasing bokeh and silky smooth out-of-focus regions. It also looks great up-close. In short, it's a holy grail lens for Micro Four Thirds shooters and worthy of its heady price tag. 
A high-speed mirrorless for working photographers
There's no official runner-up position for our Camera of the Year award, but if there was, this would certainly be it. Canon purpose-built the EOS R3 for the needs of working photographers. It has a new 24-megapixel sensor that produces outstanding image quality, especially in low-light situations. It's simply one of the best low-light cameras we've ever used. It's the best example of Canon's already excellent Dual Pixel AF II autofocus system, and the full-sized DSLR-style body is lighter than it looks—nicely balancing large lenses like telephotos. Unlike the upcoming Nikon Z9, it still employs a mechanical shutter, but it offers super-fast sensor readout. Sports photographers can get 12 fps with the mechanical shutter banging up and down, or turn it off and get 30 fps at full resolution. Its massive, high-res electronic viewfinder also houses the eye-tracking that gives the R3 a modern version of Canon's eye-controlled AF—something you won't find in any other camera at the moment. We expect to see it in the bags of photojournalists, sports shooters, and plenty others in the next few years.
Camera of the Year: 0ne mirrorless camera to rule them all
Last time Popular Photography crowned a Camera of the Year, it was the Fujifilm X-Pro2 way back in 2016. That year also saw the release of two flagship DSLRs, the Canon 1D X Mark II and the Nikon D5. At the time, those chunky, mirror-toting cameras promised super-fast shooting and AF performance mirrorless cameras still couldn't touch. Since then, the digital camera world has changed rather profoundly, and there's no better example than the Sony A1: It shoots faster and bigger than anything that has come before it, tipping a future filled with big, beautiful images.
Sony built its flagship, full-frame mirrorless camera as an exercise in superlatives. It's the first camera with an electronic viewfinder that hits 240 fps refresh rate with 9.44 million dots of resolution for super-smooth viewing. It's the first to integrate anti-flicker tech into its electronic shutter mode to prevent ugly lines from showing up on indoor shots. It's also the first with Sony's dual-drive mechanical shutter mechanism for flash syncing as fast as 1/400th second, which is faster than just about every other non-leaf-shutter option around. 
Those features are great on their own, but they're not the real story. The A1 can pump out 30 50.1-megapixel images in compressed RAW or JPEGs per second, while performing 120 focus and exposure calculations at the same clip. That's the same rate as Canon's sports-oriented R3, which only has a 24.1-megapixel sensor. 
The secret to the Sony A1's speed comes from its guts. Sony built a totally new stacked sensor and paired it with two of its most powerful Bionz image processors. The sensor employs built-in memory and a revamped analog-to-digital conversion process to pump data off the chip as quickly as possible. As a result, the sensor readout dramatically cuts down on distortion and wobbly video experienced by slower chips. Even if you're not shooting at maximum speed, you'll still enjoy the benefits of all that processing power. 
The A1's video skills similarly border on absurdity. It captures 4K footage with no crop factor or pixel binning—at up to 120 fps. For shooters that prefer even higher quality, it can shoot oversampled 4K at 5.2K resolution. It will even do 10-bit 8K at 30 fps. 
Going into 2022, the dawn of the do-it-all camera is firmly upon us. Nikon has already shown off its impressive Z9 (which we haven't had a chance to test, so it wasn't in contention for our top award this year), and rumors have been teasing the existence of Canon's R1 flagship mirrorless camera for more than a year. The A1 is here now. Sure its $6,500 price tag puts it out of reach for most shooters, but it offers a glance at what's coming. The A1 is like a Formula 1 race car, loaded with cutting-edge tech that Sony can tweak and refine as it works its way down the line. Five years from now, we may all be shooting lots of giant images in a hurry, and we'll have the A1 to thank for kicking things off.
---
The 2021 Pop Photo Pop Awards panel:
Wenmei Hill
Wenmei Hill is a photographer based out of Seattle, WA. The former editorial manager at DPReview, she continues her work in photography as a photographer and board member for the non-profit organization Soulumination. She is also co-founder of Mamas with Cameras, through which she loves making photography accessible and exciting to women from all creative backgrounds.
Jeanette Moses
Jeanette D. Moses is a New York-based filmmaker and photographer known for capturing the intimacy of New York City's creative communities. She loves shooting music, tinkering with new technology, all things analog, and learning about archaic photographic processes. In 2021 she was selected as one of Dr. Martens Filmmakers of the Year to direct a film about New York City's DIY music scene.
Bob Rose
Bob Rose has photographed on six continents and underwater in four oceans. He served as Editor-at-Large for Photo District News and Rangefinder magazines for 17 years, has published countless articles and has two patents to his credit. After a full and satisfying career in the photographic industry, he returned to his alma mater RIT as an Assistant Professor in the School of Photographic Arts and Sciences, bringing full circle more than 35 years of experience in the industry as a photographer, educator, editor and consultant. In 2019 he was the recipient of the prestigious Chuck Westfall Technical Education Award.
As well as…
Dan Bracaglia, News & Features Editor, Popular Photography
Stan Horaczek, Senior Gear Editor, Popular Photography, Popular Science
Corinne Iozzio, Editor in Chief, Popular Science, Popular Photography