Nikon Z9: A high-speed pro mirrorless camera with no mechanical shutter
With a 45.7-megapixel sensor and a completely electronic shutter, the Nikon Z9 camera looks impressive all around.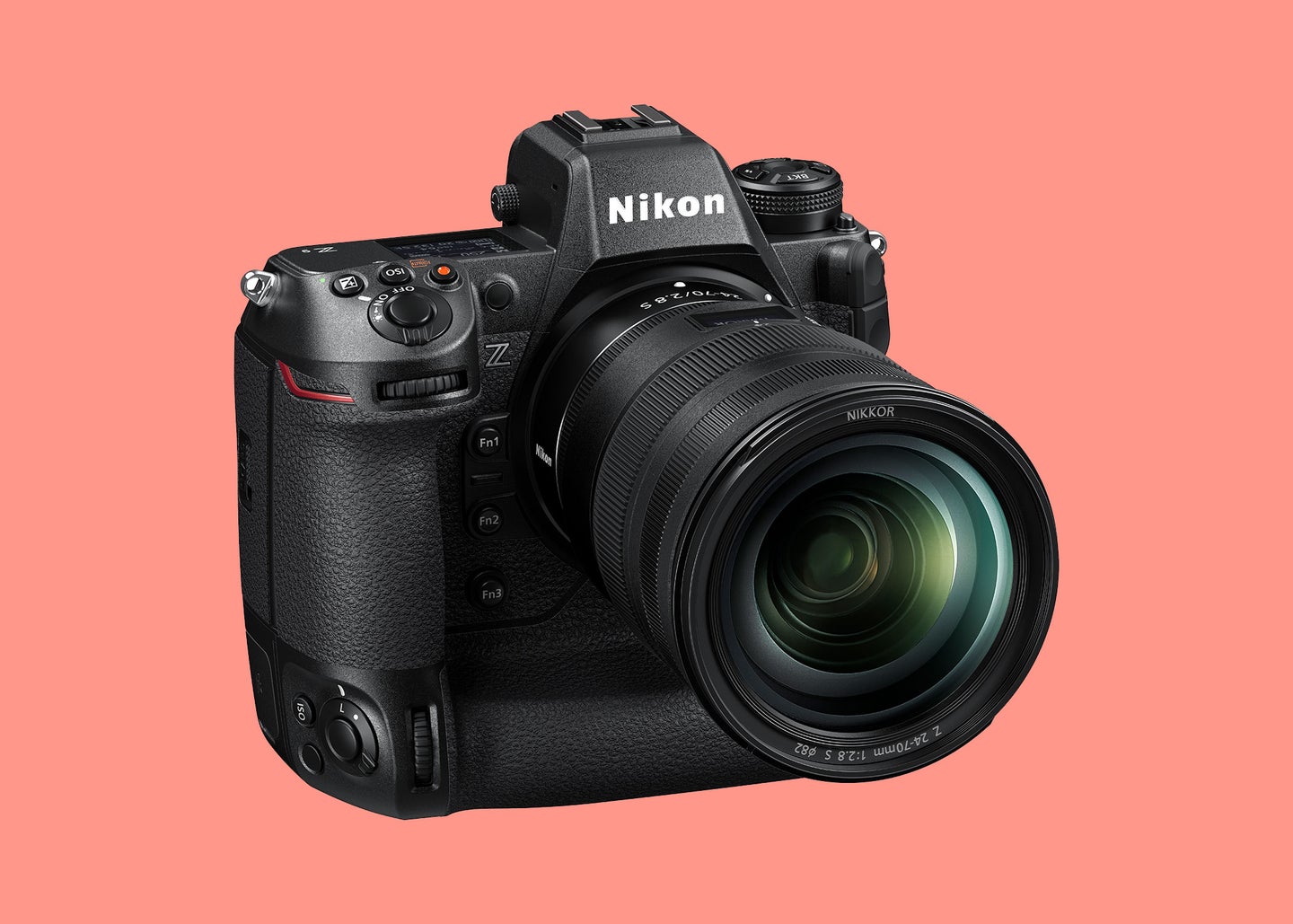 We may earn revenue from the products available on this page and participate in affiliate programs. Learn more ›
After much teasing, the new Nikon Z9 flagship full-frame mirrorless camera has arrived. Built for speed and durability, it features a blackout-free electronic viewfinder, a newly-developed 45.7MP full-frame BSI stacked CMOS sensor, 30 fps bursts (JPEG), and 8K/30p as well as 4K/120p video capture. All these features arrive in an extremely well-built, pro-level body with an integrated vertical grip. 
The Z9 is also Nikon's first mirrorless full-frame camera to ditch the mechanical shutter in favor of a purely electronic one. And Nikon promises "the world's smallest rolling shutter distortion," which roughly translates to, "you won't even notice the mechanical shutter is gone."  
Let's take a closer look at what else this beastly new camera has to offer.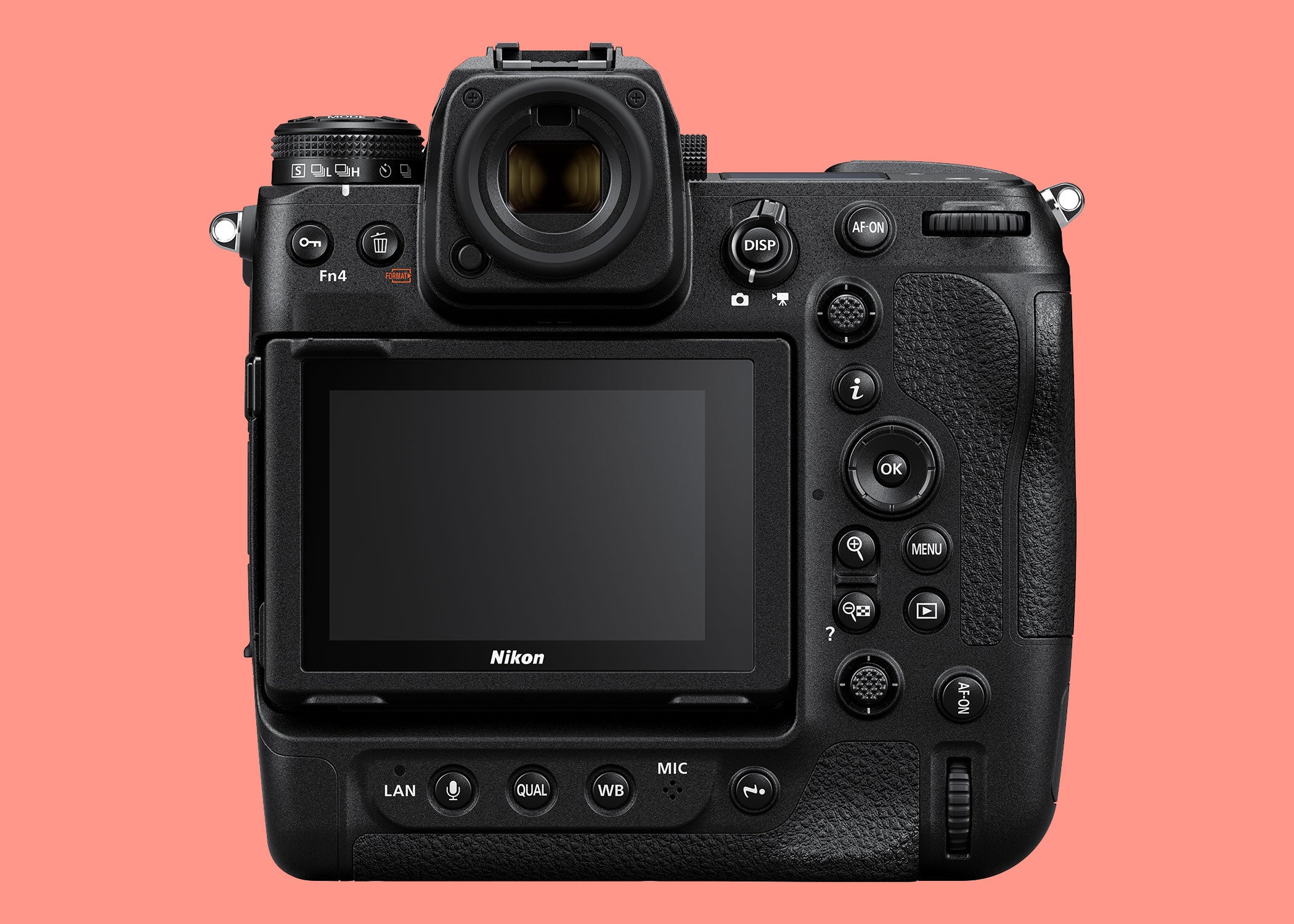 Nikon Z9 key specifications
45.7MP full-frame BSI stacked CMOS sensor (stabilized)
New EXPEED 7 processor (10x faster than the processor in Z7 II)
Base ISO 64
3.69 million dot electronic viewfinder with blackout-free shooting
30 fps bursts (JPEG only), 20 fps bursts (RAW+JPEG) with AF/AE
120 fps JPEG bursts in 11MP mode
1/32,000 sec top shutter speed 
8K/30p and 4K/120p video capture using the full sensor
493 AF points covering 90% of the frame
People/eye, animal and vehicle AF detection 
Build quality & body features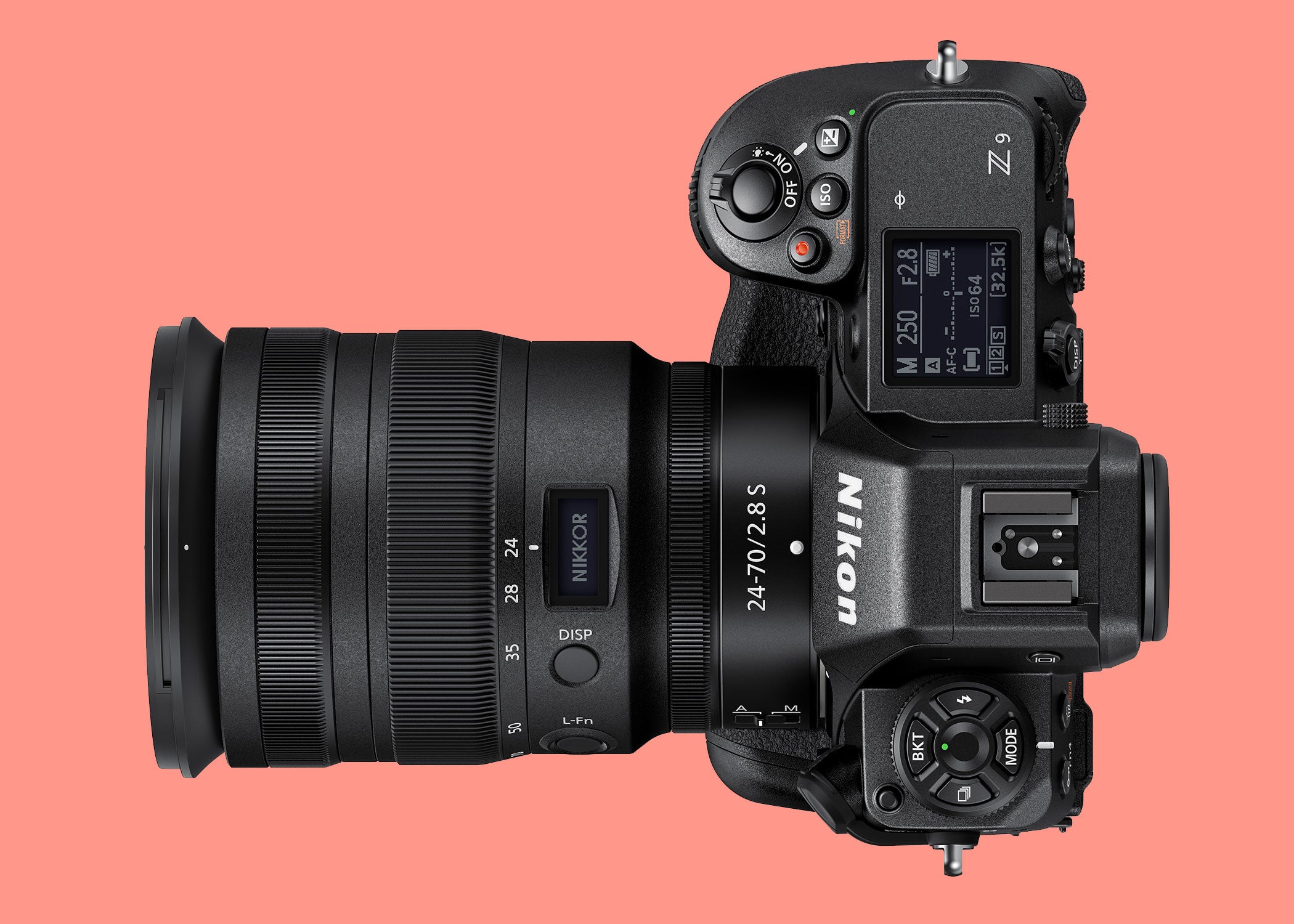 The Nikon Z9 looks quite a lot like its DSLR flagship cousin, the Nikon D6. This includes the shape of the body and grip as well as the button placement (hello illuminated rear buttons) and the menu design. Both offer integrated vertical controls and make use of the high-capacity EN-EL18 series battery. 
Nikon says the chassis of the Z9 is as rugged and durable as that of the D6. And the overall build quality is also a match, including the level of dust and moisture sealing. However, the Z9 is 20 percent smaller than the D6. 
As you might expect, the Z9 offers dual card slots, accepting both CF Express (Type B) and XQD cards. You'll also find a full-sized HDMI port on the body along with a USB port that can be used for charging.
Viewfinder & screen
The Z9 uses a 3.69-million dot electronic viewfinder panel, the same resolution as the Z7 II and Z6 II. However, the maximum brightness of the panel has been increased significantly, which should make it easier to shoot in very bright light. 
The EVF also offers black-out free shooting thanks to what Nikon is calling "Dual-Stream technology." It works by pumping two feeds to the EVF or LCD (whichever you're using) and combining them to ensure an accurate view of the scene/action is always displayed. 
On the rear of the camera, you'll find a touch-sensitive 3.2-inch LCD that can be tilted both vertically and horizontally. 
Nikon Z9 photography performance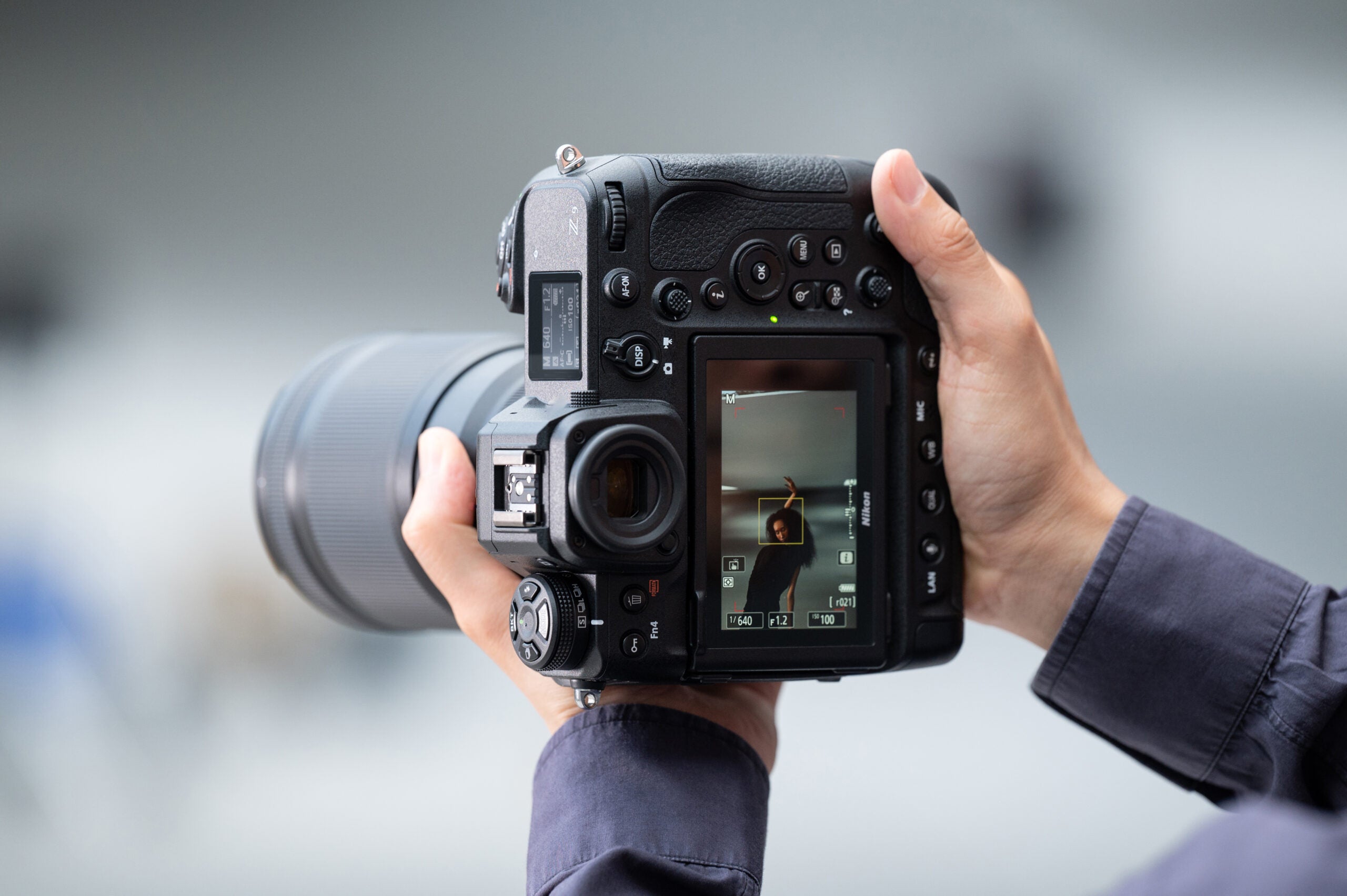 Nikon says the Z9 is "the fastest, most powerful Nikon flagship ever," and we believe it. The EXPEED 7 processor alone is 10x faster than the one found in the Z7 II. This results in the camera being able to read data off its sensor so fast, there's no distortion when using the electronic shutter—hence the lack of a mechanic shutter. 
And the processing power also means the Z9 is capable of 20 fps RAW burst shooting with a buffer of 1000+ images. Additionally, the camera can shoot 30 fps in JPEG-only mode (full-res). And if that isn't fast enough for you, there's also a 120 fps JPEG burst mode if you knock the resolution down to 11MP. All of these burst modes work with full-time AF/AE. 
The camera also features an impressively fast max shutter speed of 1/32,000 sec. Additionally, a new "High-Efficiency RAW" option produces files 1/3rd the size of traditional uncompressed RAWs. And Nikon says there's no image quality penalty when using this mode. 
Nikon Z9 Autofocus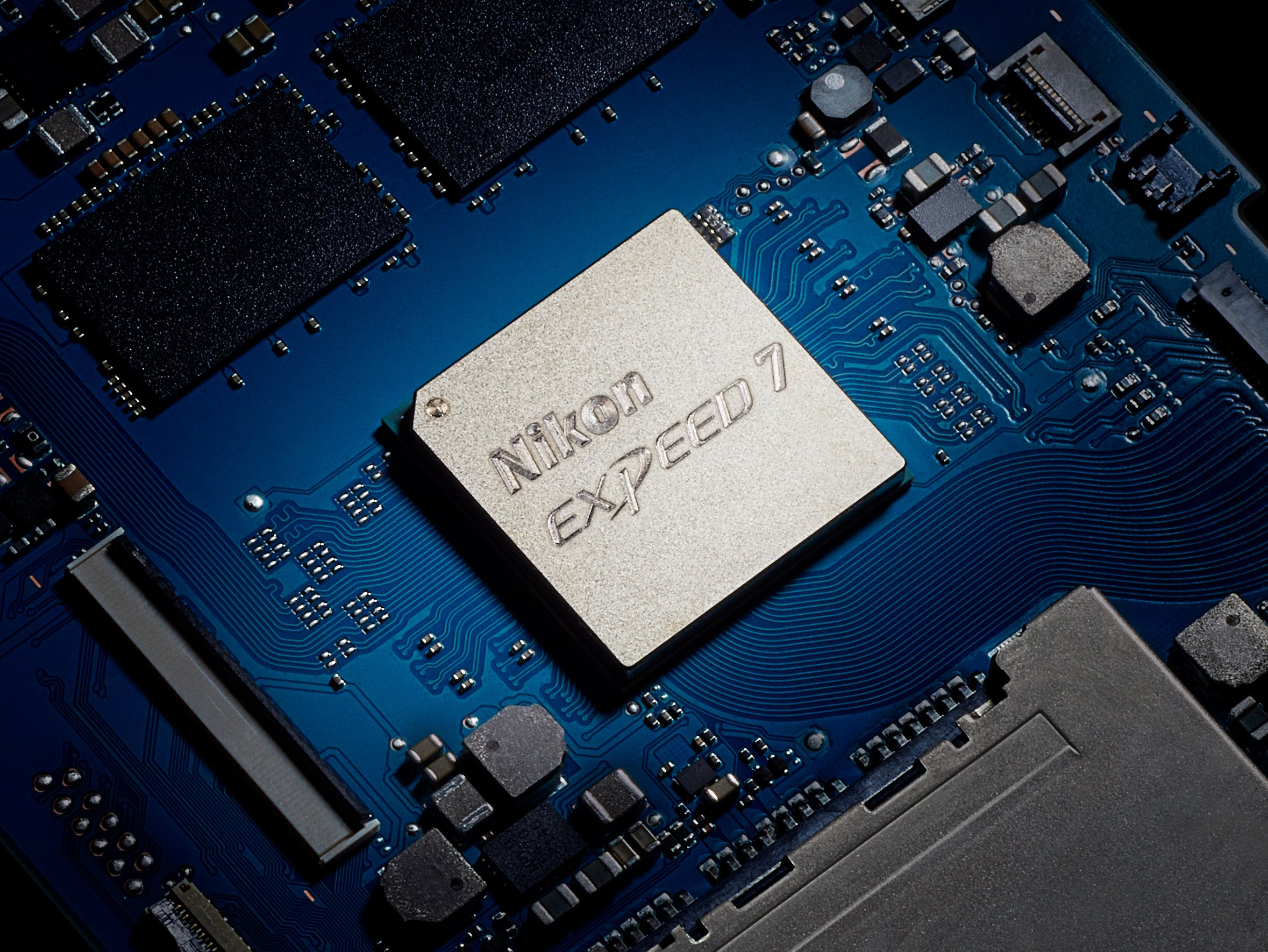 What good is super fast burst shooting without rock-solid autofocus? Nikon engineers seem to agree. The Z9 sports the brand's "most intelligent AF system yet," which consists of 493 focus points covering 90% of the frame. And AF calculations are made at 120fps, so we expect performance to be top-notch. 
This is also the first Z-series camera to incorporate Nikon's much-loved 3D-tracking feature, plucked directly from its DSLR line. When using 3D-tracking, you'll find options for both face and eye detection as well as a list of other detection modes. These include dog, cat, bird, plane, train and bike detection. 
Nikon Z9 Video features & performance 
The Z9 is capable of both 8K/30p and 4K/120p video capture, both using the full width of the sensor to maximize video quality. Footage can roll for up to 2 hours, even in 8K mode. 
For the post-production wiz, Z9 shoots10-bit N-Log and/or HLG footage, to maximize color-grading potential. There's also Nikon's "Flat" color profile. On the sound side, the camera offers both a headphone and microphone jack and can record 24-bit audio. 
And coming 2022, a firmware update will unlock 8K/60p capture in a new 12-bit "N-RAW high-efficiency" video format. 
Connectivity 
Pro-grade cameras tend to offer pro-grade connectivity and the Z9 is no exception. Nikon added a new menu tab dedicated to network settings to make things easier. And the camera offers both Bluetooth as well as Wi-Fi (2.4 or 5 GHz) and plays nice with the existing Snapbridge app. 
For the launch of the Z9 Nikon has also introduced a new pro-grade app dedicated to in-the-field file transfer called "NX Mobile Air." The app lets you tether the Z9 (and other existing Nikon cameras, TBD) to a  5G-enabled smartphone or smart device, to transfer files to an FTP server. 
The Z9 also offers a wired LAN port for super-fast file transfer. 
Who's it for 
This is very much a professional camera intended for the hands of photographers working in fast-paced and/or extreme conditions. And Nikon likely built the Z9 with sports and wildlife shooters as well as photojournalists, in mind. It will compete with flagship DSLRs, as well as pro-grade mirrorless cameras like the burly Sony A1 and the upcoming Canon R3. 
Price and availability 
The Nikon Z9 should be available by the end of 2021 for $5499.95.