Apple iPhone 13 Pro and Pro Max cameras: What you need to know
Apple's annual announcement unveiled four new iPhone 13 models, including the 13 Pro and Pro Max. Apple also showed off new ipad models.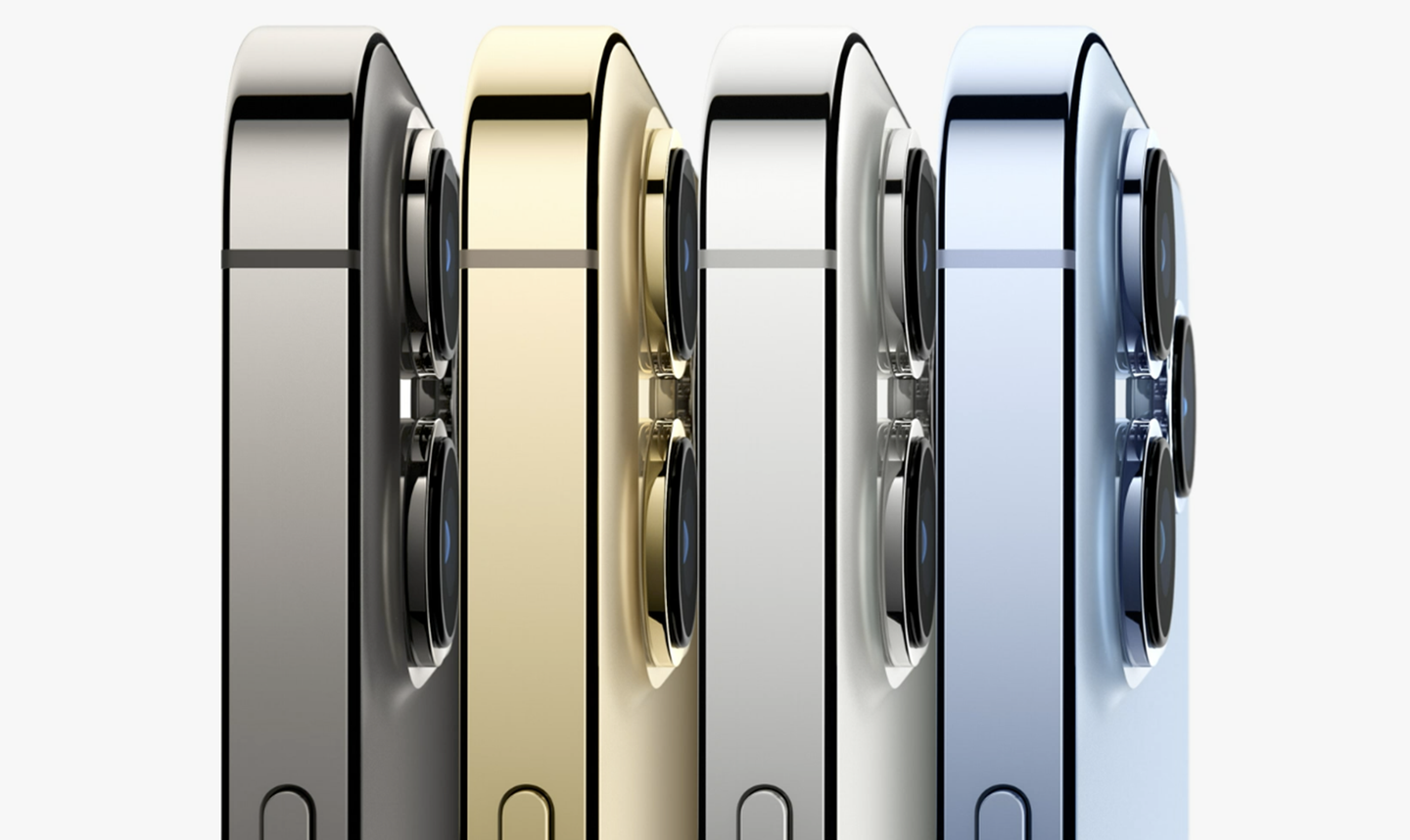 In usual fall fashion, Apple CEO Tim Cook announced the annual updates to the company's lineup of phones and tablets early this week. The four new iPhone models (iPhone 13 Pro, iPhone 13 Pro Max, iPhone 13 and iPhone 13 mini) all sport somewhat expected upgrades to their camera and photo features. At the same time, two new iPad models—the ninth-generation iPad and a new redesign of the iPad mini—boast some creator-friendly upgrades. The Cupertino company also announced operating system updates for iOS and iPadOS to version 15, coming later this month.
iPhone 13 Pro and 13 Pro Max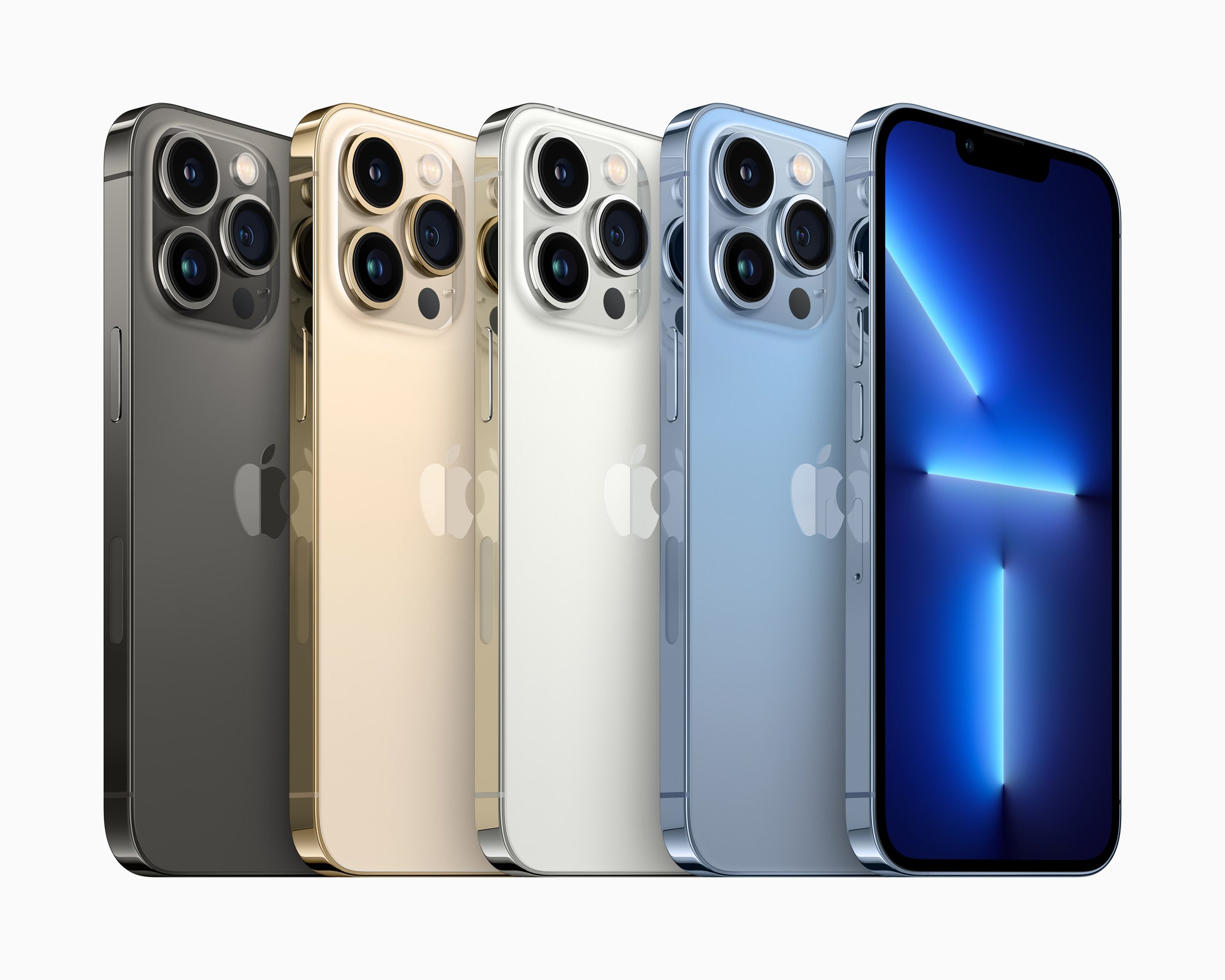 The iPhone 13 Pro and iPhone 13 Pro Max are Apple's new flagship, "best-in-class" models. And they'll likely be the iPhones most enticing for photographers, videographers, and multimedia content creators. The two Pro models feature updated three-camera arrays and processors (A15 Bionic chip), as well as impressive computational photography and video features. Additionally, there's a 1TB storage option for both Pro models, an iPhone first. The standard iPhone 13 models max out at 512GB.
The cameras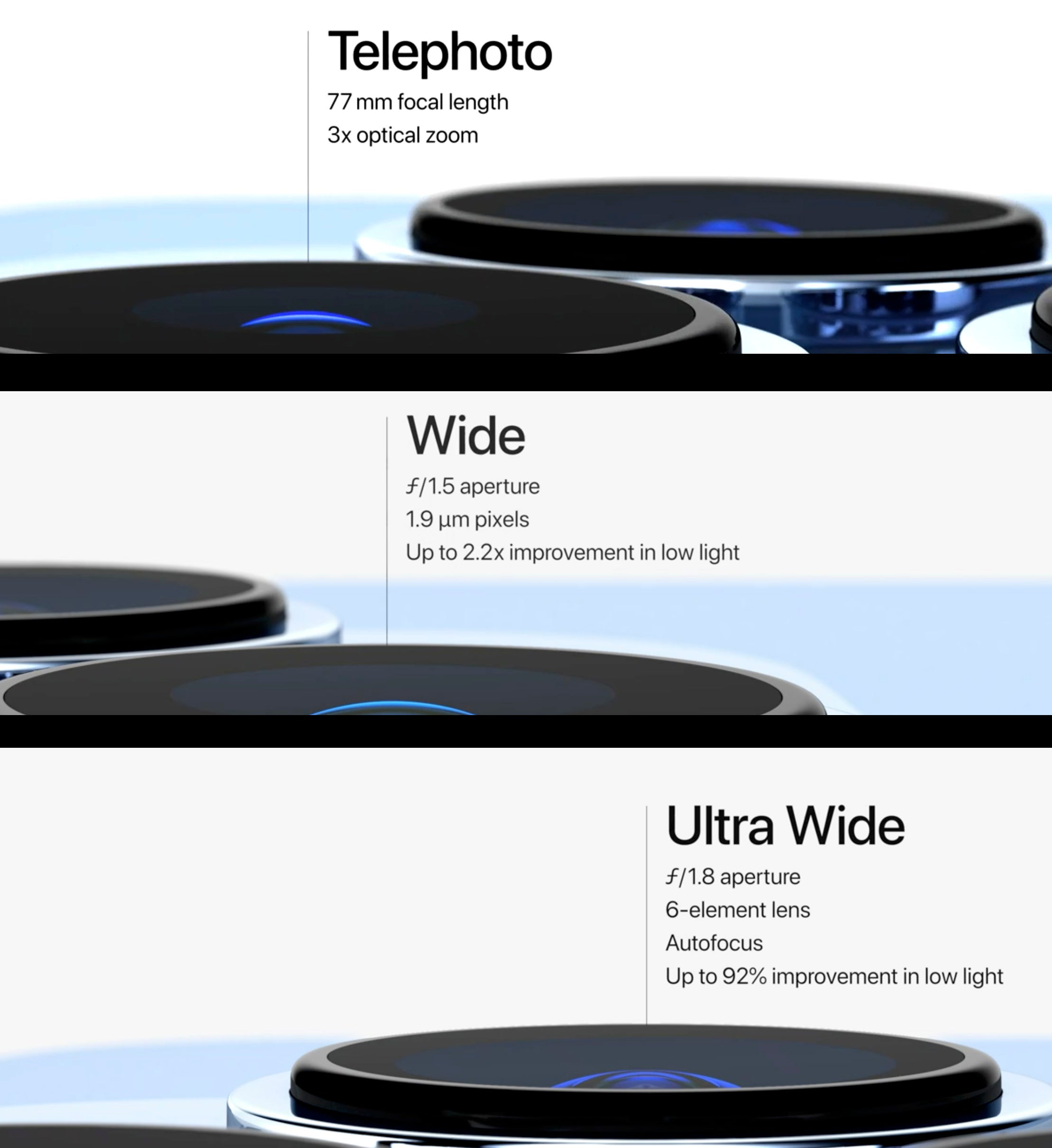 Probably the biggest upgrade, however, is in the rear-facing camera. The module boasts three 12-megapixel cameras and three rear-facing lenses: a telephoto lens (77mm equiv.) that allows for up to 3x optical zoom, an f/1.5 aperture wide-angle lens (26mm equiv.), and an f/1.8 aperture ultra-wide-angle lens (13mm equiv.). The wide-angle setup should see image quality improvements thanks to larger pixels, compared to last year's Pro models. And the ultra-wide lens now sports an f/1.8 maximum aperture, a full stop faster than that of its predecessor. All this should translate to better low light image quality.
The 12-megapixel front-facing camera taps the company's TrueDepth tech, which is what enables features like FaceID to unlock the handset. 
The display
The screens—6.7 inches on the Pro Max and 6.1 on the Pro—similarly feature top-tier display tech. Both have Super Retina XDR displays with up to 1,000 nits of brightness and a feature called ProMotion, which is an adaptive tech made to handle high refresh rates up to 120hz. 
Other features
The new phones include other cool new features as well. Photographic Styles, for instance, allows users to make custom filters that can then be applied in real-time when using the camera app. And although it won't be available for the launch, both the Pro models will be able to capture video in Apple's ProRes capture format, which is 4K resolution at up to 60fps; Dolby Vision HDR is also on board.
Price
The pricing is the same as previous generation phones: $999 for the iPhone 13 Pro and $1,099 for the iPhone 13 Pro Max (128GB models).
iPhone 13 & 13 mini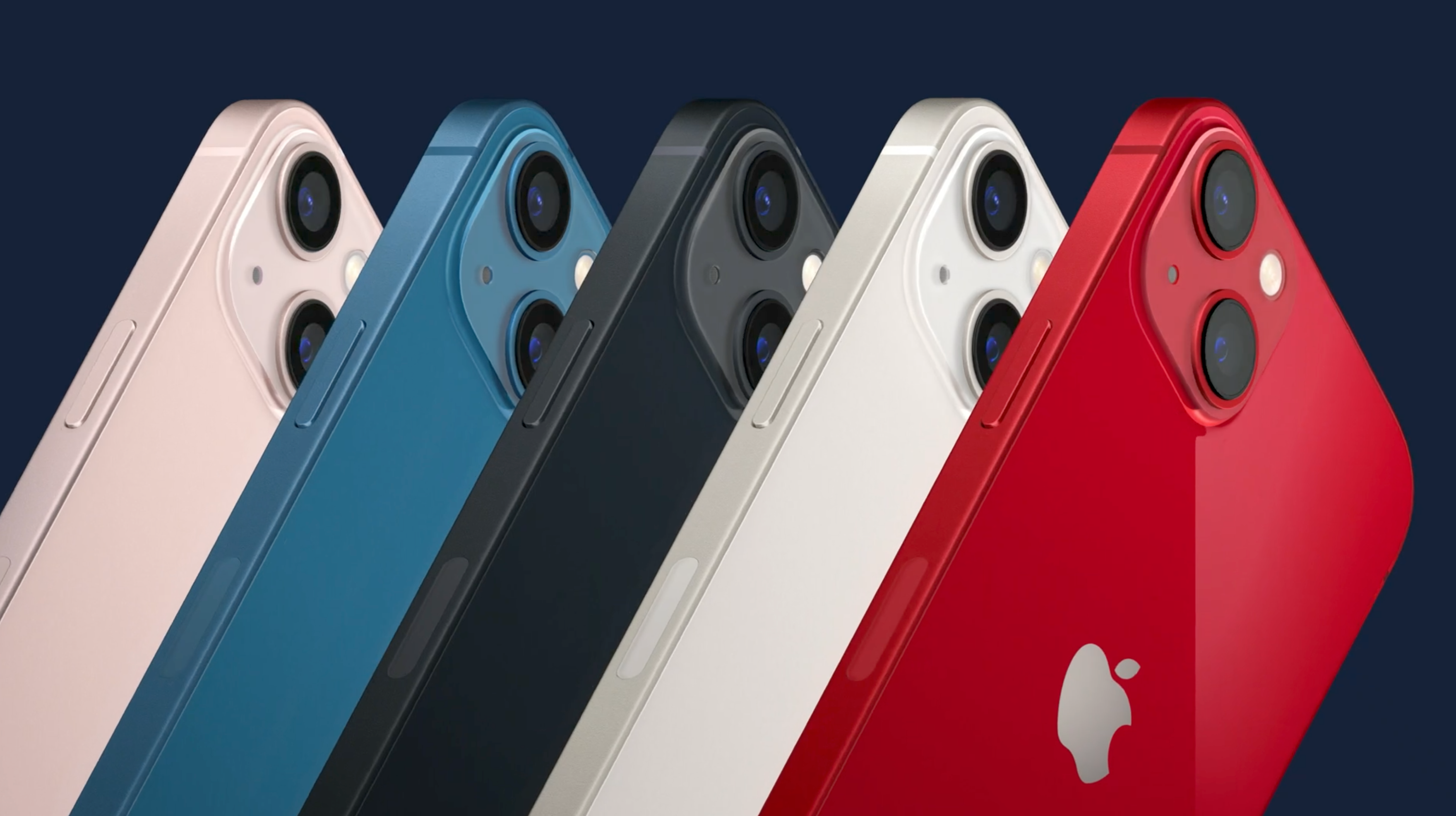 Apple also introduced two additional models, the iPhone 13 and iPhone 13 mini. These models are more affordable than the "Pro" options and intended for a more casual smartphone user, though they still make use of the new A15 Bionic chip. Like their Pro siblings, they also received impactful updates to their rear-facing cameras.
The cameras
The updated module includes twin 12-megapixel cameras configured diagonally from one another, a departure from the iPhone 12 and 12 Mini's stacked layout.
The primary wide-angle camera/lens combo sports an f/1.6 lens and a 26mm equiv. focal length. The big news here is larger pixels, which Apple says can capture 47% more light compared to last year's model. The wide-angle module also inherits the same sensor-shift image stabilization first seen in the iPhone 12 Pro Max. Those larger pixels, plus image stabilization, should result in improved image quality, espeically in low-light shooting conditions. The ultra-wide camera has an f/2.4 aperture and 13mm equiv. lens. And the front-facing camera is the same 12-megapixel TrueDepth setup as the Pro models.
You can capture 4K video at 60 fps from either rear-facing camera, with support for Dolby Vision HDR Video. Night Mode also works with both cameras.
The display
Both models have Super Retina XDR displays, with the iPhone 13 measuring 6.1 inches and the iPhone 13 measuring 5.4 inches. The brightness has been increased 800 nits, up from 600 nits on the iPhone 12 and 12 Mini. And the "notch" at the top of the screen has seen a reduction in size.


Price
Apple says the new models now have battery life, too: For instance, the iPhone 13 will last 2.5 hours longer than the iPhone 12. Again, pricing is the same as the previous generation of models. $699 for the iPhone 13 mini and $799 for the iPhone 13 (128GB models).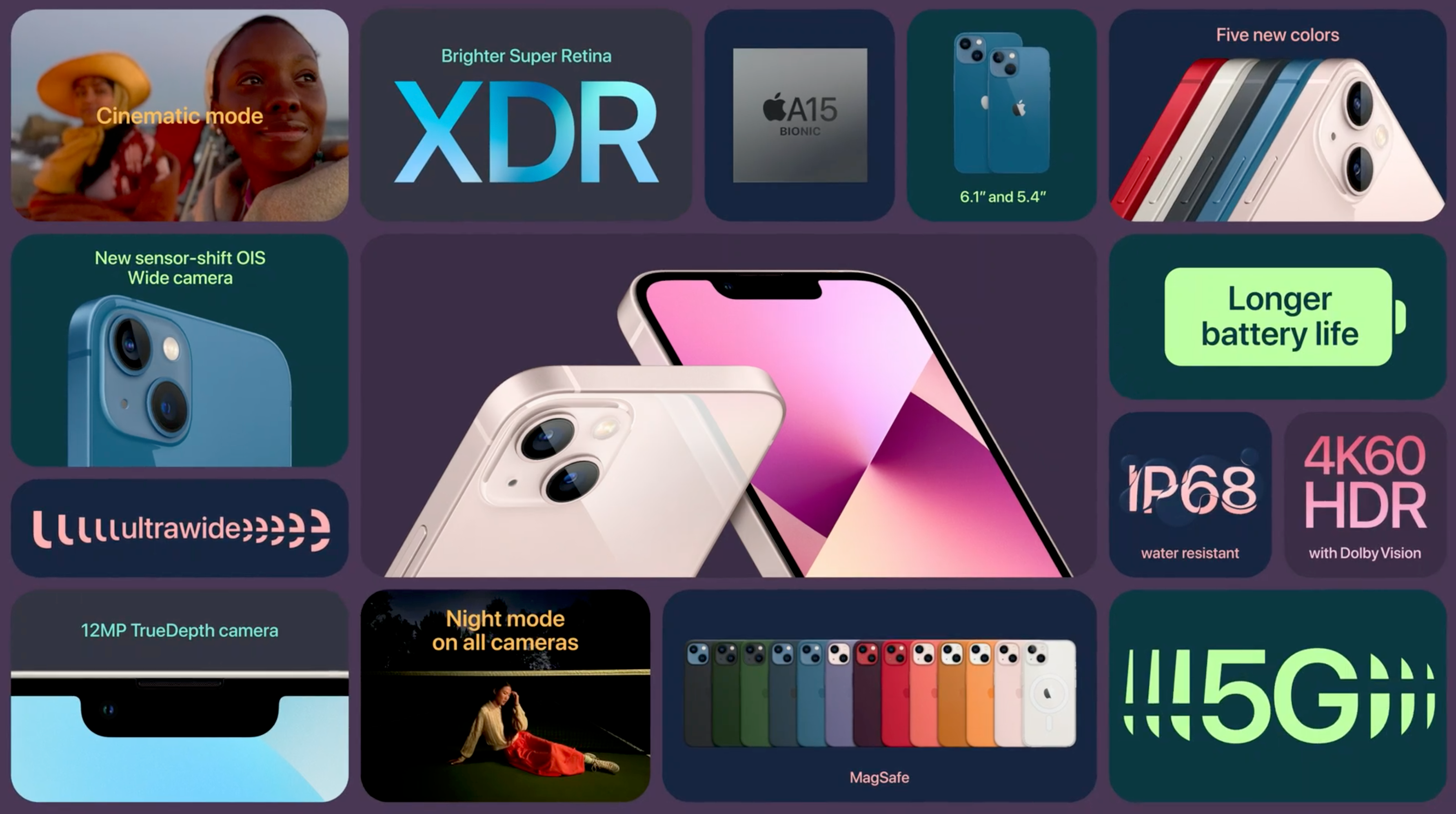 Cinematic mode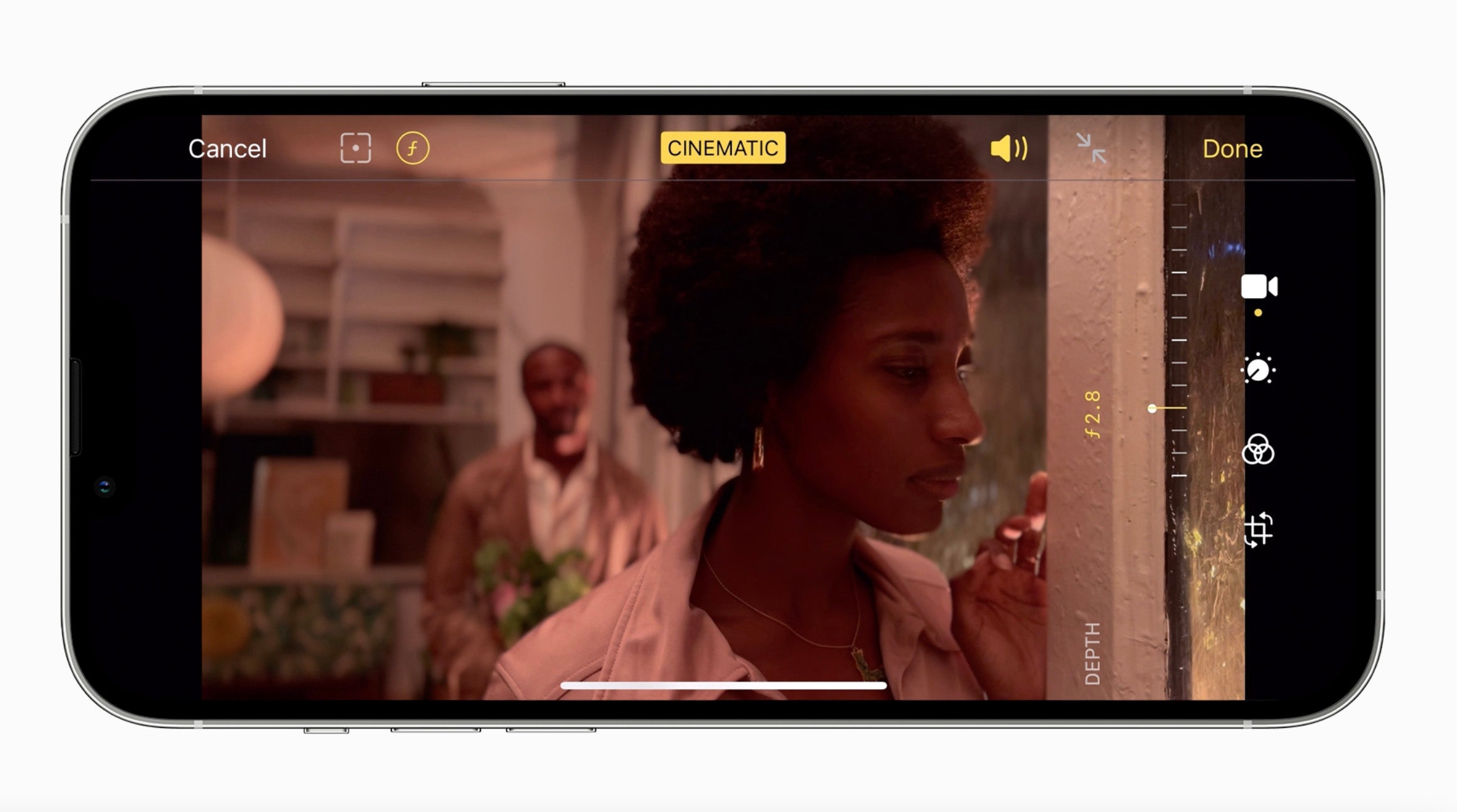 There are some impressive features on all the new phones, but Cinematic Mode is one that really shows off the power of computational photography. The feature replicates what's known in the film industry as "rack focusing", a technique in which the camera operator changes or "pulls" focus from one subject to another while the camera is rolling. 
When using the new Cinematic mode, the phone decides when to pull focus, on its own, based on machine learning. Apple engineers studied the techniques of professional cinematographers and applied that knowledge to this mode. Even better, users can change when and where a focus rack occurs, after the fact, just in case you don't care for the device's photo directing chops.
The phone uses depth mapping to track subjects and figure out what gets blurred and what doesn't. One important note, though, Cinematic Mode only works when shooting 1080/30p video.
New iPad and iPad mini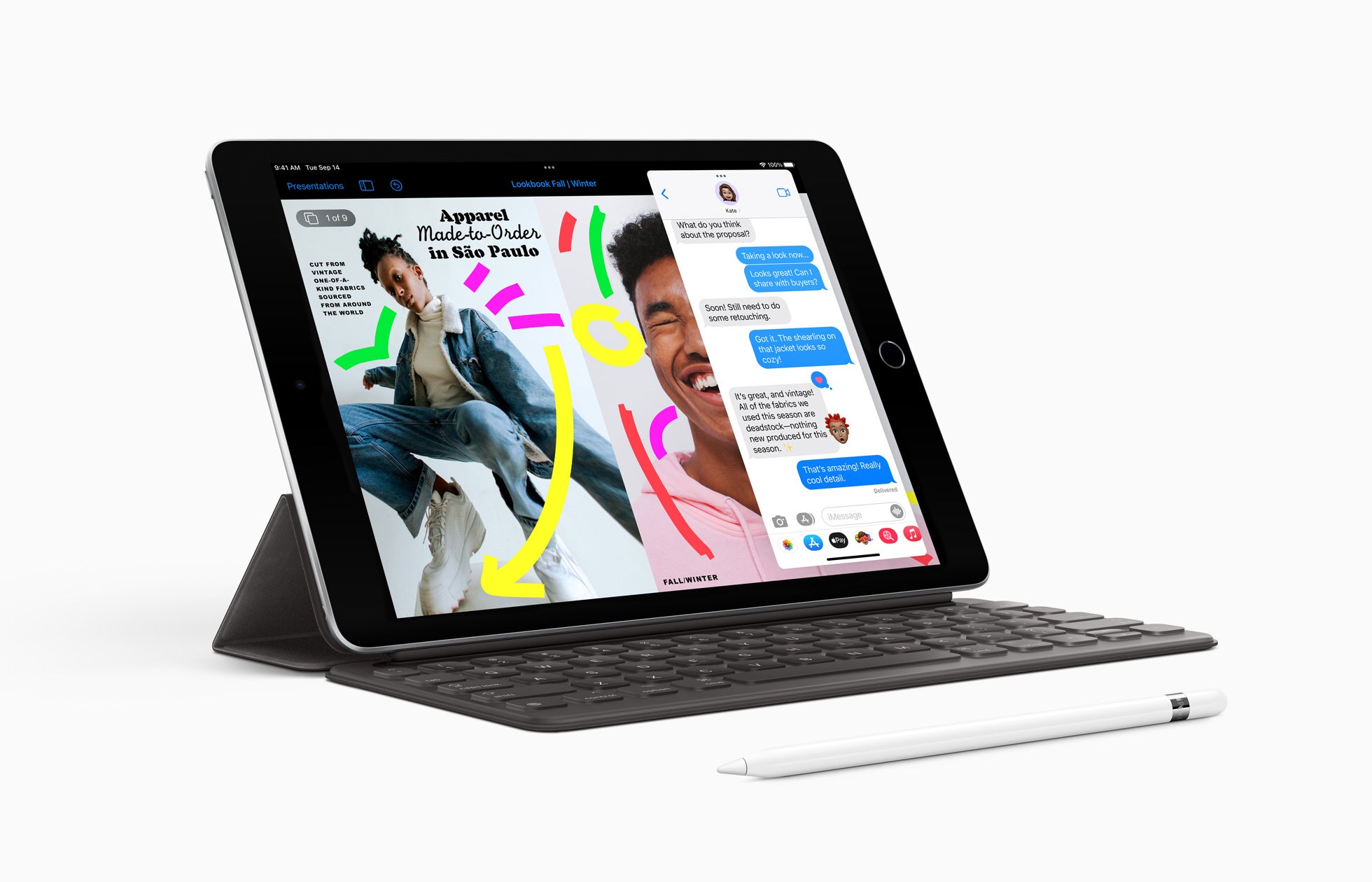 Apple also updated two tablets—the iPad and the iPad mini.
Ninth-generation iPad 
The new ninth-generation iPad, the larger of the two tablets introduced, sports an updated A13 Bionic chip, which should allow the tablet to run 20% faster than its predecessor, with a faster CPU, GPU and neural engine. The company also noted that creative apps, like Adobe Fresco, will experience a jump in performance.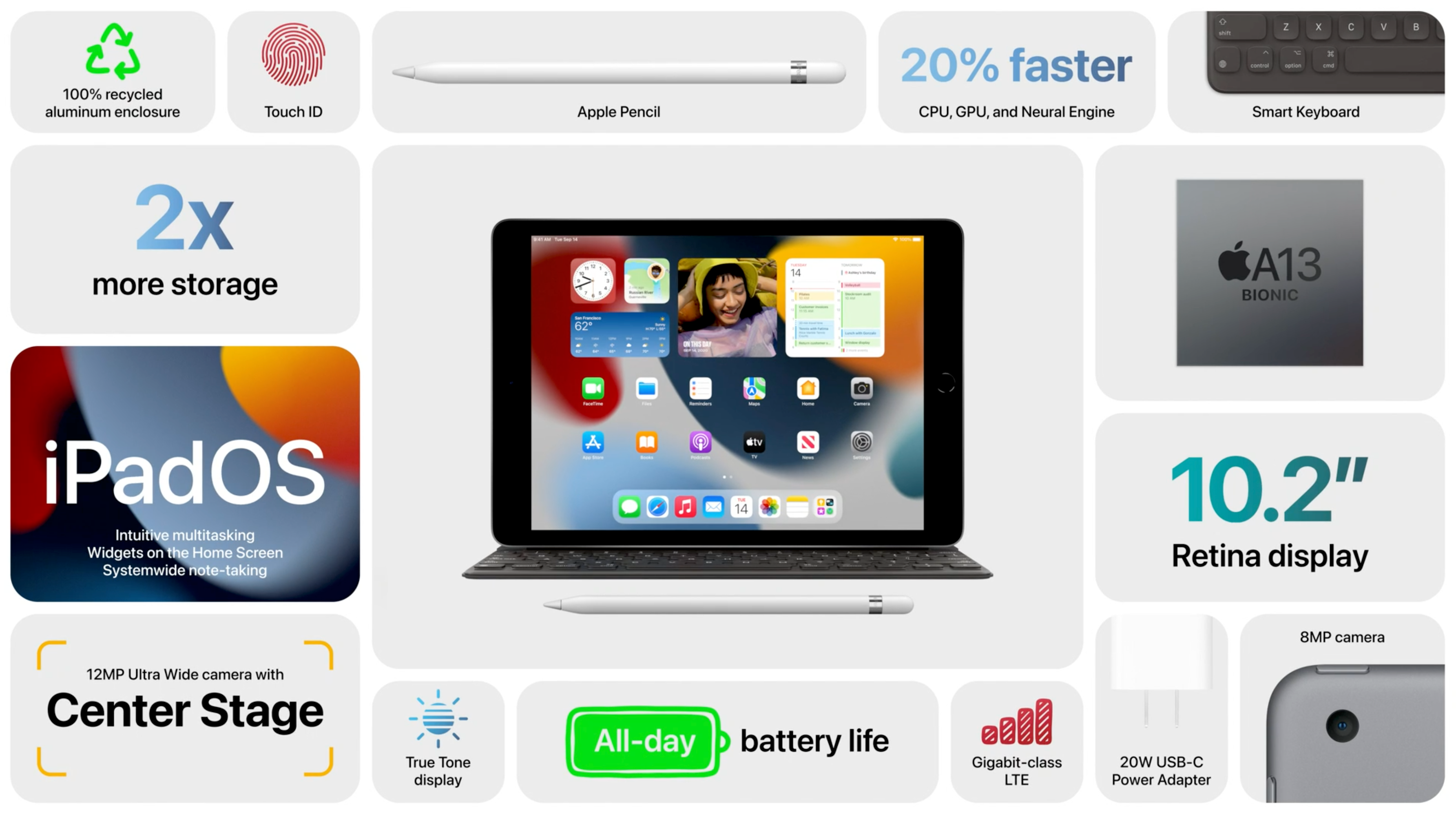 Apple also improved the front camera on the iPad, which now has a 12-megapixel sensor and wide-angle lens. The tablet also includes new features like Center Stage, which was first introduced on the more expensive and feature-rich iPad Pro. Center Stage is a camera feature that automatically detects people in the frame, and then moves or adjusts that frame accordingly. Apple says that it not only works in video chat apps, like Facetime and Zoom, but other apps, like Doubletake and TikTok. 
The iPad will also have a True Tone display feature, which changes with the color temperature of a room. And it's still compatible with many previous accessories. The new iPad will ship with iPadOS 15 installed. Pricing starts at $329 for a 64GB (for Wi-Fi, or non-cellular model), and comes in two colors: silver or space gray.
New iPad mini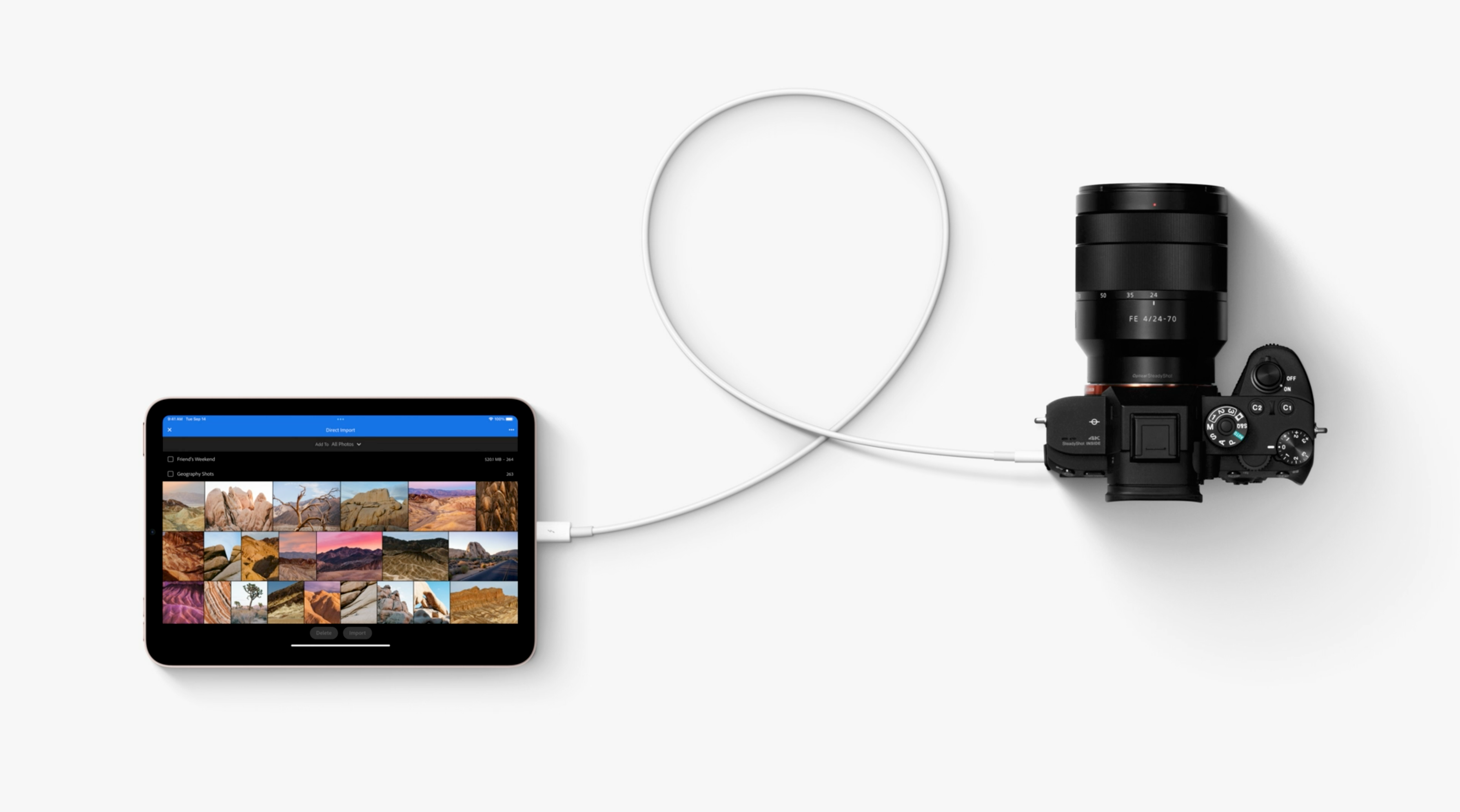 For the iPad mini, Tim Cook said the company was giving "the littlest iPad its biggest upgrade ever." Available in four different colors, the new model has been redesigned with an 8.3-inch Retina display and a new USB-C port. It will also have 5G cellular capability. Additionally, it has a new location for the Touch ID button and a dramatic increase in performance: Apple said that the new mini has a 40% jump in CPU performance and 80% increase in GPU performance over its predecessor. The new iPad mini starts at $499.