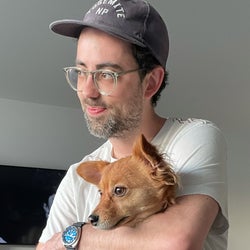 Dan Bracaglia is the News & Features Editor at PopPhoto, where he oversees a talented team of freelance writers and photographers covering everything from computational smartphone photography to shooting with film cameras on a budget. He's been writing about photography and camera technology since 2009 and previously spent nearly seven years as an editor at Digital Photography Review. Dan currently resides in Seattle, Washington, with his dog Belvedere and enjoys walking in the rain, biking in the rain, and other rain-based activities. He can't wait to get back to photographing live music, indoors (i.e. out of the rain) with cheap plastic film cameras.
Highlights
Photographer, editor, and writer with a passion for connecting with other image-makers, a fascination with the technology behind modern cameras, and a love for anything hands-on, especially film photography

Owner of too many cameras

Past bylines include:

AmericanPHOTO, Digital Photography Review, Popular Science, Sound and Vision, The Star Ledger
Experience
Dan began his career at PopPhoto as an intern in 2009 and joined the editorial team full-time in 2010 as the Assistant Web Editor after graduating from Rutgers University. He later served in a variety of roles, most notably Associate Technology Editor, before leaving PopPhoto in 2014—along with his favorite place in the world, New York City— to join the editorial team at Digital Photography Review in Seattle. There he worked in a number of editorial roles, most notably Camera Reviewer and Photo Editor.
In September 2021, Dan was thrilled to rejoin PopPhoto as News & Features Editor, with the mission of leading a full editorial relaunch of the brand, which had been mostly dormant since 2017. Over the course of 12 years, Dan's used and assessed the majority of digital cameras that have come to market but still finds shooting film more fun. He's a regular guest on a variety of photography-themed podcasts and actively publishes his own photography zines. In 2015 Dan founded Northwest Sound Exchange, a DIY publication and organization dedicated to providing visual coverage of Seattle's underground music community while fostering a learning environment for budding photographers curious about the craft.
Education
Dan graduated from Rutgers University with departmental honors in 2010 with a degree in Journalism and Media Studies. He served as Photo Editor, Multimedia, and Editor-in-Chief of the independent daily college newspaper The Daily Targum. In 2009, the staff of the paper—under Dan's editorial leadership— was awarded "Best in Show" by the Associated Collegiate Press (for four-year college dailies) for their coverage of the 2008 presidential elections.
Favorite photography subject
Sports, action, live music—and just about anything that moves fast—interests me as a photographer. I also thoroughly enjoy exploring new places through street photography.
Get latest from Dan Bracaglia