| | | | | | |
| --- | --- | --- | --- | --- | --- |
| Best for instant shots | | Fujifilm Instax Mini 11 instant camera | | SEE IT | Simple controls and cool instant prints make this one of the most fun cameras around. |
| Runner-up | | Nikon COOLPIX W150 | | SEE IT | It's cheap enough that it won't hurt too badly if it gets smashed or lost. |
| Best action | | GoPro HD Hero8 Black | | SEE IT | Abundant mounts and accessories give the GoPro tons of flexibility. |
Updated Jun 21, 2023 5:45 PM
We may earn revenue from the products available on this page and participate in affiliate programs. Learn more ›
If you're thinking of buying a camera for kids, you might be tempted to buy them a smartphone instead. After all, smartphones can do more than one task, and it is what most people use for photos these days. But unfortunately, smartphones are expensive and yet easy to break. On the other hand, cameras can be sturdier and quite a bit cheaper than a smartphone, depending on the model you choose. A phone's multifunctional and interconnected aspects can be a double-edged sword with kids and can lead to problems or even dangerous situations. A dedicated camera will not have the same challenges, meaning you can relax some when handing your child a camera. Lastly, certain dedicated cameras will be able to provide better quality and features than a phone. If you have a budding creative, a camera could give them more control and flexibility over their images and spark a lifelong interest in the medium. Here are our recommendations for the best cameras for kids:
How we picked the best cameras for kids
The writers and editors at Popular Photography have combined decades of experience in the photography and camera world. To select the best cameras for kids, we identified models that would address the specific needs for kids of various ages. We have selected an assortment of cameras that provide an easy starting point for those just learning. But, at the same time, these cameras produce high enough image quality (and often manual control options) that will grow with them as they get older and improve their skills.
We also put an emphasis on durability. Kids are tough on gadgets and a broken camera can't make great pictures. So, we picked models that will likely stand up to the abuse that comes from kid usage. Lastly, we suggested models that aren't overly expensive. Some certainly still aren't cheap, but they also aren't going to come anywhere close to a pricy pro offering.
The best cameras for kids: Reviews & Recommendations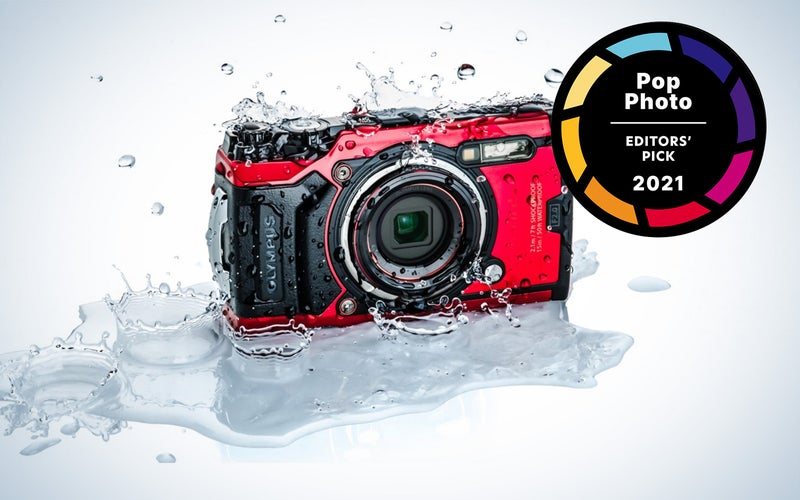 Why it made the cut: This camera is a win-win for most families. Kids can take it swimming with them, while parents know it won't break, and parents can flex their photography skills with full manual mode and RAW shooting.
Key features
Type: Compact 
Sensor: 1/2.3in CMOS image sensor
Megapixels: 12 megapixels 
LCD: 3 inch 
Video resolution: 4K
Pros:
Sturdy and waterproof
Built-in GPS mode for geotagging your photos
Can capture 4K video
Can capture RAW files
Cons:
A little heavy for a point-and-shoot camera
Expensive for a point-and-shoot
This Olympus point-and-shoot, the latest of its Tough series of cameras, lives up to the name. It is waterproof to 50 feet without the need for separate underwater housing. It's shockproof and able to withstand drops from a height of 7 feet. And the TG-6 has a specially designed exterior to make it dustproof and freezeproof (to temperatures as cold as 14 degrees F) and crushproof up to 220 pounds lbf.
The Tough TG-6 not only stands up to being dropped into the toilet or onto a concrete sidewalk. It excels at capturing underwater photos and video clips, too. It has several shooting modes designed for underwater photography, including a high dynamic range mode and an underwater macro mode. You can even attach converter lenses to expand your photography options underwater, including a fisheye-converter lens and adapter.
It has only a 4x optical zoom lens (25mm-100mm equivalent zoom range), but the aperture at the wide end of the zoom is f/2.0, making it useful in low-light conditions. It can also shoot 4K/30p resolution video and capture RAW files (in addition to JPEGs) for those who want higher quality and more control. This makes it one of the best cameras for kids.
Why it made the cut: Nikon's Coolpix W150 is ideal for those looking for a rugged point-and-shoot geared towards kids.
Key features
Type: Compact 
Sensor: 1/ 3.1 inches CMOS image sensor 
Megapixels: 13.2 megapixels
LCD: 2.7 inch
Video resolution: 1080 at 30p (full HD)
Pros:
Rugged build
Comes in different colors and designs
Can connect with other devices via built-in Wi-Fi and Bluetooth 
Cons:
Image quality is not as high as other point-and-shoots
This rugged-and-waterproof point-and-shoot is specifically designed for younger photographers and underwater photography. Its "Shoot Under Water" setting is an auto shooting mode intended to capture photos underwater. And the "Underwater Face Framing" setting automatically detects faces below the surface, making it easy for young kids to get quality photos. You can also use the "Add Clarity Under Water" editing function on the camera that corrects overly blue hues and adds clarity to underwater images. The controls are also kid-friendly (as well as adult and senior-friendly) due to the large buttons and easy-to-read interface.
The camera does a decent job shooting photos and video on land, as well. It comes with 18 different shooting modes that let you change your style to compliment your subject. It also comes with many in-camera effects, frames, and stickers to make your child's images fun and attractive. For example, add the "Little Planet" effect to make a landscape look like a small planet or "Picture-in-picture" to make your images appear as if they were taken on an instant camera and then placed in front of the background of another picture.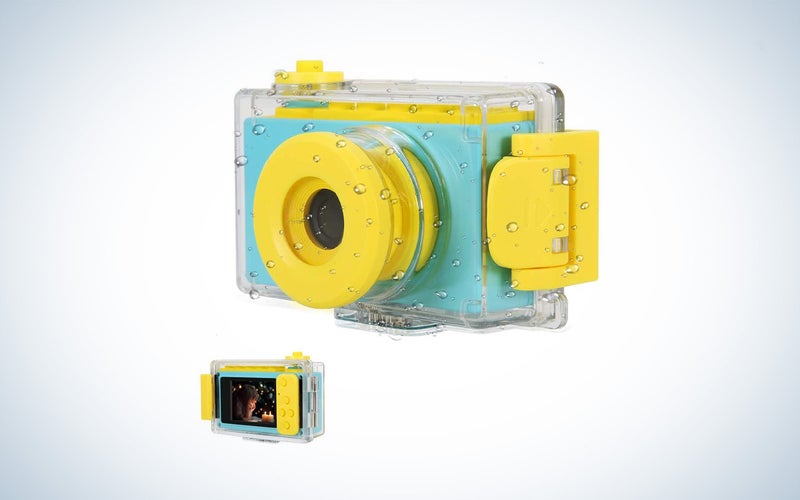 Why it made the cut: The myFirst Camera 2 is a fun, easy-to-use camera for kids between six and twelve years old. 
Key features
Type: Compact
Sensor: Not stated
Megapixels: 8 megapixels
LCD: 2 inch
Video resolution: 320×240 pixels
Pros:
Compatible with microSD cards
Fun design in two colors
Comes with durable waterproof housing
Cons:
myFirst Camera makes a range of cameras for young kids, but this model comes with a rugged, waterproof case, making it usable up to ten feet underwater or on land. It has a fun, colorful design with large buttons, making it easy to use, even for little hands still building dexterity. It also comes with a 16GB microSD so that your child can start shooting right away.
The myFirst Camera 2 has an 8-megapixel sensor, can shoot 30 fps, and has face recognition autofocus. It also features plenty of built-in filters and frames, allowing your younger child to express their creativity fully.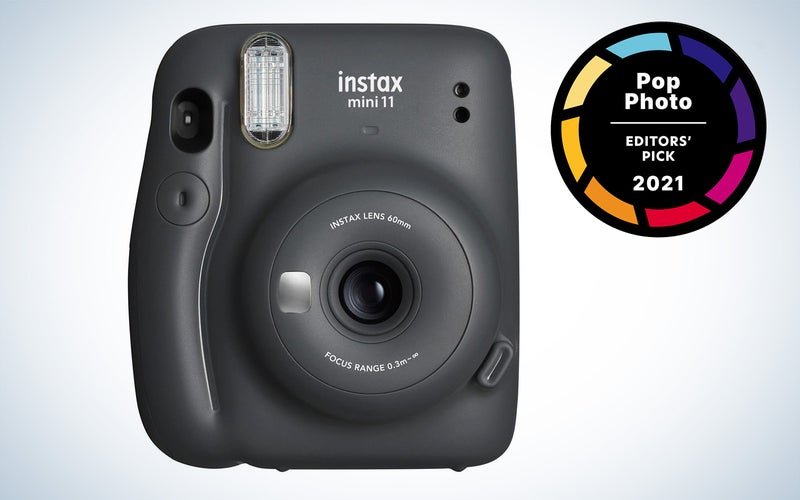 Why it made the cut: Fujifilm Instax cameras are among the most accessible cameras for a child to use. They're also fun for adults! 
Key features
Type: Instant film camera 
Instant film type: Fujifilm Instax Mini instant film 
Film size: 2.1 × 3.4 inches
Image size: 1.8 × 2.4 inches
Pros:
Easy to use 
Instant, physical result
Runs on two AA batteries
Available in fun colors
Film is available with different borders
Cons:
Image quality is variable
Instant cameras continue to be popular because they are very approachable–both in price and difficulty of use–no matter the age. With instant cameras, you can quickly and easily shoot and get a real, physical photo instantly. The camera is available in various colors, and the film also comes with lots of options for fun borders.
This model isn't all that different from past versions of the Fujifilm Instax cameras, though it does come with a selfie setting and a mirror on the front to assist. Unfortunately, it does not include a display or LCD to compose your images, so if you're shooting a selfie, you won't be able to see how you're framing it; you'll just have to guess.
The Fujifilm Instax Mini 11 is very simple to use, with full auto exposure and easy to load film. It's a camera ideal for children, even as young as four or five.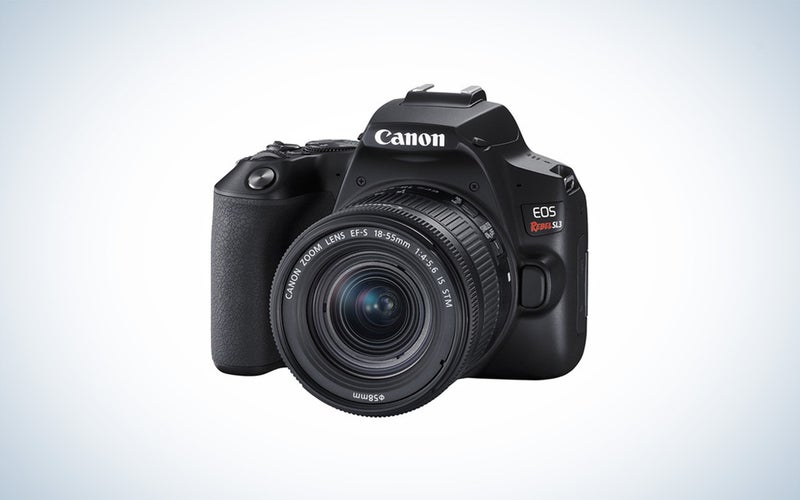 Why it made the cut: The Canon EOS Rebel SL3 is a DSLR that's ideal for an older child who wants to learn about the fundamentals of photography.
Key features
Type: DSLR
Sensor: APS-C CMOS image sensor 
Megapixels: 24.1 megapixels
Lens mount: Canon EF/EF-S lens mount
LCD:  3.0-inch vari-angle touchscreen 
Video resolution: 4K at 24p
Pros:
Small for a DSLR
Easy to use
Swiveling touchscreen LCD
High-quality viewfinder
Cons:
4K video tops out at 24 frames per second
Autofocus could be more advanced
A common complaint that some photographers have when they've decided to switch to using a DSLR is that the interchangeable-lens camera is generally much larger and heavier than a point-and-shoot or a mobile device. That's why Canon built the compact and lightweight EOS SL-series of Rebel DSLR camera bodies. It allows young or beginner photographers to use Canon's extensive DSLR system of compatible lenses and other accessories without weighing them down. 
Like many DSLRs and mirrorless cameras, the Canon EOS SL3 is jam-packed with features. It uses its powerful and accurate Dual Pixel CMOS AF, which can also detect eyes using Eye Detection AF. It also has several assist modes that can help your older child quickly learn about settings, including Creative Assist, Feature Assistant, and Shooting Mode guide. 
What's also nice is that the kit lens that comes with this Canon Rebel has an optical image stabilizer built into the lens, which can help you catch sharper images in challenging lighting scenarios, like low light. However, should you want something beyond the kit lens, its Canon EF mount makes it compatible with a ton of older lenses, many of which can be very affordable, so options grow as their skills progress.
Best mirrorless for (older) kids: Nikon Z50
Why it made the cut: Mirrorless cameras are the way the camera industry is headed. The Nikon Z50 is an ideal photography introduction for teens that will allow them to grow with the camera and camera system.
Key features
Type: Mirrorless camera 
Sensor: APS-C CMOS image sensor
Megapixels: 20.9 megapixels 
Lens mount: Nikon Z lens mount 
LCD: 3.2-inch swiveling touchscreen LCD
Video resolution:  4K at 30 fps
Pros:
Small and compact 
Easy to use
High-quality electronic viewfinder
Excellent image and video quality
Cons:
No in-body image stabilization
Like the Canon EOS SL3, the Nikon Z50 is an interchangeable-lens camera. However, it's not a DSLR. Instead, this Z-series Nikon is part of the mirrorless camera line. It is Nikon's first Z-series mirrorless model with a "DX-format," which uses an APS-C-sized image sensor (instead of the larger full-frame image sensor). The cropped sensor is more affordable and thus ideal for beginners or teenagers alike.  
The Nikon Z50 comes with many powerful features, including a wide ISO sensitivity range from ISO 100 to ISO 51,200, which can help shoot in low light. It has a built-in pop-up flash, Wi-Fi and Bluetooth features for easily transferring images to a phone, and a large 3.2-inch swiveling touchscreen LCD. It's fast, too, allowing you to fire off photos at up to 11 frames per second in burst mode. It comes with a very sharp electronic viewfinder, with 2.3-million dots. And you have access to creative filters with 20 different controls and effects for video.
Like the Canon EOS SL3 kit, this Nikon comes with Nikon's Nikkor Z DX 16-50mm f/3.5-6.3 VR zoom kit lens, which includes an image stabilizer for better quality still photos. Of course, should you want a different lens for your child, you can always purchase the camera body and desired lens separately.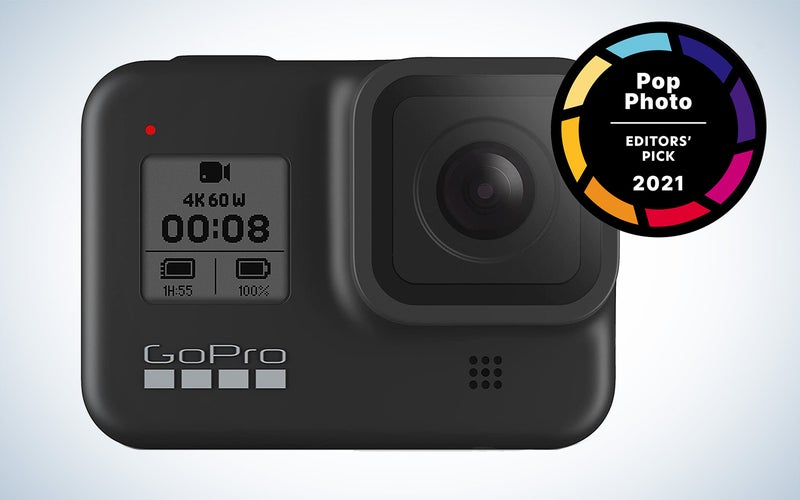 Why it made the cut: Because it is older than more current GoPro models, you can get a great deal on this still very capable action cam.
Key features
Type: Action cam 
Sensor: 1/ 2.3 inches CMOS image sensor
Megapixels: 12 megapixels
LCD: Approximately 2-inch touchscreen display 
Video resolution: 4K at 60 fps
Pros:
Very lightweight and compact
Easy to use 
Compatible with many useful accessories  
Good for video, photos, and timelapse
Cons:
Fewer physical controls than those found on digital cameras 
Lacks an optical zoom lens
Action cams are great for those who like to participate in outdoor sports and activities such as biking, skateboarding, or snowboarding and want the ability to capture hands-free footage. GoPro has long been the leader in such cameras. Earlier GoPro models used to lack some features, like a touchscreen LCD or image stabilization. But more recent models, including the Hero 8, include these two features.
The Hero 8 comes with some cutting-edge audio technology, such as GoPro voice commands, which can be helpful if you have your GoPro mounted on your helmet or another hard-to-access spot. With the voice commands feature, you can simply utter one of several commands, such as "GoPro Start Recording," and the GoPro will carry out that operation.
The GoPro Hero 8 also has an extremely rugged exterior design that can withstand even the roughest use. For example, you can take it underwater to a depth of 33 feet without any extra housing. Plus, it comes with high dynamic range features to improve your still photos.
A huge arsenal of GoPro accessories and mounts adds versatility. Even the smallest child can get some cool POV shots while running around on the playground wearing a chest-mounted GoPro making this camera our pick for the best action camera for kids.
When buying the best cameras for kids, ask yourself some of the following questions:  
Step 1: How old is your child?
Here's a rough guide by age for the type of camera your child might want:
Age 3-6: For preschool to kindergarten-aged kids, you'll want a camera with simple controls, an easy-to-hold body, and a rugged build to stand up to the inevitable drops and potential for getting left out in the rain.
Age 7-12: A rugged and waterproof point-and-shoot is ideal for younger kids since they're designed to withstand being dropped on the ground or in the pool. Something with a few more controls can keep the camera entertaining as well.
Ages 13 and up: If your kids are interested in photography or just want to shoot better images, a DSLR or mirrorless camera can make a great gift.
Best cameras for kids of all ages: Action cams, instant print cameras, and disposable cameras make great gifts for both young and old kids.           
Step 2: How interested is your child in photography?
Is your child interested in photography or looking to shoot higher-quality photos or videos? Do they already know some of the basics? If you think your kids might be interested in really learning about photography fundamentals and developing their skills, consider buying either a DSLR or mirrorless camera.
Step 3: Are there particular features that might be important to your child?
Cameras come with a wide assortment of features. Ask your child what features might be important to them. Here are some things to consider:
Underwater photos and video: Rugged point-and-shoots stand up to kids' rough and tumble action, but you can also capture fun pictures and video underwater with them.
Optical zoom: Most point-and-shoots have between a 3x and 5x optical zoom. But some have longer ranges, as much as 50x or 60x or greater, which are great for photographing sports or wildlife. And the Nikon Coolpix P1000 has such a long zoom that it can capture photos of the moon's craters! However, rugged cameras generally have no more than 5x optical zoom, so you'll need to decide which is more important.
Swiveling LCD: A camera with a swiveling display is not only helpful when shooting selfies but is excellent for composing hard-to-reach shots.
Capturing video: If your child wants to capture good quality video, you'll want to pay attention to video specs such as frame rate and resolution. A DSLR or mirrorless camera will give you the best quality, though they are for more advanced kids. An action cam can be a good choice for quality and durability and also provides the option for point-of-view videos like skateboarding.
Trying new lenses: If you think your child would like to experiment with different types of lenses for different photographic effects, you'll want to buy either a DSLR or mirrorless camera since they allow you to change out lenses, unlike point-and-shoot cameras.
Not interested in shooting digital: If your child isn't interested in capturing digital photos, consider an instant film camera or even a disposable film camera.
FAQs
Q: What should I look for in a kids' camera?
While there is no one-size-fits-all option, there are a handful of specific features you should look for in a kids' camera no matter what. Since kids tend to be hard on things, a rugged camera that can stand up to being dropped is important. Something easy to hold and use is also likely important. Finally, if you have a budding photographer on your hands, finding a slightly more advanced camera, within reason, will give them a challenge and let them learn more about the medium.
Q: What is the best camera for a 6-year-old?
The best camera for kids that are 6-years-old depends on the child, but in general, the myFirst Camera 2 is best for that age. It ticks the boxes for young grade-schoolers with a rugged design, waterproof capability, easy-to-push buttons, and plenty of creative features. 
Q: Is a GoPro kid-friendly?
GoPros are one of the best cameras for kids. They are highly durable, especially newer models, so you don't have to worry about your kids dropping them from the top of the playground. They are very small, making them ideal for throwing in a bag and bringing on family trips, and small hands can easily operate them. And they are also easy to use and act as a point-and-shoot option. The downside is that they are a bit pricey for something to hand to your child, but as long as it doesn't get lost, it should stand up to almost anything they throw at it.

A final word on shopping for the best cameras for kids
Finding the best cameras for kids depends on your child and how the camera may get used. If you designate the camera for your kid's use, something specifically designed for that age is best. However, if it will be more of a family camera that you plan to take pictures and video with as well, you will find something like the OLYMPUS Tough TG-6 or Coolpix W150 more suitable.