Best waterproof cameras in 2022
These waterproof cameras will help you capture epic images at the beach, lake, or pool.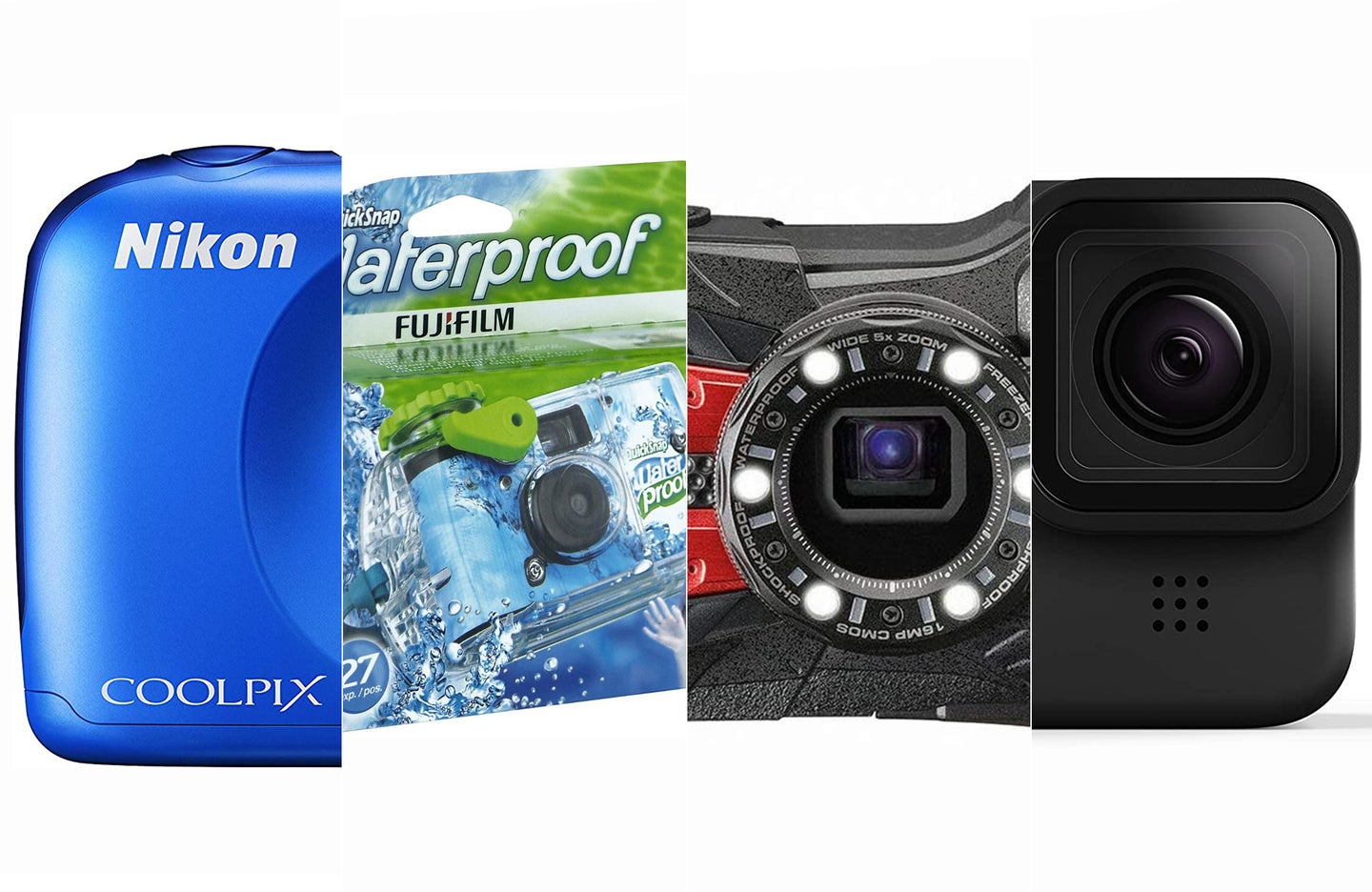 We may earn revenue from the products available on this page and participate in affiliate programs.
Waterproof cameras are typically compact and incredibly rugged—making them an excellent choice for capturing memories in the great outdoors without any stress or worry. Although most DSLRs and mirrorless cameras have some level of weatherproofing, and smartphones have gotten much better at standing up to a bit of moisture, none of these cameras are truly waterproof. So if you're looking to capture underwater images or shooting in a location where you and your gear are likely to get wet, a dedicated waterproof camera is the way to go. Whether your travels take you to the beach, the lake, or even a weekend on the slopes, the cameras in this buying guide are appropriate and fit a wide variety of budgets.
Things to consider before buying a waterproof camera
Everyone's underwater camera needs are a bit different. For example, someone planning to bring their camera to a day lounging poolside will likely be looking for something different from someone who plans to bring their camera along while scuba diving. Regardless of how you intend to use your waterproof camera, below are some key features you'll want to look for. Paying extra for the fanciest model won't always be your best bet since it could mean paying for features you won't need or use.
Where are you shooting and what are you trying to accomplish?
The first two things that you should ask yourself when shopping for a waterproof camera are what you want to achieve capture-wise and the type of location. If you are taking casual, fun photos for the sake of memories, a lower quality–and thus cheaper–camera may be plenty. But if you are trying to shoot production or museum-quality prints and video, something with higher-end specs and better optics will be necessary.
In terms of location, a bright sunny beach location will likely call for a different gear style than a deep underwater shoot that might happen in colder waters. If you are shooting during the winter months, you will also want to consider a camera that, in addition to being waterproof, is freezeproof.
How deep will you go?
Once you know the general use and location goals, you'll want to look at just how waterproof a camera is. Some cameras will be able to go deeper or withstand different water conditions than others. Manufacturers will provide waterproofing information in a few different ways.
Ingress Protection, or IP ratings, will indicate how much water and dust a piece of equipment can handle. IP ratings are written with the IP acronym first and then two numbers that range from zero to nine. The first number of an IP rating relates to solids (such as dust), which isn't a factor when underwater, so you may see an X in place of a number. The second number is protection against liquids. Zero means no protection, and nine means the gear can handle high-pressure hot water from different directions.
Some cameras may not specify an IP rating but will tell you how deep the camera can go. They may also specify the height it could survive if dropped, the lowest temperature it can handle, and the amount of pressure it can withstand. Temperature and pressure are the two other main ones to look at if you plan to dive with the camera, as both will change as you go deeper.
Consider video capabilities
Most modern-day cameras do a decent job at capturing both stills and video, but for many online content creators, video is what matters most. Looking at cameras that offer at least 4K video, stabilization, and good autofocus will help you find something best suited for your needs.
Over the last few years, action cam manufacturers have excelled at bringing top-of-the-line video specs into tiny camera bodies built to be abused and withstand the elements. If you are the kind of creator that needs a compact and easy-to-operate video camera that you can essentially set and forget, consider an action camera. The majority of action cameras have 4K video capabilities, built-in stabilization, and are small enough that they can be mounted or worn while causing minimal interference. These features make them a great choice for surfers, scuba divers, kayakers, or just beachgoers casually splashing around the surf.
Who will be using the camera?
If you're heading on a seaside adventure with the family, it's not a bad idea to bring along a waterproof camera that will appeal to your little ones. It's also a great way to start them making pictures young!
If you are looking for a kid-proof camera, consider ergonomics, ruggedness, and the fun factor. Look for something that can withstand drops and falls, has nice large buttons, and has an easy-to-use interface.
Kid-friendly underwater cameras will usually lack the image resolution and video chops of more professional-level underwater cameras, but they are also typically a more affordable option.
Consider your budget
Unfortunately, as image and video specs increase in a waterproof camera, so does the price. But if you don't need the highest resolution waterproof camera or one that can capture 4K stabilized video footage underwater, there are a few entry-level options to consider.
A lower-cost waterproof digital camera will likely only shoot HD video and lack features like in-body image stabilization. Plus, it will probably produce lower-res images than what you might be able to get with a top-of-the-line smartphone. But a waterproof specific camera will still be able to shoot when completely submerged underwater for extended periods, something your smartphone can't do.
Best waterproof camera overall: Olympus TG-6
Why it made the cut: The Olympus Tough TG-6 is a pocket-sized point and shoot that's waterproof, freezeproof, shockproof and crushproof. It's a perfect camera companion for capturing all your adventures.
Specs:
Photo resolution: 12MP
Video resolution: 4K 30p
Size: 4.45 x 2.6 x 1.28 inches
Weight: 8.92 ounces
Pros:
Very rugged
Good video quality
Compact
Cons:
Zoom controls could be better
Olympus built their TG-6 around a 12 megapixel 1 /2.3″ BSI-CMOS sensor and a 25-100mm equivalent lens. The TG-6 has five built-in underwater shooting modes, including macro mode and three different underwater white balance modes. These underwater white balance modes are based on depth and help produce vibrant, clear images despite the challenges of being surrounded by blue. In addition, it can shoot 4K video, supports RAW capture, and has a nice bright LCD screen that helps compose your shots underwater.
Beyond the shooting specs, this camera is impressively durable. It is waterproof up to 50 feet without additional protective housing, but when paired with a protective housing accessory, the camera becomes waterproof up to 147 feet. It's also freezeproof to 14°F, shockproof from up to 7 feet, and can withstand up to 220 lbf or pressure. Hands down, this is one of the best do-everything, durable waterproof cameras on the market.
Best waterproof action cam: GoPro HERO10
Why it made the cut: A new GP2 processing engine means the GoPro Hero 10 can shoot 4K video at 120fps with zero hiccups.
Specs:
Photo resolution: 23MP
Video resolution: 4K 120p
Size: 2.8 x 2.0 x 1.3 inches
Weight: 5.6 ounces
Pros:
Extremely durable
Great built-in stabilization
Excellent image and video quality
Cons:
Not great in low light conditions
If you crave underwater video coverage, consider the GoPro HERO10. This action camera is built around a new GP2 processing engine that can shoot 4K footage at 120fps, 23-megapixel RAW stills, and has refined image stabilization. It's waterproof up to 33 feet without protective housing, and when paired with a protective housing accessory, you can take it as deep as 196 feet.
The HERO10 also has cool built-in features like Hyperlapse and Timelapse modes, making creative footage easy. In addition, built-in WiFi allows for quick and easy sharing so that you can share right to your social media accounts on the go. It is an excellent choice if you are looking to capture high-quality, stabilized, underwater video footage with ease.
Why it made the cut: The round plastic body with large buttons and fun colors or prints makes the Coolpix W150 ideal for kids.
Specs:
Photo resolution: 13.2MP
Video resolution: HD 1080p 30 fps
Size: 4.31 x 2.64 x 1.5 inches
Weight: 6.24 ounces
Pros:
Nice ergonomics
Easy to Use
Fun look 
WiFi capabilities
32 foot depth rating
Cons:
The Nikon Coolpix W150 may have a playful look, but it's still highly rugged. It's waterproof-rated to IPX8 or up to 32 feet and shockproof to about 6 feet—meaning if it's in the hands of your little ones, you won't have to worry if it ends up getting dropped. It can even function in water as cold as 32°F or air temperatures down to 14°F. It can shoot continuously at 11fps and is capable of 1080/30p video.
The W150 has an underwater face-framing mode and automatically optimizes settings when shooting, making it easy to get great shots even for novices. The built-in WiFi allows for easy sharing to a smartphone as well. It also comes in a few different colors and even a playful print, which makes it fun for kids and possibly easier to keep track of.
Why it made the cut: A low-cost alternative for underwater shooting.
Specs:
Photo resolution: 16MP
Video resolution: HD 1080p 30 fps
Size: 4.8 x 2.4 x 1.2 inches
Weight: 6.8 ounces
Pros:
Affordable price
46 foot depth rating
Built-in macro ring light
Cons:
No image stabilization
No WiFi
The Ricoh WG-60 is one of the lowest-cost digital cameras with advanced underwater protection. It's waterproof up to 46 feet for 2 hours, can survive a 5-foot fall, can handle 220 lbf of pressure, and is freezeproof to 14°F. It has a 16 megapixel 1 /2.3″ sensor with a 28-140mm equivalent lens and can capture full HD video at 30 fps. Although it lacks WiFi and in-body stabilization and is a little strange ergonomically, it remains a capable low-cost option for digitally shooting underwater.
Why it made the cut: The cheapest way to shoot photos underwater.
Specs:
Photo resolution: N/A
Video resolution: N/A
Size: 5.8 x 2.2 x 5 inches
Weight: 6 ounces
Pros:
Shoots film
Easy to use
35 foot depth rating
Cons:
Can't see your shots in the moment
If you are looking for an inexpensive way to capture your day at the beach or the pool, consider the Fujifilm QuickSnap Waterproof camera. This disposable point-and-shoot camera comes loaded with 27 exposures of 800-speed film housed inside a plastic body that makes it waterproof up 35 feet. Of course, you will have to wait to see what you've captured until you get the film developed, but honestly, we think that's part of the fun. At under $30 per camera, we'd even recommend bringing one along in addition to a digital waterproof camera.
FAQs:
Methodology
When selecting the cameras in this guide, we considered the locations where photographers might use the cameras, the types of footage they will capture, and budget. It was important to select cameras that fit a wide variety of budgets and could be used underwater without additional underwater housing. In addition, we looked at how the cameras perform at various depths, camera ergonomics, underwater autofocus capabilities, and video performance. Finally, we selected the cameras featured in this guide through a mix of hands-on experience, user feedback, and editorial reviews.
Final thoughts about waterproof cameras
Finding the best waterproof or underwater camera for you means considering where you will be using it and what you want to capture. There are a lot of incredible products on the market aimed at a wide variety of photographers and content creators—which is a good thing! But remember, the most expensive option on the market isn't always the best option. Therefore, if you are shopping for an underwater camera, start by considering the underwater or water adjacent activity that you plan to use the camera to capture. Ultimately that is what you should use to determine what style of underwater camera is the best choice for you.